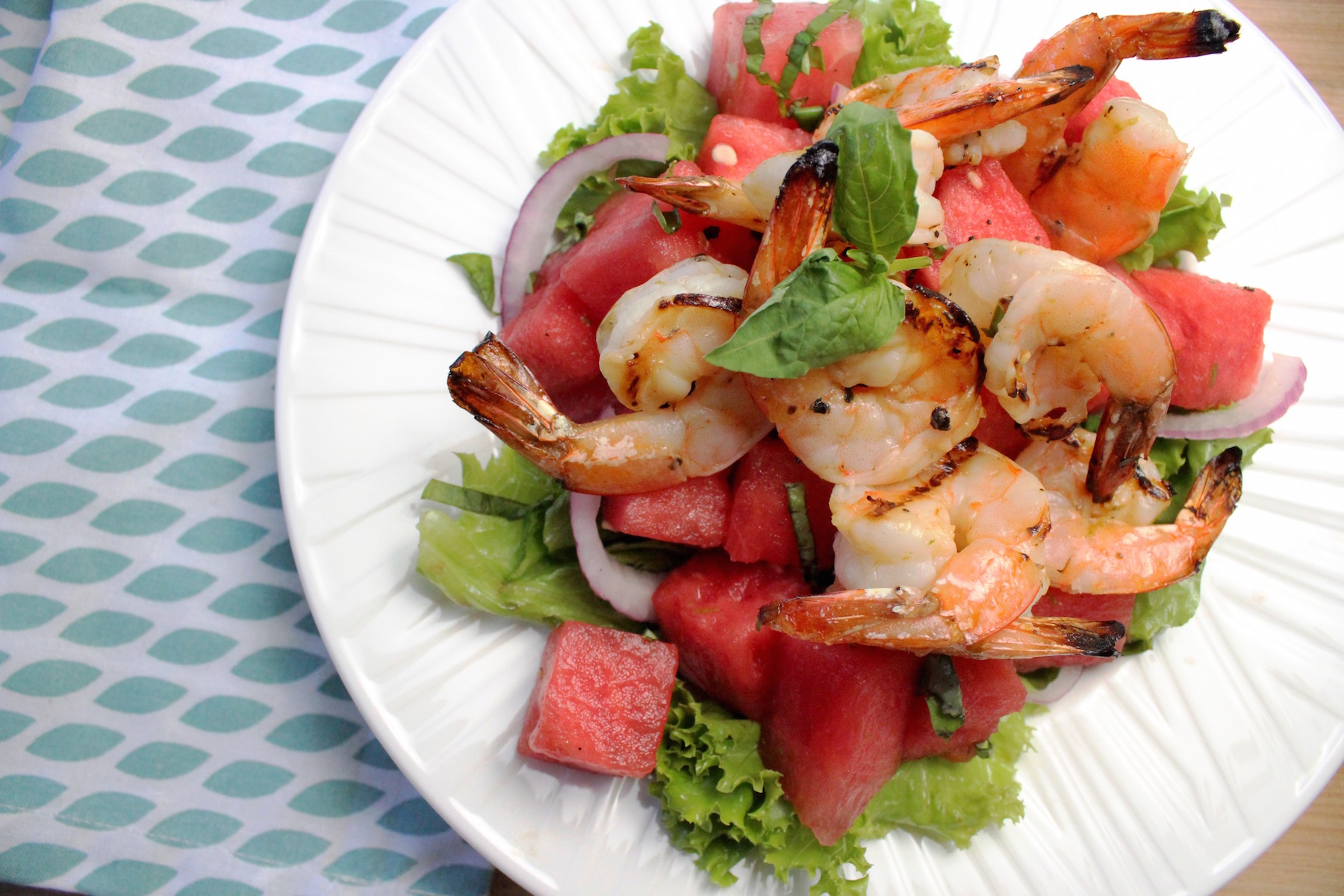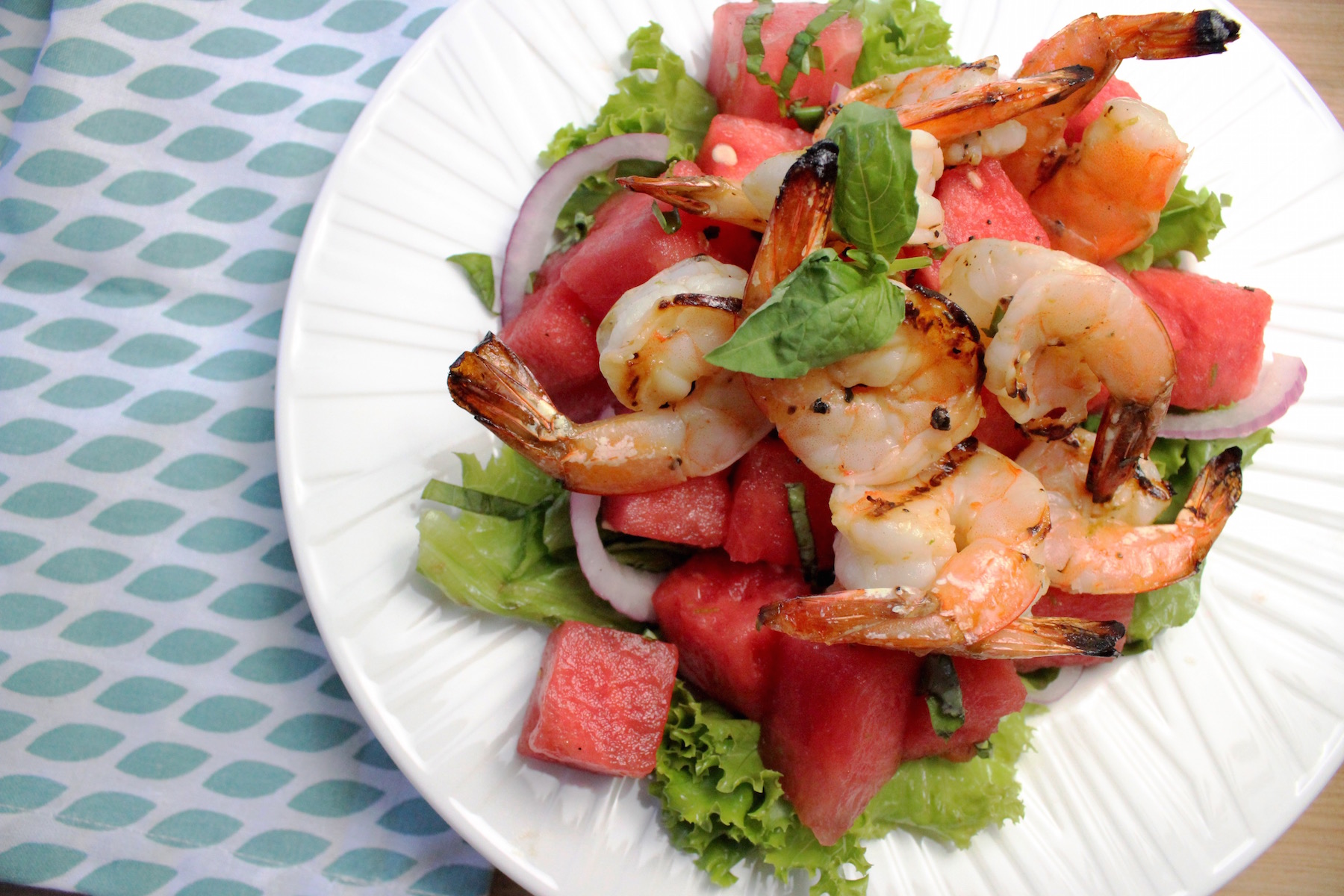 April thru July is watermelon season in Florida, so we've been enjoying it regularly at our house. To me, nothing screams summer more than crisp, sweet, juicy watermelon. It's also packed with vitamins C and A, as well as, potassium, which keeps your blood pressure down and hydrates you after a workout. That's all great stuff but, today, I'm focusing on the "delicious-factor" of this pretty melon, since I picked up a locally grown beauty at the farmer's market last weekend and decided to make a light and easy dinner.
I like to prepare the melon with a simple dressing that celebrates the sweetness of the fruit and doesn't overpower it. I've tried lots of flavor combos, but my favorite is lime juice/zest, fresh basil and a dash of salt & pepper. The cold, juicy melon pairs nicely with the sweetness of the basil, and the zing of the lime really perks up all the flavors.  You could eat this salad all by itself or pair it with a grilled/roasted meat or seafood.
For this dish, I marinated some shrimp in citrus dressing, then skewered and grilled them. I dressed the greens in some of that same citrus dressing, added a little red onion for crunch and color, and topped it with the pretty melon and hot shrimp. My husband added crumbled feta (a delicious add-in) and I was happy when he proclaimed "This mix of sweet, savory, juicy and crunchy is like a party in my mouth!" I especially liked the dish because it was easy, with no significant clean up – a real bonus in hot, summer weather. Enjoy!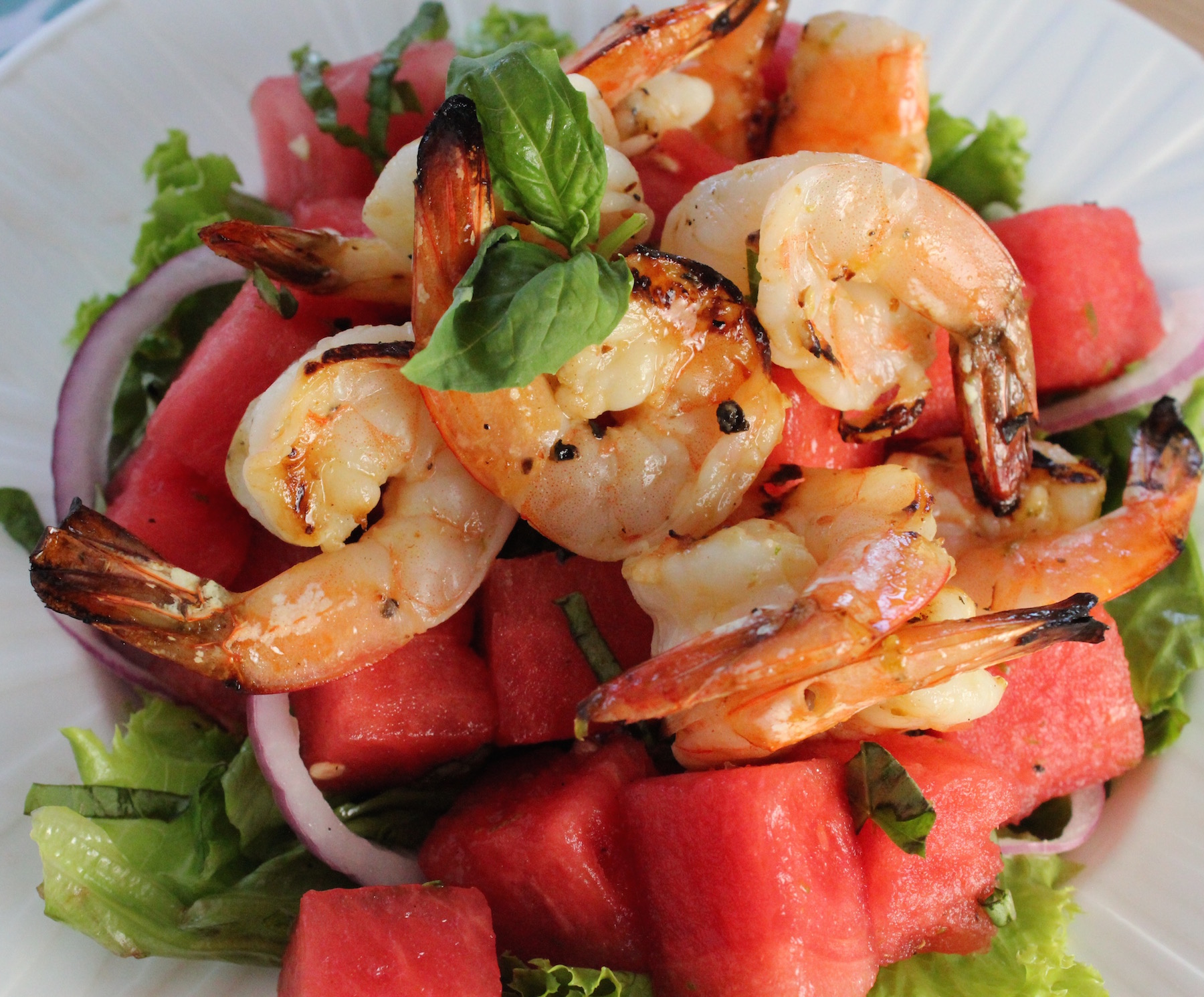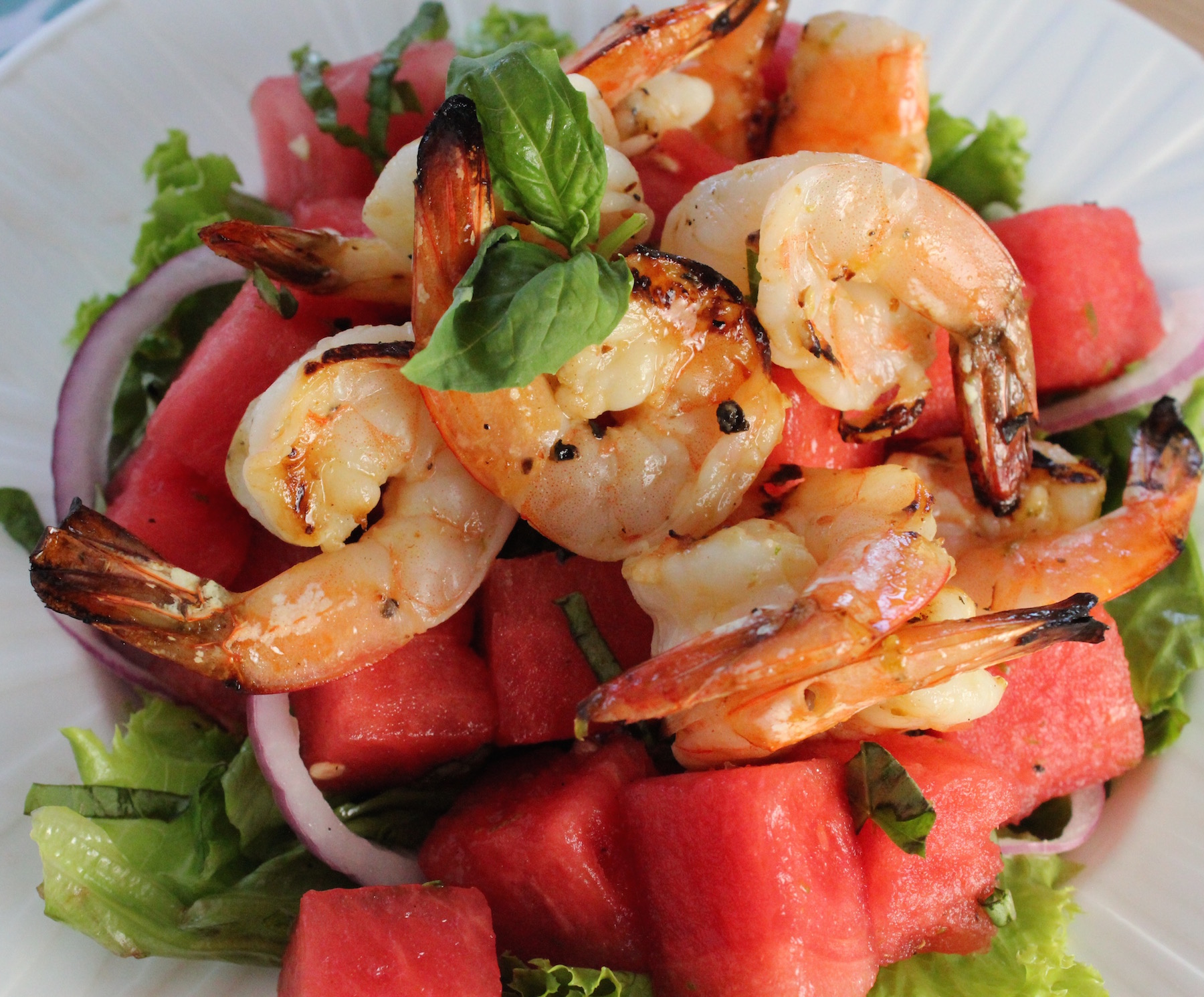 Grilled Shrimp & Basil Watermelon Salad
Roasted shrimp with a fresh citrus dressing make a perfect complement to a summer salad.
Author:
My Delicious Blog
Ingredients
1 lb. large shrimp, deveined, shells removed (leave tail shells on for a prettier look)
6 c. chopped lettuce (green leaf, red leaf, spinach - whatever you have on hand)
½ red onion, thinly sliced
½ c. feta cheese, crumbled (optional)
For the Citrus Dressing
¼ c. fresh lemon juice
¼ c. fresh lime juice
1 Tb. honey
1 tsp. kosher salt
½ tsp. freshly ground black pepper
½ c. olive oil
For the Watermelon Salad
4 c. seedless watermelon, cubed
8-10 fresh basil leaves, thinly sliced (chiffonade)
1 lime, zested
Juice of 1 lime
Dash of kosher salt
Dash of freshly ground black pepper
Instructions
Soak 6-8 bamboo skewers in cold water for about 30 minutes.
For the dressing: in a small mixing bowl, whisk juices, honey, salt & pepper. Slowly whisk in oil until it emulsifies (i.e, gets thicker).
Place shrimp in a medium bowl and coat with ¼ c. of the Citrus Dressing. Refrigerate 30 minutes.
While shrimp marinates, make the Watermelon Salad: in a large bowl, combine melon, lime zest & juice, salt and pepper. NOTE: If you do not plan to serve the salad immediately, hold off on cutting and tossing in the basil until just before serving (so the edges don't turn black).
When ready to cook shrimp, heat grill to medium/high.
Place shrimp on bamboo skewers (about 6 on each) and place on grill.
Cook shrimp skewers about 2 minutes, each side (they should be pink/coral when ready).
When ready to serve, toss the greens and onion with remaining Citrus Dressing; mix cut basil into Watermelon Salad.
Top greens with Watermelon Salad, shrimp (and feta, if using).