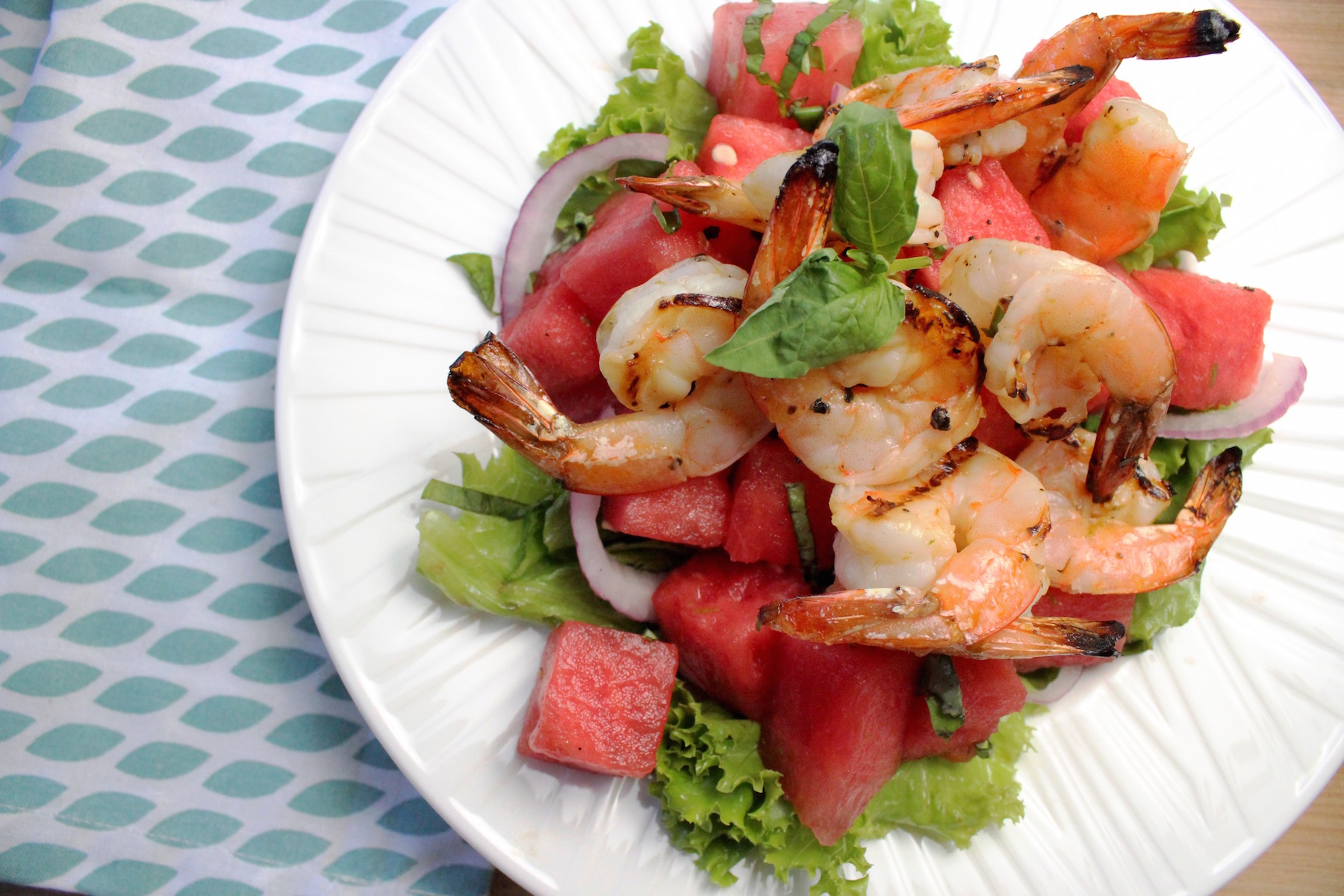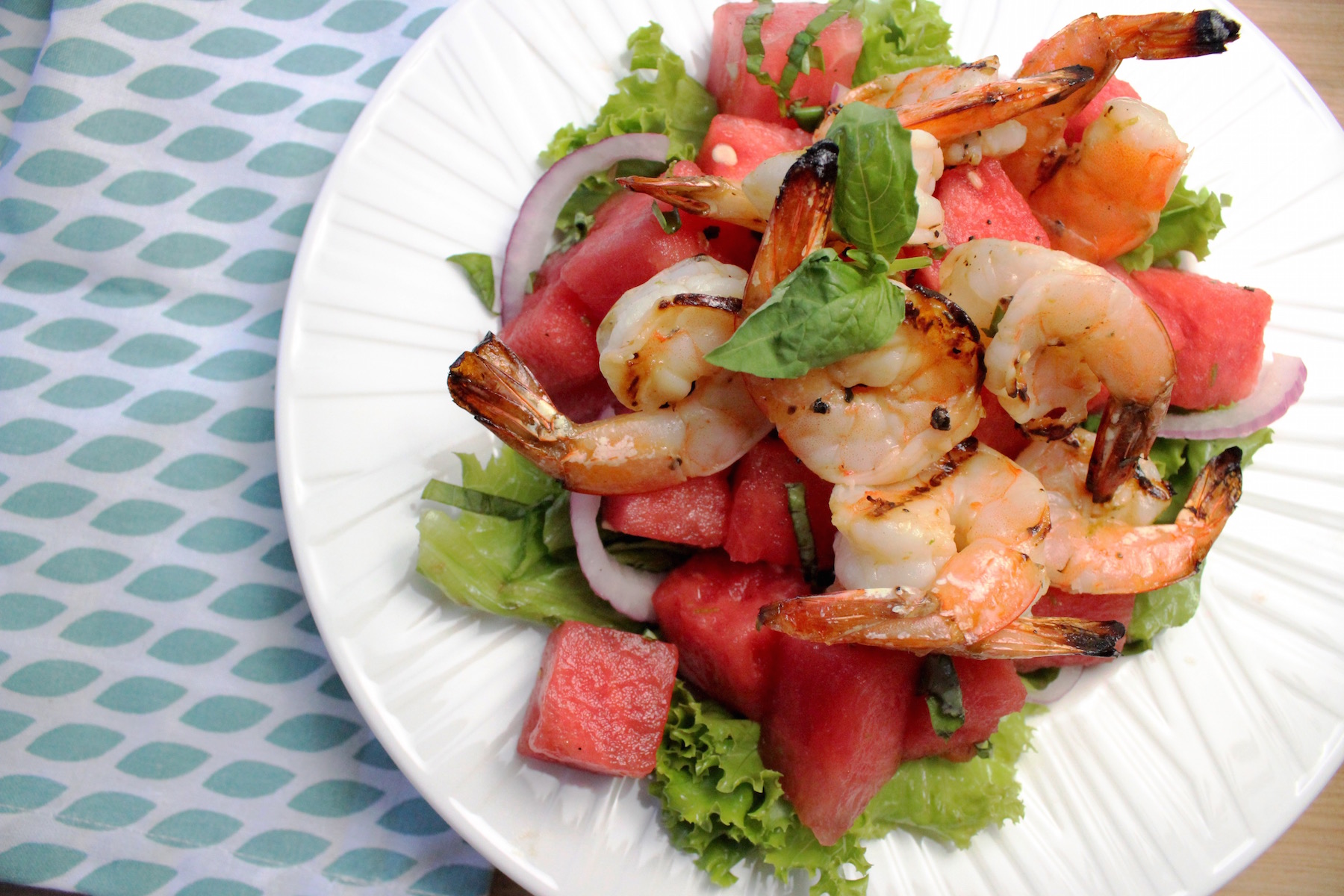 April thru July is watermelon season in Florida, so we've been enjoying it at our house.
To me, crisp, juicy watermelon screams Summer. It's also packed with vitamins C and A, as well as, potassium, which keeps your blood pressure down and hydrates you after a workout. That's all great stuff but, today, I'm focusing on the "delicious-factor" of this pretty melon, since I picked up a locally grown beauty at the farmer's market.
I like to prepare it with a simple dressing that celebrates the sweetness of the fruit and doesn't overpower it. I've tried lots of flavor combos, but my favorite is lime, fresh basil and a dash of salt & pepper. The cold, juicy melon pairs nicely with the sweetness of the basil, and the zing of the lime perks up all the flavors.
I marinated shrimp in citrus dressing, then skewered and grilled them. I dressed the greens in some of that same dressing, added a little red onion for crunch and color, and topped it with the melon and hot shrimp. My husband added feta (a delicious add-in) and I was happy when he proclaimed "This mix of sweet, savory, juicy and crunchy is like a party in my mouth!" I especially liked it because it was easy, with no significant clean up – a real bonus.
P.S. if you'd like another idea for that watermelon, try this yummy gazpacho.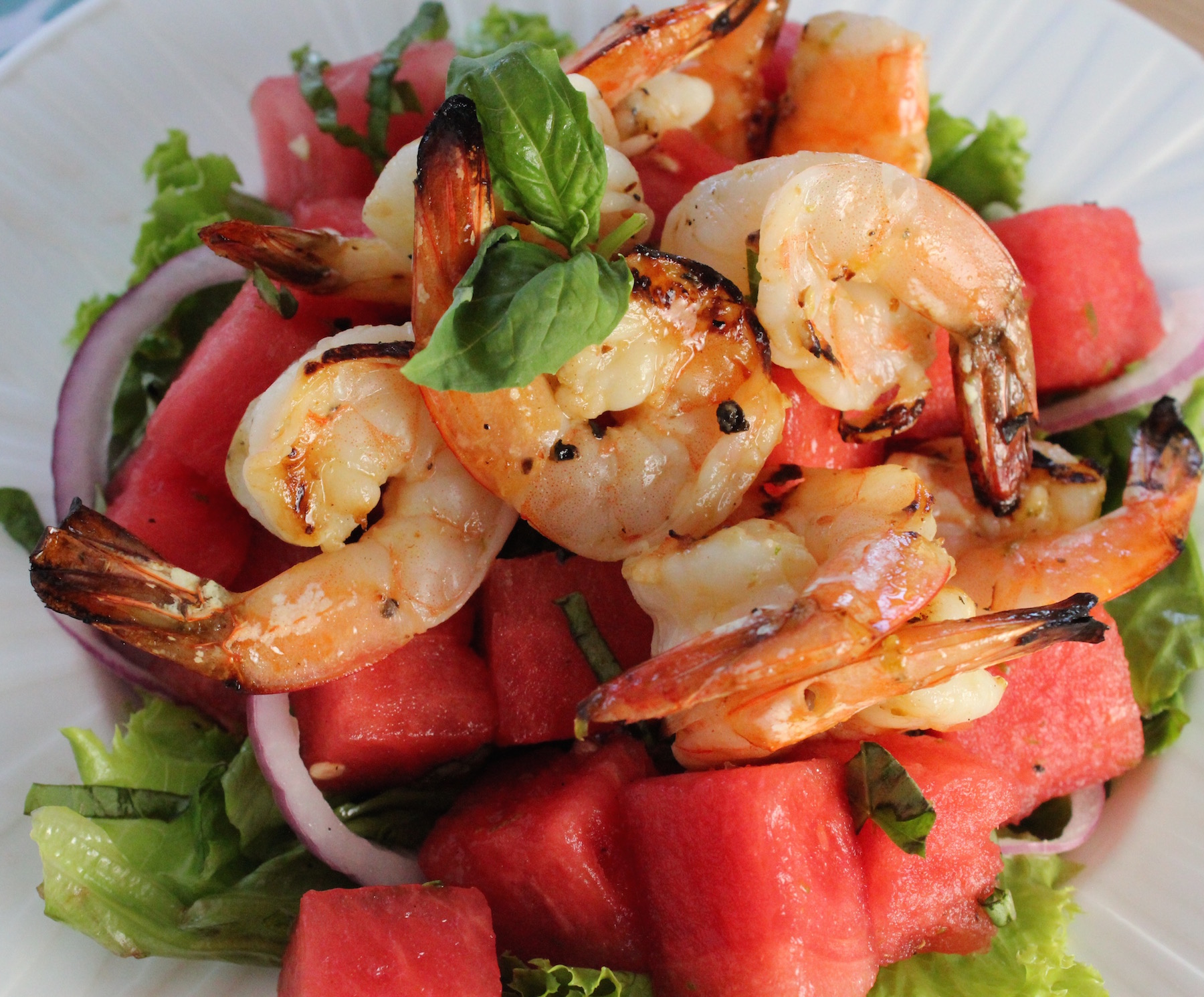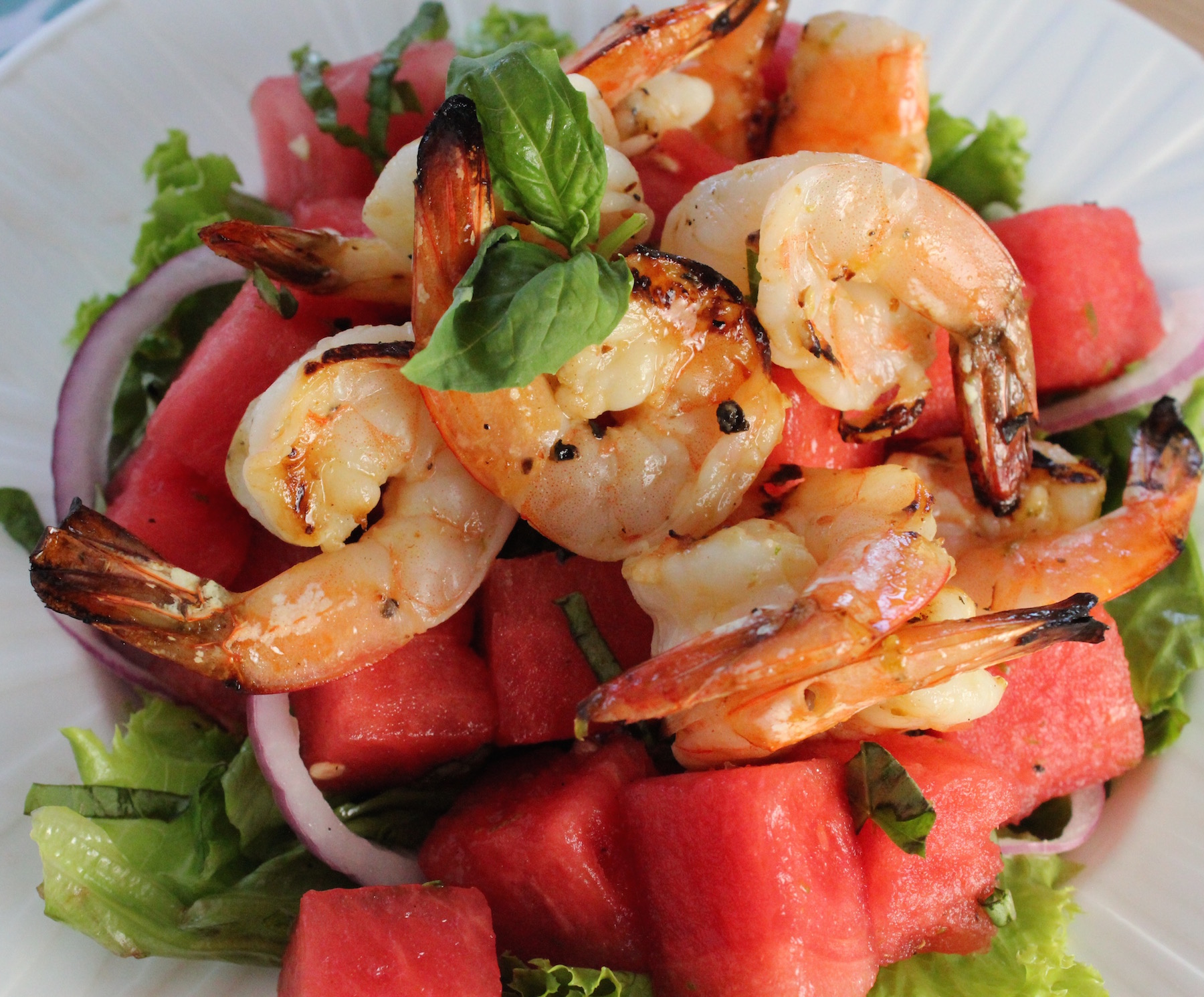 Grilled Shrimp & Basil Watermelon Salad
Roasted shrimp with fresh citrus dressing and greens make a perfect Summer salad.
Author:
My Delicious Blog
Ingredients
1 lb. large shrimp, deveined, shells removed (leave tail shells for a prettier look)
6 c. chopped lettuce (green leaf, red leaf, spinach - whatever you have on hand)
½ red onion, thinly sliced
½ c. feta cheese, crumbled (optional)
For the Citrus Dressing
¼ c. fresh lemon juice
¼ c. fresh lime juice
1 Tb. honey
1 tsp. kosher salt
½ tsp. freshly ground black pepper
½ c. olive oil
For the Watermelon Salad
4 c. seedless watermelon, cubed
8-10 fresh basil leaves, thinly sliced (chiffonade)
1 lime, zested
Juice of 1 lime
Dash of kosher salt
Dash of freshly ground black pepper
Instructions
Soak 6-8 bamboo skewers in cold water ~30 minutes.
For the dressing: in a small bowl, whisk citrus juices, honey, salt & pepper. Slowly whisk in oil until it gets a bit thicker (it will be a light dressing).
Place shrimp in a shallow bowl and add ¼ c. of the Citrus Dressing. Refrigerate 15 minutes.
While shrimp marinates, make the Watermelon Salad: in a large bowl, combine melon, lime zest & juice, salt and pepper. Cover and refrigerate until shrimp are cooked/ready to serve. NOTE: If you do not plan to serve the salad immediately, hold off cutting the basil until just before serving so the edges don't turn black.
Heat grill to medium/high.
Skewer shrimp (about 6 on each) and place on grill.
Cook about 2 minutes each side (they will be pink/coral when ready).
Toss the greens and onion with the remaining Dressing; add in basil, Watermelon chunks, shrimp, and Feta (if using).