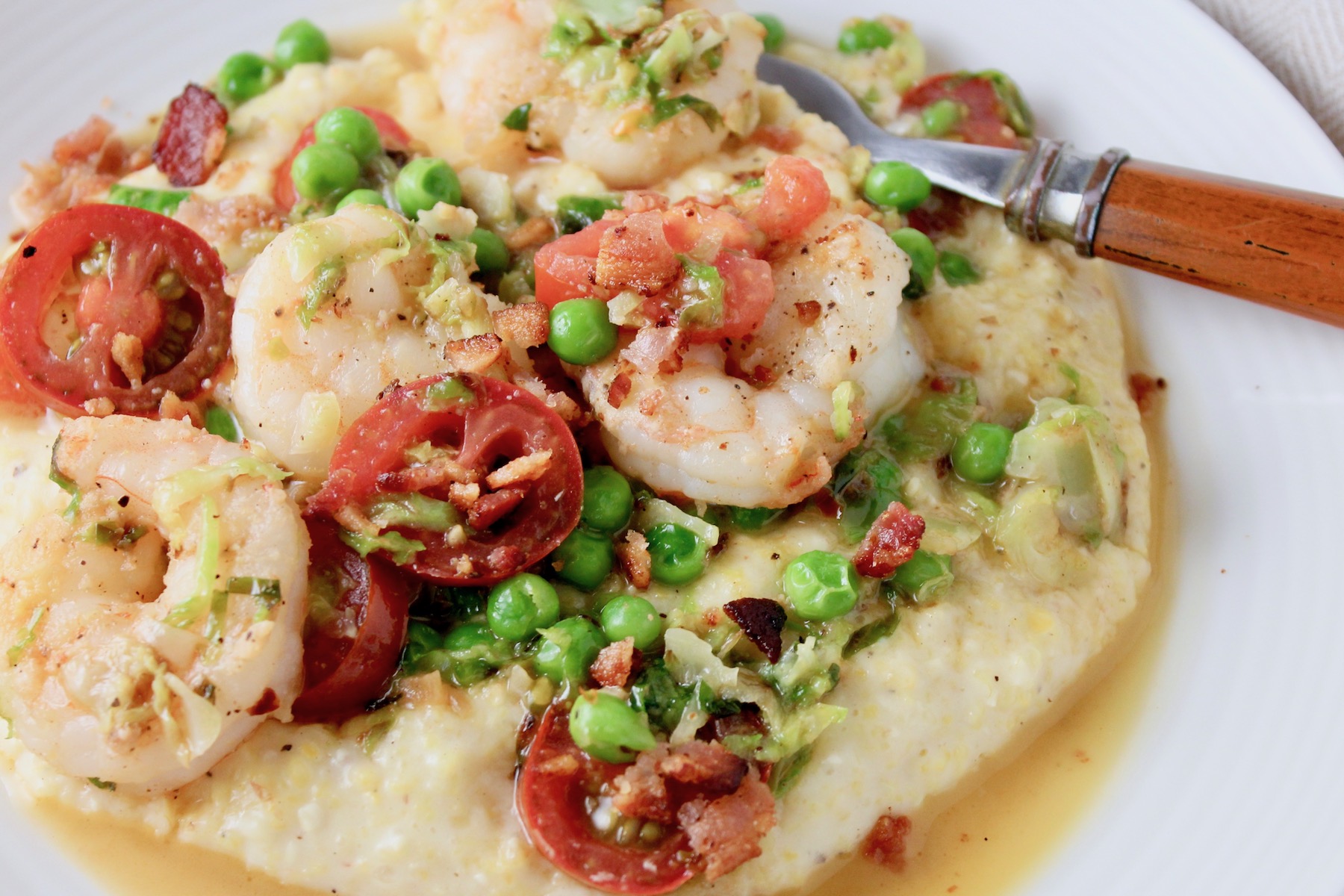 When I started this blog I created a list of recipes to tackle – a very long list, considering all the fish, seasonal produce and family traditions I wanted to highlight.
My Delicious Blog is now 3 years old, with 21 Field Trip Fridays and 230 recipes under its belt!  I've been busy, but you've also been busy reading it all and trying recipes, and for that, I am grateful 🙂
For this momentous occasion, I dusted off that list and was surprised to see how many I completed.  But amidst all the checkmarks, there was one still unchecked —
shrimp and grits
.  How could I have overlooked that one?  Then I remembered the Buddhist saying 'When the student is ready the teacher will appear' and I realized that my recent trip to New Orleans was the opportunity I needed to taste amazing grits made by seasoned pros.  That was my teaching moment, so I felt ready to tackle the dish when I got home.  P.S. if you want to read about my trip, check it out
here
.
With two primary ingredients, it's ideal to use the best you can find.  Many use quick-cooking grits, which are certainly fast, but I think stone-ground grits produce the best results because those whole, dried corn kernels are ground by a stone, resulting in a heartier texture and a true corn flavor.  You might be lucky to live near a mill where they're made, but most of us find them online or in specialty shops from brands like
Anson Mills
,
Old School Mill
,
Bob's Red Mill
or
McEwen & Sons
.
These grits are definitely not the quick-cooking kind, so be prepared to keep an eye on them, stir periodically, and savor the process, because the results will be delicious.  If you have time, pre-soak them at least 2 hours (or overnight) to help soften the edges, allowing them to absorb warm liquid more efficiently (and the liquid even gets infused with corn flavor).  If you don't have time, don't worry – just dive right in.  I've made several batches and, to me, the best mix for flavor is 50% broth (or water) and 50% whole milk.  I also played with the amount of liquid and found that while a lot of recipes use a ratio of 4:1 (liquid:grits), a 5:1 ratio worked better for me and my stone-ground grits.  The time to cook was almost an hour, but they were creamy with soft, just the way I like them.  After adding cheese, butter and cream, they're certainly not lo-cal, but once in a while it's OK to splurge.
For the shrimp, I used wild-caught Gulf beauties picked from the waters of Maurice, Louisiana and shipped to me by
Granger's Seafood Company
.  This family-owned biz knows a thing or two about shrimp, and these didn't disappoint.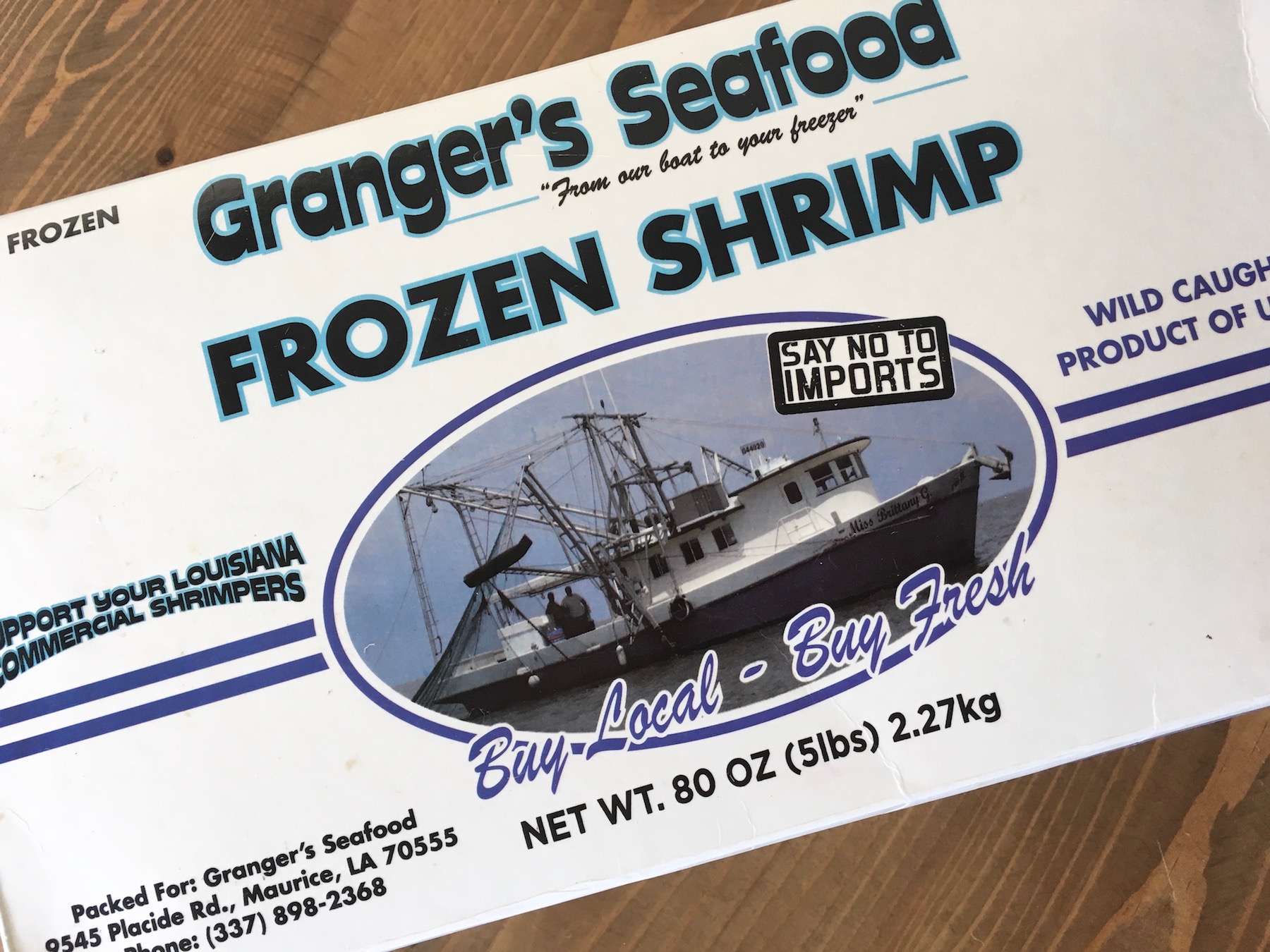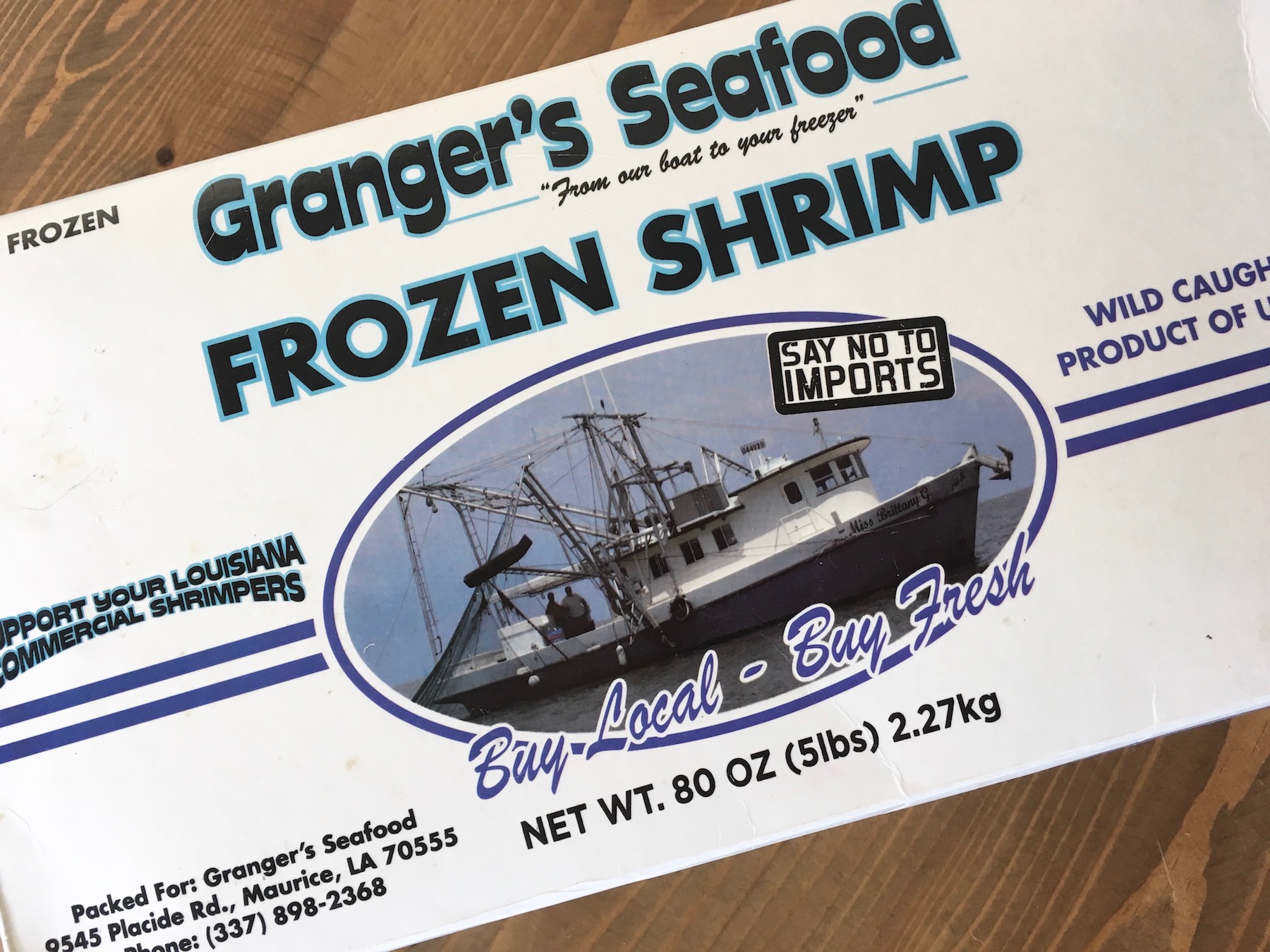 But if you can't get those, find the best-looking large shrimp you can find at your seafood market.  My shrimp 'sauce' is made with a little bacon grease (a staple of the southern style), but I added some healthy Brussels sprouts, tomatoes, and frozen peas for additional color and texture, along with tasty aromatics like garlic, red pepper flakes, lemon and herbs.  Oh, and crispy bacon bits, too!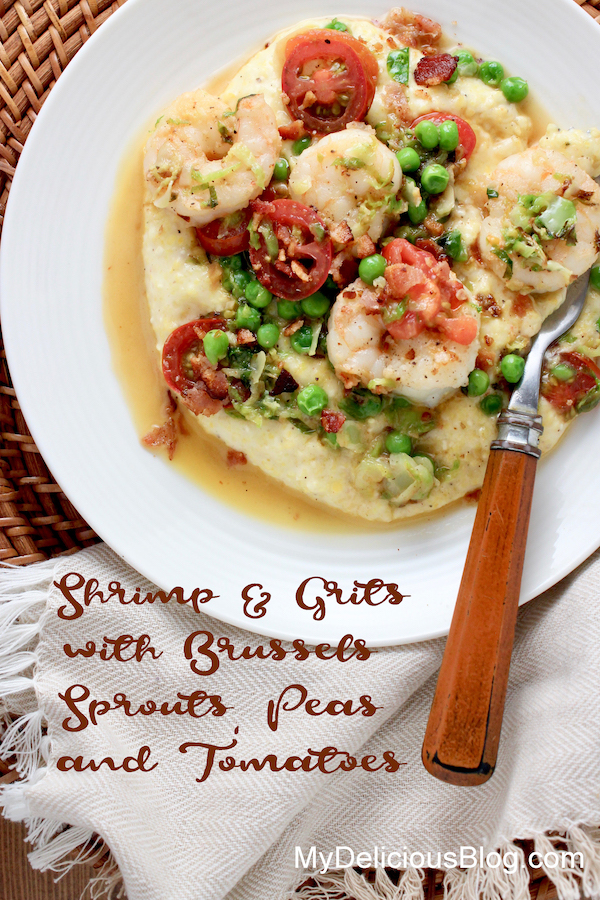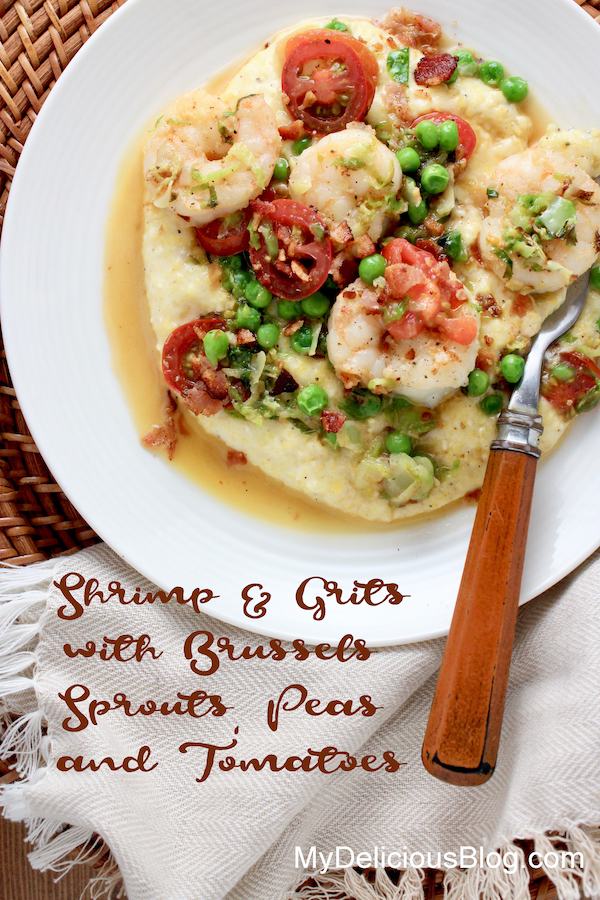 Enjoy a little bit of the South, y'all.
Phew. . .now I can finally check this dish off my list!
Shrimp & Stone Ground Grits
Roasted shrimp, Brussels sprouts, tomato and bacon pair so nicely with these hearty, stone ground grits.
Author:
My Delicious Blog
Ingredients
Grits
2.5 c. water
2.5 c. chicken broth (homemade or low-sodium/store bought)
1 tsp. kosher salt
1 c. stone-ground grits
¼ tsp. freshly ground black pepper
2 Tb. unsalted butter
1 c. Parmigiano Reggiano, shaved (or sharp cheddar or Gruyere)
¼ c. heavy cream (optional)
Shrimp 'Sauce'
4 slices of fatty bacon, chopped into 1" pieces
Pinch of red pepper flakes (more if you like it extra spicy)
1 lb. large shrimp, shelled & deveined
2 c. brussels sprouts, shaved/thinly sliced
2 cloves garlic, peeled & minced
½ c. frozen petite peas
½ c. chicken stock
Large handful cherry or other small tomatoes, sliced
Pinch kosher salt
Few grinds fresh black pepper
2 Tb. unsalted butter
1-2 Tb. fresh lemon juice
2 Tb. fresh herbs, minced (parsley, chives and/or basil)
Instructions
For the Grits:
In a heavy-bottom saucepan, add stock, milk and salt.
Bring to a boil, then whisk grits in slowly and boil about 2 minutes, while stirring.
Lower heat so the grits start to gently simmer, while continuing to whisk.
Reduce heat to very low. Check periodically and stir with a wooden spoon. Continue this process until they're fully soft and cooked to your liking (45-60 minutes).
When finished cooking, remove from heat and stir in black pepper, butter, cheese, and cream (if using). Cover with a lid and set on the back of the stove, while the shrimp cooks.
For Shrimp 'Sauce'
Pat dry shrimp (do this especially well if they've been frozen) and sprinkle with a little kosher salt and black pepper; set aside.
In large non-stick skillet, cook bacon over medium/high heat until the fat has been rendered and the pieces are brown & crispy; transfer the pieces to a paper towel.
Remove 1-2 Tb. of the fat from the pan, but keep at least 1 Tb. in the pan.
Heat skillet to high again, add shrimp and cook until slightly pink - about 2 minutes.
Reduce heat to medium and add red pepper flakes, Brussels sprouts, garlic, peas and cook 2 minutes (add more bacon fat or olive oil if it's too dry).
Add chicken stock to deglaze pan, then add tomatoes and salt/pepper; stir to combine and cook 1-2 minutes.
Add butter and stir until fully incorporated into sauce then remove from heat, add add lemon juice and herbs.
Place a heaping spoonful of grits into a serving dish and top with the shrimp mixture. Sprinkle bacon on top and serve immediately!