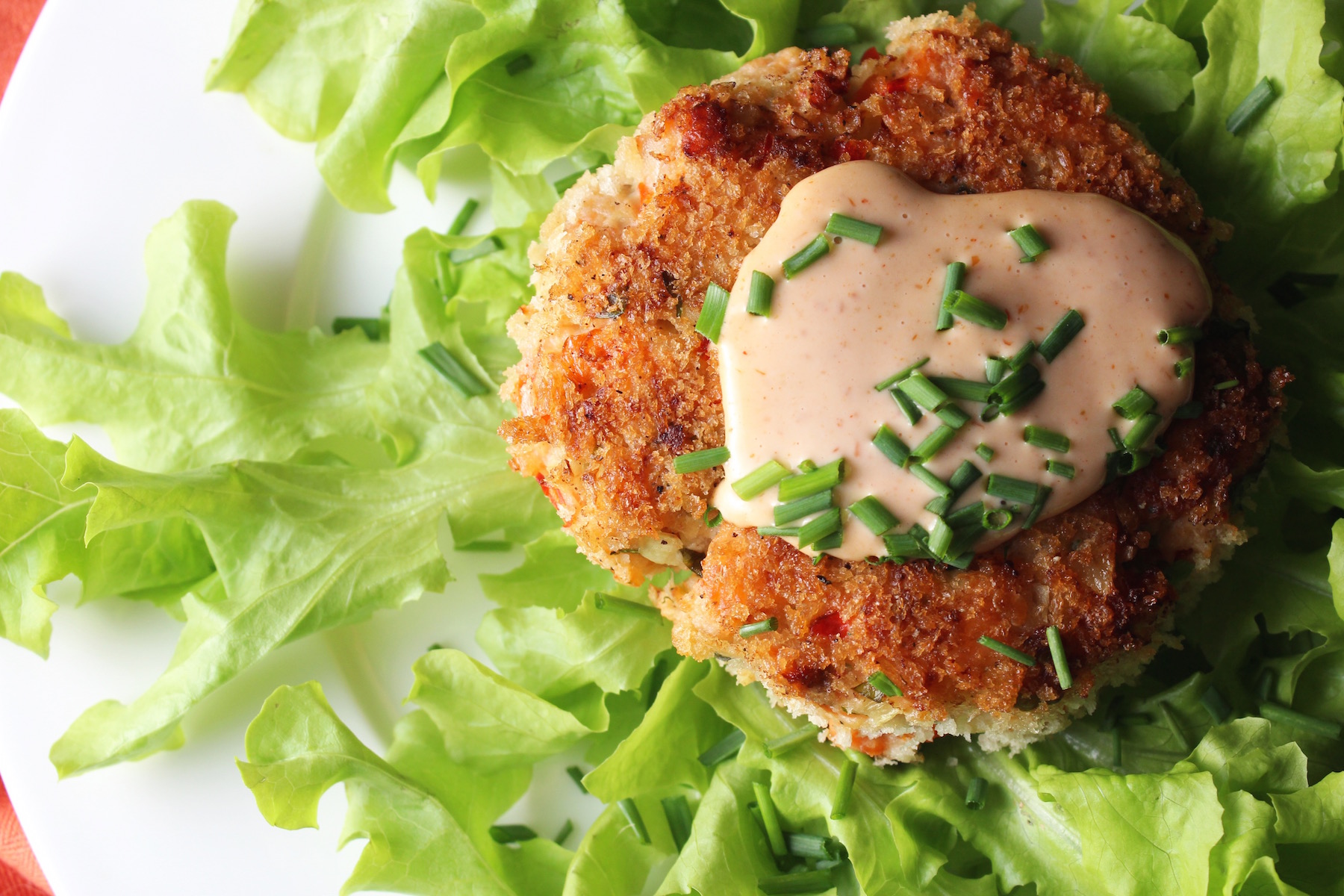 When I grew up in southern Massachusetts, our fish diet was pretty limited — cod, haddock and steamers were staples, but there was also the occasional salmon. No, I'm not talking about the fresh fillets like we have easy access to today, I'm talking about canned salmon. It was tradition in our house to have salmon pie, which was a mixture of flaked fish and mashed potatoes baked in a two-crust pie. It was really delicious, especially on cold winter nights, but it was the extent of my salmon experience until my adult years!
I still love salmon, but now I prefer the fresh variety, and I like to have it at least once each week. When I cook it a home, I usually pan-sear it and top it with something tasty. But last night I decided to shake up my routine by making salmon patties. Not a new concept, since fish cakes have been around for quite some time, and there are lots of recipes out there for them, but I had fun coming up with my own version. I based my recipe on how I've made crab and fish cakes in the past, what tastes good to me and, truth be told, what I actually had in my fridge before dinner had to be made. I paired these beauties with a green salad dressed in a simple citrus vinaigrette and it made a delicious, colorful and hearty meal. After all our holiday treats, it's nice to get back to healthy eating!
Here's how it went down: I prepped/mixed and refrigerated the filling, formed good-sized patties, coated them in Panko (one of my favorite things), pan seared them in coconut oil for flavor and texture, finished cooking them in the oven, then topped them with a spicy Sriracha sauce for some zing. Other than the process of skinning the salmon (you could also just buy peeled salmon), it's a very easy process that comes together in a short time. The patties were tender and flavorful, and that crunchy texture from the Panko really made them even more satisfying.
So, if you find yourself at the seafood counter wondering what to do with that delicious salmon in front of you. . .ponder patties, pals!

Tasty Salmon Patties
Salmon is really delicious in this crunchy patty.
Author:
My Delicious Blog
Ingredients
Salmon Patties
1 lb. fresh salmon fillets, skinned
1 clove garlic, minced
1 shallot or small yellow onion, minced
3 Tb. red bell pepper, minced
~2 Tb. fresh basil, minced
~2 Tb. fresh parsley, minced
1 tsp. fresh lemon juice
1 egg, beaten
½ c. Panko bread flakes (*)
¼ tsp. kosher salt
⅛ tsp. freshly ground black pepper
2 Tb. coconut oil
* you'll need an additional ¼+ c. to coat patties before cooking
Sriracha Sauce
3 Tb. mayonnaise
1 Tb. sour cream
1 Tb. Sriracha
Instructions
If salmon is not skinned, simply remove the skin with a sharp knife and discard.
Divide the salmon in half.
Place half the salmon in a food processor and pulse a few times to break it down -- this helps the patties stay together. Transfer to a mixing bowl.
Using a sharp knife, chop the remaining salmon into small pieces (but don't overwork the fish to make it mushy); add to the mixing bowl.
Add in garlic, onion, red bell pepper, basil, parsley, lemon juice, egg, salt and pepper and ½ c. Panko. Mix well to combine then refrigerate at least 30 minutes.
Make the Sriracha Sauce by whisking all ingredients in a small bowl; refrigerate until ready to use.
Add approx. ¼ c. Panko to a small dish (this will be used to coat the patties before searing).
Form 4 patties (size about 4-5" across, 1" thick), then place each in the Panko dish to coat both sides. Set aside.
Heat oven to 350 degrees.
Heat a large, non-stick, oven-proof skillet on medium/high. Add coconut oil. Place each patty in the pan, then reduce heat to medium. Once the first side is golden brown (about 2-3 minutes), carefully flip and cook until the other side is slightly brown (about 1-2 minutes). Note: you may need to add a bit more coconut (or olive) oil to the pan if it's too dry - you don't want them to burn!
Remove from burner and place the pan directly in the pre-heated oven, uncovered.
Bake for about 10 minutes (you don't want to overcook) until patties are just firm to the touch.
Remove from oven.
Place the patties on a bed of dressed greens, then top each with a dollop of the Sriracha Sauce.