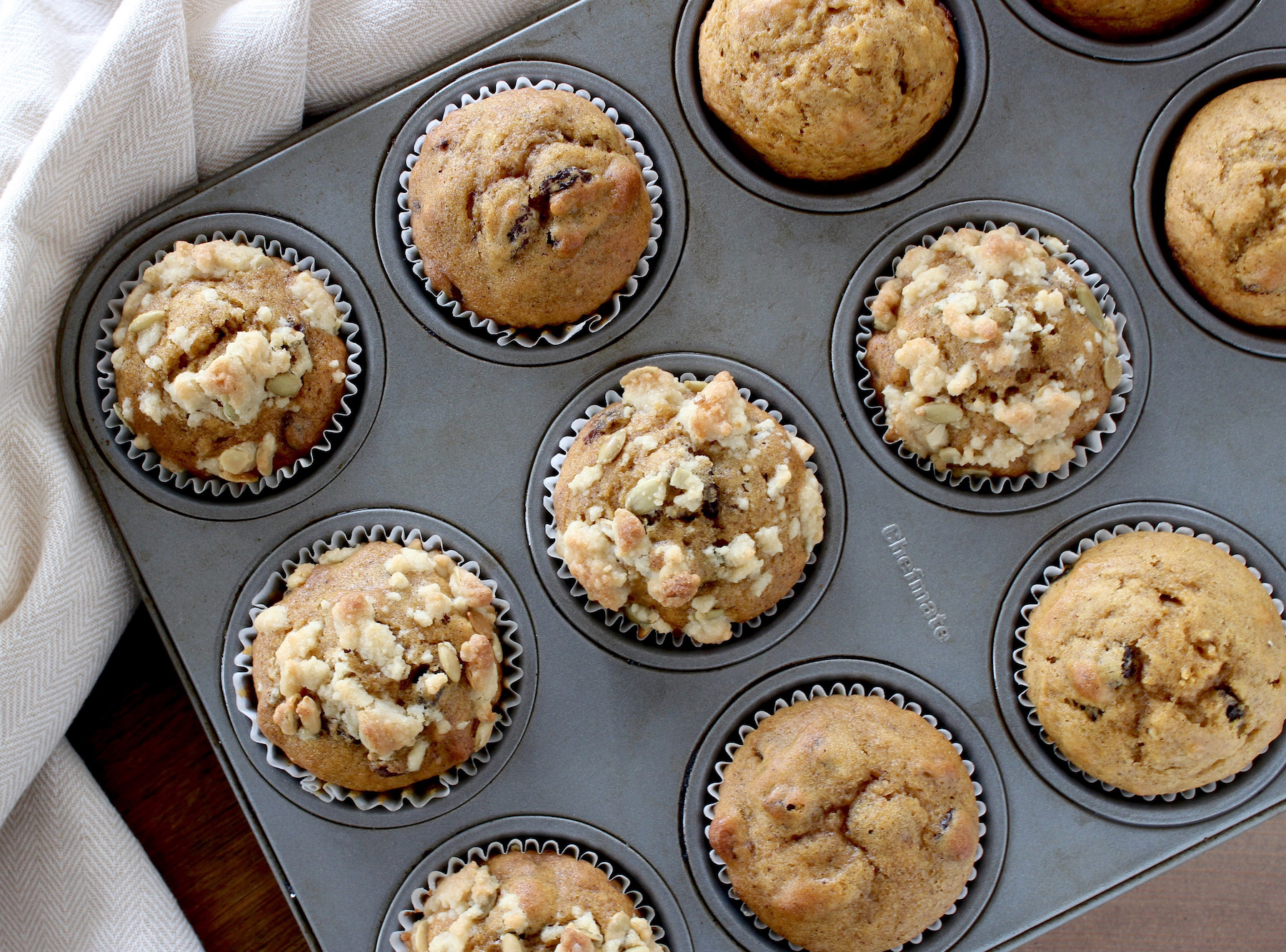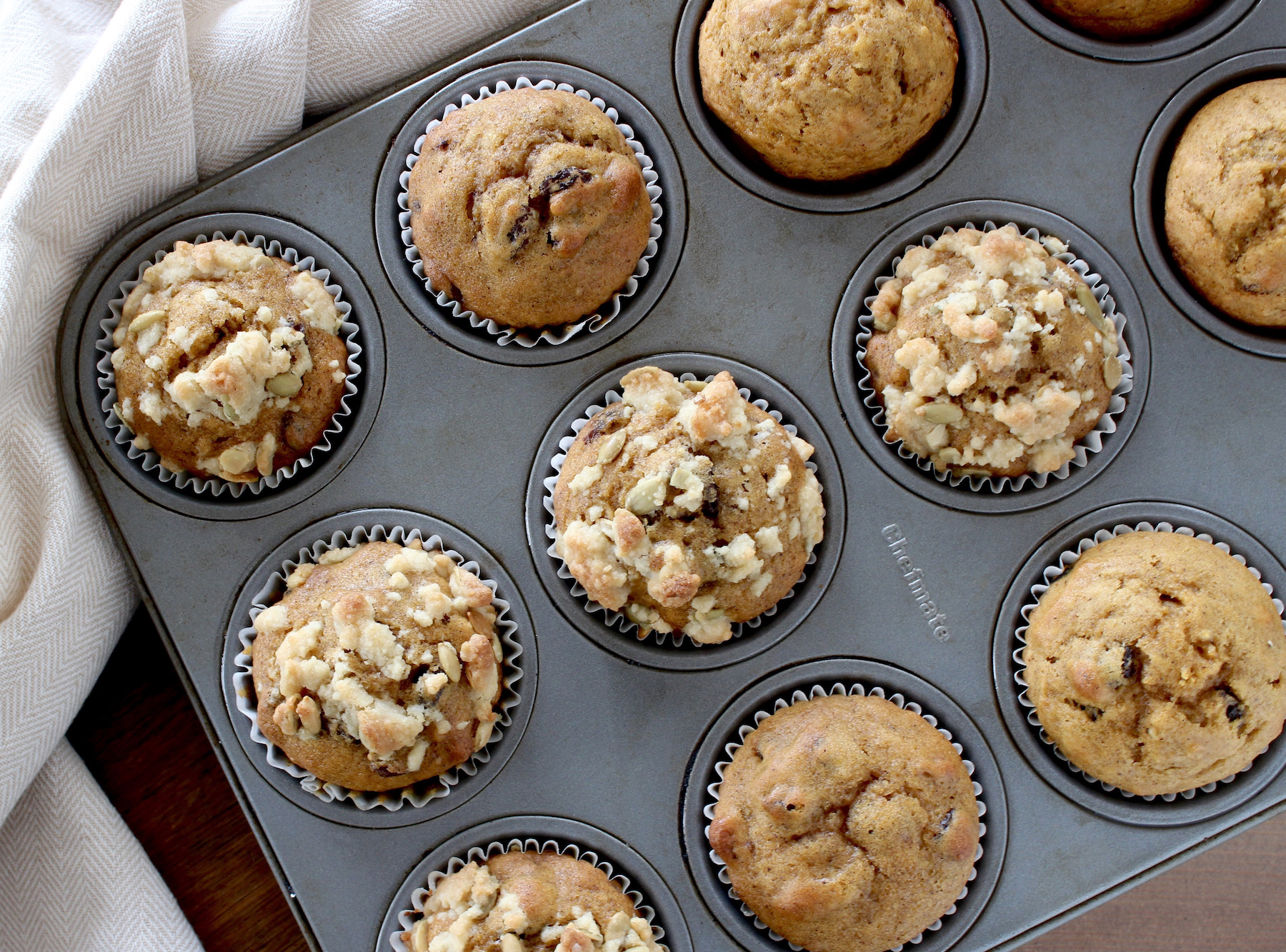 This week we navigated Tropical Storm Eta's gusty winds, sideways-hitting rain and all-around gloominess.  It was a yucky week, but we made the best of it, even visiting the beach to see the HUGE waves and happy surfers that looked like seals in the water (no pics because it was too wet).  Here I am with Libby before the rain came, then we quickly hunkered down in our cozy house.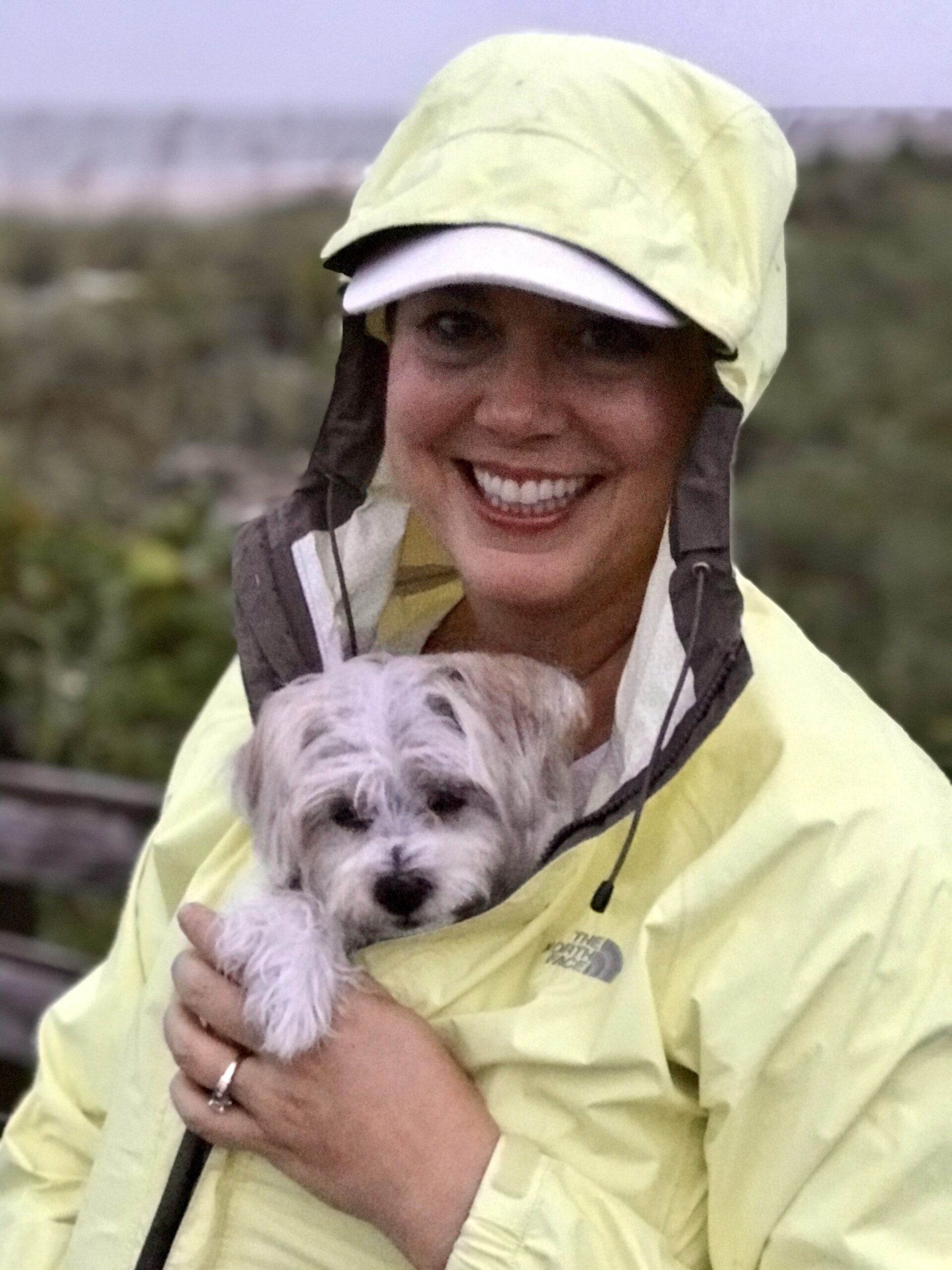 I also did a fair amount of BAKING, and my favorite thing was the 
pumpkin muffins
that filled the house with Fall-like aromas.   For years I've browsed past a typed recipe card titled "
Publick House Pumpkin Muffins
" in my grandmother's recipe box, not knowing anything about it.  Apparently she thought it was good enough to save, so I pulled it out and decided to give it a try.  I also researched "Publick House" and found out it's a historic
inn
in Sturbridge, Massachusetts, founded in 1771, and still in business after almost 250 years!   Apparently, the restaurant is famous for its dinner bread-basket full of sweet and savory treats (including these pumpkin muffins), baked on-site.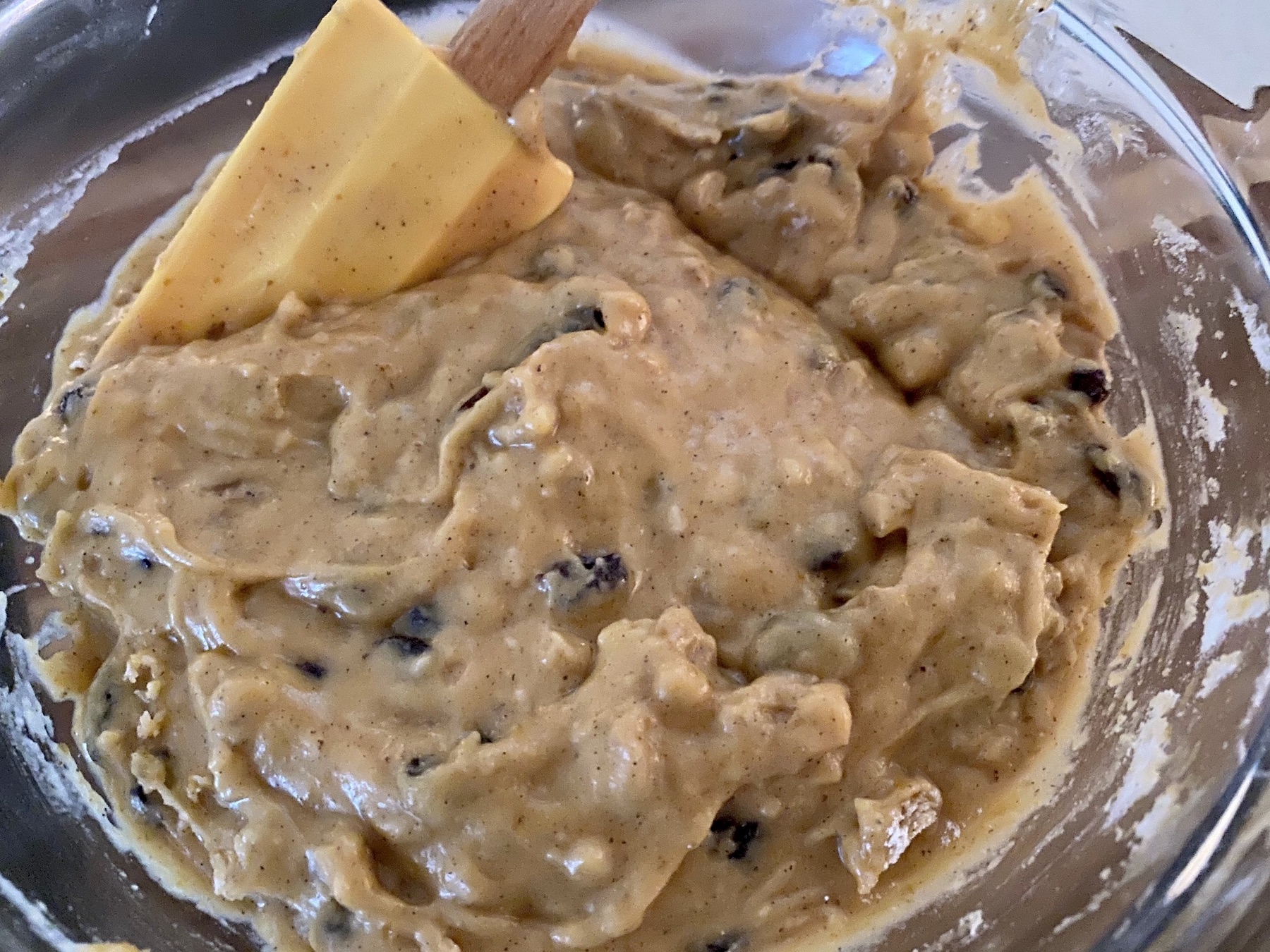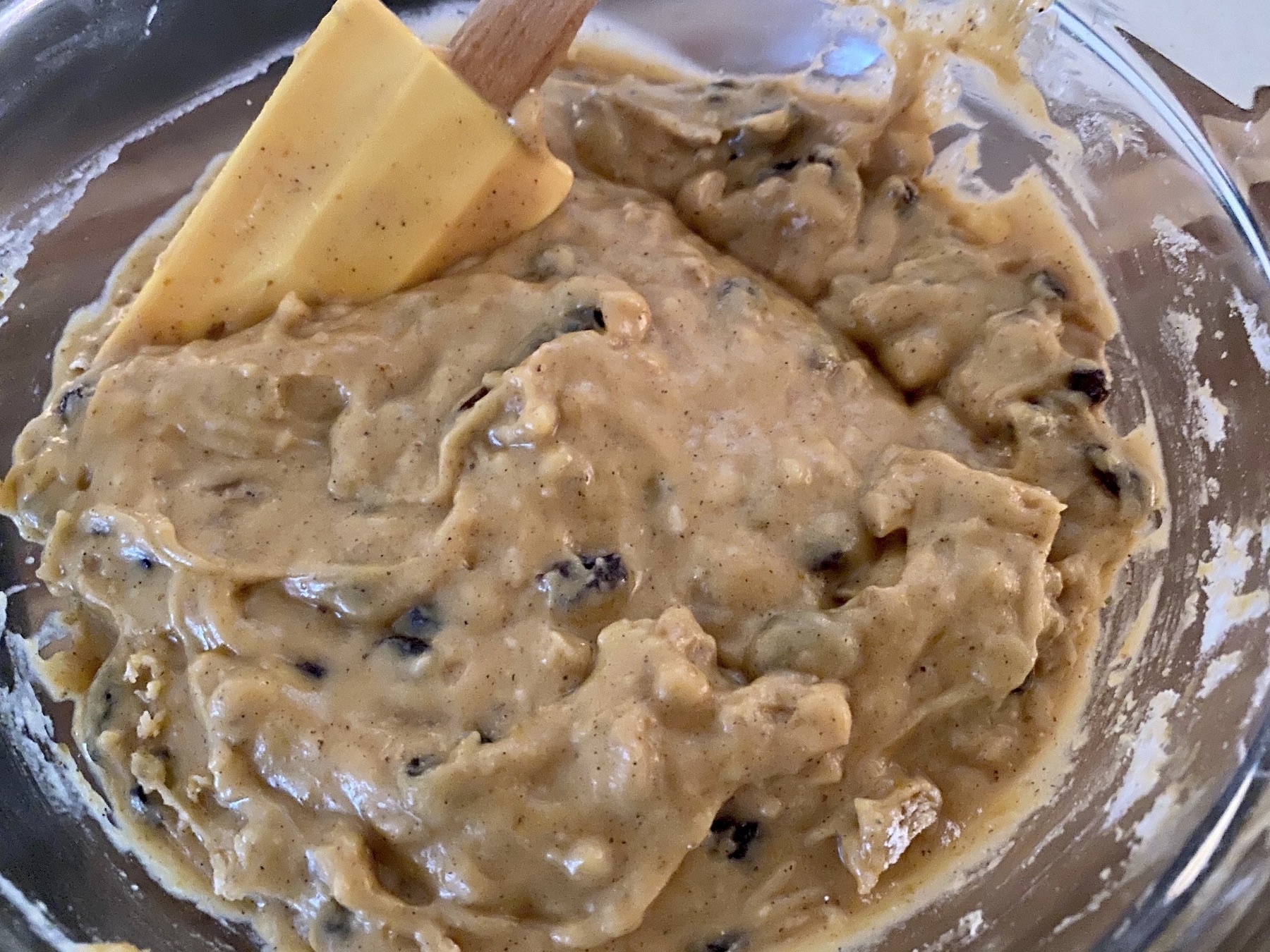 I made 3 batches to test the recipe: some had raisins & walnuts, others just raisins (sometimes I find nuts make muffins a little dry); some I mixed and immediately baked vs. leaving the batter to sit and 'proof' about 30 minutes before baking (this helps starch molecules in the flour absorb liquid – it also relaxes the gluten so there are fewer air bubbles); some I baked in paper cups – others in greased muffin tins; I even topped some with streusel mixture, giving them a salty, crunchy bite from the toasted pepitas.  The only thing I found slightly 'not awesome' was that the direct baked muffins (i.e., no paper cups) developed a more crunchy exterior that could be perceived as a bit drier, but my hubby especially loved those.  Since it all boils down to personal preference, I don't think any of these changes made any significant difference with this classic recipe, so you can't go wrong using it as is.
I love these muffins – they're flavorful, moist and yummy, and will fill your house with holiday cheer.   They'll also make any sort of gloominess a little more bearable 🙂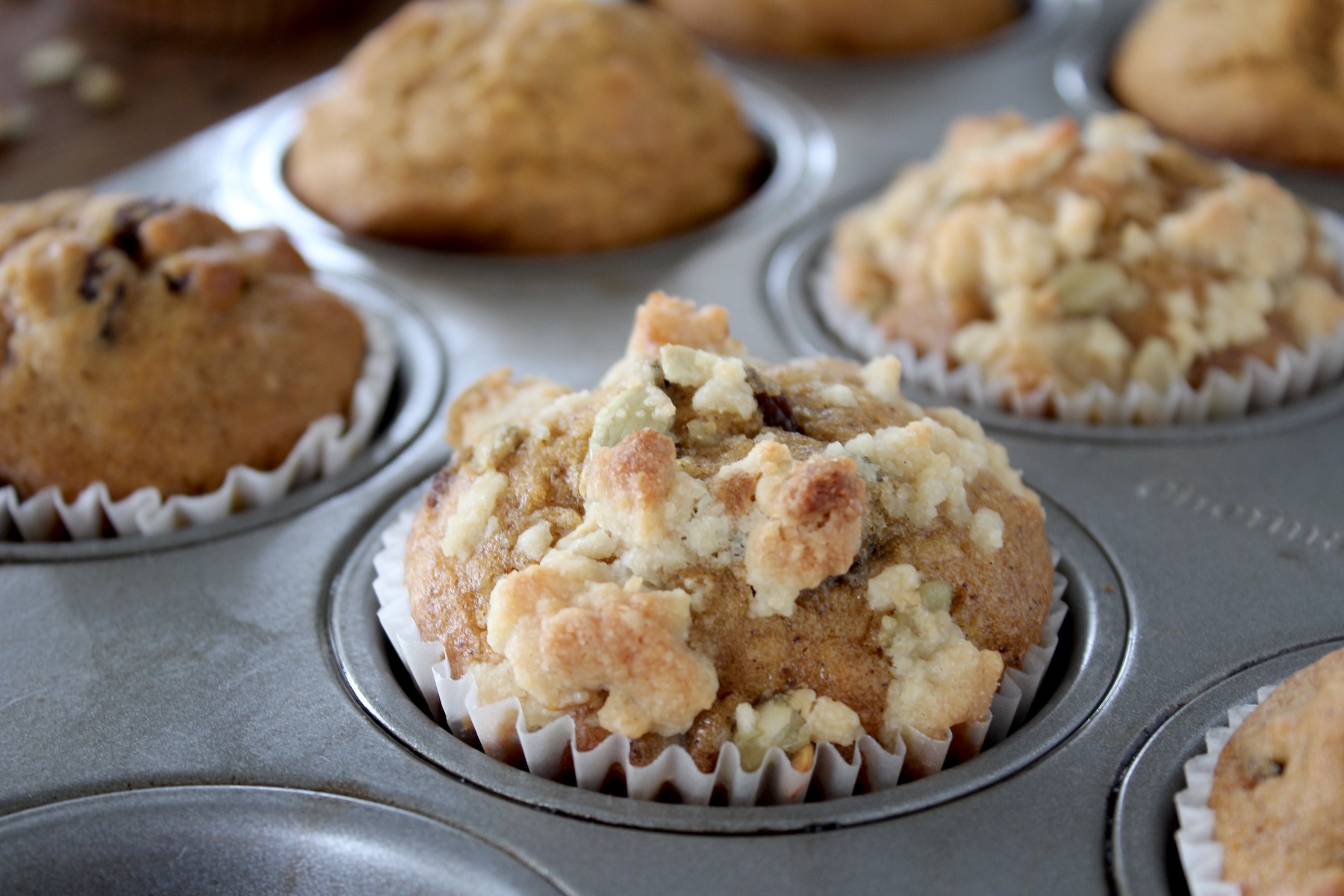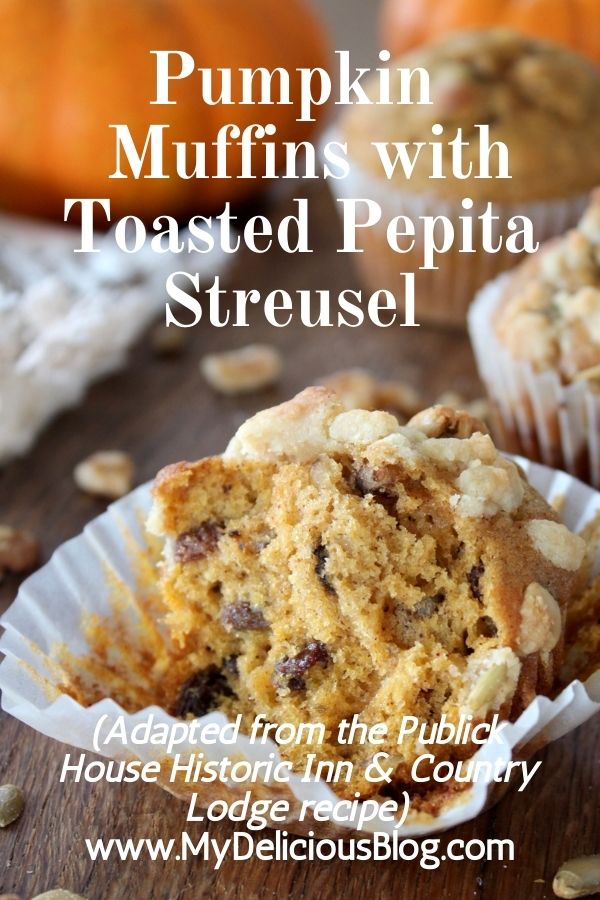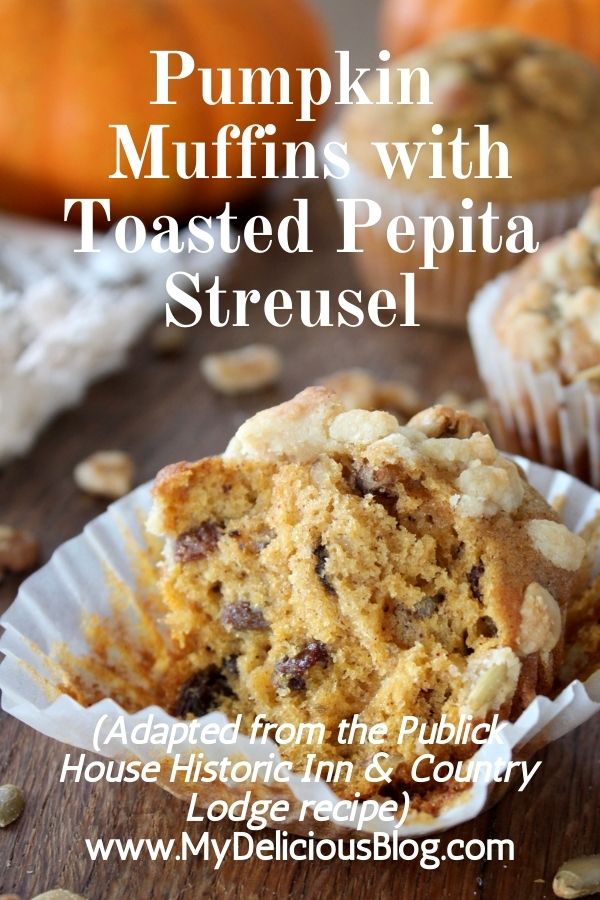 Print Recipe
Pumpkin Muffins
Moist, flavorful pumpkin muffins made famous by the Publick House Historic Inn & Country Lodge in Sturbridge, Massachussetts.
Ingredients
Muffins
2

c.

Granulated sugar

1/2

c.

Vegetable oil

3

large

Eggs, well-beaten

1 1/2

c.

Canned pure pumpkin puree

(not pie filling)

1/2

c.

Water

3

c.

All-purpose flour

1 1/2

tsp.

Baking powder

1

tsp.

Baking soda

3/4

tsp.

Ground cinnamon

1/2

tsp.

Ground cloves

1/2

tsp.

Ground nutmeg

1

tsp.

Table salt

1 1/2

c.

Raisins

1

c.

Walnuts, chopped

(optional)
Streusel (optional)
1/2

c.

Toasted, salted pepitas

(alt: walnuts, almonds, sunflower seeds, etc.)

1/3

c.

Light brown sugar (packed)

3/4

c.

All-purpose flour

1/2

tsp.

Kosher salt

6

Tb.

Unsalted butter, melted
Instructions
Heat oven to 400 degrees; adjust rack to middle.

Place paper cups into 2 muffin trays (24 total) OR grease/flour muffins tins.

Place sugar, vegetable oil, eggs, pumpkin puree and water into a large bowl and whisk together.

Sift dry ingredients into a separate bowl.

Add dry ingredients to the wet mixture and gently combine with a wooden spoon or rubber spatula. Just before fully mixed, add raisins (and walnuts, if using) and stir until combined, but don't overmix!

Fill muffin cups 2/3 full (Note: if using streusel, sprinkle some mixture on top - see below). Bake about 15 minutes. Since every oven and baking tray may produce different results, once you start smelling the deliciousness [usually around 10-12 minutes], start checking the muffins. They'll turn golden and have a domed top, and when a toothpick inserted in the middle of a muffin comes out clean, they're ready.

Remove muffins from tins while warm so they do not continue to cook; cool on a wire rack. Serve warm or at room temperature. Refrigerate any leftovers.
Streusel (optional)
Combine the dry ingredients in a small bowl. Add melted butter and stir to combine (the mixture will be crumbly and sort of dry). Crumble ~1 Tb. over the batter of each muffin before baking (the more you can fit onto the tops, the more delicious they'll be!).
Notes
If you decide to cut this recipe in half, you face the challenge of only using one and one half eggs!  Since 1 egg equals about 3 Tablespoons of liquid, simply beat 2 eggs together, then remove/discard 1 1/2 Tablespoons before pouring the egg into the wet mixture.