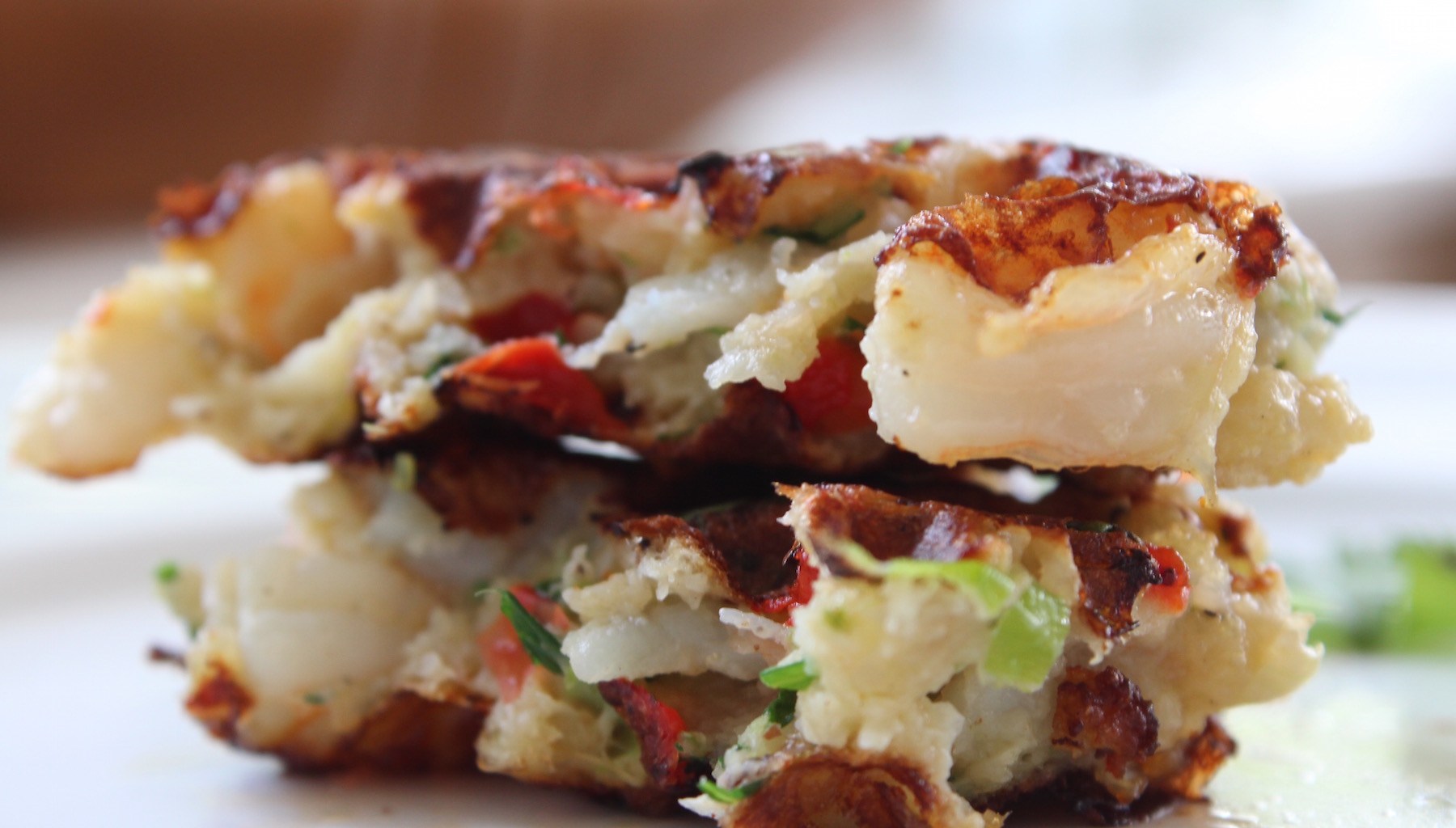 It occurs to me that this is my second recipe for a seafood patty in one week.  But since I've heard that eating ring-shaped foods at the new year brings luck and fortune, this should be a really good week for us all!
This is something I've wanted to try for a while so I've been saving recipes and keeping notes about what could make a tasty combo.  This week turned out to be the right time, because a friend loaned me her treasured family cookbooks — some were actually written in China, others were focused on the true art of Chinese cooking. I love old cookbooks, seeing how recipes were written, where they originated and how they've evolved with available ingredients and new tools. So, on a recent rainy day, I dug into these wonderful books. "Chow – Secrets of Chinese Cooking" was written by Dolly Liu and published in Shanghai, 1939. I love her writing style – casual, lighthearted and direct. I especially love her opening sentence: "One of the duties of a good housewife is to appreciate the importance of cooking and its close relation to domestic happiness." Although many of us don't fall within the definition of a traditional 'housewife' these days, I believe the kitchen is the heart of the home, and a diet of freshly prepared, whole foods goes a long way toward this 'happiness' factor 🙂
Dolly's recipe for shrimp cakes reminded me to get busy on my own experimentation. Hers is simple and traditional — shrimp, ginger, onion, water chestnuts, salt/pepper and a binder of egg and cornflour, then shaped into patties and sautéed in oil (lard, to be exact). After comparing her recipe with others in my inspiration pile, I had a pretty good idea how these little guys are usually made so I set out to make my own version, with a little twist!
After a few attempts, I found that the best way to keep the cakes together was to puree half the shrimp and chop the other half. This provides nice texture and doesn't require as much breading to keep it together (it's a little extra work, but worth it). But, if you don't have time or energy to whip out your food processor, simply mince half the shrimp very finely and keep the other half course-chopped.
Now, the best part.  Over the last couple of years, it seems that every food blogger or chef has been "waffling" anything they can get their hands on. I'm not really one to follow trends, so I've been just a casual observer of this phenomenon but, today, I decided to give it a try. Yup – my twist on these little shrimp cakes was to pop them in a hot waffle iron! Oh, the joy of trying something new 🙂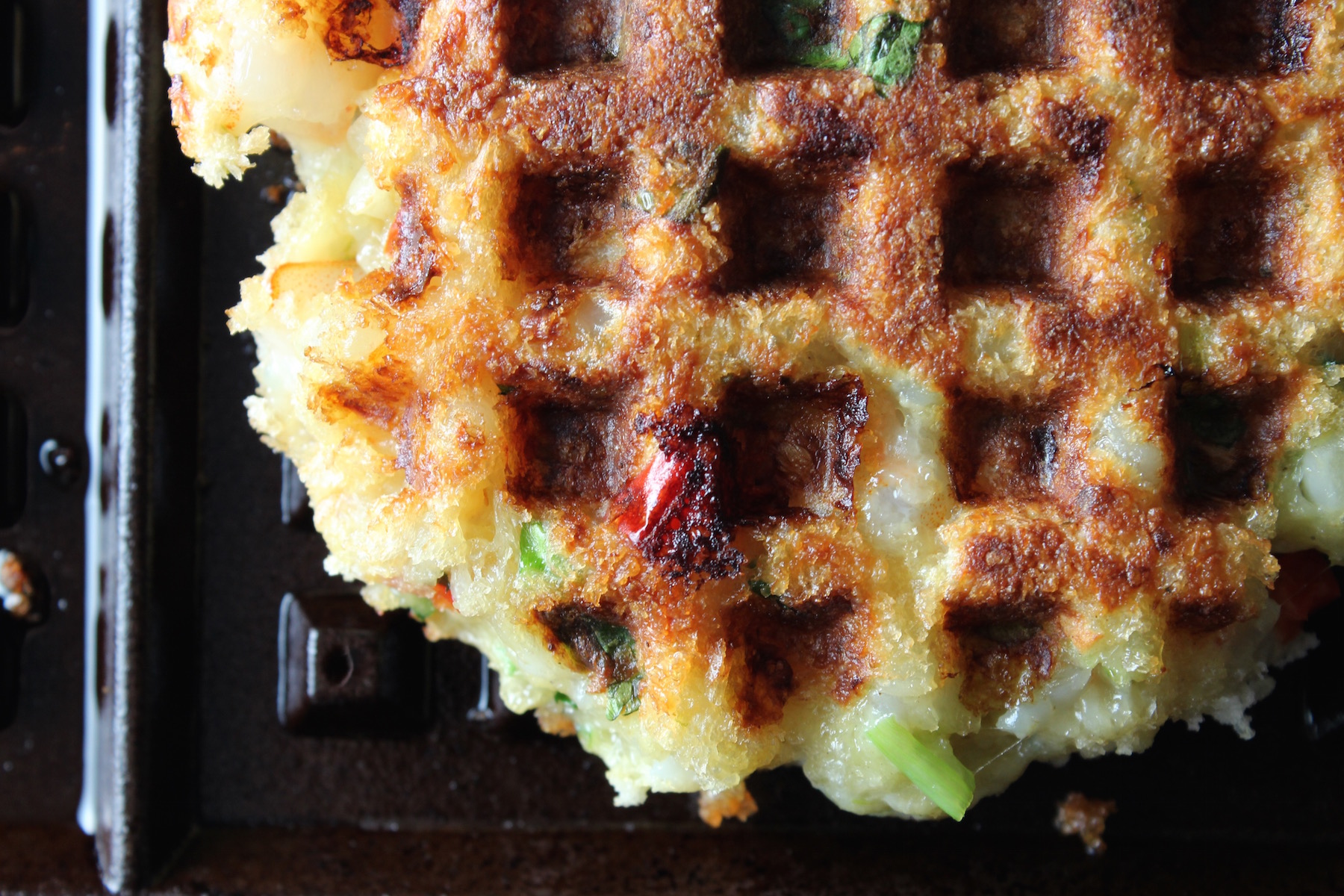 After forming the patties and coating them in Panko, I added some olive oil to the iron and placed each patty in its own section. We all ("all" being 1 cook, 2 cats and 1 husband) anxiously waited to see what would happen and, after about 4 minutes my little waffle iron really did the trick! They were flavorful, tender and crunchy.  The recipe has a nice balance of spiciness from ginger, garlic and Sriracha and a lot of freshness from cilantro, lime and scallion, making them oh-so-good.
Benefits of using a waffle iron? Well, it cooks pretty quickly due to the concentrated heat between layers, the outer coating gets extra crunchy/flavorful since it gets the compressed heat and oil and, ultimately, the finished product is fun to look at!  I served them with sweet chili sauce and a green salad. Very tasty.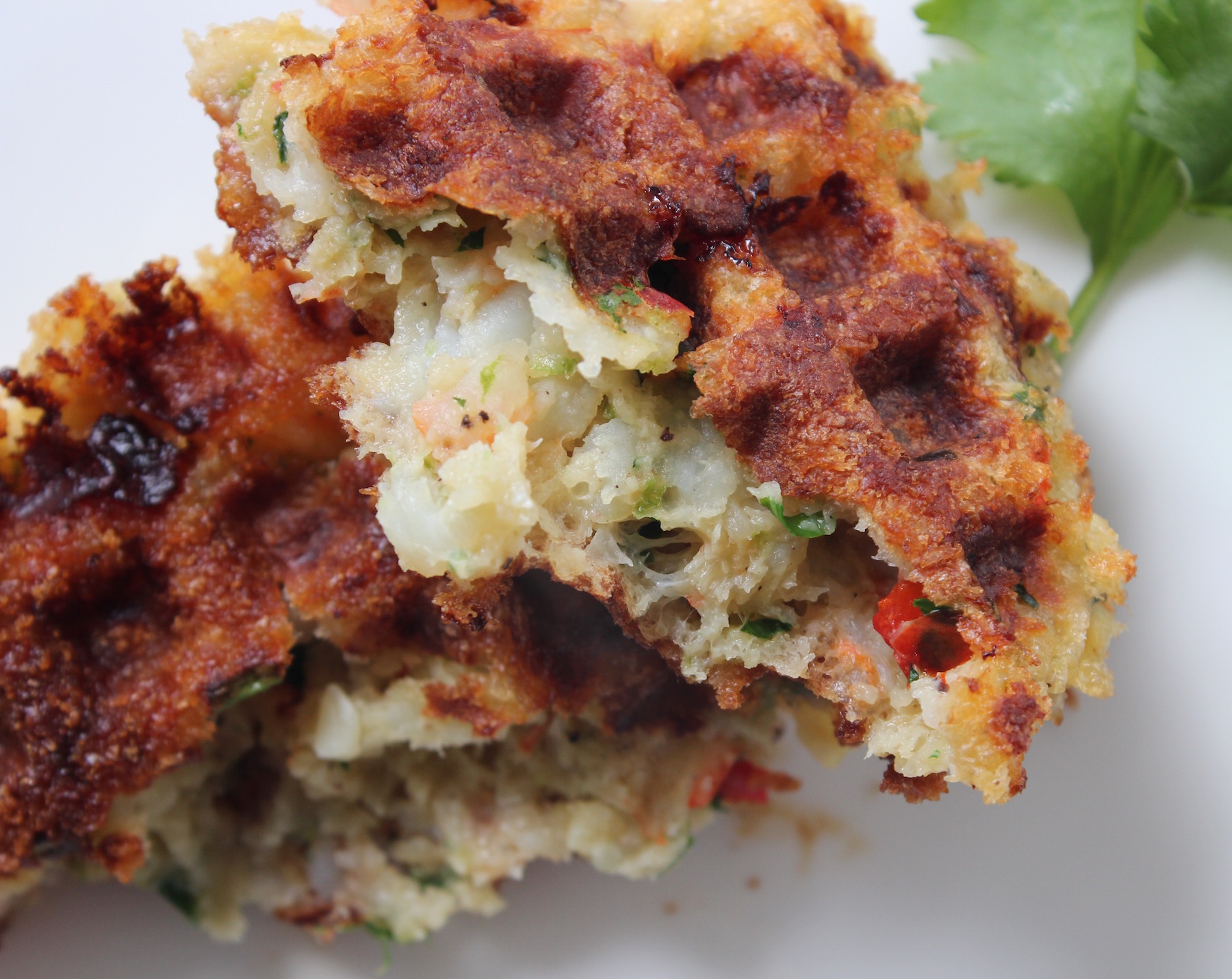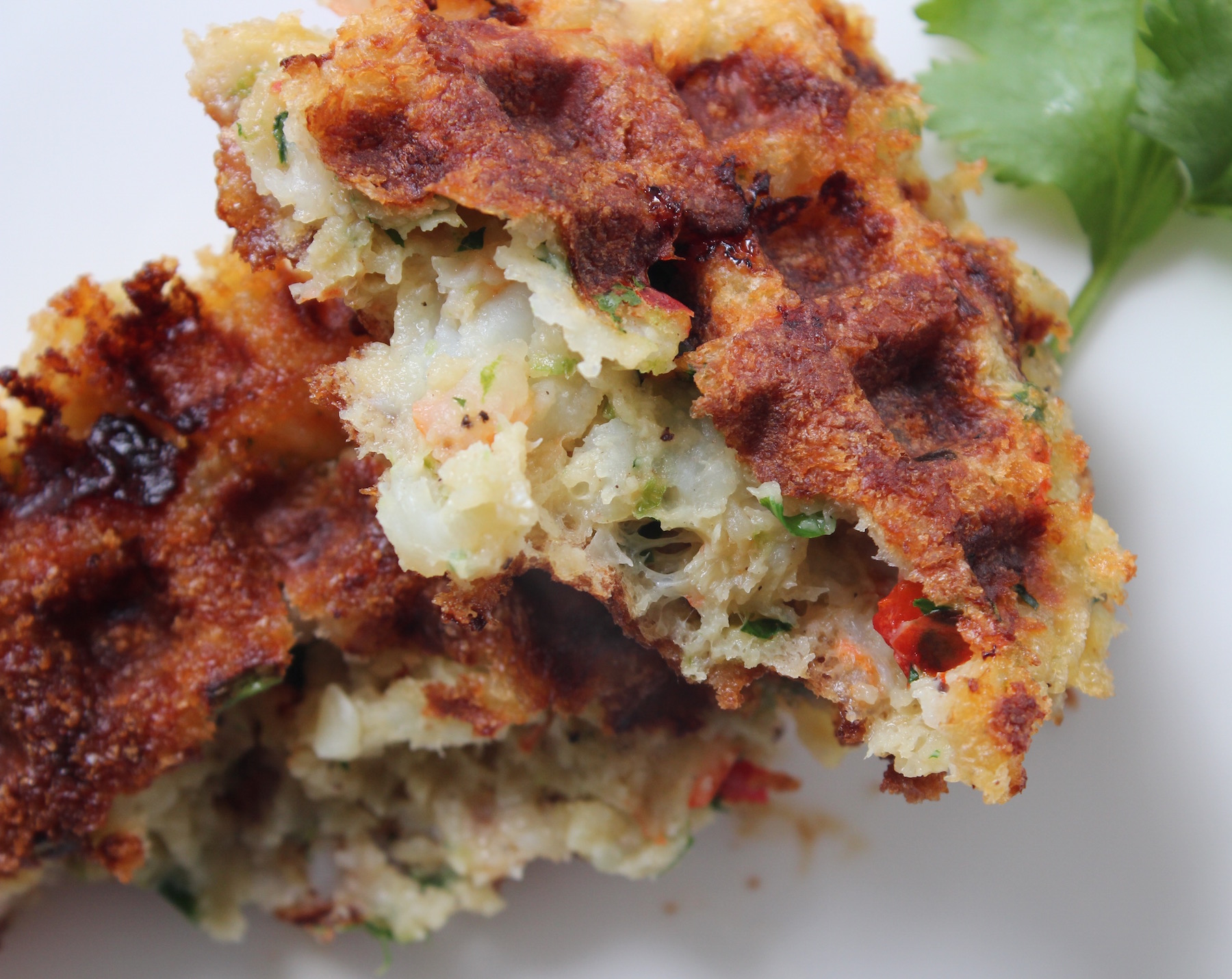 P.S. If you don't have a waffle iron, simply place the coated patties in a medium hot pan with olive or coconut oil, flip after a couple of minutes on each side then serve (keep an eye on them so they don't overcook and toughen). Also, don't feel like you have to painstakingly follow the measurements because you can adjust to your taste. I tried several versions and found you can be very flexible with the recipe, but be sure to keep in some oil (for moisture) and use tasty add-ins, since the shrimp are mild in flavor.  Enjoy!

Shrimp Cakes
Shrimp cakes are even more delicious when run through the waffle iron.
Author:
My Delicious Blog
Ingredients
½ lb. large shrimp, peeled & deveined
2 Tb. red bell pepper, minced
2 scallions (white & green parts), minced
1 Tb. fresh ginger, grated
1 small clove garlic, minced
2 Tb. fresh cilantro, chopped
½ tsp. sesame oil
½ tsp. vegetable oil
2-3 dashes Sriracha (or any hot sauce)
Zest of 1 lime, plus juice of ½ lime
¼ tsp. kosher salt
Few dashes freshly ground black pepper
1 egg, beaten
6 Tb. Panko bread flakes (add a bit more if the mixture seems too wet)
Instructions
Coarsely chop half the shrimp and place in a mixing bowl.
Place the other half of the shrimp in a food processor. Pulse a few times then transfer to the mixing bowl.
Add all other ingredients into the mixing bowl. Stir to combine, then cover and refrigerate about 1 hour for the flavors to merge.
Form mixture into 4 balls and shape into medium sized patties.
Coat each patty in some Panko on a small plate; set aside.
Heat a waffle iron to a hot setting.
Spray olive oil or cooking spray onto the iron grills. Place each patty on the iron (I actually cooked 2 at a time so they would have even heat).
After about 3 minutes, lift the top to ensure they're looking ok, then replace cover and cook another minute (4 minutes total), depending on how thick your patties are.
Remove from the waffle iron and serve with a side of sweet chili sauce.