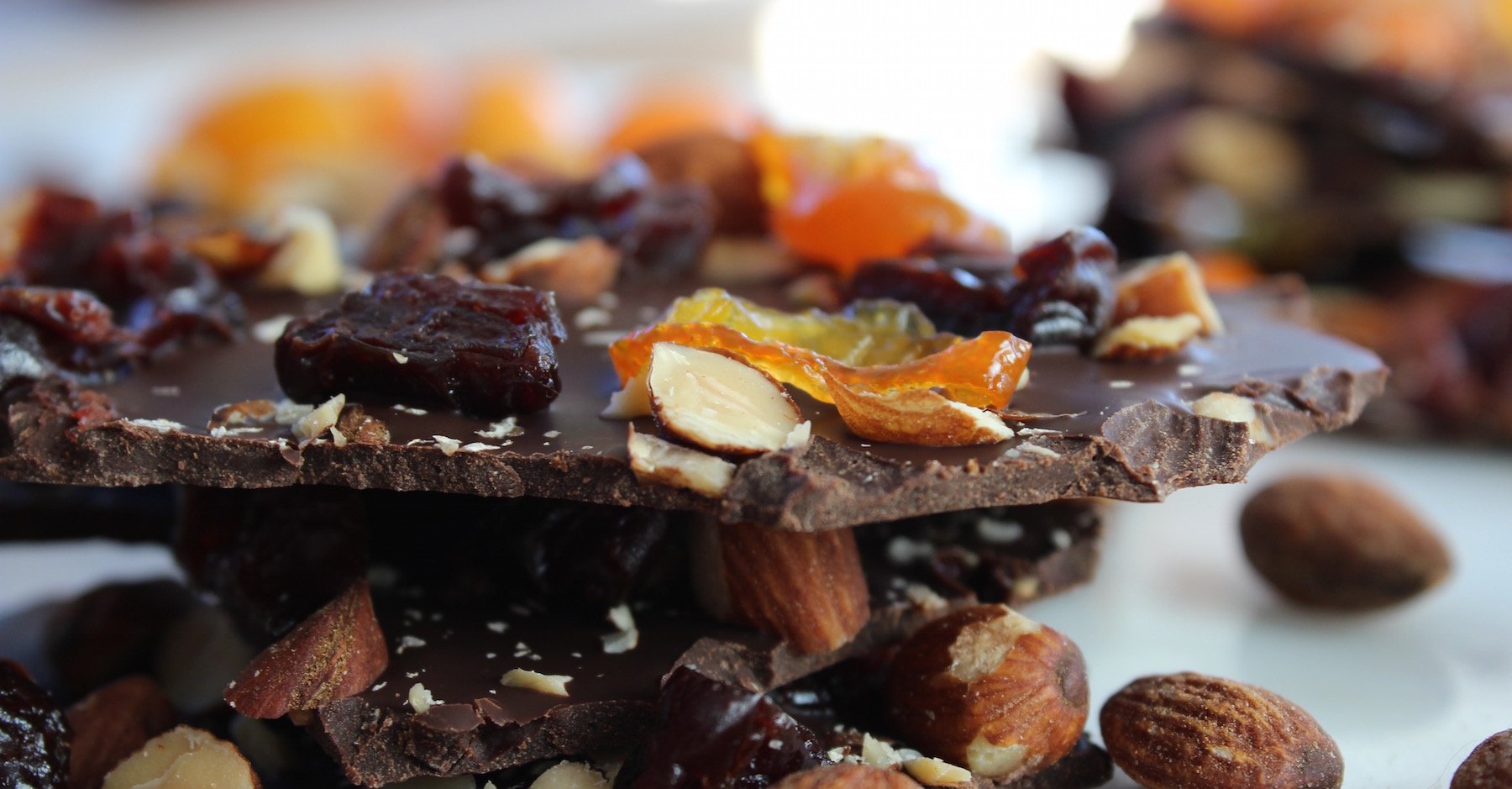 When Valentine's Day rolls around, I always think of my dad because, on that special day, he always gave me a sweet card, flowers, and a little heart-shaped box of chocolates. He made me feel so special, and that feeling carried into adulthood, especially during the years when I didn't have a boyfriend on the big day!  Sometimes I would encounter jealous co-workers in my office, but their hearts always melted when they learned the treats were from my dad. This tradition carried on up until the time I got married, when dad suggested it was time to stop because I now had my 'official' Valentine. . .But I don't care what he says, he'll always be my first, true Valentine 🙂 For your special someone on Valentine's Day, how about making chocolate bark? It's pretty to look at, easy to make, and will definitely be welcomed by the lucky person who receives it. You can use whatever type of chocolate you like (milk, white, bittersweet, semi-sweet, etc.) and top it with what looks or sounds tasty to you, so the possibilities are endless. Some of my favorite combos include 1) roasted cashews, apricots and dried cranberries, 2) mixed/salted nuts, 3) roasted/unsalted nuts with a sprinkling of crispy, 
flavored salt
. I've made bark using the method of melting the chocolate then pouring it and topping with tasty ingredients (today's recipe), but I've also made it by tempering the chocolate before pouring. Tempering gradually brings down the temperature of the melted chocolate, resulting in a shiny finish and a 'snap' when you break it apart, but it does take more time and patience. Both methods result in a yummy chocolate treat, but if you're in a hurry and simply want fast access to something delicious, try the non-tempering method (it works best if you make it the same day you'll use it, otherwise the chocolate tends to turn whitish on the surface after a couple of days and it's not as pretty). Today I decided to go with a dark chocolate blend of bittersweet and semi-sweet so it wasn't
too
sweet. I chose salted/roasted almonds and dried, tart cherries — good stuff for your heart. I also tossed in some delicious, candied
Florida kumquats
for sweet/tart flavor and chewy texture.  You can easily find fresh kumquats this time of year – just about any supermarket carries them in the produce section, and farmer's markets carry them as well.  Unless, of course, you have a neighbor who has a tree in his backyard and he's willing to share 🙂 Here's a pic of the gorgeous kumquats — look at that color!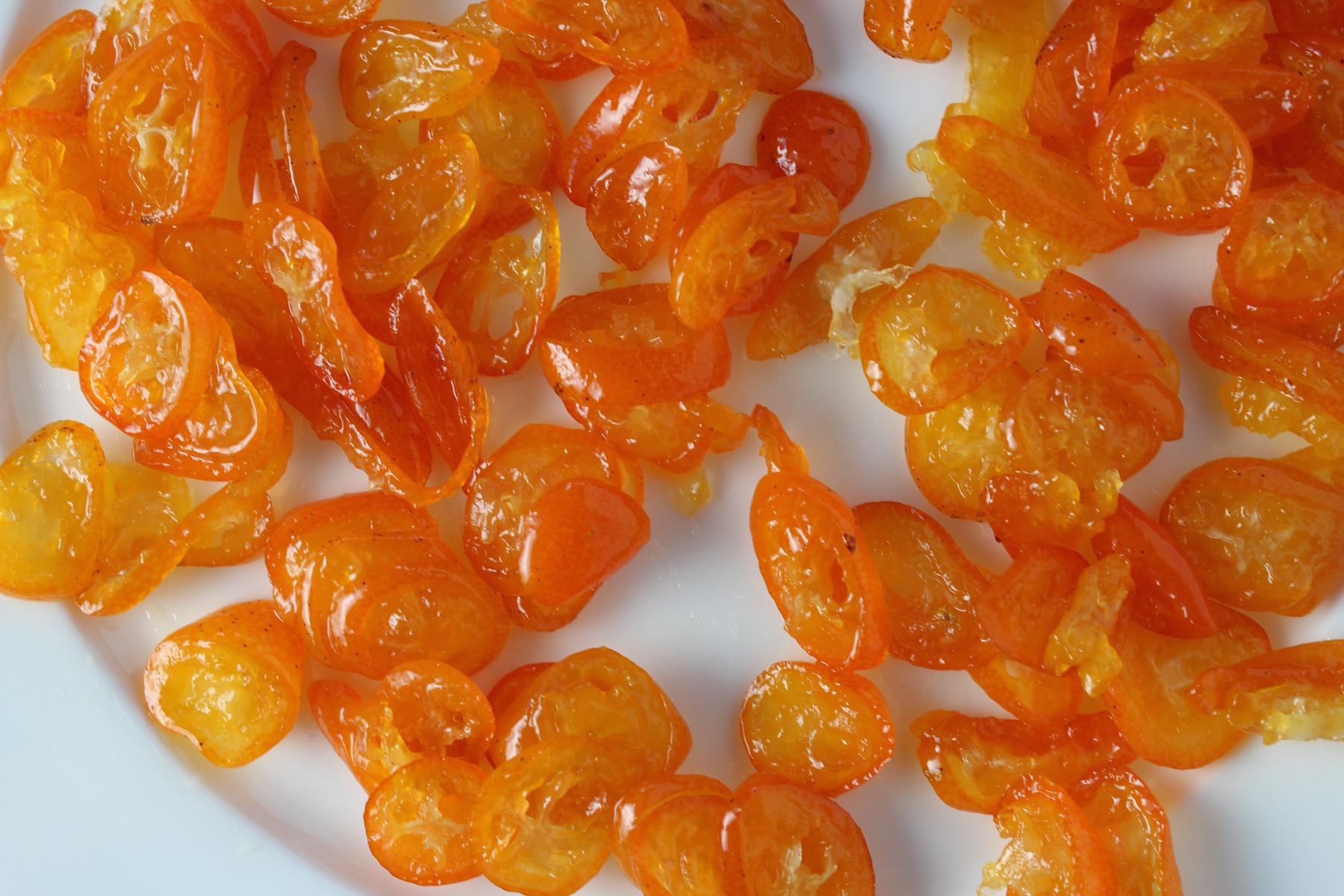 Here's the chocolate with all the fixins.  This combo is tasty AND pretty, and I think my hubby will like it!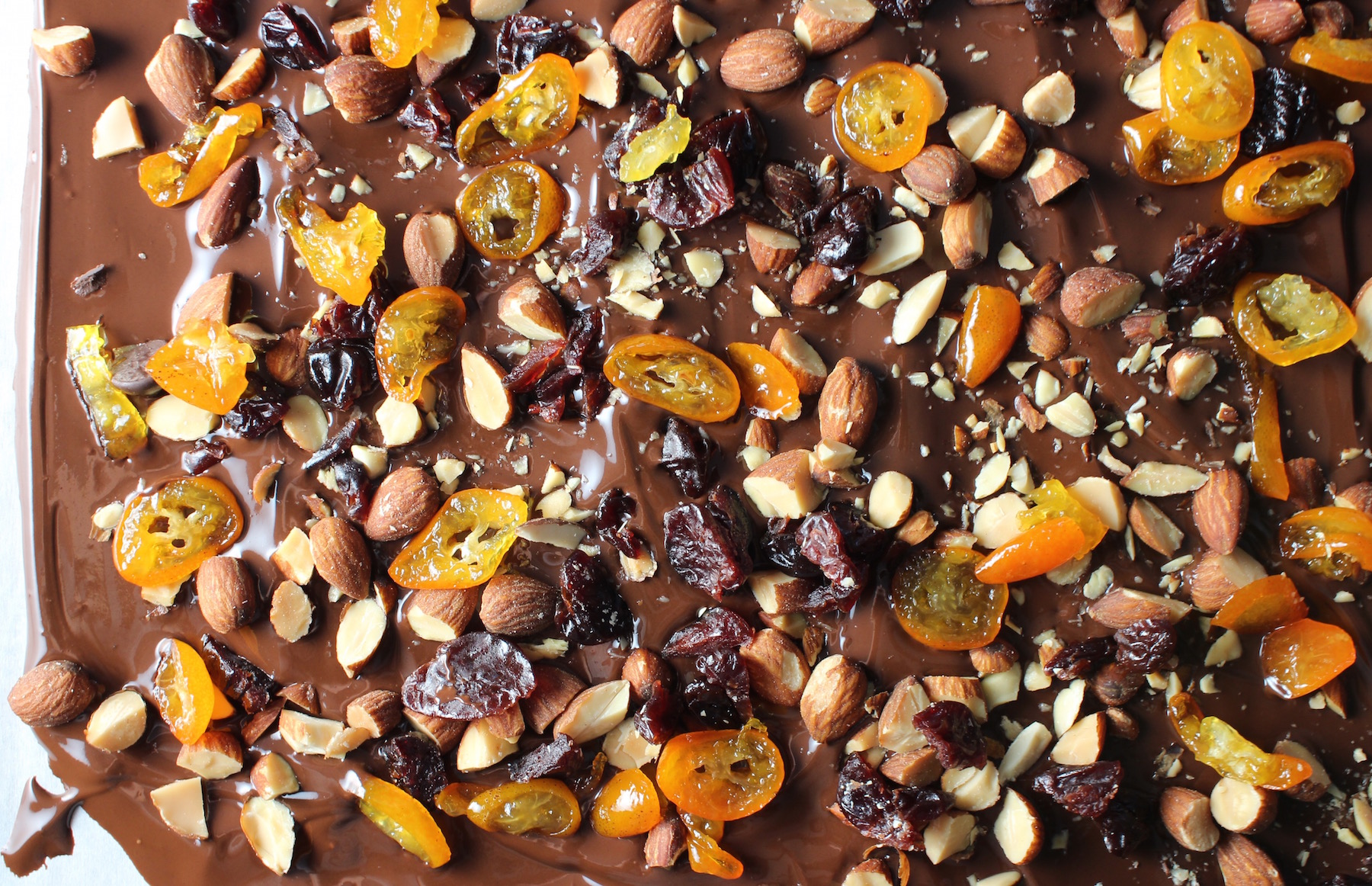 Valentine's Day Heart-Healthy Chocolate Bark
Dark chocolate with yummy fruits and nuts makes the perfect healthy snack.
Author:
My Delicious Blog
Ingredients
Candied Kumquats
1 c. water
½ c. granulated sugar
1 c. sliced, seeded kumquats
Bark
1 c. bittersweet chocolate*
1 c. semi-sweet chocolate*
1 c. roasted, salted almonds, roughly chopped
1 c. dried cherries, roughly chopped
⅔ - 1 c. candied kumquats (depending on how many you want on your bark)
Instructions
For the Candied Kumquats:
Remove stems from the kumquats. Cut off the stem end of each (about ⅓ of the length of the fruit), and cut off the bottom ⅓ of the fruit. Roll/squeeze the middle section between your finger and thumb and the large seeds should fall out. (You may need to use the tip of a sharp knife to get them out, if they're stubborn.)
Once all the seeds have been removed, slice each kumquat thinly.
In a small sauce pan, add water, sugar and kumquats. Bring to boil and simmer on low for about 15 minutes.
With a slotted spoon, remove kumquats from the liquid and spread on a plate to cool (try to ensure they're not sitting in too much liquid). Reserve the syrup in case you decide to save some of the candied kumquats for snacking later.
For the Bark:
Spread a piece of parchment paper over a large baking sheet.
In the bowl of a double boiler, add the chocolate. Bring to boil then reduce to low simmer. Stir frequently so it melts slowly.
Remove the bowl from the simmering liquid and towel dry off the moisture.
Pour the chocolate onto the parchment-lined baking sheet and spread with a rubber or offset spatula, until you have about 3" all around (you can make your bark thin or thick, depending on how much you spread it).
Sprinkle the chocolate with almonds, cherries and kumquats. Press them into the chocolate a bit, so they won't all fall off later 🙂
Refrigerate or simply allow to cool at room temperature for at least 2 hours.
When the chocolate has set, break apart in large chunks.
Notes
1) Try to use the best quality chocolate you have. For this batch, I simply used a good brand of chocolate chips/morsels found in the grocery store, but it's ideal if you can use Valrhona, Scharffen Berger, Ghirardelli, etc.

2) If you decide not to use the whole cup of candied kumquats on your chocolate bark, save some with their cooking liquid. Simply refrigerate them in an airtight container and snack on them when you crave something sweet!