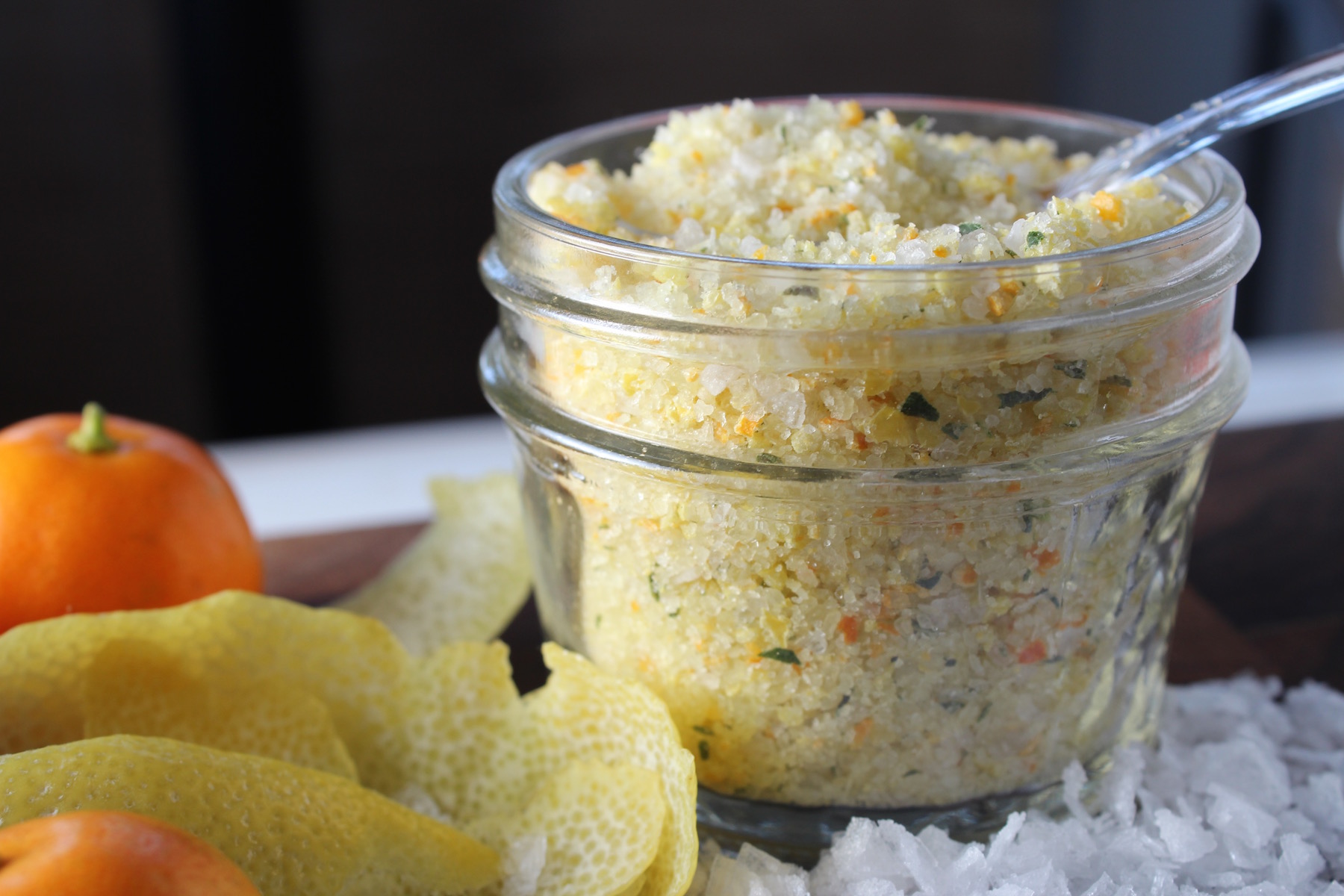 According to Jay Rayner, British food critic,
"Salt is the difference between eating in Technicolor and eating in black and white."  
 How true!  Unless you're on a low-sodium diet, salt is a basic flavor enhancer in your kitchen. It's a key ingredient in cooking and baking because it rounds out the flavors of food.  And a
flavored
salt, in particular, can bring any dish from good to great in just a pinch. For those of us who cook a lot, making our own flavored salts is an economical (i.e., less than a couple of dollars) way of having delicious flavors at our fingertips, without having to pay the high prices at specialty stores. I typically start with sea salt, fleur de sel or Maldon — and sometimes I mix all three if I have them on hand. Each offers its own texture and flavor differences, depending on moisture content.  Even kosher salt works well in a flavored salt.  You can use herbs, citrus, mushrooms, fruits, vegetables, chile peppers and any number of items — either straight from the garden or dried beforehand, depending on what you're using.   The only thing that limits you is your imagination 🙂  I especially like to blend citrus with fresh herbs, since I cook a lot of fish, so I always have a batch handy. And I typically make small batches, so I know it's always fresh. If you start with already dried ingredients, you can simply mix them into the salt and let it sit for a while to permeate the flavors.  But when it comes to using citrus, I like to blend the salt directly with the citrus peels and herbs (in a food processor) and dry everything in the oven at a low temperature — this offers a really intense flavored salt since all the oils from the citrus and herbs are blended directly into the salt.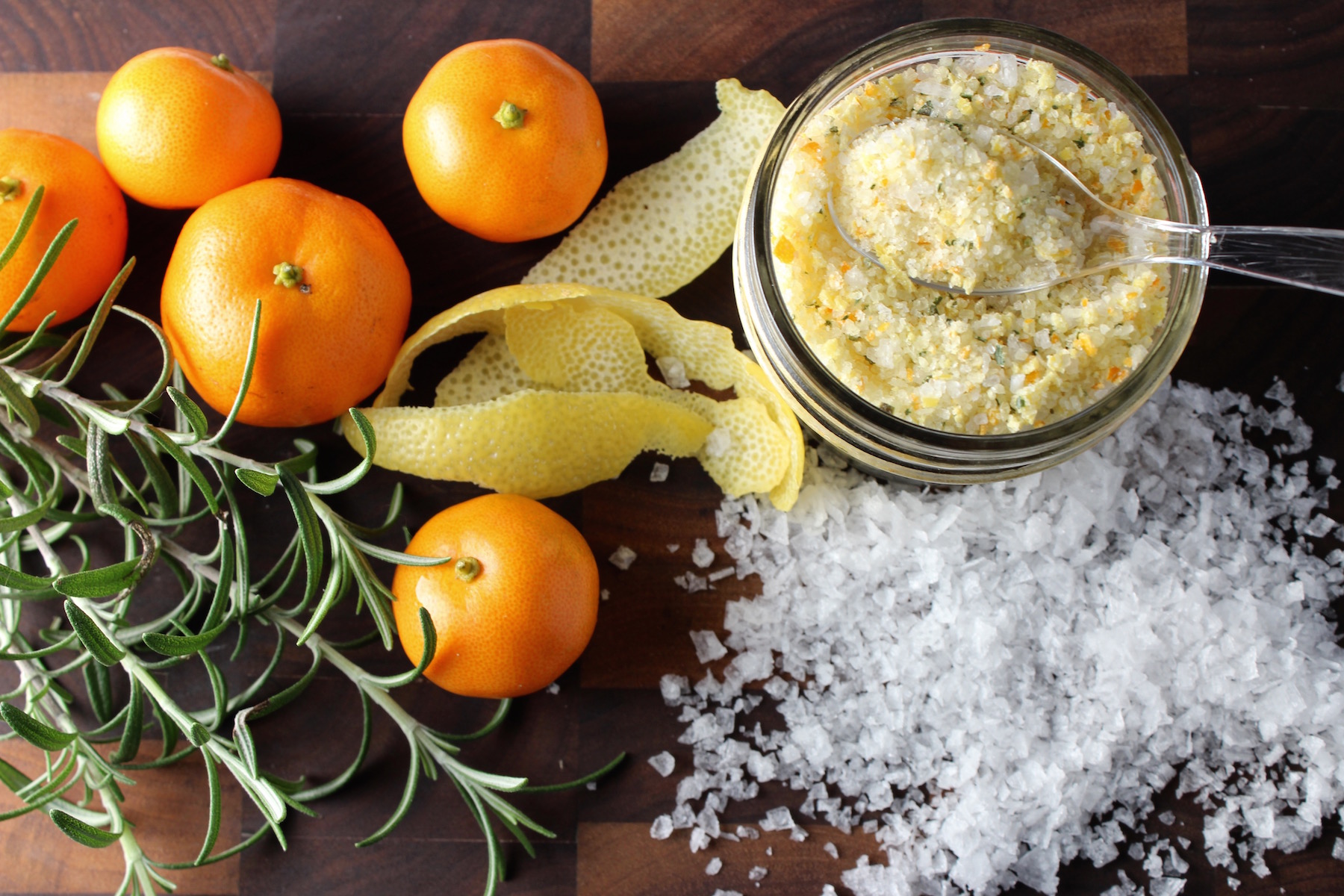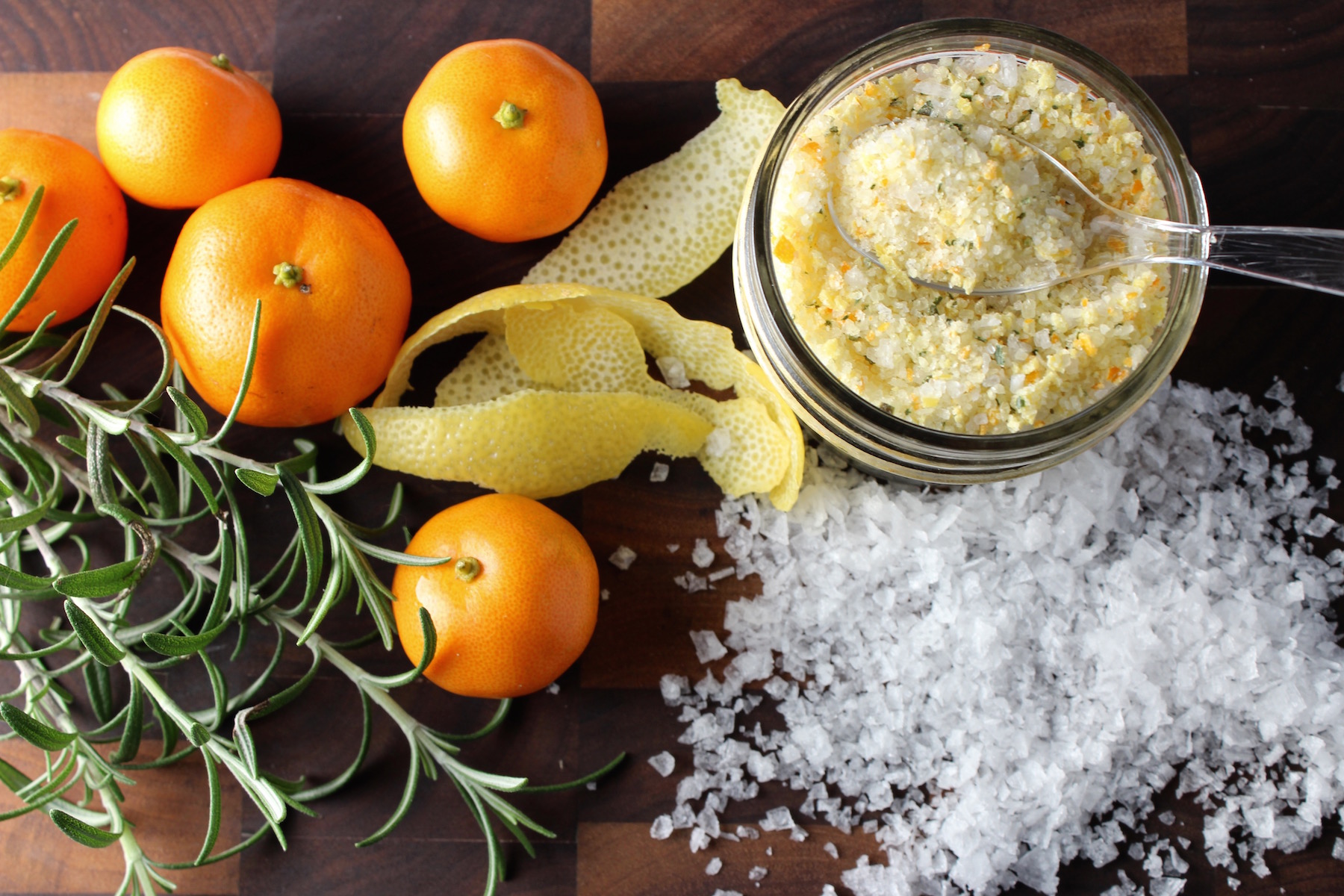 For this batch, I used some of my beautiful calamondin* peels, along with fresh lemon peels and rosemary.  It's a colorful, fragrant and flavorful combination that's particularly delicious on seafood, but also great on grilled poultry or vegetables. I've even used this flavored salt as a marinade for a raw turkey breast that sat in the fridge for 24 hours.  Once I roasted it, I found that the salt had tenderized the meat, drew out its excess moisture, and brought in a lot of flavor dimension, so it was really yummy. (*Note – if you don't have access to calamondins, simply use orange peels, without the white pith). Some tips when making flavored salt: 1) A general proportion rule to follow is 1/4 c. salt to 1 tsp. flavorings. 2) Try experimenting with flavorings and salt types to find out what you like best. 3) They can be very concentrated in flavor, so when topping a finished dish, start with a small amount and add more to taste (you don't want to overpower your dish). 4) Flavored salts can even be mixed into a dish while cooking, just be aware of how much salt you're adding, so you don't over-do it. 5) When packaged in pretty, airtight containers, they make great hostess or holiday gifts for folks who love to cook.
Calamondin, Lemon & Rosemary Salt
Dried calamondin (citrus) peels make then perfect addition to this flavored salt.
Author:
My Delicious Blog
Ingredients
½ c. sea salt
½ c. Maldon salt (reserve ¼ c.)
2 Tb. fresh rosemary leaves
Zest or peel of 1 small lemon
1 Tb. calamondin (or orange) peels
Instructions
Heat oven to 150 degrees.
Line a baking sheet with parchment paper.
Place sea salt and ¼ c. of the Maldon salt into a food processor.
Add the rosemary leaves, lemon zest and calamondin (or orange) peels.
Pulse several times to combine the ingredients. When it looks like everything is incorporated and minced, transfer to a small bowl.
Add the remaining ¼ c. Maldon and stir throughout the mixture.
Pour the mixture into the prepared baking sheet.
Place in oven to dry out the salt mixture for about 20 minutes.
Remove from oven and cool thoroughly before transferring to an airtight container.
Notes
1) If using orange peels (not calamondins), be sure to just get the outer orange peel/zest and not the white part, which can be bitter.
2) If you don't have access to Maldon, sea salt or fleur de sel, kosher salt makes a fine substitute.