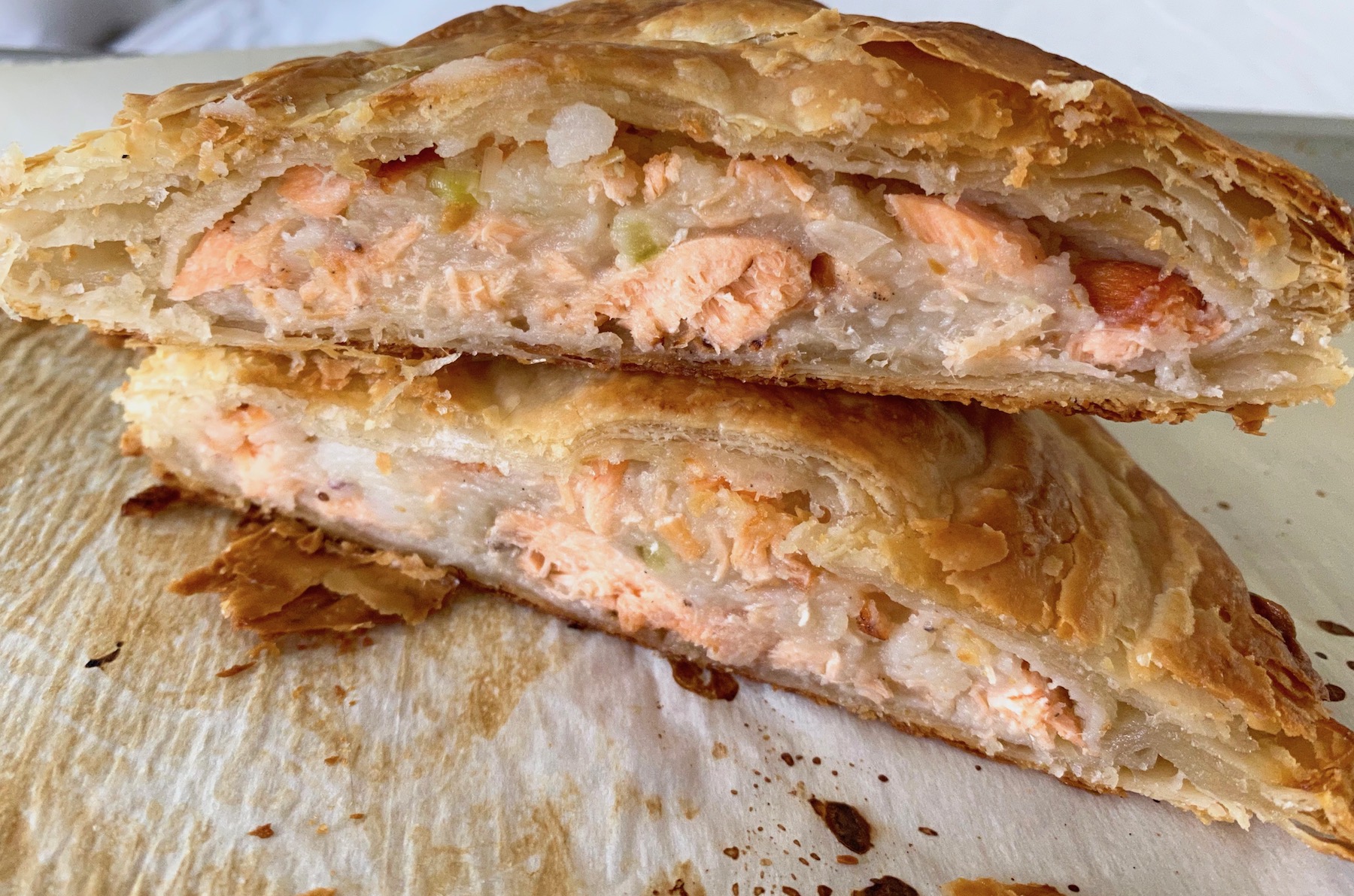 Craving comfort food lately?  You're not alone.
The definition of comfort food differs from person to person.  When stressed or exhausted, I want meatloaf and mashed potatoes.  Or bread pudding.  Or homemade macaroni and cheese.  Or pizza.  Or creamy risotto.  Or stuffed cabbage.  Or gooey, chocolate cake.  It's actually a pretty long list.  My go-to dishes seem to be high on the carb meter and, ideally consumed with a spoon (the ultimate in comfort-eating, in my book).
This week I found myself craving something I haven't had in a long time, but it's a tradition in my French Canadian family.  I'm talking about
salmon and potato pie
.  It might sound like an odd combination, but it's a treasured dish for those of the Canadian persuasion.  It's a variation of traditional meat pie (
tourtière
) in which ground pork is simmered gently with spices and onion, thickened with mashed potatoes, and baked in a double crust.  Typically, the seafood version is made with
canned
salmon (many times, with bones included, which any grandmother will tell you are very good for you).  Canned salmon also has concentrated liquid in which it's packed that infuses the potatoes and lends an even richer salmon flavor to the pie.  Personally, I like to make it with fresh salmon, without any bones.  But that's just me.
Being low on flour AND ambition, I used my box of frozen puff pastry to make little hand pies instead of a 2-crust pie.  Luckily I had frozen salmon, potatoes, celery and onion, so it was the perfect day for this meal.  The filling is easy to make: 1) boil potatoes and mash them, 2) add cooked salmon and sautéed onion/celery, 3) spoon filling into puff pastry (I cut mine into squares to make hand pies), and 4) bake.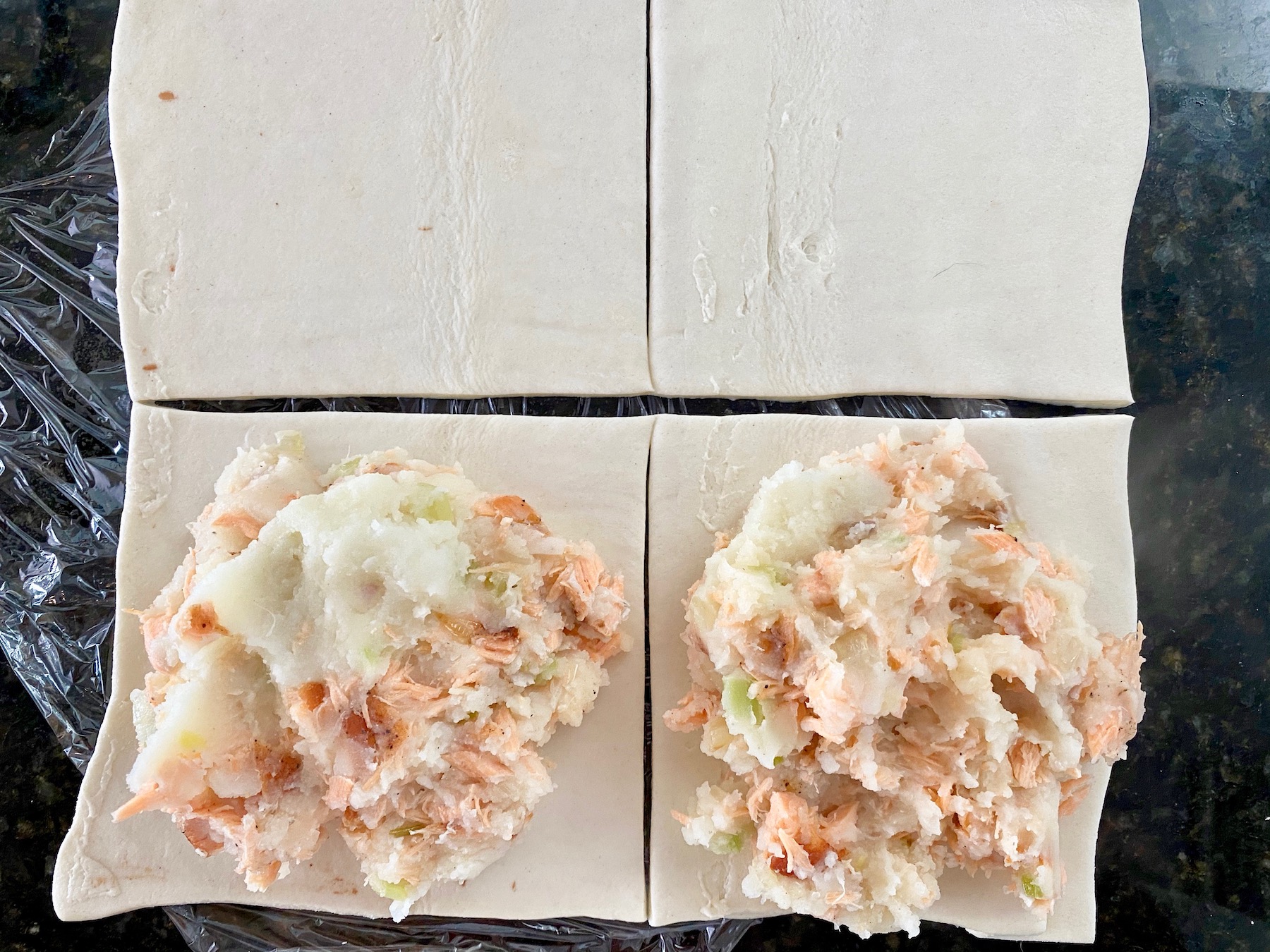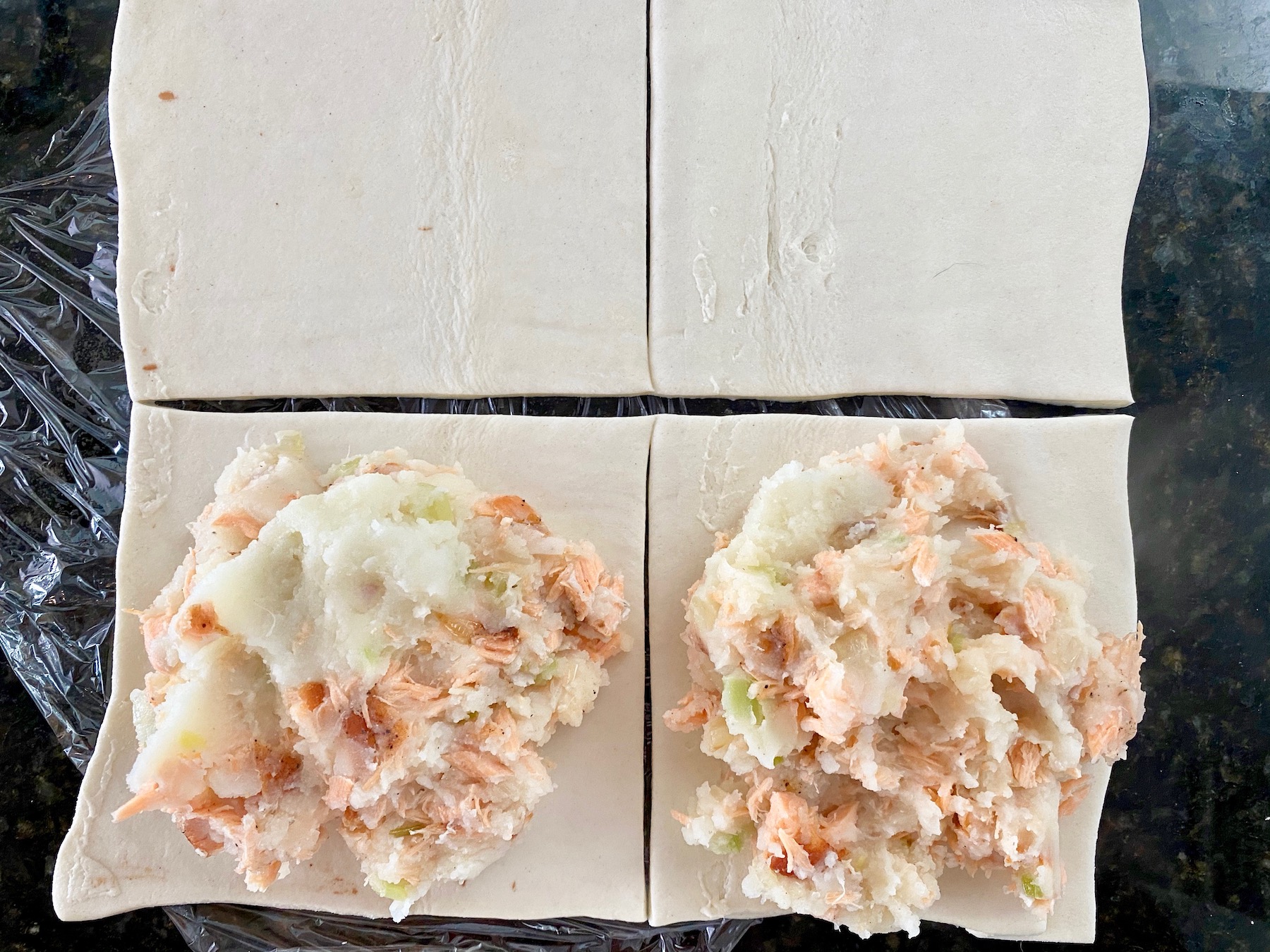 In about 30 minutes, they're golden brown and smell heavenly.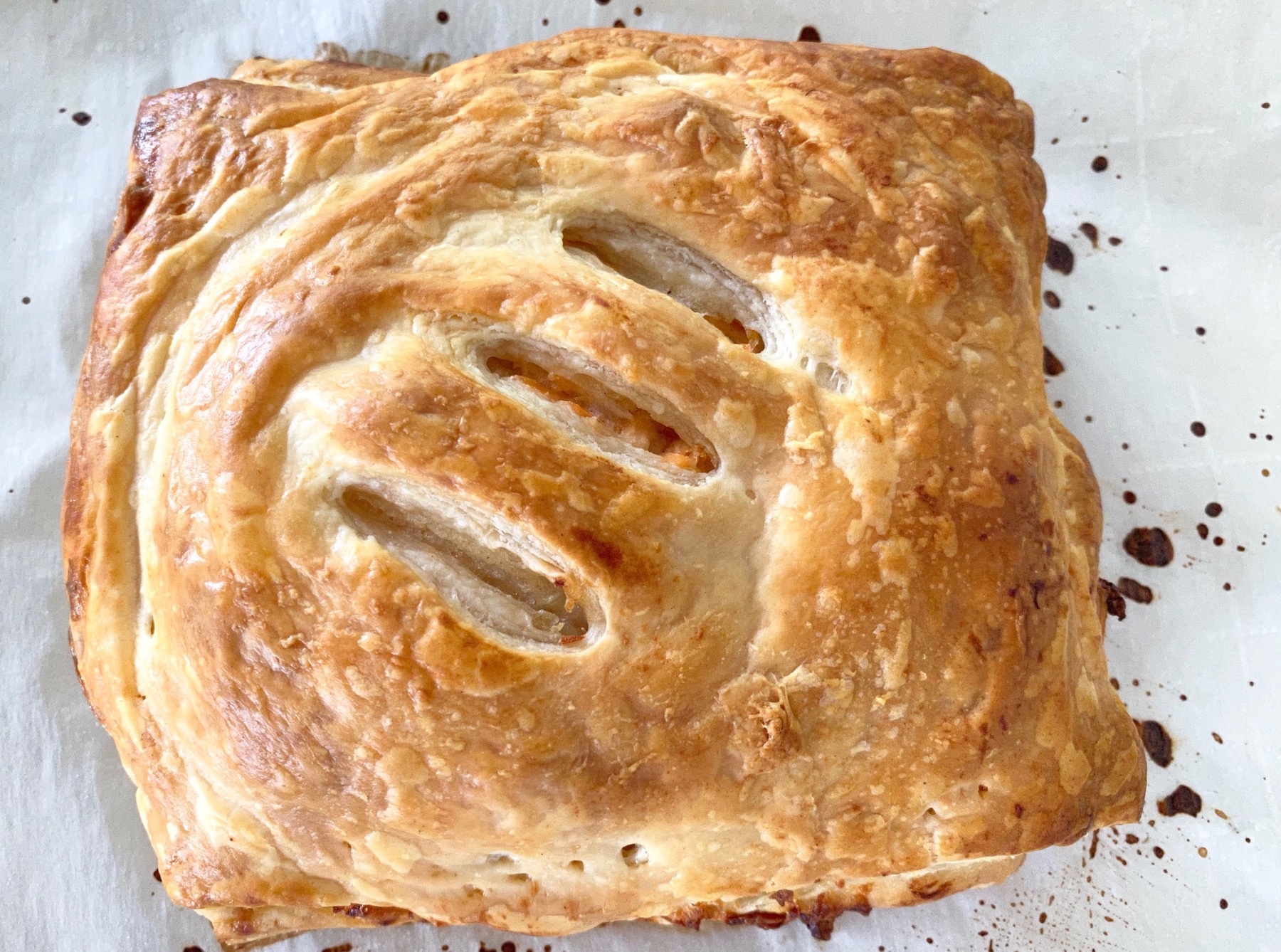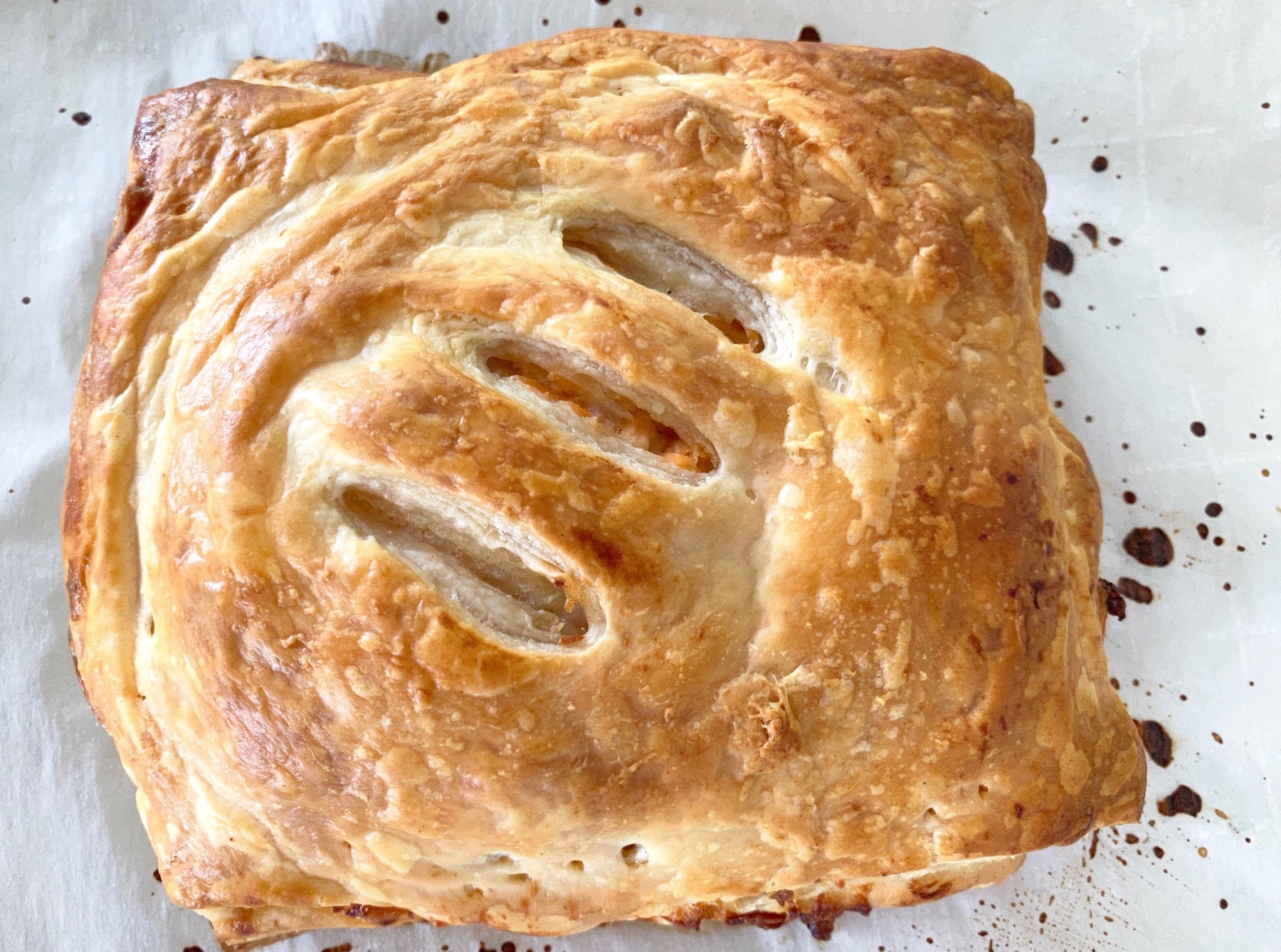 Even Libby and LuLu enjoyed the yummy aromas emanating from the kitchen: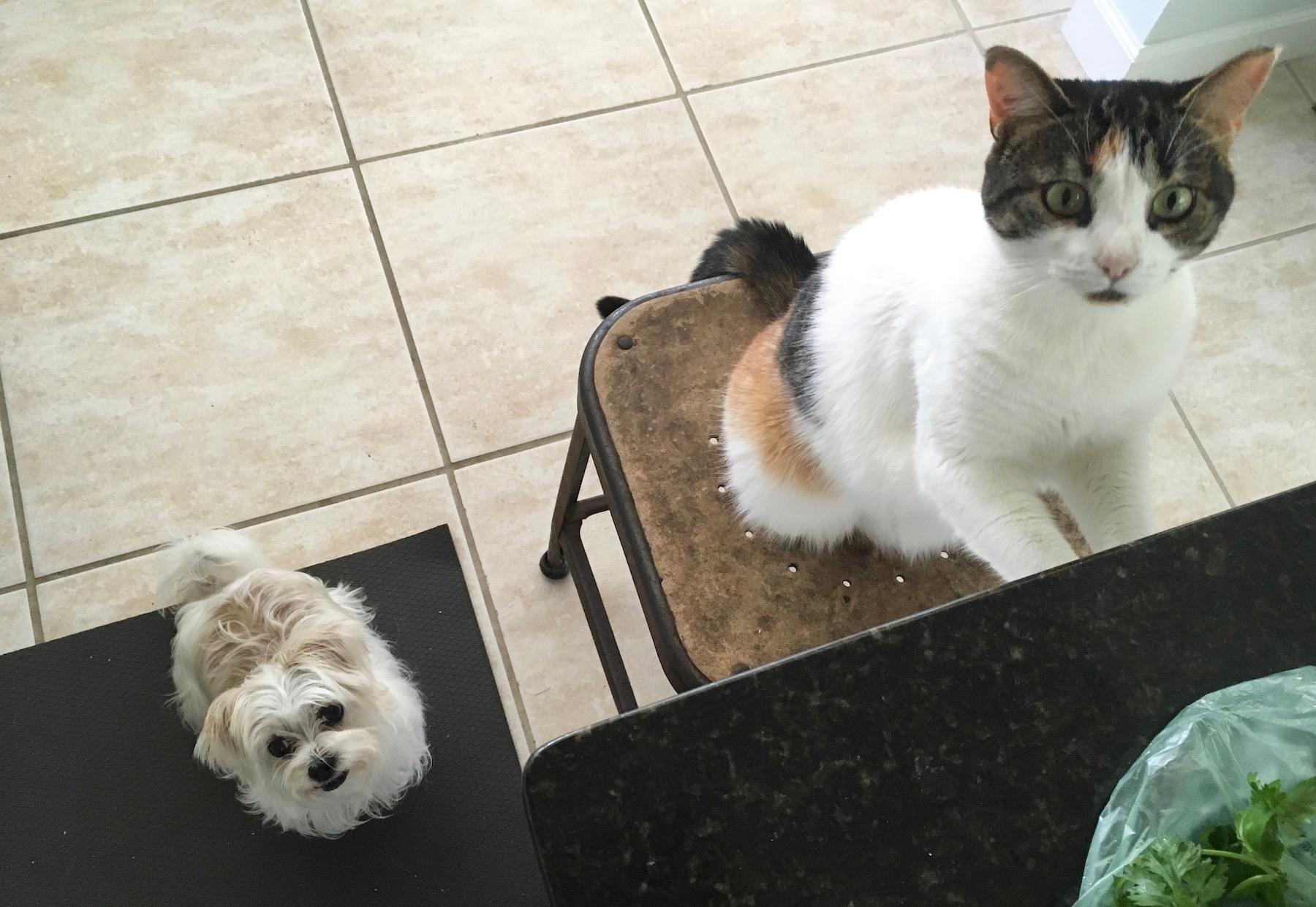 When cool, you can taste each delicate ingredient in every bite.  Serve 'em with a fresh, green salad, and you've got a perfectly comforting meal that you don't have to be French to enjoy 🙂
P.S. there are no hard and fast rules to this pie – if you have less potatoes, just add more salmon, or vice versa.  Don't have an onion?  Try scallions.  You get the idea.  And if you end up with too much filling, just make seared salmon/potato cakes (like latkes) the next day.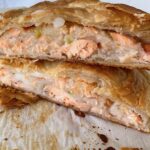 Print Recipe
Salmon and Potato Hand Pies
Based on a French-Canadian tradition, these salmon and potato hand pies are a slightly easier version, due to the use of pre-made puff pastry!
Ingredients
1/2

lb.

Fresh salmon (skinless, bones removed)

(if using salmon with skin, simply remove the skin after it's cooked, along with the dark bloodline)

1/2

lb.

Red or Yukon Gold potatoes, peeled

1

medium

Onion, peeled & chopped

1

Celery rib, chopped

2

Tb.

Unsalted butter

1

box

Pre-made puff pastry, thawed

Kosher salt & freshly ground black pepper
Instructions
Thaw package of puff pastry in the refrigerator (or on kitchen counter for about an hour).

Preheat oven to 400 degrees and line a baking sheet with parchment (or foil).

Cut potatoes into evenly-sized pieces, place in a medium sauce pan and cover with cold water. Bring to boil and cook until fork-tender. Drain water and mash with a hand masher. Add salt and pepper, to taste, along with some butter (if desired). Set aside until ready to use.

In a non-stick skillet over medium heat, add 2 Tb. butter, chopped onion and celery. Cook several minutes until onion becomes translucent, and celery is tender. When done, transfer to the mashed potatoes.

In the same skillet, return heat to medium/high and add the salmon. Season with a little salt and pepper. After about 2 minutes on the first side, then flip, cover the pan and turn off heat (this will allow the fish to continue cooking, while retaining its moisture) and let it sit for 3-5 minutes. (Note: you could also poach the fish in water or broth, or roast it in the oven - whichever you prefer).

Remove cooked fish from the pan and allow it cool slightly before breaking into small pieces/flakes. Add it to the potatoes and stir until everything is combined.

Place puff pastry sheets onto a lightly floured surface. Use a rolling pin, gently roll the pastry to expand it by about 1" all around, then cut each sheet into 4 pieces.

Spoon equal parts of potato mixture onto 4 of the pastry pieces, leaving about 1/2" all around the square.

Dab a bit of water on the edges of the bottom pastry, then place another square on top of the filling. Gently press edges together, then use a fork to crimp the edges.

Place the 4 pouches onto the parchment paper then brush the tops with whatever you have on hand -- a little whole milk, some heavy cream, or 1 egg whisked with a little water.

Place in oven about 30 minutes, until nicely brown. Remove, then allow to cool at least 10 minutes before serving.