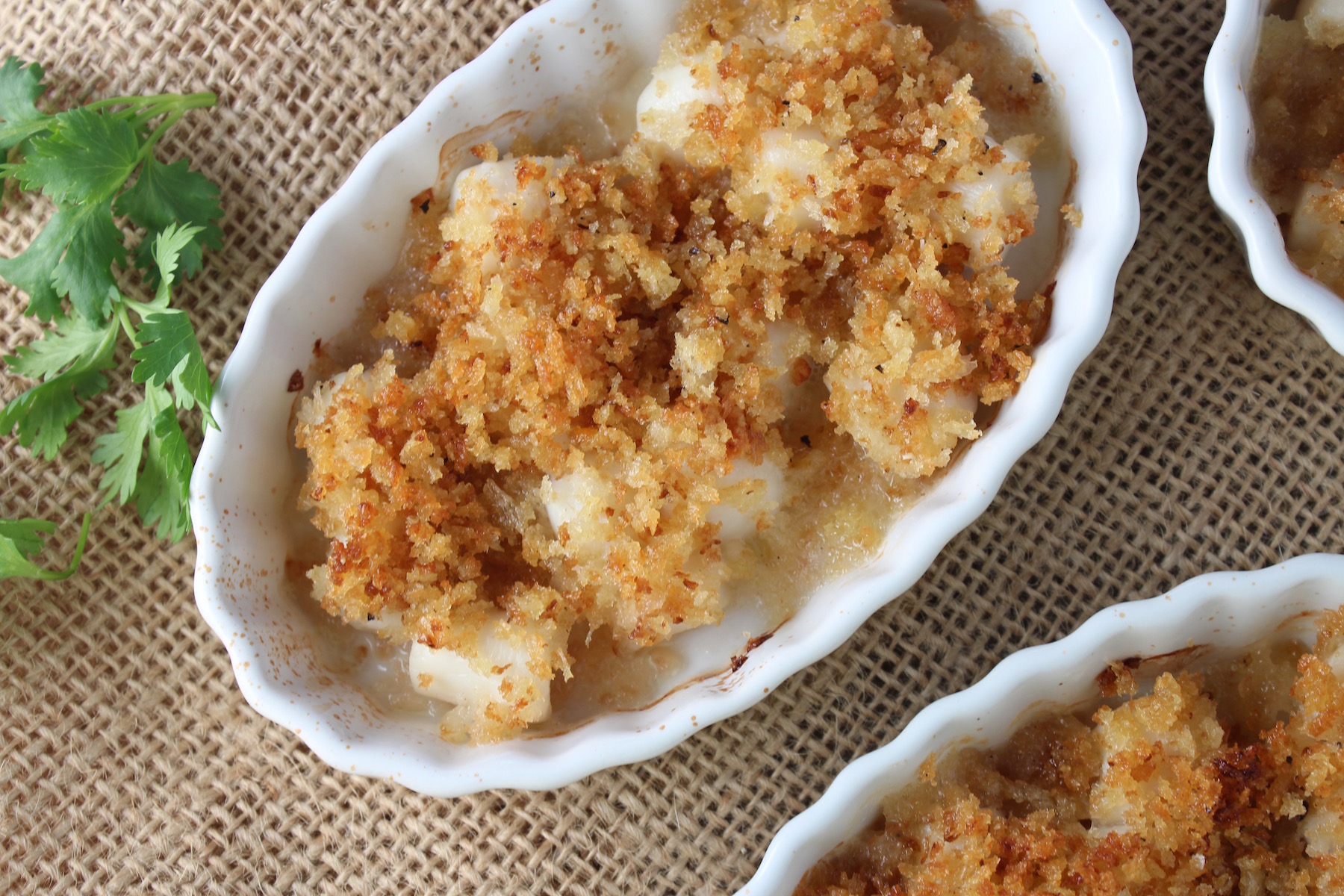 My friend Karen, along with her family and friends, recently went on a scalloping trip to Crystal River, Florida. During scallop season, a steady stream of folks head there to snorkel and collect as many scallops as they're allowed to get.  Apparently there was a bumper crop this year, 'cause the Johnson clan came home with their limit! And because I still haven't had my own scalloping adventure this year, I was tickled when they shared some with me.  Here's a pic of the happy snorkelers with some of their haul: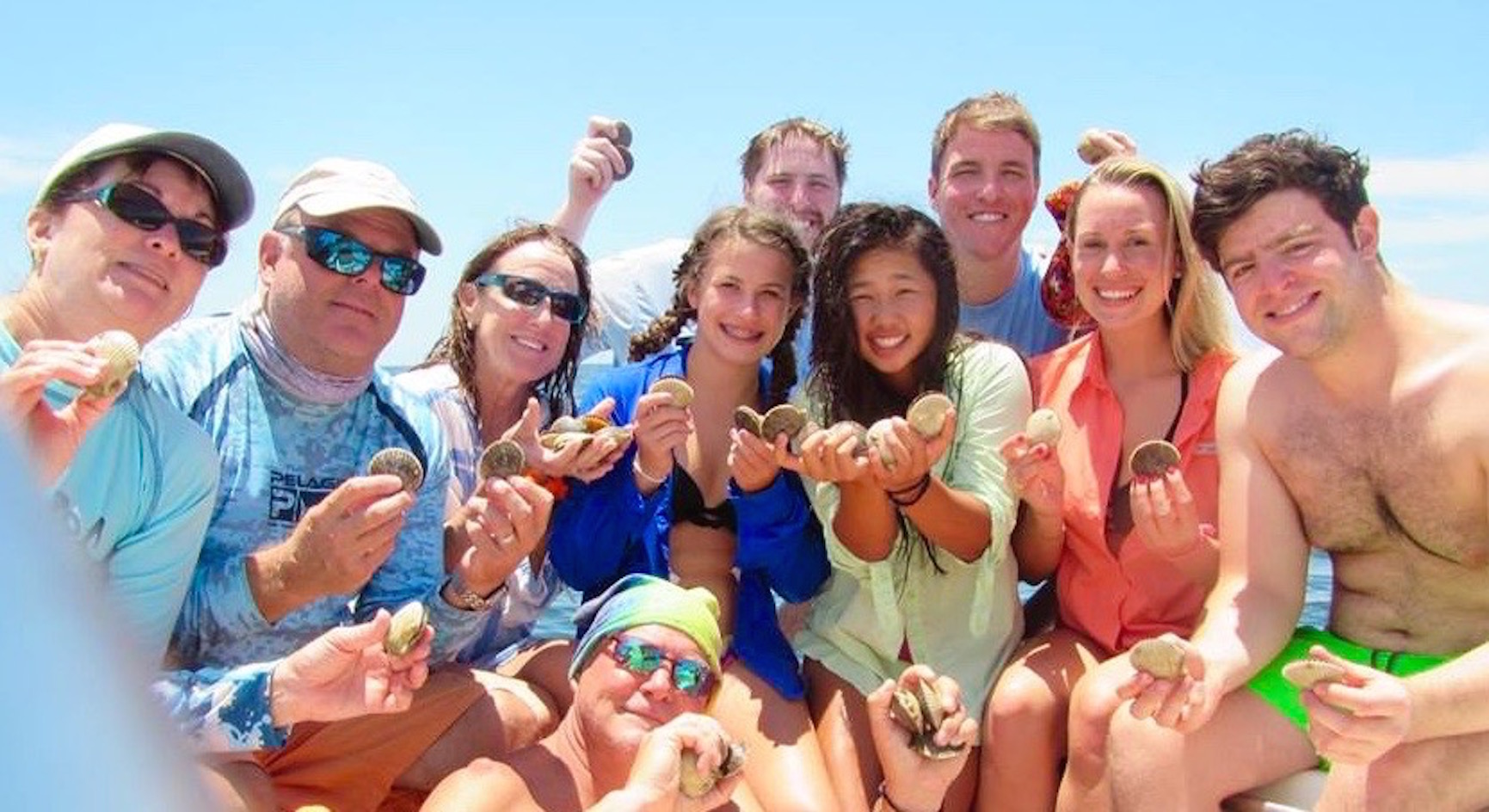 Bay scallops are small, sweet, tender, and bursting with flavor (especially if they're hand-selected, like the ones in Crystal River). They really shouldn't be cooked like large, sea scallops — the ones you sear in hot butter for a rich, brown layer — because they'll just become tough and chewy.  They also don't need a lot of cooking time, and can be easily overpowered by other ingredients or flavorings.  Which is why I like to keep it simple when cooking them, because these little babies need to be the star of the dish.
I went back to my New England roots on this one, so my first thought was to make that 'famous' casserole of fresh fish (usually Cod or Haddock) topped with buttery, crushed Ritz crackers and fresh lemon.  Always a favorite in our house 🙂  My mouth was watering as I thought about it. But then I realized I didn't have Ritz crackers and I didn't want to go to the supermarket.  Rats.
Then I remembered the wonderful ingredient that's always in my pantry. Panko bread flakes! I knew they'd offer a wonderful crunch as a topping for my little friends.
I cooked these scallops in small, single serving dishes, but you can pile them up (not too tightly, or they won't cook evenly) in a larger casserole dish — whatever works. Either way, each bite offers a tender, sweet, buttery scallop nestled in a crunchy, lemony topping.  Oh-so-delicious 🙂
If you'd like to learn more bout Florida Scalloping or you're interested in taking a trip to Crystal River, check out this fun and informative post from my friends at Authentic Florida.

Bay Scallops Casserole
Bay scallops pair beautifully with crunchy, buttery, lemony topping.
Author:
My Delicious Blog
Ingredients
1 lb. bay scallops
⅛ - ¼ c. dry white wine
Garlic Butter
2 Tb. unsalted butter
1 bay leaf
1 clove garlic, minced
Panko Mixture
½ c. Panko bread flakes
Zest of 1 lemon
2 Tb. olive oil
Juice of ½ lemon
⅛ tsp. kosher salt
dash freshly ground black pepper
2 Tb. minced fresh parsley (for serving)
Lemon wedges (for serving)
Instructions
Heat oven to 375 degrees.
Rinse scallops and gently pat dry with a paper towel. Place equal amounts of scallops in serving dish(es)*. Sprinkle with a dash of kosher salt. If using small ramekins, spoon 1-2 tsp. wine over each dish. If using a larger casserole dish, pour wine over entire amount of scallops. Set aside.
Add butter, bay leaf and garlic to a small saute pan. Heat over low for a few minutes to melt butter and allow the bay and garlic to add flavor. Turn off heat and allow to cool. When the butter is moderately cool, spoon an equal amount over each dish of scallops (or one larger casserole, if using).
In the same saute pan, combine Panko, lemon zest & juice, olive oil, salt and pepper over medium heat. Keep stirring so the mixture browns (this should take a few minutes). Turn off heat and spoon mixture over scallops.
Place ramekins (or single casserole dish) on a baking sheet. Place in oven and cook for about 10 minutes. Remove from oven, sprinkle with lemon and minced parsley and serve.
Notes
This recipe made 4 small single servings (12-15 in each), but if you like scallops, and I mean A LOT of scallops, I suggest making double, or triple the recipe 🙂