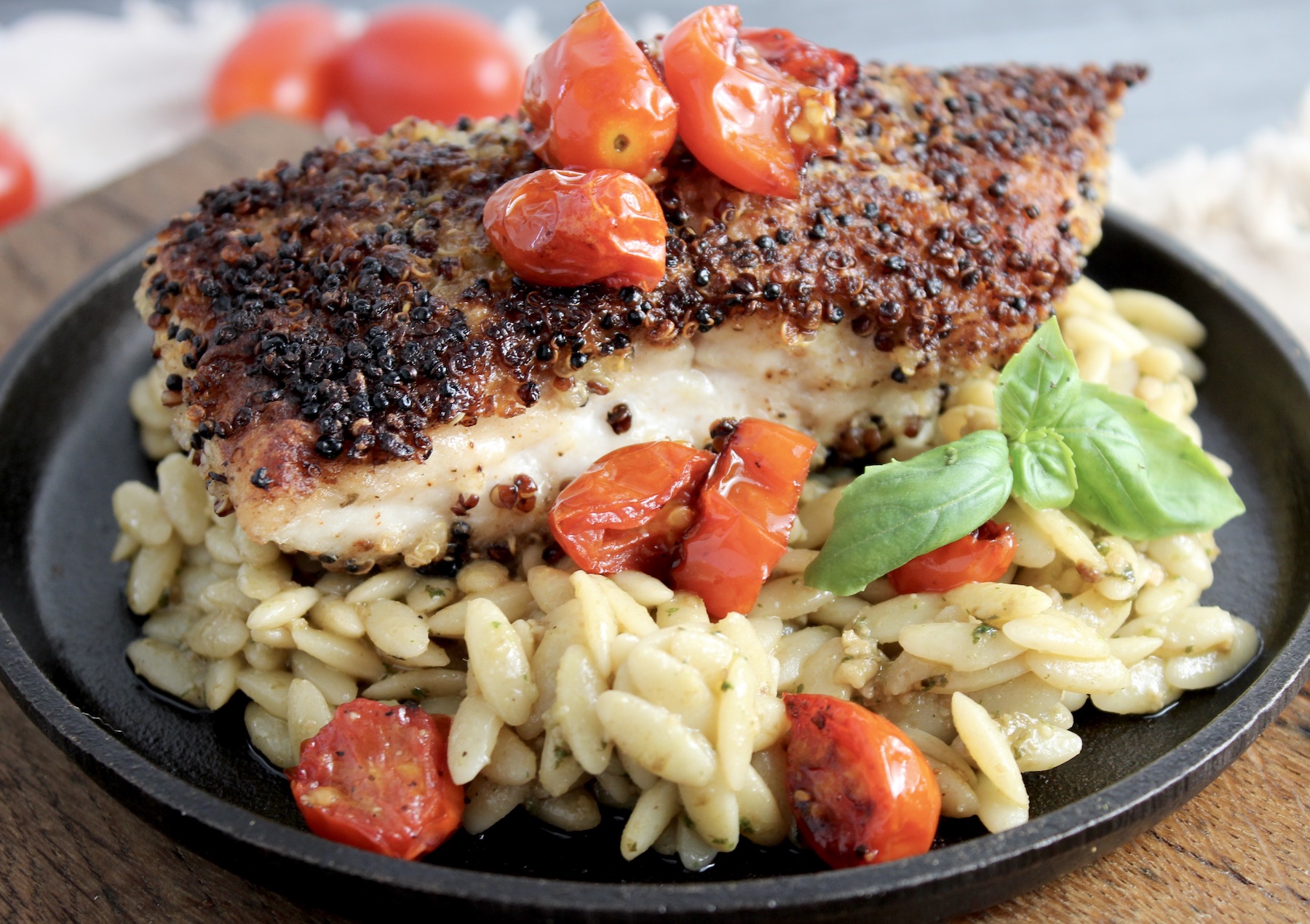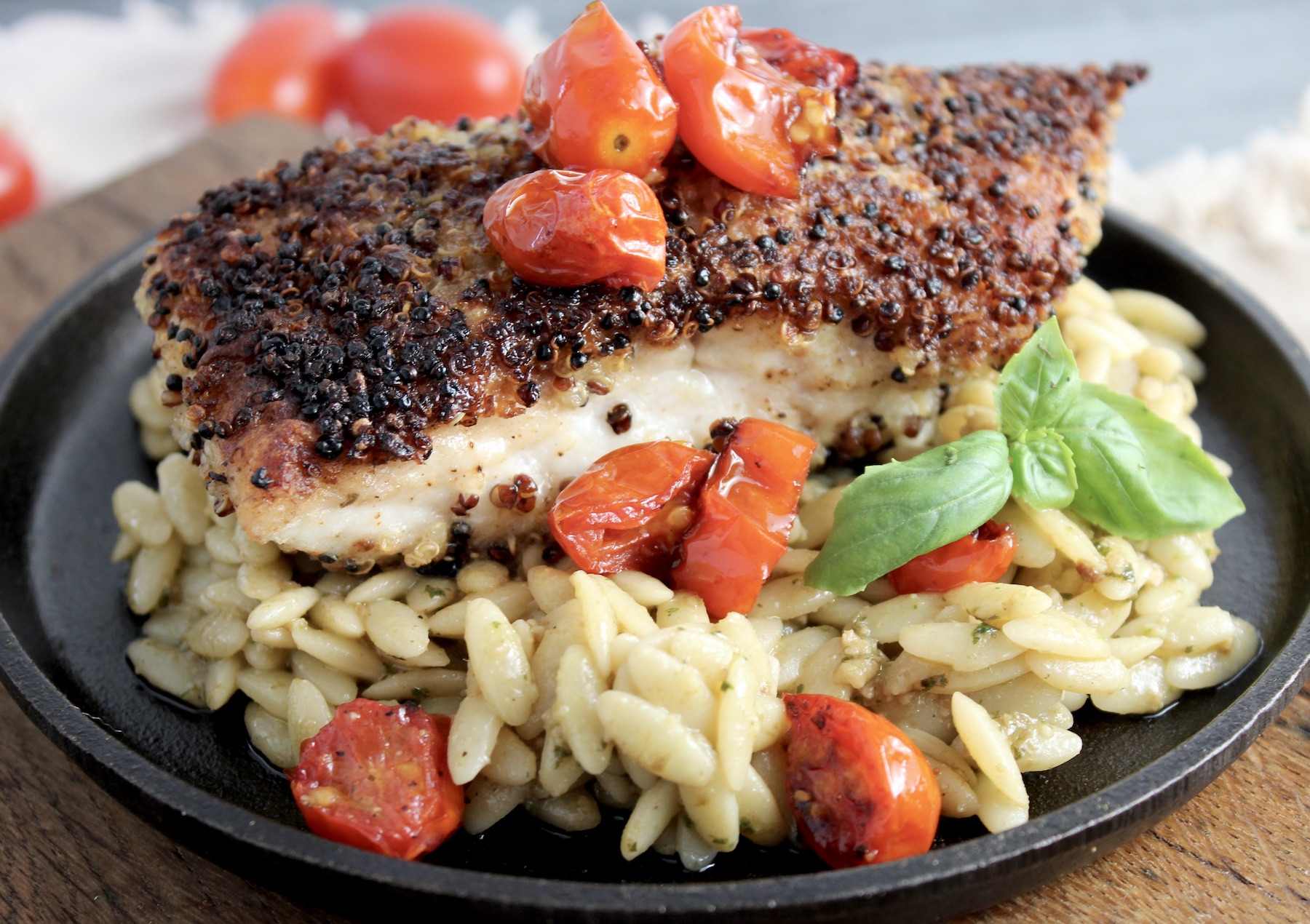 If you haven't gotten on the quinoa bandwagon yet, this might be a good time to give it a try.
This ancient food, sometimes called "The Mother Grain," is actually a seed packed with protein and fiber, making it a great substitute for meat.  It's also considered gluten-free, but can sometimes carry gluten properties if grown near wheat products. . .so, if you're sensitive to gluten, check your brands to be sure they meet your dietary needs.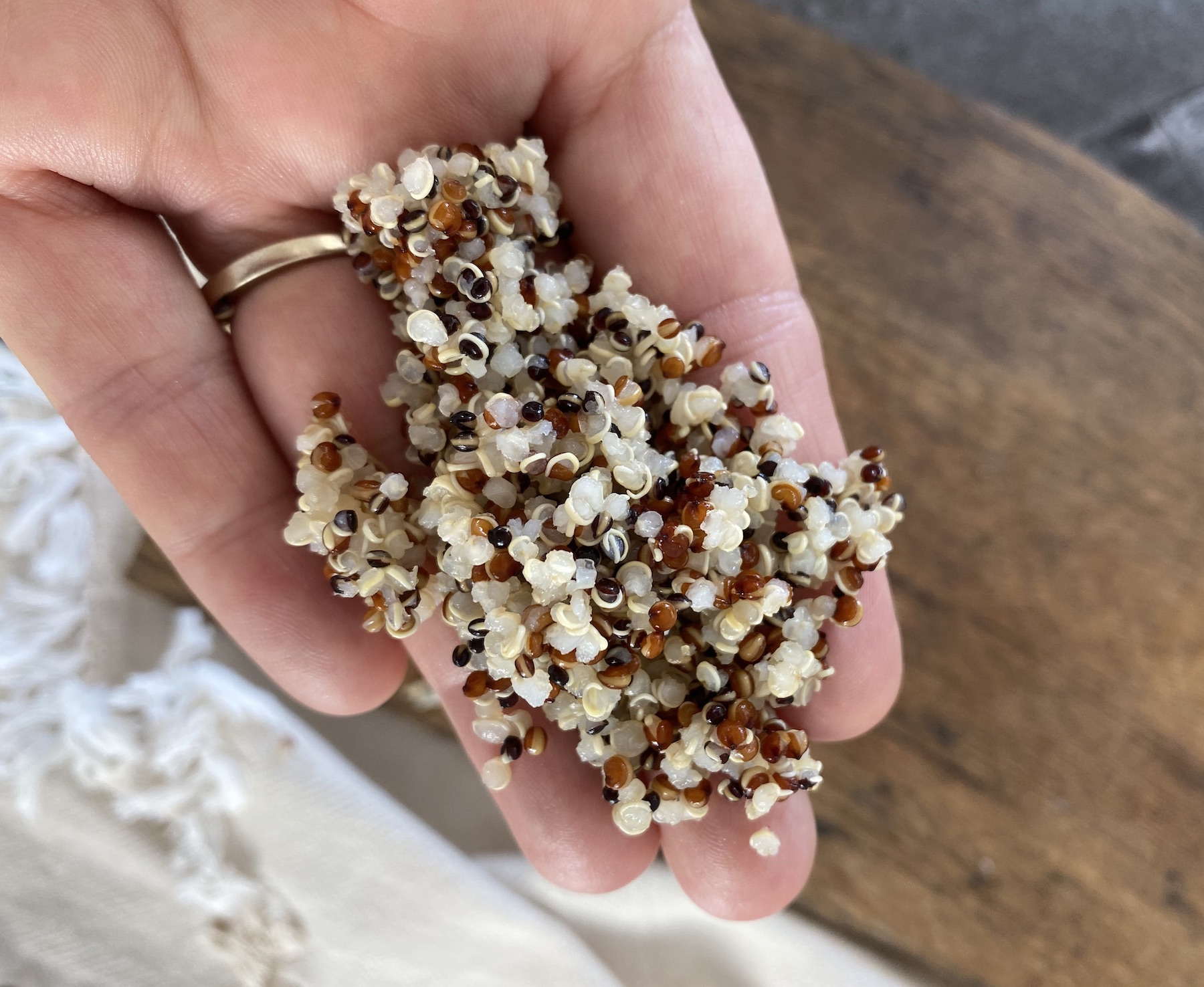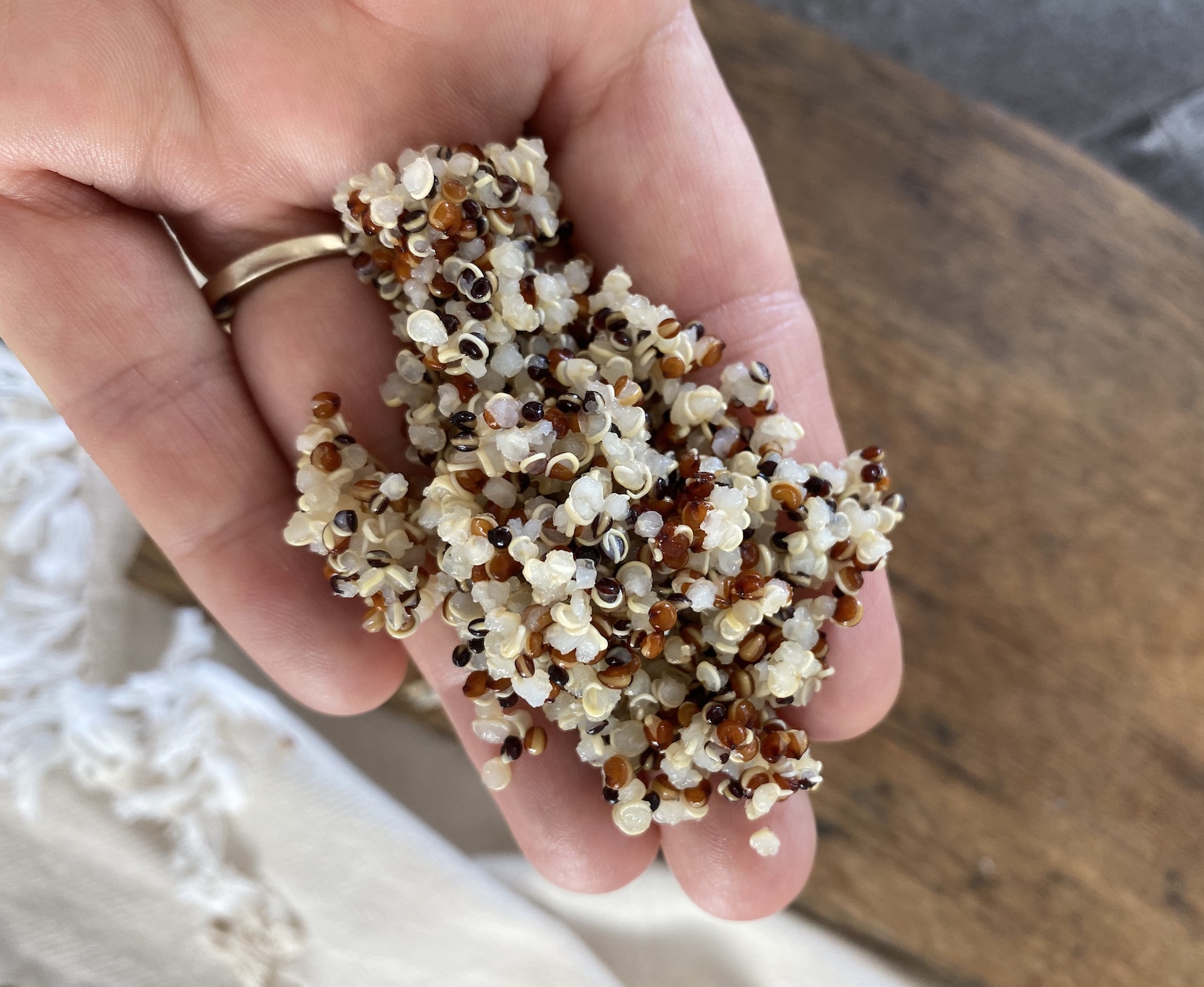 What can you do with quinoa, anyway?  The list is long, since quinoa can be a stand-alone or a replacement for something else, but here are a few things: toss it in salads, make it into patties, use it in Buddha bowls, drop into soups & stews, form into granola bars, use it in stuffing mixtures, make into a warm breakfast cereal, use it in pancakes, in paella, in tacos or lettuce wraps, as risotto, or in smoothies.  I could go on, but you get the idea – this quick-cooking grain is versatile and offers a slightly nutty flavor, so it's really yummy.
I usually have a container of it in my fridge for the week to toss into recipes or transform into a healthy salad filled with veggies, crunchy nuts and a tasty dressing (usually lime, olive oil and fresh herbs).  But this week I experimented with quinoa as a coating for fish, a beautiful piece of American Red Snapper I received from friends who fished offshore recently.  It's my favorite fish – bright white, flaky, tender but sturdy, with delicious flavor and even a little sweetness.  I haven't fished offshore in so long that I've almost forgotten how to do it, but I do have memories of pulling in beauties like these: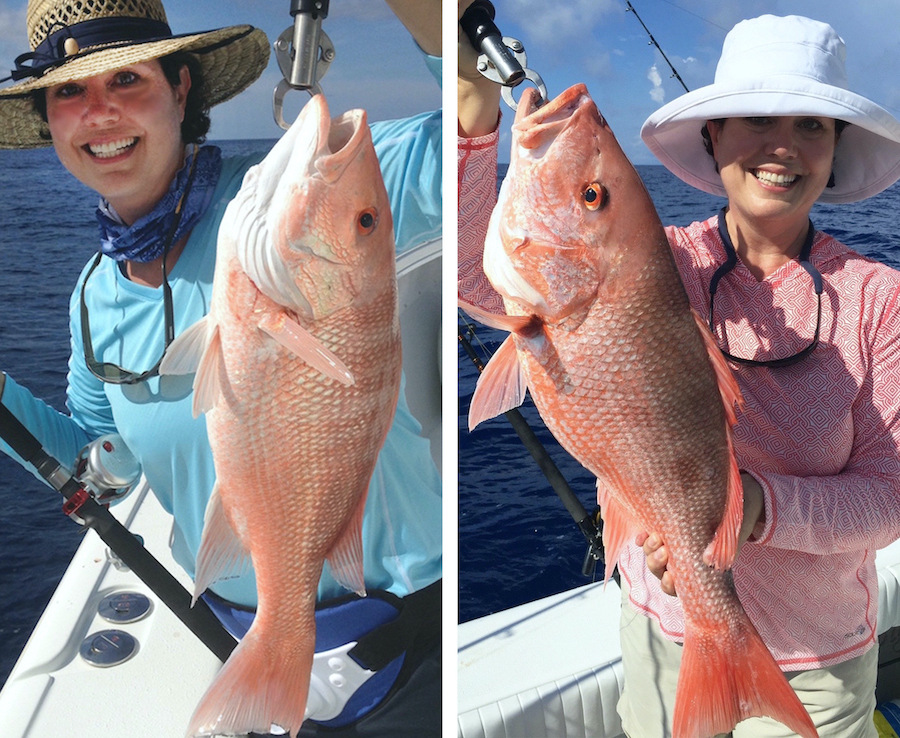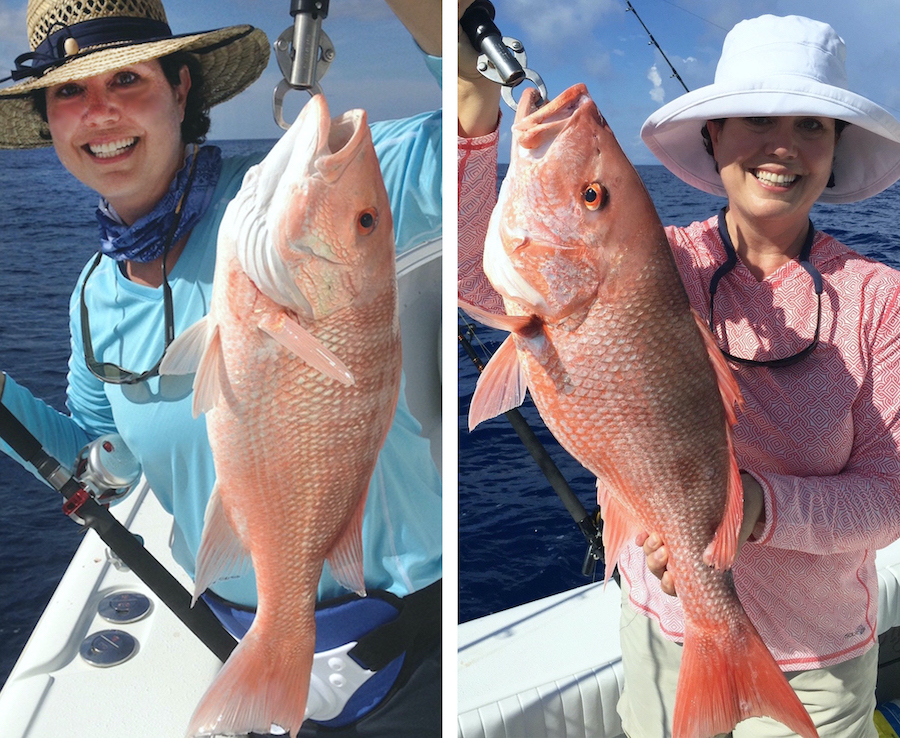 This dish was SO good.  I dredged the fish in flour, egg wash and the cooked (tri-color) quinoa, then into a hot bath of olive oil/butter.  The quinoa formed a crispy outer 'shell' full of flavor and texture.  I think this is a great way to eliminate heavy bread coating or even deep frying, all while adding extra protein and fiber to your diet.  You can enjoy it alongside whatever you like, but I paired mine with orzo with basil pesto, then topped it with blistered tomatoes — a delicious meal which even gives you license to enjoy a sweet treat for dessert, since you're being so good for dinner 🙂
P.S. while readying for the photo shoot, my pal Libby kept me company, hoping I'd drop something: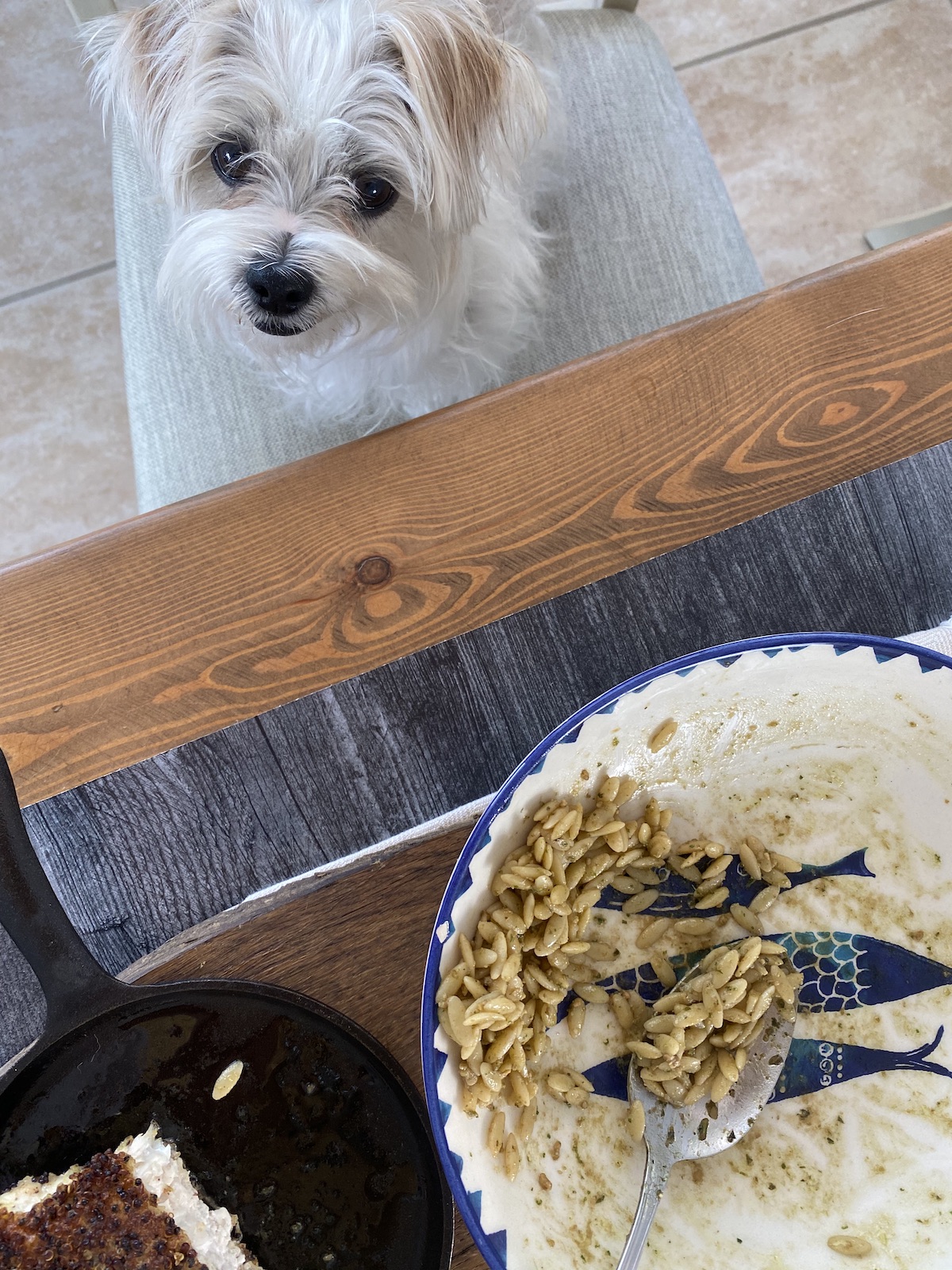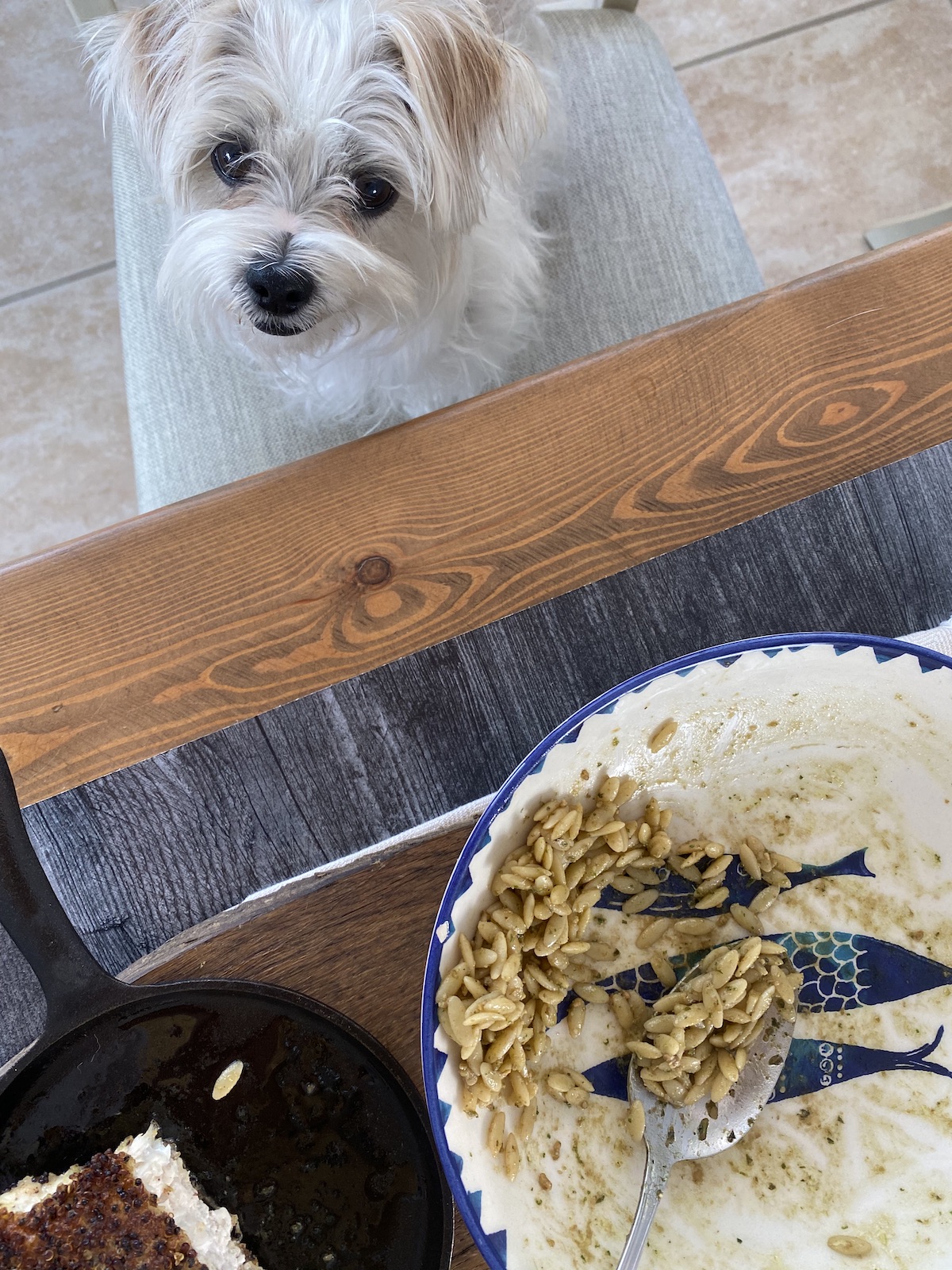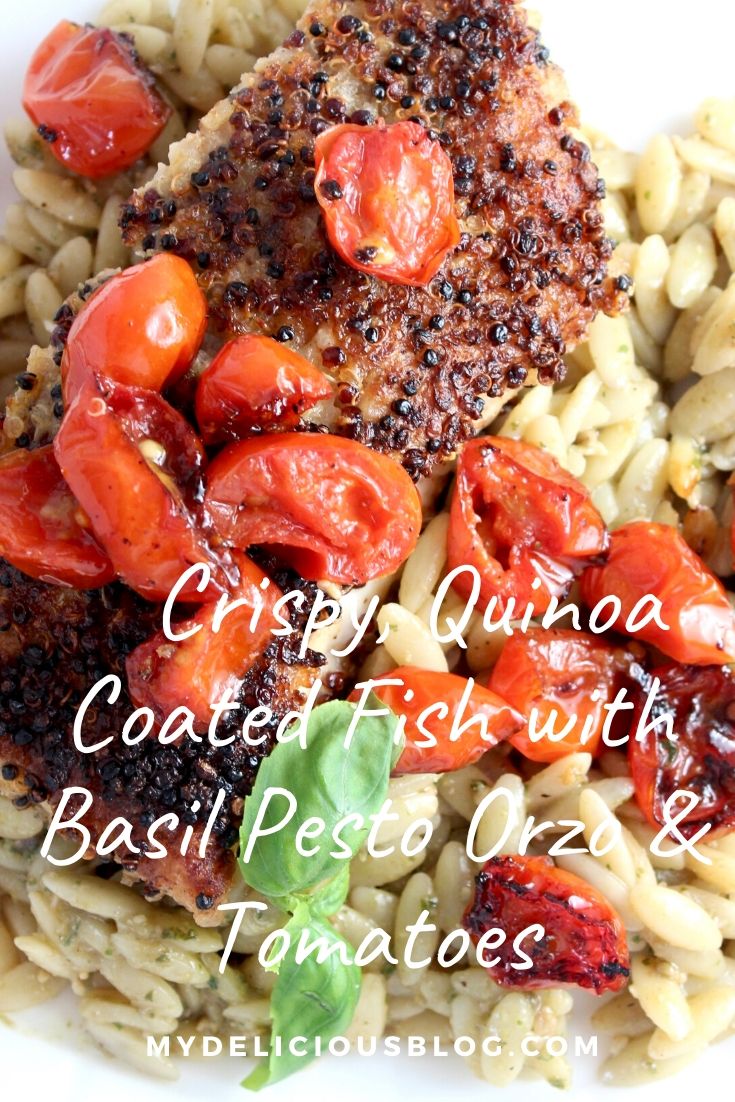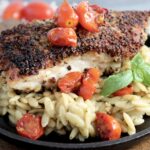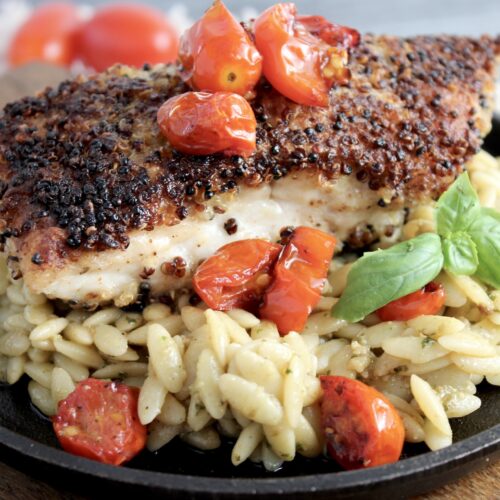 Print Recipe
Crispy, Quinoa Coated Fish
Delicious, crispy, pan-seared fish coated in quinoa. A great alternative to breading or deep frying!
Ingredients
2

8-oz pieces

White, flaky fish (Snapper, Cod, Halibut, other); cleaned and deboned

1/4

tsp.

Blackening spice, seasoned salt or Potlach seasoning

1/4

c.

All-purpose flour

1

Egg, well-beaten

1

c.

Cooked, tri-color quinoa

(see instructions below)

1

Tb.

Olive oil

1

Tb.

Butter, unsalted

1/2

c.

Dry orzo

1

c.

Grape or Cherry tomatoes, halved

Handful fresh basil, for garnish (optional)
Pesto
1

c.

Fresh basil leaves

1/2

c.

Fresh parsley

1

clove

Garlic, peeled

1/2

c.

Grated parmesan

1

Lemon, zested

1/4

c.

Toasted pine nuts or walnuts (or roasted sunflower seeds)

1/2

tsp.

Kosher salt

1/4

tsp.

Freshly ground black pepper

1/4

c.

Olive oil

(add a bit more if consistency is too dry)
Instructions
Prepare the Quinoa (ideally, make in advance)
Cook quinoa according to package instructions (I generally place 1 cup dry quinoa into a small saucepan, add 2 cups water and bring to boil. Once it boils, cover, remove from heat, and allow to continue cooking, off-heat. After about 20 minutes, uncover and fluff with a fork). Set aside 1 cup for this recipe.
Prepare the Pesto (ideally, make in advance OR use store-bought!)
Place all ingredients (up to black pepper) in the bowl of a food processor. Pulse a few times then, in continuous mode, drizzle olive oil through the pour spout. When well-combined, taste for seasoning (salt, pepper and/or lemon), then transfer to a container. Drizzle a bit of olive oil on top to keep it from browning and cover tightly. Set aside until ready to use in this recipe (then refrigerate unused pesto).
Prepare the Orzo & Tomatoes
Place dry orzo in a small sauce pan; add about 2 cups of water (precise measurements are not necessary, since it cooks like pasta). Bring to boil and simmer until tender. Keep it in the cooking liquid until ready to use!

Place tomatoes in small saute pan over medium heat with about 1 Tb. olive oil; sprinkle with a pinch of Kosher salt & fresh black pepper. Cook until soft and browned (~ 5 mins). Turn off heat and let sit until fish is ready.

While orzo and tomatoes cook, prepare 3 bowls/plates - one for flour, one for beaten egg, one for cooked quinoa. Sprinkle both sides of fish with preferred seasoning. Dredge in flour, then egg, then quinoa. Use your fingers to press the quinoa onto both sides of fish.

Heat a non-stick skillet over medium/high heat with 1 tb. olive oil and 1 tb. unsalted butter. When hot, add fish. Reduce heat to medium and cook 3-4+ minutes on first side (until golden brown color) then flip and cook 3-4+ minutes, depending on thickness of fish. I find it helpful to cover the pan lightly after flipping so the fish steams in its final cooking time. When firm to the touch, it's done.

Remove cooked orzo using slotted spoon; transfer to a mixing bowl (retain the starchy cooking liquid!). Add about 2 Tb. of pesto and mix together. Add a teaspoon at a time of the cooking liquid to create a silky sauce (and feel free to add more pesto if you like a punch of flavor).

To serve, spoon orzo mixture onto a plate, top with fish and tomatoes (and chopped, fresh basil, if you have it).