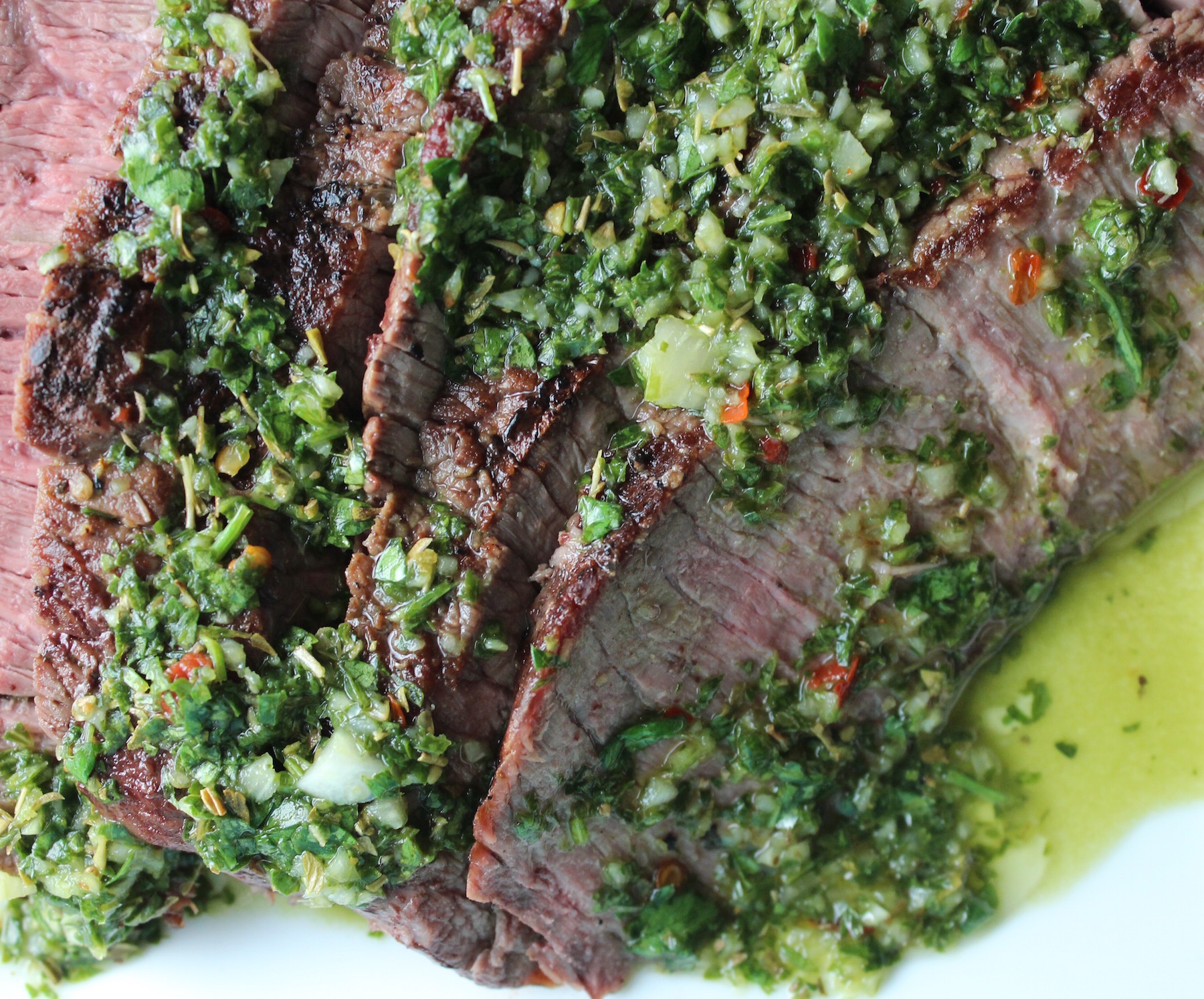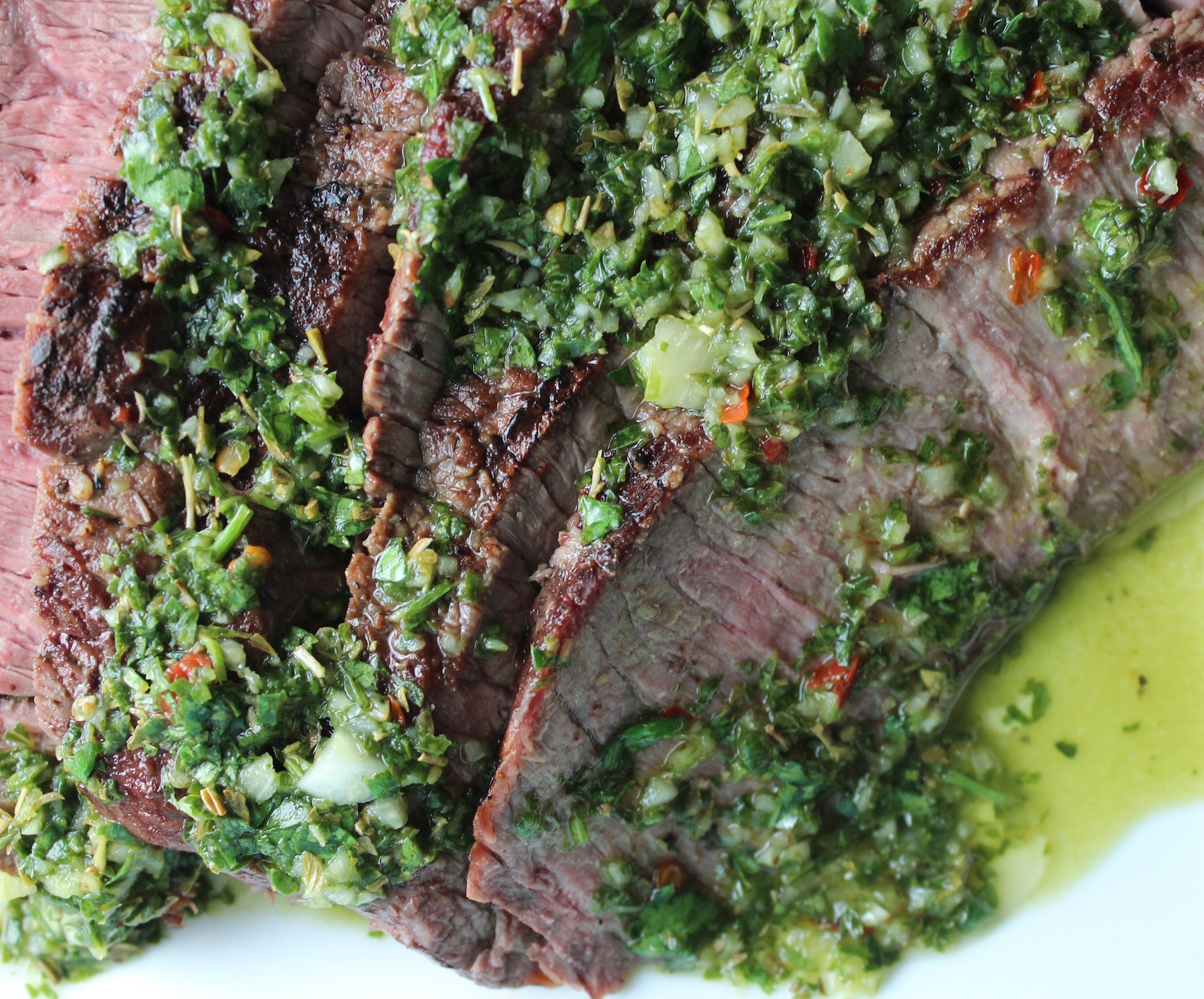 You're probably thinking today's post is all about this beautiful steak.  Actually, it's about the tasty chimichurri sauce I made to top it, but I'd be remiss if I didn't first share a story about my family's funniest experience with steak. . .
Like many families with small kids in the 1960s-70s, we were on a limited budget so, having steak was a luxury — and we enjoyed it immensely when we had it.  One summer, when I was six, we spent a day at the beach.  As dinnertime approached, mom unwrapped the biggest, thickest steak I had ever seen (I think it was a Porterhouse) and I watched my dad ever-so-gently place it on the Hibachi. While he watched it, the rest of us went about our business, knowing we'd soon enjoy chargrilled deliciousness. Not long after, I heard mom scream and watched a seagull flying away with our precious steak in his beak. He had grabbed it right off the Hibachi! The bird soon realized he had taken on more than he could handle so he dropped it in the sand. My mom, brother and I stood there, frozen — our hopes dashed for a delicious dinner. My dad didn't miss a beat, though. He picked up the sandy slab, walked deliberately to the shore and swished it in the water. Then he walked back to the scene of the crime, tossed it on the hot grill and exclaimed "We're not letting THIS go to waste!"  It was delicious.
Now I can tell you about this wonderful sauce!  Chimichurri originated in Argentina — it's a yummy mix typically made with fresh parsley, garlic, olive oil, oregano, vinegar and red pepper flakes.  You can make it as garlicky or spicy as you like, but its bright color, fresh flavor and crunchy texture make it absolutely fantastic on grilled meat.
I love this sauce and think it tastes good on just about anything – grilled fish, roasted shrimp, sautéed chicken, even scrambled eggs.  I adapted my recipe from the one at Cook's Illustrated ("Grilled Argentine Steaks with Chimichurri") — it's easy to prepare and is sure to please your hungry diners.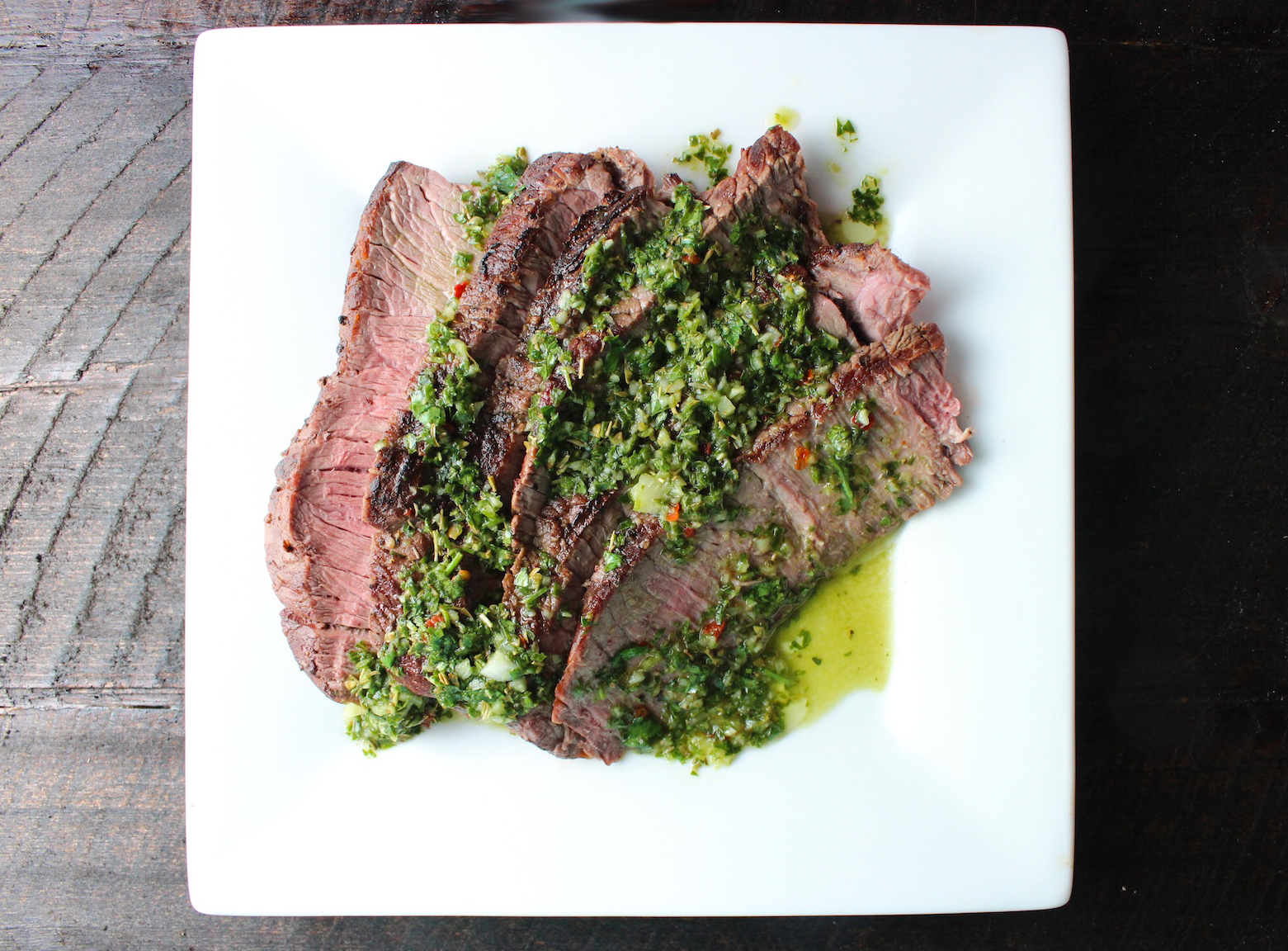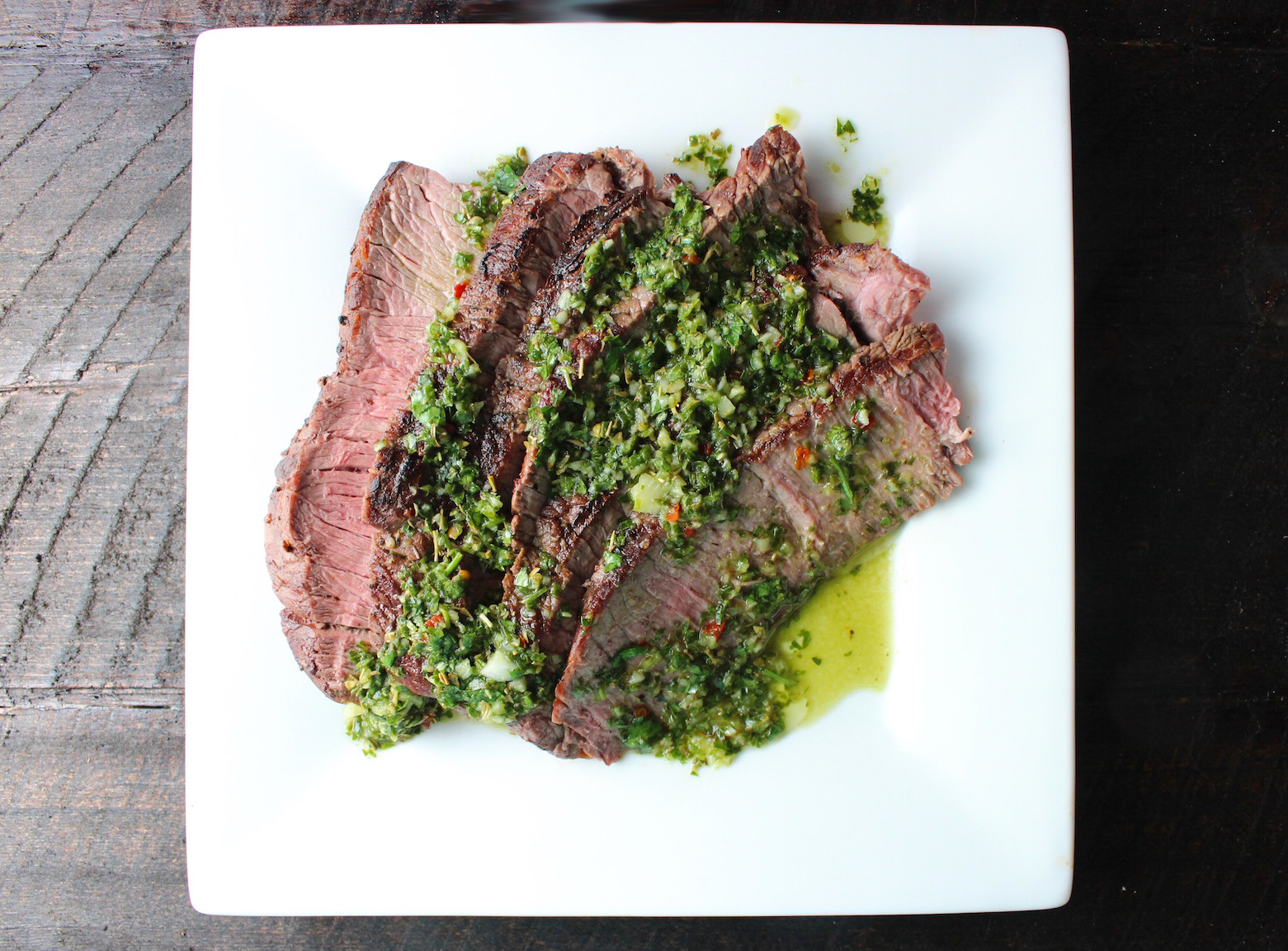 Yummy Chimichurri
Lots of fresh herbs and tasty ingredients make one delicious chimichurri.
Author:
Adapted from Cook's Illustrated
Ingredients
2 tsp. dried oregano
¼ c. hot water
1 tsp. kosher salt
1½ c. fresh parsley
½ c. fresh cilantro
2 scallions, chopped
4-6 garlic cloves, peeled & chopped (this depends on how garlicky you like it. I used 6)
1 Tb. lemon juice
¼ c. red wine vinegar
½ tsp. red pepper flakes
½ c. olive oil
Instructions
In a small bowl, combine water with oregano and salt and allow to sit for about 5 minutes (this brightens the flavor of the oregano).
In a food processor, toss in parsley, cilantro, scallions, garlic and red pepper flakes and pulse a few times until roughly chopped.
Pour in oregano/water mixture, along with vinegar and lemon juice and pulse a few times.
Pour mixture into a medium bowl.
Gently whisk in olive oil until you get an emulsion (i.e., thicker consistency).
Cover and allow to stand at room temperature for about 1 hour, then spoon over grilled meat.
Notes
If you refrigerate the mixture, allow it to come to room temperature before serving.