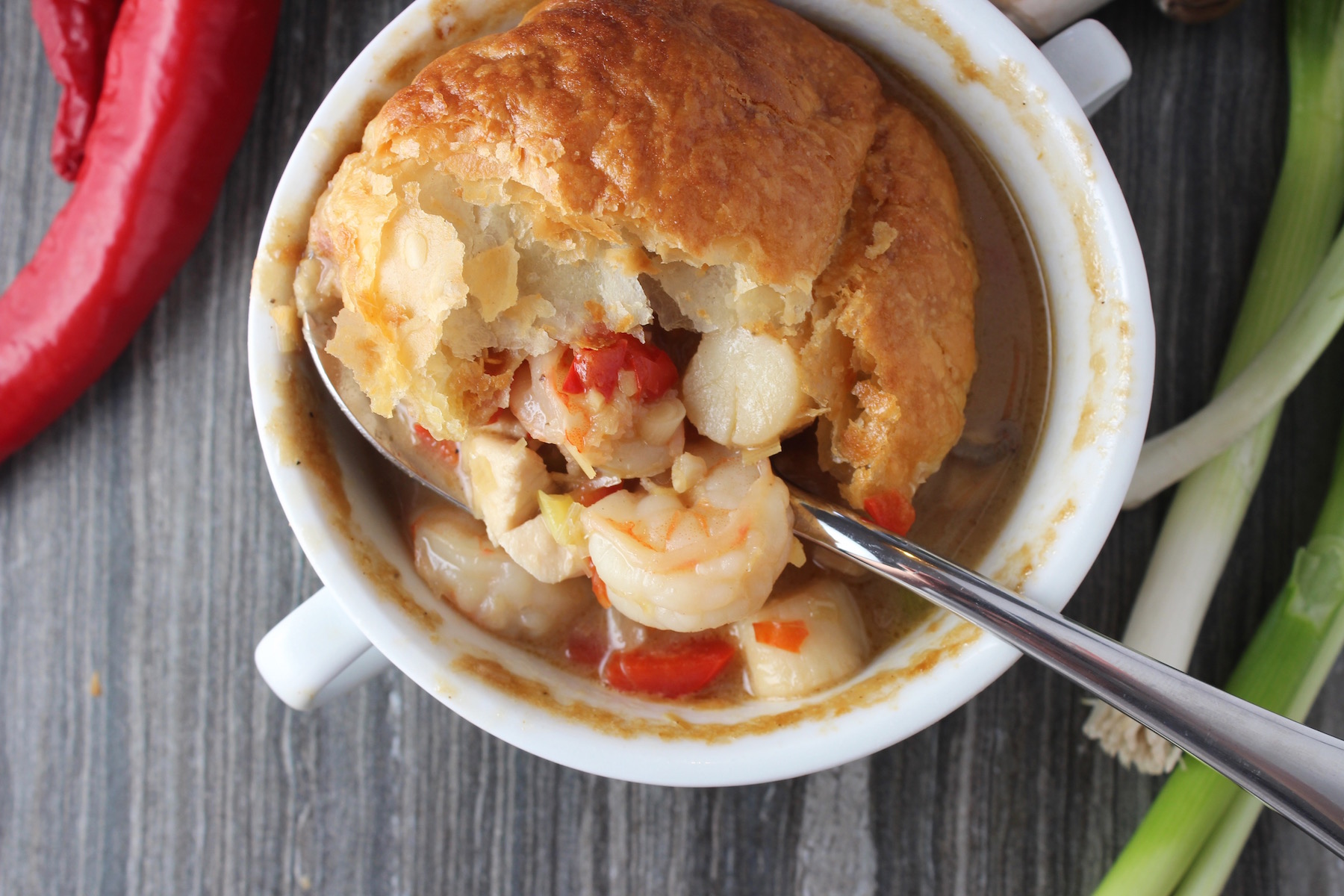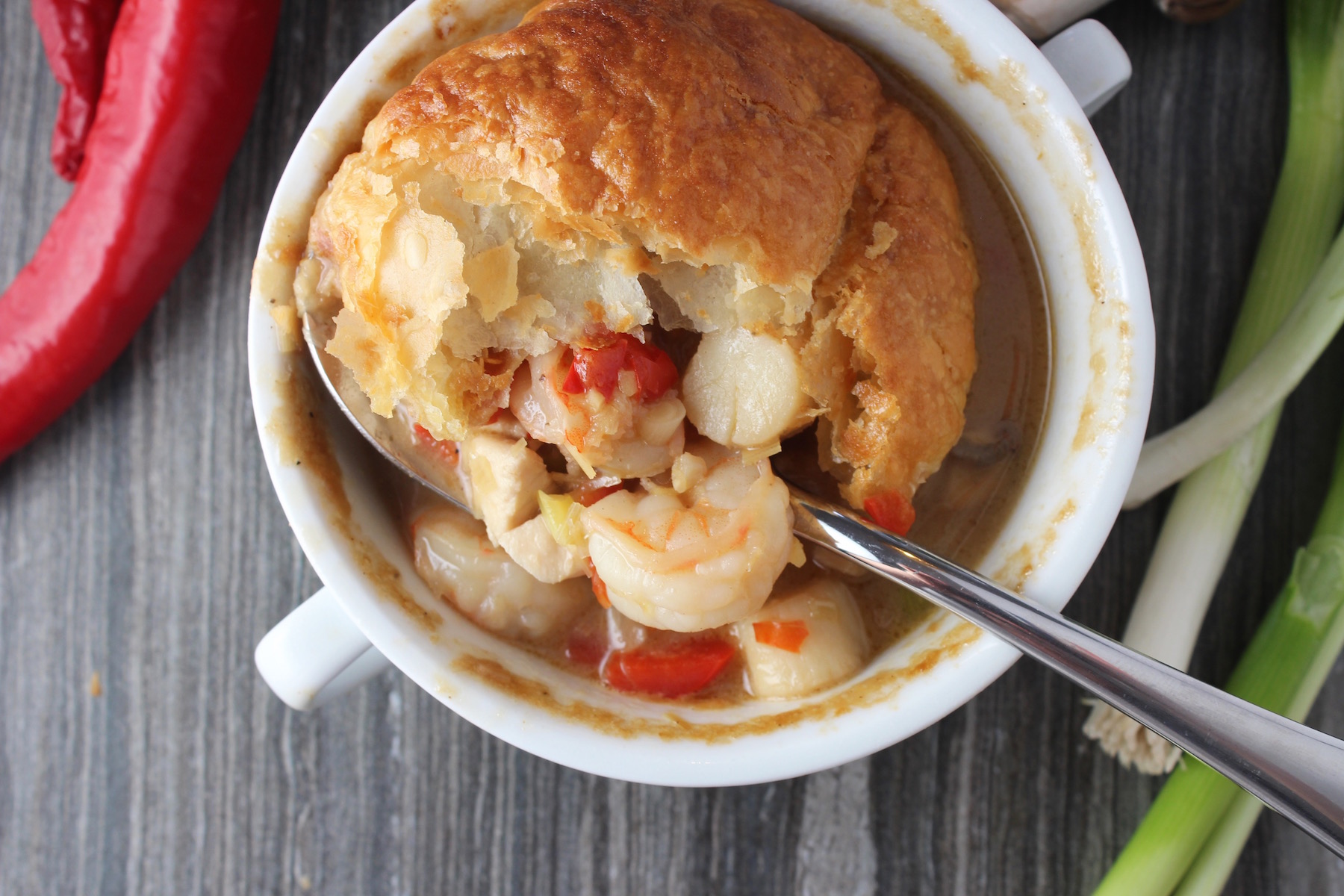 Even though our "Spring" in Florida has been unseasonably warm, I thought it would be fun to bake a toasty pot pie.  There really isn't a bad time for pot pie, right?!? Remember the frozen pot pies we ate as kids? My brother and I usually got them (Swanson's, to be exact) when our parents were going out. Such a treat, especially for two kids who rarely got store-bought dinners, desserts or breakfast cereal! Back then, those tasty little pies were actually packed in foil and cooked in the oven. And when they came out, we dug into them like bears breaking into honey pots! I've always loved pot pie, especially a homemade version. You can get so creative with the type of crust and the mixture of fillings/flavorings, and they're always satisfying and delicious. So, when I told my husband we were having some for dinner, his eyes lit up like a little boy's. Maybe he liked Swanson's when he was a kid, too? But this one isn't chicken or turkey, it's chock-full of seafood in a Thai-inspired sauce.  Doesn't that sound tasty? This dish allowed me to finally cook with fresh lemongrass, something I adore. It smells lemony, but it doesn't really taste purely lemony, if that makes sense. It has a lovely citrus flavor with a hint of ginger, and it's used a lot in Thai cooking, especially. Because of its flavor profile, it pairs extremely well with seafood, which is right up my alley! Lemongrass looks kind of like a spring onion with its bulbous end, but it feels more like a stalk or a stem. It also has tough outer layers that are not really edible and need to be removed, revealing a tender inside.  Here's what the cut stalks look like: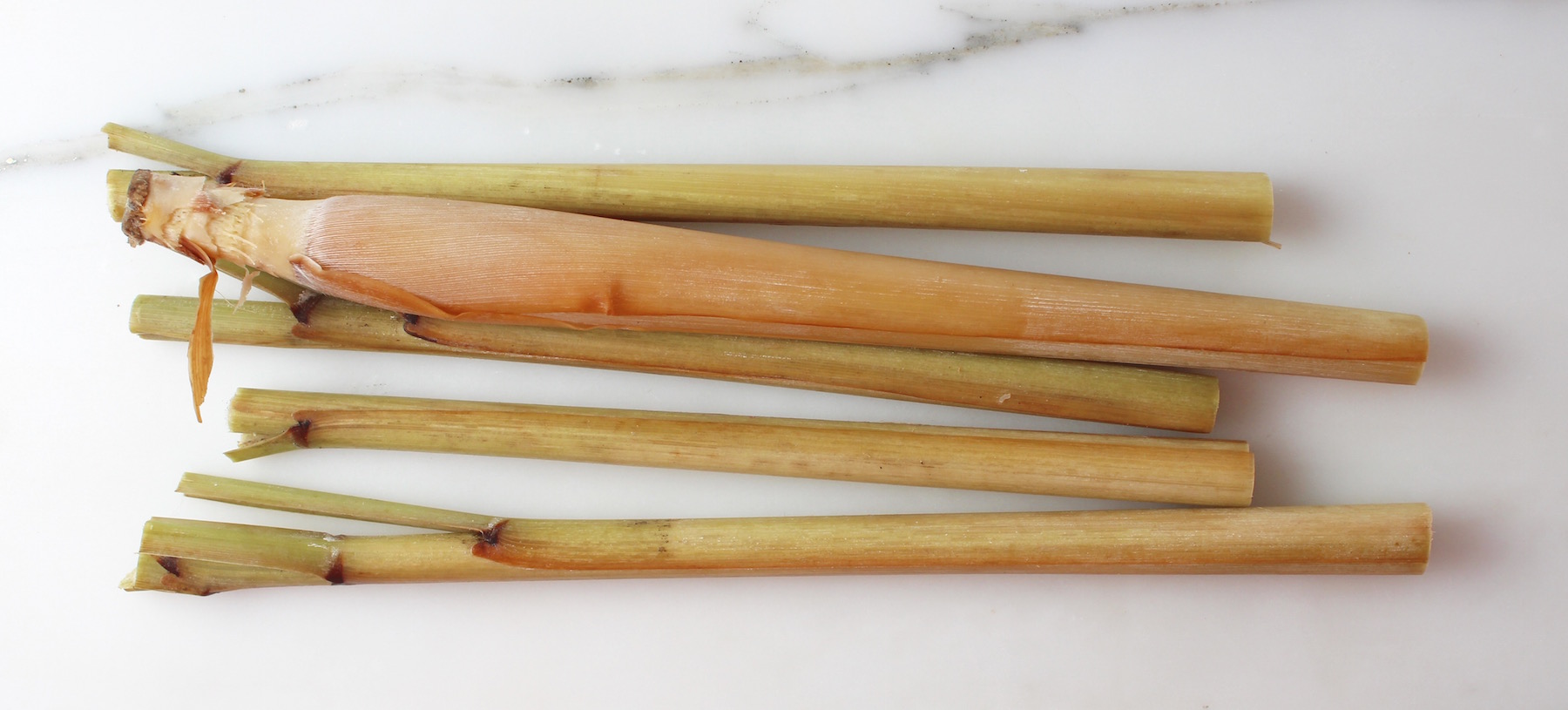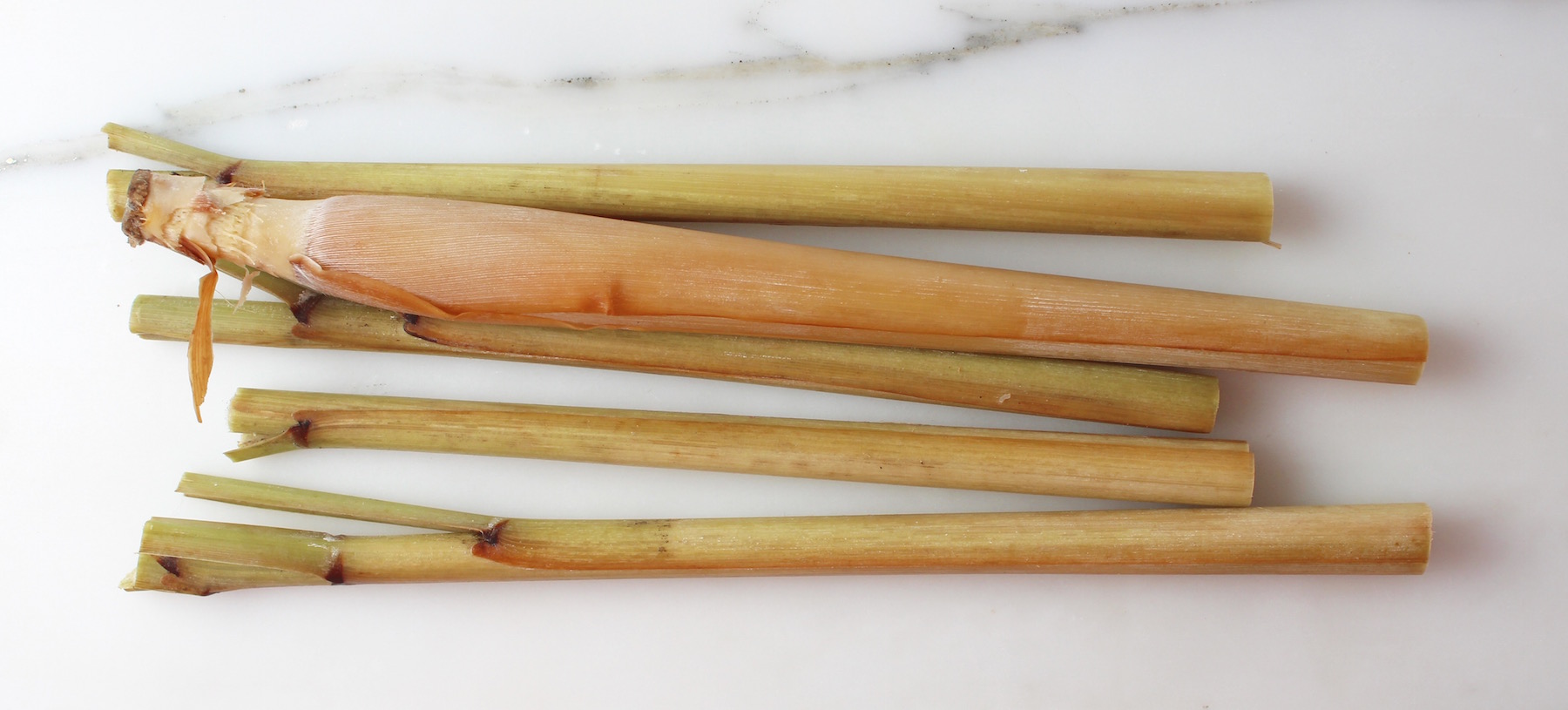 And here are some tips on preparing fresh lemongrass: 1) Cut 1-2" from the bottom and from the dry/thin top (if you've bought them pre-cut, like mine, just trim the bottoms). 2) Slice 2-3 layers of the stalk lengthwise to peel them off. 3) Once you've gotten to the tender part, slice/chop it to use in a food processor for curry paste OR if using in a soup/stew, you'll need to first smash the fibrous stalks so they release their natural oils. On a cutting board, smash the stalks using a meat tenderizer or a rolling pin – it's fun. Then either toss the whole piece into a slow-cooking soup (and remove what's left of it when soup is done) or mince the stalk, using a very sharp knife, and toss the pieces into a saute pan (which I did for my pot pie sauce). My pot pie sauce, made with lemongrass, coconut milk, red chiles, hoisin and lime was SO yummy. For the filling, I used Amberjack (but any sturdy white fish will do), along with fresh shrimp, bay scallops, mushrooms, green onions, red pepper, and lots of other good stuff. Then I topped the filling with a flaky, puffed pastry.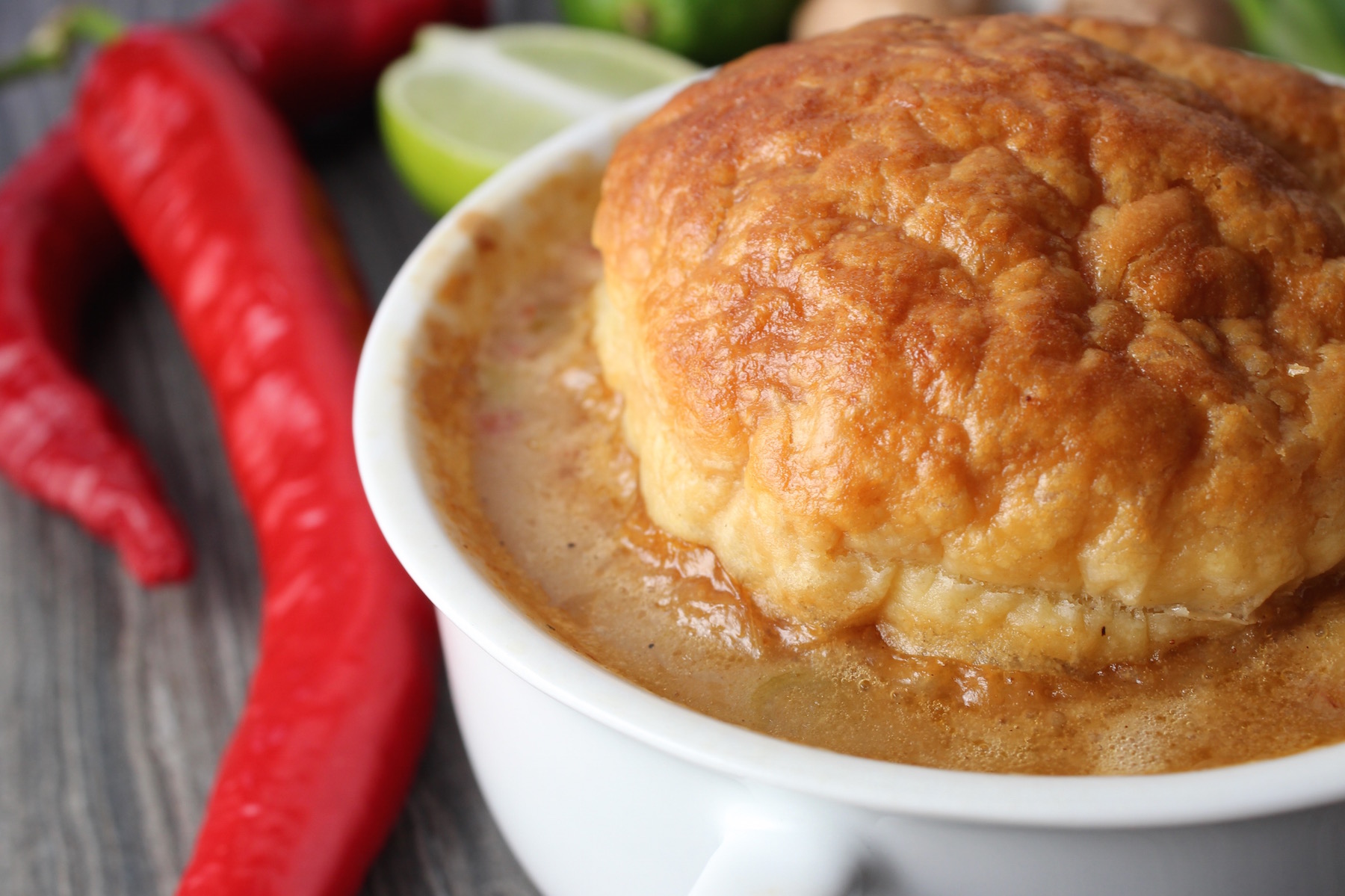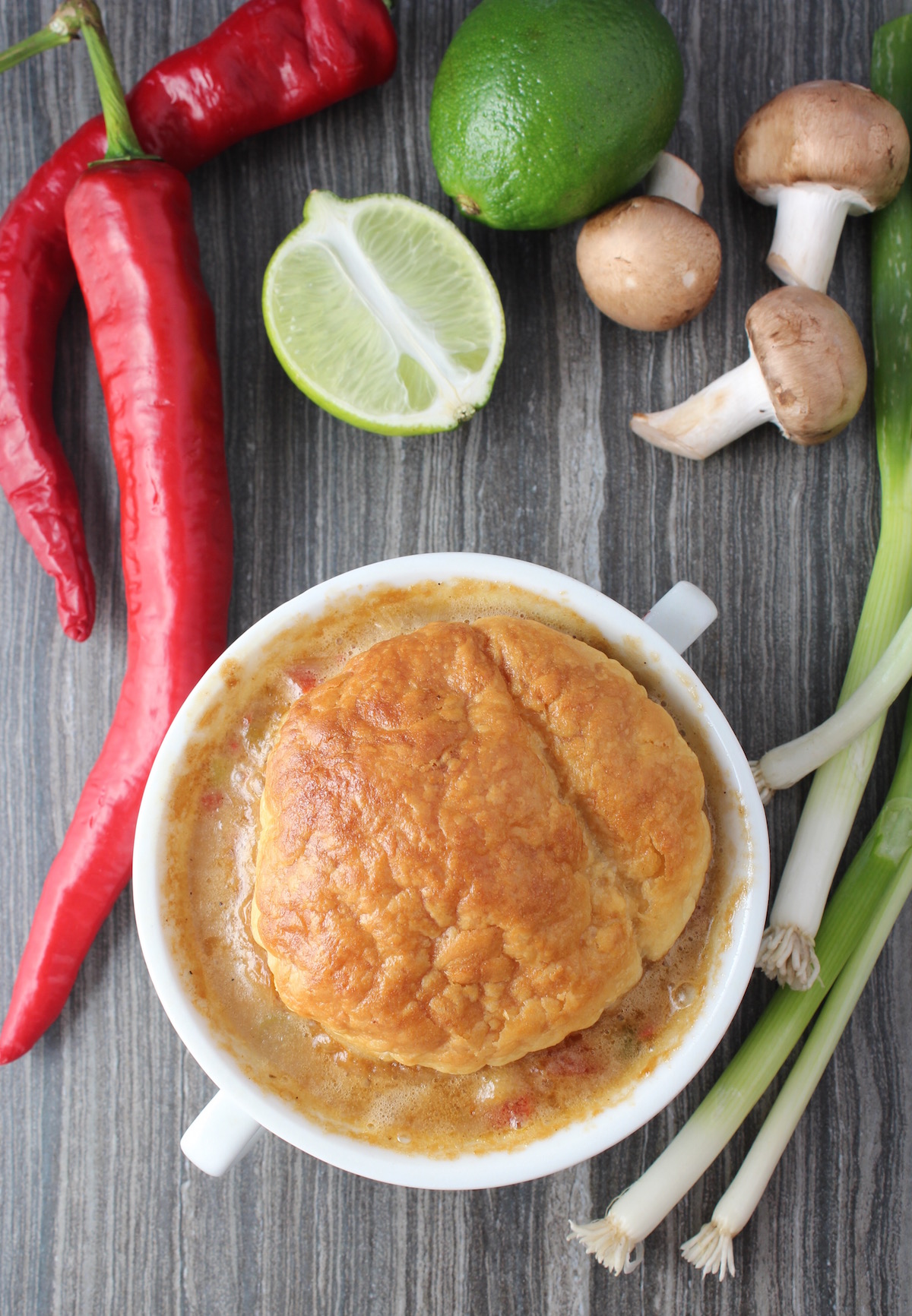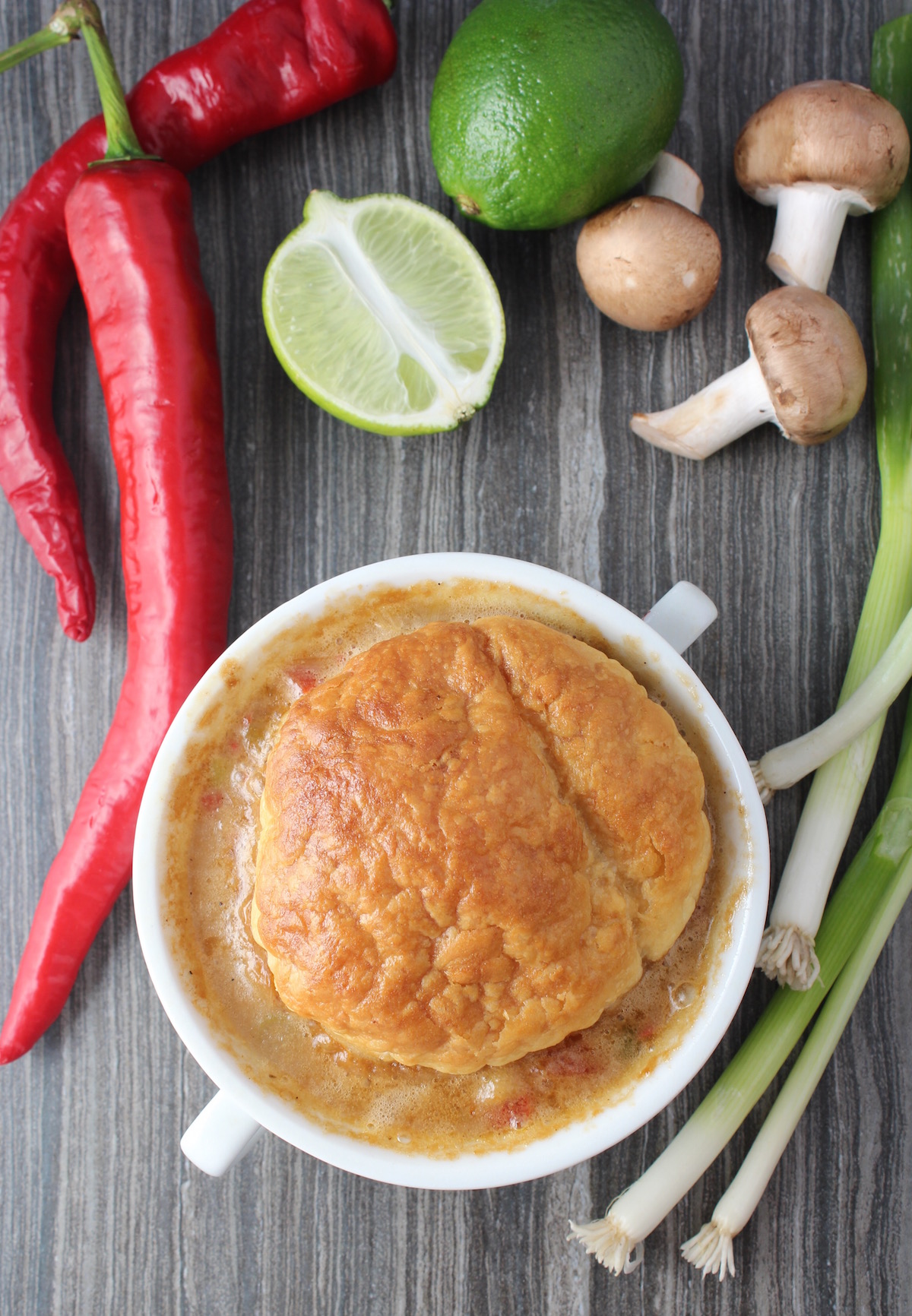 Let's just say that the aroma in the kitchen was heavenly. Even the cats anxiously waited by the oven to see what would come out (especially Max, who not only loves seafood, but also
crust
— who knew?!?). This is certainly a grown-up version of those pot pies we enjoyed on a TV tray, in our pajamas, propped in front of our favorite television show. Enjoy!
Thai-Inspired Seafood Pot Pie
Thai flavors make this seafood pot pie extra special.
Author:
My Delicious Blog
Ingredients
Sauce
4 Tb. vegetable or canola oil
6 stalks fresh lemongrass, minced (about 4 tsp.)
2 cloves garlic, peeled & minced
6-8 green onions, sliced
1 c. chopped red pepper
2 tsp. fresh red chile, chopped
1 tsp. (about a 2" piece) fresh ginger, minced
1 c. sliced mushrooms
2 c. chicken broth
2 tsp. low sodium soy sauce
1 lime, juiced
4 Tb. hoisin sauce
2 c. unsweetened coconut milk (shake it well before pouring)
dash kosher salt
dash freshly ground black pepper
2 Tb. unsalted butter
4 Tb. all-purpose flour
3-4 c. uncooked seafood (shrimp, scallops, fresh fish [small pieces] - whatever portions you prefer)
Crust
1 sheet prepared puff pastry, cut into 4 rounds
1 egg beaten with a splash of water
Instructions
Heat oven to 350 degrees.
Line a baking sheet with parchment paper.
Using a small round bowl or large glass (just a bit smaller than the circumference of your ramekin or crock) cut out shapes from the puff pastry sheet.
Place the 4 pastry rounds on the sheet and brush each with egg wash.
Bake until pastry is puffy and brown. Remove from oven and allow to cool (but keep the oven on!).
In a large skillet over medium/low heat, warm the oil then add lemongrass, garlic, green onions, red pepper, red chile, ginger, mushrooms. Be careful not to brown.
Saute gently then add chicken broth and simmer until it has reduced slightly.
Add lime juice, soy sauce, hoisin sauce and coconut milk and whisk to combine. Simmer gently for about 1-2 minutes.
In a small bowl, combine the flour and butter into a paste then whisk into the sauce to thicken it a bit.
Add the seafood; simmer for about 1 minute.
Ladle equal portions of the filling into 4 ramekins/crocks and place on a baking sheet.
Top each ramekin/crock with one of the pastry rounds.
Bake for about 10-15 minutes - just until the filling starts to bubble.
Remove from oven and allow to cool for a few minutes before serving.
Notes
Fresh lemongrass stalks keep well in the refrigerator but stay freshest in the freezer, tightly wrapped in plastic.
If you decide to make only half the recipe, I suggest still making all 4 pastry rounds and just freezing the remaining two for future use 🙂