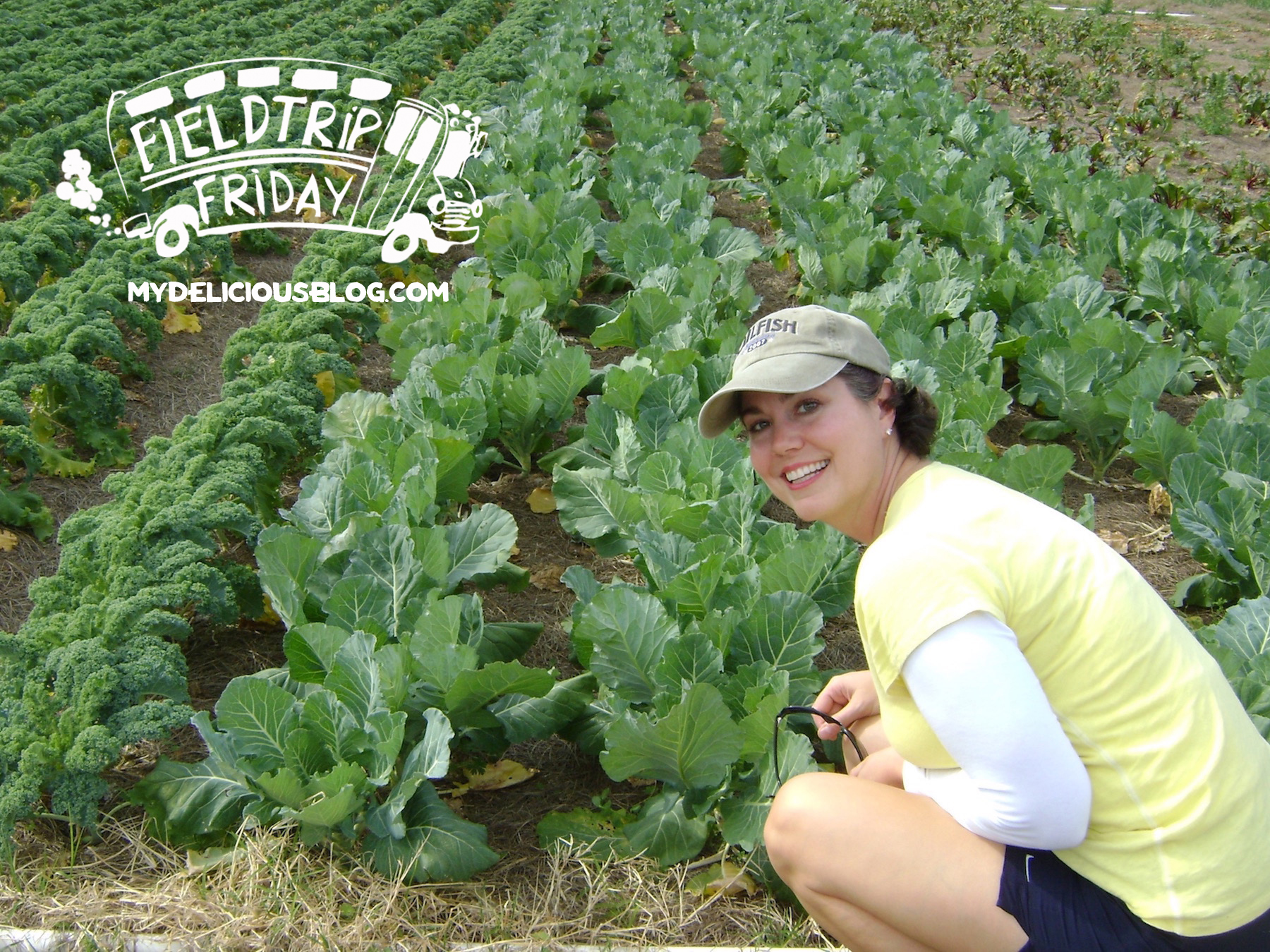 (Field Trip Fridays capture interesting, fun, food-related and/or fishing adventures that I like to share with you.)
One of my favorite things to do is visit local farms, and the southwest Florida area is abundant with them.  Yes, they're always great places to get locally grown (sometimes organic) fruits and veggies but, for me, I especially love seeing how everything grows and how it all comes together.  I'm inspired by the vibrant colors, seeing the sunlight sparkle on freshly watered fields, watching folks till the soil and pick veggies, spotting cute barnyard cats (if I'm lucky), smelling freshly picked produce, and so much more.
A farm I visited recently was Jessica's Organic Farmstand in Sarasota.  It was a beautiful, sunny day and my husband tagged along to take pictures.  Jessica's grows lettuce, herbs, chard, collards, escarole, kale, garlic, onions, peppers, spinach, sprouts and much more.  My favorite is their lettuce — they're simply works of art.  In addition to being huge, beautiful and delicious, because they're grown organically, they last up to two weeks in your fridge without turning brown.  That's a big plus 🙂
Here are a few tips that work for me when I visit a produce farm:
1) Before leaving the house I check to see what's in season.  I have a pretty good feel for what seasonal fruits & veggies are, but I'm by no means an expert, so I go online and read what my county extension office says.  It's always best to get in-season produce so you can be assured it's really fresh and tasty.
2) Once I arrive, I check to see what's grown on-site.  It's good to know the farm's specialities, and to get lots of those.
3) If it's not grown on-site, I like to find out which farm it came from (and figure out how far it had to travel to get to me).
4) After #3, there are no rules.  I just pick up what looks delicious or inspires me for that day's lunch or dinner!
Edible Sarasota offers a great list of local farms in southwest Florida in their Guide to Community Farmer's Markets.  More seem to pop up every month, so that's exciting for those of us who like to cook.
I hope you visit a farm in your area some time soon!