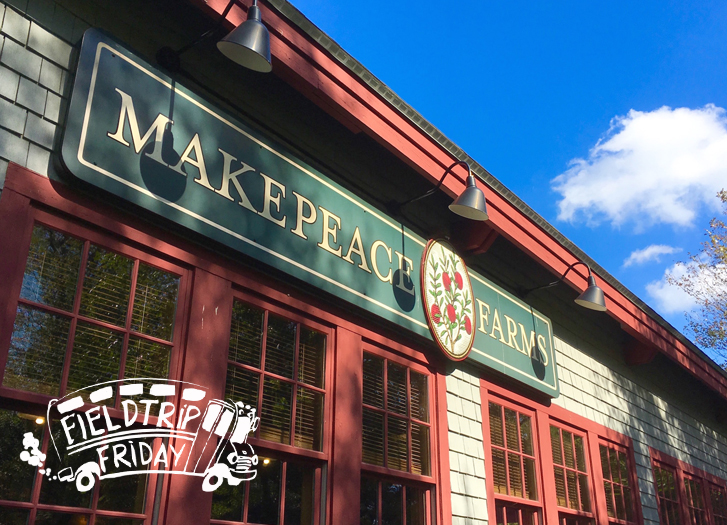 (Field Trip Fridays capture interesting, fun, food-related and/or fishing adventures that I like to share with you!).
On my recent visit to Massachusetts, I simply had to visit a cranberry bog because it's annual harvest time, and it's a quintessential event in New England.
My long-time pal Heather and I took a trip to A.D. Makepeace Company in Wareham for a school bus tour of their bogs. I will say that it has been a long time since my last school bus ride, and this one was particularly exciting due to our 'adventurous' driver and all those winding, narrow dirt roads 🙂
According to our tour guide (who was also one of the folks responsible for harvesting these magical berries), Makepeace was founded in 1854. The founder started as a saddle and tack manufacturer but started growing cranberries around 1857. Today it's the world's largest cranberry grower, and their bogs hold vines that are not only native, but are also 100-120 years old and still producing!
Most growers in the region own about 200 acres, but the family-owned A.D. Makepeace Company owns about 2000 acres, all managed with environmentally-friendly practices. It's an Ocean Spray grower, and one of their biggest crops is a hybrid cranberry that produces larger berries used for the popular Craisins products.
Our tour included visits to two bogs to watch the Wet Harvest process, a method that has been employed for centuries. It starts with fresh water going into each dry bog from a source on higher ground (i.e., gravity is a friend to cranberry growers) — a key step because berries have air pockets which, when exposed to water, allow them to float to the surface. In that wet bog, a guy operates a water reel (sometimes called an 'egg beater') and he drives over every inch of the bog to help the cranberries loosen from their vines (not to worry – it's designed to stay only at the water's surface and not damage the vines).
When the berries are at the surface, plastic or wooden booms are installed to corral them (see pic below of guy 'wearing' the boom which he walks around in order to tighten the circle).
A team works within the boom to rake the berries toward the pump (like a big vacuum), which lifts them into a truck, while being washed and the stems removed.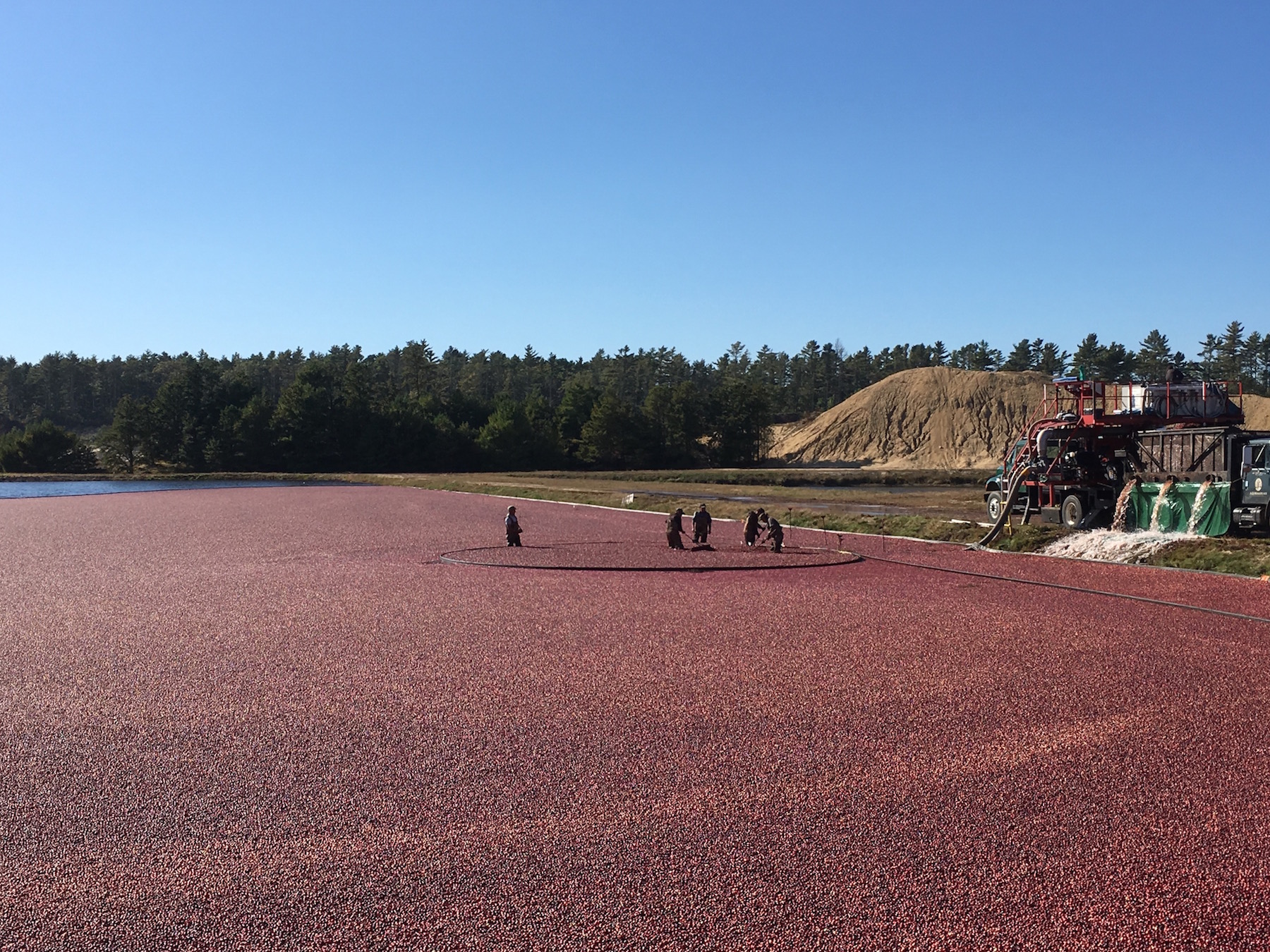 Then the truck gets them ready for delivery to Ocean Spray.
The water stays in the bogs throughout the winter in order to protect the vines.  That's when bogs can be enjoyed even more, because folks can skate on them!  As a kid, I remember seeing red berries and vines poking up from the surface – so fun.  When the ice melts, the water is recirculated back to the original water source, the vines produce little flowers and, around mid-July, berries start to form and turn red from the warm summer sun, and are ready for harvesting in October/November.
While technology today allows growers to monitor water flow, temperatures, peak harvesting conditions, and so much more, the process is basically the same as it was in 1854.  Amazing!
Here are some facts about cranberries you might not know:
1) The term cranberry derives from the Pilgrim name for the fruit "craneberry" (apparently, the pink flowers the vines produce reminded them of the head and bill of a Sandhill Crane).
2) The berries were first used by Native Americans as not only a food source, but also, as a fabric dye and a healing agent.
3) Cranberries grow best in a non-rich environment, mainly layers of sand, peat, gravel and clay.
4) Cranberries are the #1 food crop in Massachusetts.
5) One of the great things about cranberry vines is that they never have to be re-planted or re-seeded.
6) Cranberries are rich in antixidants and Vitamin C, making them a great tool in fighting many ailments.
Now that Fall temps are here in Florida, I'll be making a batch of cranberry bread soon, so stay tuned 🙂