Restaurants come and go, with
 many factors determining success. But when a long-time, popular spot closes, it's a huge loss to a community
, partly because of lost culinary traditions. This post is about one place, but I'm sure its story will resonate with many.
My husband recently told me about black eyed peas he enjoyed at Old South Oyster Bar in Osprey, Florida, a popular place with a line out the door every night, and several generations at tables. 
Aside from ten cent oysters and other treats (including a turtle sandwich, before laws forbade it), its claim to fame was a complimentary dish of black eyed peas you were invited to enjoy after ordering a meal. 
It
 closed in '95, but based on my search, there are still many who long for those legumes
, measuring all others against them.
Determined to not let the dish disappear altogether, I tracked down two folks who used to work at the restaurant, both happy to tell me about the family who created the tradition of serving black eyed peas at the restaurant. . .  
In the early '70s, Norm Bryan and wife Yolanda opened Bryan's Oyster Bar in Sarasota at 12th Street & 301. Norm was from Ohio, Yolanda from Cuba. It's not exactly clear how it came to be (perhaps the Cuban tradition of black bean soup?), but Norm served black eyed peas in a pot near the front door, inviting customers to enjoy them after ordering. He used a pound of bacon (with all the grease), dried garlic/onion, white pepper, Lawry's seasoned salt, and a #10 can of Nifda (now UniPro) black eyed peas. Norm eventually moved to a larger place in Osprey, where he continued to offer the popular dish, but sold the biz in '79. New owners changed the name to Old South Oyster Bar and continued serving Norm's black eyed peas (in a much bigger pot), until they sold to Rosebud's in '95, when the tradition ended.
Armed with only a list of ingredients and general proportions, I made a batch using frozen/thawed black eyed peas, preferring them to canned.  I also used fresh garlic and onion, along with chicken broth (not sure if that was in the original recipe. . .).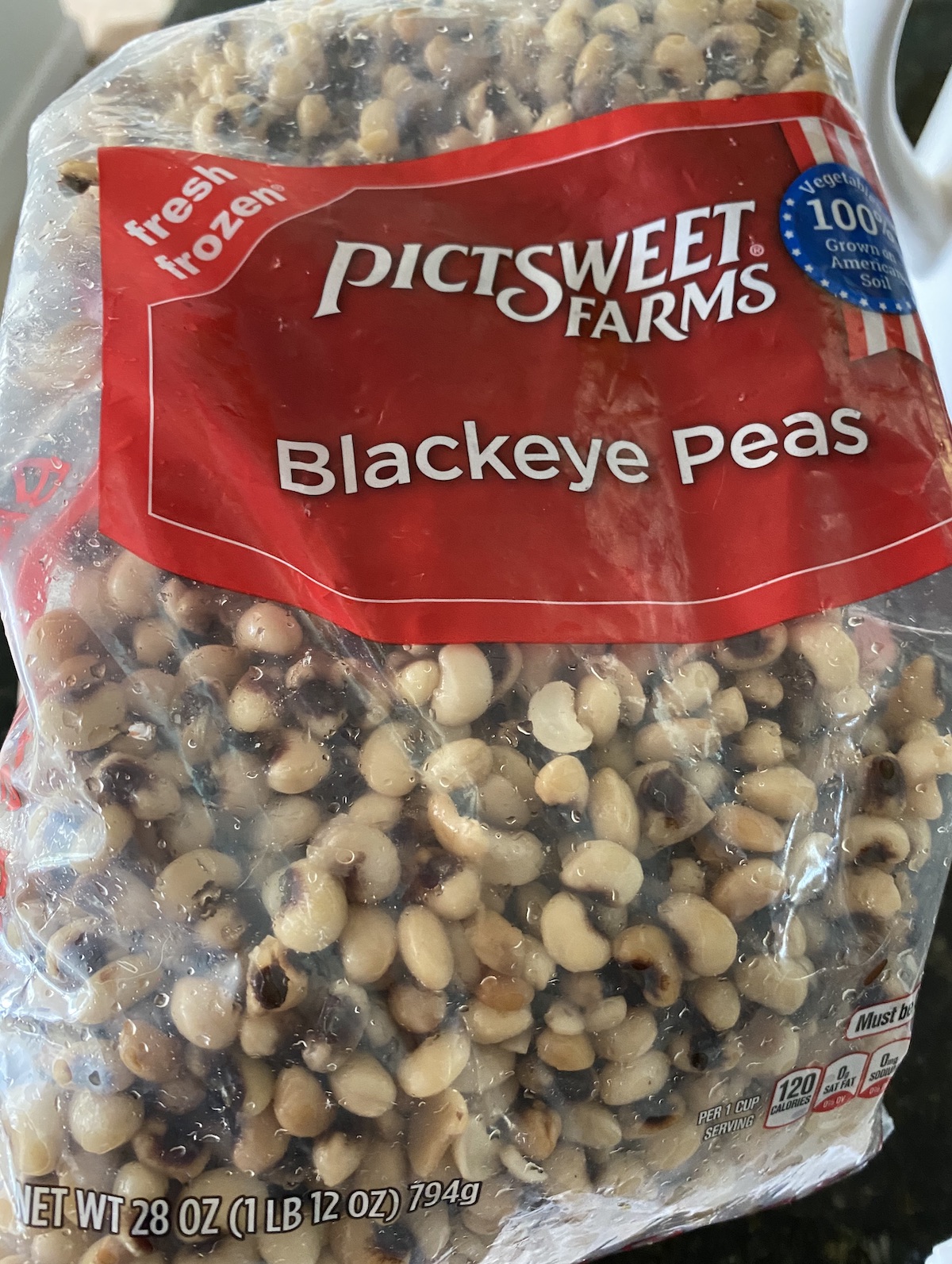 S
ince I never tasted the original dish, I relied on hubby's memory, who offered tips like "just enough liquid but not soupy; tender peas, not dry or mushy."
Surprisingly, he said mine were even better, which just confirms what a good husband he is 🙂
Thanks for the inspiration, Norm, and for making great memories for so many!
Note: black eyed peas are packed with fiber and iron; they're also a Southern tradition on New Year's Day, promising good luck and prosperity. I grew up in New England, so the closest things I have to culinary legume tradition are Boston Baked Beans 🙂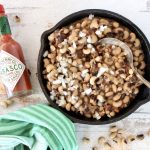 Print Recipe
Black Eyed Peas from Old South Oyster Bar
Savory black eyed peas, adapted from the (now closed) Old South Oyster Bar in Osprey, Florida. Bacon, pepper, seasoned salt, onion and garlic offer delicious flavors to a favorite treat.
Ingredients
4

slices

Bacon

1

medium

Onion, chopped

2

cloves

Garlic, peeled & minced

1

tsp.

Reduced sodium Lawry's seasoned salt

(if using regular, you may want to adjust)

1/8

tsp.

Ground white pepper

1

c.

Reduced sodium chicken broth

1

c.

Water

2

c.

Frozen (thawed) black eyed peas

Cooked bacon, chopped

Minced onion (for serving)

Your favorite hot sauce (for serving)
Instructions
Add bacon to a large skillet, cook over medium/high heat until crisp, then transfer pieces to a paper towel. 4 slices will typically yield about 5 Tb. of grease. Leave all the grease in the pan OR transfer it to a heat proof container and measure out 2-3 Tb and return that to the skillet (Note: the more bacon grease the better in this recipe, but if you're trying to be a bit more healthy, you can leave some behind). Reserve any remaining grease for another use, or discard.

Over medium heat, add onions to bacon grease, cook until translucent. Toss in garlic and cook another 1-2 minutes, just until fragrant.

Add seasoned salt, pepper, chicken broth, water and thawed black eyed peas to onion mixture. Stir to combine, then simmer over low heat, covered, about 45-50 minutes, until peas are tender. Half way through cooking, toss in the chopped bacon. Check every 10 minutes and if the peas have absorbed most of the liquid before being fully cooked, add 1/4 cup of water at a time until they're tender but have still maintained their shape. You should have just enough liquid in the pan acting as a light 'gravy' so the peas don't become dry. Taste for seasoning, adding more salt (Lawry's or other), as needed.

Serve with chopped onion, hot sauce and/or vinegar, as desired.