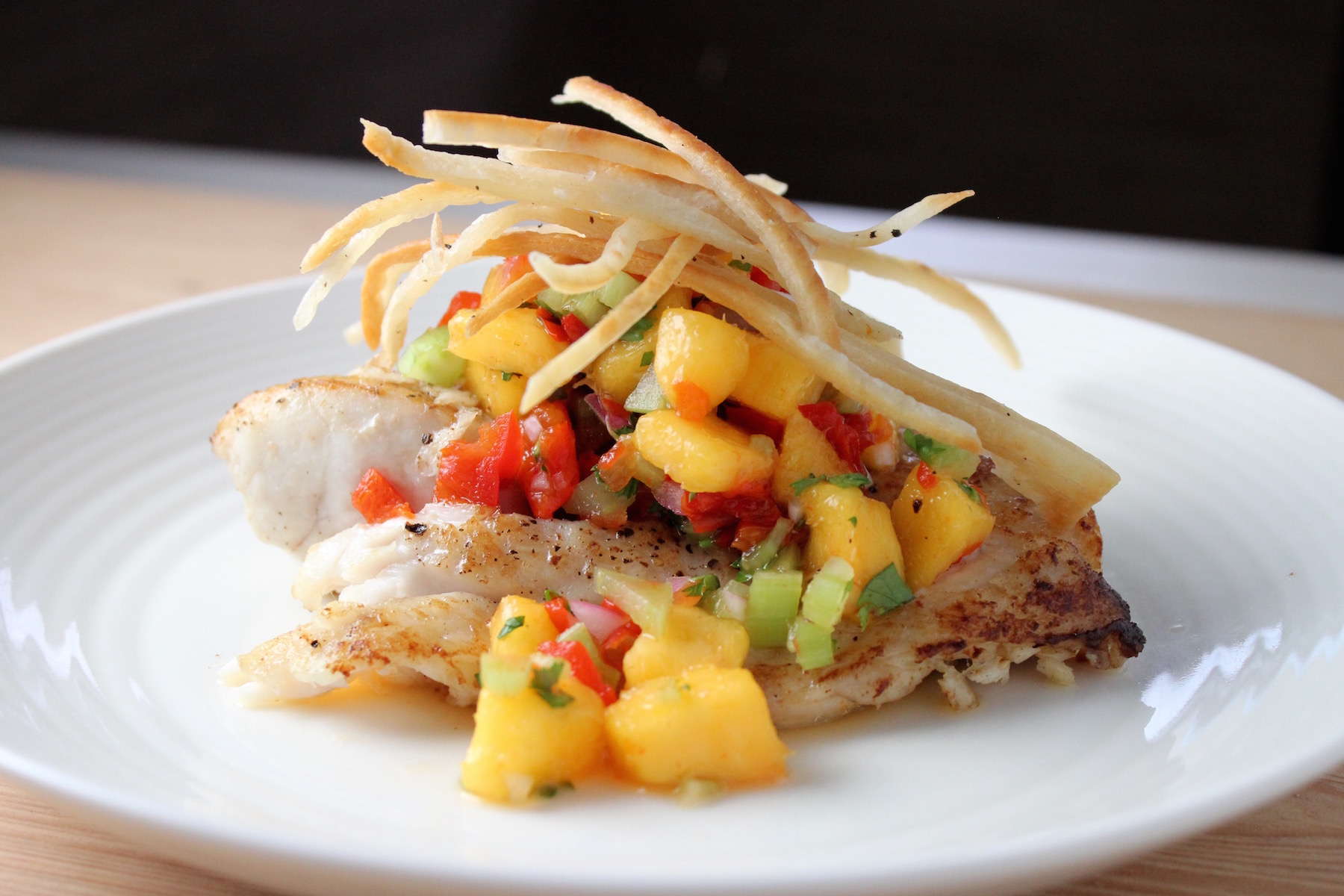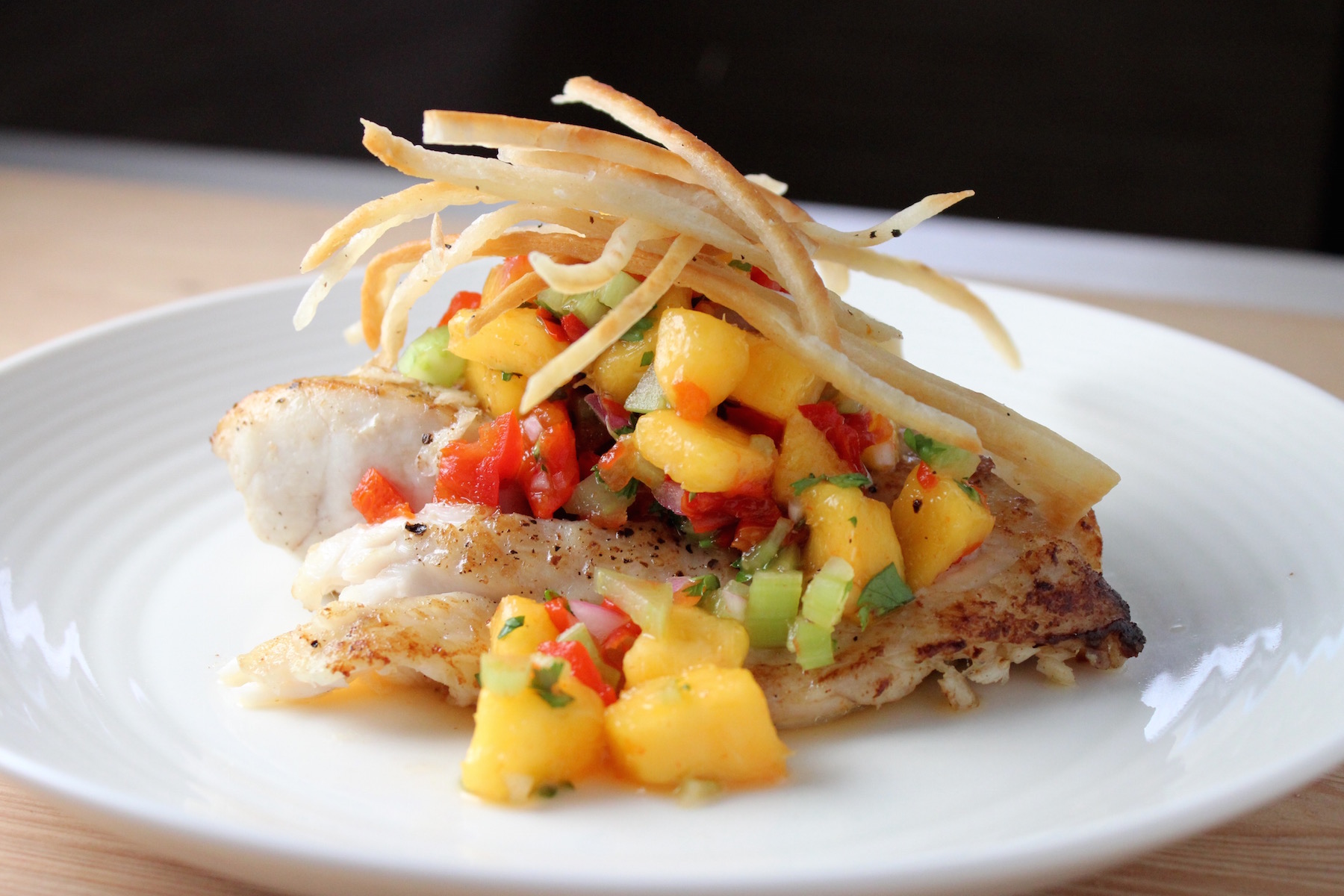 My love affair with sweet piquante peppers (branded as "Peppadews") started five years ago. I bought a package because they looked interesting and I thought they'd be a nice addition to an olive/cheese platter I was making for a party. How could I have known how much I would love these sweet, mildly spicy little gems, the size of a cherry tomato and the color of a maraschino cherry?!? I only wish I had found them as early as 2002, when they were first introduced to the U.S. (after being discovered in South Africa in 1993).  If you've never seen them, here's a pic of these beauties: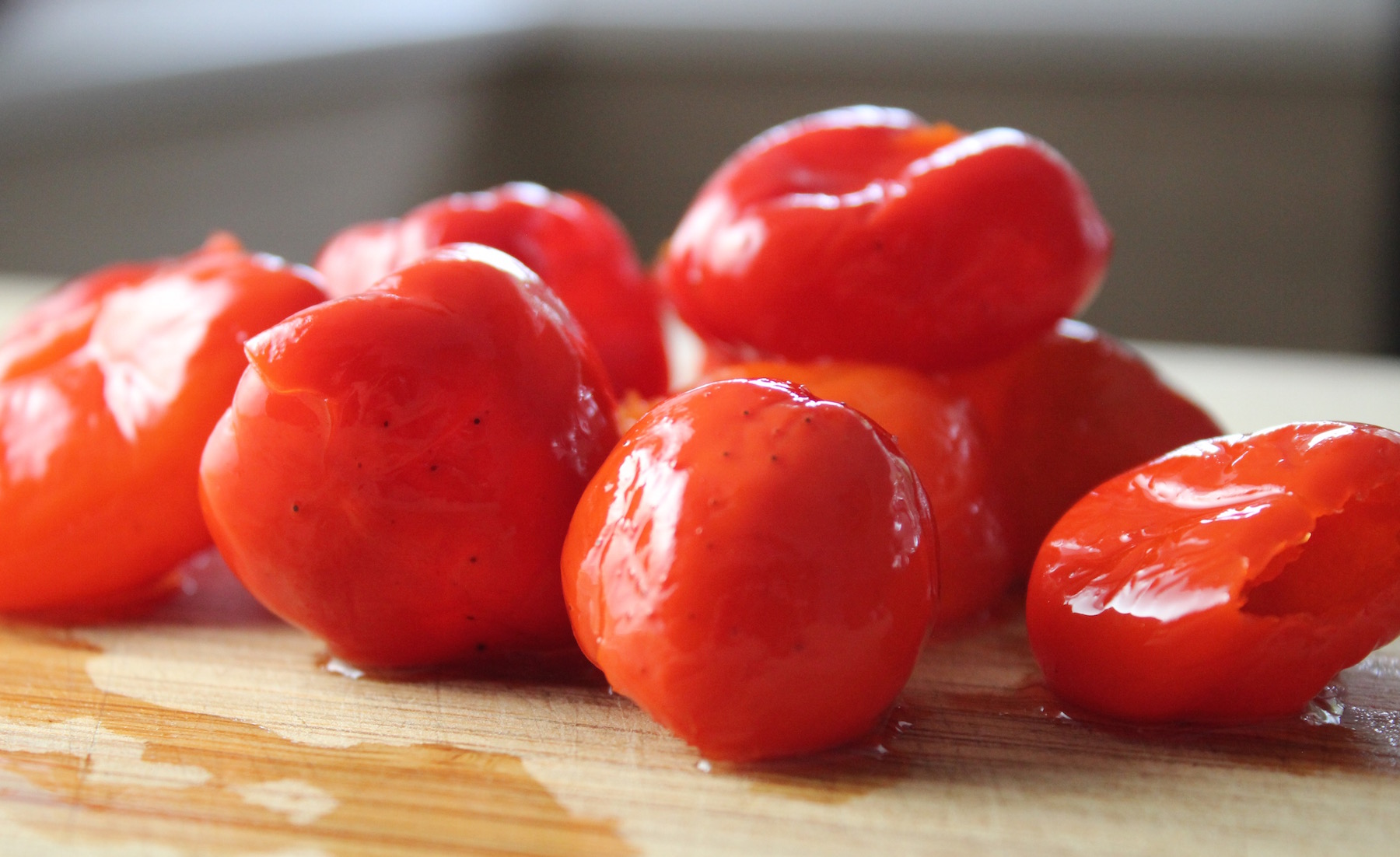 Enough of my love story and onto more important things. . .
I went deep sea fishing with friends recently and, well, let's just say the day started off slowly. Ok, I'll be honest and tell you it was looking pretty grim until our friend Shawn landed this 8-pound Mangrove Snapper! I managed to get my picture taken with it, but all credit goes to him after working hard to get it to the boat. After all the excitement we got back to our rods and had a new-found shot of adrenaline. Fishermen out there know this feeling — the one when you're filled with hope that you, too, can catch a great fish because the guy standing next to you just got one. Well, it ended up being one of those long, hard-fought days, but we did manage to come home with yummy fish (Mangrove, Porgy, Scamp, Red Grouper and Lane Snapper).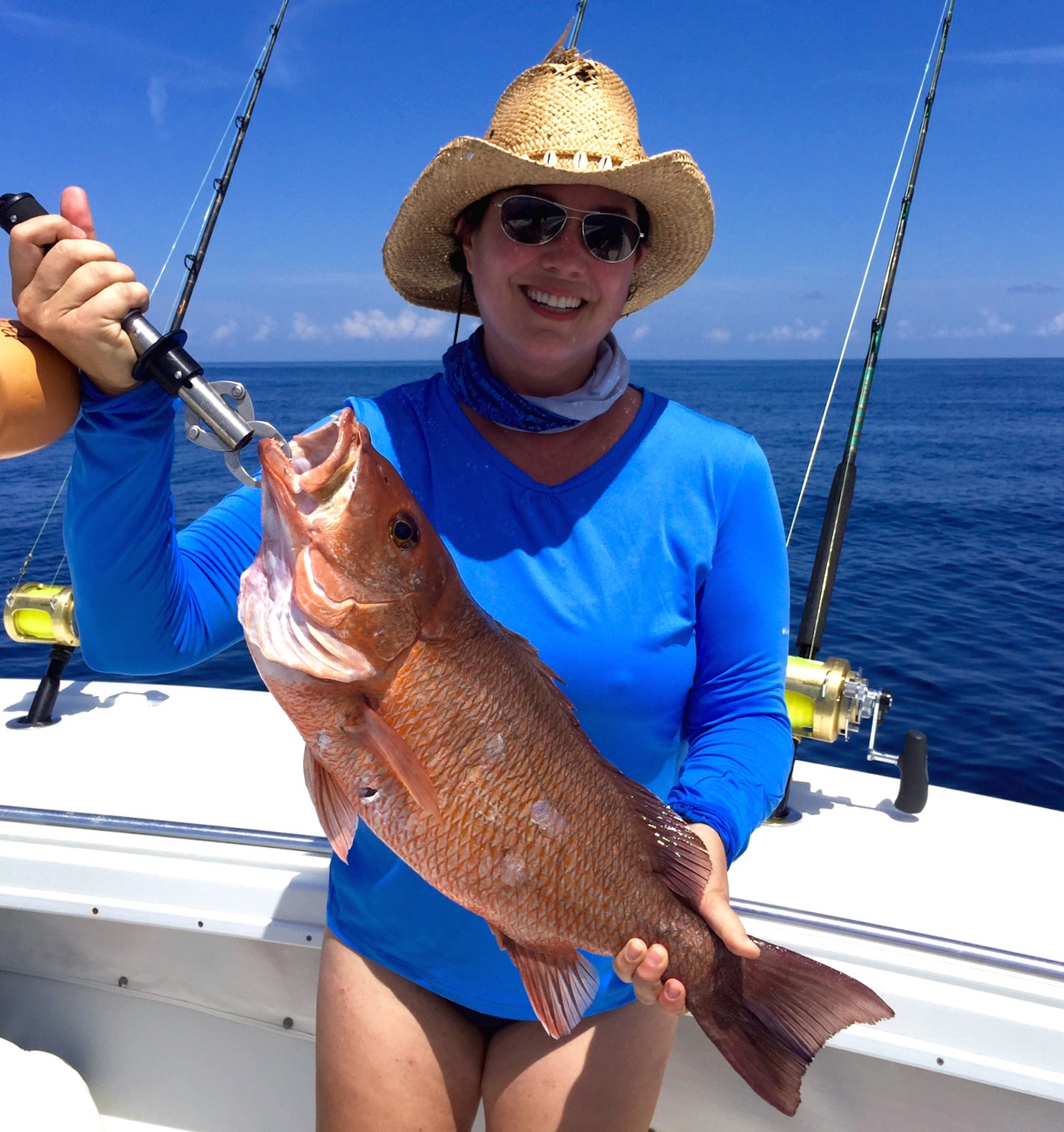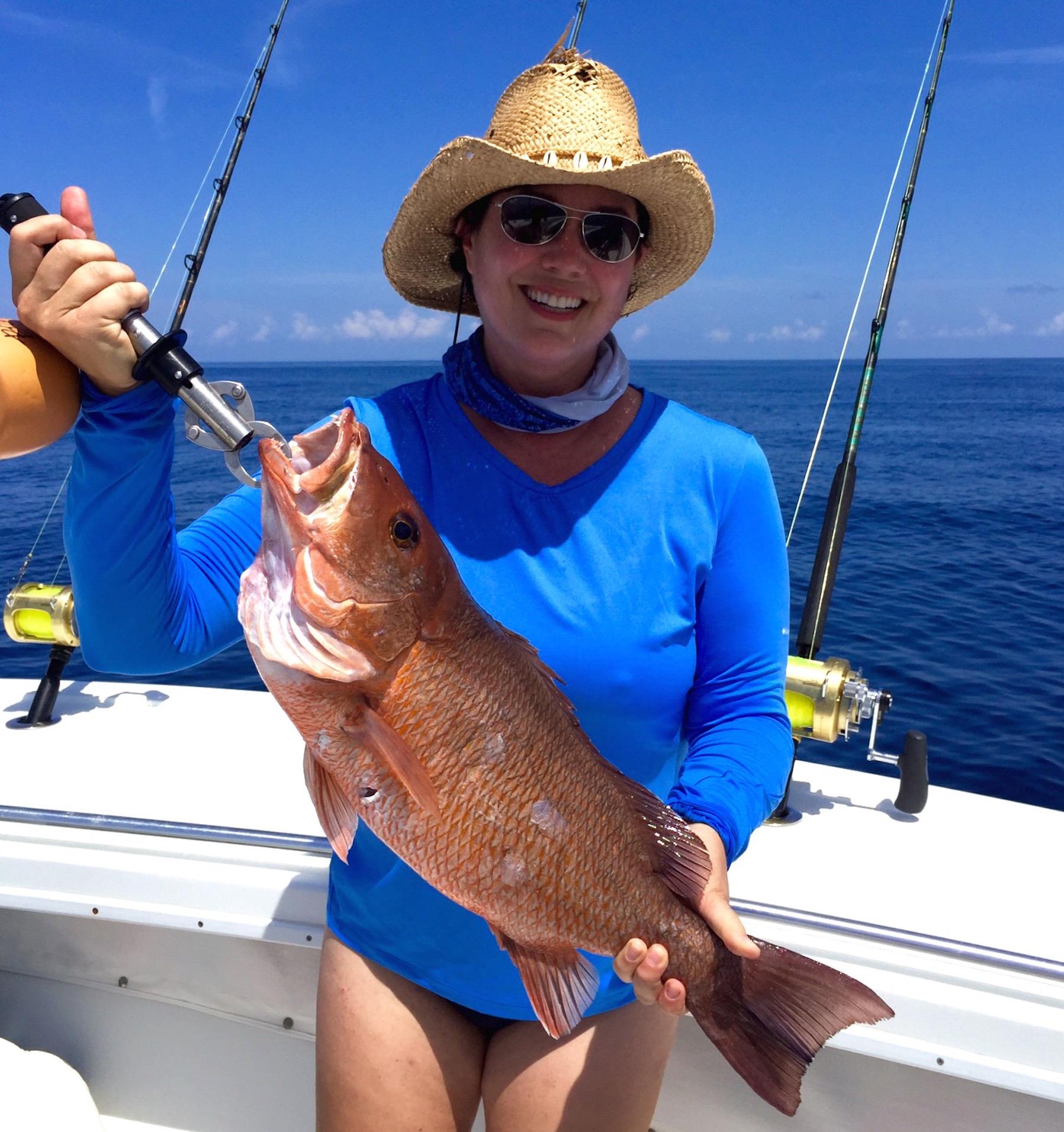 The gorgeous Mangrove Snapper fillets were the first ones I reached for to make dinner the next night. Like all varieties in the Snapper family, Mangrove is truly delicious in just about any preparation, and it's known for its light, sweet and flaky flesh. For this dish I decided to pair my love of Mangrove Snapper with that of my cherished Peppadews. And what better way to do that than to make something that offered opportunity to taste each individual flavor, like a fresh salsa on top of crispy, pan-seared fish?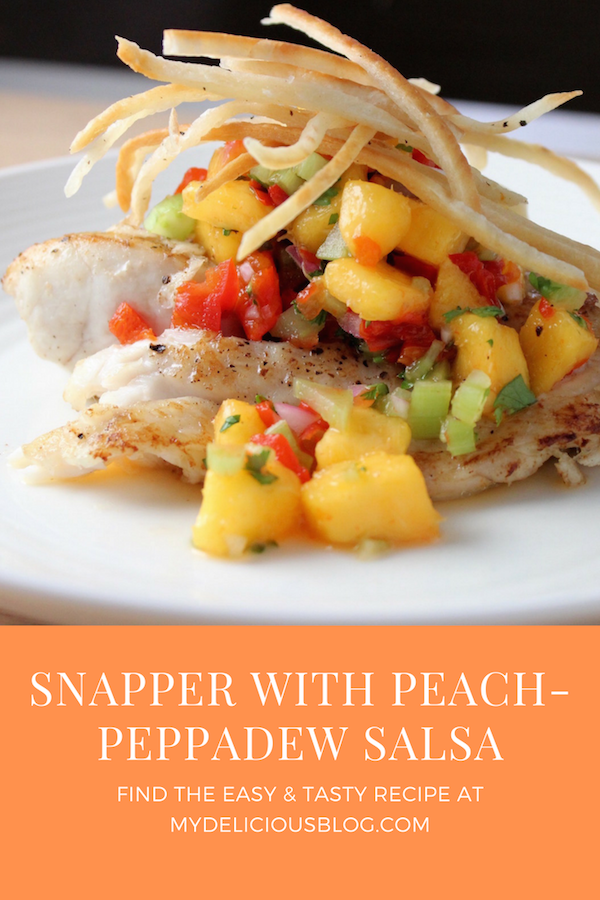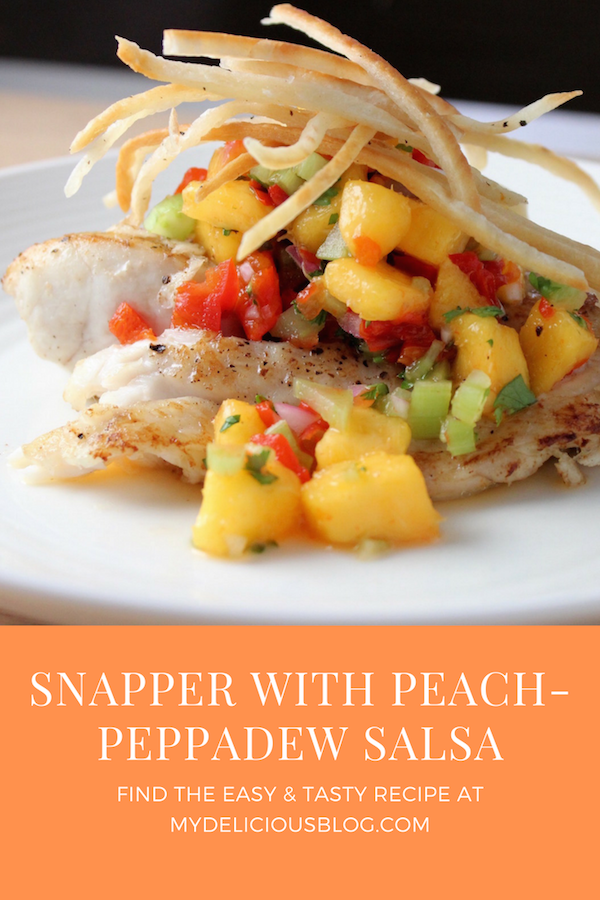 This is a great time of the year for stone fruits (peaches, plums, apricots, nectarines and cherries), so I've been enjoying them immensely. I had ripe peaches on hand and thought the sweetness and juiciness of the fruit would be a perfect complement to the spiciness and crunchiness of the Peppadews. Let me tell you, this salsa did not disappoint — it was so yummy that I wouldn't hesitate to add it to anything. Well, maybe not a chocolate chip cookie, but really, just about anything else!  Enjoy.

Mangrove Snapper with Peach Peppadew Salsa
Any white, flaky fish will work wonderfully with this delicious salsa made with fresh peaches and spicy peppadew peppers.
Author:
My Delicious Blog
Ingredients
For the Peach Peppadew Salsa
6-8 Peppadew peppers, chopped
1 ripe peach, peeled and chopped
½ lime, juiced
1 Tb. flat leaf parsley, chopped
1 Tb. red onion, chopped
1 Tb. celery, chopped
pinch kosher salt
pinch freshly ground black pepper
For the Fish:
2 (6-8 oz) Mangrove Snapper fillets (or any other light, white fish)
pinch kosher salt
pinch freshly ground black pepper
1 Tb. olive oil
1 Tb. unsalted butter
Instructions
Prepare the salsa: combine all ingredients in a small bowl. Refrigerate until ready to use.
Heat a non-stick skillet to medium/high and add butter and olive oil.
Sprinkle fillets with a pinch of salt and pepper.
Add fillets to hot pan.
Cook about 2 minutes, then flip (the edges should be crispy).
Reduce heat to medium so they don't scorch.
Cook another 2 minutes on the other side, then remove and serve with the salsa.
Notes
If you want to add a little extra, tasty crunch (and height) to your dish, try some of these tortilla strips:
1) Place 1 flour tortilla flat on a cutting board and, using your chef's knife, slice it into thin strips.
2) Heat 1 Tb. olive or vegetable oil in a small non-stick skillet over medium/high heat.
3) Place strips in pan and allow them to brown, turning periodically, until crisp.
4) Top your fish with these tasty strips 🙂