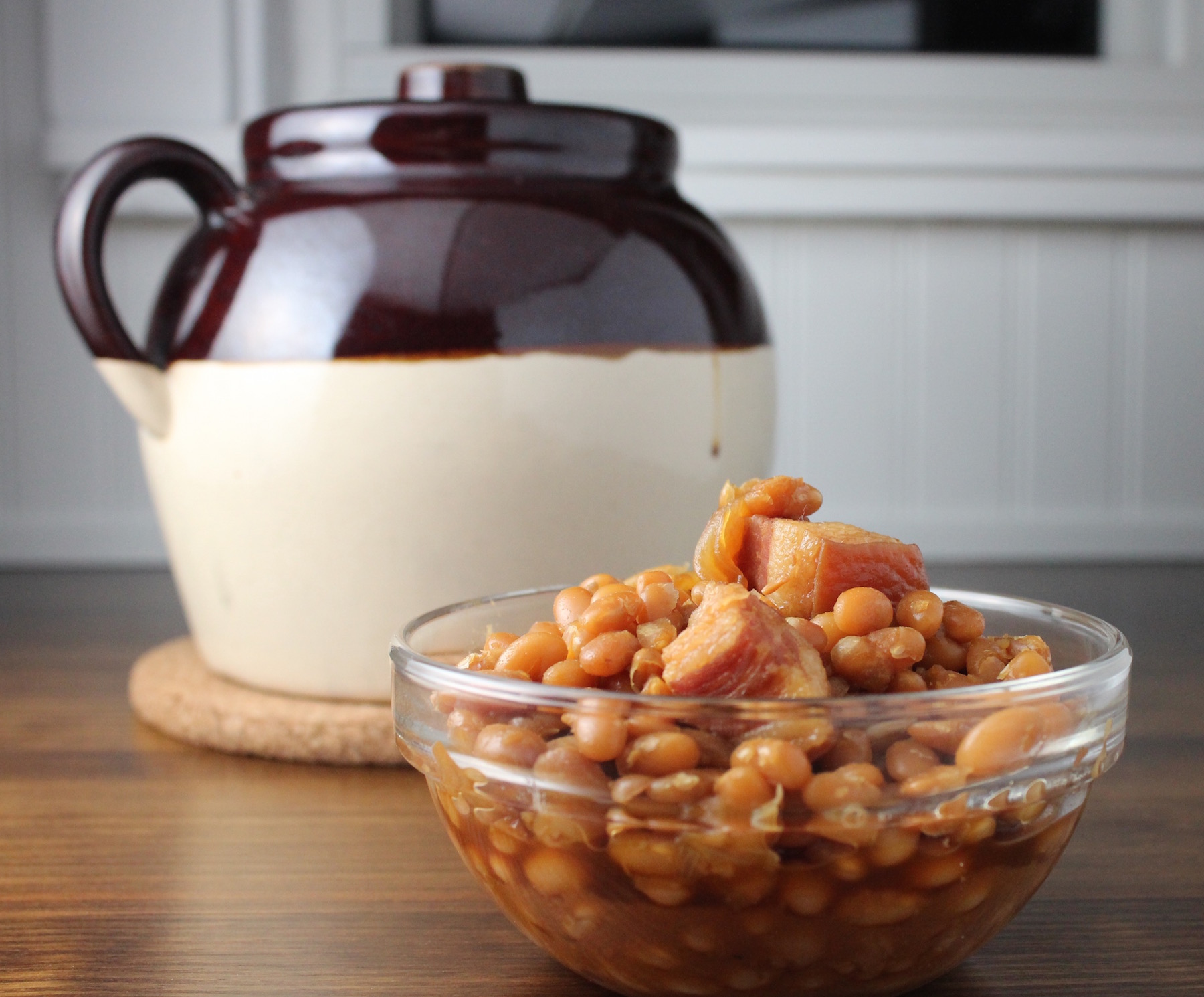 Homemade baked beans are not only yummy but, they also bring back fond family memories. As a kid, one of my favorite meals was Boston Baked Beans, Boston Brown Bread and steamed hot dogs. It certainly wasn't the most colorful meal, but on a cold, dreary day in New England, it really hit the spot. In our family, beans were on the buffet at just about every family gathering and my grandmother Lucille was notorious for making a good batch.  I can still taste them. She even liked to add a side of thinly sliced raw onions mixed with a bit of white vinegar — not necessarily my favorite side dish, but I can see why the sweetness of the beans was offset by the bite of the vinegar and the crunchiness of the cold onion. Those old French Canadians. . .they knew good food!
Our family (and I'm sure many others) cooked beans pretty regularly, a tradition that started long before my grandparent's time.  I recently learned that many of my relatives in the Fall River, Massachusetts area used a service local bakers offered to cook those beans — probably around the 1930s and 1940s.  Around that time, one of my uncles owned a bakery and he, along with other bakers, offered their ovens to friends and relatives to bake their beans using each family's bean pot.  Once all the baking was done on early Saturday mornings, the ovens were still warm and the bakers kept them on for the beans.  Each pot was given an ID tag with the family's name, tied with a little wire and the bakers tended to the beans all day, adding a little water to each pot as needed.  Later in the day, families would collect their beans.  This was an especially effective system in warm weather, when homemakers didn't want to have the oven on for many hours.  What a cool piece of history 🙂
What makes these Boston Baked Beans is the use of molasses and salt pork. Since Boston was a trade route for rum in the Caribbean, and molasses is used to produce rum, Bostonians had easy access to it, so it ended up in bean pots across town. The challenge with molasses is high levels of sugar and calcium — great for keeping beans firm while cooking but, unfortunately, requiring extended cooking time (2-3 hours in a traditional oven). As for the salt pork, I imagine Bostonians had easy access to that too, since they cured the meat themselves. Whatever the history, the savory-sweet combination is a sure crowd pleaser.
Beans are a great addition to your diet since they're excellent sources of fiber, protein, potassium, iron and calcium, plus, they're low in fat. Baked beans are certainly tasty during cold weather, but I recently learned that Americans consume about 50 million pounds of baked beans in the month of July, due to grilling season.  That's a lot of beans!  Since July is National Baked Bean Month I thought I'd make a batch. I don't make them often, but when I do, I love using my old bean pot. It was my mom's, who received it as a wedding present, so that means it's more than 50 years old.
Here's a pic of all the ingredients stuffed into the old bean pot.  Doesn't that look good?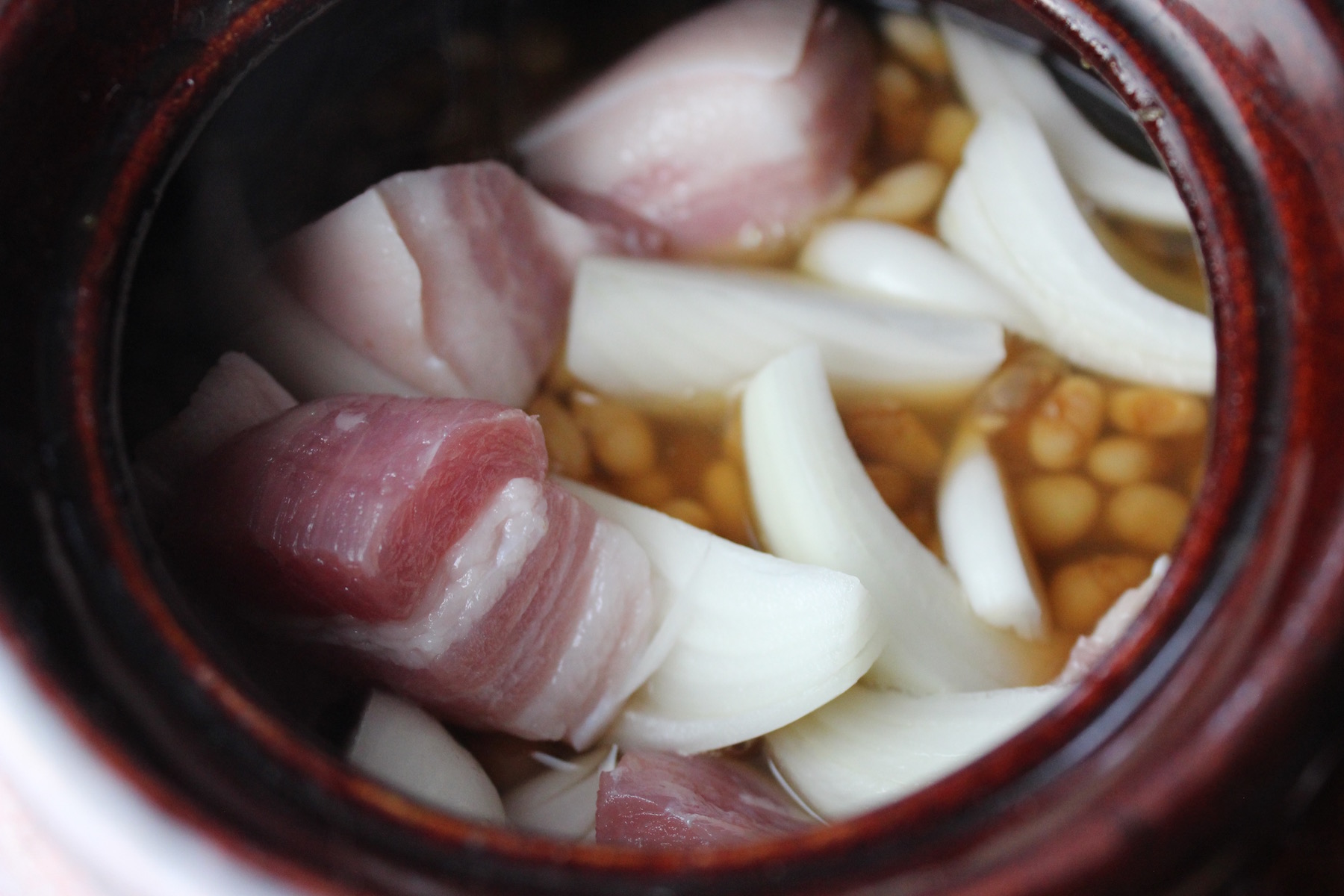 My husband was fascinated by the whole bean-making process. Why wouldn't he be?!? It's so much fun!  He regularly asked when they'd be done and I regularly replied "When they're ready."  After many hours of this, he finally tried them and exclaimed "These are delicious! I want more!"
Here's Brendan tasting his first spoonful — he looks pretty excited, right?!?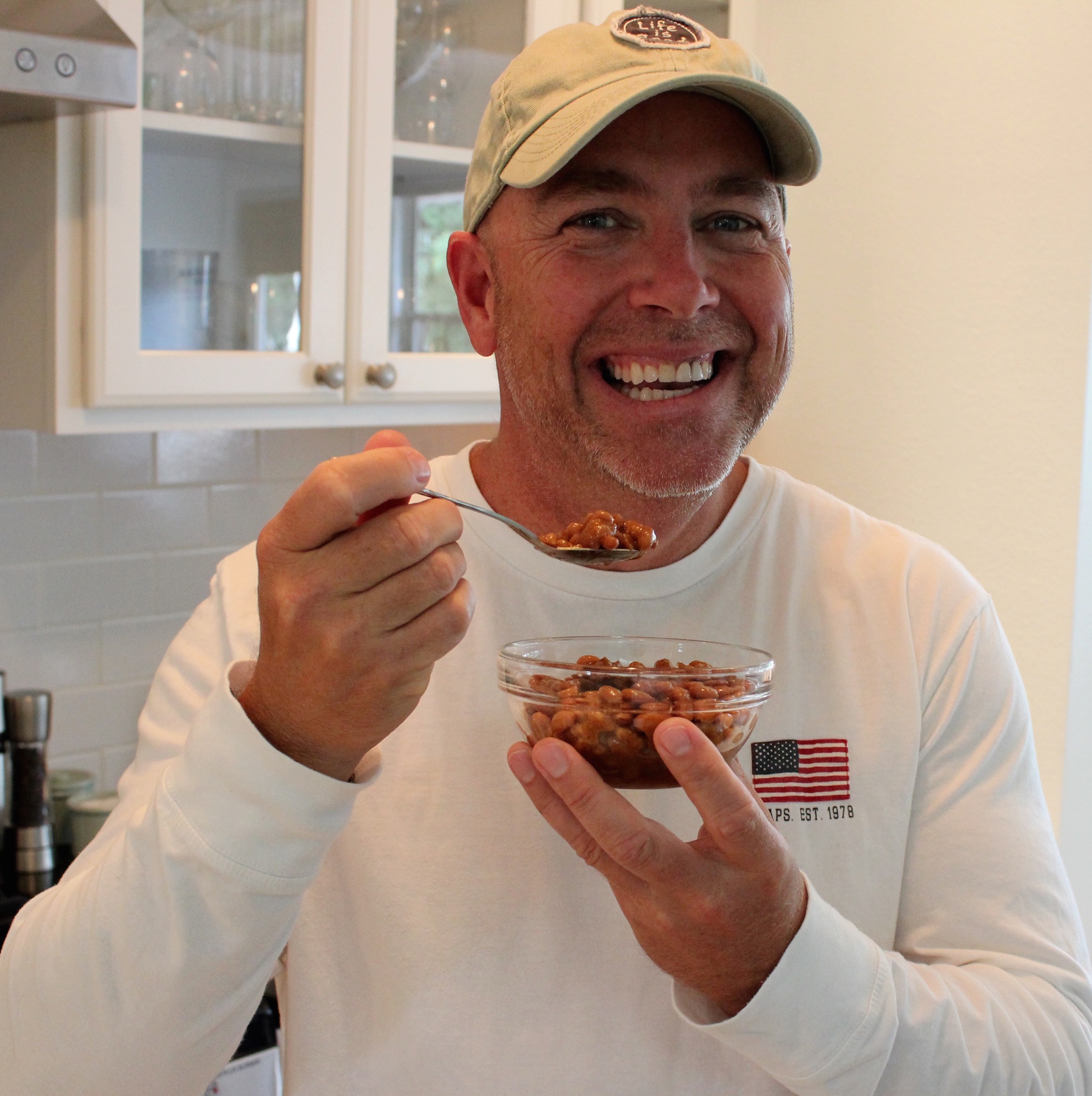 My first spoonful tasted like I had stepped back in time 🙂

Boston Baked Beans
Boston Baked Beans - a classic New England dish.
Author:
My Delicious Blog
Ingredients
1 lb. dry navy beans
4 Tb. dark brown sugar
⅓ c. molasses
1 Tb. dry mustard (I sometimes use plain yellow mustard for extra tang)
1 Tb. ketchup (optional, but delicious)
2 tsp. salt (I used kosher)
¼ tsp. black pepper
1 small onion, quartered
½ quart hot bean water (see notes)
½ lb. salt pork, cubed (traditionally this is used raw but you can saute it for extra flavor)
Instructions
Rinse beans in a colander; remove any stones or bad beans.
Transfer beans to a large bowl and cover with cold water. Allow to sit overnight (at least 8 hours), uncovered.
Drain the water and transfer beans to a large sauce pan. Cover with water and simmer on low heat.
After about 30 minutes, check a bean to see if it's soft. If not, continue simmering, but check every 10 minutes or so.
When beans are soft, remove from water using a slotted spoon and place in a large mixing bowl. RESERVE the cooking liquid!
Heat oven to 325 degrees.
In a separate bowl, combine brown sugar, molasses, mustard, ketchup (if using), salt and pepper and whisk to combine.
Add above mixture to beans and stir well.
Transfer beans to a 1 quart bean crock.
Add about ½ quart bean water (enough to just cover the beans).
Add salt pork & onion on top.
Cover and place crock in the oven.
Check beans after 1 hour. If still not soft enough, return to oven, but check every 15 minutes.
Notes
Note 1: Every batch of beans our family has ever made cooks differently! Sometimes, if left too long in the oven, they can turn to mush. If not left long enough, they're watery and still tough-skinned. It's a matter of watching them very carefully after the first 1.5 hours, so be sure to allow enough time 🙂

Note 2: if you don't have a bean pot, simply use a crock-pot. After soaking and pre-cooking the beans, toss all the ingredients into a crock-pot and set to about 8 hours. Keep an eye on them to ensure there's still enough liquid in the pot. If they start looking dry, simply add more bean water.