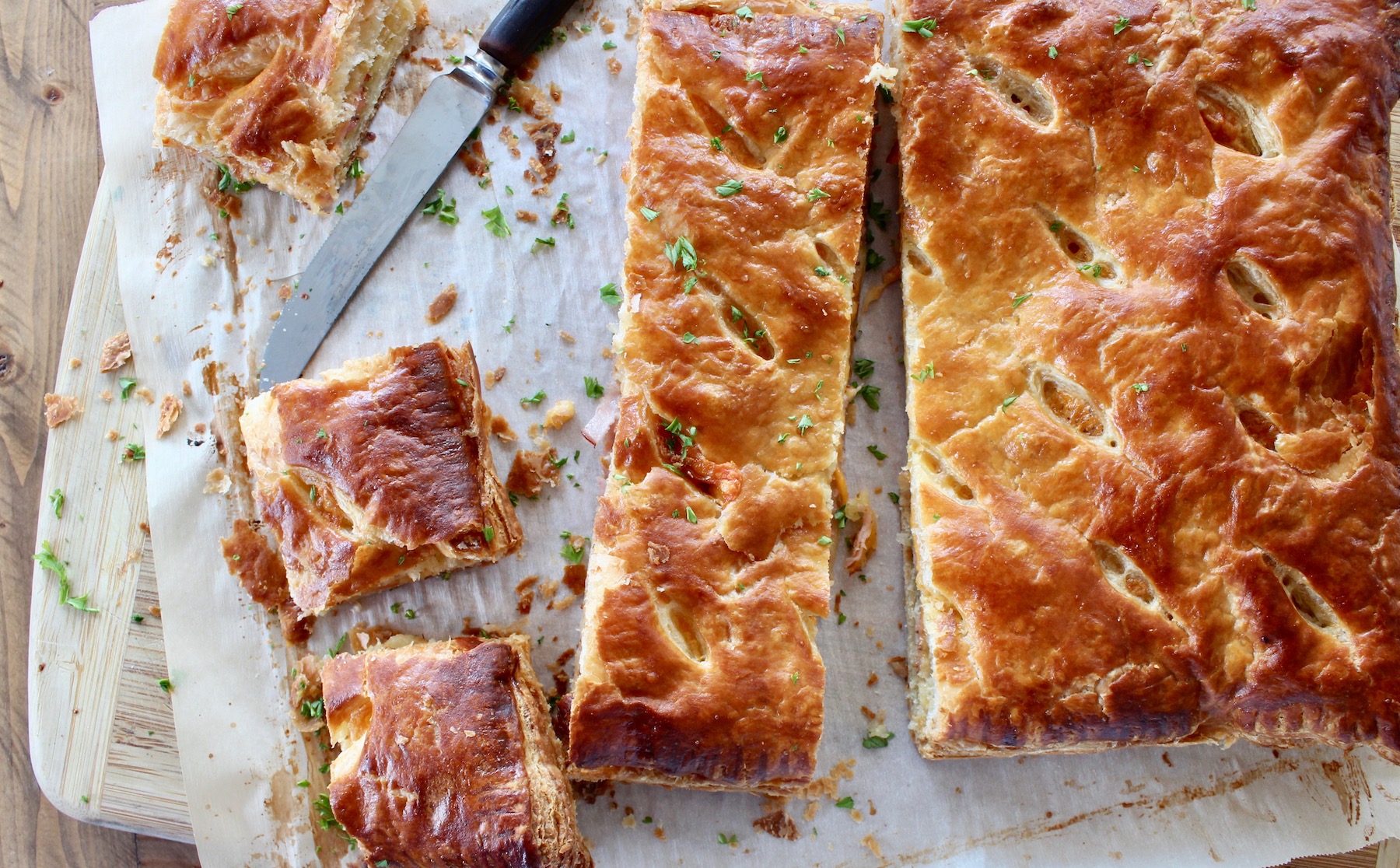 I was just a kid in the '70s and Easter was a big day because it meant a visit from a magical rabbit who left me and my brother treats, including huge, chocolate-filled eggs that took weeks to eat, sliver by sliver, because they were so big.  Our baskets were full of Russell Stover jelly beans, malted eggs, peanut butter eggs, Peeps, plastic eggs stuffed with tiny treats, and little bunnies.  Honestly, these baskets were better than Christmas stockings.  That rabbit even left a trail of jelly beans around our house, especially in the corners of stairs, and finding them meant even more treats in our baskets.  Yes, it was a good day to be candy-lovers 🙂
On the big day, we all dressed in our Sunday best, went to church (where everyone wore their finest) then visited family for dinner — a feast of sweet ham, pineapple sauce, homemade rolls, creamy scalloped potatoes, fresh veggies, pineapple/rice pudding, and more.  And, of course, chocolate eggs and jelly beans.   So, Easter dinner brings back happy memories with my loved ones, including the joy of wearing my new Easter dress, patent leather shoes, gloves and purse.  If only I had a picture to share!
These days, life in Florida brings with it a more relaxed lifestyle, so Easter is less formal but still spent with friends and family.  But there's still lots of good food around.  So, if you need to bring along a tasty brunch item, try this puff pastry filled with ham, cheese, whole grain mustard and honey – a few classic ingredients that yields a delicious treat.  It's easy (thanks to that pre-made puff pastry) and comes together quickly.  It also makes a delicious weekday meal alongside green salad, veggies or fresh fruit.
Here's the golden deliciousness you'll see when you take it out of the oven: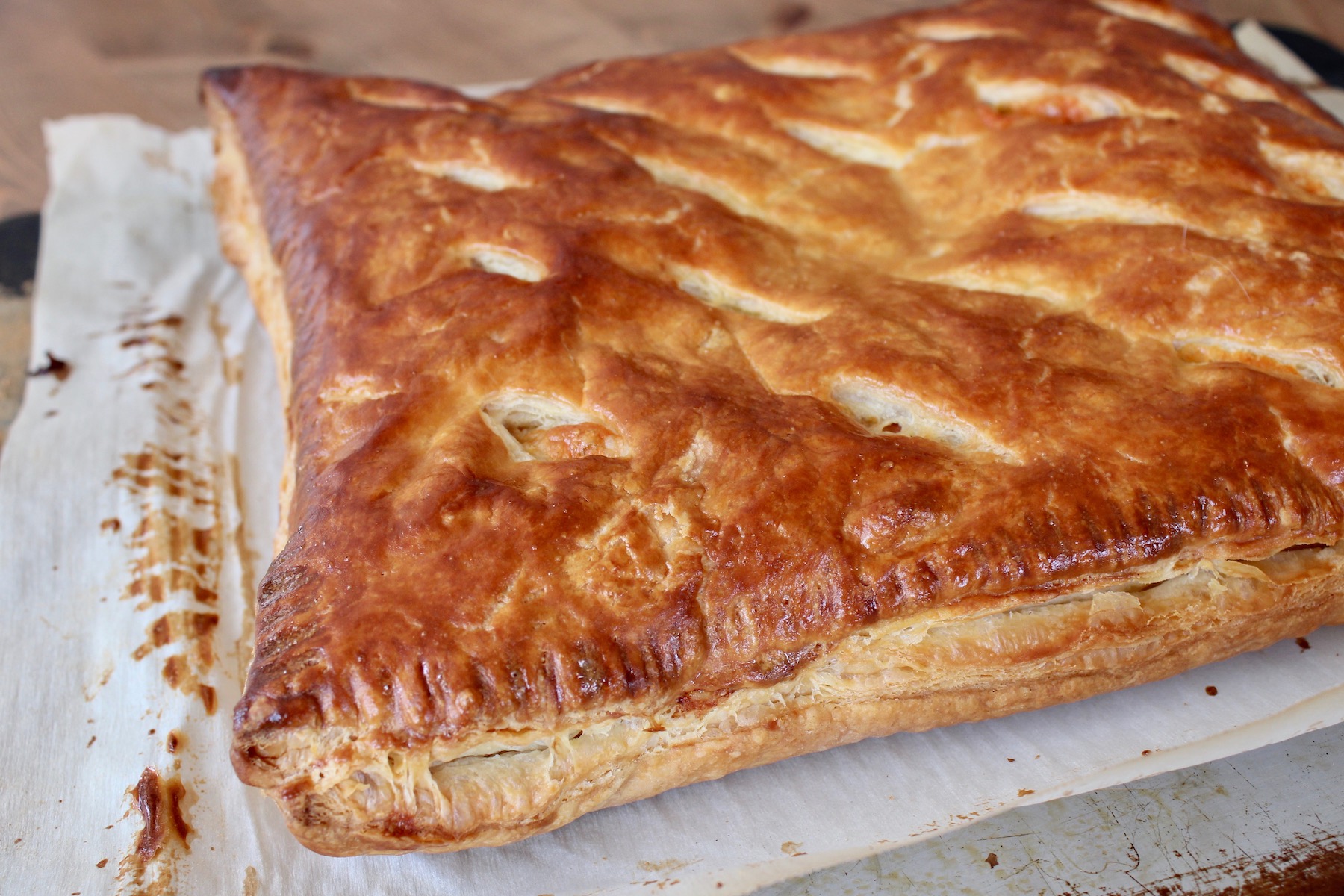 And here's a close up – crispy layers of pastry with tasty ham, cheese and that savory mustard: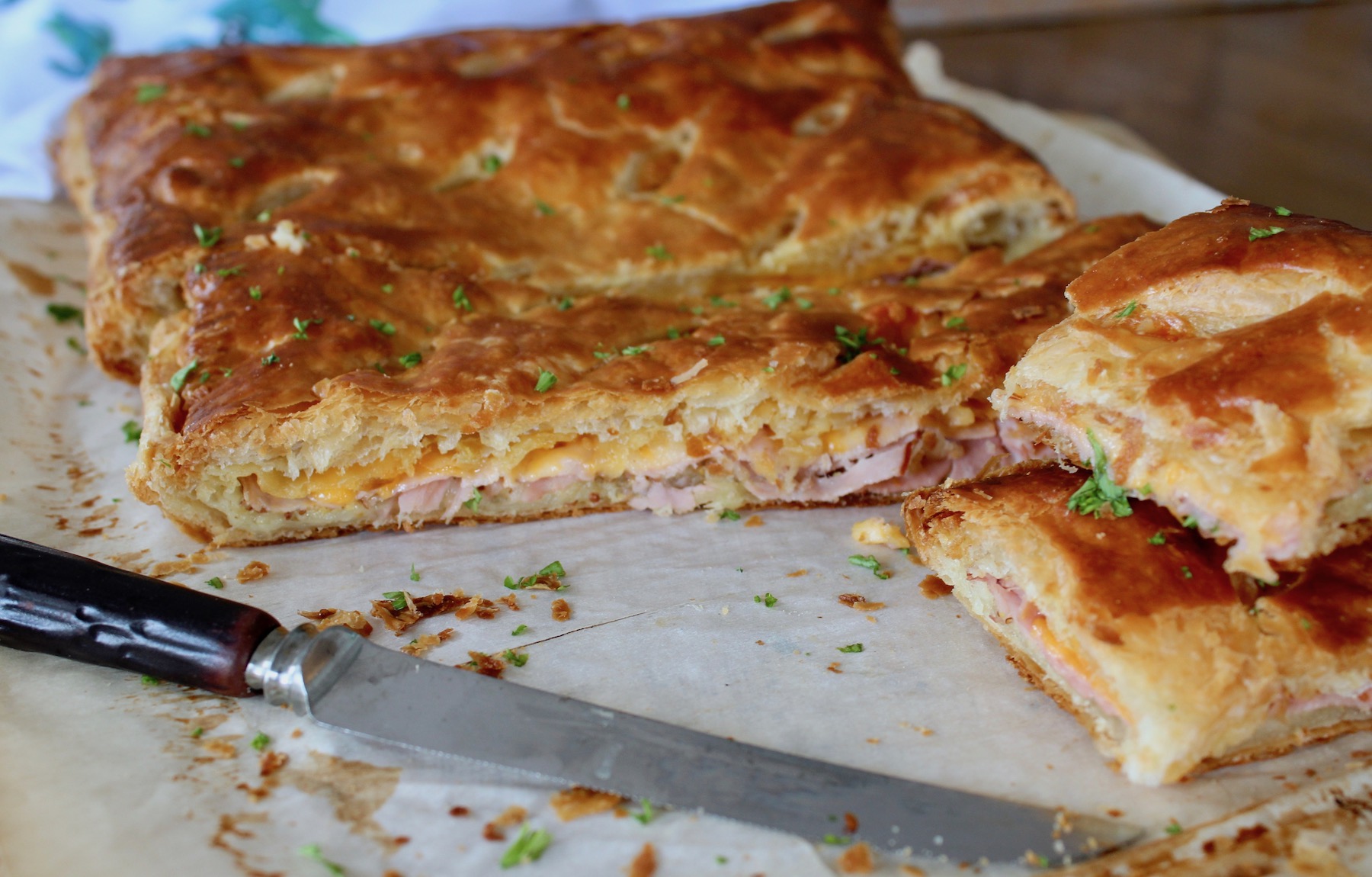 Happy Spring!  I hope the bunny is good to all of you!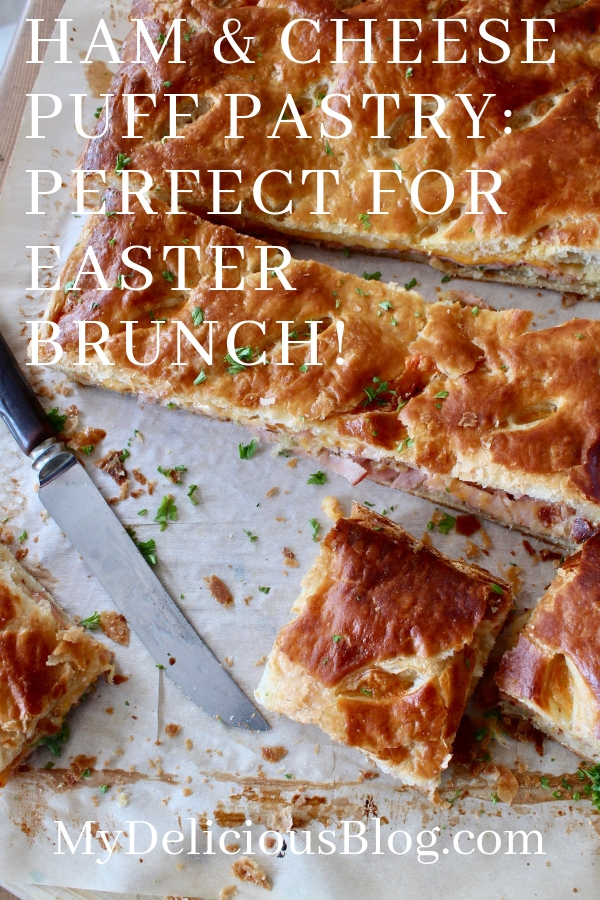 Print Recipe
Ham & Cheese Puff Pastry
This easy dish filled with ham, spicy mustard, honey and cheese comes together quickly to serve for any brunch event.
Ingredients
Mustard Sauce
2

Tb.

whole grain mustard

1

Tb.

honey

(or apricot, pineapple, or orange marmalade)

2-3

grinds

fresh black pepper
Pastry
1

pkg. (2 sheets)

prepared puff pastry, thawed, cold

1/4

lb.

sliced ham

1

c.

shredded cheese

(Gruyere, Cheddar or Monterey Jack work well)
Instructions
Heat oven to 425 degrees.

Cut a piece of parchment paper to fit a standard baking sheet; set aside. Prepare egg wash; set aside. In a small bowl, combine the Mustard Sauce ingredients; set aside.

Lay a sheet of thawed pastry onto a lightly floured surface and use a rolling pin to roll it to about 10"X12" then transfer to the parchment lined sheet.

Spread Mustard Sauce onto the layer of pastry, leaving 1/2" around the border. Place ham, then cheese, careful not to intersect any ingredients with the 1/2" border.

Brush egg wash all around the 1/2" border.

Roll out the second layer of pastry to the same dimensions, then place it over the other pastry. Align edges (if it's not perfect, that's ok - you can just trim the edges if needed) and press layers together to ensure a seal with the egg wash. Press the tines of a fork into the layers to form a stronger seal all around.

Brush the egg wash over the entire layer of the puff pastry (including the edges, to ensure even browning) and cut several slits in the top for steam to escape. Bake about 25 minutes or until it's golden brown.

Remove from oven and allow to cool at least 15-20 minutes before serving.
Notes
As a main course, this pastry will serve about 6.  On a buffet, it may serve as many as 10-12, depending on how large you cut the pieces!