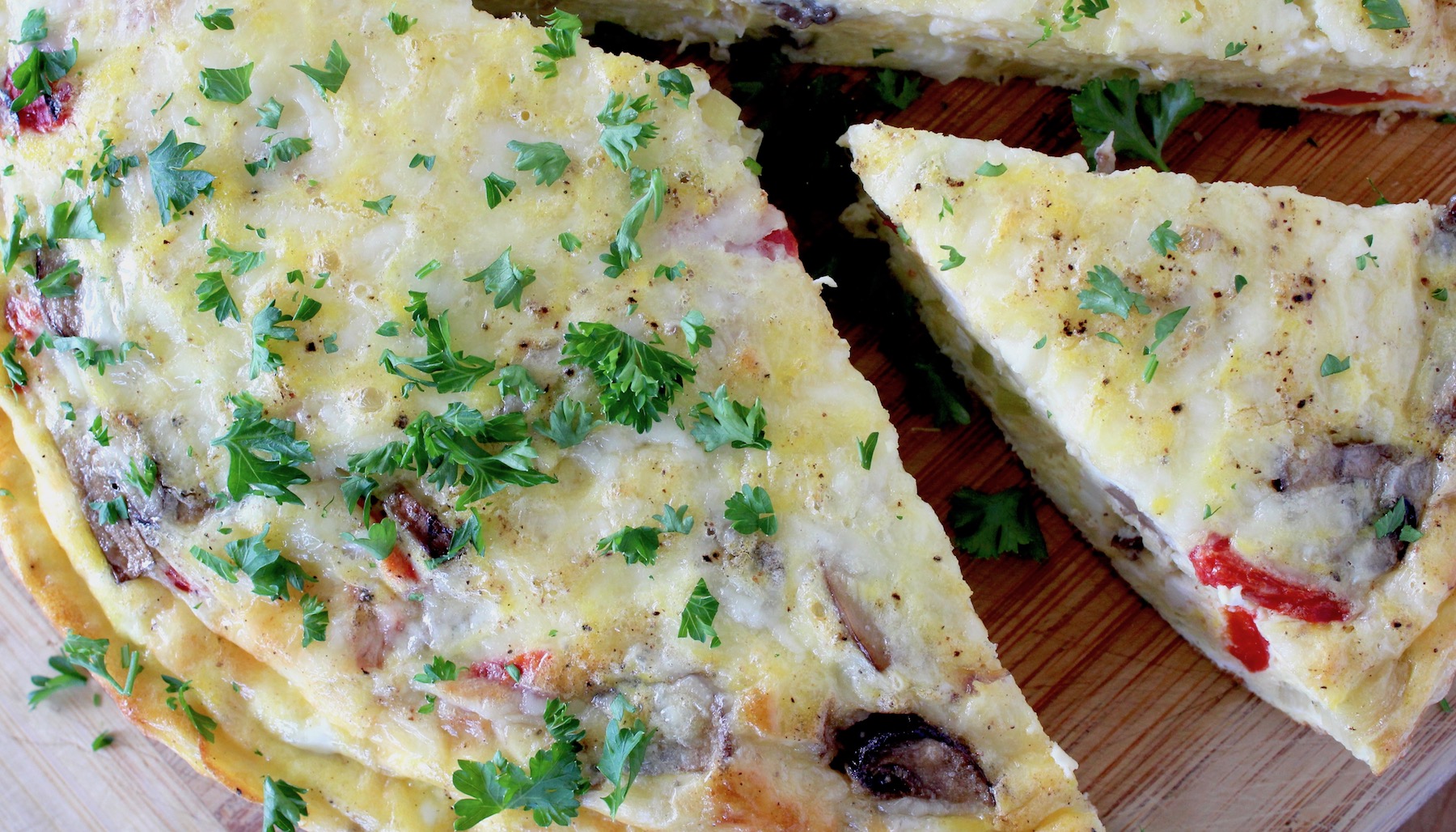 Things have been topsy turvy here in southwest Florida due to a long-running episode of red tide in the Gulf, along with algae wreaking havoc in our canals.
I'm not gonna mince words. . .it has been horrible.  I think it's the worst bout of red tide I've seen in the 28 years I've lived here.  Tourists have stayed away, too many of our treasured sea creatures have died, businesses have suffered and there's a sense of malaise wherever you go.
The Gulf periodically shows signs of improvement and, as we've experienced time and time again, Mother Nature has a way of healing herself, so I know our beautiful water will come back.  But, honestly, pieces of us all still brace for another round of the 'horrible-ness' if conditions change.
Needless to say, it has been challenging to stay focused on daily life.  As for me, I haven't even had much pep for cooking. . .
Which leads me to the point of this post!   When malaise strikes and you find it hard to find inspiration in the kitchen, what do you do?  One thing (aside from making reservations) is to reach for eggs!
Yes, eggs.  Aside from being an obvious breakfast choice, eggs are a great go-to ingredient when you can't seem to muster inspiration for dinner. As a kid, if my mom said we were having eggs or pancakes for dinner, I thought it was the best thing ever.  I didn't know then that she had mastered the secret of many hard-working or exhausted parents: to make something easy, something you could even whip up in your sleep because it didn't demand much brain power or prep time.
Unless you have an allergy or follow certain vegetarian principles, having eggs in the house is a very good thing because one of the easiest things you can make, along with scraps of meat, cheese and veggies (whatever's in your fridge), is a frittata.
A frittata is like a quiche but with no crust.  It's made in one pan and takes only a short time to cook.  Serve it for breakfast, lunch or dinner; warm or cold.  You don't even need a firm recipe – it's one of those dishes that as long as you follow some basic suggestions, you're fine:
Use small pieces of pre-cooked veggies.  Even if not yet cooked, chop & saute them in butter/olive oil first.
Estimate 2 eggs/person.  Generally, I like to use enough to fit my pan (12" pan = 12 eggs; 8" pan = 8 eggs, etc.).  You can even use less – it will simply be a thinner frittata.
Don't over-beat the eggs – just enough to combine, but not like you're making a fine omelet.
Ideally, use full-fat dairy products for a more custard-ey texture.
Pick a cheese with a nice melting quality like cheddar, Monterey Jack, (fine-grated) Parmesan, or Gruyere.
Use a well-seasoned cast iron pan or an oven-proof, non-stick skillet.
Don't overcook!  If the edges are very brown in the oven, the center is likely overcooked.  Check it around 5-7 minutes earlier than the recommended time.  Even if it jiggles a bit when you take it out of the oven, it will continue cooking for a few minutes.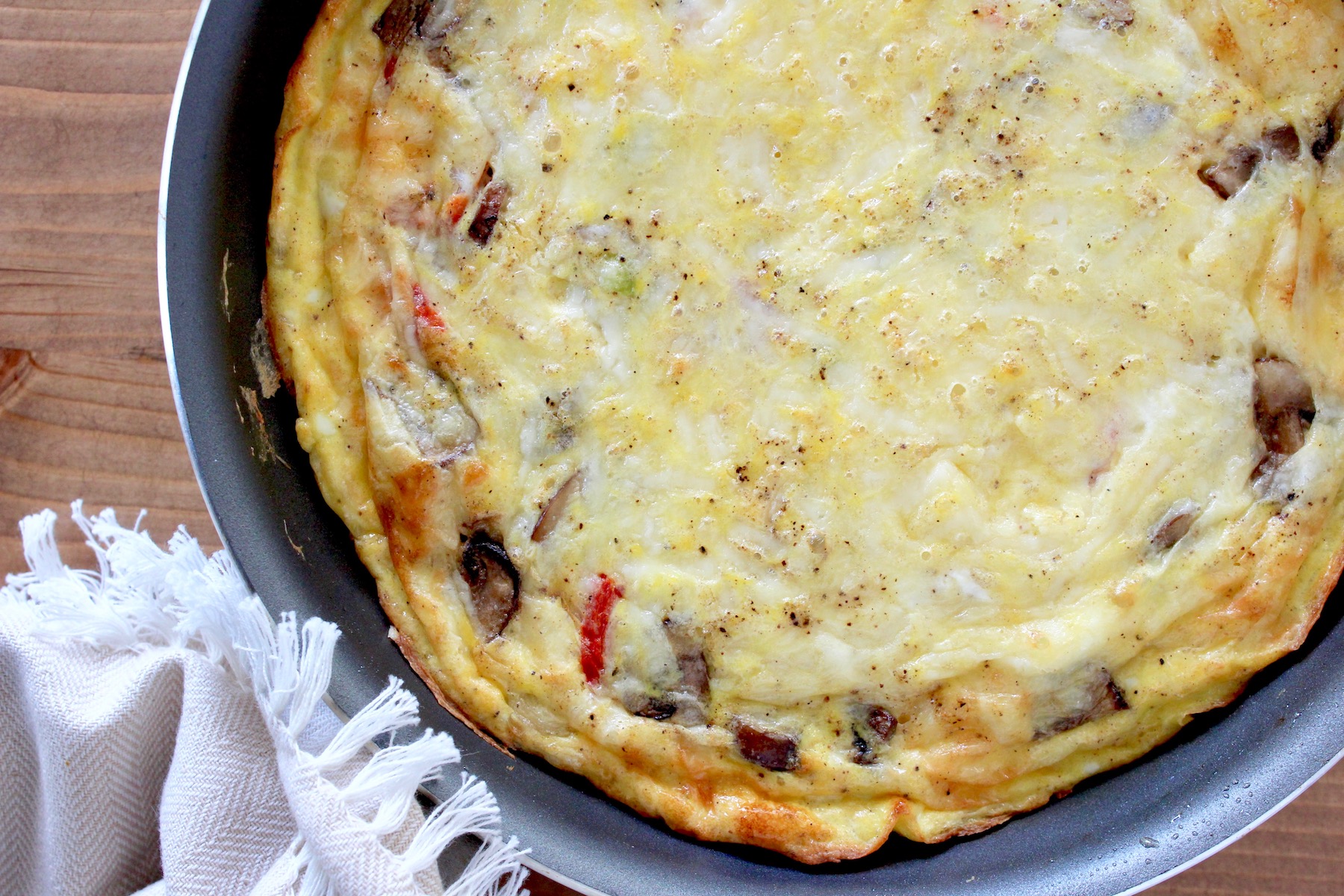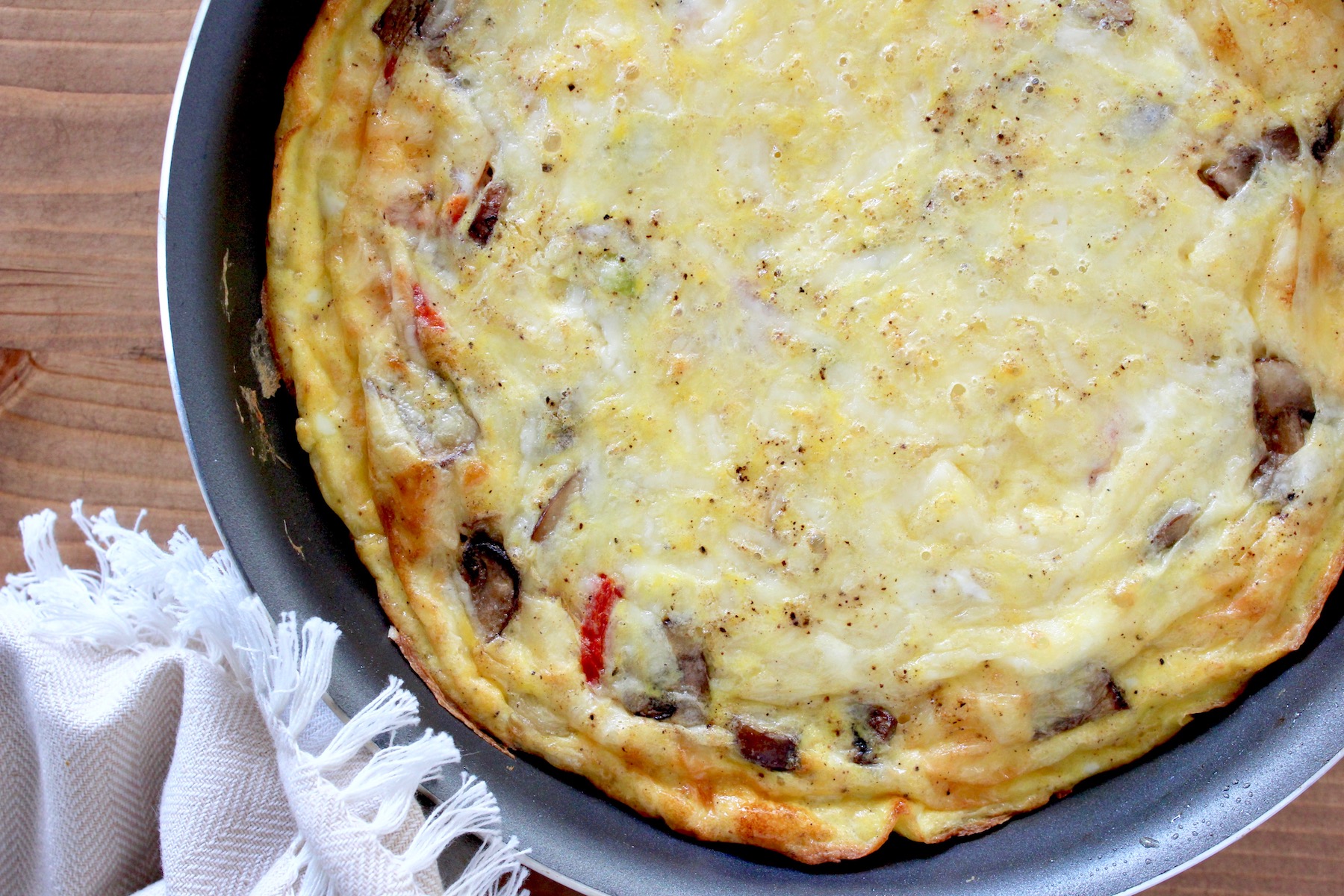 So there you have it.  A frittata can actually solve your meal preparation dilemmas, especially when you're preoccupied with the challenges life throws at you.   You're welcome 🙂
A Frittata to Save the Day
A frittata is an easy way to quickly prepare a meal, especially when you only have a few ingredients in the refrigerator.
Author:
My Delicious Blog
Ingredients
10 eggs
½ c. whole milk
½ tsp. kosher salt
¼ tsp fresh black pepper
⅛ tsp. ground nutmeg (optional, but recommended!)
1 c. sharp cheddar cheese, grated
2 Tb. unsalted butter + 1 Tb. olive oil (to saute any veggies that aren't cooked, like the sliced mushrooms and leeks I used)
2-3 c. pre-cooked veggies/meat (I used mushrooms, 1 sliced leek, a handful of jarred roasted red pepper and pieces of leftover cooked chicken)
Handful minced fresh parsley (or other preferred herb, for garnish)
Instructions
Heat oven to 375 degrees.
Whisk the eggs in a large mixing bowl, but don't over-beat. Add milk, salt, pepper, nutmeg, ⅔ of the cheese and stir lightly to combine; set aside until ready to use.
Heat a 10" non-stick skillet (my go-to size in my kitchen) to medium/high. Add butter/olive oil. Saute sliced veggies that aren't fully cooked, until soft. Place pieces of roasted red pepper and chicken over leeks/mushrooms then pour the egg mixture over them and stir with a wooden spoon or heat-proof spatula to combine everything gently.
Let it cook for a few minutes, and when you see the edges starting to look a little solid (i.e., when you can separate the edge from the side of the pan), pull the edges in slightly with the spatula and tilt the pan a bit so some of the liquid oozes out against the side of the pan - do this all around the edges, so more of the liquid starts to solidify.
Turn off the heat, sprinkle on remaining cheese, and place the pan in the oven.
Check it at the 15 minute mark and if it's very jiggly in the middle it still needs a minute or so. If it's just a little bit jiggly, take it out and let it sit for a few minutes - it will continue cooking.
Let it cool for 10-15 minutes.
When ready to serve, ease it out of the pan onto a cutting board, which makes it easy to cut into pieces with a serrated knife. OR cut it inside the pan. Top with fresh herbs, serve alongside a fresh green salad, and dinner is served!