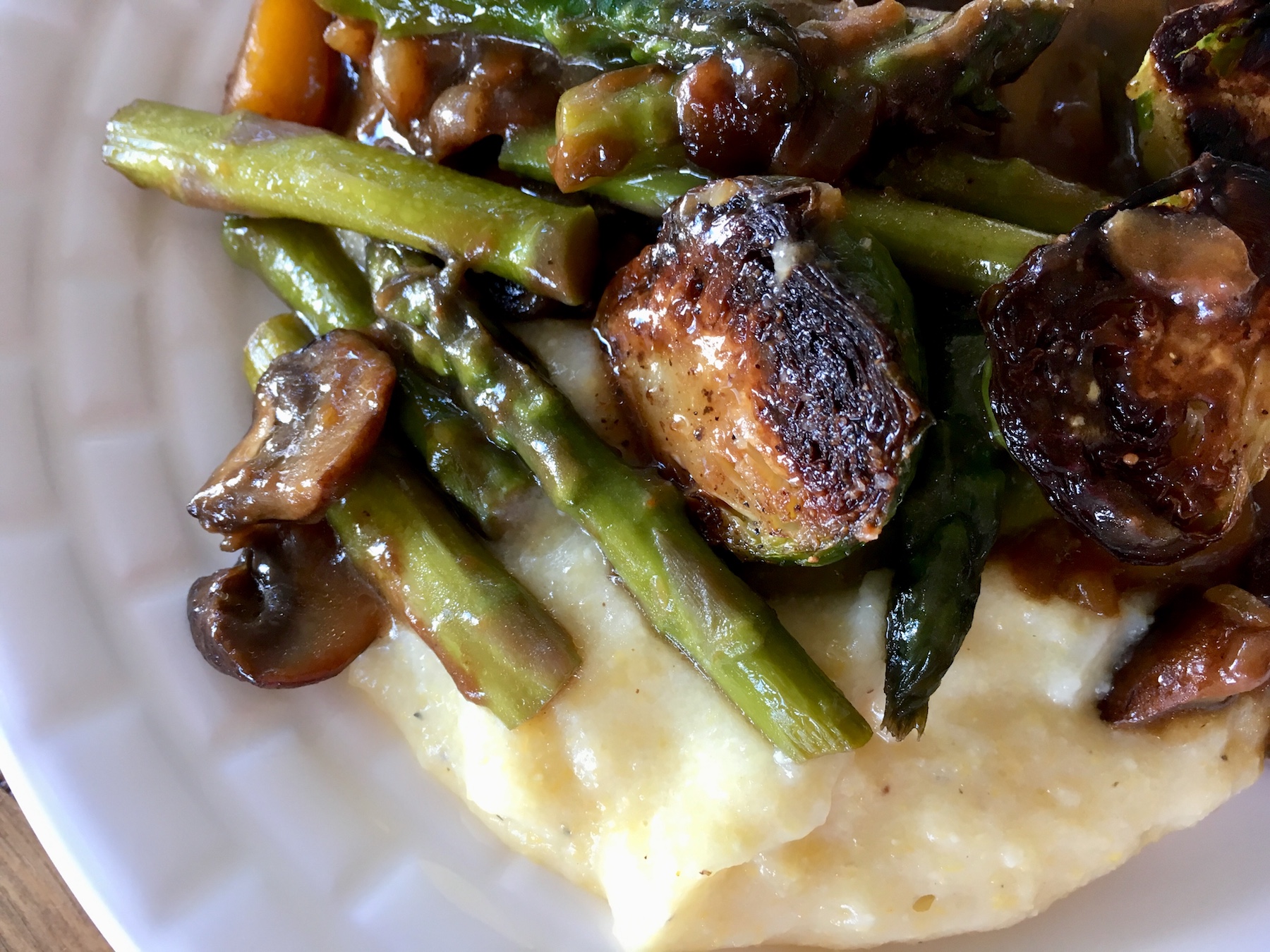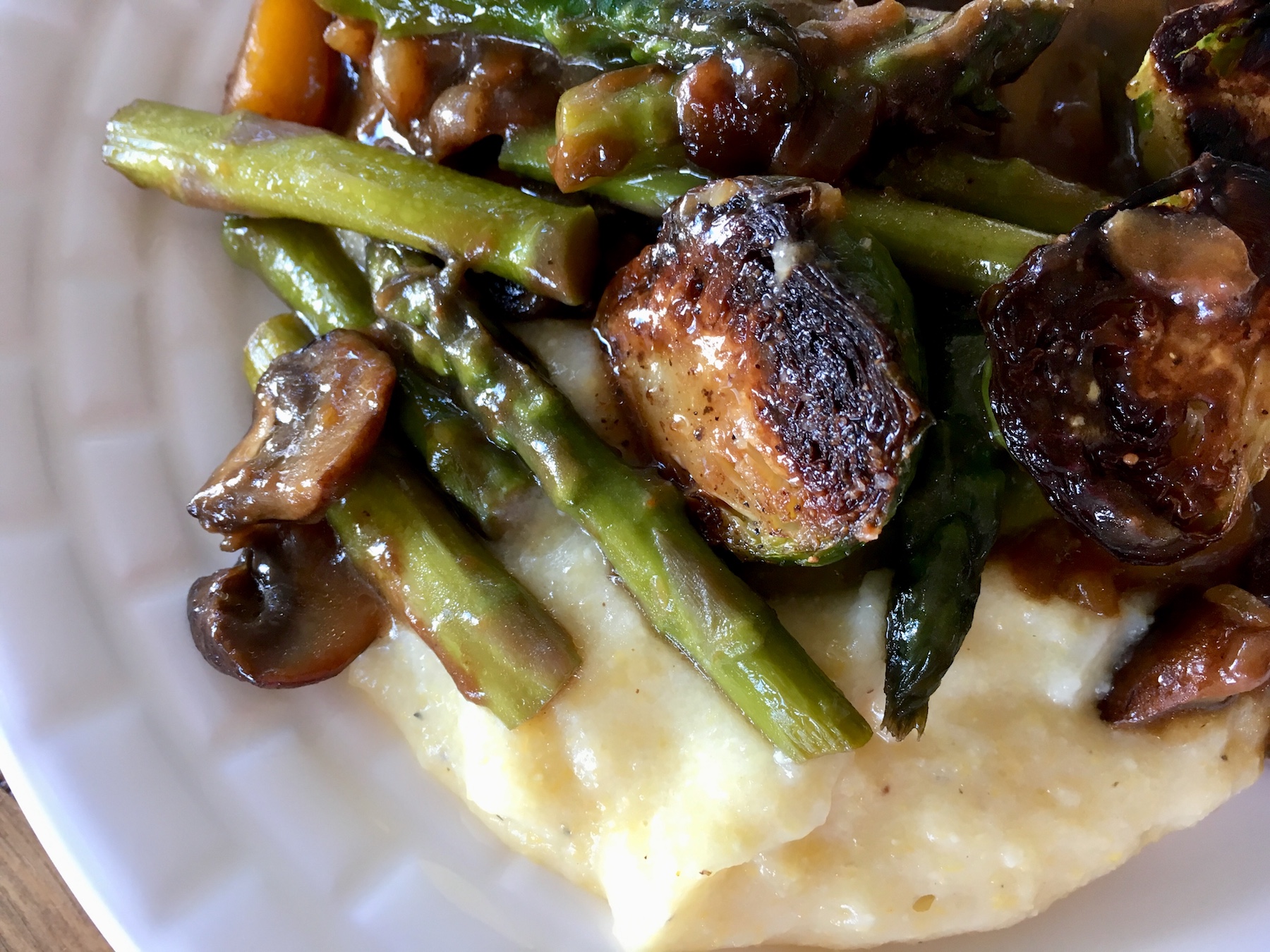 You might recall that I've been lacking in the cooking inspiration department lately. . .
Thankfully, signs are pointing toward improvement!  I know this because I've been paying attention to what other food writers are cooking, noticing what's fresh/in season at the farmer's market, what's on special at the supermarket, and even thinking about Fall-type dishes like hearty soups, hard squashes, things I can eat with a big spoon out of a bowl, and roasts (this, in spite of the fact that temps in Florida are not very tempting for such dishes).
So when my husband asked me during breakfast recently "What are you thinking of making for dinner?" (a daily question) I quickly said "I'd like to do something with that polenta in the pantry, and maybe use up those aging veggies in the fridge — a meatless meal, something warm and comforting."  He seemed a little disappointed about the 'no meat' idea, but managed to give me me a thumbs up, because I think we're both interested in things that give us comfort these days, due to that red tide still lurking in our Gulf. . .
I simply adore polenta – it's creamy, delicious, and true comfort food.  For this dish, my inspiration recipe is from the Barefoot Contessa herself, Ina Garten, with a few changes.  I paired the golden deliciousness with a mixture of roasted veggies: Brussels sprouts, asparagus, and mushrooms.  I even had some leftover gravy in my fridge, so I tossed that in, too.  As for the veggies, use whichever you like or have in your fridge, and don't worry about exact measurements for them – you'll never have any complaints from your diners about what's paired with this cheesy polenta.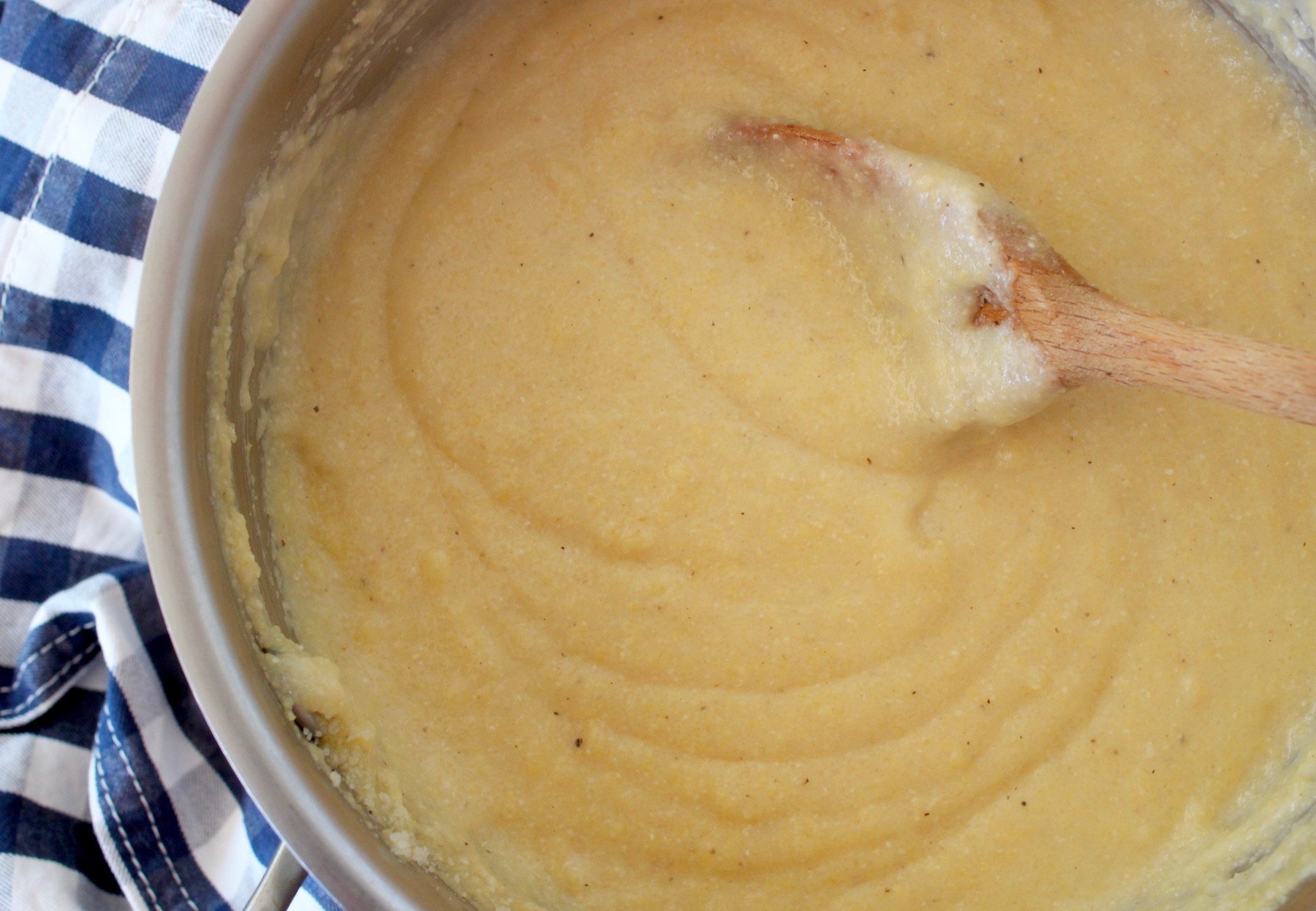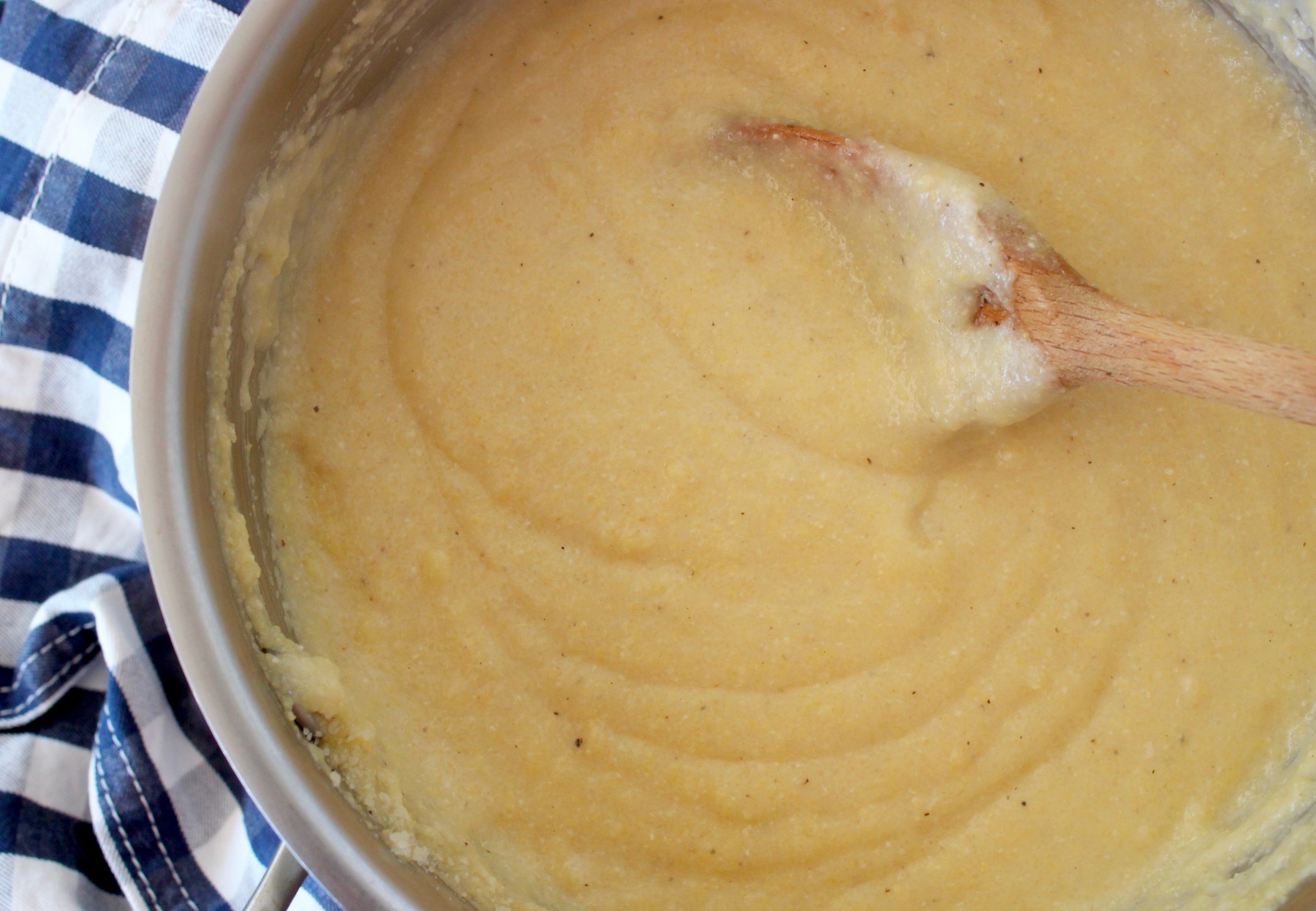 This meatless meal only took about 20 minutes to pull together, and it's served in a bowl with a big spoon (one of my favorite things).  I ate mine propped up against a cozy pillow, a blanket, and my cat LuLu.  On that rainy, dreary night, it was the perfect place to be, and this was the perfect dish.
Happy Fall everyone!
P.S. if you like this post, please share it on social media, especially on Pinterest 🙂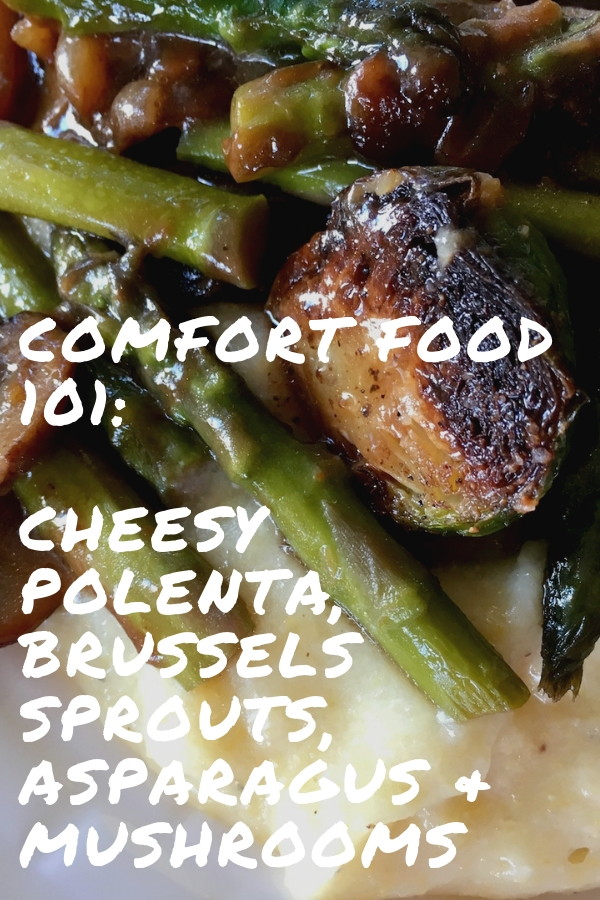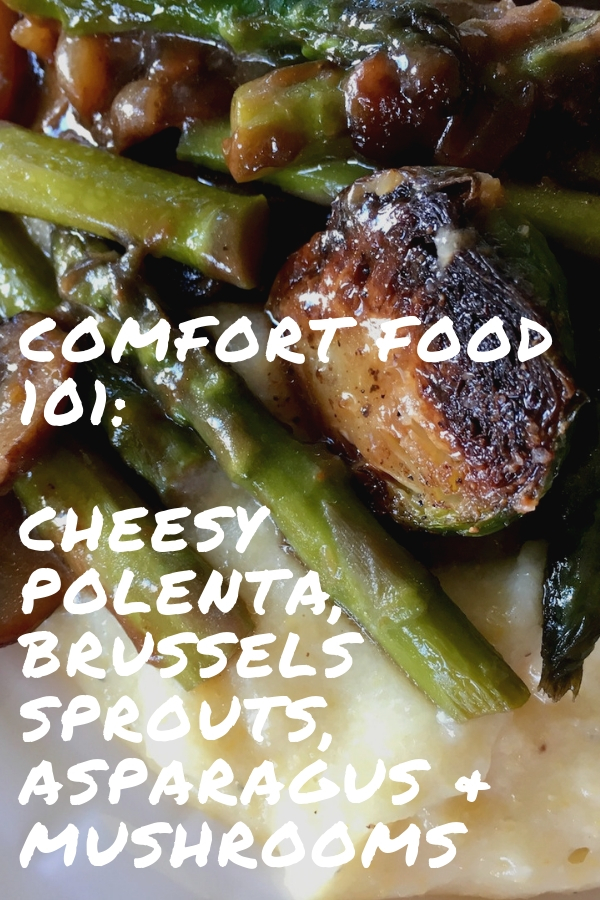 Cheesy Polenta with Roasted Veggies
Cheesy polenta, paired with roasted asparagus, mushrooms and Brussels sprouts - so tasty and so yummy!
Author:
My Delicious Blog
Ingredients
Cheesy Polenta (recipe adapted from Ina Garten's "Creamy Parmesan Polenta")
4 c. chicken (or vegetable) stock
1 c. yellow cornmeal
1 tsp. kosher salt
1 tsp. freshly ground black pepper
1 c. Parmesan cheese, finely grated
¼ c. sour cream (full fat or low fat)
2 Tb. unsalted butter
Veggie Medley
Large handful fresh mushrooms, sliced
~10 fresh asparagus, stems removed, 1" pieces
~10 Brussels sprouts, stems removed, cut in half
2 Tb. bacon fat (if you don't have it, just use olive or other preferred oil)
2 Tb. olive oil
1 Tb. unsalted butter
¼ tsp. kosher salt
Freshly ground black pepper
Fresh parsley, minced (optional - for garnish)
Instructions
For the Polenta (while this is cooking, get the Veggies started):
Heat a heavy bottom saucepan to high.
Pour the stock into the pan and bring it to boil.
Reduce heat to medium and SLOWLY whisk in the cornmeal. Whisk for 1 minute to ensure no lumps, then switch out the whisk for a wood spoon.
Add salt and pepper and simmer over medium-low heat about 10 minutes (until thick and the cornmeal has absorbed all the liquid), stirring regularly.
Turn off heat, stir in cheese, sour cream and butter until well-combined.
Cover and set aside until ready to serve (but don't let it sit for more than a few minutes, because it will start to firm up).
For the Veggies:
In a large, non-stick saute pan over medium heat, add mushrooms in an even layer and sprinkle with a pinch of kosher salt. As they cook, they'll release moisture and roast. When nicely brown (about 2 minutes), transfer to a plate.
To the pan, add 1 Tb. olive oil and asparagus. Sprinkle with a pinch of salt, saute 2-3 minutes until fork tender then transfer to the mushroom plate.
To the pan, add 2 Tb. bacon fat and 1 Tb. olive oil over medium heat. Add Brussels sprouts (cut side down), sprinkle with ¼ tsp. kosher salt and a few grinds black pepper. Cook until the first side is mahogany in color - nice and brown, then flip. Cook until fork-tender (this will take a few minutes).
Add asparagus and mushrooms back into the warm pan, add 1 Tb. butter to bring all the pieces together (or add some warm gravy, if you have it), then spoon the mixture onto hefty dollops of polenta in each bowl. Sprinkle with minced parsley (optional).
Notes
1) Generous amounts of fat and salt go a long way to reduce bitterness in certain veggies, like Brussels sprouts.
2) You may have leftover polenta, so just pour it into a medium, square container and refrigerate -- it's yummy reheated (maybe add a little milk or stock to soften it a bit for a soft serving OR cut the firm polenta into squares and pan sear it on both sides in butter and/or olive oil for a delicious treat).