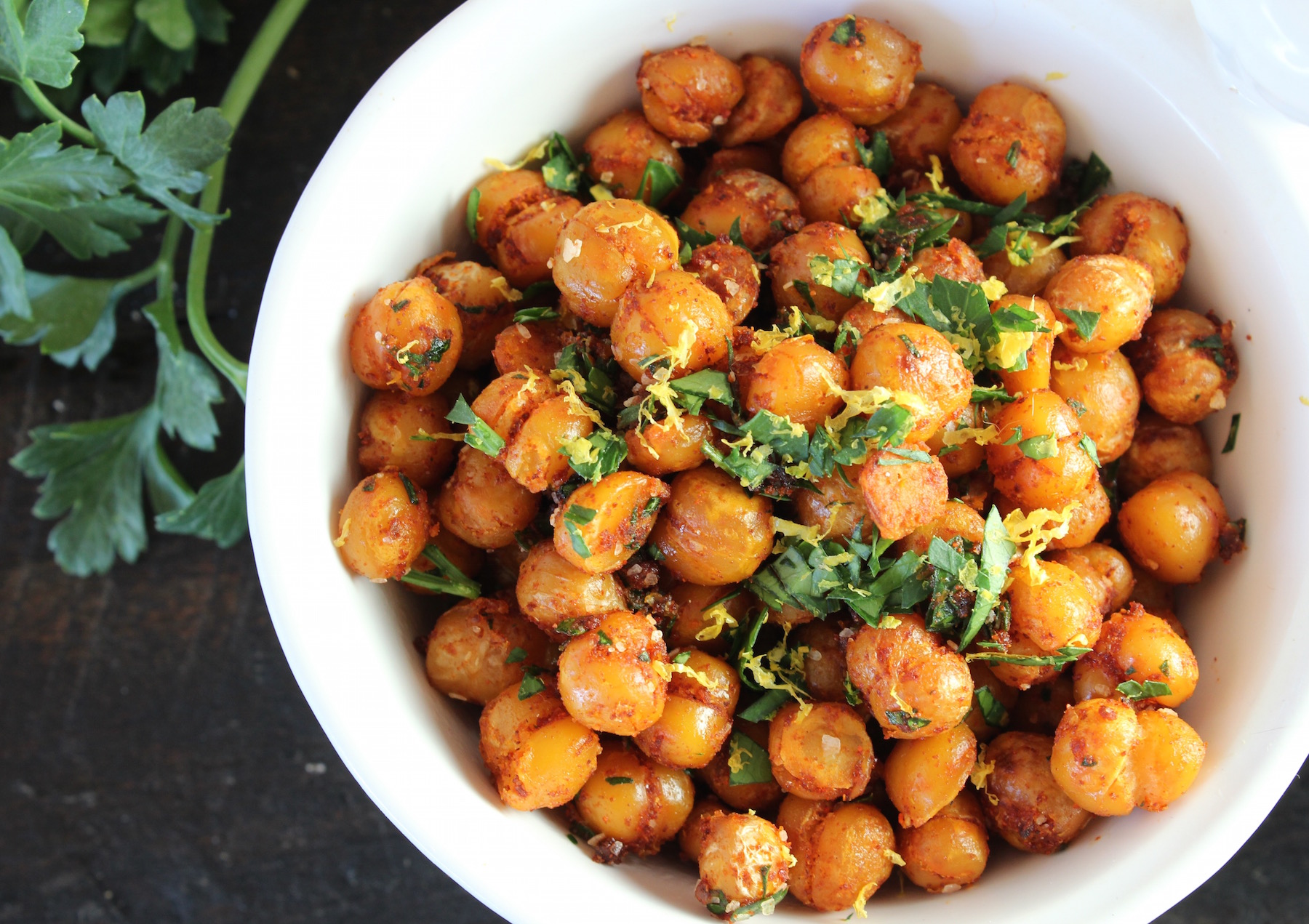 You can call them chickpeas or garbanzo beans, but ultimately they're just plain yummy and I've loved them since I was a kid.  These funny looking legumes are not only tasty, but also, high in protein, fiber, iron and magnesium. And, as my doctor reminds me, beans are extremely beneficial to us (well, me, especially) so I've been building more of them into my diet.
For this recipe, I tried several versions of spices and arrived at this combo of spicy & sweet, with a little parsley and lemon to freshen things up a bit.
These little 'fried' chickpeas are great to grab as a snack when you're so hungry you could eat your desk, and you could even add them into a salad in lieu of another protein.
I have to admit, I'm not one to buy many canned goods, but for this recipe, I used canned chickpeas 'cause sometimes it's nice to just pull something out of your pantry! Sure, I've soaked many a bag of dried beans and peas in my day (which is the more healthy way to do it) but today, it was easier to crank that can opener.
So, give (chick)peas a chance! Please try them for your next healthy snack 🙂
Roasted Spicy & Sweet Chickpeas
Chickpeas are extra delicious when paired with tasty seasonings, fresh lemon zest and parsley.
Author:
My Delicious Blog
Ingredients
2 (15 oz) cans chickpeas, drained, rinsed & patted dry*
2 tsp. smoked paprika
¼ tsp. cayenne pepper (or more, to taste)
½ tsp. granulated sugar
½ tsp. kosher salt
6 Tb. olive oil
Zest from 1 lemon
2-3 Tb. fresh parsley, minced
Instructions
Combine paprika, cayenne pepper, sugar and salt in a small bowl; set aside.
After rinsing chickpeas, spread them onto a kitchen towel. Rub the towel over the chickpeas to loosen the skins. Try to remove as many skins as possible.
Add 3 Tb. olive oil into a large, non-stick pan and heat to medium/high.
Spoon half the chickpeas into the hot pan in one layer. Allow them to settle for about 2 minutes, then stir regularly until they turn golden brown and slightly crispy (about 15–20 minutes). Remove and transfer to a paper towel to remove some of the oil, then to a medium sized bowl. Pour half of the dry spice mixture over the warm chickpeas and mix to combine; set aside.
Repeat process with second half of oil and chickpeas.
When all chickpeas are combined, add parsley/lemon zest and serve. Add extra salt, if needed.
Notes
*To ensure your chickpeas are crunchy, be sure to remove as much moisture as possible before adding to hot oil. I like to let them sit out on the counter for at least 20 minutes before cooking.
This recipe works in 2 batches so you can achieve even 'crisping' action in a medium sized skillet.