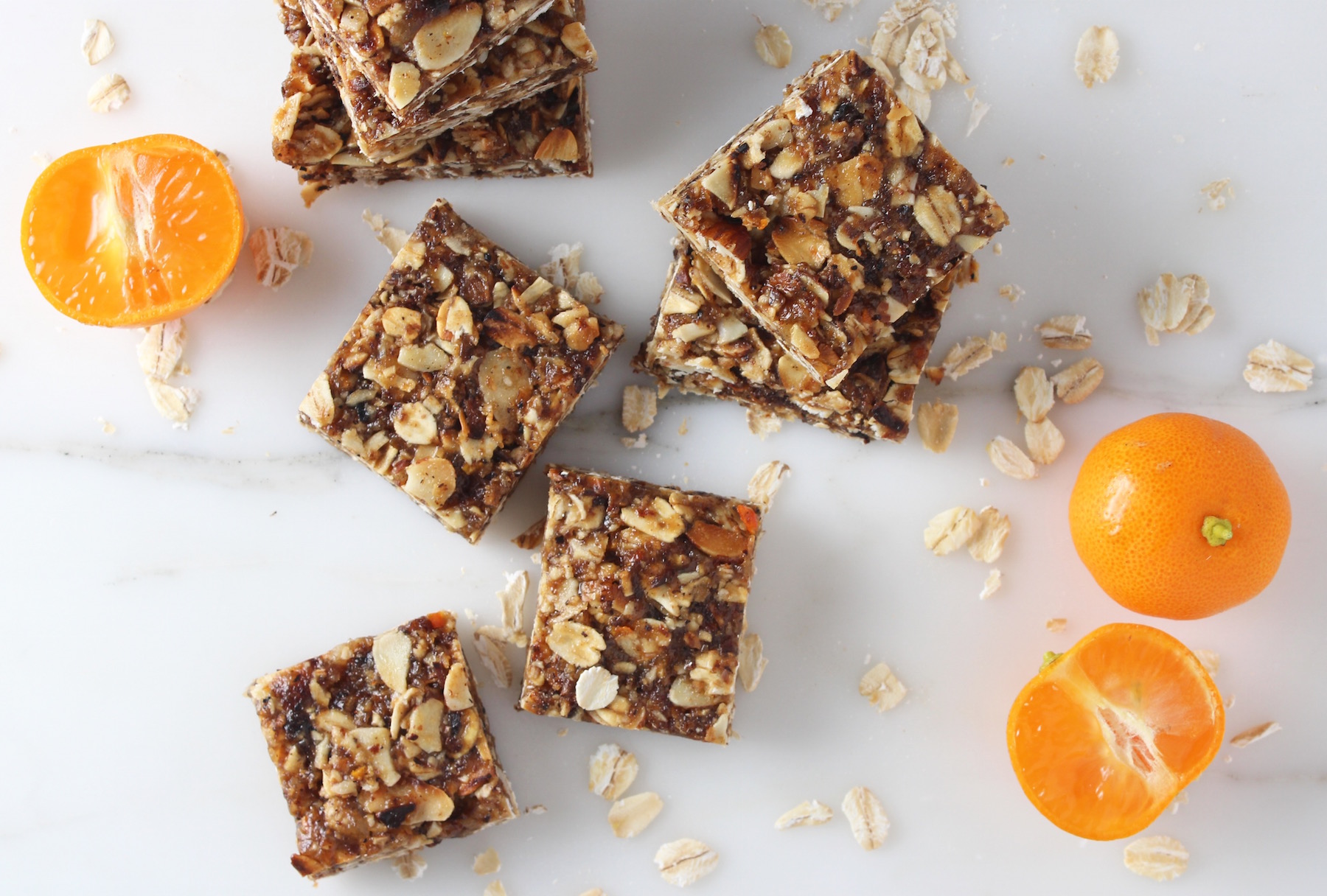 Today's post is all about adaptability, or, making 'do' with a recipe when you just don't have the exact ingredients on hand. Surely, this has happened to you, right? I've been making this recipe for "
Healthy 5-Ingredient Granola Bars
" for many months — it's from my friends at
Minimalist Baker
 and it's a great, no-bake recipe for a whole-food energy bar that's perfect for a hubby like mine who needs a pick-me-up after the gym. I was ready to make a batch today, only to realize that I was either missing or short on the ingredients. I don't know about you, but it's not too often that I even tackle a recipe when I'm so limited on its ingredients, but I put on my thinking cap and was pleased with how it came together. As I've mentioned in prior posts, having a well-stocked pantry allows you flexibility with recipes, especially when you can't run to the supermarket! I admit, sometimes making substitutions doesn't work (like the time I used palm sugar instead of granulated sugar in a special-occasion cake, but that's a long, sad story that I won't bore you with. . .). But, with a little creative thinking, most of the time experiments turn out just fine and, sometimes, even better than the original.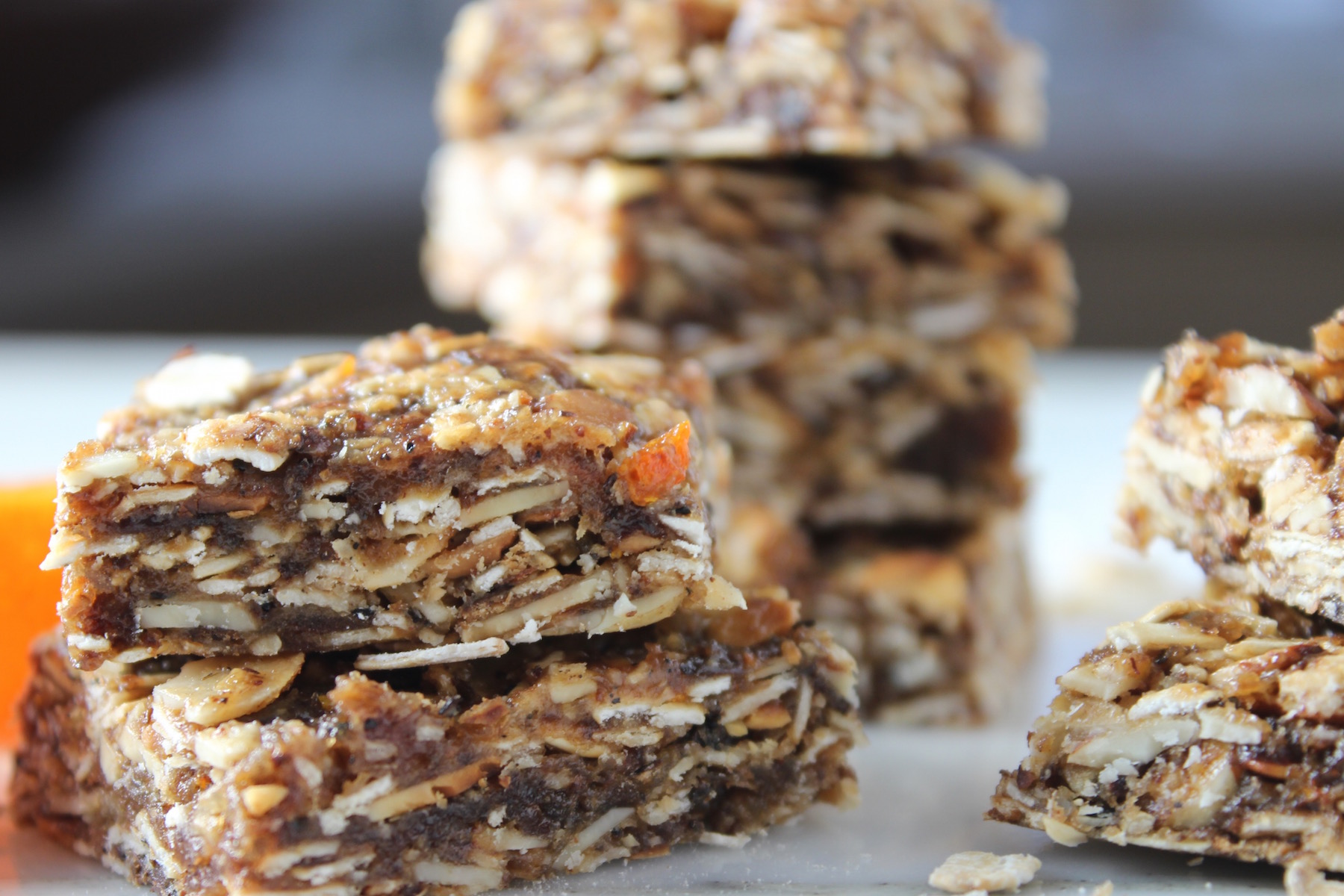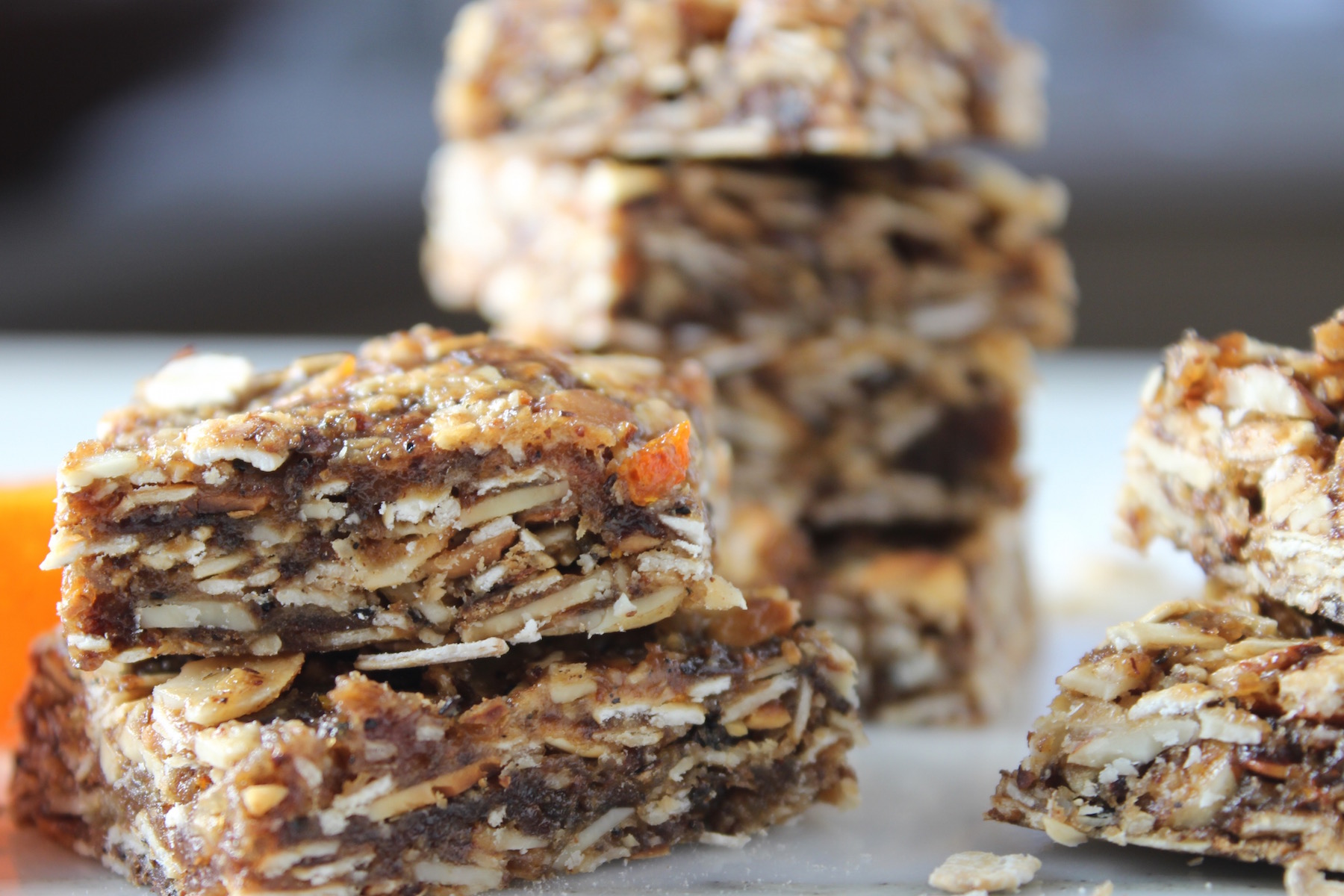 On top of making changes with every ingredient in this batch, I decided to really throw a wrench in by
adding
two things (cinnamon and dried orange peel – one of my favorite combos), so it turns out I actually made "Healthy 7-Ingredient Granola Bars"!  I got to use some of the calamondins I recently picked from my friends Cathy and Jim's abundant tree (they're adorable little oranges, a cross between a kumquat and a mandarin, that are super-sour inside, but their peels are sweet — see pic below). I recently dried some peels to use in other recipes, so I just tossed a pinch into this granola batch.  But since I don't expect everyone to have access to dried orange peel, if you like a hint of orange, just add a dash of orange extract, or omit it altogether. These bars are delicious with or without the extra ingredients.
Thank you Dana, at 
Minimalist Baker
, for creating such a yummy recipe which, as evidenced, can be adapted in another's kitchen quite easily! P.S. stay tuned for more recipes using calamondins 🙂
Almond, Date & Orange Granola Bars
Adapted from MinimalistBaker.com ("Healthy 5-Ingredient Granola Bars")
Author:
My Delicious Blog
Serves:
10 large or 20 small
Ingredients
1 c. packed Medjool dates, pitted (I added raisins to cover the gap, but you could also use dried figs or dried apricots)
½ c. honey (I used Grade A maple syrup)
½ c. creamy, salted peanut butter (I only had ¼ c. crunchy PB, so I added ¼ c. almond butter)
1 c. unsalted almonds, loosely chopped (I only had ¼ c. whole almonds, so I added slivered almonds and chopped walnuts)
1½ c. rolled oats (I added flax and chia seeds to cover the gap)
½ tsp. ground cinnamon (optional)
½ tsp. dried orange peel, minced (optional)
Instructions
Line an 8X8 baking dish with plastic wrap or parchment paper so the edges stick out (this will allow the square bar to come out easily).
In a food processor, combine dates and raisins. Process until you get a paste consistency (when the blade starts to have a hard time turning, you know it's done). Transfer mixture to a large mixing bowl.
Toast the oats and almonds on a sheet pan in a 350 degree oven for about 15 minutes. Check regularly to turn the mixture and ensure it's not burning. Remove from oven and cool slightly. Transfer to the mixing bowl, along with other substitutions (chia, flax, nuts, etc.), and cinnamon and orange peel (optional).
In a small skillet over low heat, combine the honey, peanut butter (and almond butter, if using). Mix and pour over the dry ingredients.
Using a sturdy wooden spoon (this makes it easier), combine all the ingredients.
Transfer the mixture to the prepared baking dish. Press into each corner and ensure it's packed in tightly.
Cover with plastic wrap and refrigerate 20-30 minutes.
Remove bars from pan. Place on a cutting board and cut into squares or bars.
The bars can be stored in an airtight container for several days.