My garden is thriving, thanks to milder temps in Florida this time of year. It has been an eventful few months, including lots of work prepping beds, composting, planting, staking, weeding and watering, while suffering a few tragedies due to record-cold temps (the squash gave up and the bunching onions, well, they bit the dust), but we're back on track and doing quite nicely.
Hubby and I are currently harvesting broccoli, arugula, chard, baby lettuces, baby kale, and lots of fresh herbs. Soon up, heirloom and Everglades tomatoes, green beans, summer squash, beets and, hopefully, pickling cucumbers (I'm saying prayers that they finally 'take,' after many failed attempts).  Here's the broccoli – including little LuLu who doesn't miss a chance to be in the shot.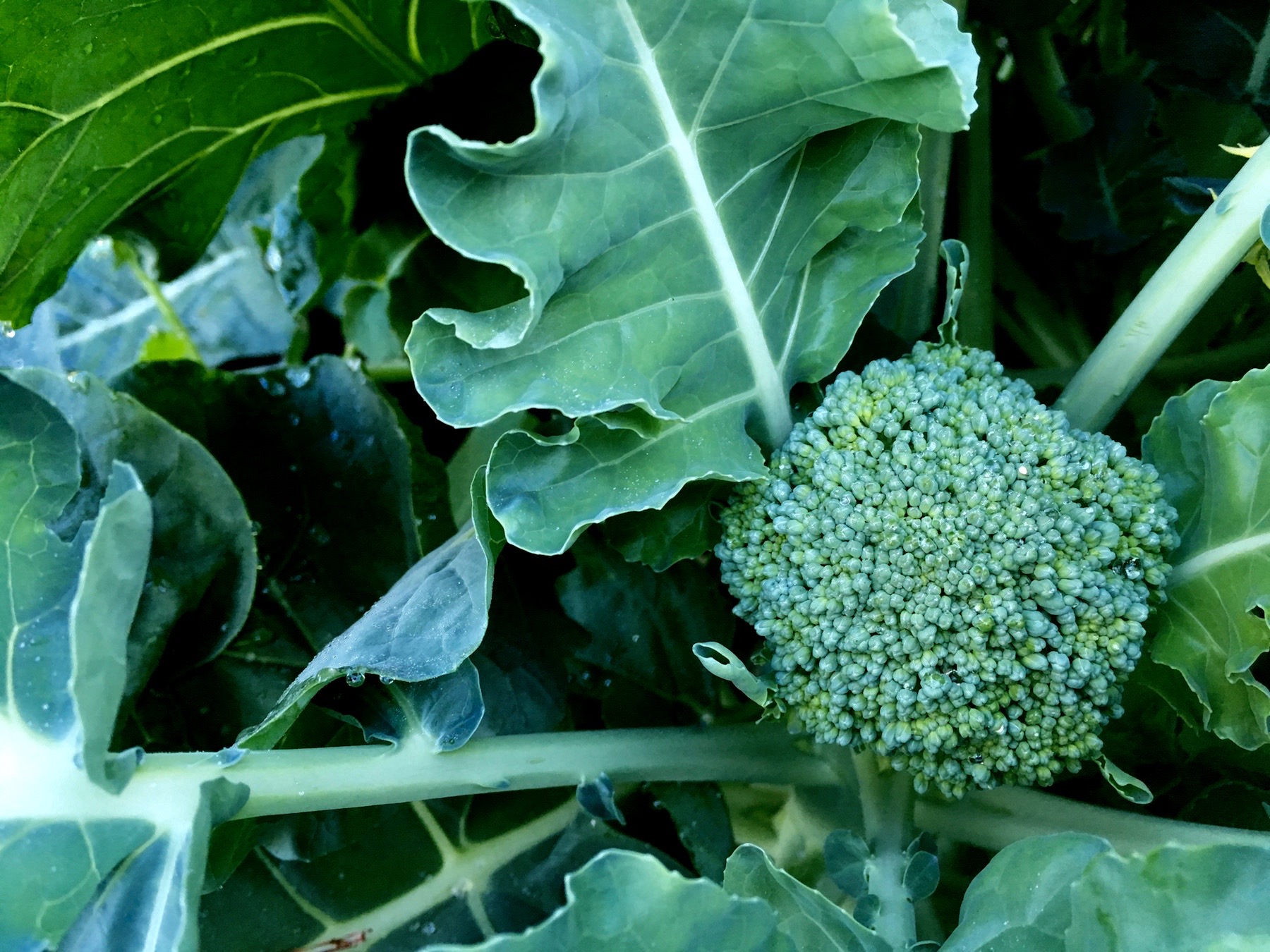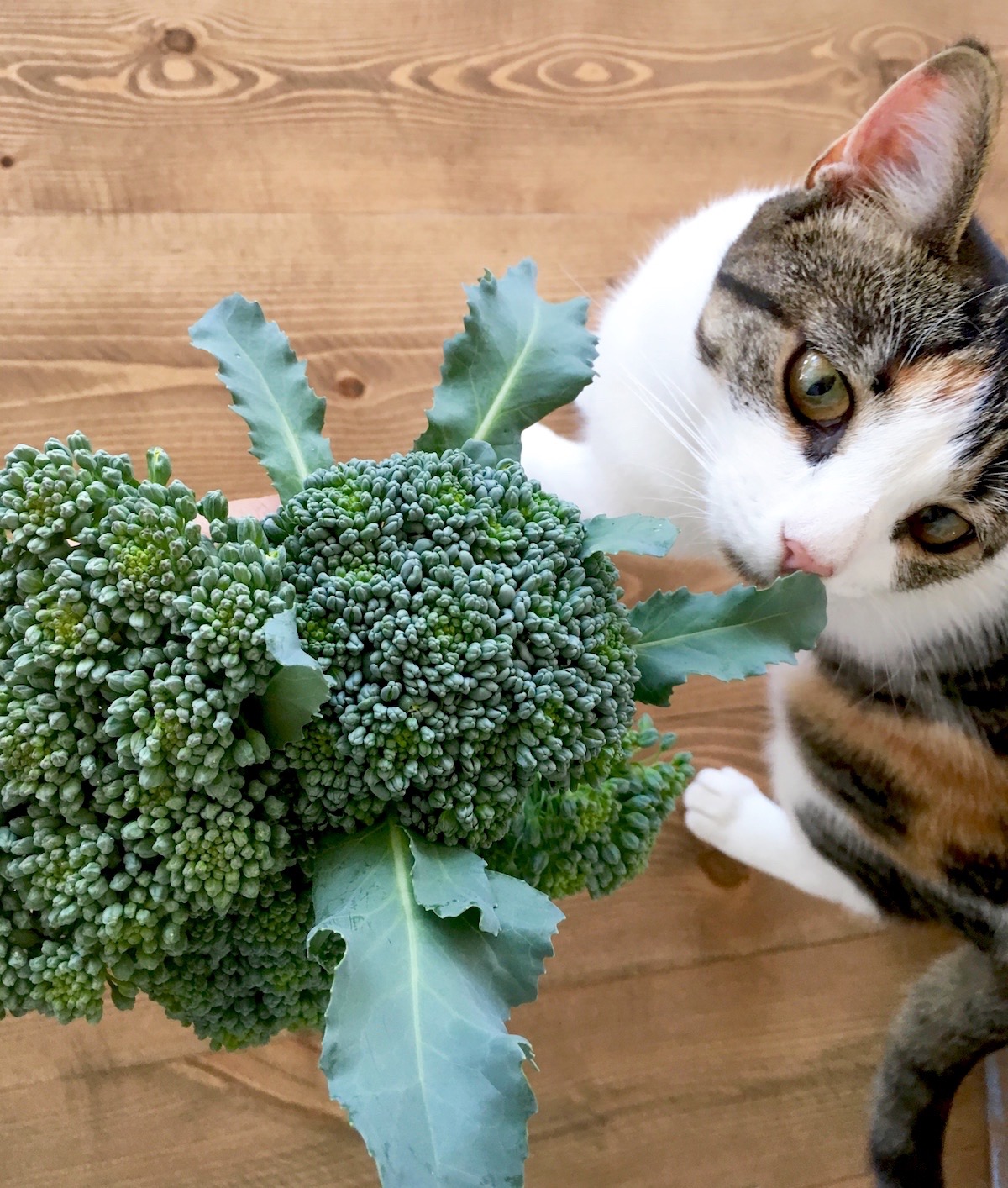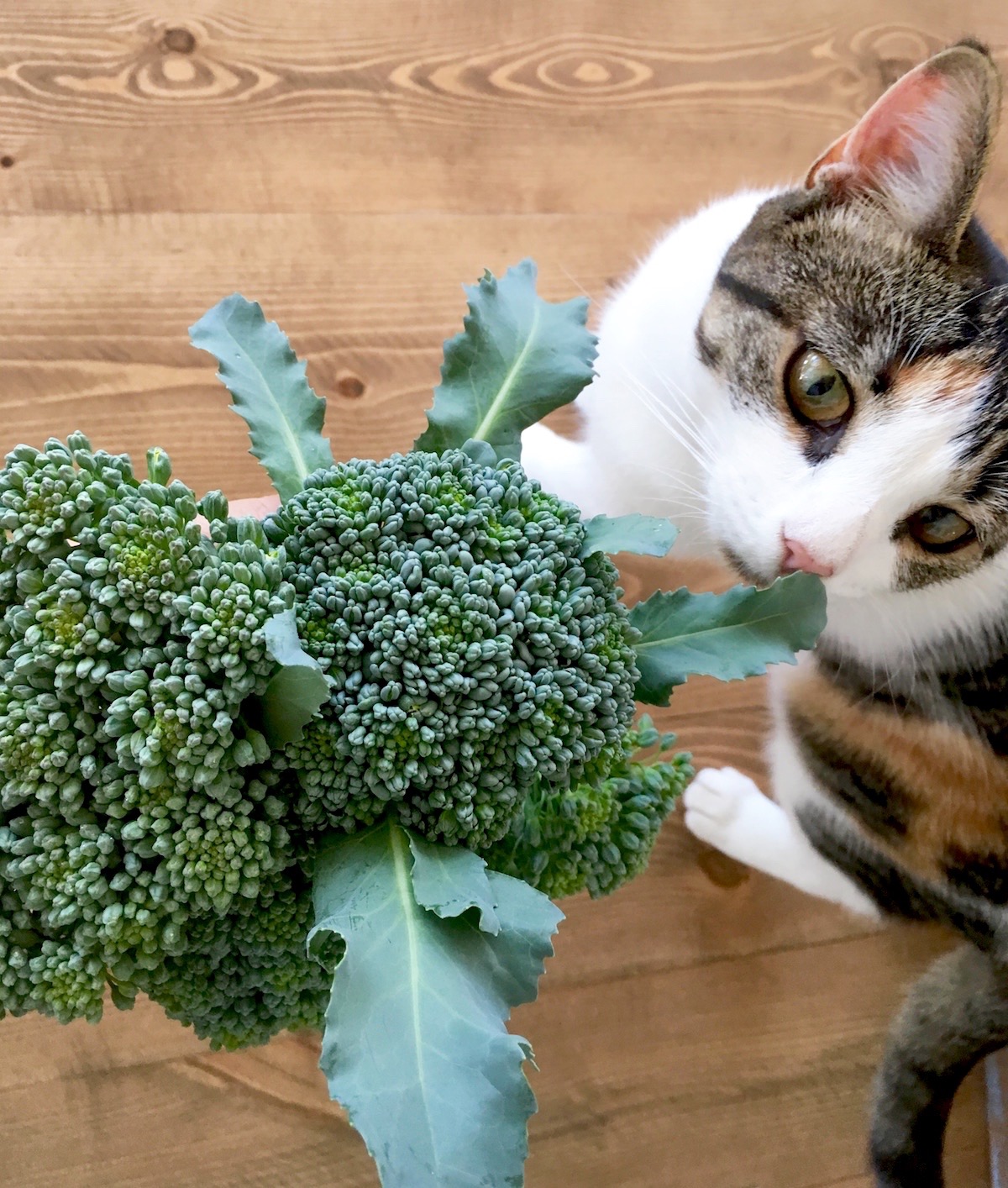 That broccoli is delicious by itself, but today I paired it with veggies I had in the fridge, including carrots, asparagus, green beans and red pepper. I blanched them because I'm not really a fan of raw veggies, then marinated them in a warm oil/vinegar mixture infused with Mediterranean flavors of lemon peel, garlic and rosemary (the heat helps the veggies absorb flavor).  I refrigerated it for about 4 hours in a glass bowl (you could also use a pretty canning jar), then enjoyed it with a bunch of baby lettuces/kale and served it with a nice crusty bread. The veggies retain some of their crunch and become SO flavorful — definitely a tasty way to enjoy more of them.
Use whatever veggie combo you like, including mushrooms, cauliflower, zucchini/yellow squash, etc.  Get creative with the herbs, too — try fresh oregano, parsley, sage, basil*.  (*Note – add basil to the mixture only after it has cooled, otherwise it will brown).  And don't feel confined to my recipe for the Marinade/Dressing — change up the vinegar with balsamic, apple cider vinegar, white wine vinegar, etc.  If you're not a fan of garlic, try shallot, or maybe add some red pepper flakes for spice, etc.
So, if you're tired of the same old veggies, try giving them a bath in a tasty marinade.  It does wonders 🙂

Rosemary-Garlic-Lemon Marinated Veggies
Fresh veggies are extra delicious when marinated in this tasty dressing.
Ingredients
Total ~3 cups veggies: red pepper (seeded & sliced), carrots (sliced), fresh green beens (stems removed), broccoli florets, asparagus (2" pieces)
Marinade/Dressing
¼ c. extra virgin olive oil
3 Tb. red wine vinegar
1 tsp. granulated sugar
2 large sprigs fresh rosemary
1 clove garlic, peeled & sliced
1-2 lemon peels
½ tsp. kosher salt
¼ tsp. freshly ground black pepper
Instructions
Bring water to boil in a medium saucepan.
In the meantime, fill a medium-sized bowl with water and a handful of ice cubes; set aside until ready to use.
When water boils, carefully drop in the veggies. Leave in for about 30 seconds, then remove them with a slotted spoon and transfer to the ice water. Let sit in ice water about 1 minute, then drain the water, pat dry the veggies and transfer to a glass bowl or a large canning jar.
Empty water from the saucepan, then add olive oil, vinegar, sugar, rosemary, garlic, lemon peels, salt and pepper and bring to medium heat. After about 1 minute of slow simmering, turn off heat and allow the mixture to sit about 5 minutes.
Pour the warm marinade/dressing over the vegetables, toss to coat, then cover and refrigerate at least 2 hours, ideally 4-6. (Note: if using a glass canning jar, fill the jar with the veggies first, then pour in the Marinade and cover tightly. Once refrigerated, periodically turn the jar upside down.
Snack on the veggies individually, enjoy them with grilled fish or chicken, or mix them (along with some of the Dressing) into a large bowl of crisp greens and enjoy as a salad.