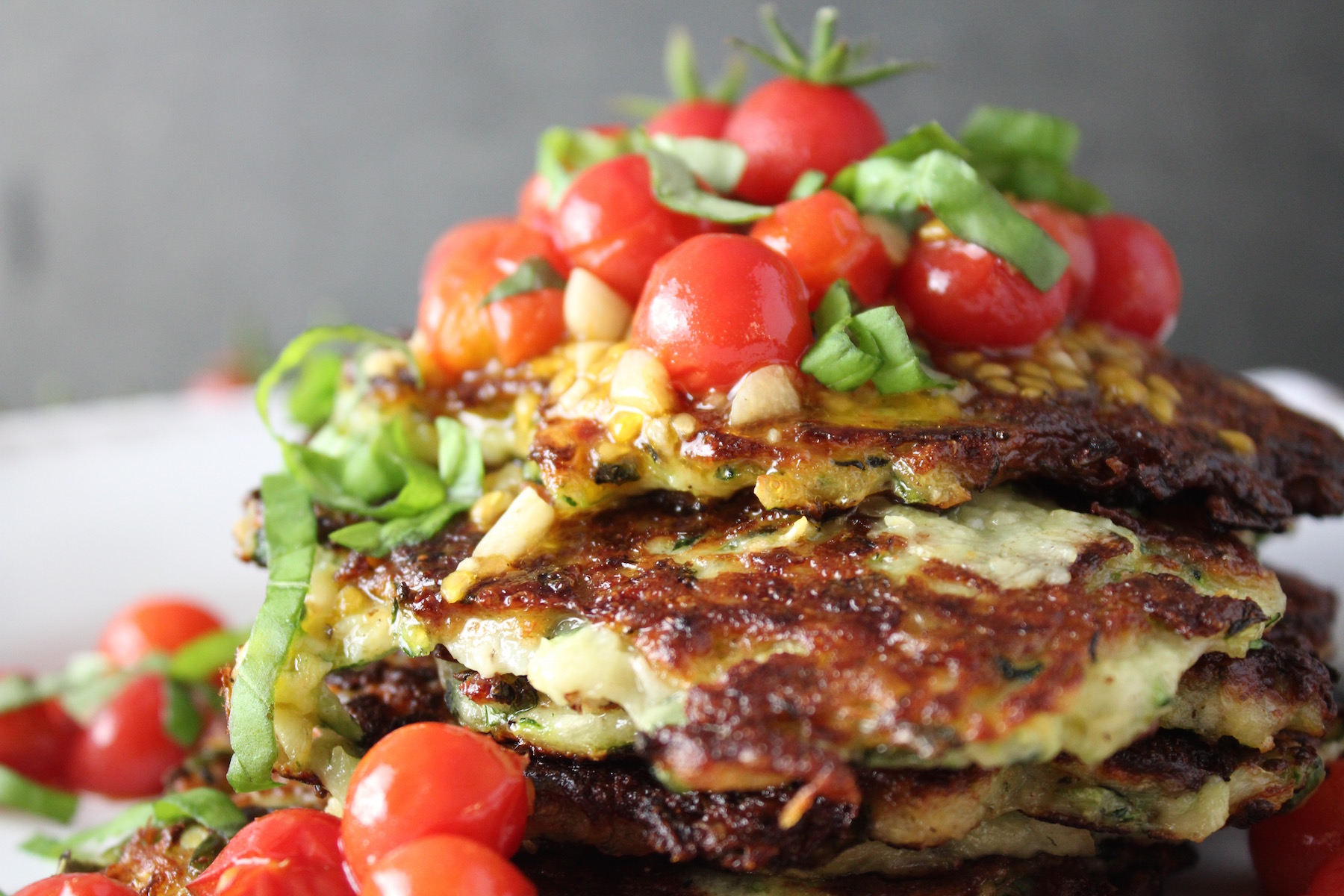 Zucchini is being grown right now at local farms like Geraldson Community Farm and Honeyside Farms, so you should be able to find it at the farmer's market, but it's also available year-round from growing zones outside of Florida.  This squash is great because it can be used in a variety of dishes like bread, fritters, pasta-looking spirals, grilled planks, frittatas.  You name it, you can pretty much do it with zucchini because it's so mild and can be paired with just about any flavor.
I've been staring at zucchini in my fridge for two weeks and needed to put them into action. This realization happened at 4:30 pm, and I had to get dinner ready by 6:00 pm since my (extremely) hungry husband would be returning from the gym. . .
Armed with little time, but lots of desire to come up with a tasty, meatless meal (we do this at least once a week), I had to think fast. Fortunately, I had just picked a boatload of tiny Everglades tomatoes from my garden — they've been growing like gangbusters since September and are so fun to harvest, but this is the biggest haul in one day:
Knowing that zucchini and tomatoes have such a wonderful friendship, I decided to make zucchini pancakes topped with blistered tomatoes bathed in olive oil, garlic and red pepper flakes. Sounds good, huh?!?
These thin, tender and crispy-edged pancakes are full of good stuff like parmesan, basil, onion and lemon zest, and they're best served right out of the pan. "Blistering" the tomatoes is easy – just pop them in a pan over medium heat with olive oil, minced garlic, red pepper flakes and a little kosher salt and pepper.  Once they heat up, the tomatoes start bursting and releasing their juices, making a very tasty sauce, which only takes a few minutes.
Dinner was ready by 6:00 and my hungry guy had no idea how close he came to having cereal for dinner 🙂
P.S. if you'd like to learn a little more about Everglades tomatoes, check out the article I wrote for Florida Food and Farm.

Zucchini Pancakes with Blistered Tomatoes & Basil
Zucchini pancakes and roasted tomatoes are simply divine.
Author:
My Delicious Blog
Ingredients
Zucchini Pancakes
2 c. (squeezed/water removed) zucchini (3-4 medium size)
Handful basil leaves (8-10), chopped
½ c. grated parmesan
1 small onion (or 1 shallot, or 3 scallions)
2 Tb. olive oil
1 egg, lightly beaten
1 tsp. lemon zest
⅓ c. all-purpose flour
Few grinds freshly ground black pepper
Blistered Tomatoes
½ pint Everglades tomatoes (or cherry or Sungold tomatoes, halved)
2-3 Tb. olive oil
Pinch red pepper flakes
2 cloves garlic, peeled & minced
Dash kosher salt
Few grinds freshly ground black pepper
Fresh basil, chiffonade (for garnish)
Instructions
Grate zucchini (skin on) using a box grater or food processor with grate attachment.
Place squash in a colander or large strainer over a bowl. Add about 1 tsp. kosher salt and stir it throughout the squash. Allow to sit 15-20 minutes so the squash releases its juices.
Rinse squash, squeeze it with your hands to remove most of the water then place into a clean towel and wring all remaining liquid out of it (it's a few extra steps, but you'll be glad you did it!).
Mix squash with remaining ingredients; set aside.
In a medium saucepan, add olive oil, red pepper flakes, garlic, salt, pepper and tomatoes. Heat to medium/high, then reduce heat once oil starts to bubble. Cook a few minutes so the garlic marries nicely with the olive oil, then turn off heat.
In a large non-stick skillet (or 2 separate skillets, or a griddle, so you can cook them all at once - otherwise you'll need to make 2 batches) over medium heat, add about 1 Tb. olive oil in each pan, then spoon in 4 separate piles of zucchini mixture and flatten so they're thin and uniform in size.
Cook until the first side is nicely browned, then flip (it takes 2-3 minutes each side).
Transfer to a plate and top with the tomatoes and basil.
Notes
Makes 8-10 pancakes, depending on how large your squash is. Easily serves 2 people, possibly 3 if you're not too hungry 🙂