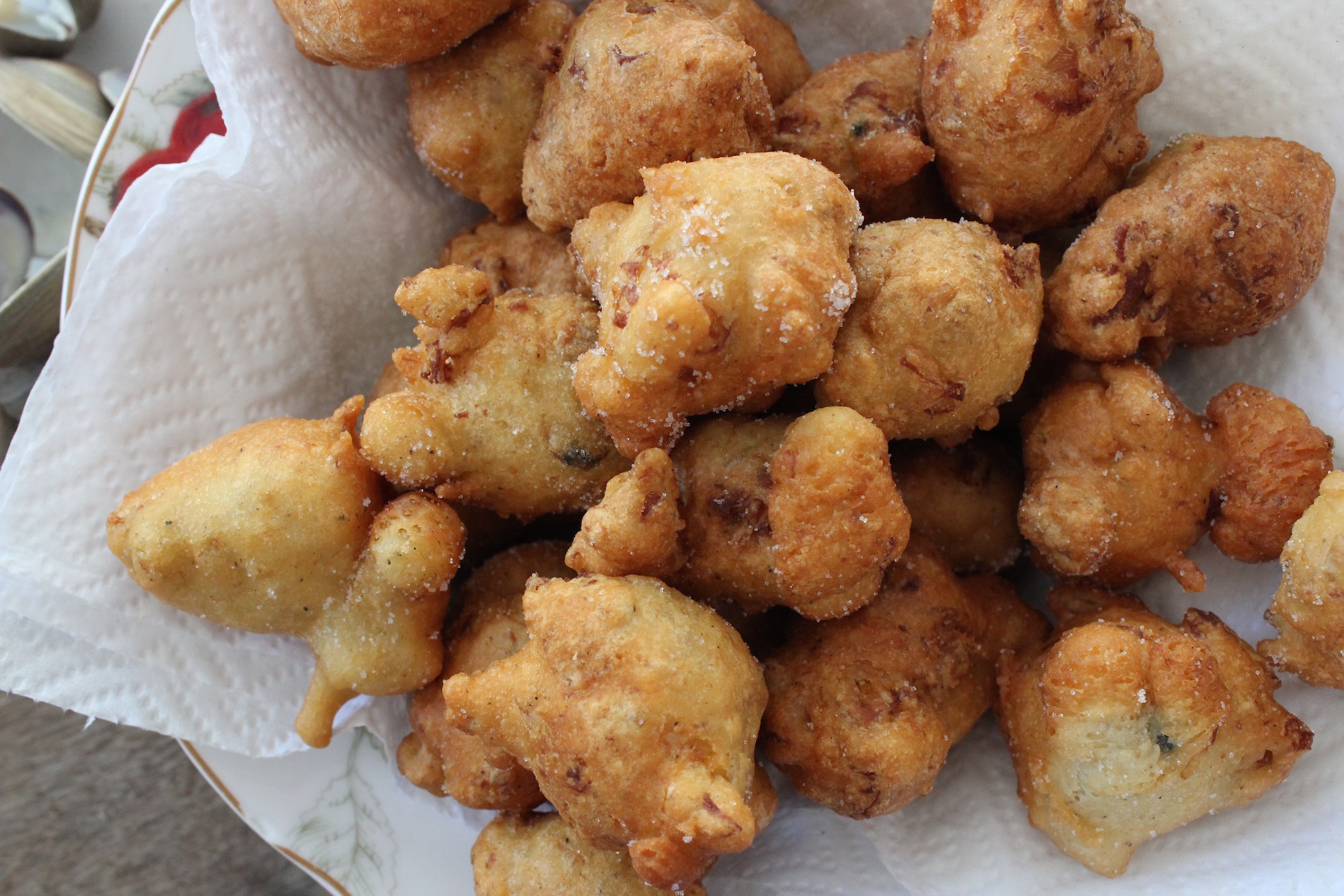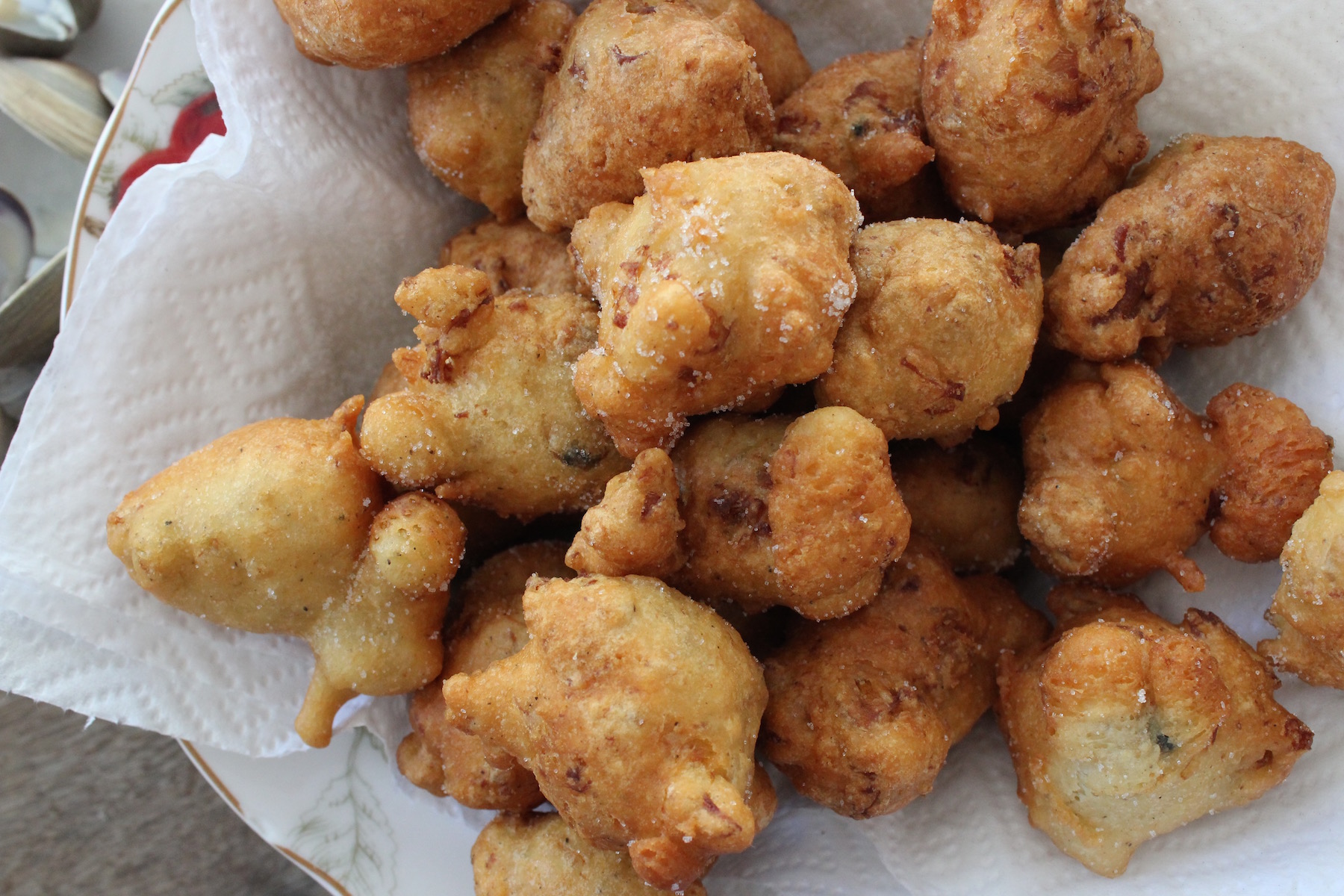 Fritters are basically small cakes made from a batter of milk, egg, cornmeal or some type of flour, plus their primary flavor ingredient (corn, apple, potato, zucchini, clam, etc.). They can be deep-fried or pan-fried, sweet or savory, flat or round. They're flavorful, a little crunchy, tender, with bits of whatever that primary ingredient is. Basically, they're awesome.
Today we're talking about one of my favorites — clam fritters — a quintessential New England dish. In my family, whenever we made clam chowder (see my post on New England Clam Chowda) using delicious Littleneck clams or Quohogs, it was mandatory to make a batch of clam fritters, too. But I'm not a purist. . .I would eat them with basically anything, anytime, and not feel like I'm committing a crime.
So what's my go-to recipe for these tasty treats? It's the one published in my mom's Fannie Merritt Farmer Boston Cooking School Cookbook: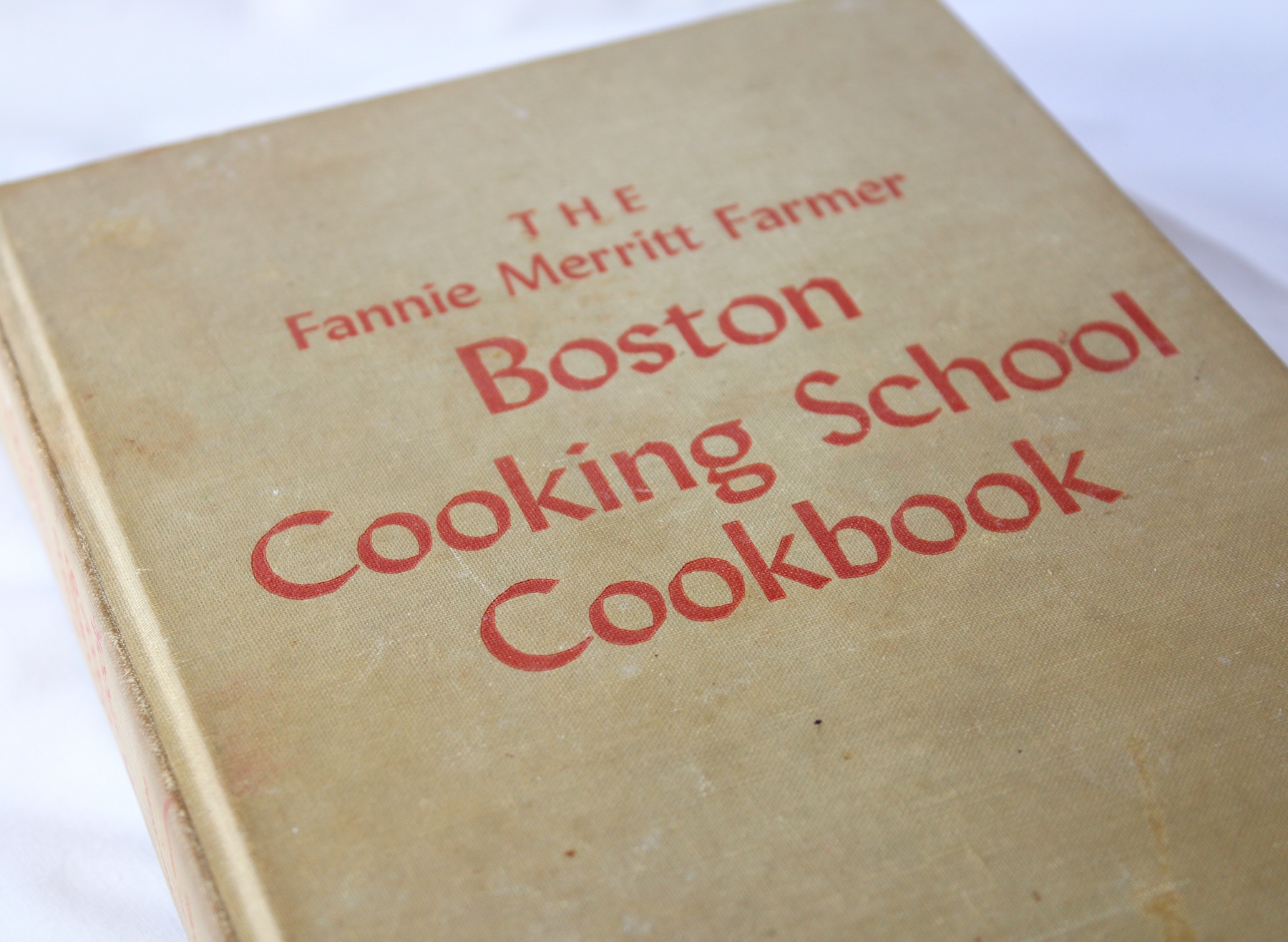 If you're not familiar with Fannie, what you really must know is that she was a pioneer in the culinary world. She attended the Boston Cooking School where she excelled in culinary arts and, upon graduation in 1889, was invited to become the school's assistant director. Shortly thereafter, she became director of the school, and in 1896, published her classic Boston Cooking School Cookbook. We can especially thank Fannie for creating standardized measurements in recipes, helping cooks navigate more successfully, rather than trying to interpret "butter the size of an egg" or "enough to fill a spoon." My mom's edition was published in 1959 – a wedding present from her grandmother. It's stained and dog-eared, with lots of hand-written recipes in the back that she jotted down over the years, but it's still in really good shape, even after 55 years!
My family makes a couple of variations to the original recipe: 1) we replace some milk with beer for extra flavor and lightness, and 2) we switch out the bacon fat for vegetable oil, to make them just a tad healthier.  Most of the time, we double the recipe because you simply must plan on folks eating at least 3 or 4, so they go quickly.  Here's my recent batch, bubbling away in my Fry Daddy: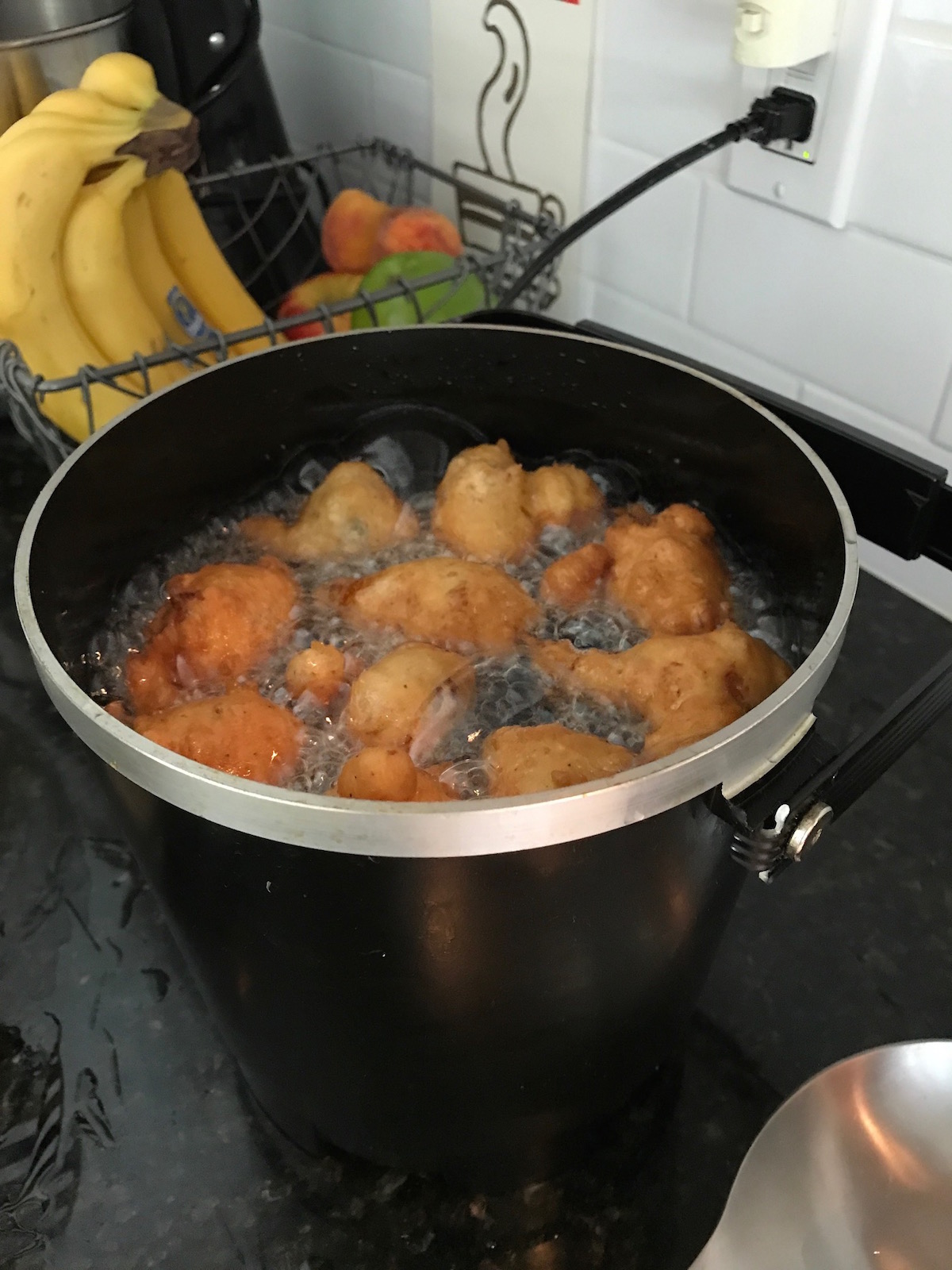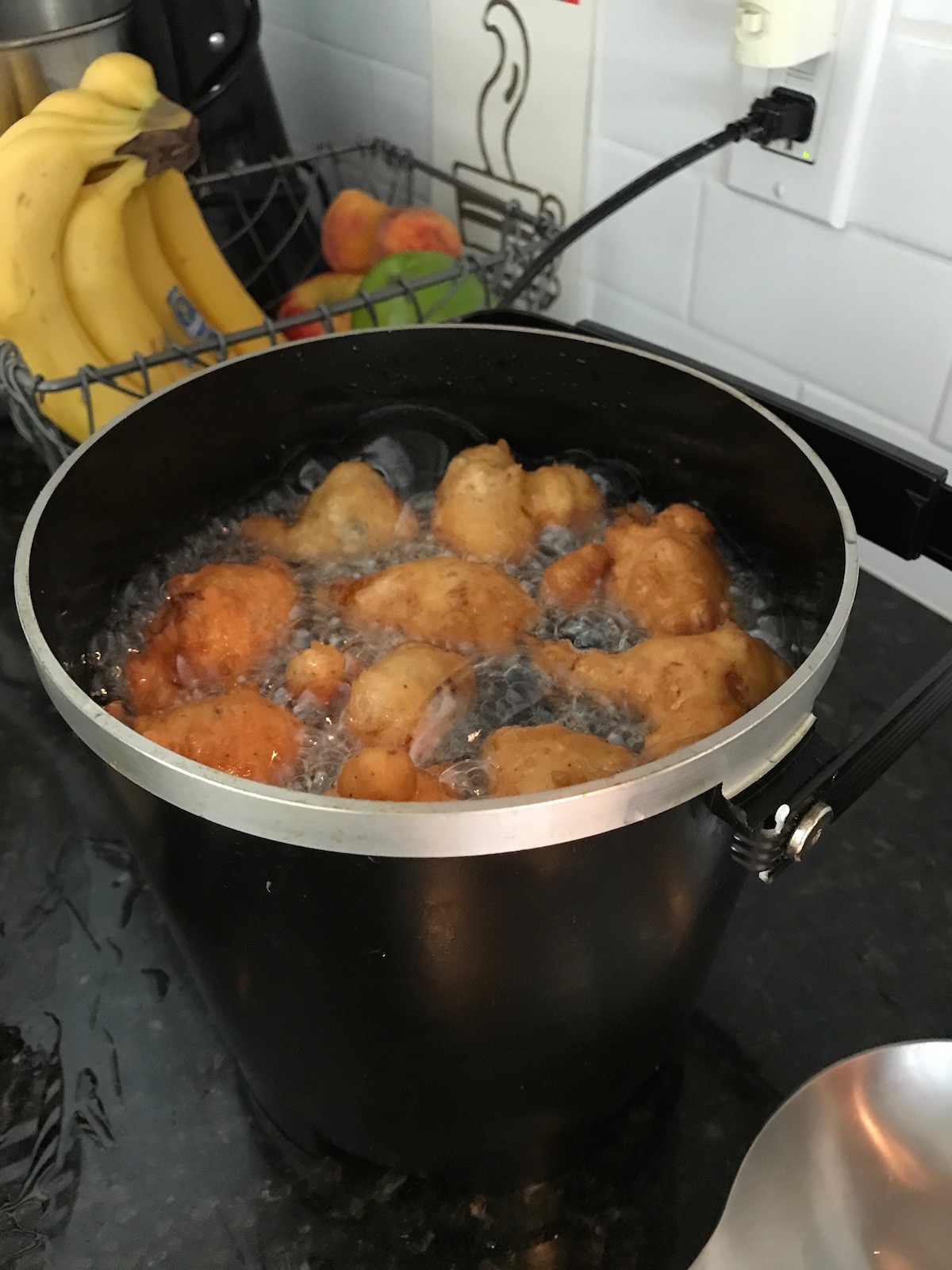 One of the fun things about making these fritters is putting into action one of those little paper bags hanging around the kitchen. Instead of using newspaper or paper towels to rest the fritters on after frying, my grandmother used to put them in one of those bags, give them a healthy sprinkling of salt, then shake it to get everything coated nicely. They usually didn't even make it to a serving bowl because we would just sneak them out of the bag. . .The memory always makes me smile.
I hope you give these fritters a try, in honor of Fannie.  And please send me a note below with your own stories of fritters OR, simply tell me what you think of this post 🙂

New England Clam Fritters
Adapted from the 1959 edition of the Boston Cooking School Cookbook
Author:
Fannie Merritt Farmer
Serves:
12 large or 30 cocktail size
Ingredients
1 c. drained, chopped clams (fresh or canned), juice reserved
Milk
Beer
1 egg, lightly beaten
⅔ c. all-purpose flour
1 tsp. baking powder
½ tsp. kosher salt
Several grinds fresh black pepper (I use many, 'cause I like the spice of the pepper)
Vegetable oil (enough to fill a deep fryer, or a deep, heavy bottomed pan with high sides)
Table salt for sprinkling on the cooked fritters
Instructions
Drain and chop clams. Transfer juice to a ⅓ c. measuring cup.
To that ⅓ cup, add half milk and half beer to balance out the measurement to ⅓ cup. Transfer to a large mixing bowl and combine with the egg.
Start to heat oil in a fryer or pan (targeting 375-400 degrees).
In a separate bowl, sift dry ingredients. Add to the liquid bowl, along with the clams. Stir gently to combine ingredients (don't over beat); allow to sit for a couple of minutes before frying.
Once oil is hot, scoop batter using a small ice cream scoop or a small spoon. Carefully place into hot oil, then fry for 3-5 minutes. The fritters will start to float to the surface, and when they're nicely browned, use a slotted spoon to transfer them to paper towel/newspaper or the tried-and-true paper bag. Sprinkle with table salt to coat evenly; serve while hot.