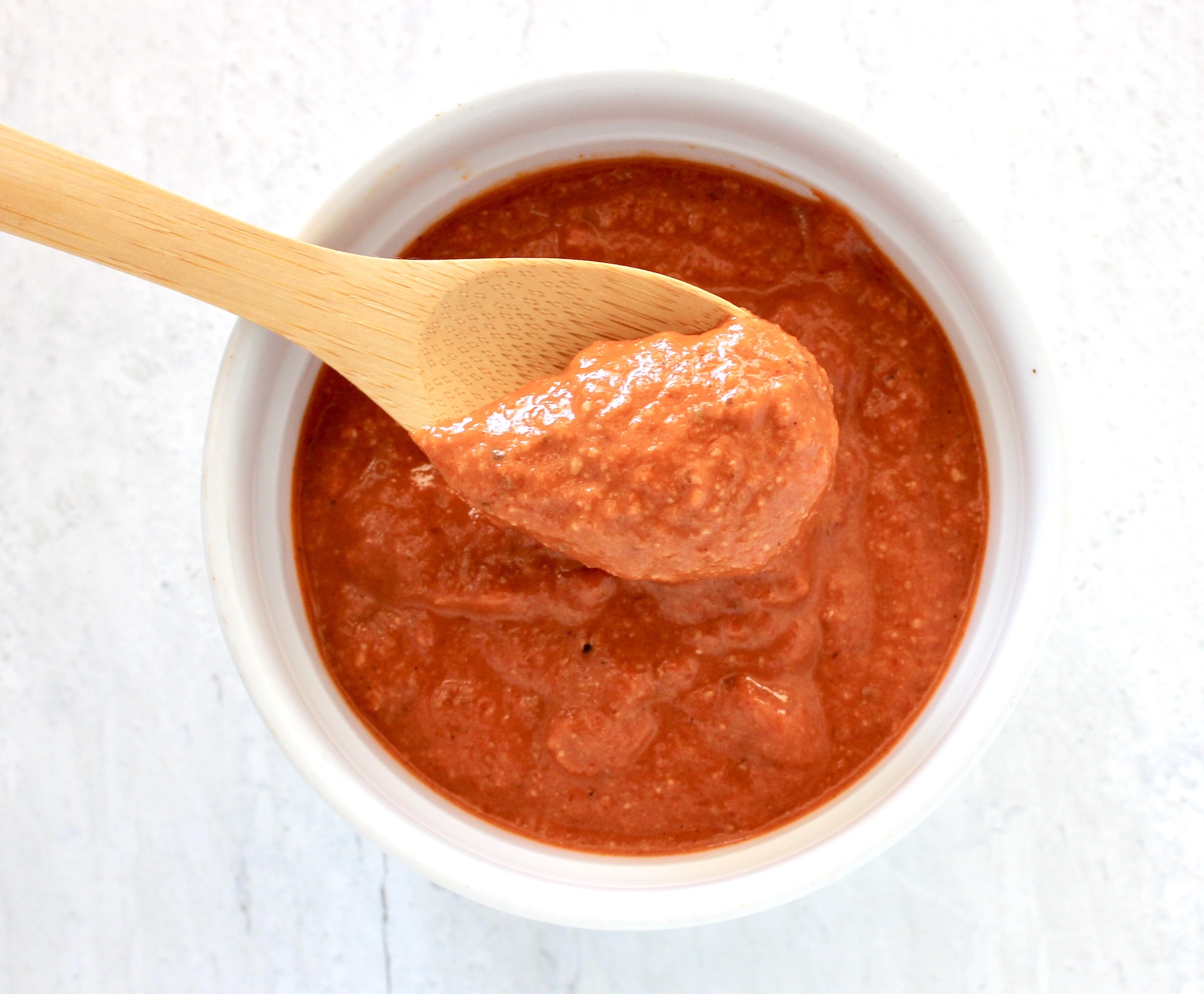 One of my favorite meals is grilled veggies over a bed of rice. I cut the veggies into bite-sized pieces, toss them in olive oil and whatever dry spices look appealing, then add them to a hot cast iron pan on the grill. Within 10-15 minutes, dinner's on the table.
But sometimes I like to add something extra. . .something to bring all the flavors together, even a little punch. For me, this sauce is IT.
It's a nod to traditional Romesco sauce that originated in Spain, in a town called Tarragone, and it's usually made with roasted tomatoes and garlic, toasted nuts, dried chili peppers, bread, olive oil and vinegar. It's a warm, garlic-y sauce that's wonderful with anything, like roasted meats/veggies, sandwiches, eggs, or in soup or on toasted bread. To learn more about this Catalonian dish, check out this interesting
article
.
One day I'll make it the traditional way, but during summer, I try not to turn on my oven that much, so I've adapted it to make a tasty alternative.
This version uses jarred/roasted red peppers, garlic that's smashed to a pulp with salt (to mellow it), toasted nuts, tomato paste, smoked paprika (one of my favorite spices), cayenne pepper and olive oil. I blend the ingredients with my stick blender (or food processor), then it's ready to be put into action.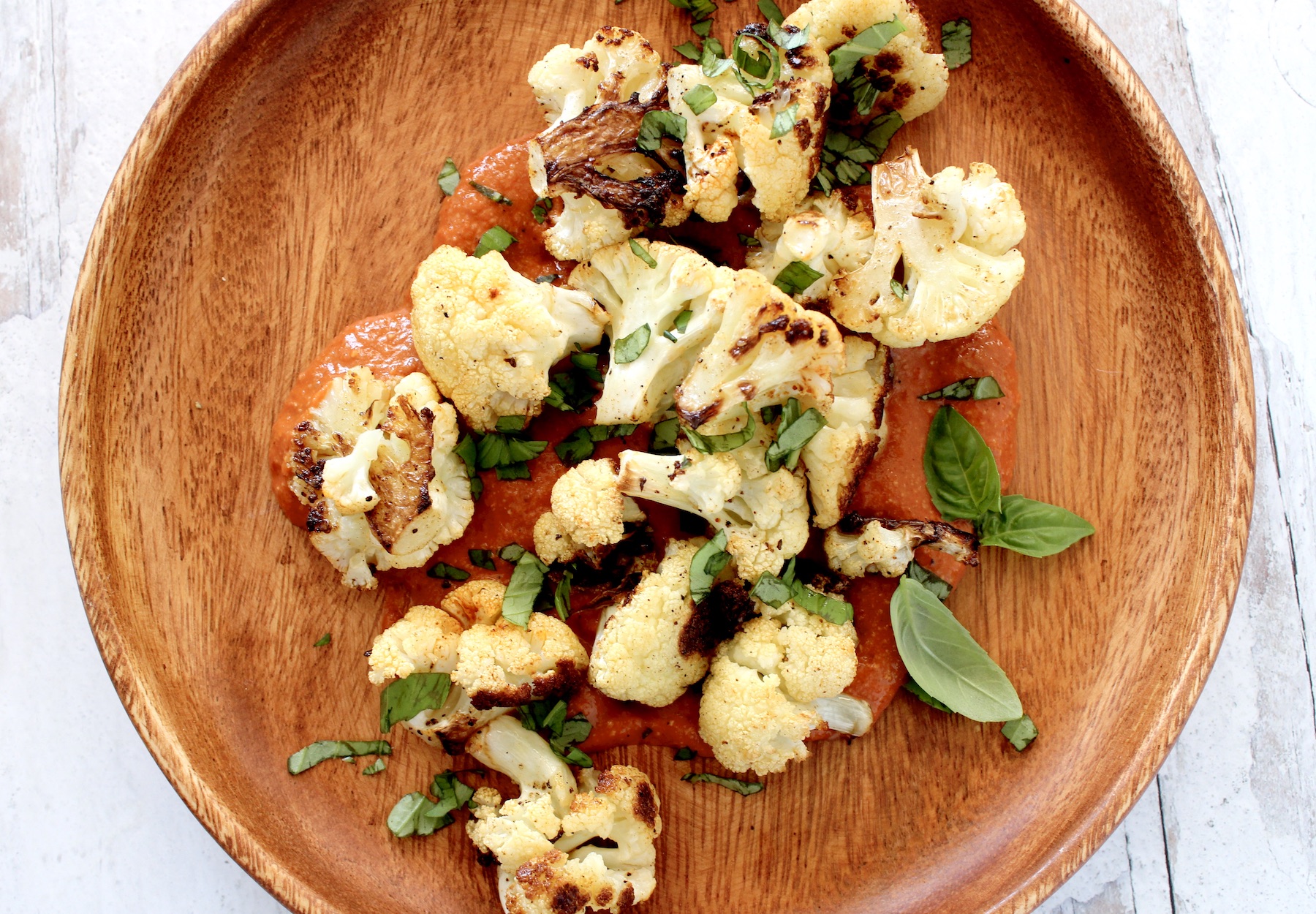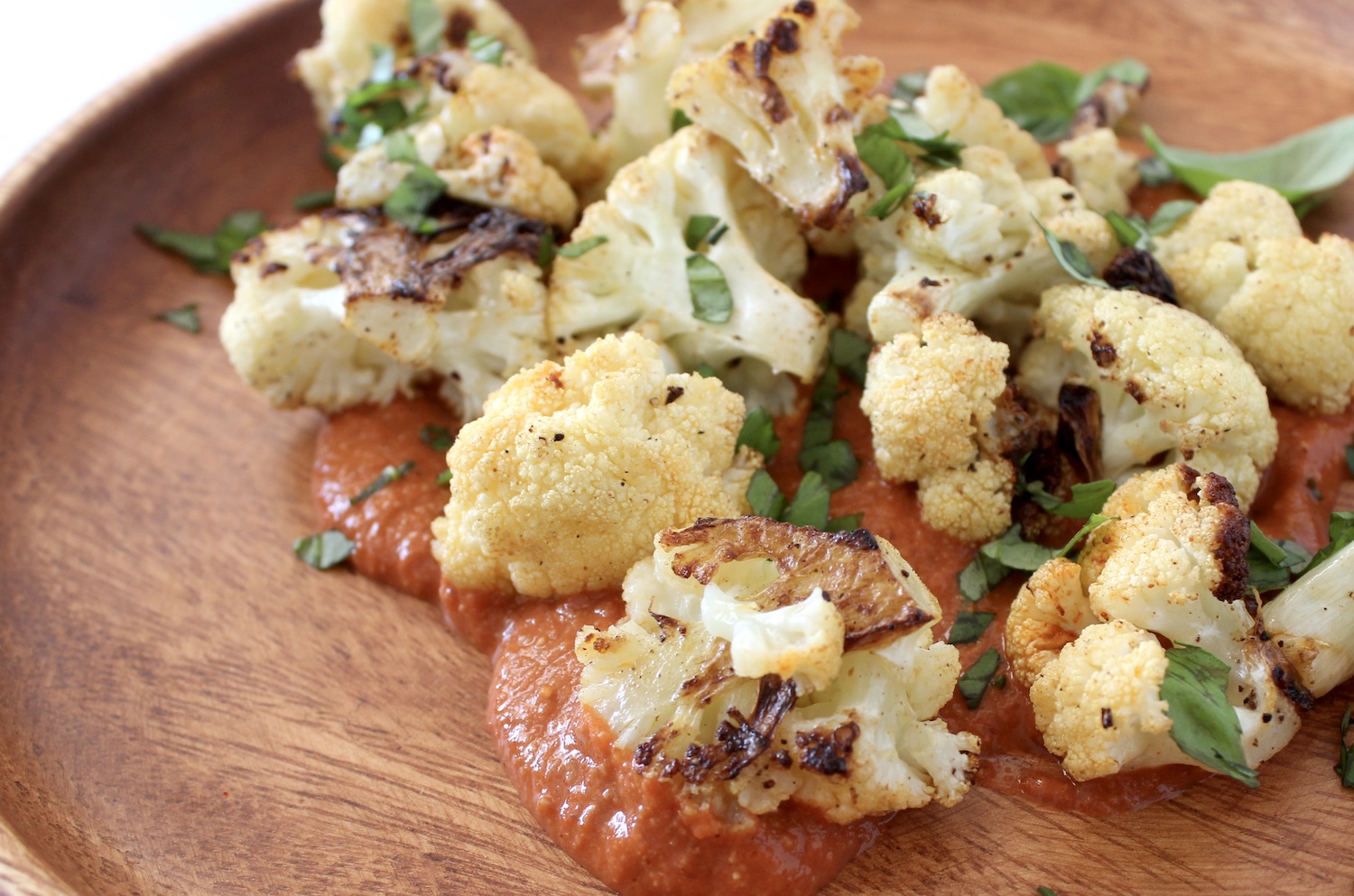 I like it on those roasted veggies, but also, with salmon or quinoa/rice salad, or even as a dip for fresh veggies. My hubby loves it on eggs and sandwiches. I've even added a spoonful to mayo/sour cream to make a creamy dip.
It's one of those sauces that, once you taste it, you'll find lots of uses for it. I make a batch every week and keep it in the fridge – it's just nice knowing it's there 🙂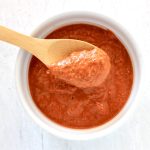 Print Recipe
Romesco-Style Sauce
A deliciously nutty, tomato-y and garlic-y sauce, inspired by the infamous Romesco sauce of Spain. Great on just about anything!
Ingredients
1/2

c.

Nuts

(walnuts or sliced/slivered almonds)

2

cloves

Garlic, peeled

1

12 oz.

Jar roasted red peppers, drained

1/4

c.

Tomato paste

1

Tb.

Red wine vinegar

1

tsp.

Smoked paprika

1/2

tsp.

Kosher or sea salt

1/4

tsp.

Cayenne pepper

(add more if you like it extra spicy)

1/2

c.

Olive oil
Instructions
Toast nuts in a skillet over medium/low heat, just until you smell their nutty aroma. Allow to cool.

Chop garlic on cutting board. Add a pinch of Kosher salt over the pieces, then run your chef's knife over the garlic/salt to chop finely. Using the flat side of the knife, crush the garlic/salt mixture and keep doing it until you have a paste.

Add red peppers, nuts, tomato paste, garlic paste, vinegar, paprika, salt and cayenne into a food processor (or a tall/narrow container, if using a stick blender). Pulse until you have a thick paste. Add olive oil, then quickly pulse 1-2 times to incorporate the oil. Taste for seasoning, then transfer to a container, top with a lid, and refrigerate until ready to use.