Remember the scene in "A Christmas Story" when Randy pawed at his oatmeal, grumpily muttering 'oatmeal, boatmeal' while Ralphie narrated something like 'most of the time my kid brother wore more oatmeal than he ate'?
Yeah, I think we've all been that kid. There was just something about oatmeal's gooey texture that was NOT appealing. . .
But now I love it! And lately I've been trying various ways of preparing the healthy grain in its many forms, including whole oats, quick-oats, oat bran and steel-cut.
My new favorite is baked whole oats – a great way to keep texture without the too-fibrous edges. Toss in whatever flavors and milk you like (lately I use oat milk) and the finished product is gluten-free, full of soluble fiber, vitamins/minerals and antioxidants.
Sometimes I prep the dry and wet ingredients before bed, refrigerate the wet mixture, combine in the morning and bake. But most of the time I make it in the morning and within ~40 minutes it's ready and the kitchen smells amazing.
The baked oats are almost cake-like, even a little custardy. And the banana, cinnamon, maple syrup, and crunchy nuts make for a comforting bite in every spoonful.
After carving out a warm piece, I like to add a squeeze of fresh orange juice and a drizzle of maple syrup, but feel free to top yours with anything you like.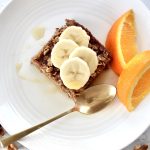 Print Recipe
Toasty and Crunchy Baked Oatmeal
A delicious blend of whole oats, banana, cinnamon, orange zest and crunchy nuts - a great way to start your day.
Ingredients
2

c.

Whole oats, uncooked

1

tsp.

Baking powder

1 1/2

tsp.

Ground cinnamon

1/2

tsp.

Ground allspice

1/2

tsp.

Kosher or sea salt

1/2

c.

Toasted nuts, chopped

Walnuts or pecans work great

2

Very ripe bananas (black, if possible)

1 3/4

c.

Milk

Any milk you like

1/4

c.

Pure maple syrup

2

tsp.

Vanilla extract

1

tsp.

Grated orange zest
Instructions
Heat oven to 325 degrees; butter (or use vegetable spray) an 8X8 glass pan (if using a metal pan, set the oven to 350 degrees).

In a large bowl, toss in bananas and mash with a fork. Add milk, maple syrup, vanilla and orange zest; whisk to combine. Add oats, baking powder, cinnamon, allspice, salt and nuts; mix lightly to combine.

Transfer mixture to baking dish and bake 30-35 minutes or until top is nicely browned and a toothpick inserted in the center comes out clean. Remove from oven and cool 10-15 minutes before serving.

Serve with a drizzle of fresh orange juice and pure maple syrup, along with any fresh fruit or nuts you desire. Store leftovers in the fridge - when ready to enjoy again, heat in microwave or a low-temperature oven.
Notes
Note: if you decide to prep the night before, simply separate the dry and wet ingredients in different bowls and refrigerate the wet ingredients (covered) until the next morning. Combine in the morning and pop in the oven 🙂