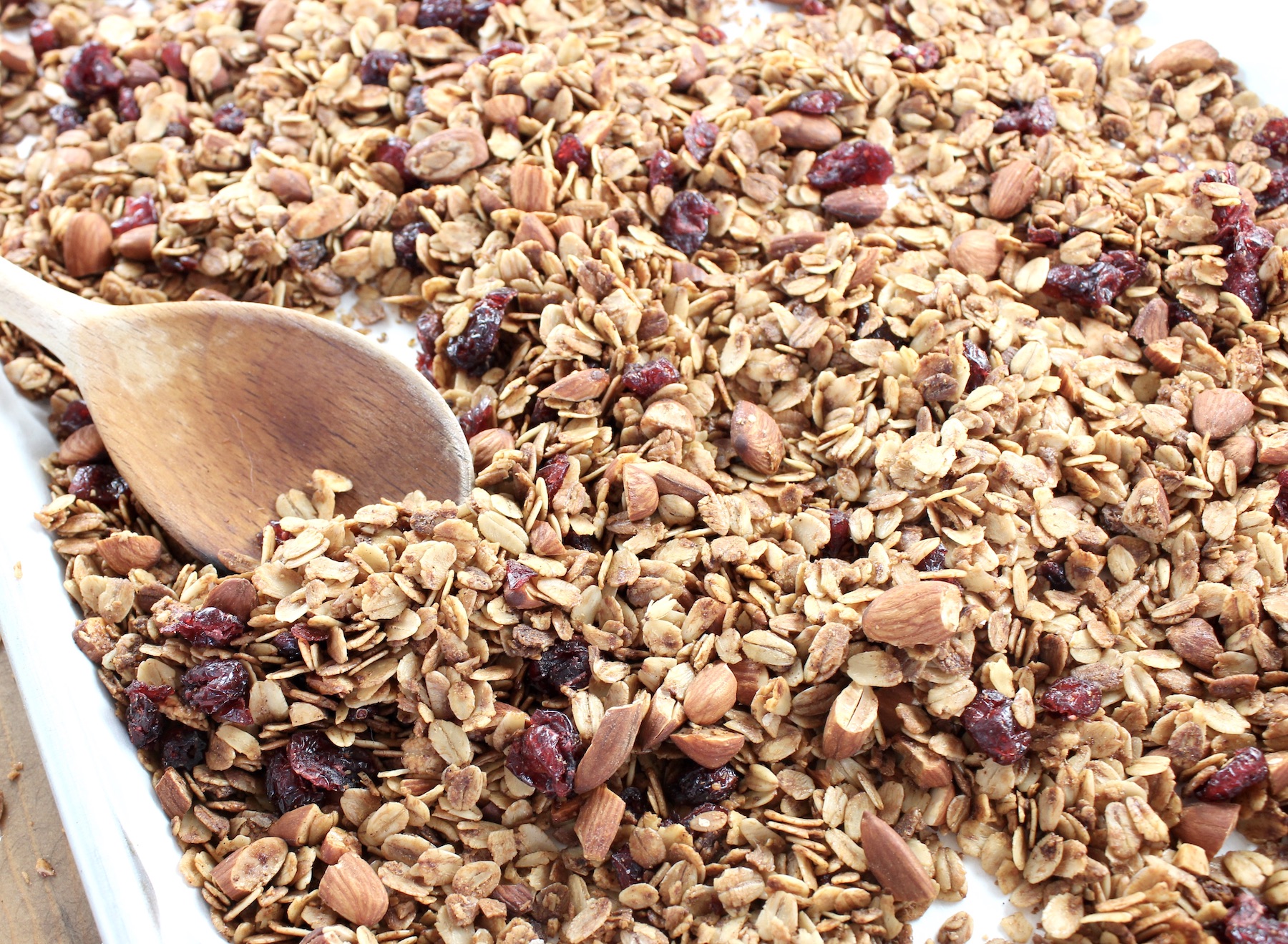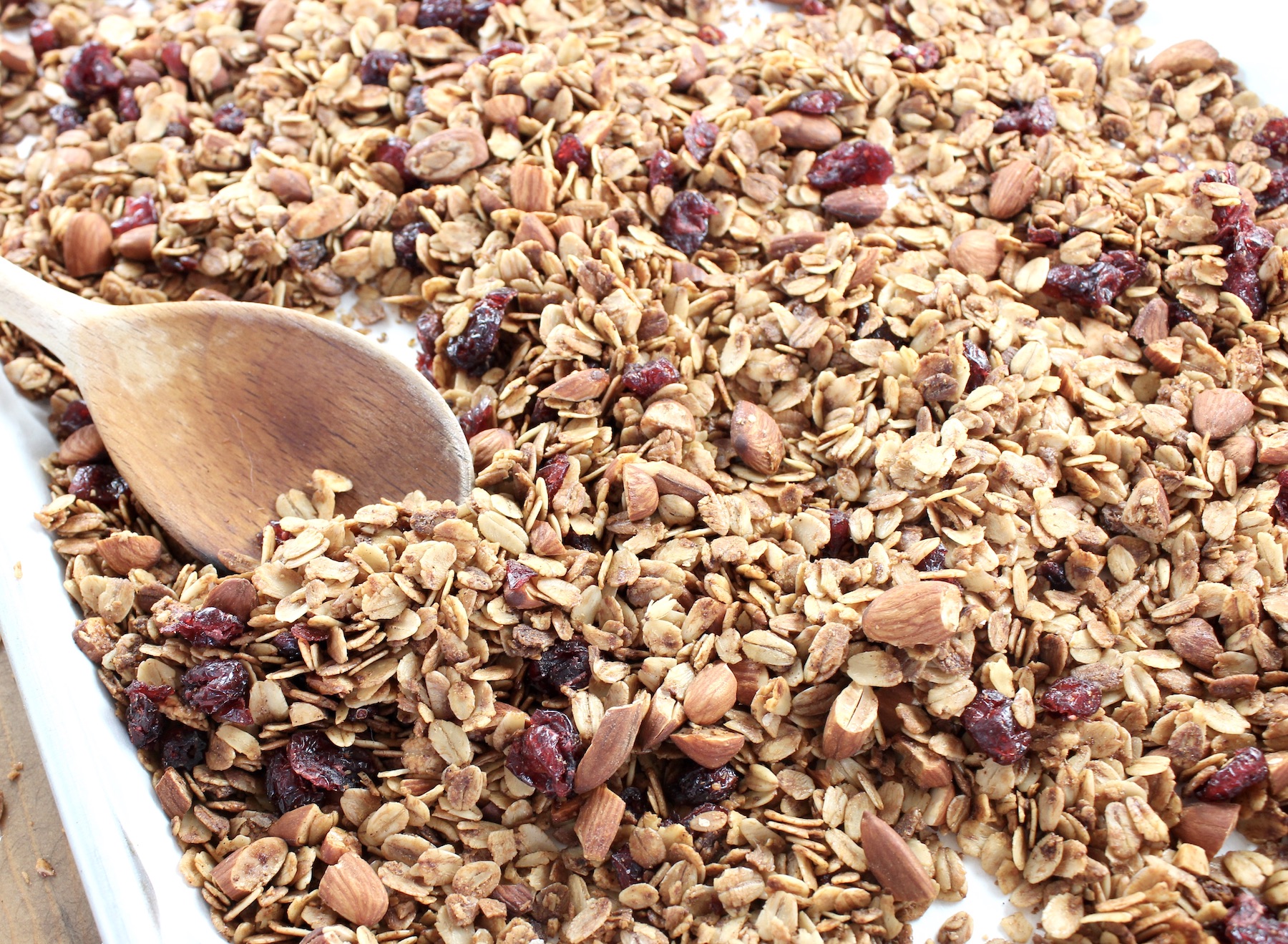 Remember years ago when granola was the stuff eaten only by Birkenstock-wearing, long-haired, herbal tea-drinking folks, or those uber-healthy mountain climbers?  They all seemed to really like the stuff that looked like bird food to the rest of us.
But, in reality, those healthy specimens were onto something back then, and granola has now (rightly) earned itself prime shelf space at supermarkets and farmers markets.  Why?  For one, it's delicious (I especially like it with a little almond milk or mixed into yogurt).  Second, it's a great snack to reach for when you're on the move.  Third (depending on what's in it) it offers lots of nutrition, like the goodness of whole oats, the protein in nuts and/seeds, and the fiber in dried fruits.
Over the years, I've bought lots of granola – homemade from little farm stands, and even high-end supermarket varieties.  Each offers something interesting, but many have lots more sugar, fat or salt than I need to ingest.  And, they can be pricey.  For these reasons, I like to make it at home!
Making granola should not be daunting to anyone. The process is basically this: 1) Mix ingredients in a bowl, 2) Toss onto a baking sheet, 3) Stir while baking, 4) Cool and 5) Add dried fruits.  Pretty easy, right?
I've made many batches following recipes in cookbooks, but each time I veer a little and adjust to fit my own tastes or to accommodate something I don't have in my pantry.  Basically, you can't go wrong with granola – if you have too little of one thing, you can add more of another.  Sometimes batches come out awesome; others, not perfect, but still tasty.  Even when I've overcooked a batch, my husband tells me he still likes it because the 'toastiness' factor makes it more dimensional.  Frankly, I think he's just being kind, but I actually like it, too!
This recipe calls for briefly warming the oil, maple syrup, vanilla, spices and orange zest, which brings all the flavors together, and makes it smell heavenly in the kitchen.  Pour it over the oats/nuts (see pic below), mix well, pop it in the oven, and within about 25 minutes, it's out of the oven and crisping as it cools.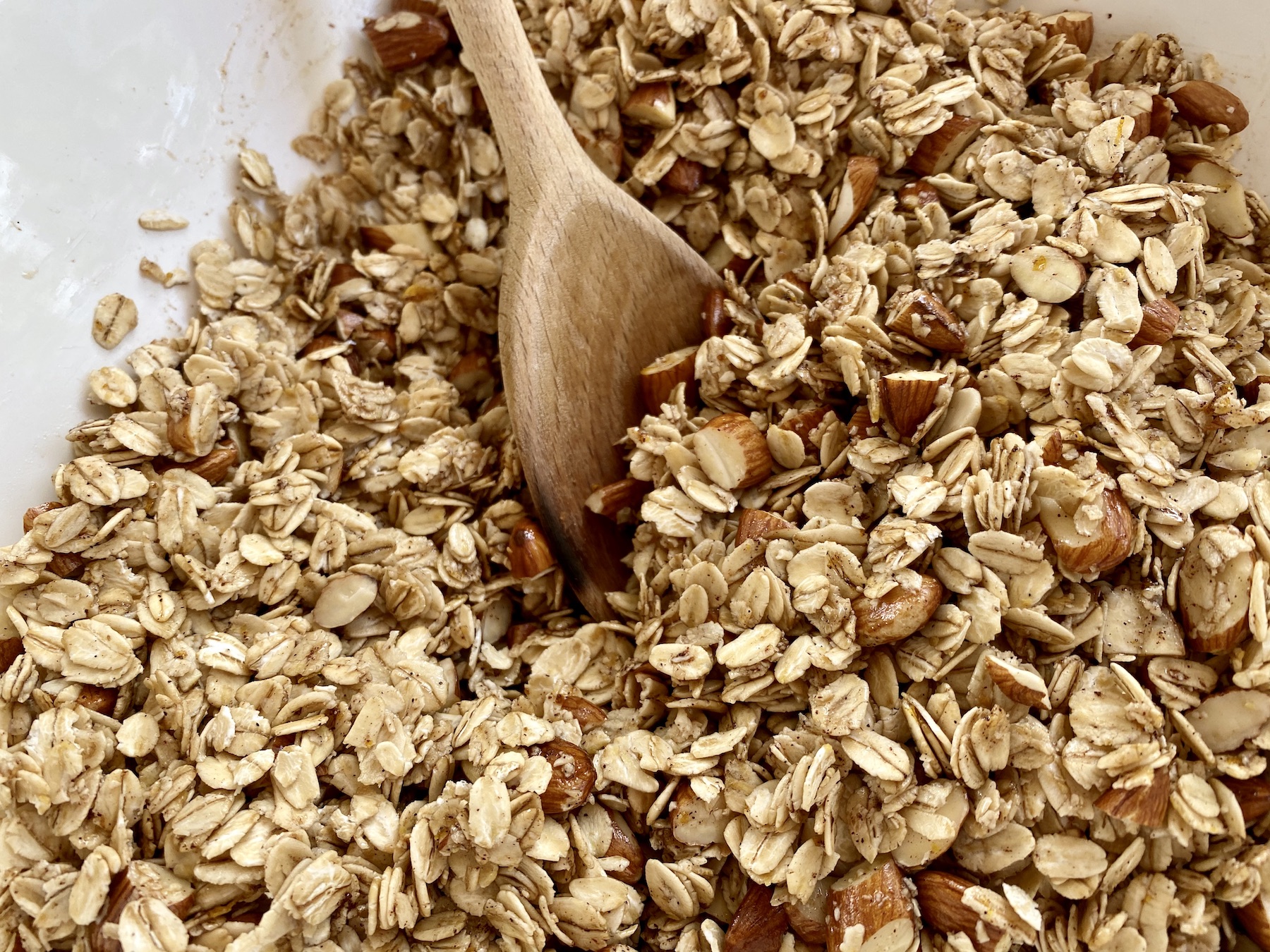 This is a basic recipe, with heavier emphasis on oats vs. mix-ins, and it has a hint of orange.  But you can shake up the ratios or change the ingredients, like reducing the quantity of oats by one cup and adding a cup more of nuts with flaked coconut.  Or adding more dried fruits and nuts after it's cooked (salted/roasted cashews or redskin peanuts are yummy, or chopped dried apricots, or golden raisins).  Switching out the vegetable oil for olive oil offers a more savory flavor, which is delicious alongside sweet things.  Or, replace the maple syrup with honey.  Each slight variation will produce a different, but equally delicious granola, so it's fun to experiment.
Give it a try and see how its compares with store-bought granola.  Something tells me you'll keep making it at home 🙂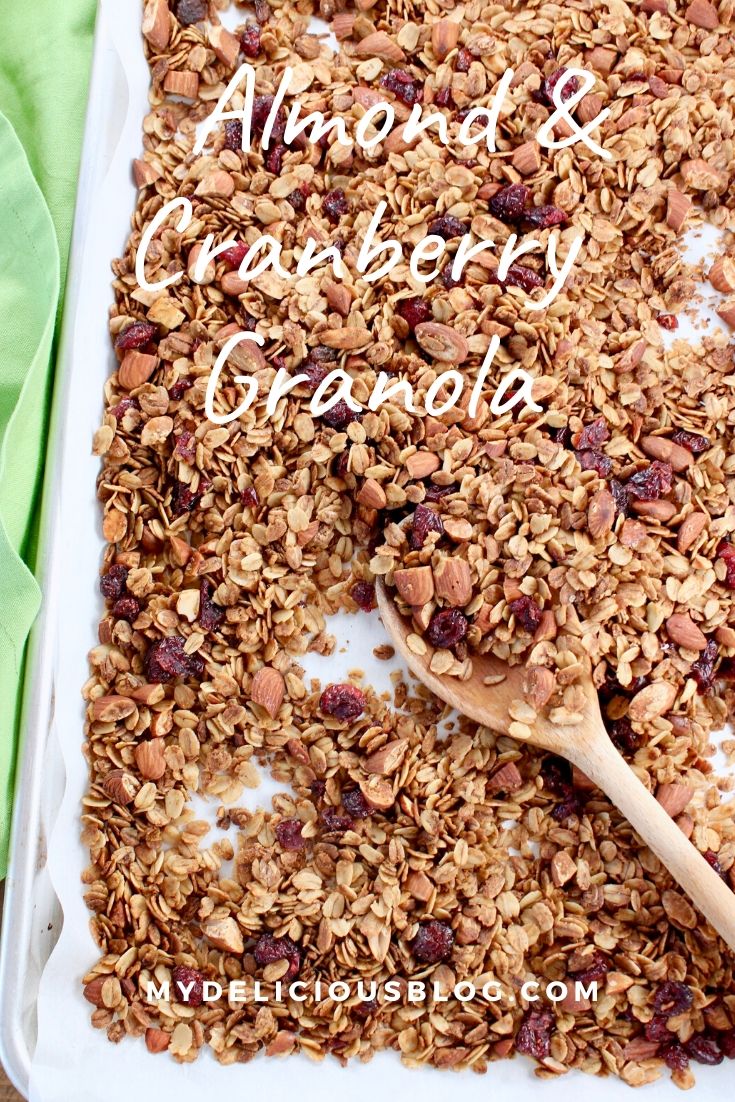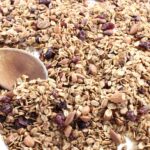 Print Recipe
Almond & Cranberry Granola
Making granola at home is an easy and delicious thing to do - here's a simple recipe with whole oats, almonds, dried cranberries, cinnamon and maple syrup, with a hint of orange.
Ingredients
4

c.

Whole oats

1

c.

Whole, raw almonds, roughly chopped

1/2

c.

Vegetable oil

alt: olive oil

1/4

c.

Pure maple syrup

2

Tb.

Honey

1

tsp.

Pure vanilla extract

1 1/2

tsp.

Kosher or sea salt

1

tsp.

Ground cinnamon

Zest of 1 orange

1

c.

Dried cranberries
Instructions
Heat oven to 350 degrees and line a large rimmed baking sheet with parchment paper.

Add oats and chopped almonds to a large mixing bowl.

In a small saucepan, add oil, maple syrup, honey, vanilla, salt, cinnamon, orange zest. Warm over low heat for about 1 minute.

Pour the warm mixture over the oats/almonds and mix well. Let sit while oven comes to temperature.

Pour oats mixture onto the baking sheet and pop into oven. After the first 10 minutes, mix with a wooden or metal spoon/spatula. Stir again after another 5 minutes and keep an eye on it, so it doesn't get too dark. When golden brown (after 20-25 minutes), remove from oven.

Allow granola to cool on the baking sheet 20-30 minutes, then mix in cranberries. When fully cool and very crunchy, transfer to an airtight container and store at room temperature or the refrigerator for up to 2 weeks (but, trust me, it won't last that long).
Notes
Note 1: if you store the granola before it's fully dry/cool, the moisture from the dried fruit may soften the granola eventually, making it not as crunchy, but still delicious.
Note 2: if you really like a toasty, rich-flavored granola, simply leave it in the oven a few minutes more 🙂