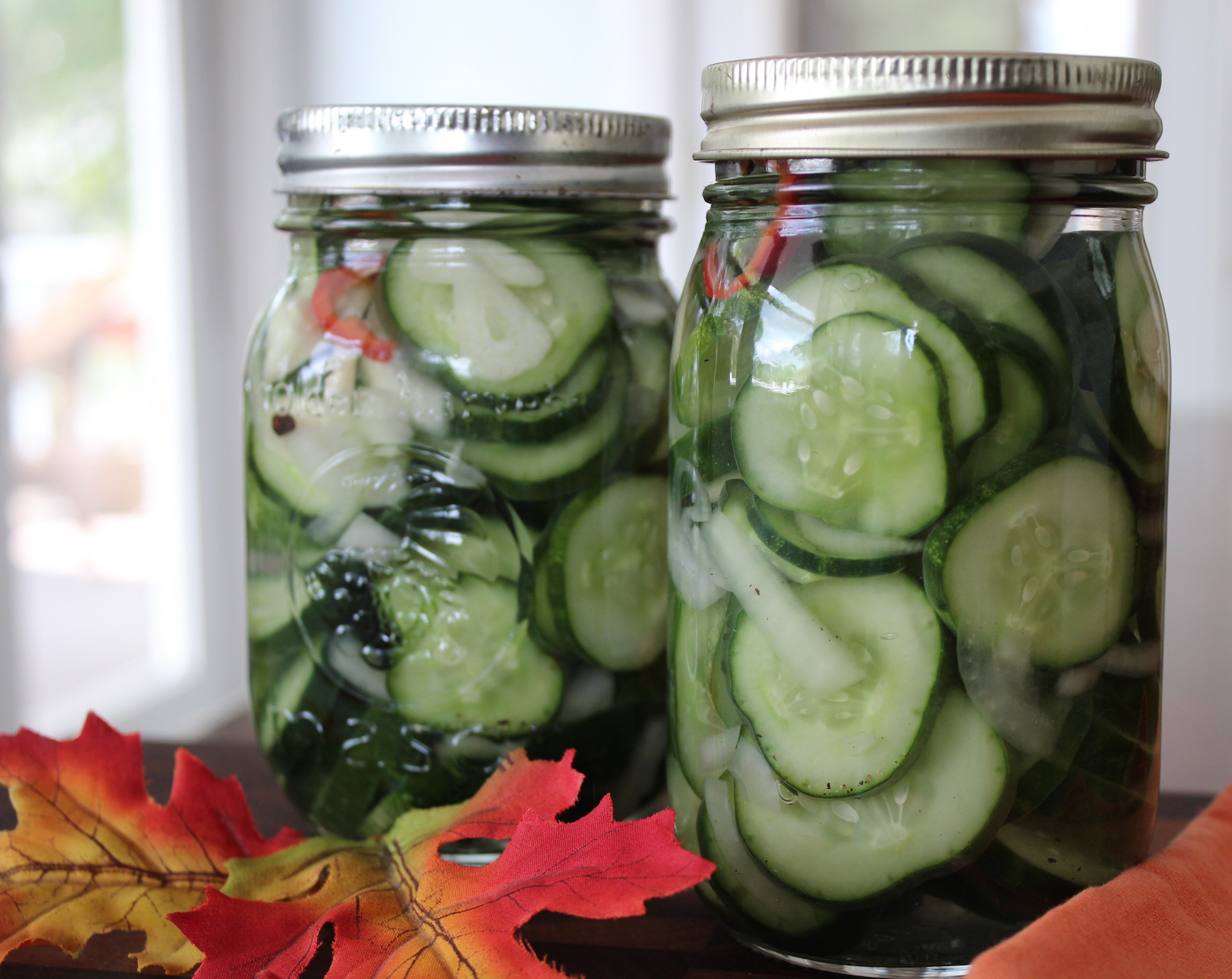 This time of the year can produce a lot of late season crops, so I wasn't surprised to see tons of cucumbers at the farmer's market recently.  I happily picked up a bunch of the little guys, thinking I'd be so good and snack on them all week. What was I thinking?!? After only 3 days I still had 13 cucumbers and was already on cucumber overload!
Consequently, I started thinking about what I could do with them before they spoiled, and decided it was a good time to make refrigerator pickles (sometimes called "quick pickles") – an easier, less labor intensive process compared to the traditional method. You simply pack vegetables into a jar along with pickling/brining solution and spices of your choice.  This is a great method when you only have a small amount of vegetables, not a lot of time (or patience) or a combination of all three.  You can use a hot or cold solution but, for my batch, I decided on the cold version in order to keep things simple.
Kirby cucumbers are great for pickles. They're just the right size (for slices or spears), flavorful, and their skin is thick enough to stand up to the pickling solution while maintaining crunchiness (and we all know that the ultimate test of a good pickle is its crunch factor!).
I decided to go with sliced cucumbers since they're so good on sandwiches and they're easy to snack on.  And before I submerged the little disks in the pickling solution, I sprinkled them with kosher salt to draw out their excess water, which can dilute solution (a very important step).  As for the pickling/brining solution itself, I mixed up a sweet and spicy batch, using what I had in my pantry, but you can even add more garlic, more peppers (if you like 'em spicy) or other flavors such as celery seed, mustard seed, bay leaf, dill, etc.  I packed my cucumbers in pretty Mason jars, topped them with the solution and allowed magic to happen in the fridge for 2 days. It was difficult being patient for those 2 days, but the experiment paid off! The ice-cold pickles were fresh-tasting, crunchy, sweet, a little spicy and oh-so-delicious.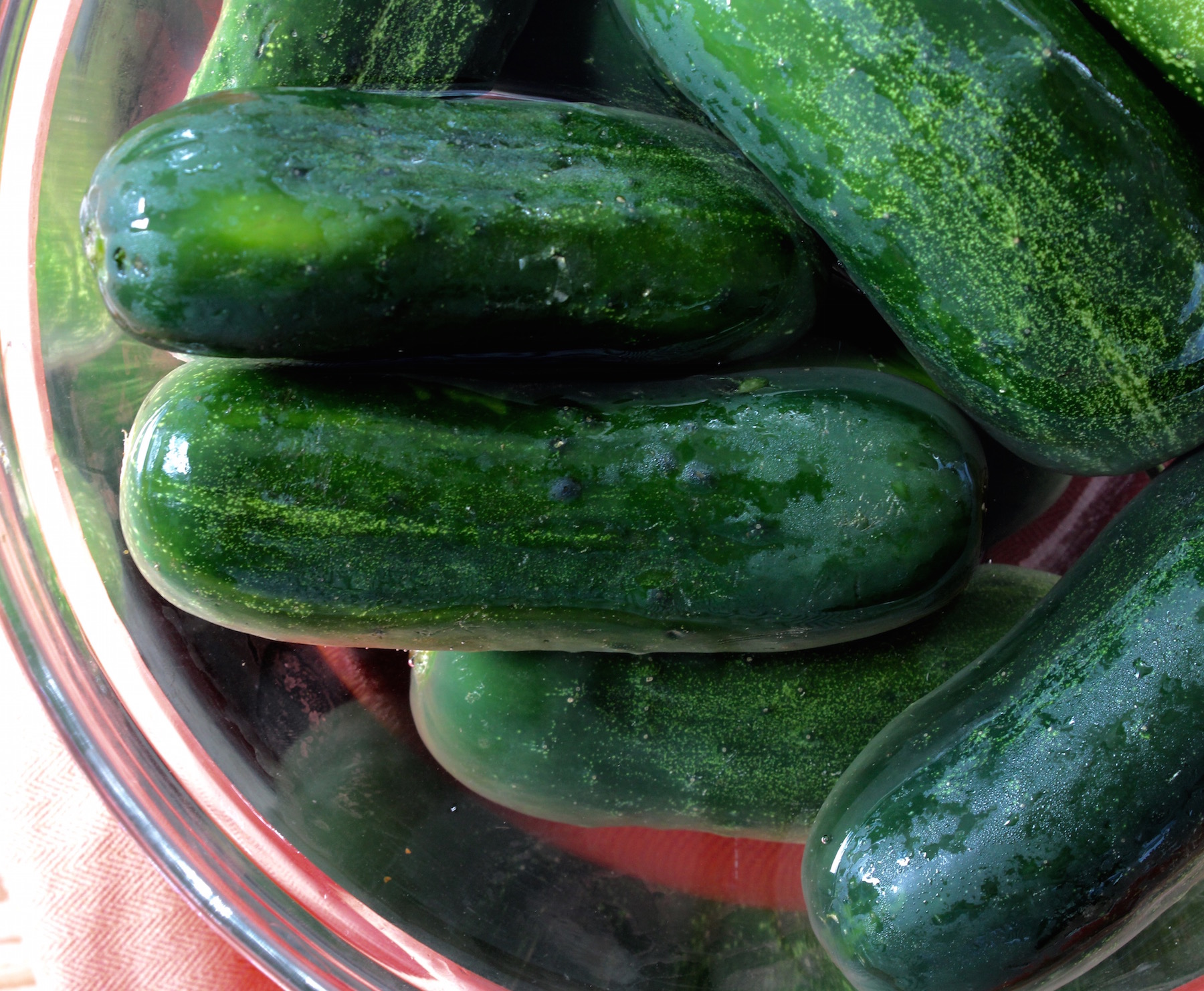 My #1 taste tester said they were the best pickles he's ever had.  I don't know about THAT, but I'd say they were pretty delicious and I would definitely make them again 🙂
A few things to consider when making refrigerator pickles:
Vinegar – this is the most important ingredient. Distilled white vinegar has a higher acidity level, giving pickles a sharper, more tart flavor, plus, it doesn't distort the flavors or colors of the vegetables you're pickling. Apple cider vinegar produces a milder flavor, even a bit of fruitiness, but it may color the ingredients you use (like cauliflower) so use it carefully.  You may also want to avoid flavored vinegars, since they may cause cloudiness.
Sugar – granulated white sugar is ideal since it doesn't produce cloudy results.
Salt – it's best to use additive-free salt (i.e., pickling salt, kosher salt or sea salt). Never use table salt, iodized salt or salt substitutes, which can cause cloudiness and/or bitterness, or even add color to your vegetables.
Spices – only use whole spices and flavorings (not ground) for best flavor and non-cloudy solutions.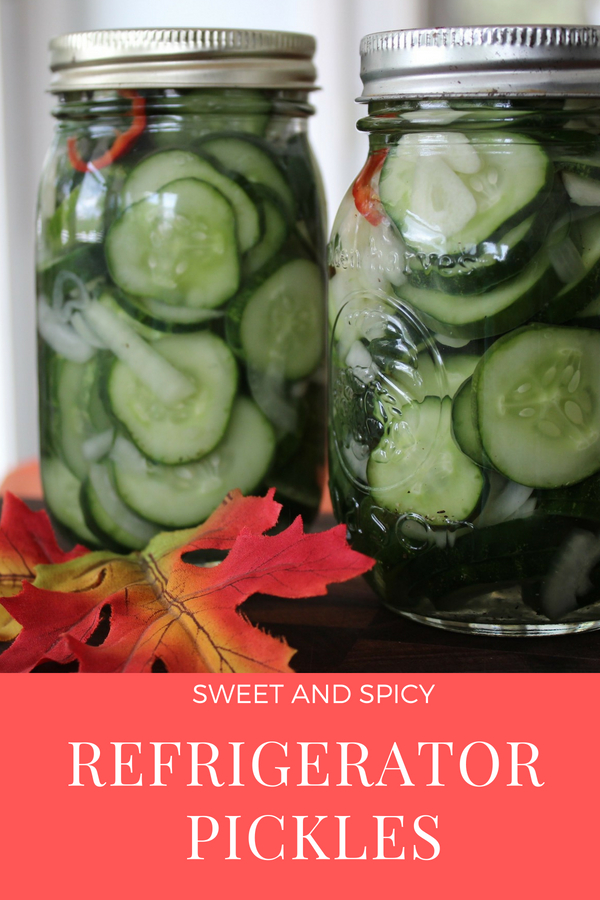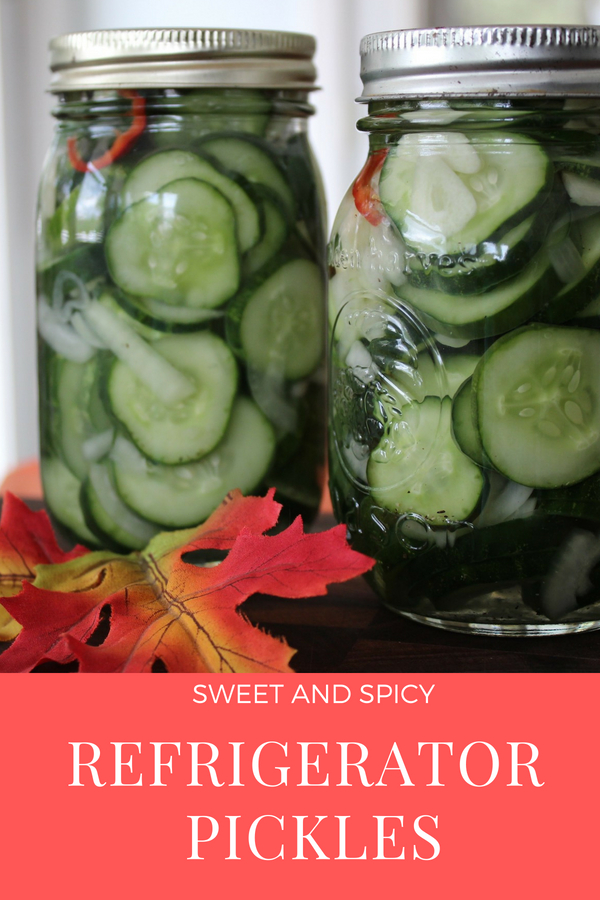 Experimenting in the kitchen is such fun, so I hope you give refrigerator pickles a try!

Sweet & Spicy Refrigerator Pickles
Sweet and slightly spicy pickles made in your very own refrigerator!
Author:
My Delicious Blog
Ingredients
Cucumbers
8 Kirby cucumbers (or any non-waxy variety)
½ small yellow onion, sliced
1 Tb. kosher salt
Pickling/Brining Solution
2 c. water (at room temperature)
3 tsp. white sugar
1 Tb. kosher salt
⅓ c. white vinegar
6 black peppercorns
2 cloves garlic, peeled & thinly sliced
½" piece of jalapeno or red chile, seeded, thinly sliced
Instructions
Wash cucumbers in cold water and trim off both ends (blossom ends of cucumbers may contain an enzyme which can cause softening of pickles).
Slice cucumbers into ¼" pieces; slice onion into thin or thick pieces, depending on preference. Place into a glass or plastic bowl (i.e., not metal). Sprinkle with kosher salt. Cover and allow to sit at room temperature for 1 hour.
Transfer cucumbers/onions to a colander and rinse thoroughly until all the salt is removed. Set aside.
In a mixing bowl (use one with a pouring spout, if you have one) combine water, sugar and salt and mix to dissolve thoroughly. When dissolved, add in remaining brining ingredients.
Pack cucumbers/onions into two, 8-oz. (clean) canning jars.
Pour 1 c. of brining solution into each jar, covering everything completely.
Tightly place the lids on each jar and refrigerate for at least 2 days.
After the first day, invert each jar to evenly disperse the solution. Check to ensure your seal is still strong before doing this!
Notes
1) if using store-bought cucumbers, be sure they don't have wax on them.
2) Adding salt to the sliced cucumbers draws out excess water that can dilute the pickling solution.
3) By using a vinegar, water & sugar brining solution, these pickles can be stored safely in your refrigerator for about 1 month, but they probably won't last that long!