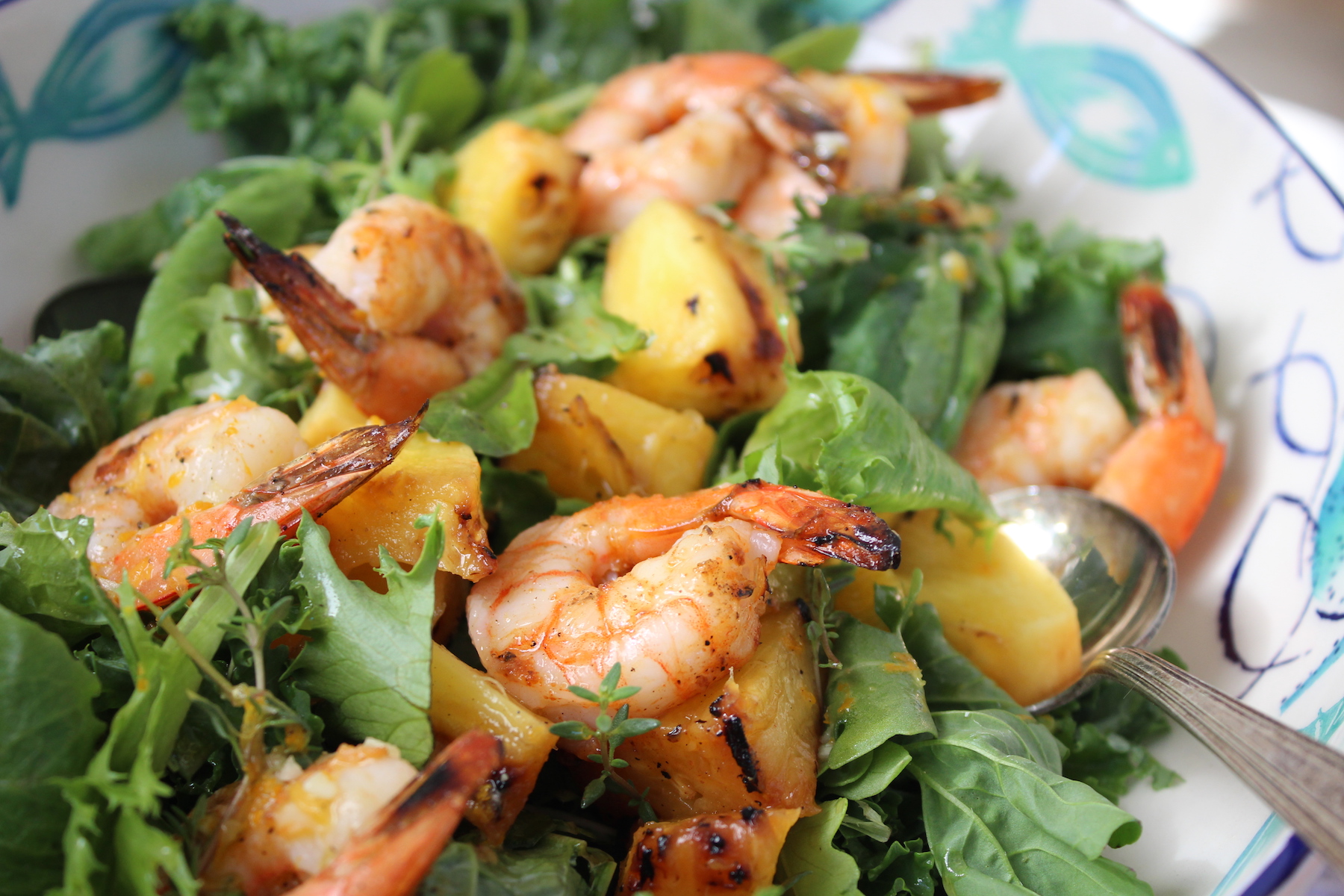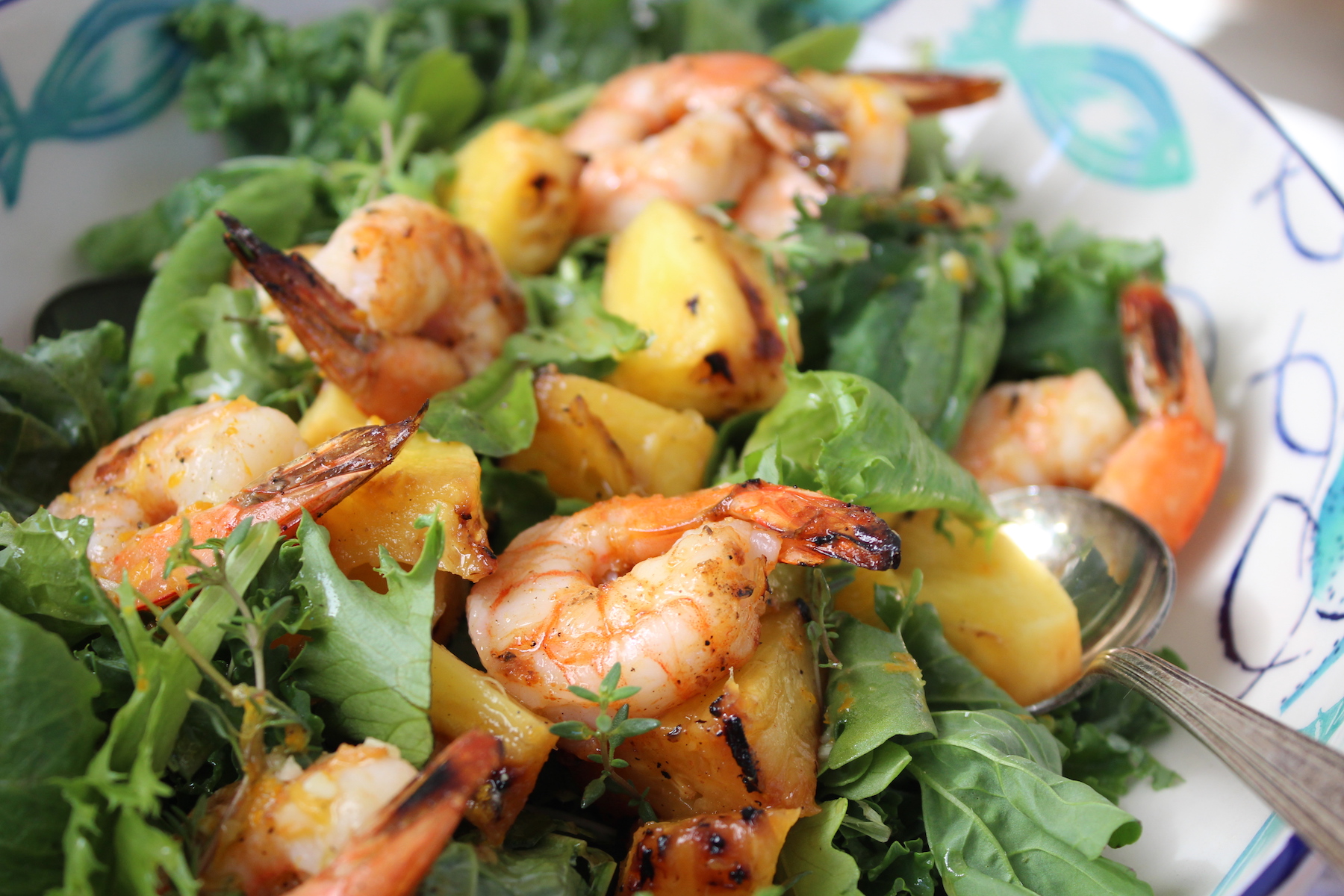 Spring break in Florida is a busy time of year!
Visitors from cold climates love to escape wintery conditions, and we in Florida welcome them with open arms. True, it's a little busy on the roads, our beaches are packed to the gills, and getting reservations at restaurants is challenging unless you're willing to dine at 4:30 pm.  But the influx of visitors is great for our economy and I think it's fun to see all the young Spring-breakers enjoying our tropical paradise.
This week we've been hosting two of those Spring-breakers — my sister-in-law and niece from Manhattan — both happy to get some much-needed beach time. We've been on the go, doing lots of things, but last night decided to stay in, cook a healthy dinner and enjoy our backyard deck on one of the most lovely evenings Florida has ever seen.
For a special occasion like this, I like to keep the meal simple, especially when there's loved ones to share stories with, and a grill anxiously waiting to be used.
This simple salad combines tasty shrimp, light/citrusy dressing, crispy greens, and warm, juicy pineapple. It comes together quickly, the flavors work nicely together, it allows you more time to enjoy your visitors AND you get to avoid unnecessary calories and temptations inevitably available at beach-side restaurants 🙂   Plus, if you have any vegetarian Spring-breakers, this salad can be adjusted by replacing the shrimp with chickpeas (check out the recipe for a
Buddha Bowl
which includes directions for
roasted chickpeas
), shelled edamame, tofu or other protein of choice.
Here's the sunny, citrusy dressing filled with orange, lemon, thyme and parsley, all ready to bathe that delicious pineapple and shrimp: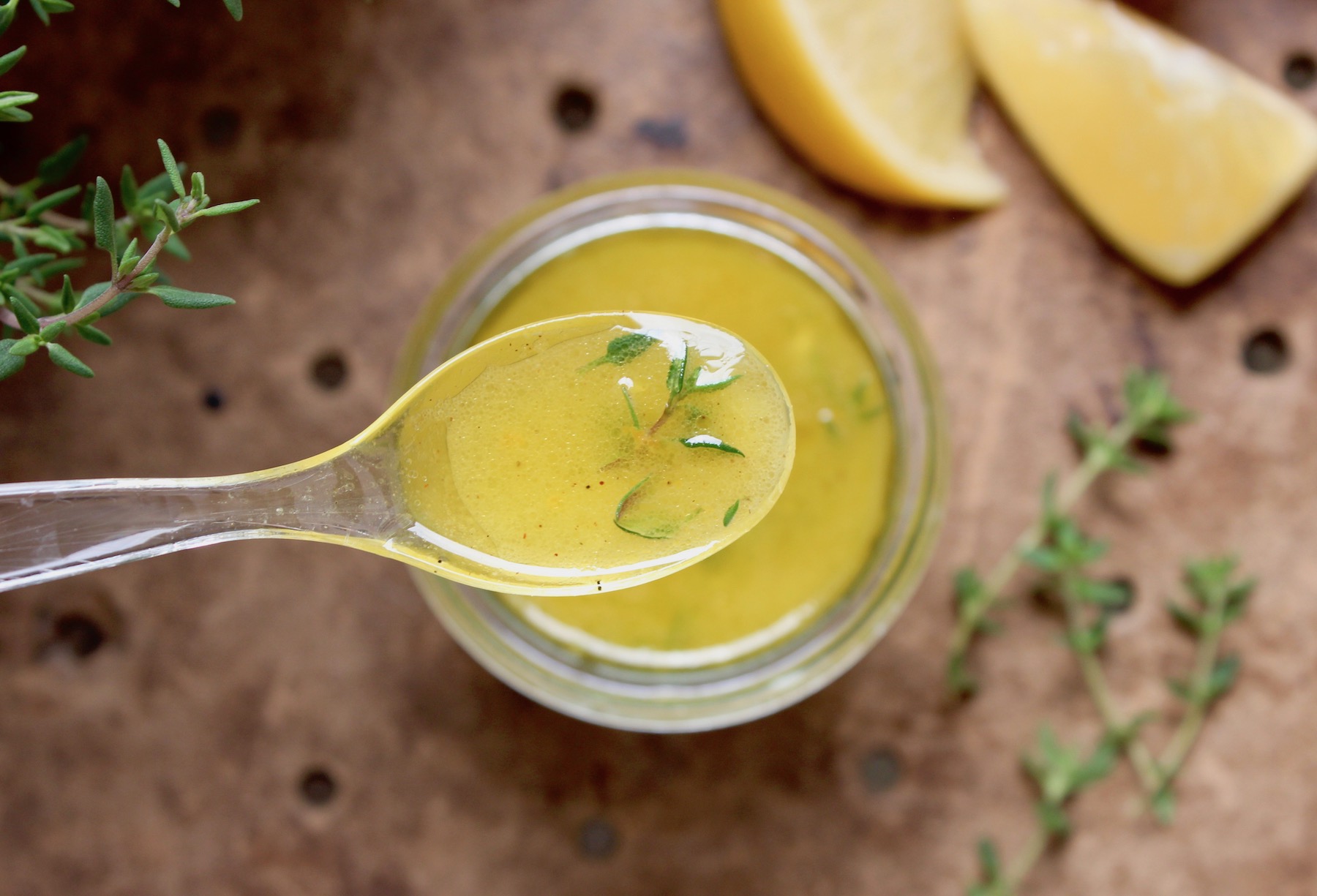 Happy Spring everyone!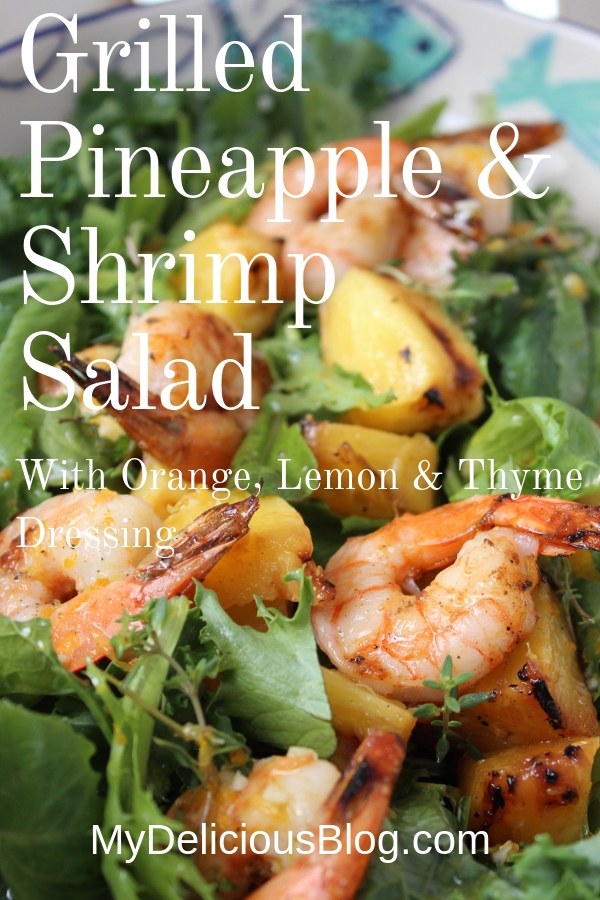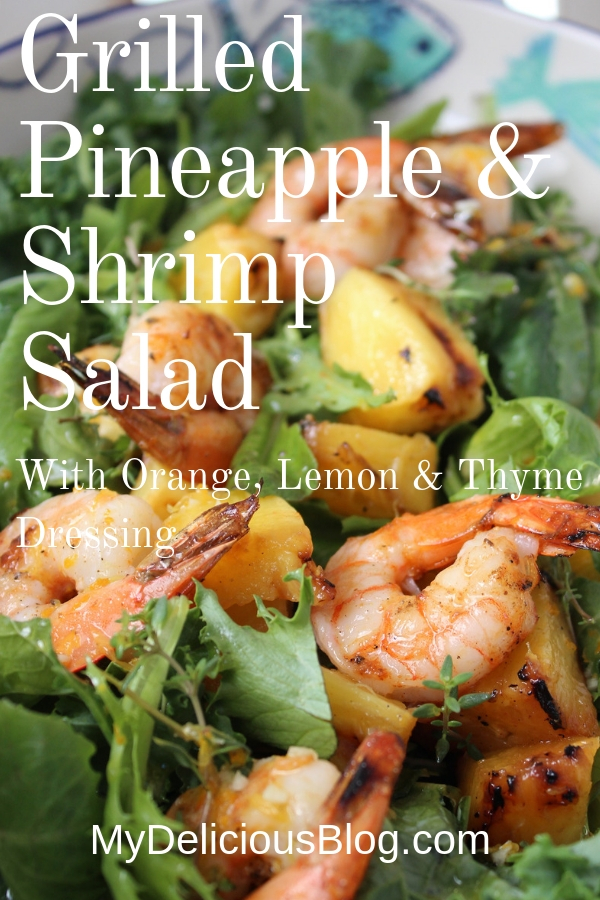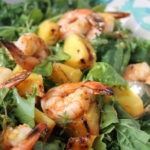 Print Recipe
Grilled Pineapple & Shrimp Salad with Citrus Dressing
An easy, delicious and light salad. Perfect for summertime entertaining!
Ingredients
Marinade:
1/4

c.

extra virgin olive oil

1

lemon, juiced

1

tsp.

Dijon mustard

2

tsp.

honey

1

tsp.

kosher salt

1/2

tsp.

freshly ground black pepper

1

lb.

jumbo shrimp (16/20), peeled & deveined

(keep the tails on)
Salad:
4+

c.

mixed greens (baby greens, kale, arugula, lettuce)

2-3

fresh pineapple rings OR planks of freshly cut pineapple, cored

Handful

sliced cucumbers, blanched asparagus or other veggie

(optional)

Handful

toasted, slivered almonds

(optional)

1

Tb.

granulated sugar

1

Tb.

vegetable oil
Citrus-Thyme Dressing:
1

orange, zested & juiced

1

lemon, zested & juiced

1

clove

garlic, peeled & minced

1

Tb.

honey

1

tsp.

Dijon mustard

1

Tb.

fresh thyme leaves, minced

1

Tb

fresh parsley, minced

1/2

tsp.

kosher salt

1/4

tsp.

freshly ground black pepper

1/2

c.

extra virgin olive oil
Instructions
For the Marinade:
Add marinade ingredients to a large ziplock bag and mix together by scrunching the bag. Reserve 2 Tb. for brushing on shrimp while cooking. Add shrimp to bag, seal and refrigerate 20 minutes.
For the Dressing:
Combine Dressing ingredients in a blender (for best emulsion) OR add ingredients to a small bowl and whisk until combined; set aside until ready to use. (Note: when ready to use, taste & adjust for seasoning).
For the Salad:
When ready to prepare salad, heat grill to high.

Remove shrimp from marinade, place on skewers (about 3-4 each) and discard marinade.

Lightly brush pineapple with vegetable oil and sprinkle with sugar. Then place shrimp skewers and pineapple onto hot grill.

For shrimp, cook 1.5 - 2 minutes then flip and brush with reserved marinade and cook another 1.5 - 2 minutes then remove from heat. Allow the pineapple to lightly brown/caramelize for about the same time on the first side, then flip and cook 2-3 minutes so the pieces get warmed through and juicy (this takes a bit longer than the shrimp). Remove from heat.

Place mixed greens (and any other veggies) in serving bowl. Cut pineapple into chunks and add to bowl. Remove shrimp from skewers and add to bowl. Add as much dressing as desired then toss to combine. Serve with crusty bread, or top with a little salty parmesan or feta.
Notes
If made as a dinner salad, this recipe would serve about 2 people.  If made as a lunch or side salad, up to 4 people.