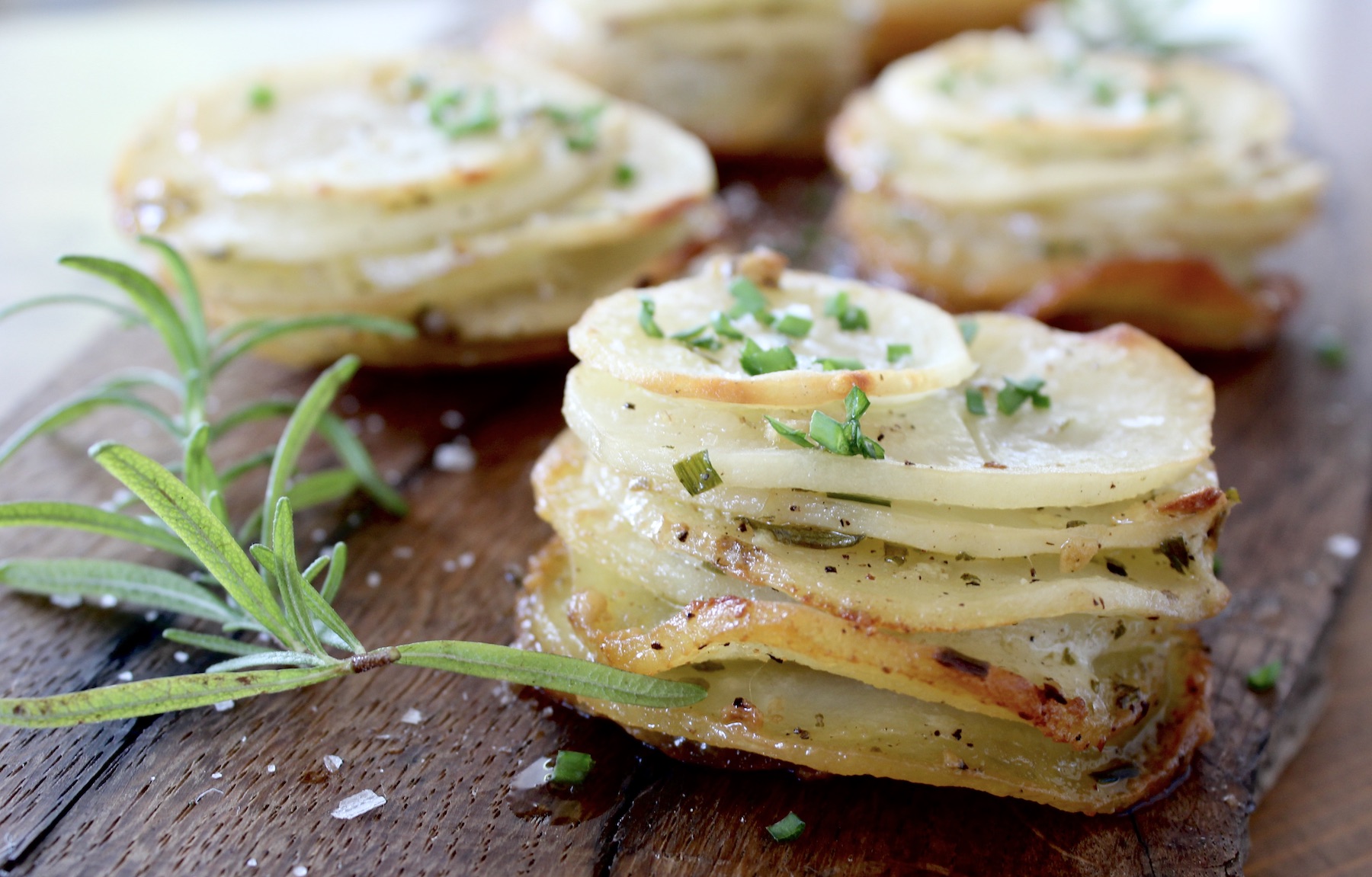 Have you heard of "COVID Cooking Fatigue"?
You may not have heard about it, but I bet you're feeling it!  That's because many of us these days are preparing 3 meals a day at home, 7 days a week.  I don't know about you, but it seems like whenever one meal is finished, I'm already thinking of what to make for the next one.  I love to cook, but it can be hard to find inspiration. . .
Well, this week I set out to make something different from my standard fare, and I craved potatoes.  I typically don't eat them, but when I have a craving, I want something to make it worth my while.  For inspiration, I looked up 'fun potato recipes' and found all sorts of things, the most interesting being muffin tin scalloped potatoes (sliced potatoes in muffin tins with seasonings, maybe cheese, baked 'til tender/crispy).  Now THAT sounded different!
I sliced the potatoes with a mandolin (if you don't have one, just slice as thinly as you can with a sharp chef's knife).  I also heated olive oil and butter and let the fresh garlic, herbs, salt and pepper sit in it for a bit so their flavors infused the oil.  You could simply stack the potatoes in each muffin pan and pour this mixture over each one, but by coating each slice, every layer is uniformly flavored, making them extra delicious!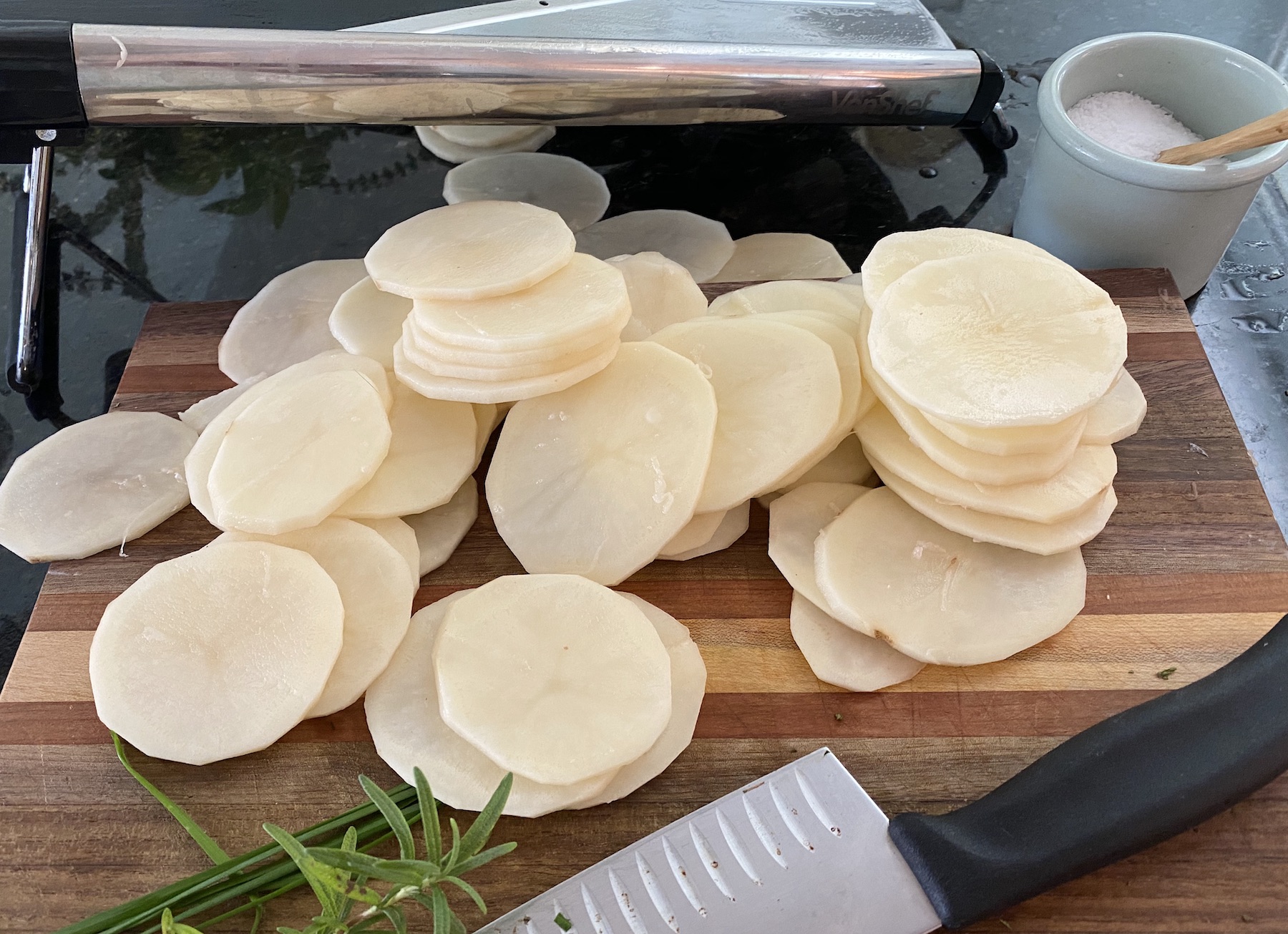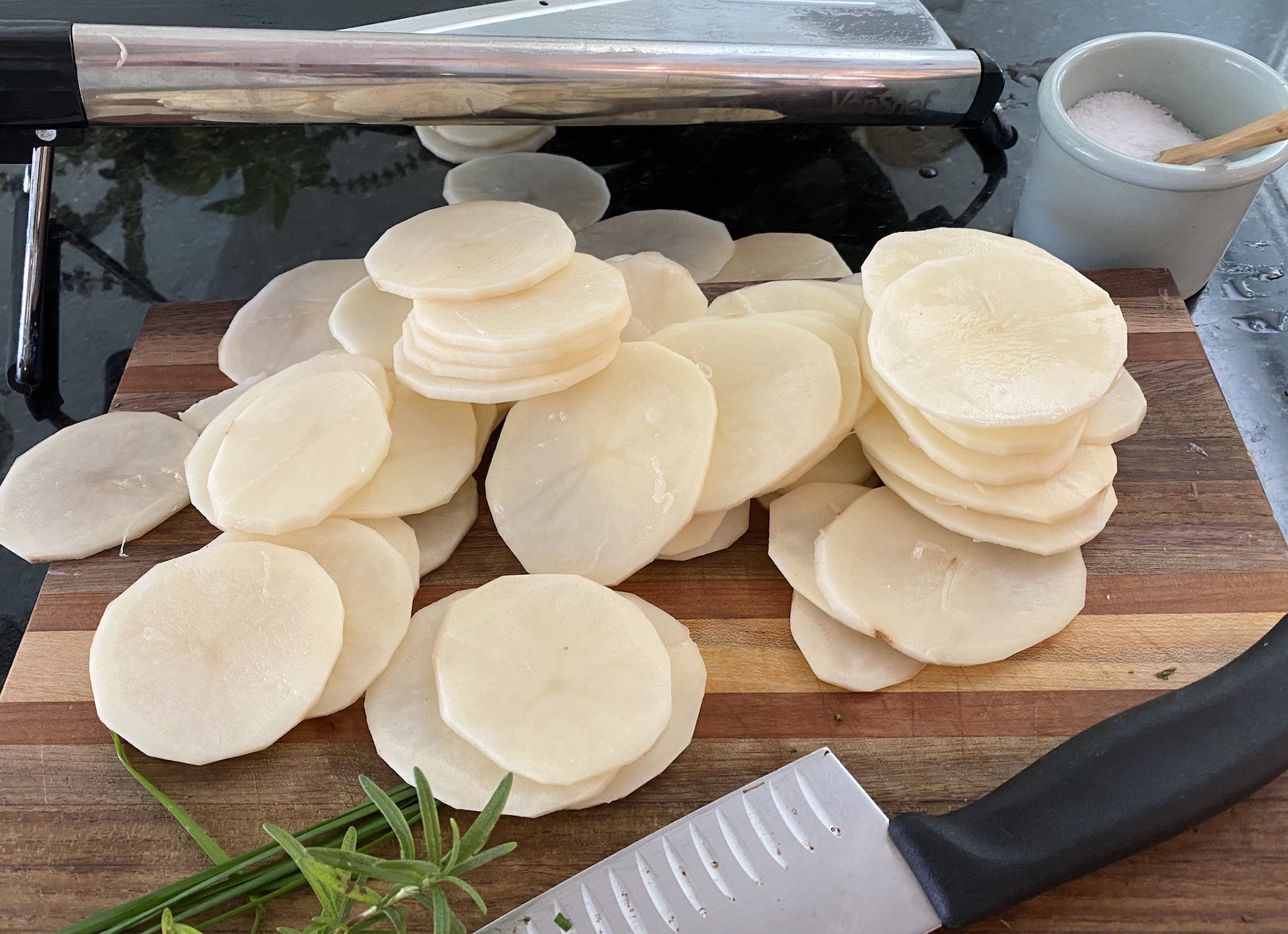 After about 40 minutes in the oven, here's what they looked like: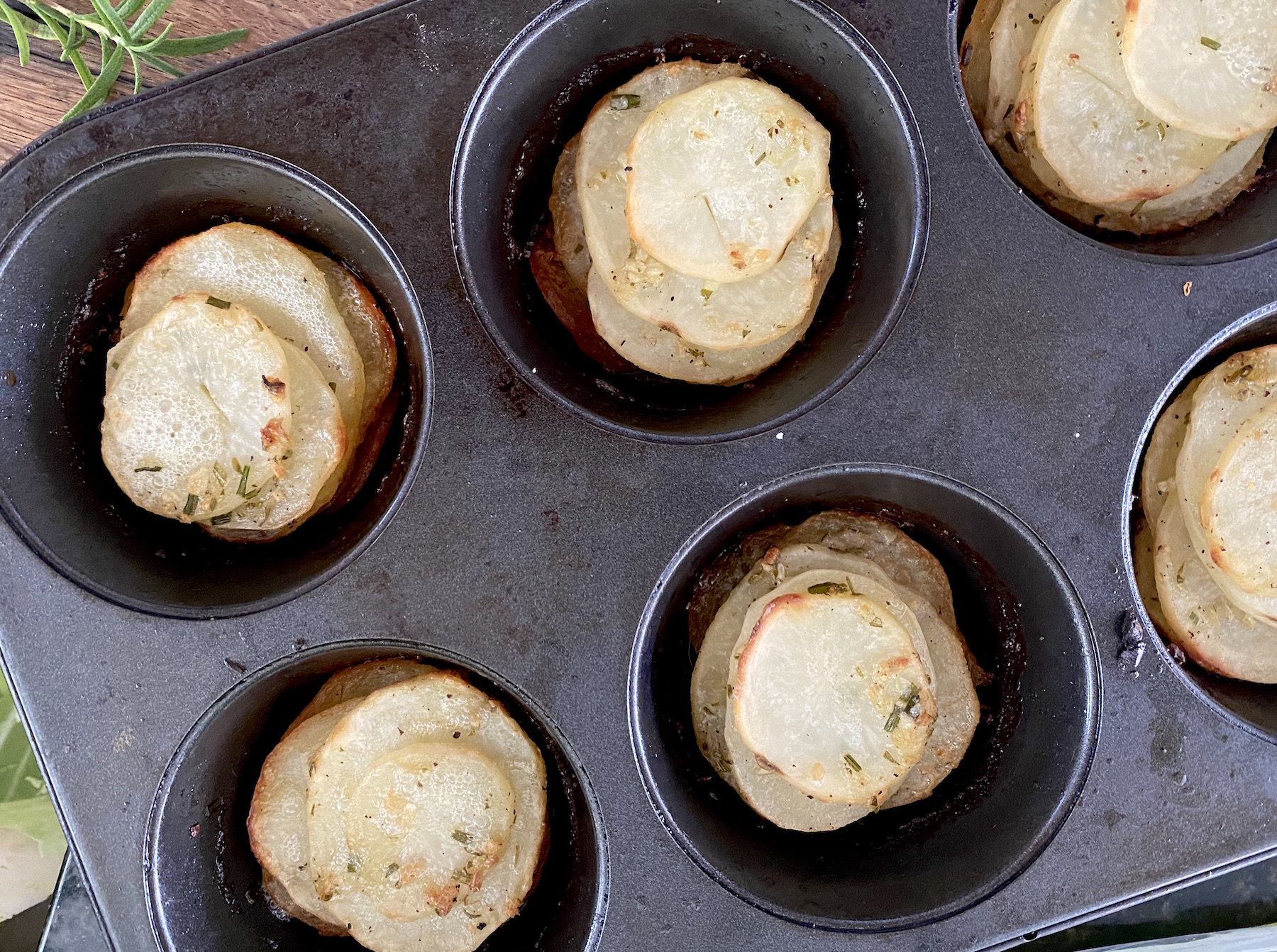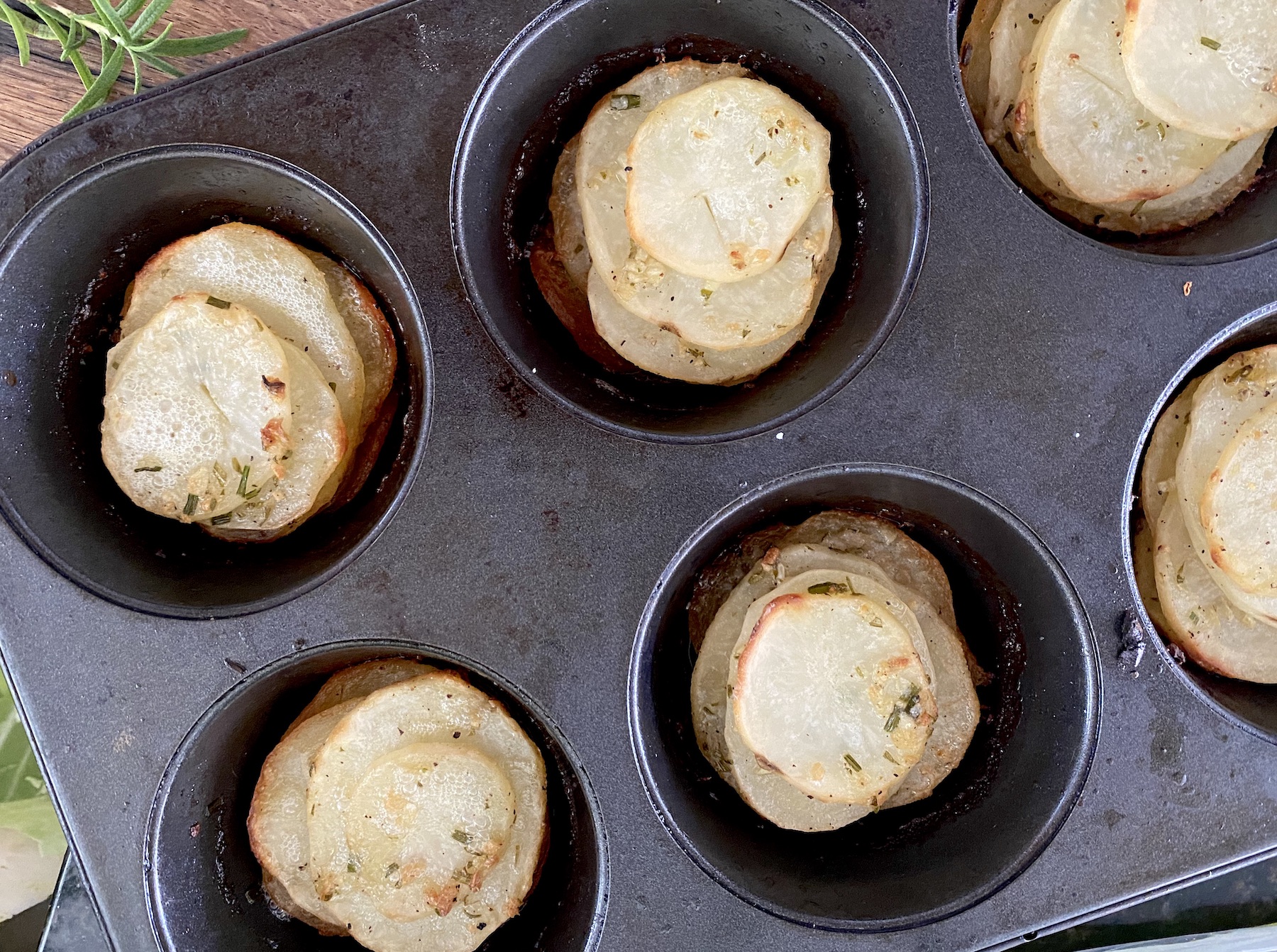 These little bundles are deliciously crispy, versatile and fun to make (truth be told, you'll have buttery fingers after preparing them, but there are worse things, right?).  They're also foolproof because you don't need exact quantities or ingredients – you can wing it and still produce a delicious dish.  The other great thing about them is that they can be served at 3 different meals: 1) breakfast – maybe add some minced ham to the potatoes, or bell pepper, or a spicy cheese; 2) lunch – with a fresh salad; 3) dinner – with roasted meat or grilled veggies.  You can even make them ahead, refrigerate, and warm in the oven for your next meal.
And, so, it is for all of these reasons that you can feel a little better about eating potatoes once in a while.  Plus, you've got something new to introduce to the family table, and everyone will thank you for that 🙂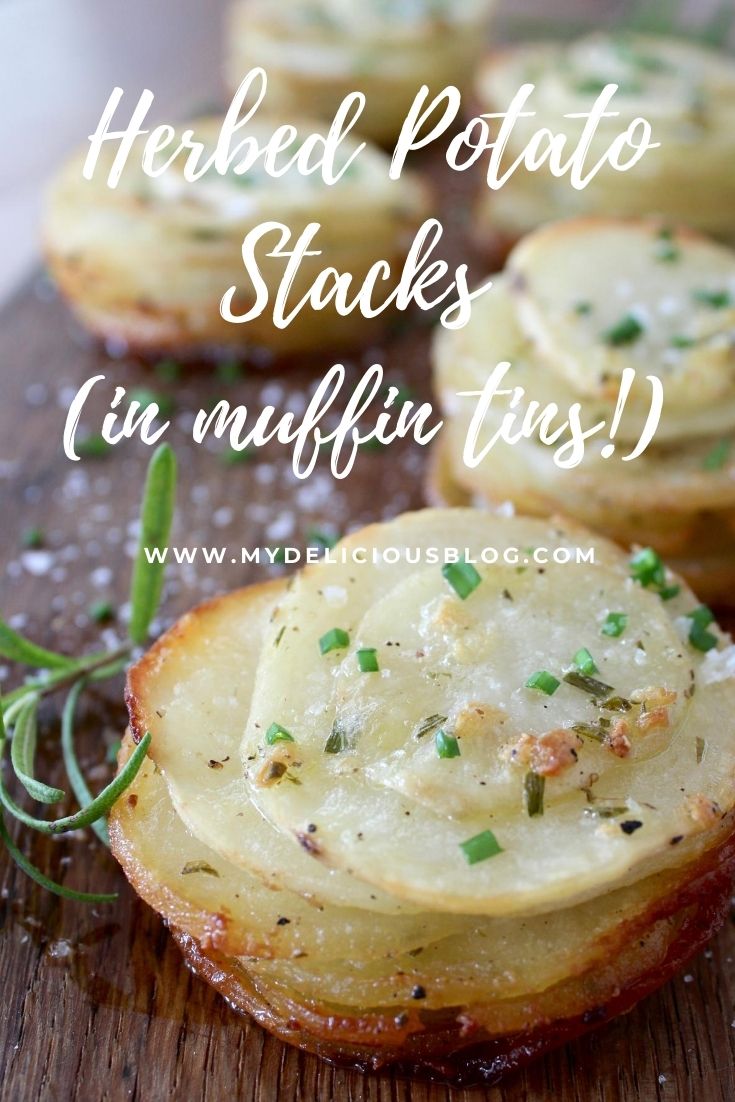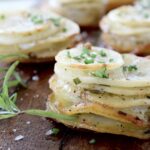 Print Recipe
Muffin Tin Herbed Potato Stacks
Thinly sliced potatoes bathed in olive oil, butter, rosemary, chives and garlic, baked in little muffin tins! A fun and delicious side dish.
Ingredients
2

Medium-sized Russet potatoes, thinly sliced

(peeled or unpeeled)

3

Tb.

Unsalted butter

3

Tb.

Olive oil

1

tsp.

Fresh rosemary, finely minced

1

tsp.

Fresh chives or parsley, finely minced

(plus more for garnish before serving)

2

cloves

Garlic, peeled and finely minced

1

tsp.

Kosher salt

1/2

tsp.

Freshly ground black pepper

1/4

c.

Heavy cream

(optional)

Maldon, flaky sea salt or other finishing salt

(for sprinkling before serving)
Instructions
Heat oven to 375 degrees and gather a 6-muffin non-stick pan (approx. 3" muffin size).

In a small saucepan, heat butter and olive oil over low heat. Remove from heat and add rosemary, chives, garlic, salt/pepper, and stir well. Allow it to sit for about 5 minutes so the flavors infuse.

Slice potatoes with a mandolin (about 1/16th thickness). If using a chef's knife, slice as thinly and uniformly as possible.

Using your hands, add a few larger potato slices to the butter mixture to coat them, then place directly into each muffin tin (I find it helpful to start with the larger slices on the bottom). Working in small batches, keep coating potatoes with the mixture and place into each tin until all the potatoes are used up. (Optional: pour a little bit of cream over each stack before baking).

Place in the oven and bake 40-45 minutes. Insert a toothpick or a knife into the middle of one stack and if it comes out clean and the edges are brown, the potatoes are ready.

Remove from oven and allow to cool about 5 minutes before removing from pan. Sprinkle with finishing salt/herbs, and serve.
Notes
Note: I've indicated this recipe serves 6 - assuming 1 per person as a side dish.  But because they're so yummy, it's highly likely that folks may want one more, or a half piece more, so plan accordingly 🙂