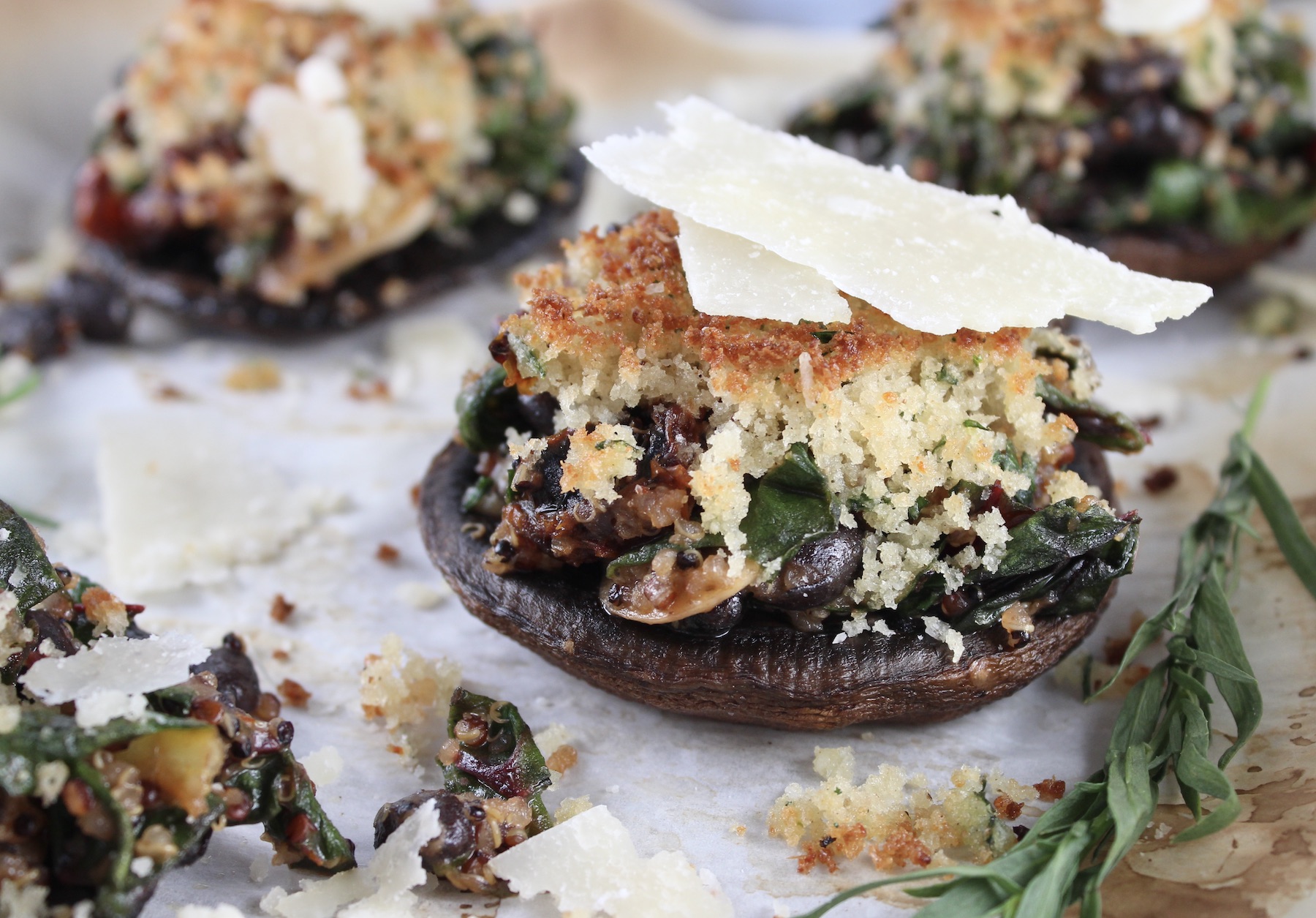 Prior to the mid-1990s, the concept of Portobello mushrooms on our home dinner plates was pretty much nonexistent.  We really only heard about these Italian-imported, fancy mushrooms from waiters describing the ingredients in our dishes at high-end restaurants, or we may have spotted them in natural food stores but had no idea what to do with them, so we steered clear.
But around 1995 this amazing fungi hit the food scene, in a big way.
I like how Molly O'Neill described the situation in "After the Portobello, It's Mushroom Mania" (The New York Times, 11/4/98): "Those portobellos dropped like fully opened parachutes into a national menu ravaged by dietary concerns and epicurean aspirations. . .the big meaty-tasting mushrooms became a fetish among food lovers and, as a meat substitute, a mass-market sensation."
As a result of marketing efforts (I'm not exactly sure who was behind that), more and more professional chefs and home cooks got on the Portobello bandwagon and the humble fungi gained a well-deserved reputation for being a great alternative to meat.  In addition, by highlighting the Portobello variety, a whole new world of interest popped up for other varieties of mushrooms, giving growers a lot more opportunities to keep up with demand.
Portobello mushrooms are rich, meaty and juicy – best when cooked.  Their flavor is more pronounced than Cremini or Button (white) varieties and they're versatile when it comes to recipes.  They're loaded with vitamins D and B6, potassium, phosphorus and niacin and, when cooked, can even mimic the texture of a steak — good for the times you're craving steak but all you hear is your doctor in your ear telling you to eat less red meat 🙂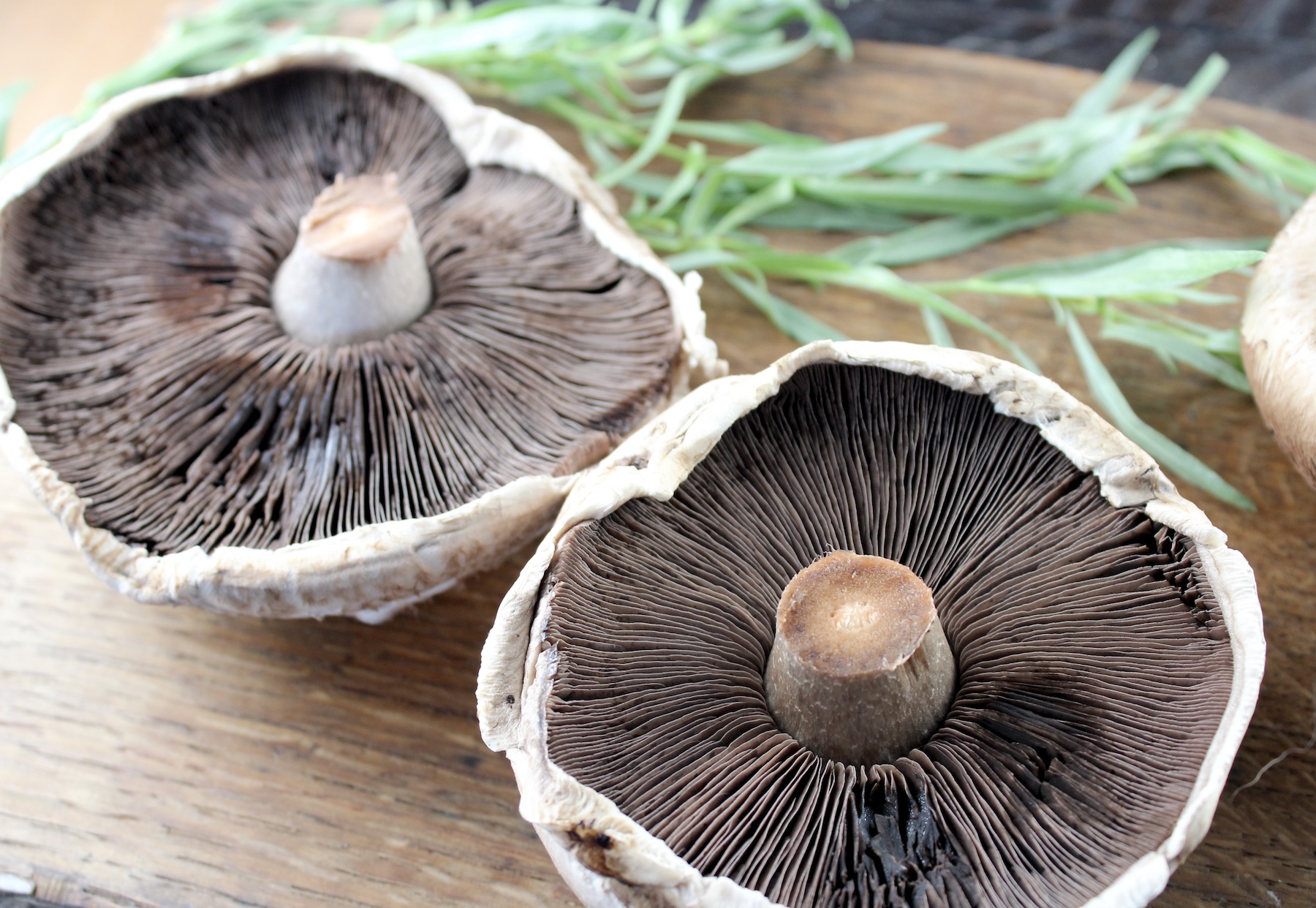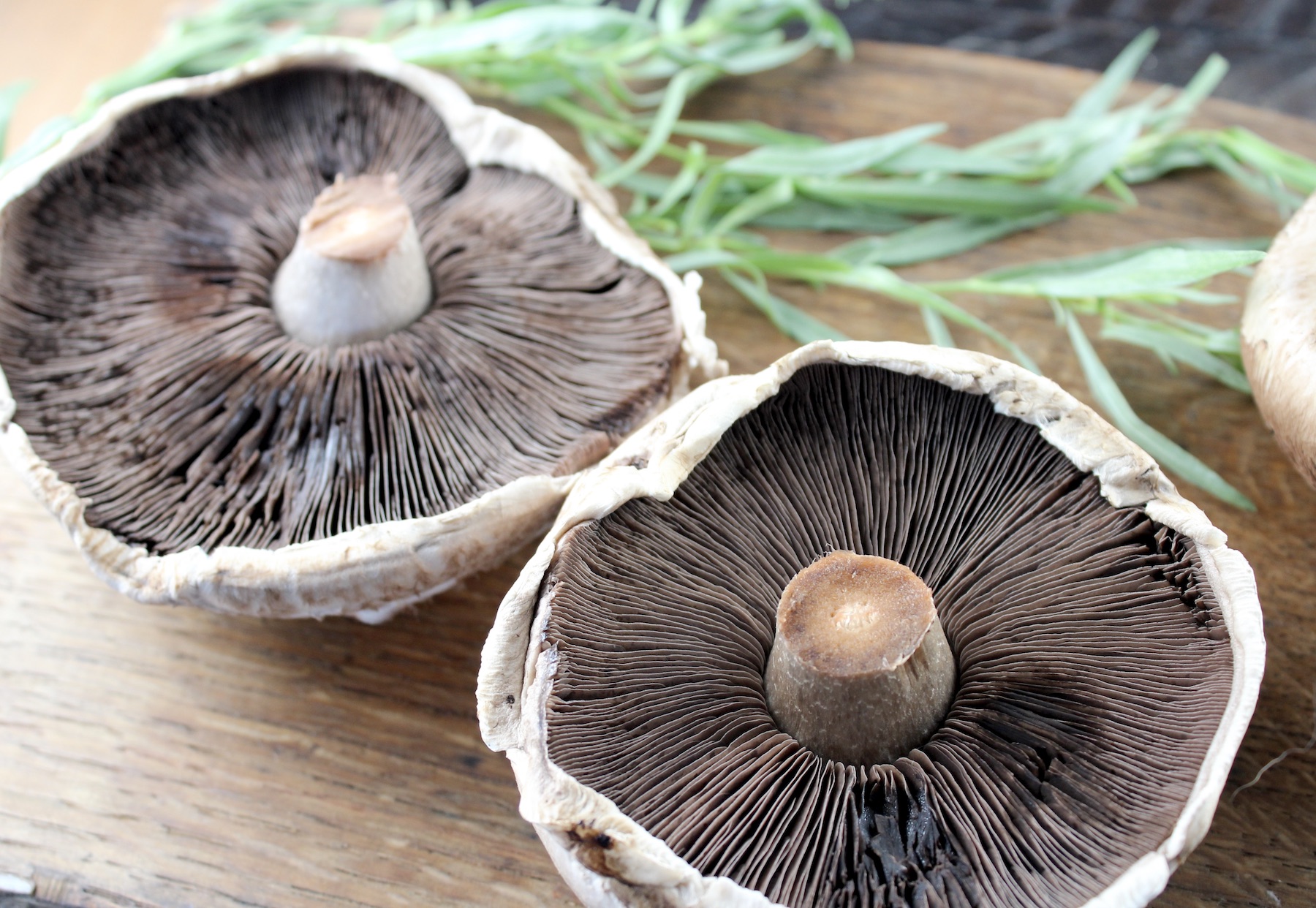 But with all that, there are still some who abhor any sort of mushrooms.  I actually know some of them, and no matter what I do to make mushrooms especially delicious in recipes, these non-lovers are just not having it.  I recall one friend saying "You can put lipstick on a pig, but I'm still not going to kiss it!"
No worries.  I still love mushrooms and eat them as often as possible 🙂
If you do too, here's a meatless recipe that's easy to prepare, packed with healthy carbs, protein and nutritious greens, and is tasty, to boot.  These stuffed mushrooms can be served as a main dish (1-2 per person, depending on size of mushroom, and how hungry you are), or as a side dish.
There are no hard and fast rules here – use what you have in your fridge or pantry and experiment with ingredients(*).  Instead of sun-dried tomatoes, try roasted red pepper.  No chard?  Use spinach or kale.  If you don't like black beans, omit them and add more quinoa.  No quinoa? Use brown rice, wild rice, or sweet potato.  If you don't have Panko or any breadcrumbs, just omit them and put a little more cheese on top before broiling.  You get the idea.  Have fun with this recipe, and enjoy!
*Note: in southwest Florida, many farms have ended harvests due to summer heat, and farmers markets are slowly coming back on line due to COVID-19, but you can still find fresh veggies at markets like Sprouts, Detwiler's, Jessica's Organic Farm, and Whole Foods.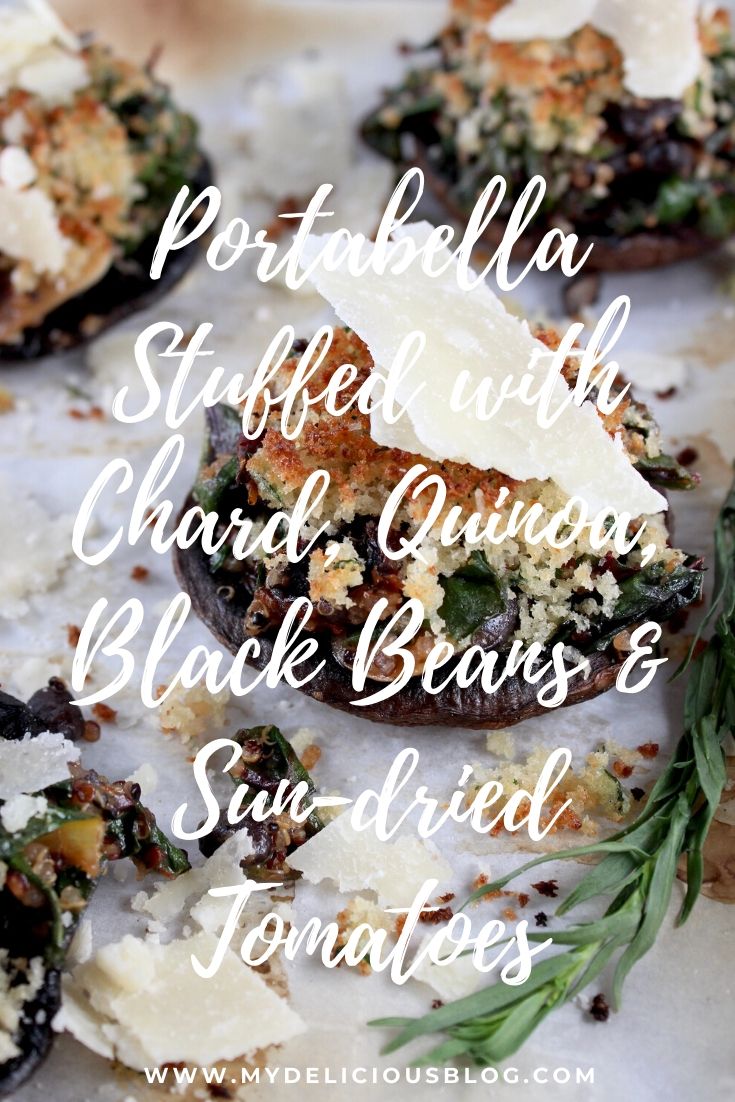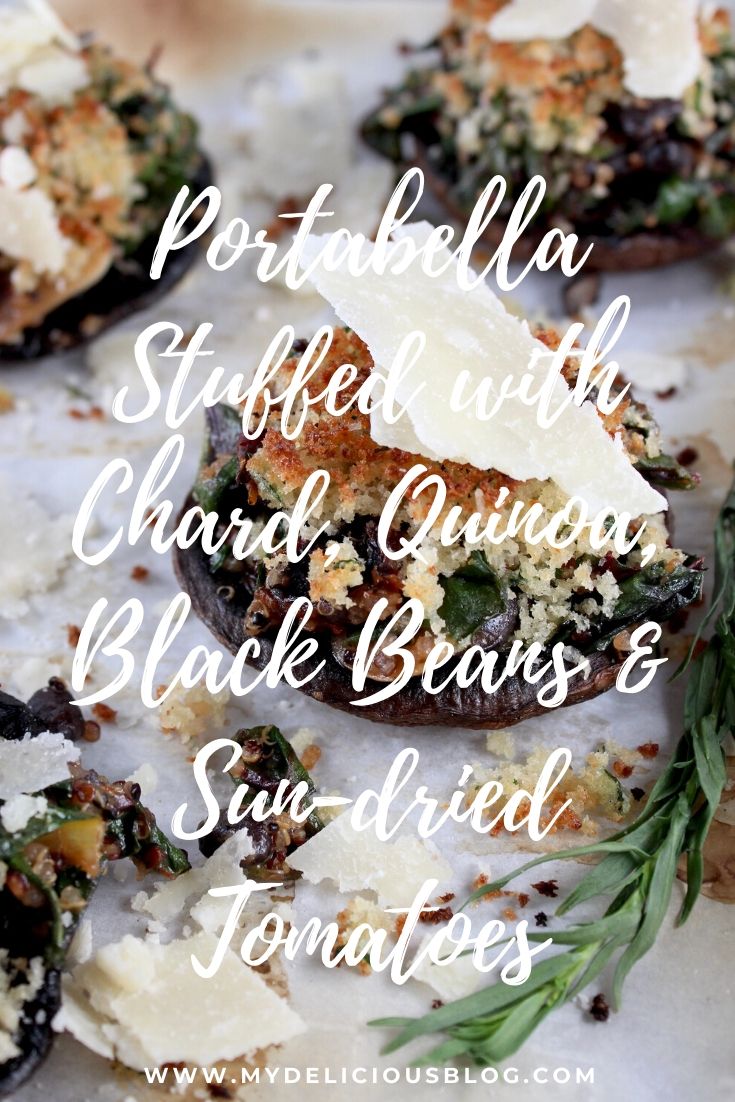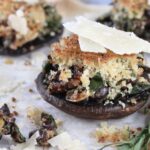 Print Recipe
Stuffed Portobello with Tarragon Crumbs
Portobello mushrooms stuffed with chard, quinoa, black beans and sun-dried tomatoes, topped with tarragon bread crumbs. A delicious meatless meal!
Ingredients
Quinoa
1

c.

Dry quinoa (white or multi color), rinsed

2

c.

Water
Tarragon Crumbs
1/4

c.

Panko bread flakes

1

tsp.

Fresh tarragon leaves, minced

1

tsp.

Fresh parsley leaves, minced

1

Tb.

Grated parmesan

1/2

tsp.

Lemon zest

2

Tb.

Unsalted butter, melted

Pinch Kosher salt

Few grinds fresh black pepper
Filling
2

Tb.

Olive oil

1

clove

Fresh garlic, peeled and sliced thinly

4-6

Sun-dried tomatoes (jarred, in oil), chopped

4-5

Chard leaves, thick stems removed, chopped

1/2

c.

Quinoa, cooked

1/2

c.

Black beans

(canned/drained or freshly cooked)

1/4

c.

Grated parmesan

1/4

c.

Vegetable or chicken stock

1/4

tsp.

Kosher salt

Few grinds fresh black pepper

Shaved parmesan (for serving)
Instructions
Add quinoa and water to a small saucepan. Bring to full boil, then cover and turn off heat. Allow to sit 10-15 to fully absorb liquid, then fluff with a fork and set aside until ready to use.

Prepare Tarragon Crumbs: add all ingredients to a small bowl, mix well and set aside until ready to use.

Heat oven to 400 degrees and line a rimmed baking sheet with parchment or foil.

Remove stems from mushrooms, brush with olive oil on both sides (optional: sprinkle with a little Kosher salt and black pepper). Place mushrooms stem-side down on baking sheet and roast 5 minutes (just before they start to release their juices, which can get a little messy on the baking tray - if this happens, just remove from oven and soak up the juices with a paper towel). Set aside mushrooms until ready to fill, then switch the oven to Broil and prepare the filling.

Heat a skillet over medium heat. Add olive oil, garlic and sun-dried tomatoes (toss in a little of the jarred oil, too, if it's available). Cook about 1 minute and ensure the garlic doesn't brown/burn. Add chard leaves, stir to combine with the oil, and cook about 2 minutes. If the mixture is too dry, add a bit of stock or a little more olive oil. Cook until greens are slightly wilted but still are vibrant green. Stir in quinoa, beans, 1/4 c. parmesan and a little more stock; mix until combined/warmed through, then remove from heat.

Fill each mushroom cap with some filling and top with Tarragon crumbs.

Place under broiler for about 1 minute, until crumbs are nicely browned (keep an eye on them so they don't burn!). Remove and top with shaved parmesan and serve.
Notes
Note: This recipe will make about 4 extra large mushroom caps, or 6 small/medium caps.