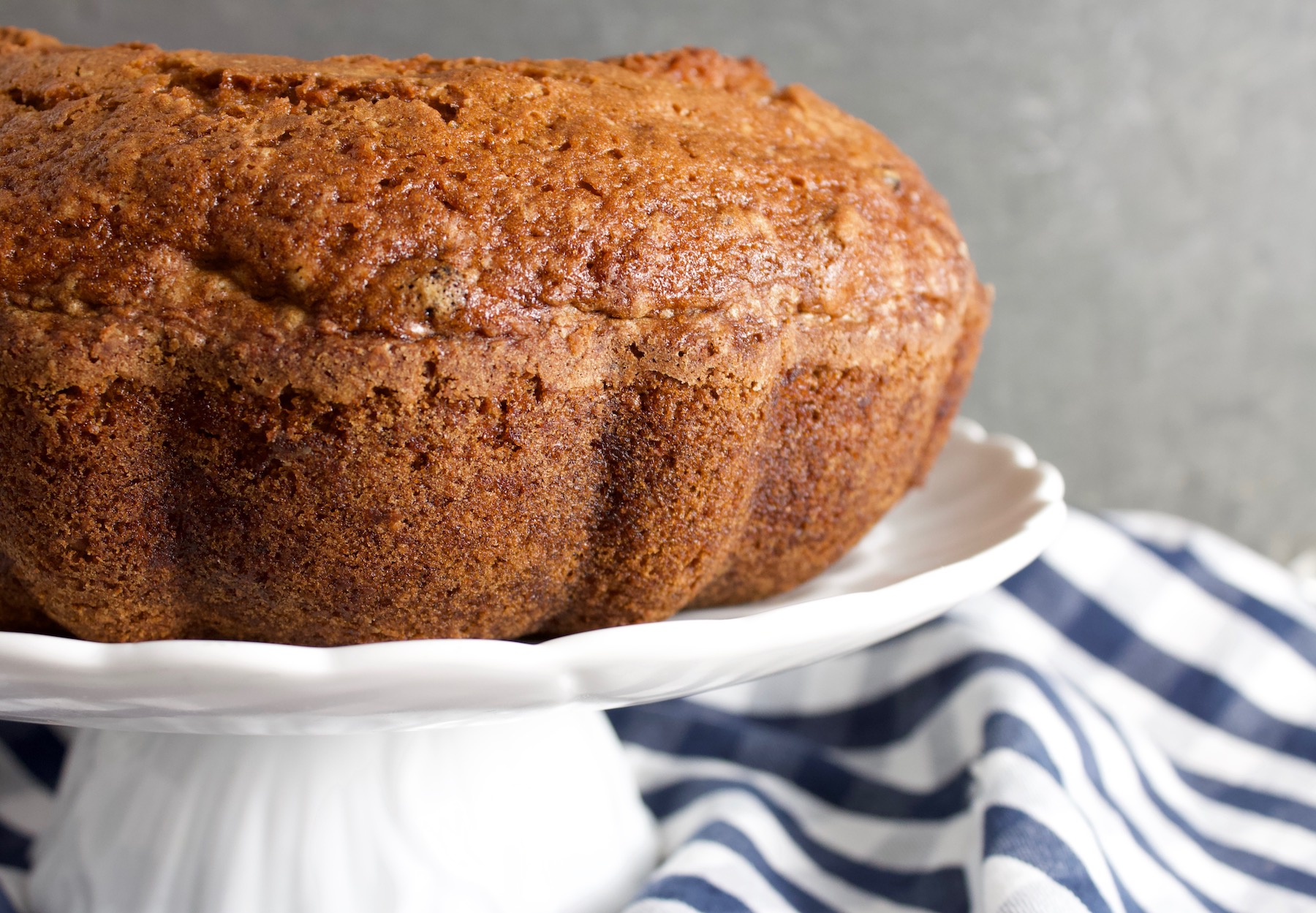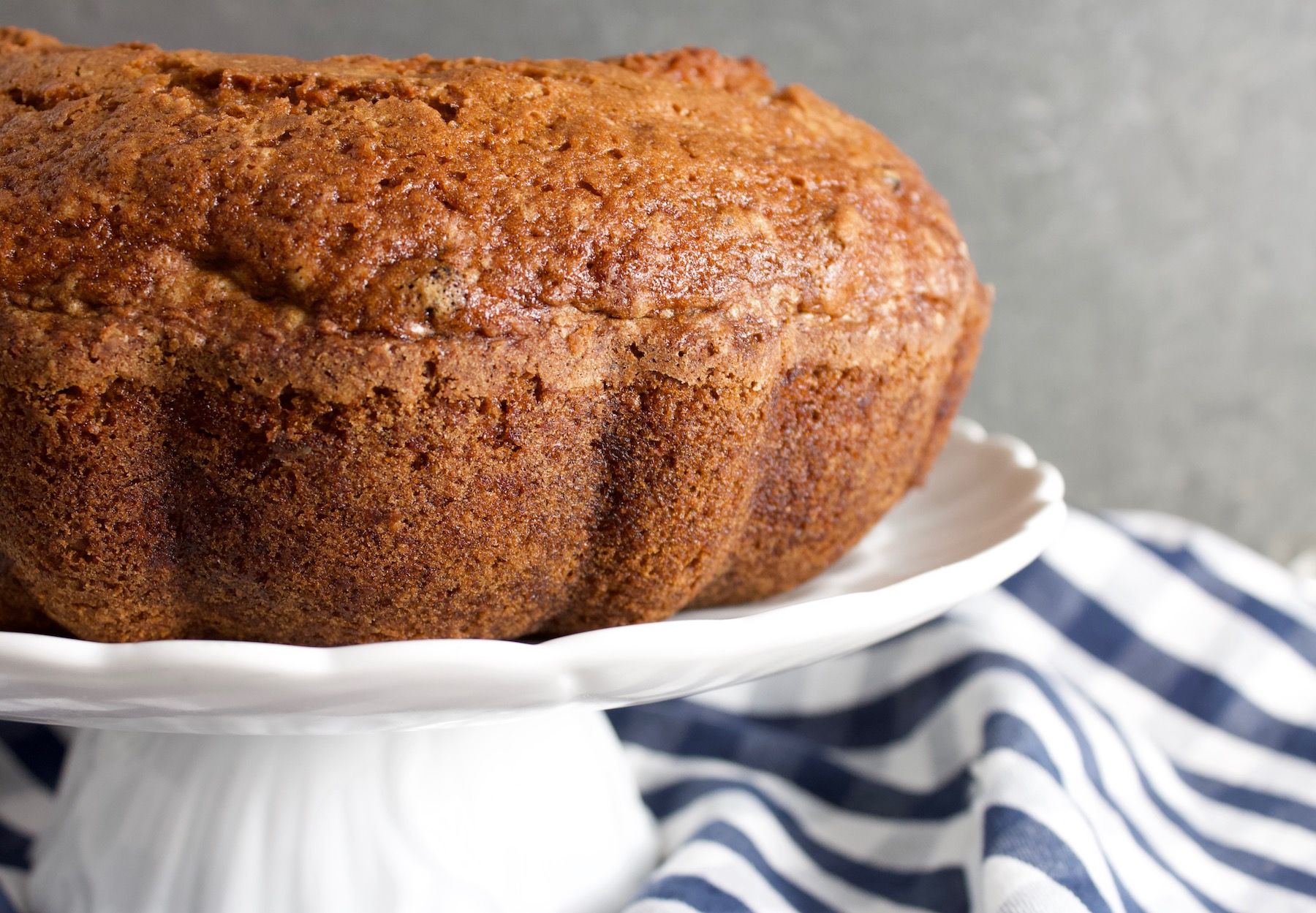 I called my mom this week to confirm history and details of an old family cake recipe.
I hadn't realized my husband heard my conversation but when I hung up he said "I bet your mom loves it when you call her about recipes."  His comment got me to thinking how she and I have always enjoyed chatting about recipes and cooking, and I realized how lucky I am to still be able to do that.  Many of my friends have lost their moms and I know they wish it was possible to just pick up the phone to talk to them, even if for just one more time.  So this post is a bit nostalgic, but full of love for our moms who give us so much 🙂
This recipe is one my mom has always referred to as the "War Cake" – a basic, vanilla-flavored cake with lots of plump, sweet raisins.  My dad is still this cake's biggest fan because it's not too sweet, heavy or rich, even though it does have a healthy amount of sugar.  I researched 'war cake' and found it has a long history.  My first resource was on my own bookshelf, a book written by famed food writer, M.F.K. Fisher.  She published How to Cook a Wolf in 1942 when the world was at war and families were asked to ration food to support the war effort, so housewives made the best of what they had in the kitchen, determined to keep some level of normalcy and feed their families nutritious food.  Fisher wrote about culinary thriftiness and practicality, but emphasized the importance of not losing precious pieces of humanity during difficult times.
Her recipe for 'War Cake' (included in the book) was likely a 'Depression Cake' (a.k.a. 'Poor Man's Cake') that popped up around WWI, when similar rationing efforts were imposed.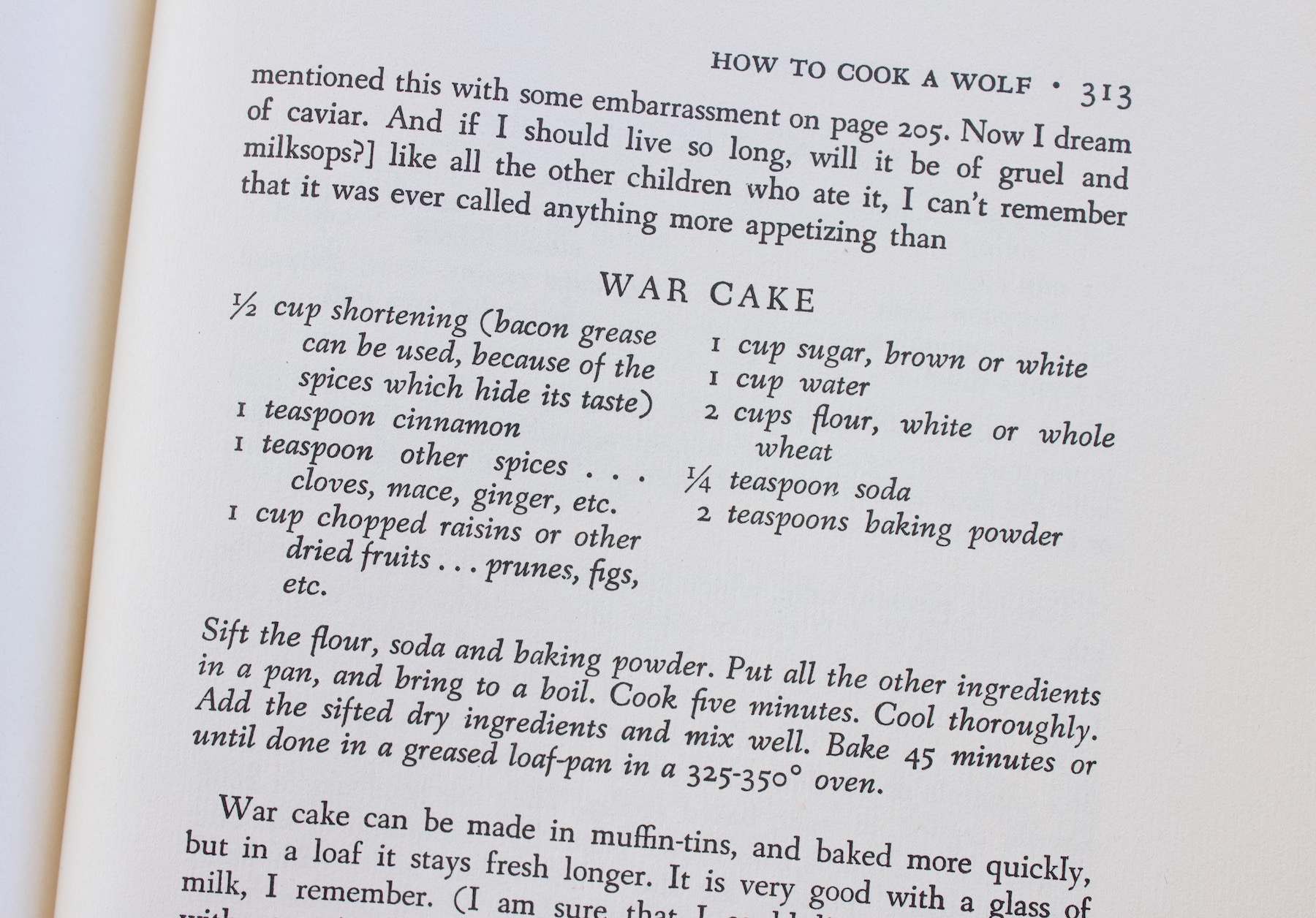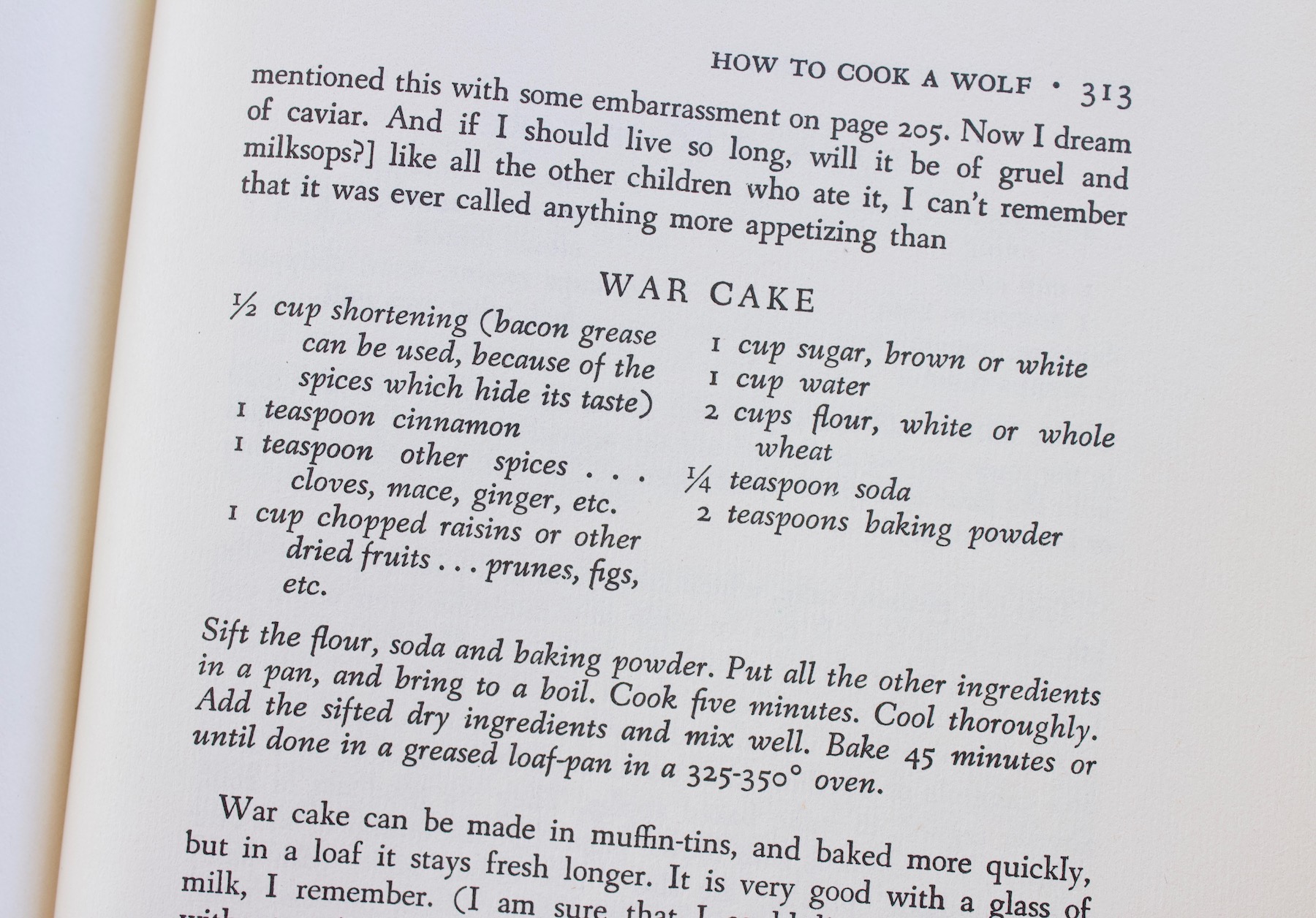 In an effort to have a treat during difficult times, folks got clever, especially when making cakes, coming up with recipes that had no eggs, milk or butter.  They replaced butter with shortening, bacon grease, chicken fat or lard, and changed the way they baked them, ensuring they would rise.  They boiled raisins or other dried fruit with water, fat and sugar, mixed in flour/baking soda/powder and lots of spices like cinnamon, cloves and nutmeg to hide whatever flavor of fat they used, and baked it.  The result was a dense, rich and flavorful cake.  M.F.K called hers ". . .an honest cake," one that she enjoyed firsthand, as a child during WWI.
My mom couldn't remember the origin of the recipe she and my grandmother had been making for decades, but after my research, I don't believe it's a full-fledged 'war cake' simply because it includes eggs and the majority of the ingredients aren't boiled.  It may be a derivative of those storied cakes, but it doesn't have all the necessary components. . .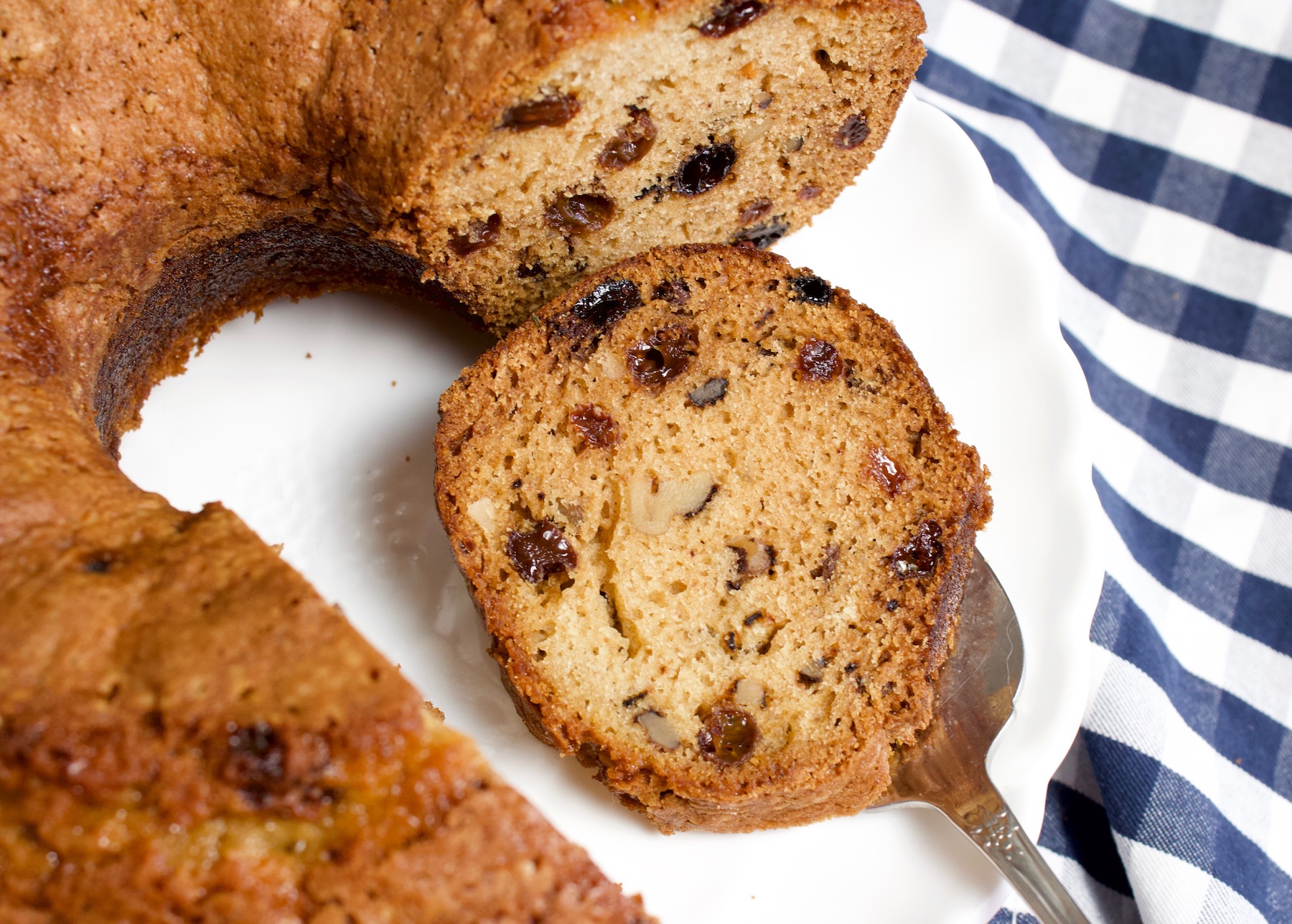 Regardless, this "Raisin Cake" is simple and yummy – the top layer is crunchy and sweet and those plump raisins provide lots of flavor and warmth.  Give it a try when you feel like enjoying a good, "honest cake."   And if your mom is still around, go give her a call 🙂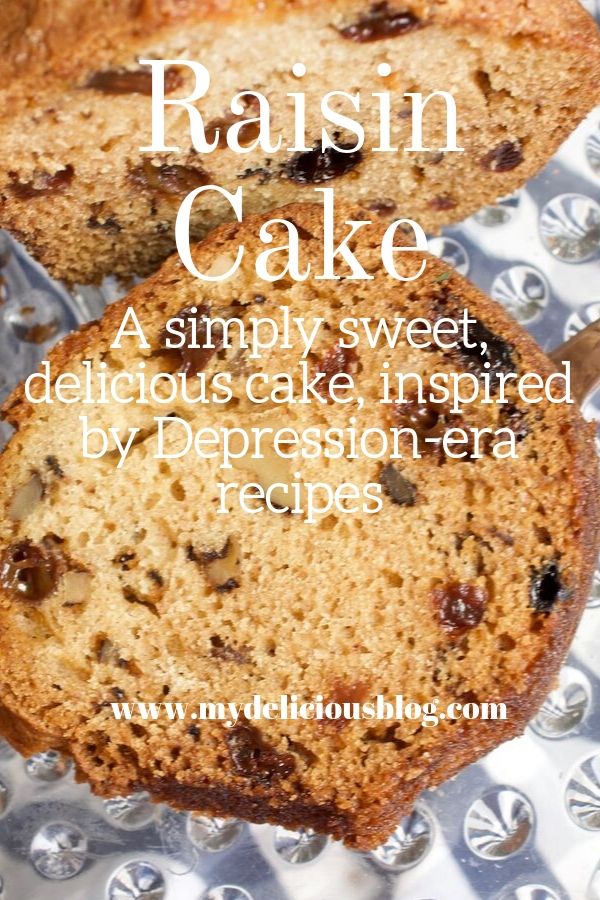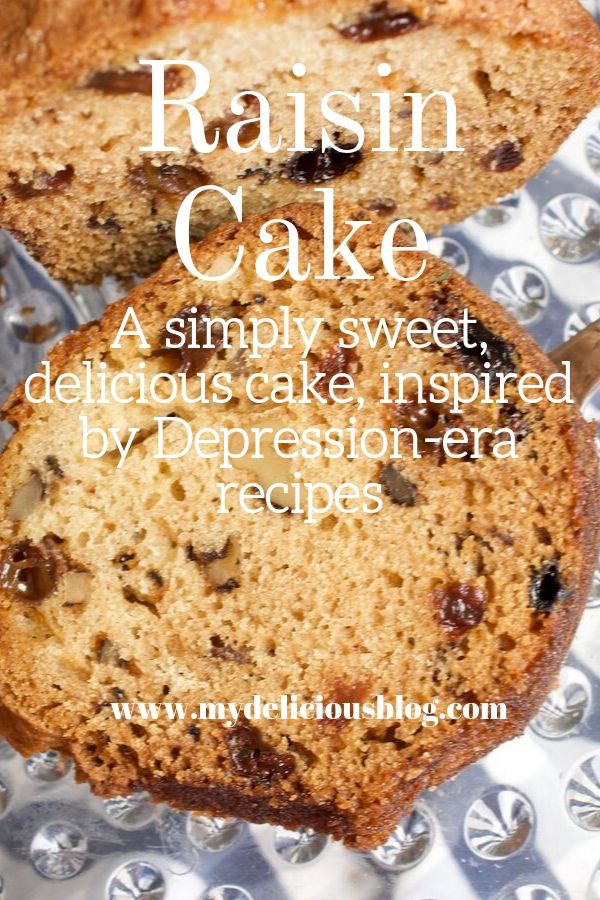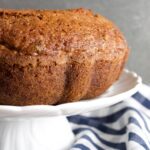 Print Recipe
Raisin Cake
A vintage recipe, derived likely from 'War Cake' or 'Depression Cake' recipes. A delicious, basic cake to enjoy with a cup of tea on a chilly night.
Ingredients
1

c.

Raisins

1 1/2

c.

Water

1 1/2

tsp.

Baking soda

3

c.

All-purpose flour

2

c.

Granulated sugar

3

Eggs, beaten

3/4

c.

Vegetable oil

1

tsp.

Vanilla extract

1

c.

Chopped walnuts

(optional)
Instructions
Preheat oven to 350 degrees. Butter & flour a Bundt pan or a large loaf pan.

In small saucepan, add raisins and water. Bring to boil and simmer 1-2 minutes, then remove from heat and add baking soda. Cool to room temperature (about 20 minutes).

In a large bowl, sift flour and sugar.

If using nuts, add them to a small bowl and sprinkle a little of the flour mixture into them (this will prevent them from sinking to the bottom of the batter while cooking); set aside.

To the bowl of flour/sugar, add beaten eggs, oil and vanilla and mix well with a wooden spoon. Add raisins and water; stir to combine. Toss in nuts (if using) and stir to combine.

Transfer batter to prepared baking pan. Bake about 1 hour, until a toothpick comes out clean at the center. Remove from oven, cool thoroughly, then transfer to a serving platter.