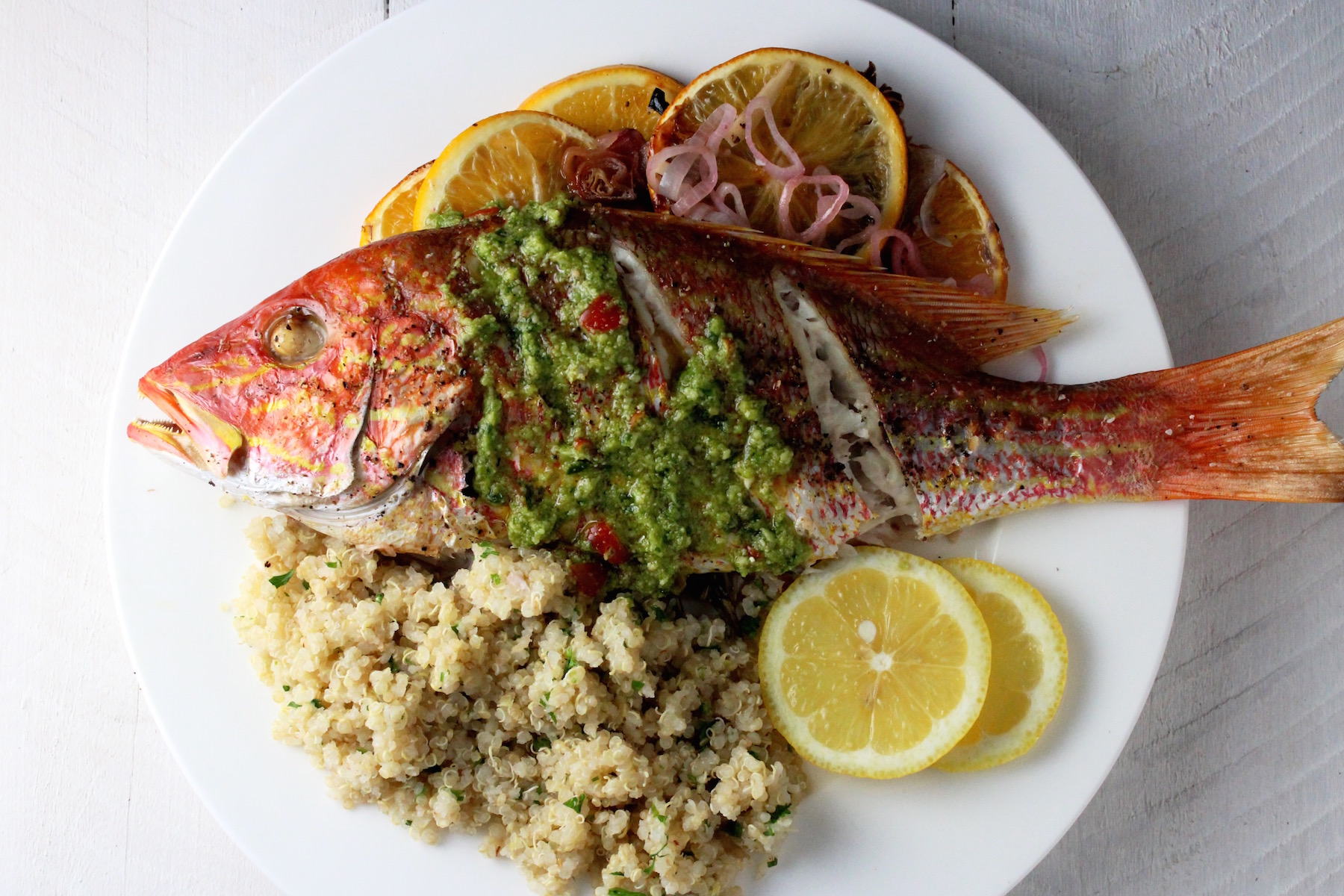 We're doing something a little different today. . .cooking a whole fish! Don't be intimated — it's actually a little easier than cooking a single fillet and you can even make stock with the leftover bones and pieces! If you're fortunate enough to catch a fish yourself, that's great, but you can also find one at your local fish market (truly the best way to avoid all messy work). A fishmonger can prep it for you, including cleaning, gutting, trimming and removing scales. But when you get home, be sure to soak the fish in a saltwater solution (2 cups water + 2 Tb. salt) for about 10-15 minutes before cooking — this ensures better flavor and moisture of the cooked fish. The fun part starts when you're ready to cook and you start thinking about what to stuff the fish's cavity with, including herbs, citrus, garlic, or whatever you have on hand that will infuse it with yummy flavor. You can get creative, so don't worry about having exact ingredients to get started with this recipe. On my last offshore trip I caught a beautiful Lane Snapper – just under 2 pounds — a good size for roasting whole. As I've mentioned in prior posts, Snapper is one of my favorite species of fish because it has bright-white, flaky, tender and oh-so-tasty meat. Needless to say, I was very happy when I got him to the boat! I've had him in the freezer for a few weeks and decided it was time for him make his debut in the kitchen — here's what he looked like, along with the other tasty stuff he joined: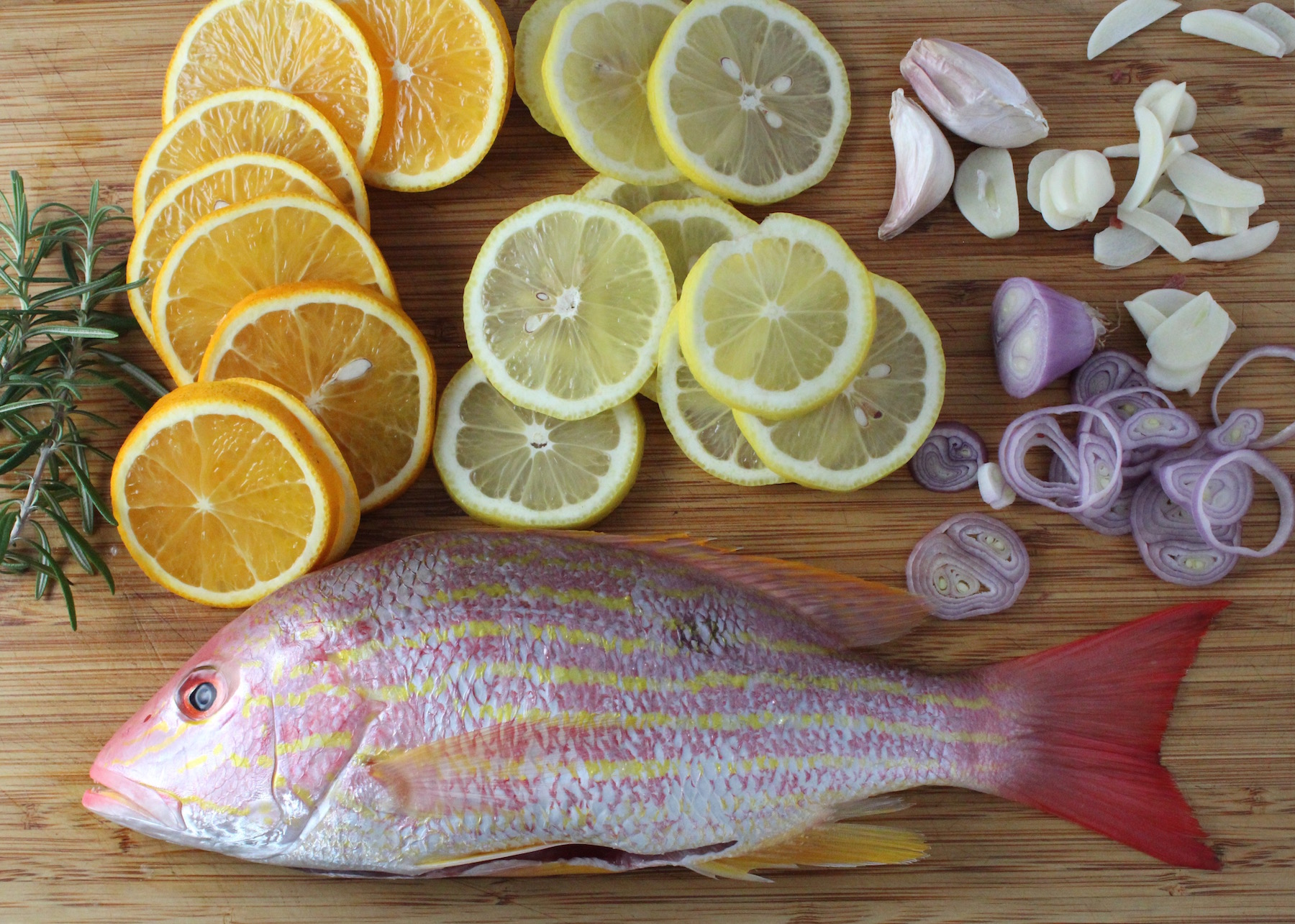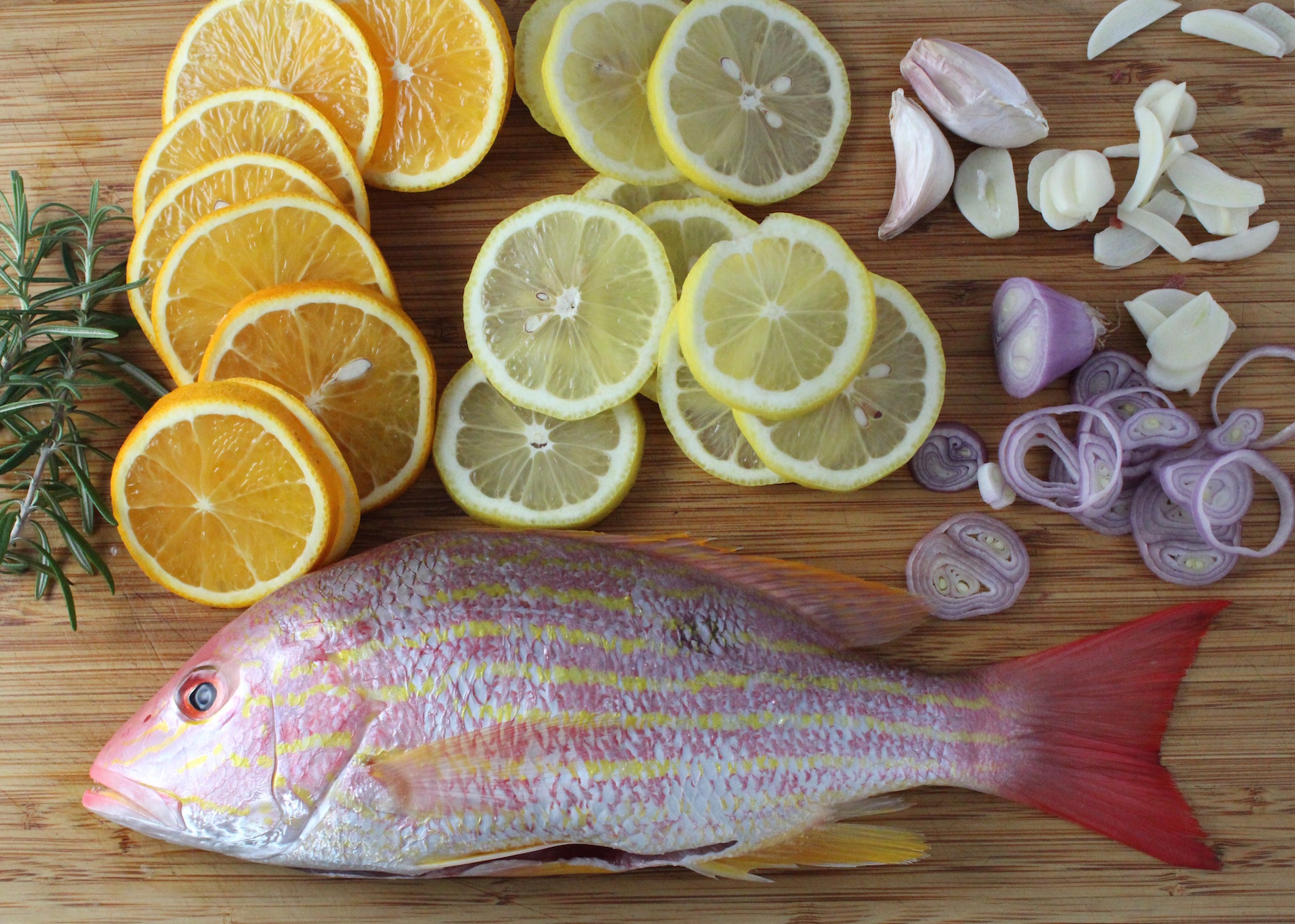 I served the fish with an herb quinoa and topped it all with a few dabs of
pistou
(pronounced 'pee-stoo') — an olive oil-based sauce that originates from the south of France.  Basically, it's a lot like pesto, but without the pine nuts.  True pistou is made by hand in a mortar & pestle, but contemporary folks have been using food processors to save time, with similar results. I actually like to make the traditional version, since I have a mortar and pestle, and it results in a slightly more creamy texture.  And while it's not customary, I like to add a little lemon zest & juice to brighten up all the flavors.  This very garlicky sauce is great with fish, veggies, poultry or grilled meats, so I thought it would make a nice accompaniment to my citrus-infused roasted Snapper. It was!  Here's my little guy just before going into the oven: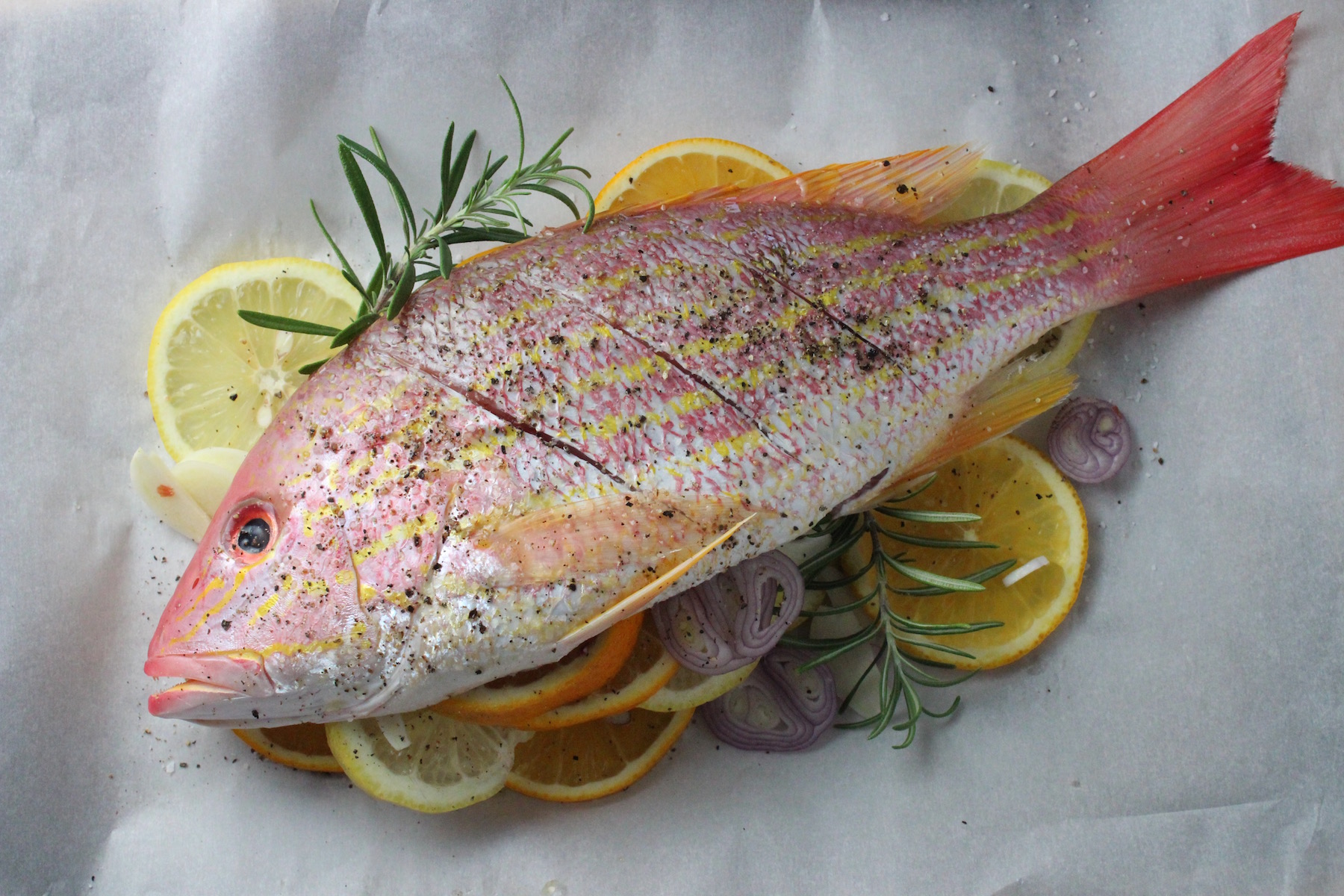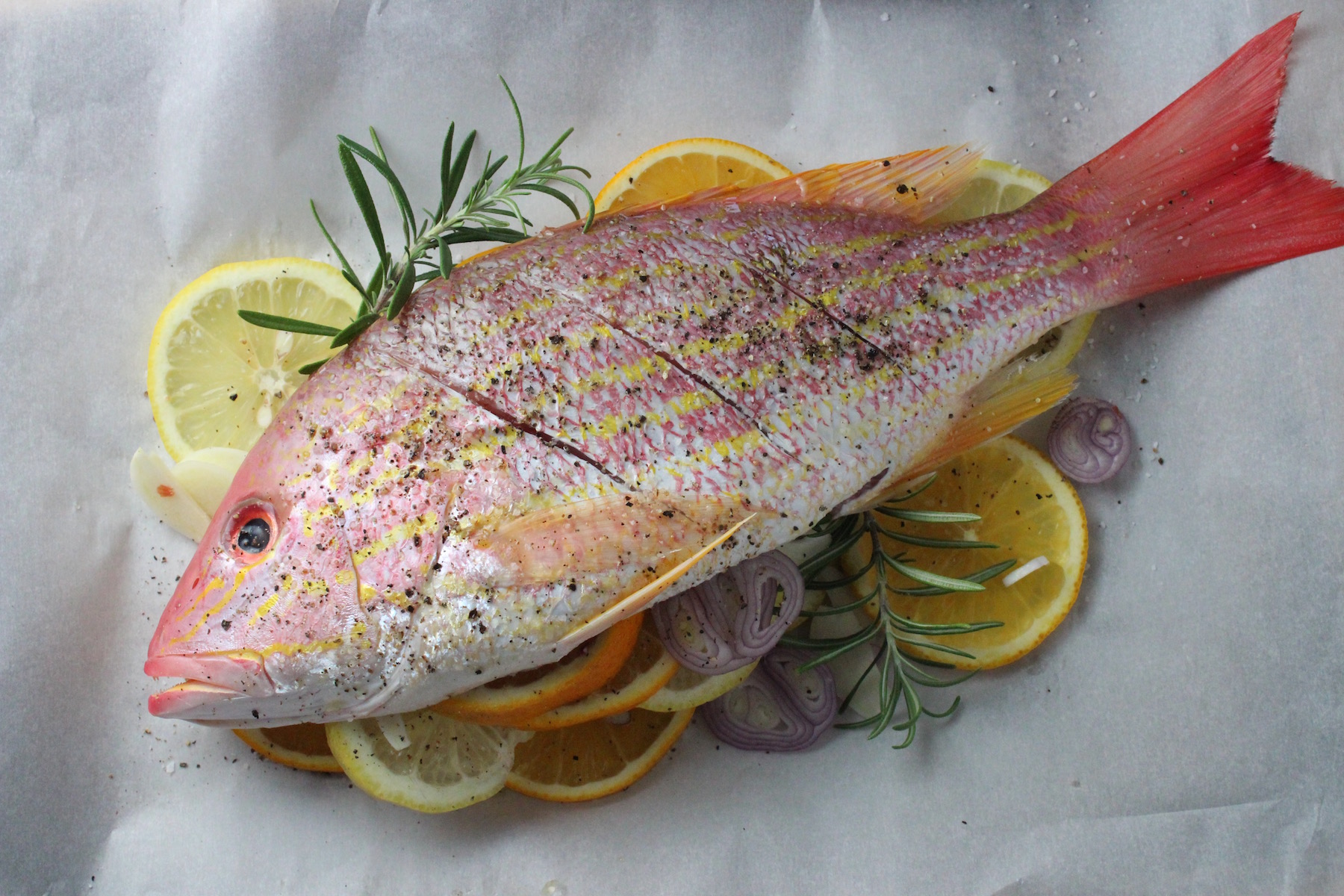 Once it was cooked, I served the whole fish on a plate.  It was actually pretty easy to eat – we just peeled away the skin and pulled apart the flakes of delicious, infused meat, careful to avoid the tiny bones. This is the kind of meal where you have permission to eat with your hands (if you wish), and enjoy a shared culinary experience with someone you love 🙂 But even if you don't have a friend or loved one handy, please still go ahead and enjoy this yummy fish, all by yourself. Life if short — why deny yourself a little delicacy?!? By the way, here's what was left of this tasty little Snapper after dinner. . .we picked it clean!
Citrus Infused Whole Roasted Snapper
Whole Red Snapper is delicious when grilled with citrus, then topped with a flavorful sauce.
Author:
My Delicious Blog
Ingredients
For the Fish
1 2-lb. whole Snapper, rinsed & patted dry (*)
1 orange, sliced
1 lemon, sliced
1 garlic clove, sliced
1 shallot, sliced
few sprigs fresh rosemary
olive oil (for drizzling)
pinch kosher salt
pinch freshly ground black pepper
For the Pistou
1 garlic clove, chopped
heavy pinch kosher salt
2 c. packed fresh basil leaves
1 small tomato, seeded and chopped
¼ c. olive oil
1 tsp. lemon zest
1 tsp. lemon juice
¼ c. grated parmesan
For the Herb Quinoa
1 c. dry (white) quinoa
2 c. water
handful fresh herbs (parsley, mint, thyme - whatever you have on hand)
1 Tb. lemon zest
1 Tb. lemon juice
2 Tb. unsalted butter (or olive oil)
1 tsp. kosher salt
¼ tsp. freshly ground black pepper
Instructions
Prepare the Fish:
Heat oven to 425 degrees.
Line a rimmed baking sheet with parchment paper.
Cut 2-3 diagonal slits in each side of the fish (down to the bone).
Rub each side of the fish with olive oil; sprinkle each side with salt & pepper, plus the inside cavity.
Stuff the cavity with lemons, oranges, garlic, shallots, rosemary.
Layer several slices of lemons and oranges on the baking sheet, along with any left over shallot, garlic and rosemary; place fish on top.
Place baking sheet in the oven. Roast for about 40 minutes. To test doneness, try to pull out a fin - if it comes out easily, it's done.
When finished, remove from oven and allow to cool slightly. Carefully remove the fish and serve whole on a platter.
Prepare the Quinoa:
Combine 1 c. quinoa with 2 c. water in a small saucepan. Once it boils, cover and turn off the heat. Allow it to sit for about 15 minutes then fluff with a fork.
Mix in herbs, butter, lemon juice/zest, salt & pepper. Set aside until ready to serve.
Prepare the Pistou (*):
In the cavity of the mortar, add the garlic clove along with a generous pinch of kosher salt; blend with the pestle until you get a smooth paste.
Add basil and continue to mash/pound until all the basil is well-combined and very smooth.
Add tomato and continue to mash until smooth.
Add olive oil, lemon zest & parmesan; continue to mash until well combined (if it's too thick, add a bit more olive oil).
Refrigerate until ready to use.
Notes
If you don't have a mortar & pestle, simply add all pistou ingredients into a food processor and blend until smooth!