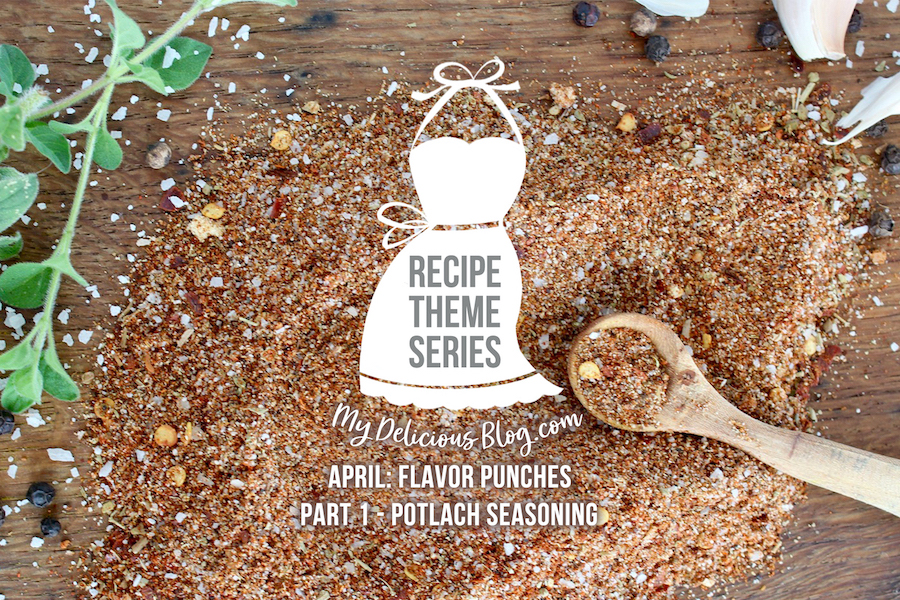 Years ago a friend gave me Williams Sonoma's "Potlach Seasoning." The description on the tin noted the story of Pacific Northwest Native Americans spreading herbs on freshly-caught salmon and fire-roasting it for a feast — the inspiration for the WS blend.  
Potlach
 specifically refers to the
tradition
of celebrating abundance by giving away possessions and food, with the foundational belief that when one's heart is happy, one
gives
to express joy.  I love that.
The WS mix was so good I put it on everything, but it really sang on fish (especially salmon).  My practical nature wouldn't allow me to fork over $20+ for a 3 oz. package (today it's around $30), but the tin revealed its ingredients, sooooo you can figure out what I did. . .
I'm pretty sure those Native Americans didn't have cumin, paprika and celery salt, but this mix combines them with oregano, garlic powder, onion powder, black pepper, and more.  It has pleasant heat, and you can make it as spicy as you like by adding or reducing the peppers and/or chili powder. Smaller batches work best, so it stays fresh.
I ALWAYS have some in my pantry, so when I thought about the first of the "Flavor Punches" series, this was a must.  Plus, I can show off my new spice drawer!  The design/materials were inspired by 
Garden Betty
– all easy to find, and they look like little jewels.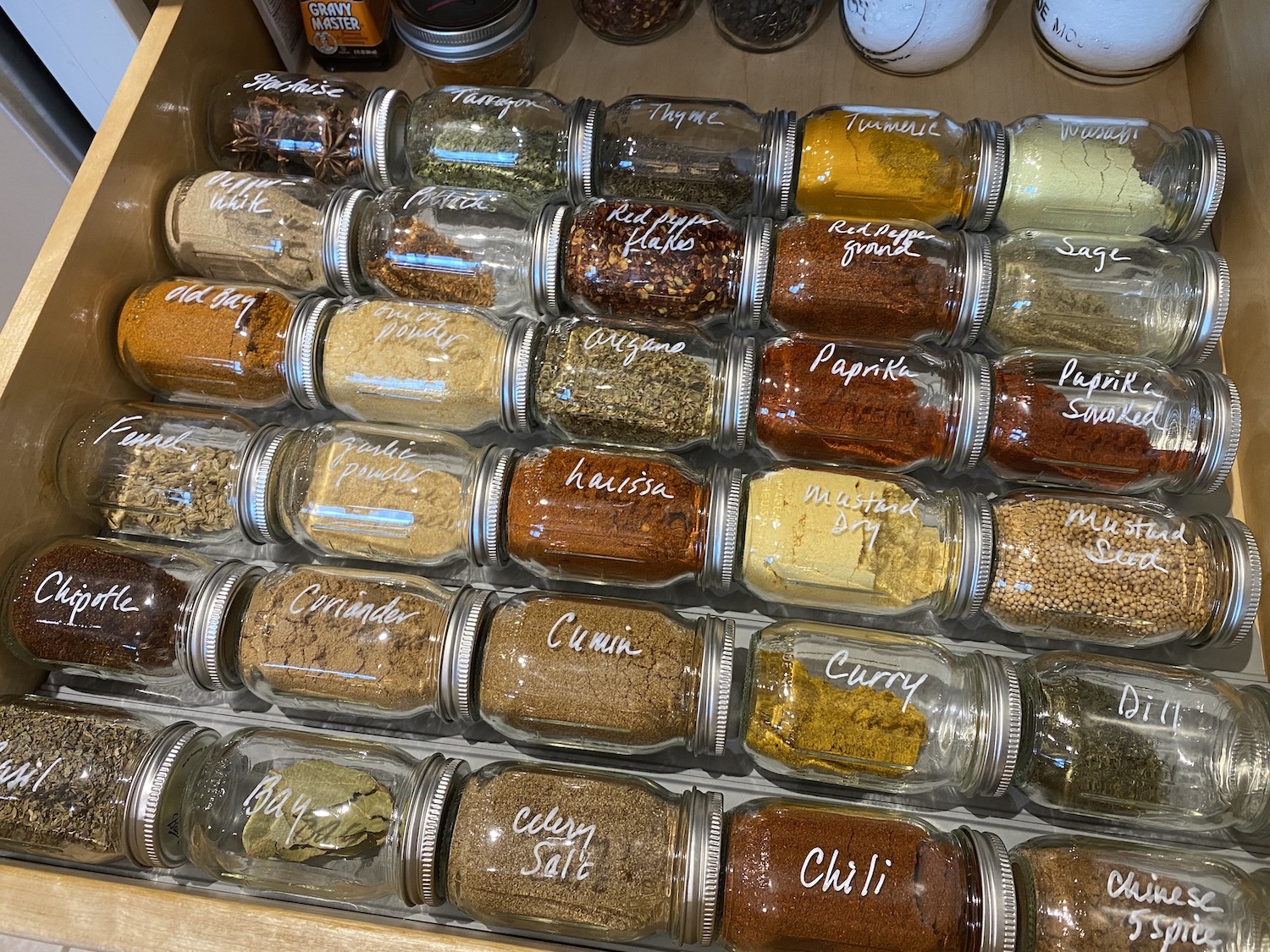 I sprinkle this on dry and rub it into raw meat/fish before roasting or pan searing.  Sometimes I mix it with olive oil and let it marinate on the meat/fish for a few minutes before cooking.  I've added it to sour cream to serve alongside meat/veggies.  I've even combined it with unsalted butter to top hot, grilled protein/veggies.  Lots of options in one great rub.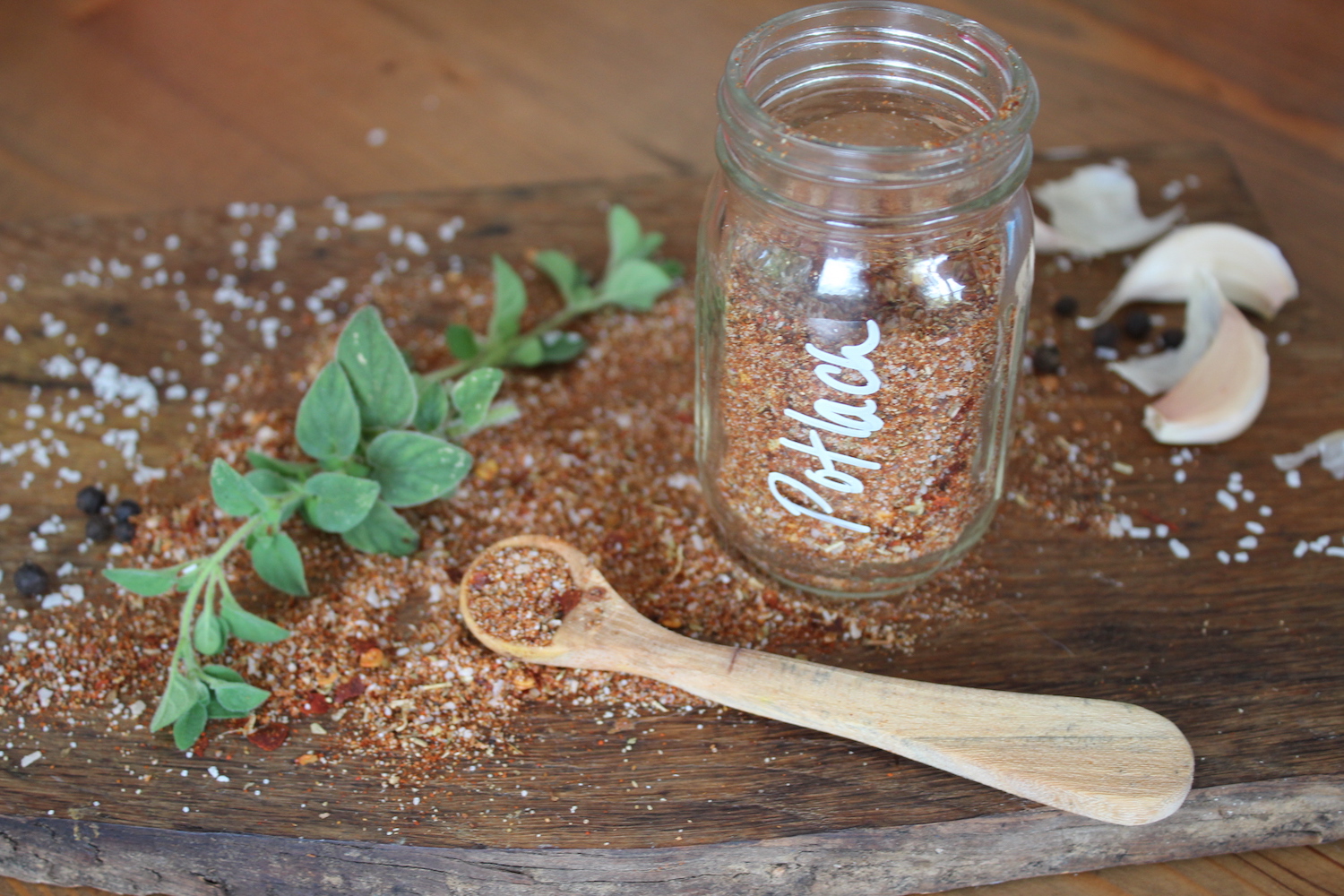 The beauty of making your own spice mixes is that you can add or remove anything you like.  Try replacing paprika with smoked paprika and see how that works.  Or add dried parsley, or thyme, or coriander (good with salmon).  Or use a different salt and see how that tastes.
Maybe give it a try on this
Red Snapper
dish or this
Salmon
.  As my beloved Jacques Pepin says, "
Happy Cooking!
"
Print Recipe
Potlach Seasoning
A mixture of cumin, paprika, garlic powder, oregano, red pepper, and lots more, to make a delicious rub for meat or fish!
Ingredients
2

Tb.

Kosher salt

2

tsp.

Chili powder

2

tsp.

Black pepper

1

tsp.

Dried oregano

1

tsp.

Paprika

1

tsp.

Garlic powder

1

tsp.

Onion powder

1

tsp.

Red pepper flakes

alt: crushed red pepper

1

tsp.

Cumin

1

tsp.

Celery salt
Instructions
Combine spices in a small bowl then transfer to an airtight container.

Sprinkle on fish, chicken, pork or veggies (to taste) before roasting.