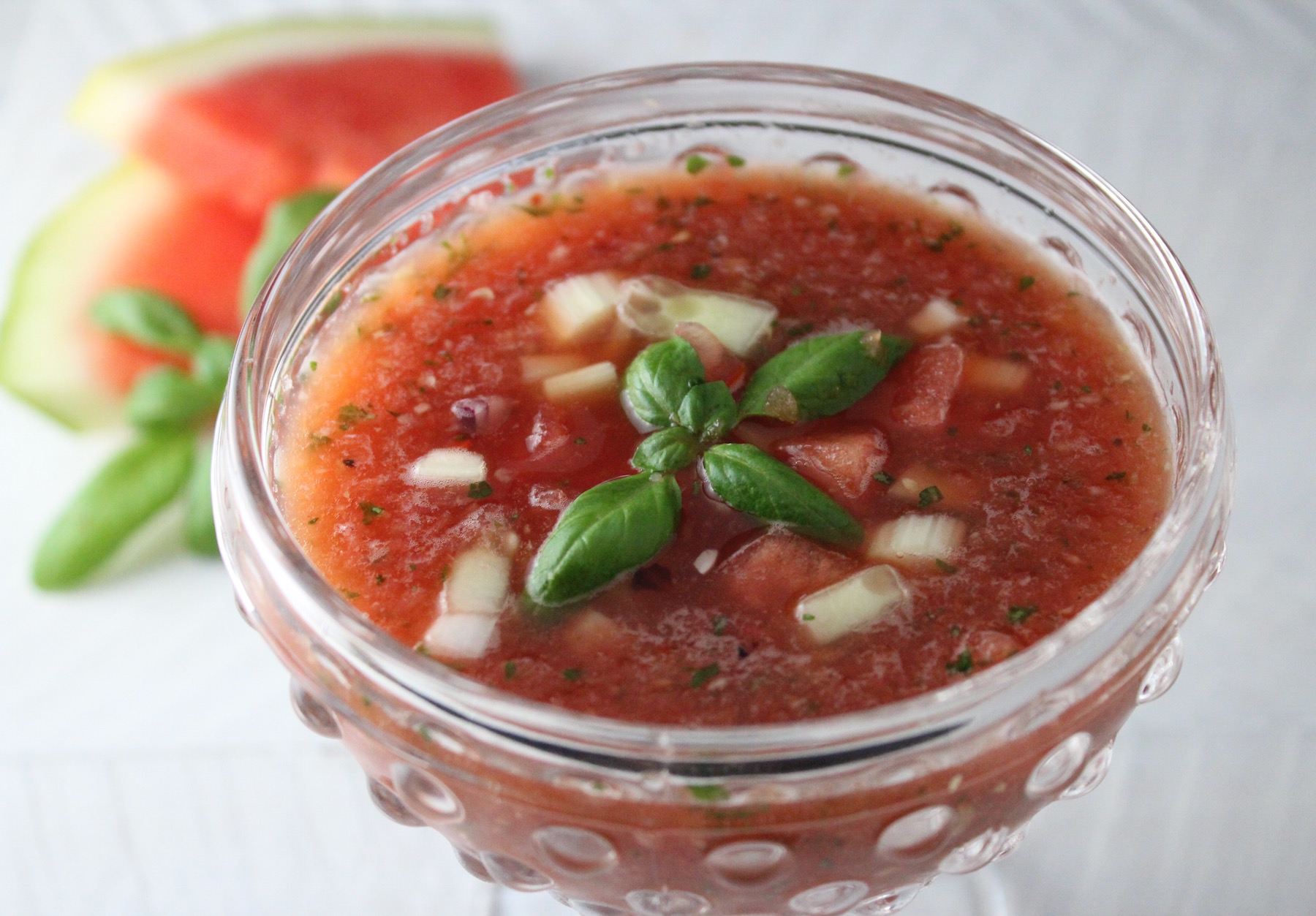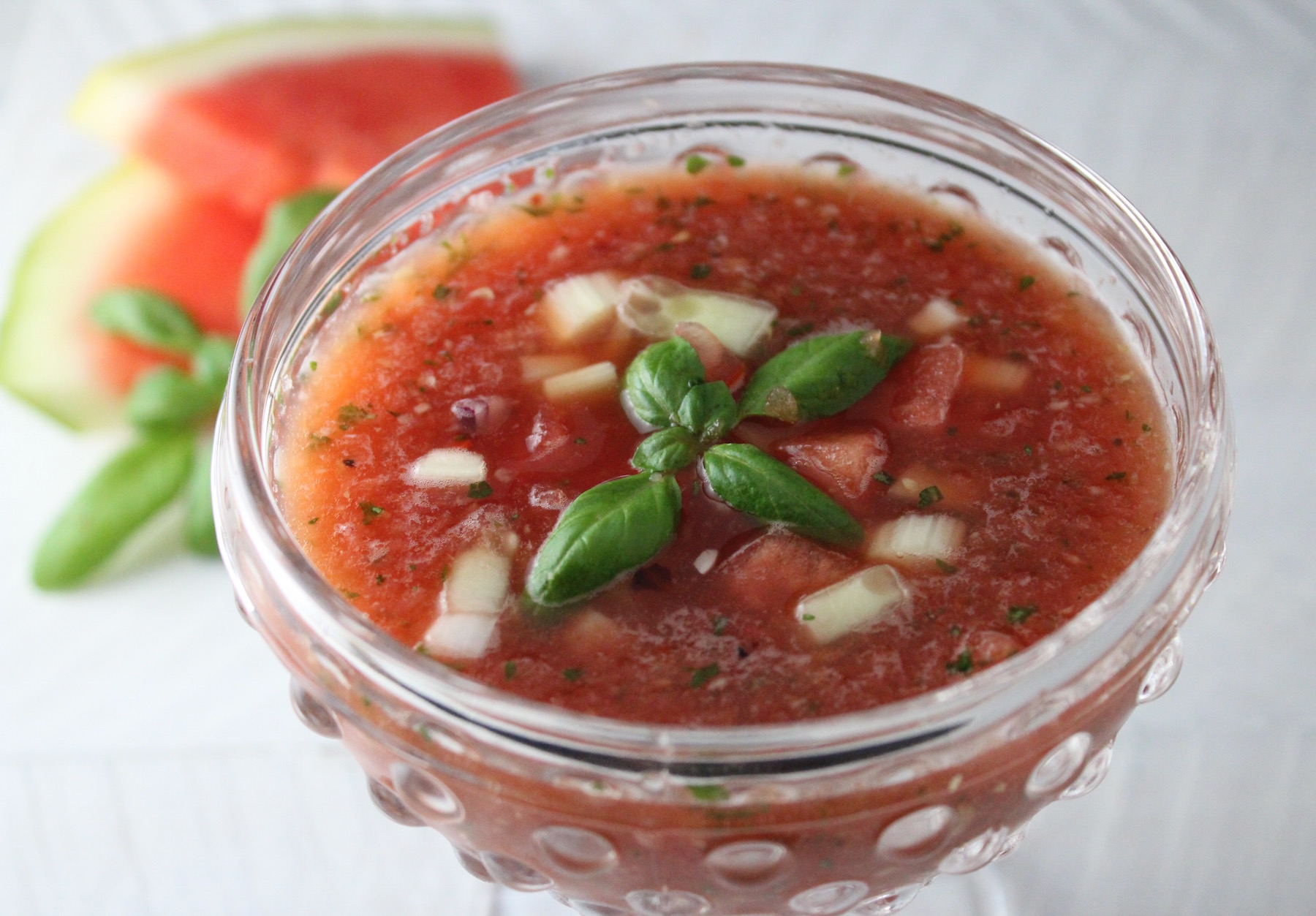 Summer in Florida can be intensely hot, so I take any opportunity to prepare meals that don't require a stove or a grill (not as easy as you might think!). Gazpacho is a perfect dish because it's easy to make and you can be creative and flexible with the ingredients, depending on what you have available.
If you're not familiar with gazpacho, it's a chilled soup composed mainly of fresh tomatoes, cucumbers and other veggies and herbs, all pureed together — it's refreshing and delicious. Plus, the flavors of the soup improve overnight, so you can keep it in the fridge to enjoy for a couple of days.
Food writer M.F.K. Fisher even wrote about gazpacho in her book How to Cook a Wolf (1942). She described the soup as ". . .not bland but with a freakish appeal to it which should be served icy-cold. . .to those weary brittle souls who live through the summer months in any city. . ." Apparently she really loved it because she went on to write: "I always see to it that I have made too much Gaspacho. It ripens well, when kept chilled, and it is a soul-satisfying thing to drink, chilled, midway in a torrid morning. It is also one of the world's best breakfasts for unfortunates who are badly hung over." With that kind of an endorsement, we can't go wrong (especially those who may have imbibed a bit too much the night before!).
Lately, a lot of folks in the culinary world have been modifying this classic soup by replacing most of the tomatoes with watermelon. This may sound like a strange substitute, but it makes perfect sense. Watermelon offers a slightly sweeter, less acidic flavor profile which pairs extremely well with the soup's savory ingredients. And who doesn't like a sweet-savory combo?!?
This soup is a yummy combo of sweet melon, tomato and basil, along with the tangy bite of lime and ginger.
And don't forget, since watermelon is a great hydrating source packed with potassium, lycopene and vitamins C & A, you can't lose by incorporating more of it into your diet 🙂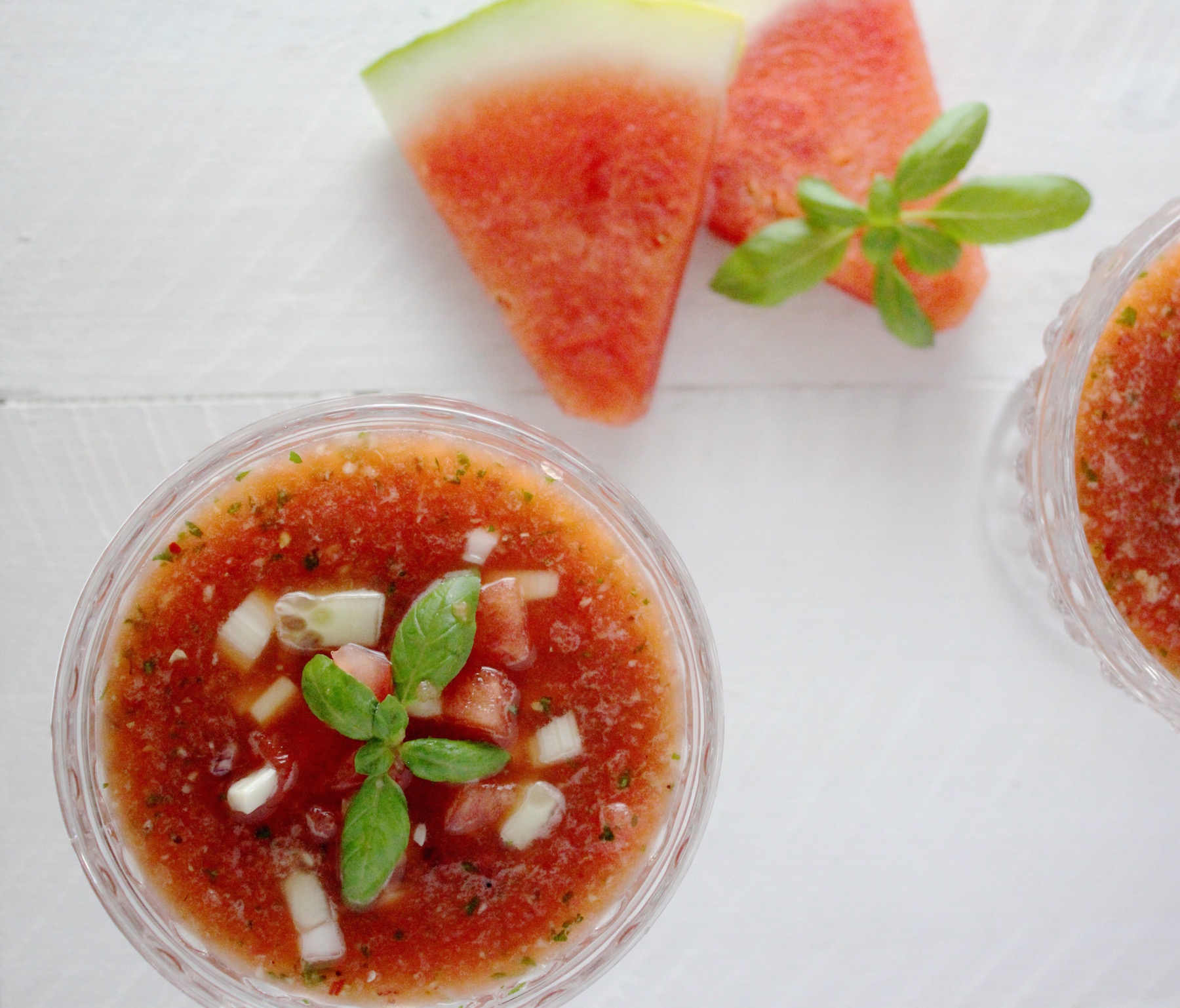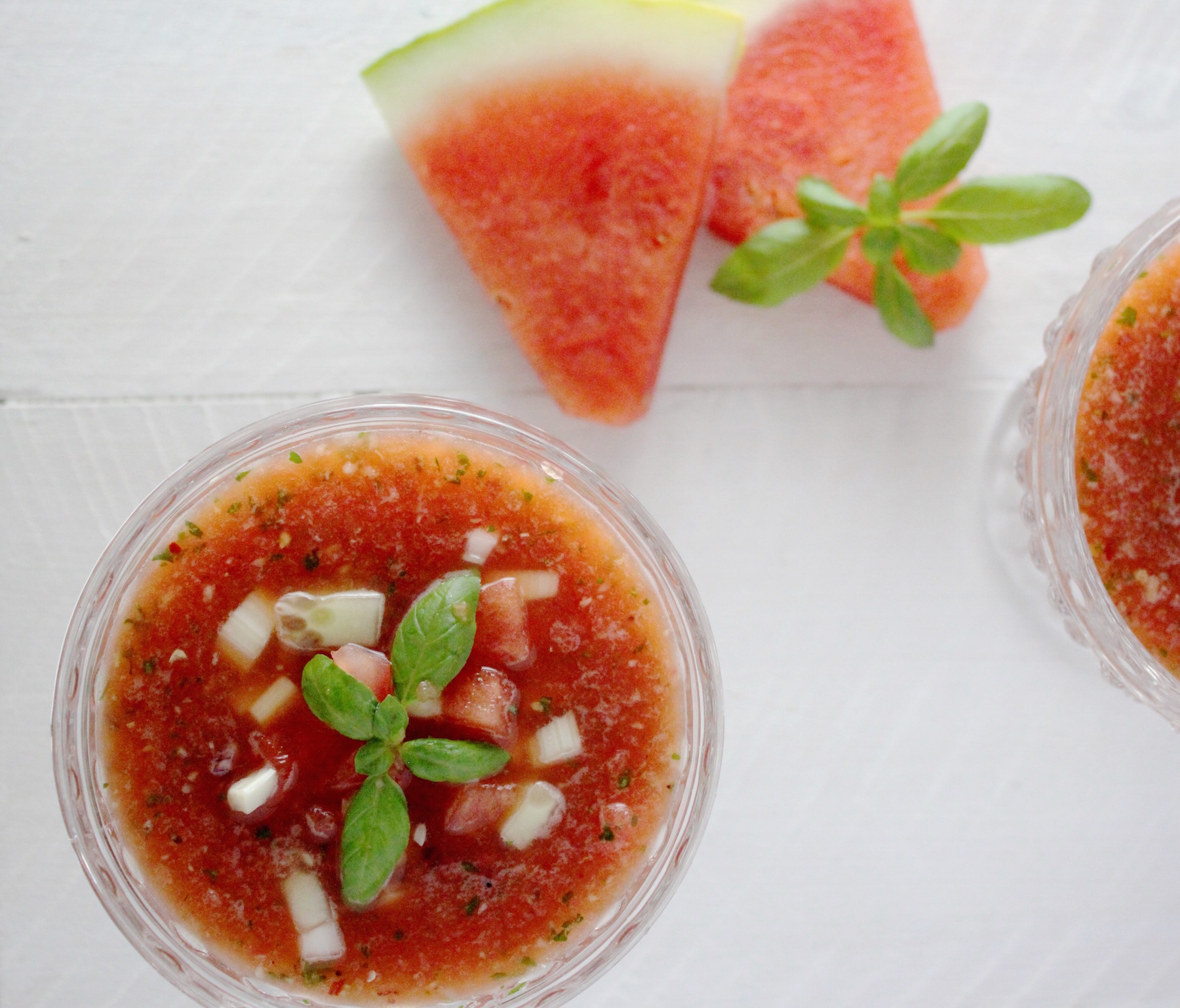 Watermelon Gazpacho
A delicious, refreshing, cold soup, perfect for summer!
Author:
My Delicious Blog
Ingredients
6 c. cold seedless watermelon, cubed
2 stalks celery, chopped
1 medium tomato, chopped
½ English cucumber, peeled & chopped
¼ c. red onion, chopped
¼ tsp. red pepper flakes
1 Tb. fresh ginger, chopped
2 limes, juiced + zest of 1 lime
handful fresh parsley
handful fresh basil
⅔ c. cranberry juice (no sugar added) - optional
pinch kosher salt
pinch freshly ground black pepper
Instructions
Prepare all ingredients.
Reserve ¼ c. cucumber, 1 c. watermelon & ¼ c. celery (chop all to small dice if too large) in a separate bowl.
Add remaining ingredients to food processor.
Pulse to get started, then full speed for a minute or so.
Check for consistency - all ingredients should be minced/pureed finely.
Taste for seasoning.
Transfer to a large bowl along with reserved cucumber, watermelon and celery.
Refrigerate at least 1 hour before serving in chilled glasses or bowls. Garnish with fresh basil.