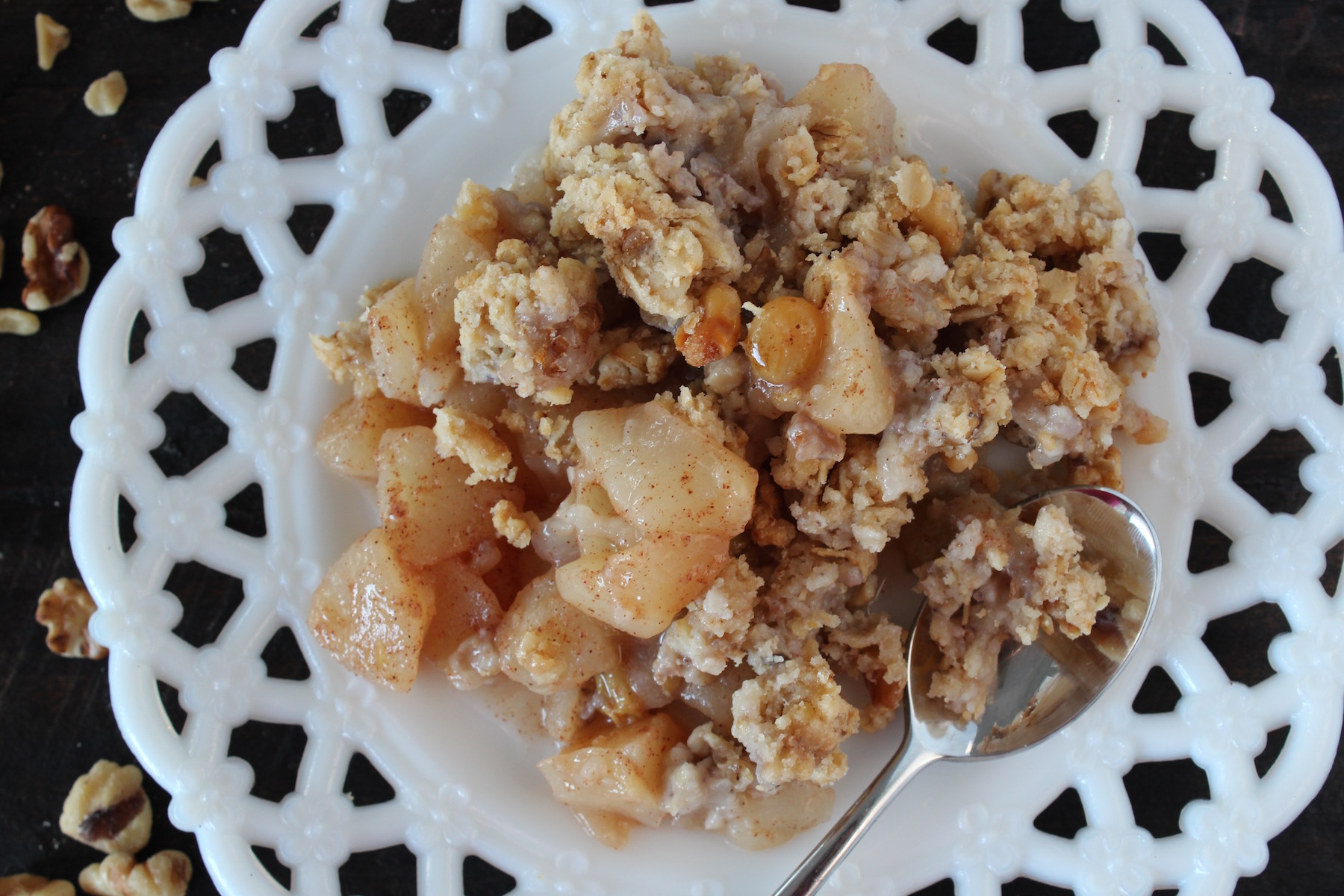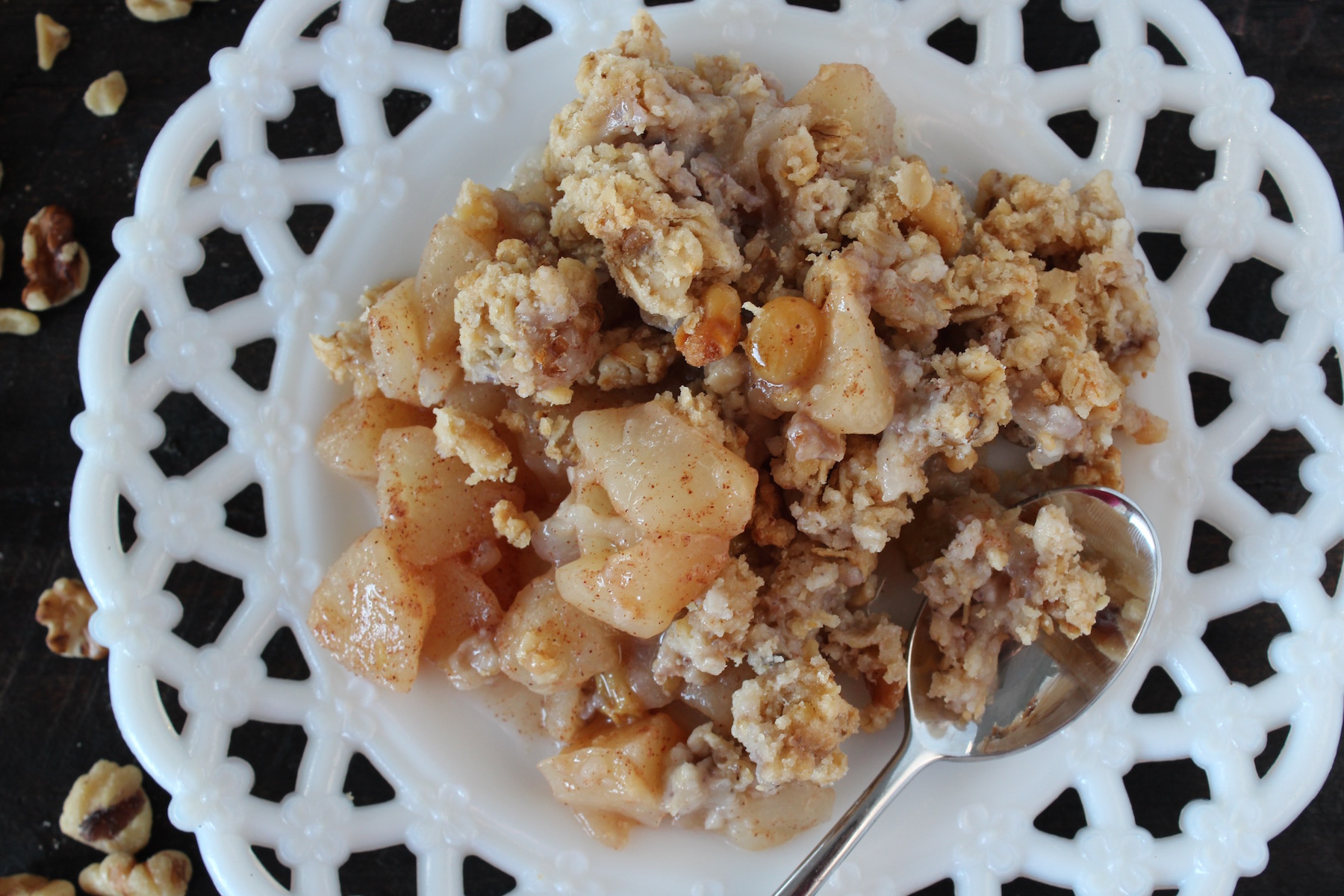 I love pears — poached, chopped in a salad, or as a snack while the juice drips down your arm. I especially love them baked in a warm dessert with a little vanilla ice cream!
We're fortunate to have access to pears year-round, but they're especially delicious this time of year. Pears are one of the most popular fruits out there, packed with fiber and vitamin C but, more than anything, I like them because they're sweet, juicy and oh-so-delicious. For baking, I prefer to use Bartlett pears, and I decided to put them in action this week, since my husband has been clamoring for a tasty fruit dessert.
I'm sure you all know the difference between a cobbler and a crisp, right? Well, just as a refresh, a cobbler has a soft, biscuit-like topping and a crisp has a crunchy, streusel-like topping. Both are delicious, but I tend to lean toward a crisp because I think it offers a wonderful contract to the soft, delicious fruit underneath. But really, you can't go wrong with either.
Crisps are pretty easy to make. Truth be told, though, they're not the most low-calorie, due to some of the tasting ingredients in the topping! That said, you really can't have a crisp without a yummy topping. My philosophy is to simply bite the bullet and splurge. . .you can be good the rest of the week 🙂
For the topping, I'm always trying different combinations. I love butter, but I like to see how the texture and flavor changes by shaking up the fat component. Sometimes I've made the topping using just olive oil (along with flour, oats, sugar, etc.), and it has come out extremely tasty. When using just oil, it actually tastes a lot like crunchy granola (which makes sense, since it's basically the same ingredients). Now that I think about it, by using oil instead of butter, this dessert becomes a good choice for folks who have dairy allergies. But for tonight's version, I made my topping using equal portions of unsalted butter and olive oil. It was delicious – crispy, nutty, and just enough butter flavor. If you want, though, feel free to replace the olive oil with butter — you clearly can't go wrong.
I made this batch in four 8-oz. ramekins, which allowed me and hubby to each have our very own dessert, leaving two more for tomorrow night!  And even though we didn't add a scoop of vanilla ice cream (neither of us can be trusted to have it in the house), it was wonderful, filled with warm, gooey, sweet, cinnamony pears, golden raisins and that crunchy/nutty topping. What more could you ask for in a dessert?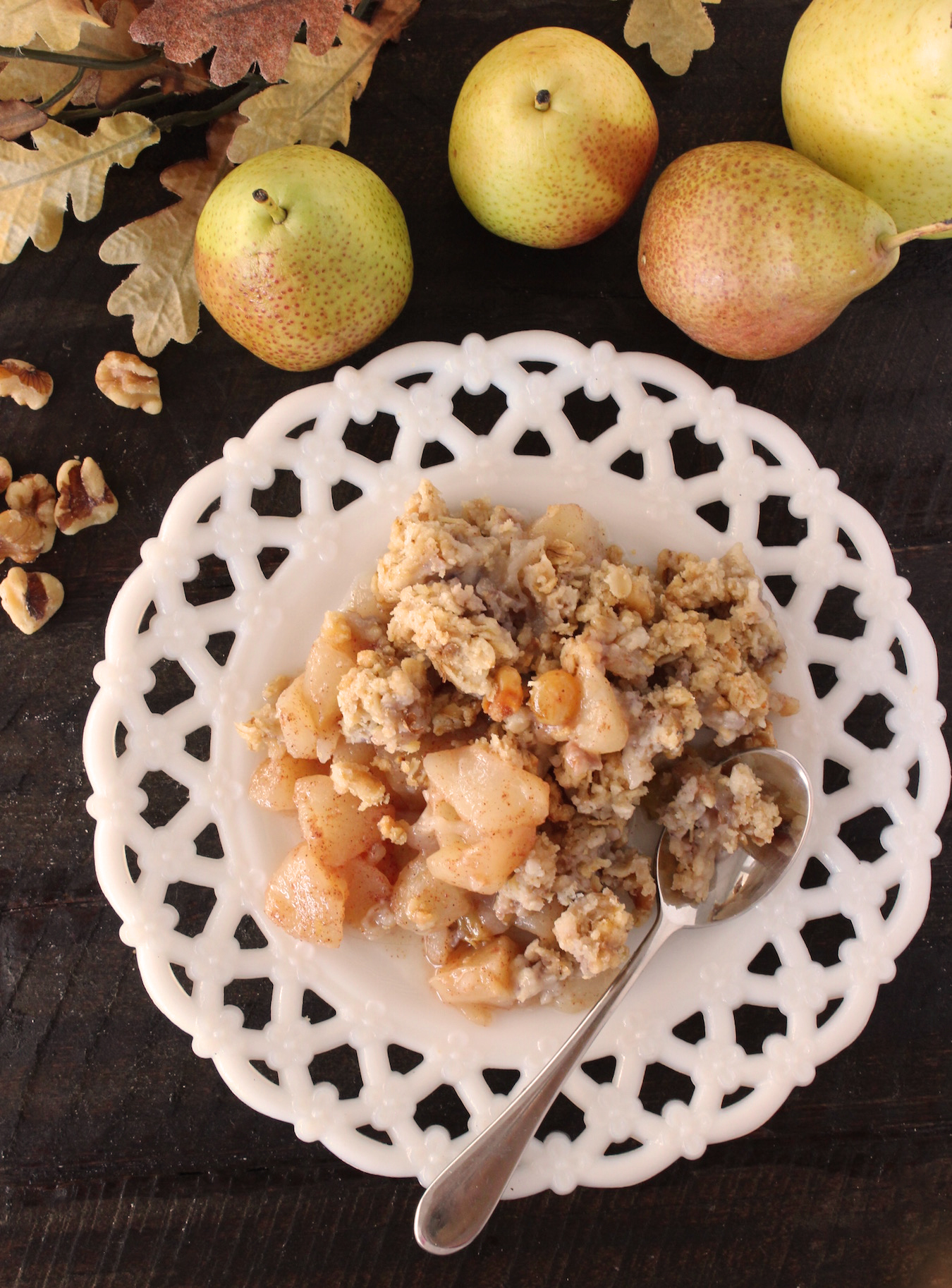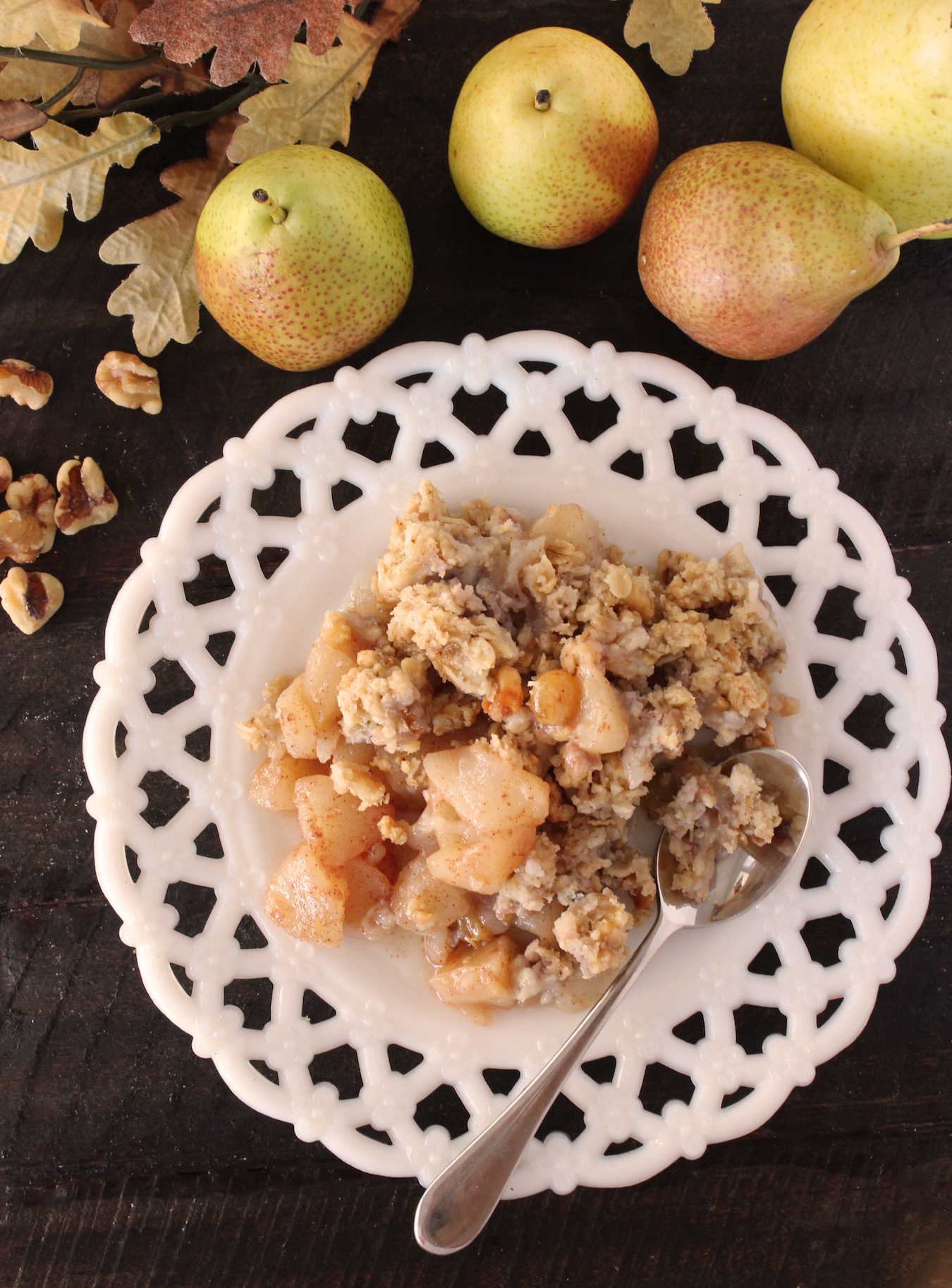 Pear & Raisin Crisp
Pears are extra delicious in this tasty crisp.
Author:
My Delicious Blog
Ingredients
Filling
4 ripe Bartlett pears, peeled, cored, chopped
1 Tb. fresh lemon juice
1 Tb. brown sugar
1 tsp. cinnamon
¼ c. golden raisins
Topping
½ c. all-purpose flour
1. c. old-fashioned oats
⅛ c. brown sugar
⅛ c. white sugar
¼ c. walnuts, roughly chopped
Pinch of salt
3 Tb. unsalted butter, cold & cut into small pieces
3 Tb. olive oil (not extra-virgin)
Instructions
Preheat oven to 350 degrees.
In a medium mixing bowl, combine pears, lemon juice, brown sugar, cinnamon and raisins.
Place pear mixture into an 8X8 baking dish OR 4 8-oz ramekins. (Note: if using ramekins, place them on a small cookie sheet to avoid spillovers).
For the Topping, place dry ingredients in a stand up mixer (or in a bowl to use a hand-held mixer). Add butter pieces and mix on low until large-size balls start to form. When very crumbly, add olive oil and continue to mixing on low another minute until fully combined.
Spread the Topping over the fruit. I like a lot of topping, so pile it high on the fruit!
Bake 30-35 minutes until bubbly and crunchy.