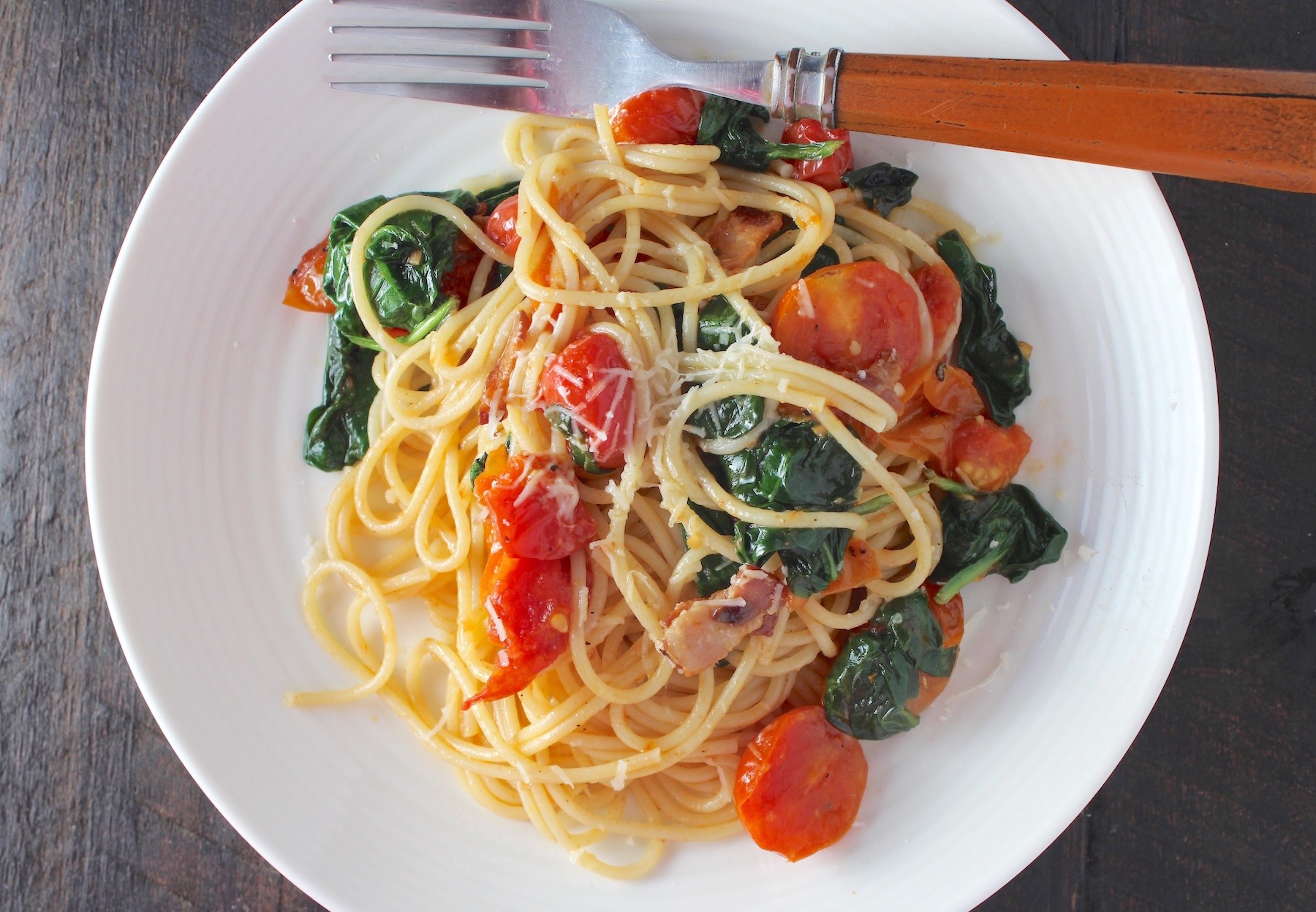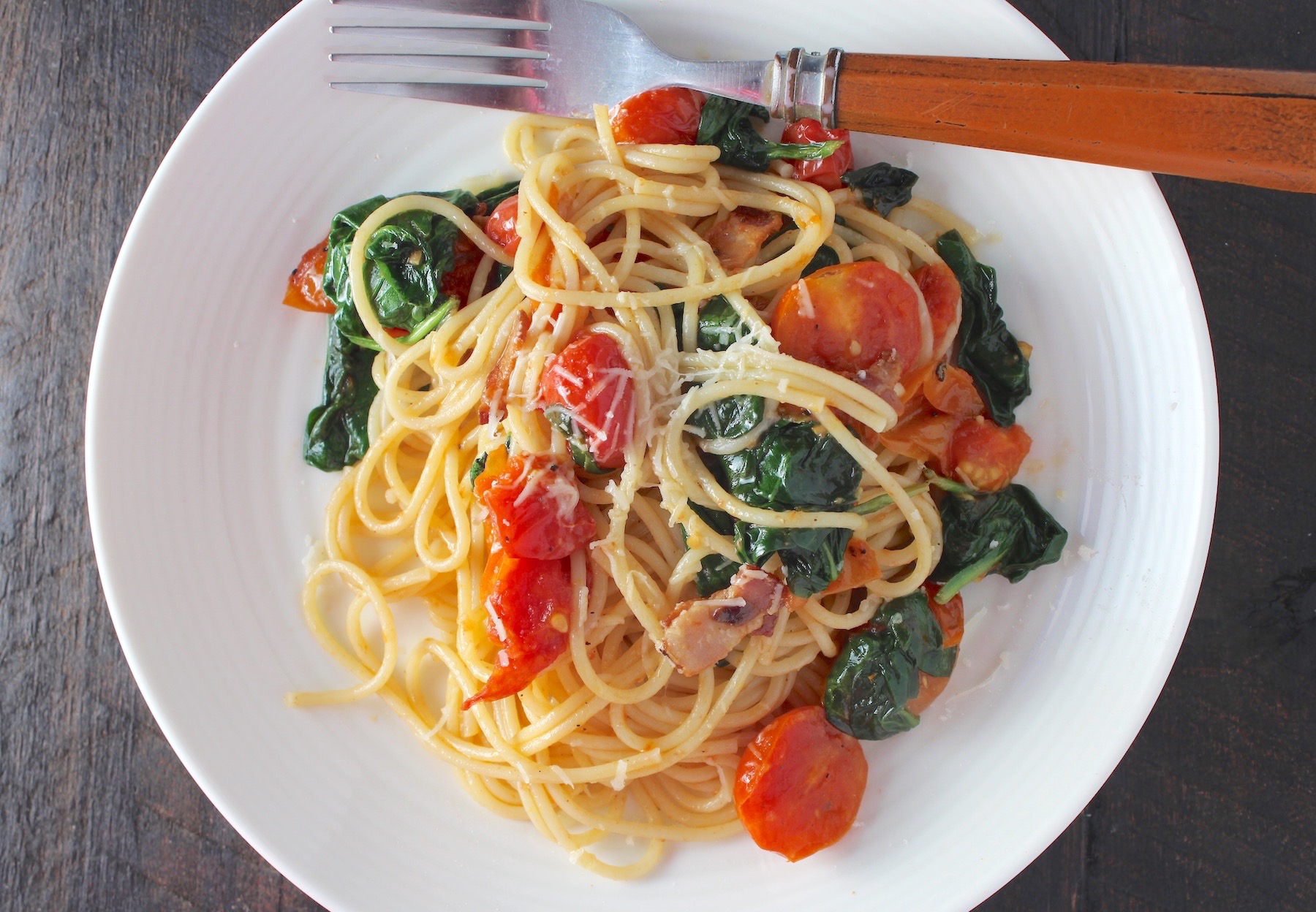 I recently bought some beautiful cherry tomatoes at the farmer's market – bright red, sweet and juicy — just the way I like them. Some were for cooking; others, for table decor at my Italian-themed dinner party (a VERY pretty way to bring a pop of color to your table, by the way).
When I find gorgeous, in-season produce, I like to make it the star of my table. In this case, I decided on a pasta dish to highlight the colors, textures and flavors of these tomatoes. It turned out to be easy and FAST.  And since I was extremely hungry, this was clearly a good decision 🙂
Cherry tomatoes are easy to work with and they're so delicious, especially when in season. I simply sliced them in half, tossed them with olive oil, salt, pepper and fresh herbs, and roasted it all in the oven.  Isn't this gorgeous?!?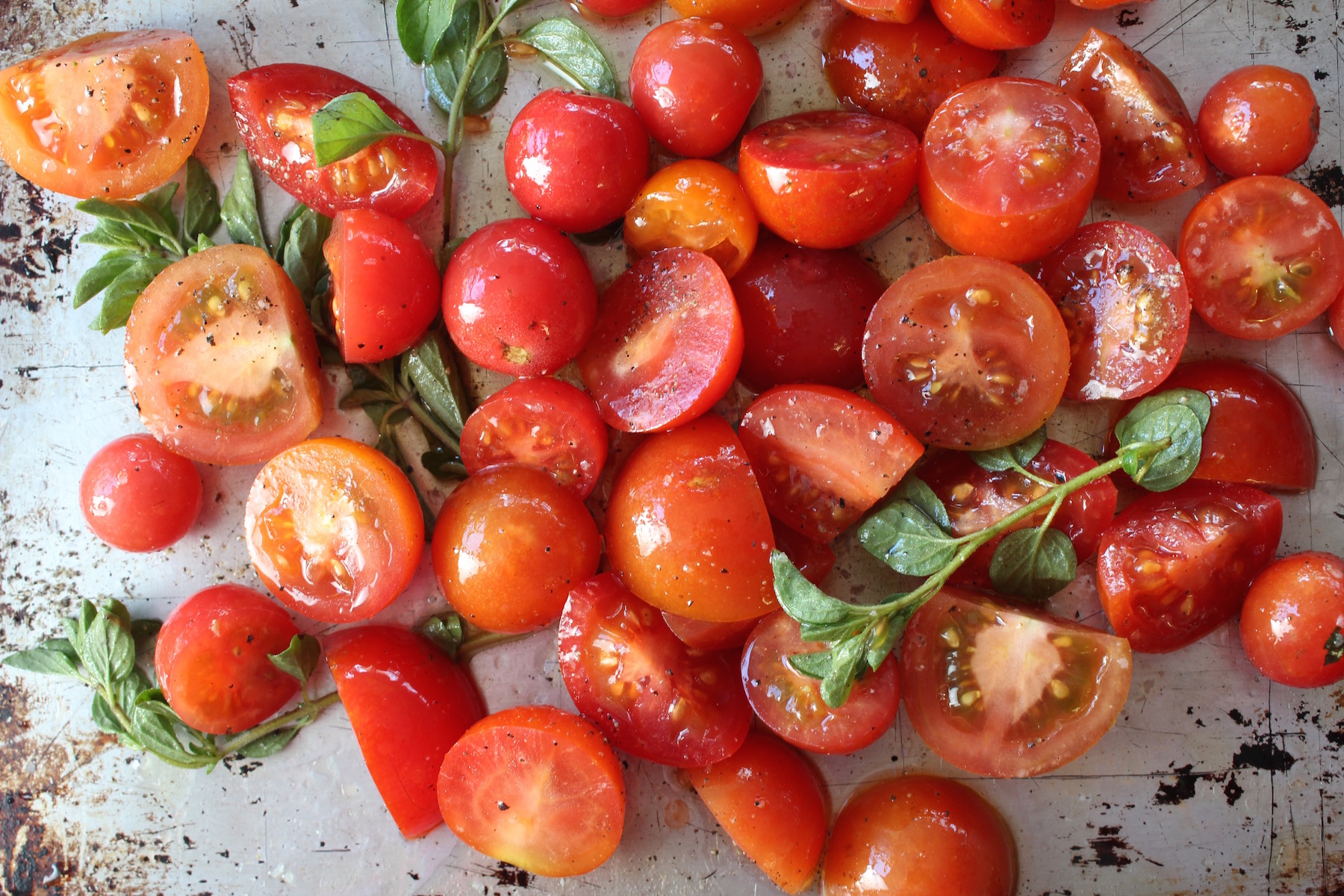 Roasting allows them to slowly release their juices and get even sweeter/more flavorful — simply delicious.
While those little babies were roasting, I cooked some pasta, a little bacon (for more flavor) and some spinach (you know, for healthy reasons). Then, I mixed everything together, topped it with fresh parmesan and basil, and dinner was on the table in less than 30 minutes.
Mangia bene!

Roasted Tomato, Spinach & Bacon Pasta
Tomatoes, spinach, fresh herbs and pasta are delicious when the tomatoes are roasted.
Author:
My Delicious Blog
Ingredients
1 Tb. olive oil
2 slices bacon, chopped into small pieces
1 clove garlic, thinly sliced
Dash of red pepper flakes (optional)
1 pt. cherry tomatoes, halved (if large)
Few sprigs fresh oregano or thyme
3 Tb. olive oil
Kosher salt & freshly ground black pepper
Large handful baby spinach
½ c. freshly grated parmesan cheese
Fresh basil, thinly sliced (chiffonade)
½ lb. thin spaghetti
Instructions
Heat oven to 375 degrees.
Line a baking sheet with parchment paper or foil.
Place tomatoes and herbs on baking sheet and toss with 3 Tb. olive oil, a sprinkle of kosher salt and a sprinkle of freshly ground black pepper.
Roast for 15-20 minutes, until skins start to burst.
Cook the pasta according to package directions.
While tomatoes roast, heat a non-stick skillet over medium heat. Cook bacon and garlic (and red pepper flakes, if using) with 1 tsp. olive oil. Allow bacon to crisp, but if garlic starts to turn brown, remove it from pan. Once bacon is crisp, remove excess fat, but keep a little for flavor.
Add spinach to pan and mix briefly to simply wilt the spinach.
Add tomatoes. Stir to combine, then turn off heat.
Once the pasta is cooked, reserve about 1 c. of the hot cooking water then drain the pasta.
Add the pasta to the tomato mixture and stir to combine (tongs work well for this step). Toss in grated parmesan cheese and fresh basil.
Add some of the pasta water, a little at a time, to create some creaminess.
Notes
To keep this a truly meatless meal, simply omit the bacon 🙂