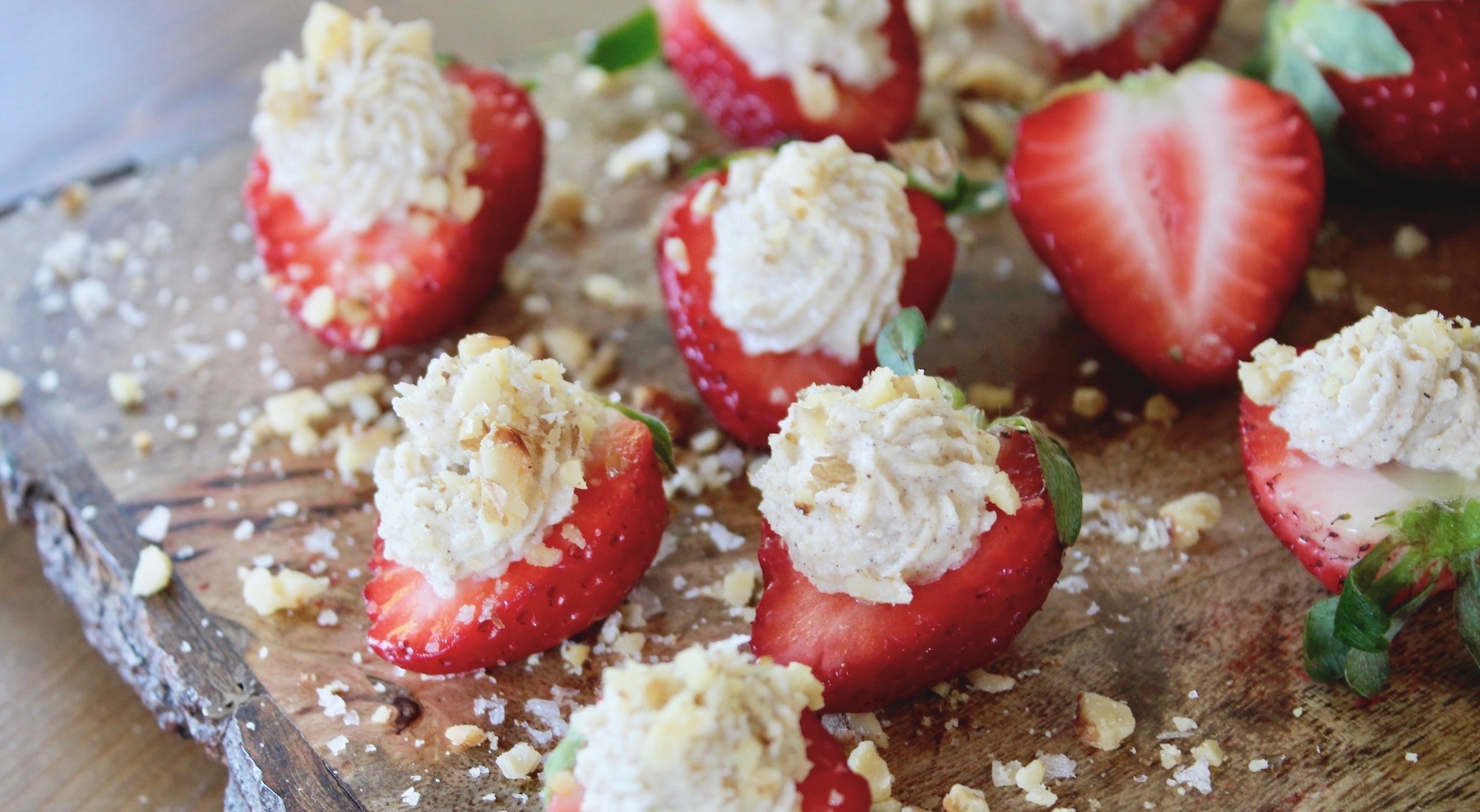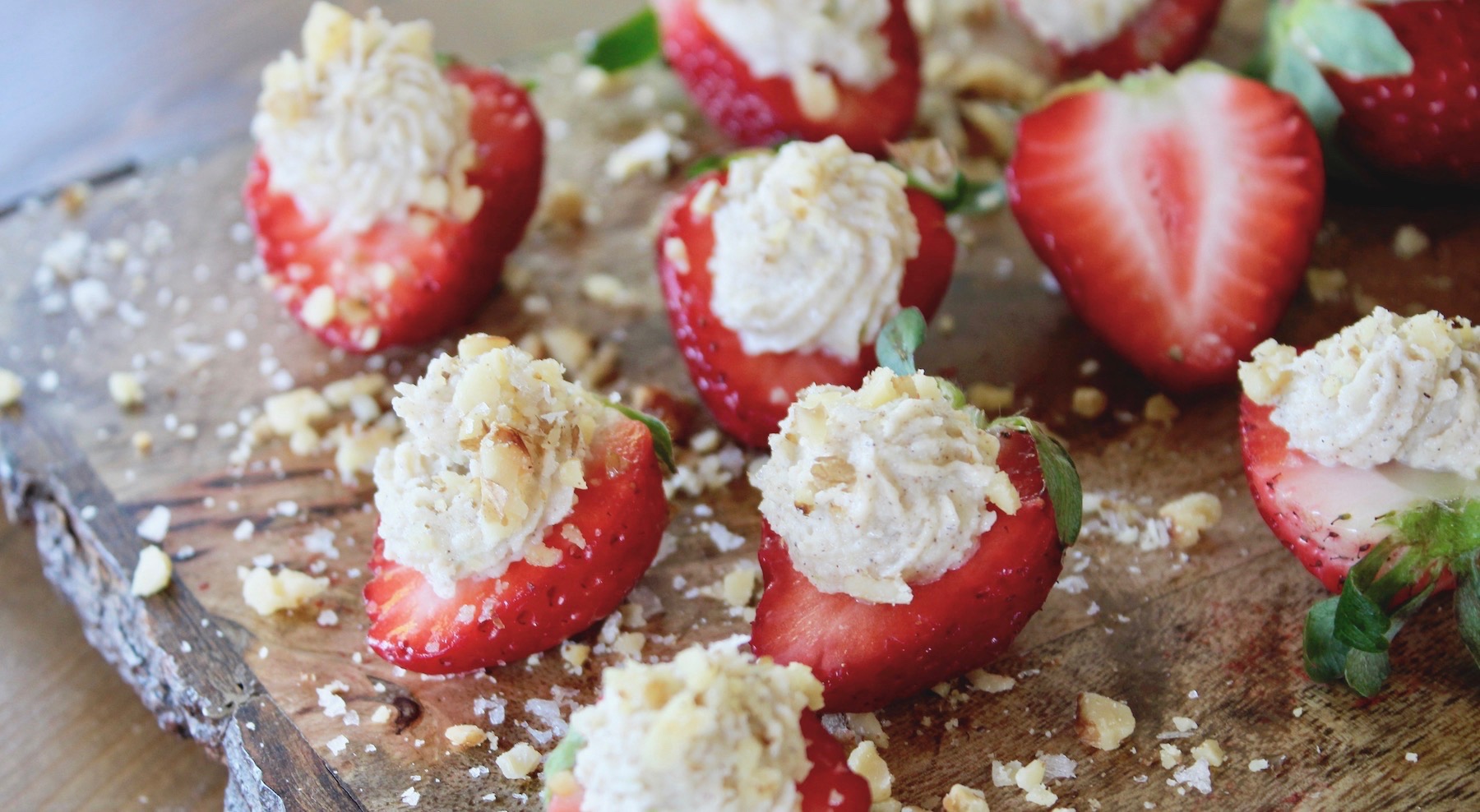 "It's time to get off the sugar train!" I exclaimed to my hubby Monday morning.   
To my surprise, he said he was ready to disembark, too.
As I write this, 96 hours have passed since deciding to cut out refined sugar and carbs (for one month, that is, in order to push the reset button). . .
How's it going, you ask?  Rough!  The first few days were the hardest, and there were moments I could have eaten a roof shingle to satisfy my desire to chew something carb-y.  And my husband, with his well-honed sweet-tooth, has been having an especially hard time. 
Thankfully, it's strawberry season in Florida and we're surrounded by beautiful berries.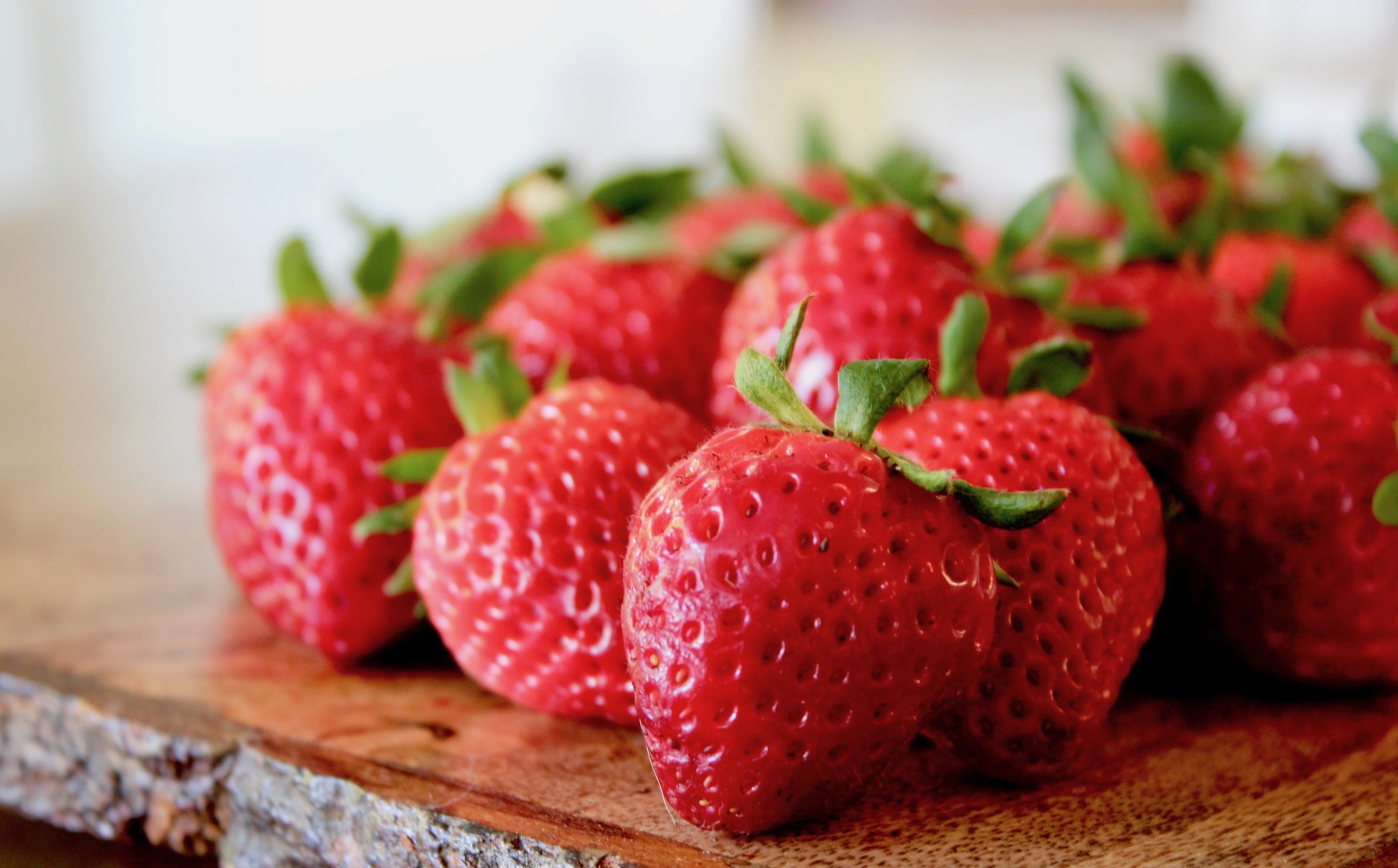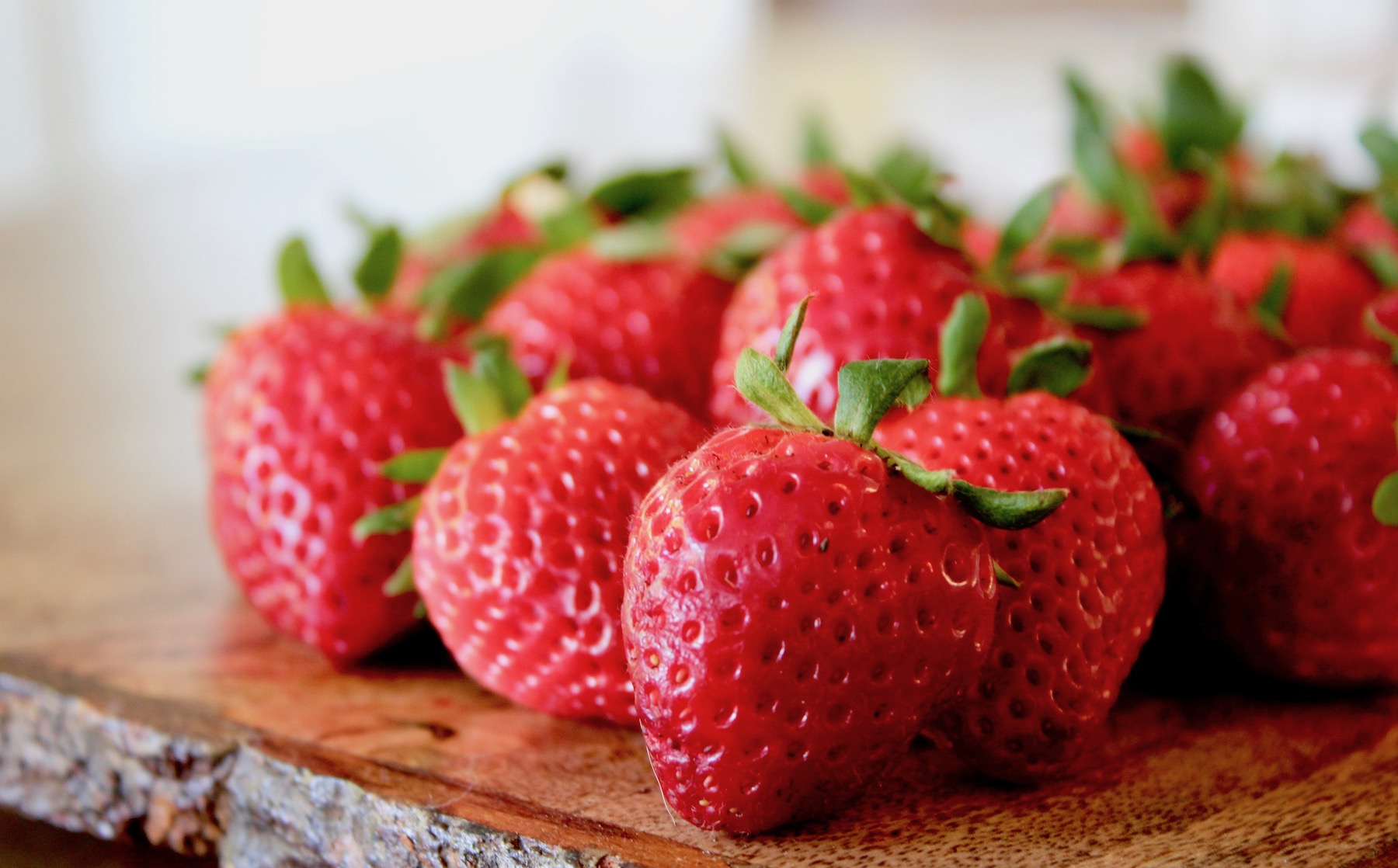 I love them by themselves, but sometimes it's nice to pair them with a little something extra, like a tasty mascarpone.
Mascarpone (Italian cream cheese) is richer and creamier than cream cheese and, as I recently learned, has fewer carbs than cream cheese.  I tried many mix-ins, including orange zest/juice, lime zest, fresh mint/basil, vanilla, etc., all attempts to bring sweetness and flavor to the mixture, while avoiding sugar.  But they all fell flat.  My final attempt was cinnamon, toasted walnuts and a little bit of honey.  The natural sweetness of cinnamon goes great with mascarpone.  The nuts give a nice crunch against the creaminess of the cheese and the juiciness of the berries.  And while honey is a sugar, at least it's not refined sugar!  I guess I feel like when you're trying to be good, a wee bit of honey isn't the end of the world, especially if you divide it amongst a dozen strawberries 🙂
There are many recipes for 'stuffed strawberries' — folks scoop out the center of the berries, pipe in gobs of something delicious, then top with lovely decorations or dip in chocolate.   I tried the stuffing method and it was basically a hot mess.  So I just cut the berries in half and topped each with mascarpone mixture and toasted walnuts.  My only indulgence was putting the mixture into a pastry bag to achieve a little more structure on the berries, but if you don't have a pastry bag, I noted some easy alternatives in the recipe.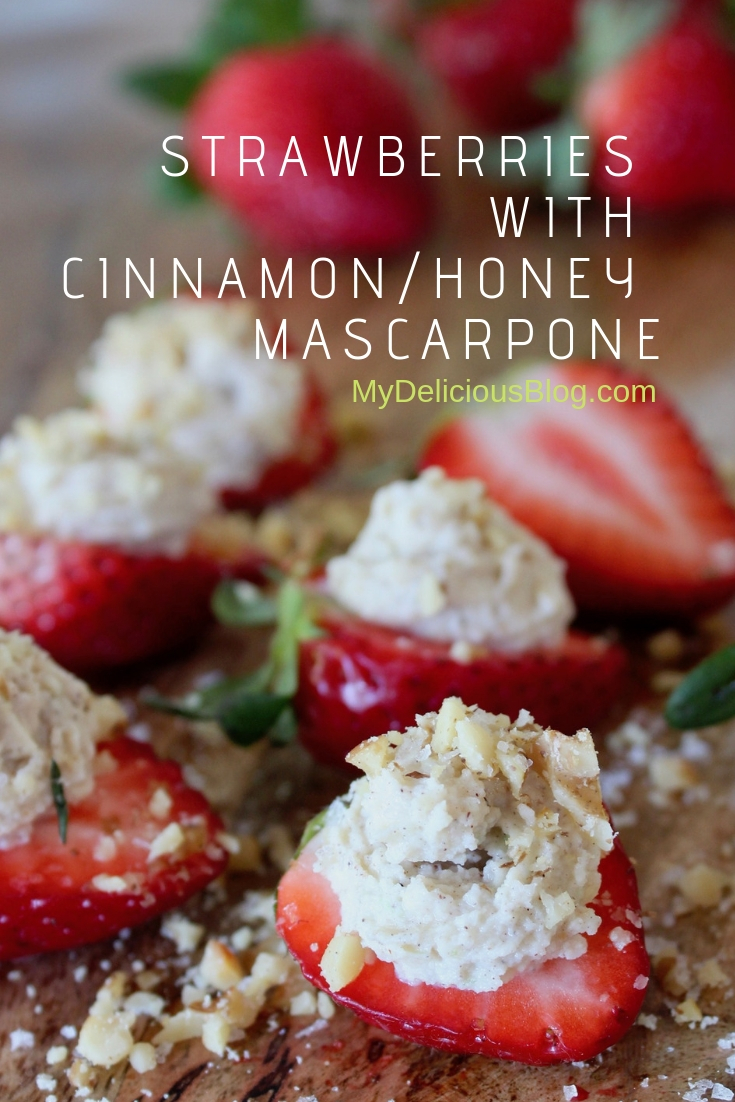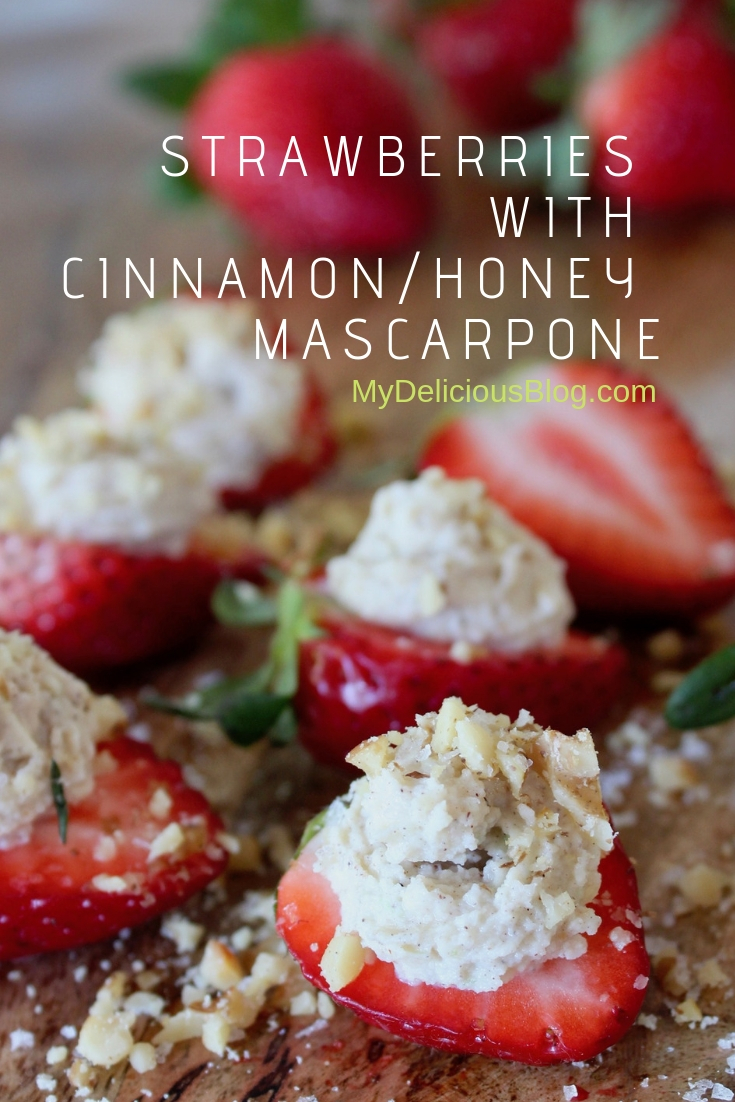 However you get the mascarpone onto the berries, I think you'll find that these little treats satisfy sweet cravings, and they'll get you through to the next day in your journey toward reduced carbs and sugar 🙂
Print Recipe
Strawberries with Cinnamon Mascarpone
A tasty, low-carb treat made with fresh strawberries, mascarpone, cinnamon and honey.
Ingredients
12

Strawberries, halved

1/2

cup

Mascarpone cheese, room temperature

1/4

tsp.

Ground cinnamon

1/2-3/4

tsp.

Honey

(add more if you'd like it sweeter)

2-3

Tb.

Minced/toasted walnuts or almonds

1

Pinch

Kosher or flaky sea salt (optional)
Instructions
Add nuts to a small pan and toast over low heat approx. 5 minutes. Transfer to a cutting board and mince finely. Cool for a few minutes.

Rinse strawberries, pat dry and slice in half (keep the green tops on for garnish).

In a small bowl, add Mascarpone, cinnamon & honey; mix well with a spoon.

Transfer cheese mixture to a pastry bag fitted with a tip large enough to dispense the cheese in a pretty fashion OR transfer mixture to a small ziplock bag and cut off one corner to squeeze out the mixture OR simply use a small spoon to top each berry with a bit of mixture.

Sprinkle each dab of mascarpone with toasted nuts (and a bit of salt, if using) and serve immediately. NOTE: you can also refrigerate them once they're topped with mascarpone, but for best results, be sure to bring them up to room temperature before serving.