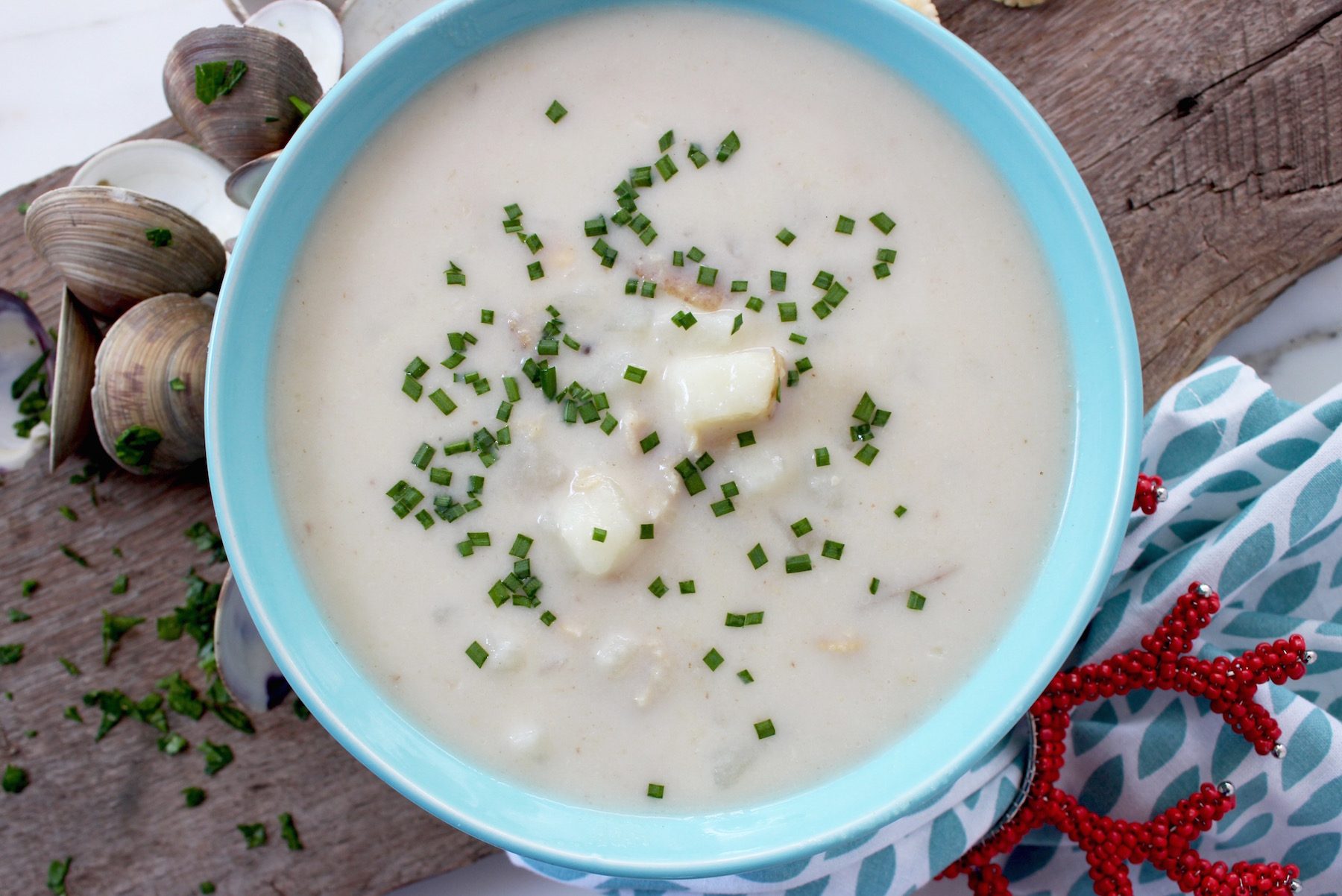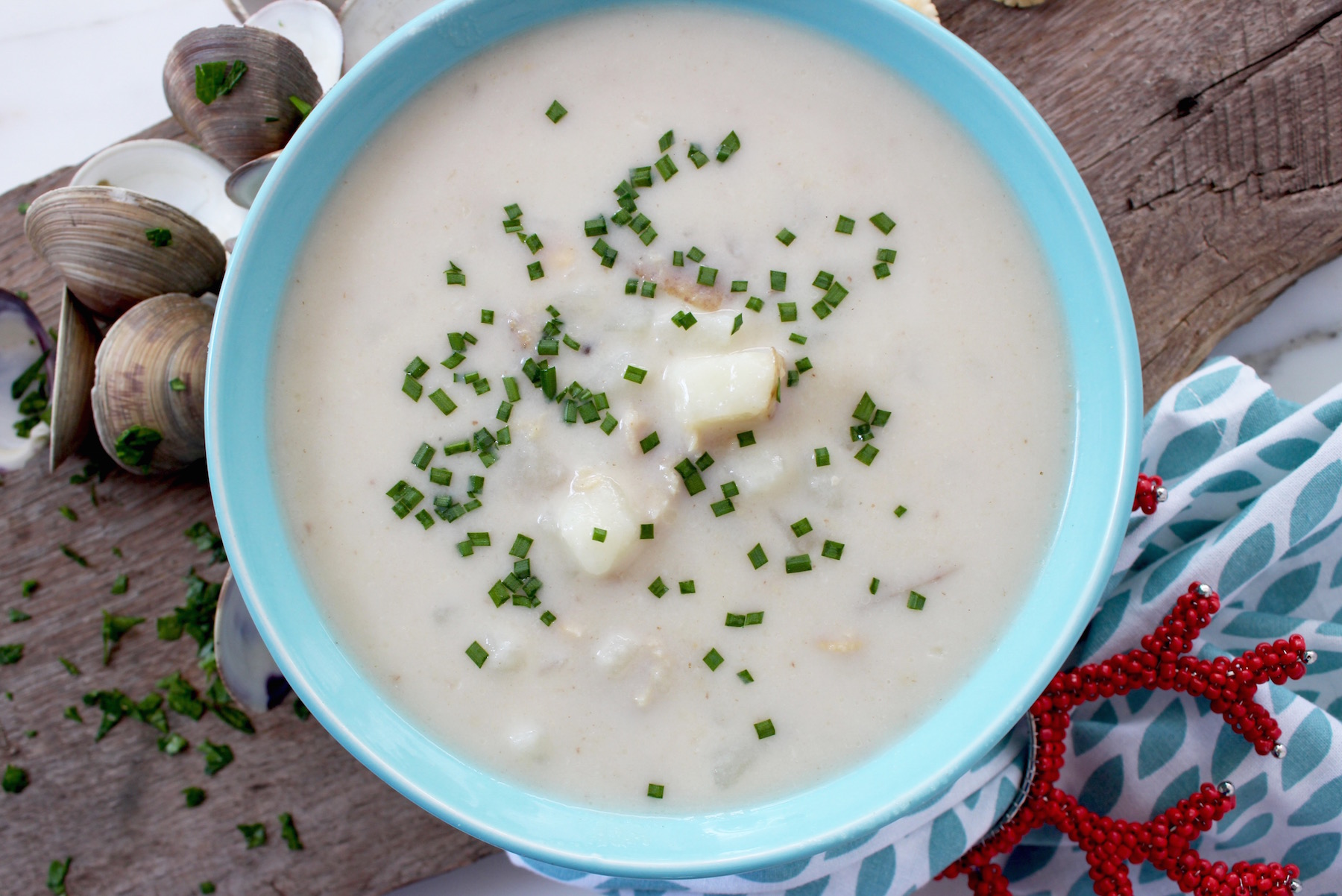 When you grow up in New England, you usually gain a fondness for seafood since it's prevalent, fresh and really delicious. So that's where my love of clam 'chowda' began. . .
But before we go any further, I feel it's important to qualify myself. When I talk about New England clam chowder (a.k.a. chowda), I'm not talking about any pasty, sludgy, flavorless, clam-less, stick to your spoon versions of this time honored dish. I've had my share of those, and they all have left me feeling homesick. I'm talking about creamy, not-too-thick soup that's rich and flavorful, full of tender, sweet, clams, with little bites of potato and an underlying flavor of salt pork that combines nicely with the slight brininess of those clams. Yup – that's my favorite. And the version I measure all chowders against is the one made by my family for many decades.
It has been a long time since I made it, so I employed the help of my mom last weekend, to refresh me on the process. That's right, for Mother's Day dinner, I had my mom help me cook the meal. Was that bad? To put any concerns to rest, she didn't have to work very hard because I shopped for the ingredients, prepped everything, and even provided lots of wine and snacks, so she seemed pretty OK.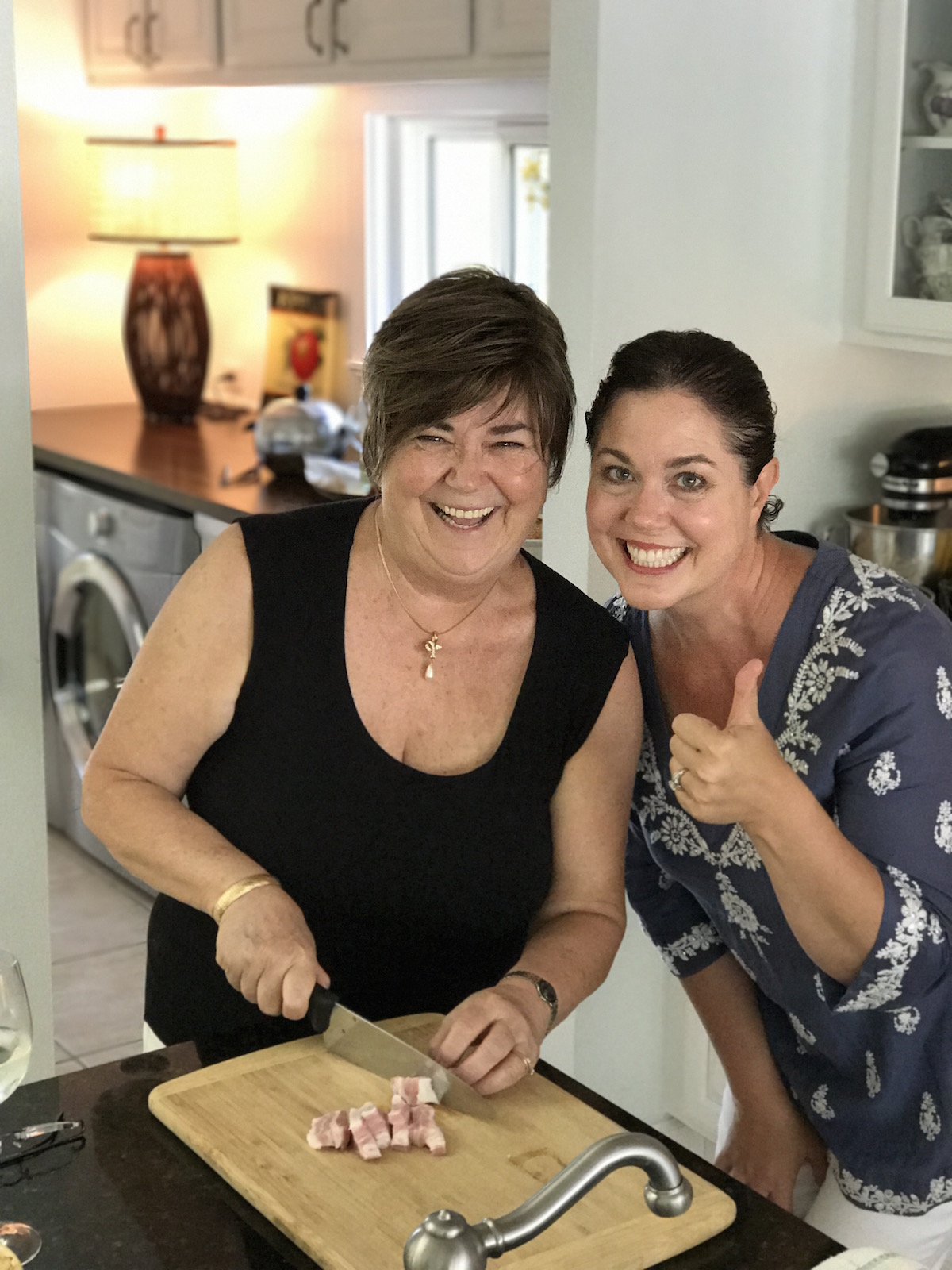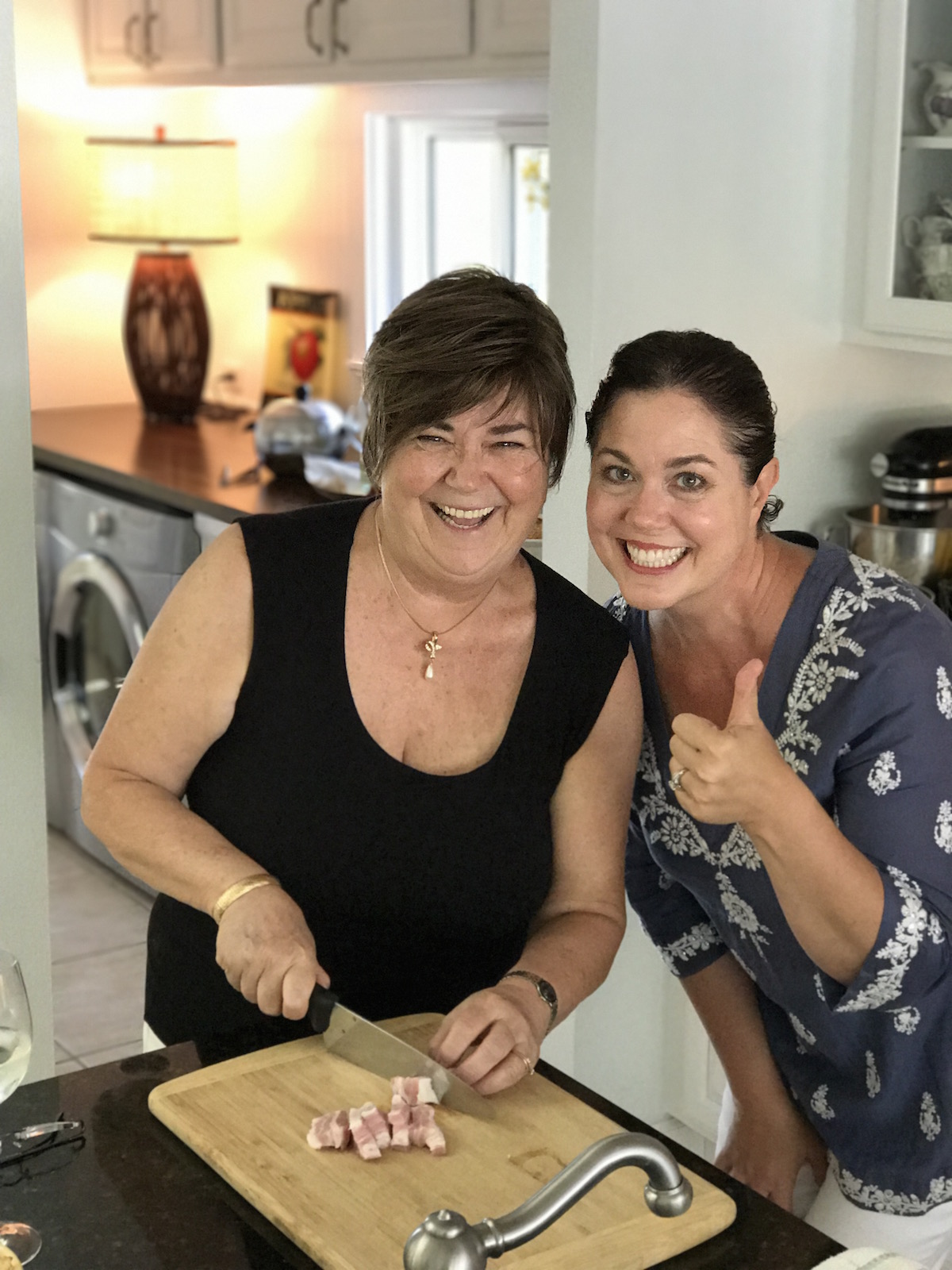 Thank goodness she was here because she adeptly walked me through several tried-and-true steps. Our family's simple version only includes salt pork, butter, onions, potato (I think Russet is the best), clams, clam broth, half and half, and salt and pepper. No celery. No bay leaf. No garlic. No herbs. No bacon. I've tried all of those ingredients in chowders, but they just don't taste as good to me as this basic recipe, which really allows the clam flavor to shine. Its simplicity is its magic.
While making it I learned some techniques that can only be gained from experience, like knowing just how to draw the fat out of the salt pork by rendering it slowly over very low heat (left to my own devices, I would have had crispy bits in a matter of 60 seconds). And as I attempted to document measurements, asking how much Mom was putting into the pot, I got responses like "well, I just know by the color" or "about a cup" or "I don't remember how much I put in – I just know by feel".  How the heck would I document an ingredient "by feel"?!?  Nonetheless, we got through it, all while hungry chowder-lovers looked on.
BTW – here are the Littleneck clams I picked up at Lotsa Lobster in Sarasota – I soaked them first (to release any grit/sand), then steamed them to get their broth and remove any remaining sand.  They were so cute!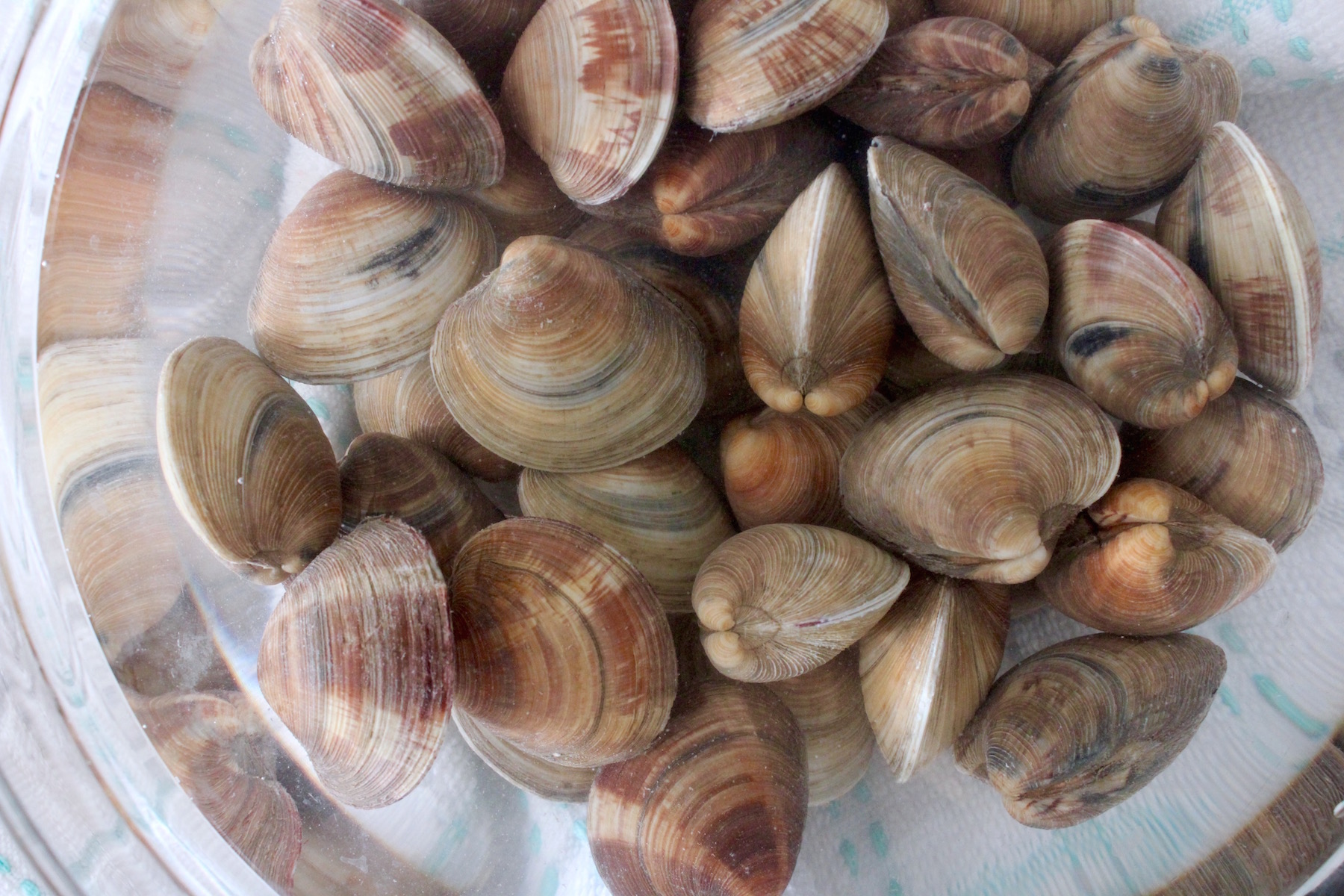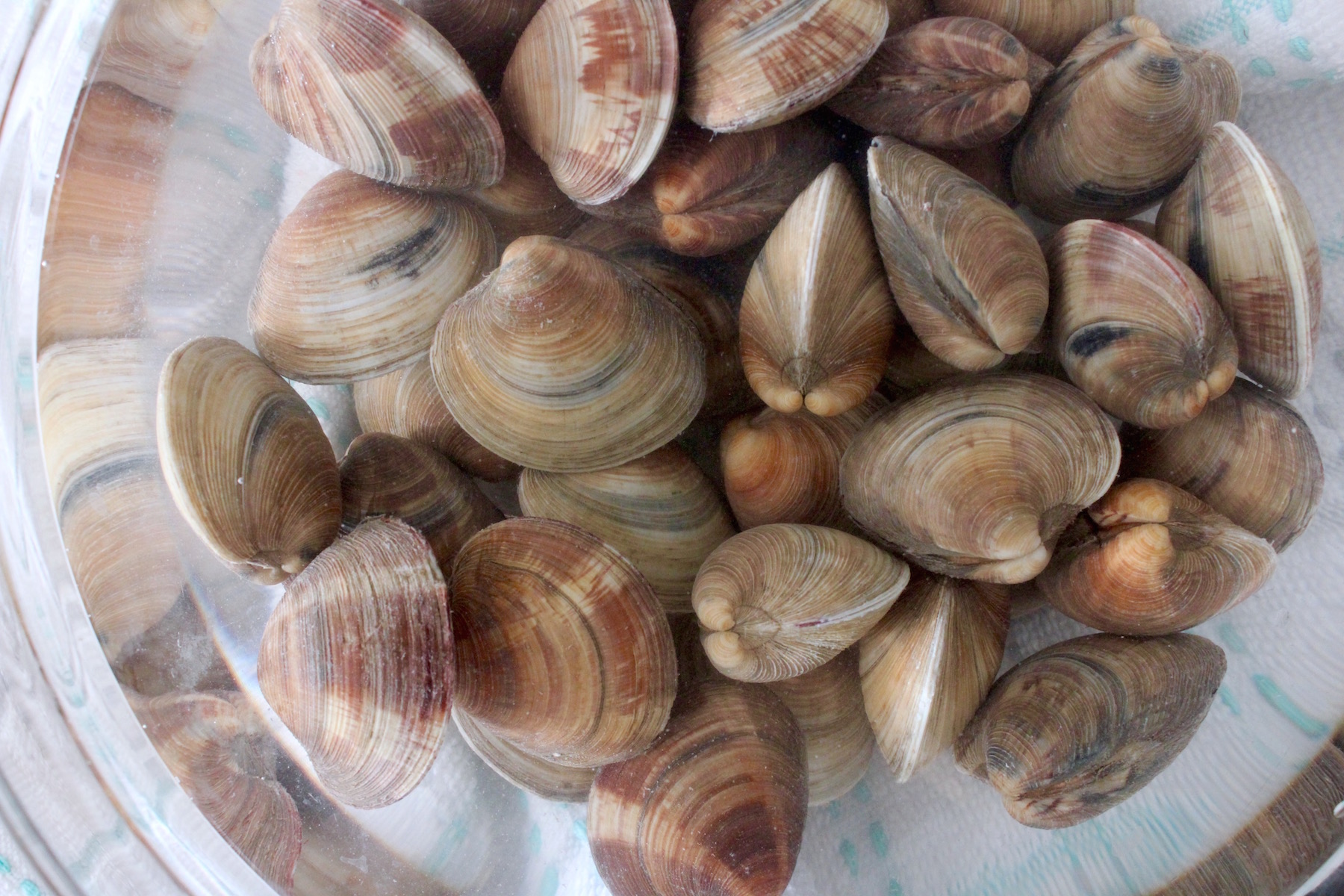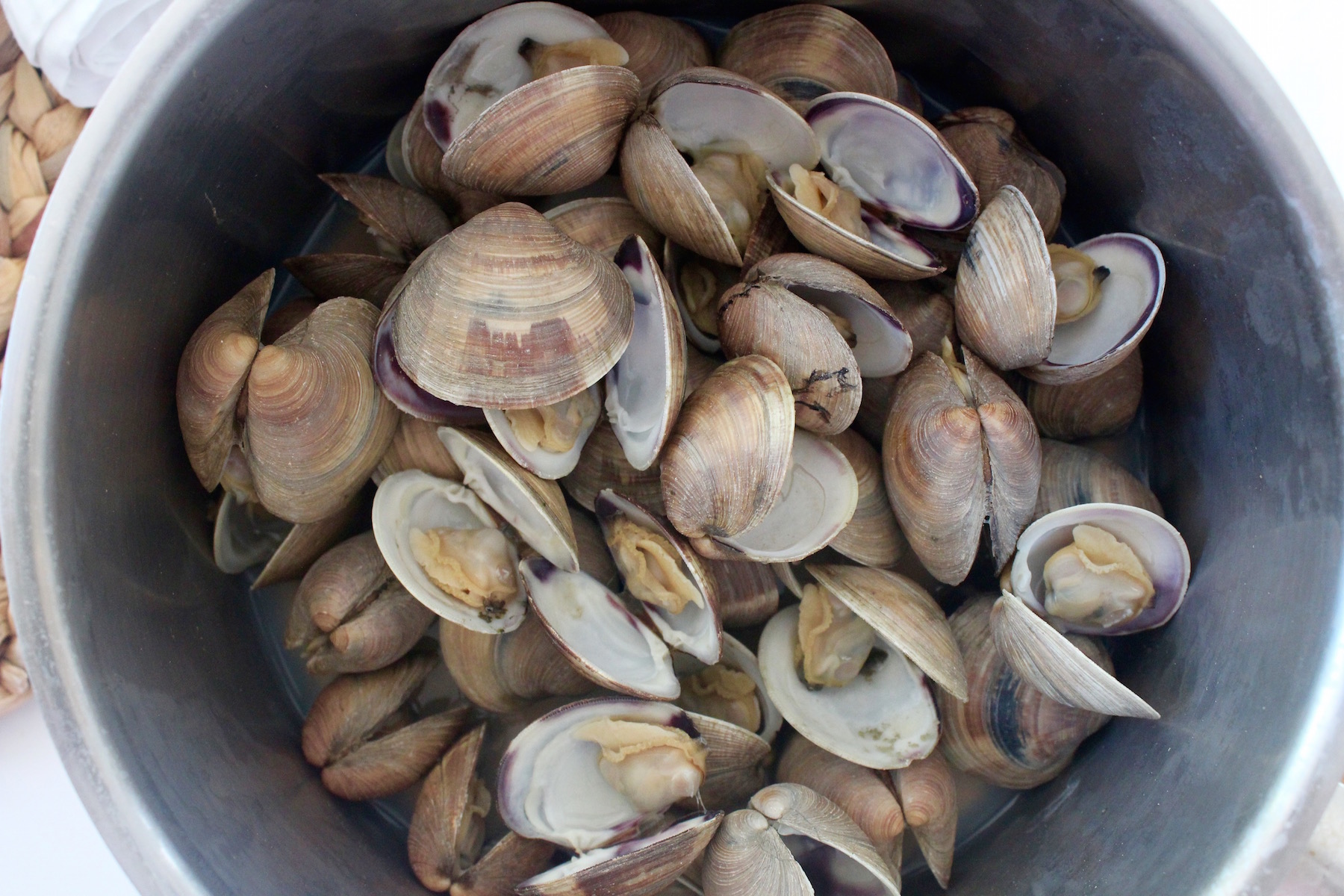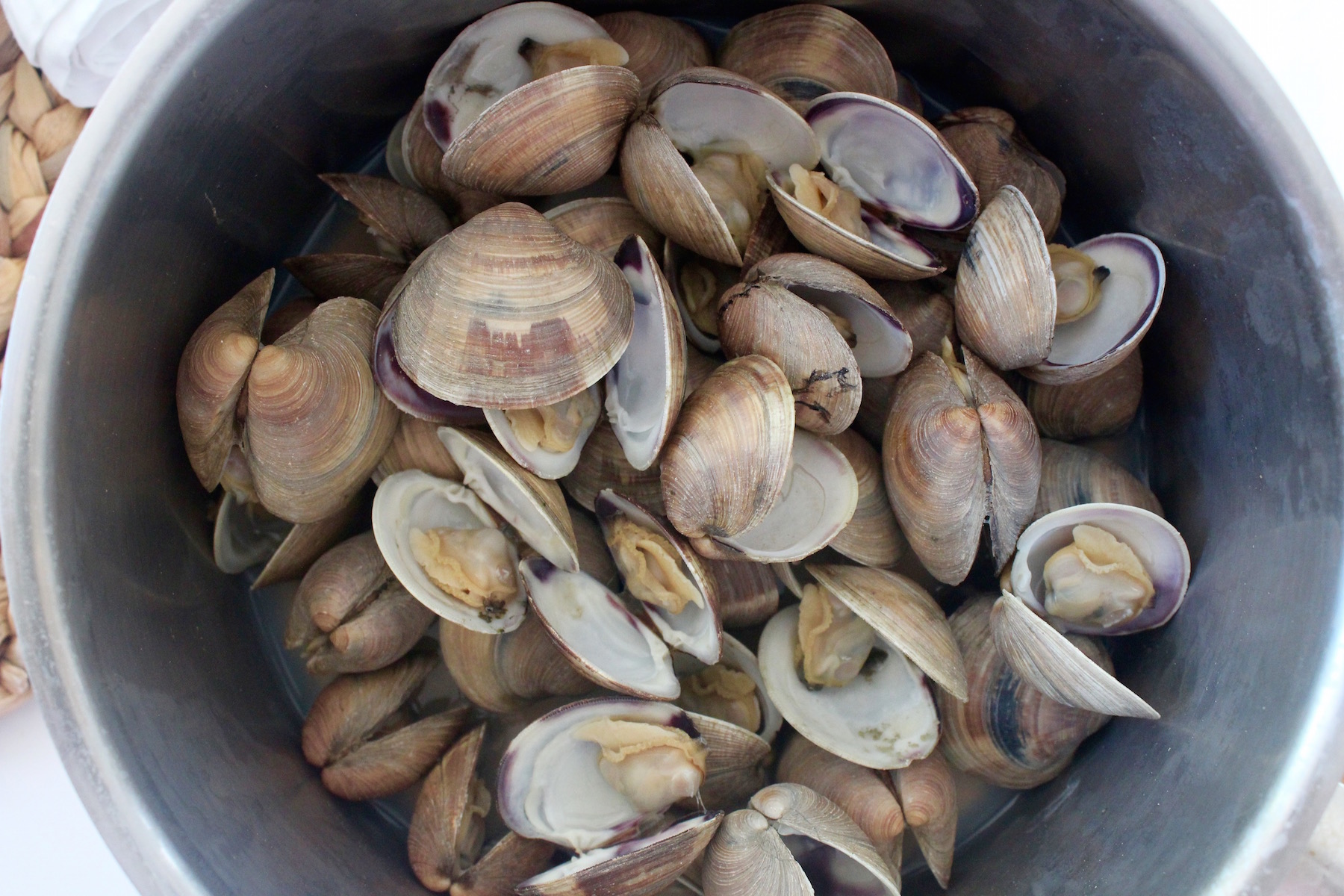 In addition to the chowder, we made another traditional dish: clam fritters. Tender clams mixed into a light, flavorful batter, fried to golden brown and sprinkled with salt. OMG – I could have eaten 17. When making these, we refer to our Fanny Merritt Farmer Boston Cooking School Cookbook — the one my mother received as a wedding present from her grandmother more than 55 years ago. I would dare say there isn't a New Englander who doesn't have this book in his/her kitchen – it's classic. Page 134 includes "Clam Fritters" – a simple recipe that makes a darned good fritter. The only changes we make are to replace some milk with beer, making them a little lighter and more flavorful, and we replace bacon fat with vegetable oil.  Here's the recipe for New England Clam Fritters.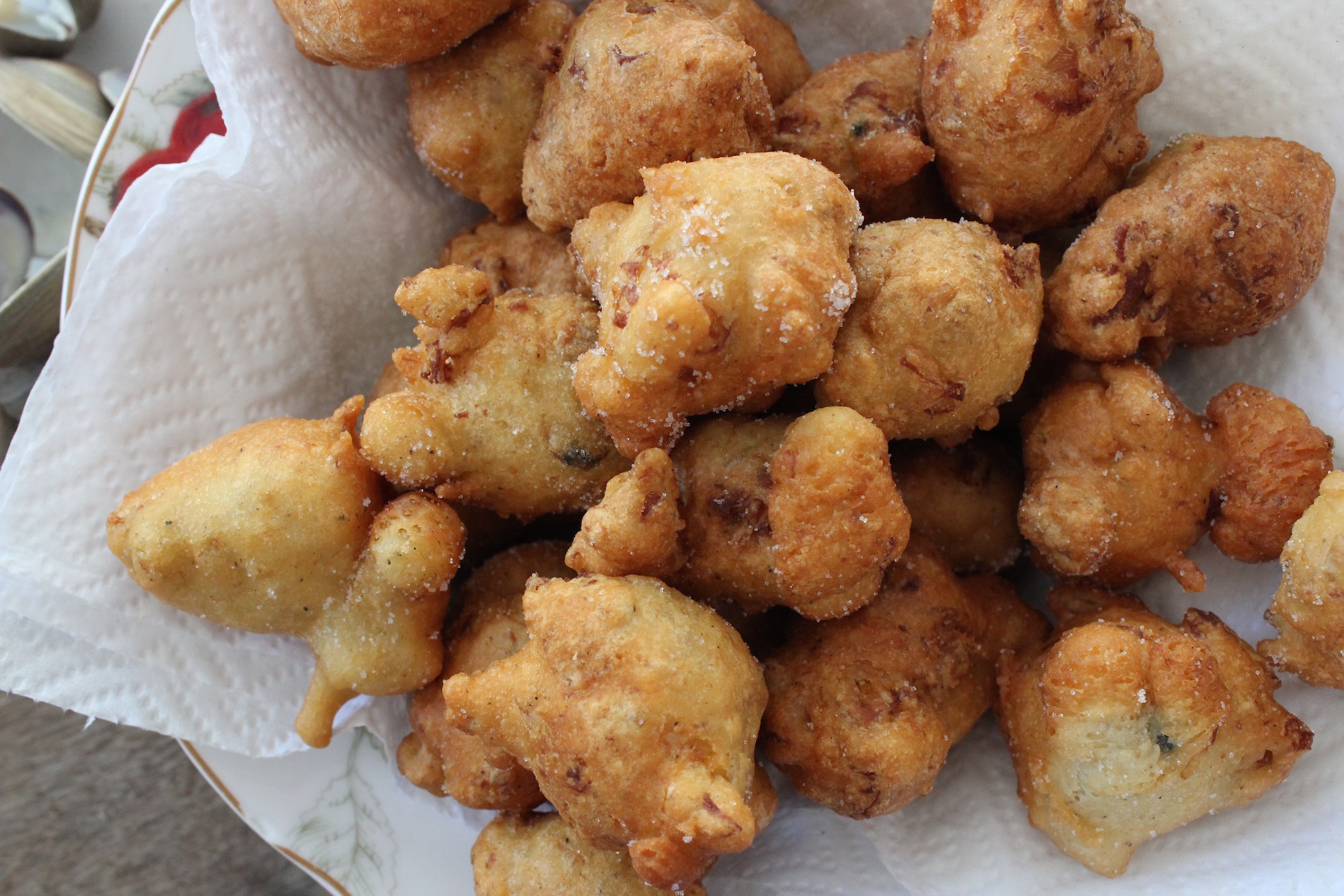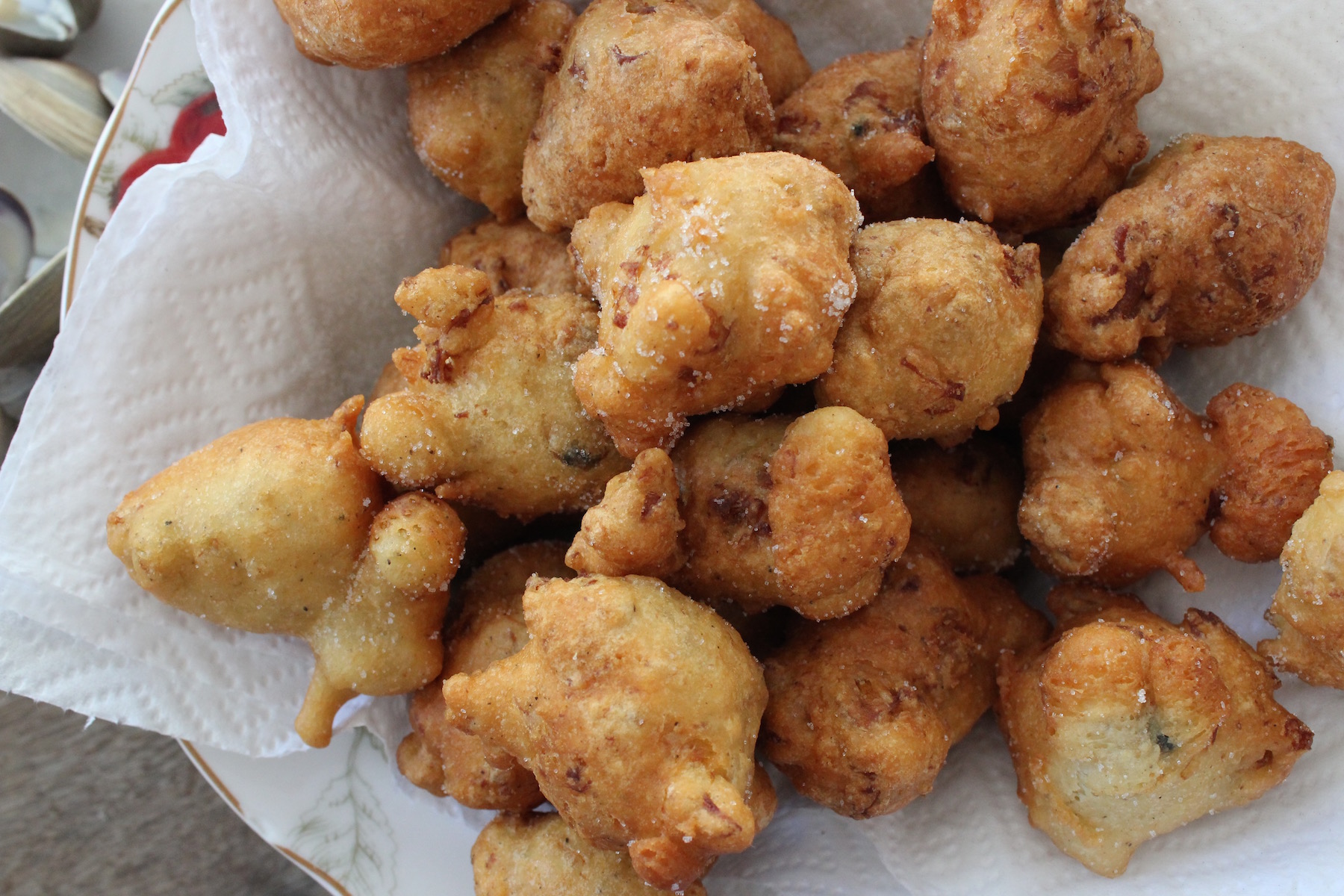 This dinner brought back many wonderful memories of family events, and it was a great way to celebrate Mother's Day.
Please know that I can't guarantee your version of this chowder will come out exactly as ours, simply because you won't have my mom standing at your stove watching out for just the right color, consistency and flavor in the pot. . .but hopefully this recipe will serve you well 🙂

New England Clam Chowda
Traditional New England clam chowder, made with mom, is awesome!
Author:
My Delicious Blog
Ingredients
2 quarts fresh littleneck clams (yield ~ 2 cups chopped) OR enough canned/minced clams in juice to yield 2 cups (reserve the juice, too)
¼ lb. salt pork, cut into small pieces
4 Tb. unsalted butter
1 large onion, minced
2 Tb. all-purpose flour
3 c. water
5 c. clam juice (~2 cups from steamed clams + bottled clam juice to total 5 cups)
4 c. potatoes, small cube (preferably Russet, skin on)
2 c. clams, chopped
¼ c. (or more, to taste) half and half
Kosher salt and freshly ground black pepper, to taste
Instructions
Prepare fresh clams (see Notes) starting 24 hours ahead. OR, drain canned clams and reserve the juice.
In a soup pot, over low heat, render the fat of the salt pork; cook until crispy, then remove from pan.
Add butter and onion and stir. Cook for a minute or so, then stir in flour. Once well-combined, slowly add water - 1 cup at a time, stirring to combine at each interval.
Add clam juice & potatoes.
Simmer a few minutes so potatoes start to cook and release their starch. If the broth seems very thin, make a beurre manie (equal parts soft butter [2 Tb.] & flour [2 Tb.] - mix well, then whisk into the hot soup so it dissolves without creating lumps. Continue to simmer over low heat.
Once the potatoes are cooked, taste and add a little salt and pepper if needed (it should taste 'clammy' with a slightly salty bite, but not too salty).
Add chopped clams then, after about 1 minute, turn off heat. Stir in half & half and serve!
Notes
1. If you purchase fresh clams, you need to remove as much sand as possible. I find it's best to first soak them in salty water for up to 24 hours before serving (so try to buy them a day in advance). When you get home, rinse & place them in a large bowl, cover with water and add 1 Tb. salt. Place in refrigerator then check back in about 12 hours (ideally 24). The clams will do their thing in salt water - open to take in water and expel any sand from their shells.

2. When ready to make chowder, remove clams from the sandy water and place them in a saucepan with 1 c. fresh water. Cover and steam a few minutes, until shells open. Remove from heat, discard unopened clams, cool a few minutes, remove meat from shells and place it in a small bowl. Pour the pan juice over the clams but hold back the last tablespoon or so since it probably contains sand. Allow the clams to rinse a bit more and the juice to settle. Remove clams, then measure out the juice but hold back the last tablespoon or so since it probably contains more grit -- it should be close to 2 cups.