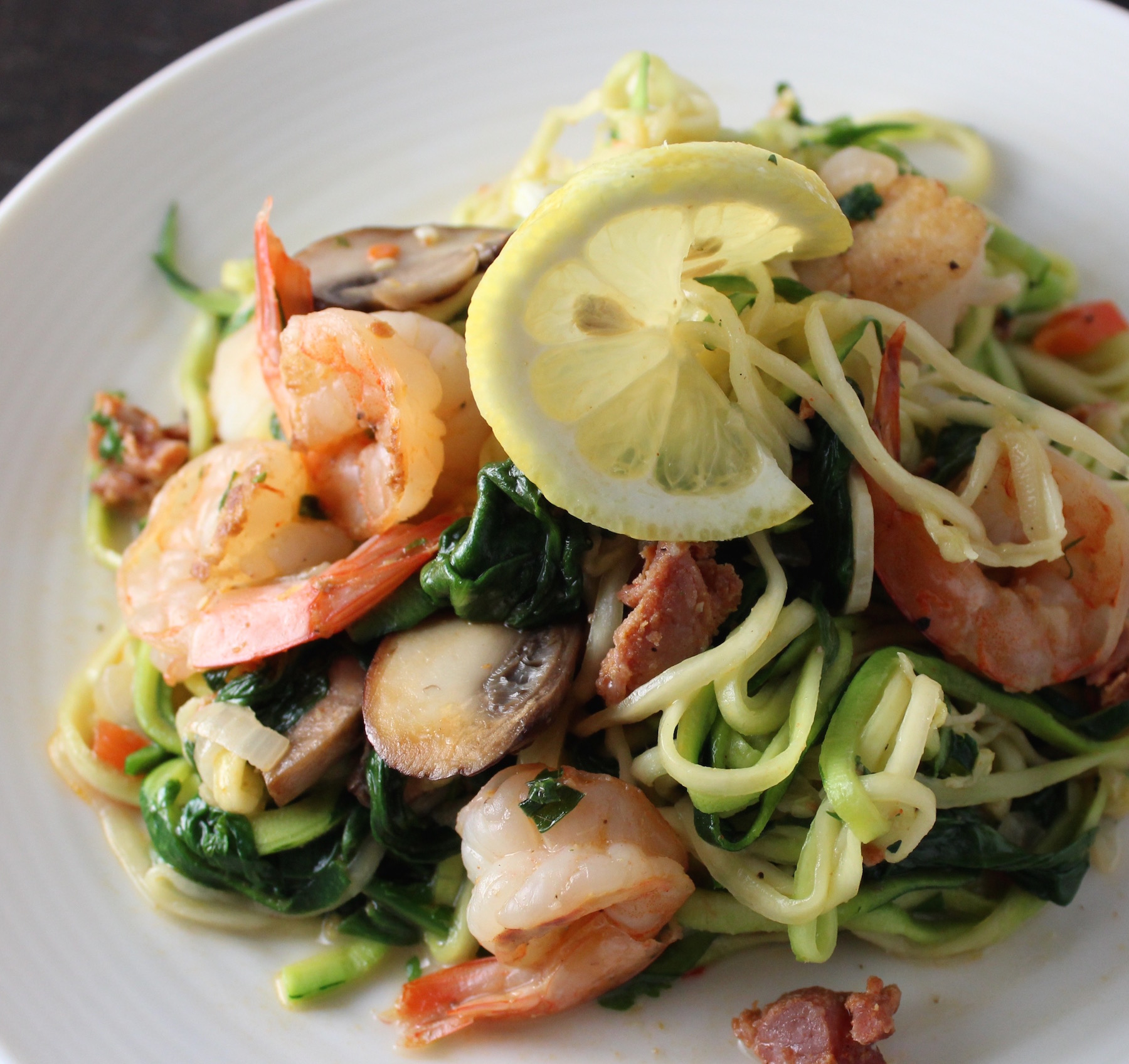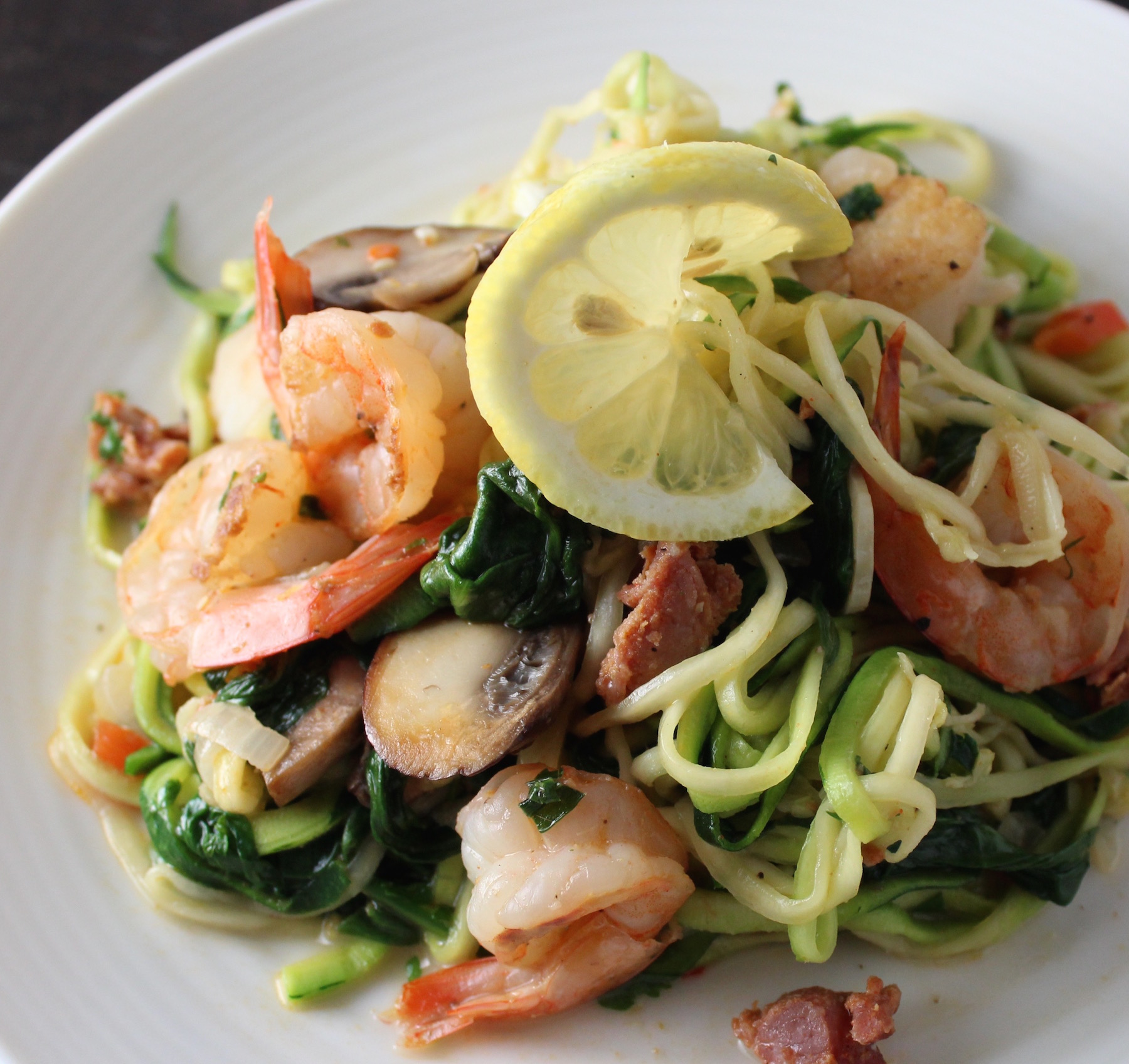 Remember when I told you how much I love that spicy sausage called chourico (see Portuguese-Style Fish Stew)? Basically, I will seize just about any opportunity to use it in my recipes! So, when I realized I had a small piece left over from that stew, I decided to put it into action with some zoodles (zucchini noodles). While it's only been a week since my last zoodle recipe, I thought, "what the heck?" and decided to go for it because I have a bunch of zucchini to use up.
As mentioned in that earlier post, zucchini takes on the flavors of whatever it's paired with, so for this dish I wanted to spice it up with that flavorful chourico, some fresh spinach, roasted mushrooms and tender pan-seared shrimp and scallops. Don't be daunted by the extra step with the mushrooms. . .it's always best to "roast" mushrooms, otherwise, they simply steam with your other ingredients and you've lost an opportunity to bring out all the delicious flavor they offer. Julia Child was famous for saying "Don't crowd the mushrooms!" when sautéing them, a technique she employed with her ground-breaking Boeuf Bourguignon recipe. Basically, it's important to allow each mushroom to have it's own space in the pan so it's not cooking from the heat of another (i.e., steaming). This is a well-worth-it extra step, trust me 🙂
The dish was light, flavorful, fresh-tasting and very satisfying — just what I was going for! My better half said it was one of his favorite dishes and asked me to make it again, soon. That's always good to hear.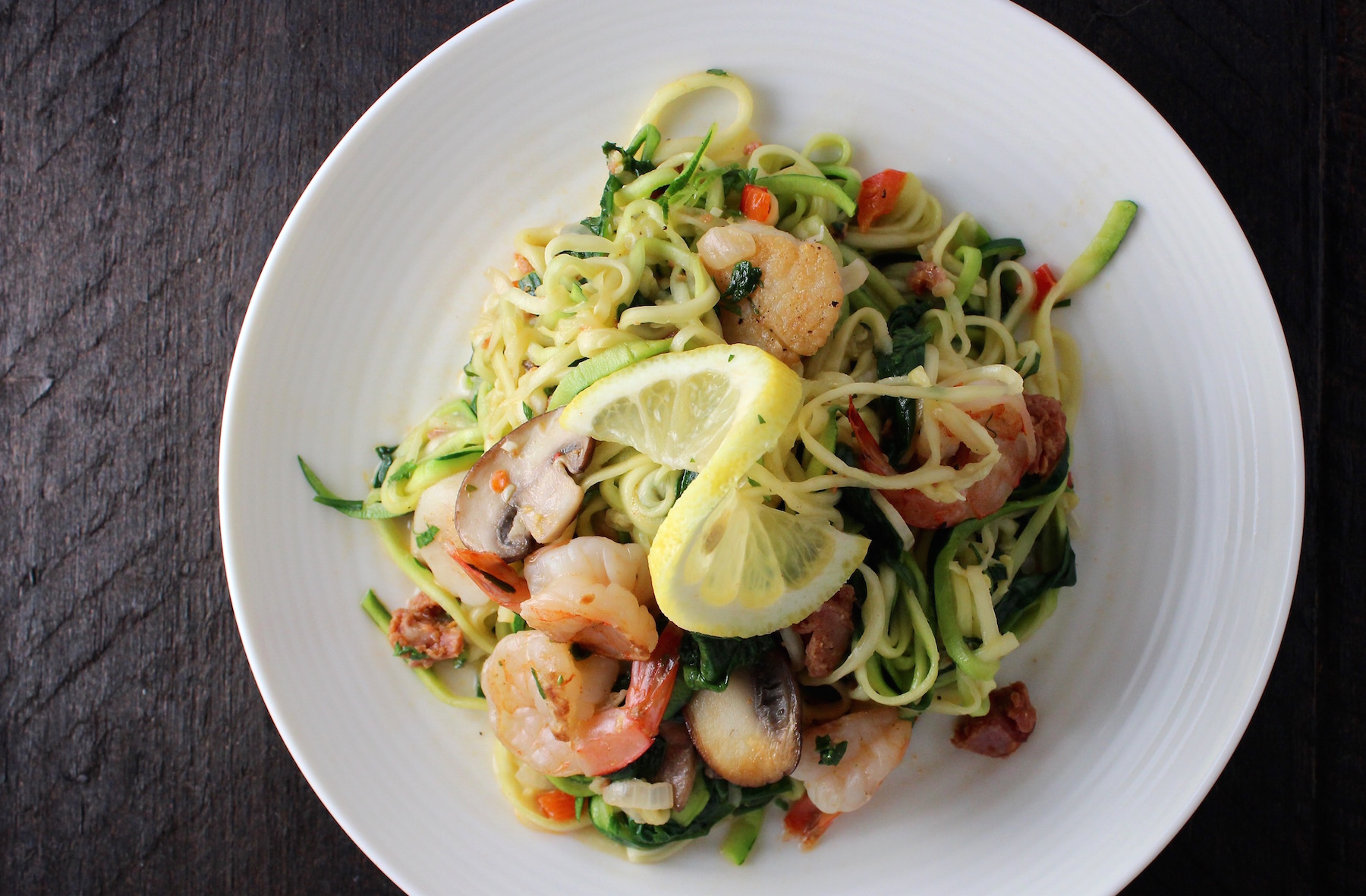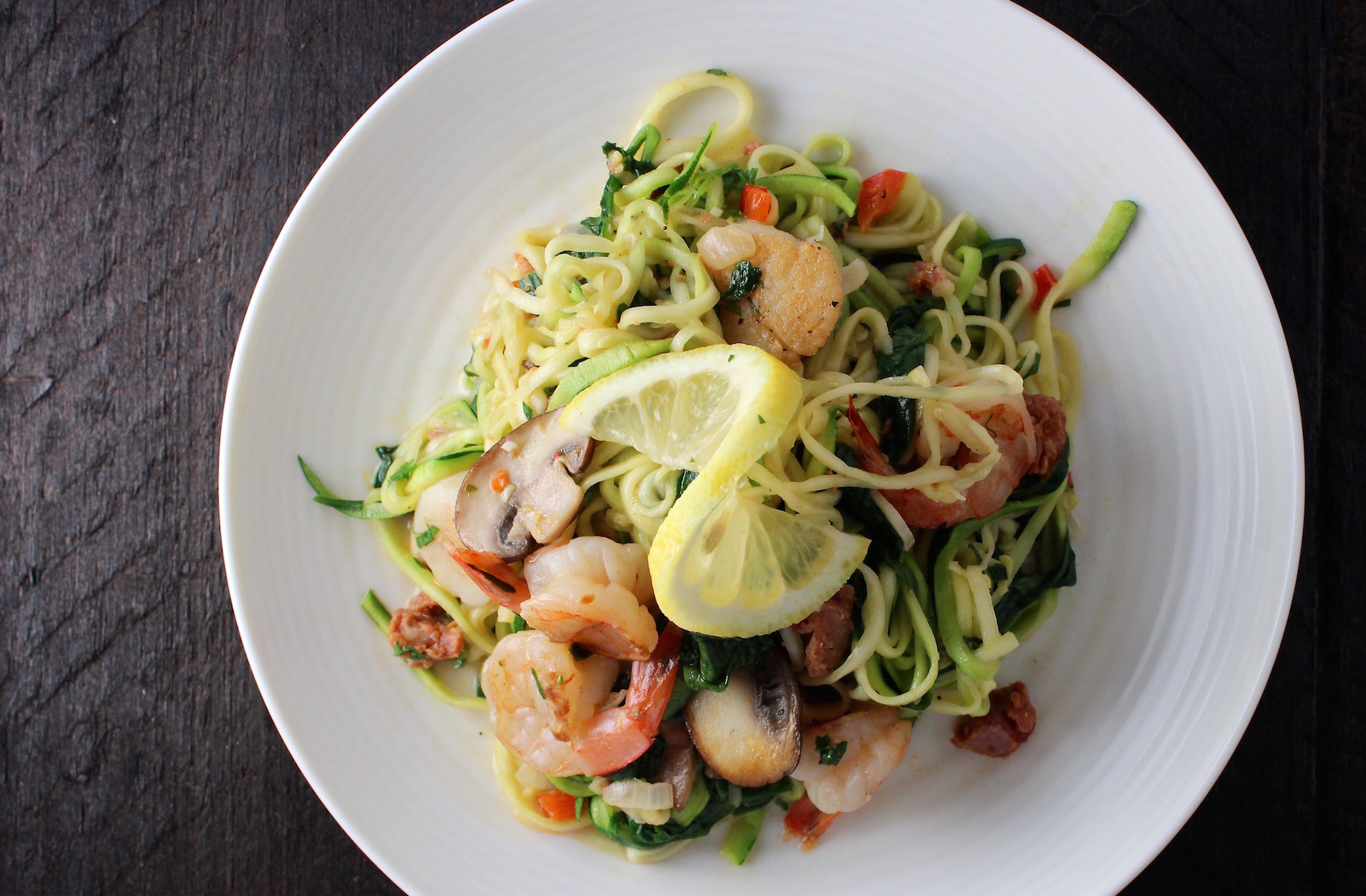 I hope you try some zucchini noodles – they're oodles of fun 🙂
P.S. if you missed my last zucchini noodle recipe, here it is: Zoodles with Tomato, Corn & Basil

Shrimp & Scallop Zoodle Saute
Zoodles, combined with shrimp and scallops makes a hearty, and flavorful dish.
Author:
My Delicious Blog
Ingredients
2 small zucchini, spiral sliced
1 Tb. olive oil
1 Tb. unsalted butter
2 cloves garlic, sliced thinly
1 c. chorizo, small dice
1 small yellow onion, chopped
¼ c. white wine
½ c. chicken stock
½ tsp. kosher salt
¼ tsp. freshly ground black pepper
Large handful of baby spinach
1 c. portobello mushrooms, sliced
8 large shrimp
6 large sea scallops
1 Tb. lemon zest
Instructions
Follow instructions for using your brand of spiral slicer to make the zucchini noodles. Set aside.
In a large non-stick skillet, heat olive oil and butter over medium/high heat.
Add garlic, onions and chourico and saute for about 2 minutes.
Add wine and stock. Slowly simmer to reduce the amount of liquid by half (this takes a few minutes).
Add zucchini noodles and spinach and mix to combine flavors.
In a small pan over medium heat, toss in sliced mushrooms (no oil necessary) and allow them to sit for a couple of minutes. Fluff them a bit so they brown on both sides (this results in a yummy, roasted flavor). Remove once they're brown and add to zucchini mixture.
In the same pan, add a dab of butter and heat to medium/high. Sprinkle the shrimp and scallops with a pinch of salt & pepper, then add to the hot pan. Cook shrimp 1-2 minutes on each side (until they're pink). Cook scallops until seared (at least 1 minute), then flip for another minute or so. Remove from pan and combine with zucchini mixture.
Top everything with lemon zest, season to taste, then serve.