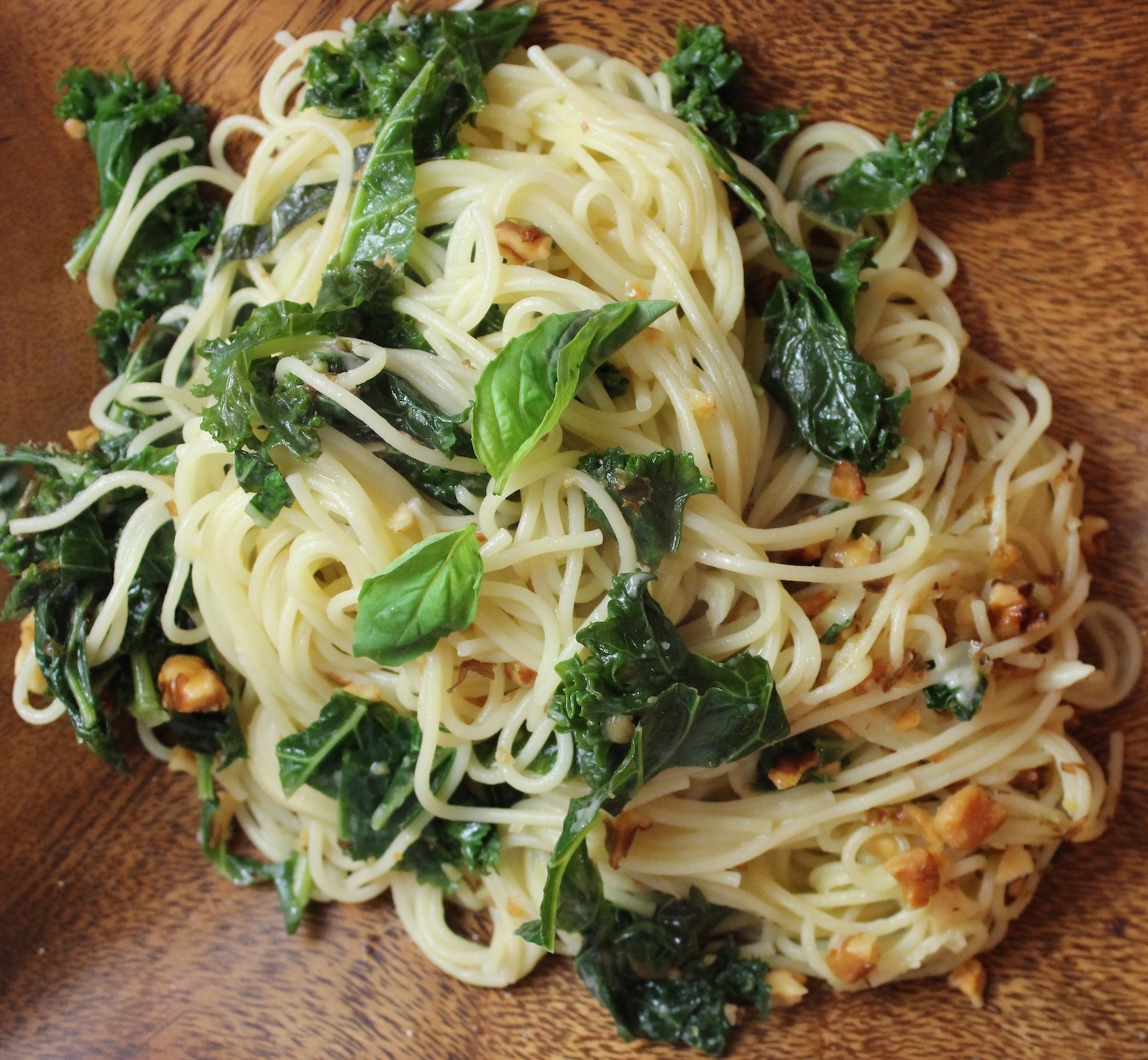 Are you one of those people (like me) who love to toss several types of ingredients (crunchy, chewy, soft, sweet, spicy, salty, etc.) into a dish and see what happens?  This recipe does just that.  It's adapted from Curtis Stone's "Linguine with Kale, Lemon and Walnuts" in Food & Wine.
I modified the recipe by using angel hair pasta to lighten it up a bit.  And I didn't toss the basil or walnuts into the pan until just before serving, to preserve freshness and crunch, AND to avoid the not-so-pleasant shade of green/gray that the pasta had become on a prior attempt!  I also added a pinch of red pepper flakes for a little kick.  While I haven't done it yet, you could replace basil with cilantro or flat leaf parsley, replace the kale with fresh spinach, add in some sautéed mushrooms, etc.  It's a good dish to experiment with 🙂
This is definitely satisfying and tasty.  Hubby likes to have a little extra protein with his pasta, so I sauteed a boneless chicken breast, sliced it up and tossed it in just before serving.  Really yummy.  Enjoy!

Pasta, Kale & Crunchy Walnuts
A great mix of angel hair, basil, kale and walnuts.
Author:
Adapted from Curtis Stone's Recipe
Ingredients
½ c. walnuts
1 lb. curly kale, stems removed, thinly sliced
1 lb. angel hair pasta
½ c. olive oil
6 cloves garlic, minced
½ tsp. red pepper flakes
2 Tb. lemon zest
2 Tb. lemon juice
½ c. basil leaves, lightly torn
½ c. Parmesan cheese (plus more for serving)
½ tsp. kosher salt
¼ tsp. freshly ground black pepper
Instructions
Preheat oven to 325.
Place walnuts in a baking dish and pop in oven for about 10 mins. Allow to cool and chop coarsely.
Fill a large saucepan with water and 1 Tb. kosher salt; bring to boil.
Place kale pieces in boiling water for a few minutes (just until bright green color & tender). Remove kale and place in a colander to drain.
Return the water in the saucepan to boil. Add pasta until cooked. Reserve 1 c. of water before draining the pasta.
Dry the saucepan. Heat to medium/high and add ¼ c. of the olive oil.
Add garlic and red pepper flakes, thenkale and lemon zest; toss until hot (about 2 mins.).
Add angel hair, lemon juice and remaining oil.
Add parmesan and half the reserved cooking water. Simmer over low heat until pasta is coated; add more water if it's too thick.
Season with salt and pepper; add basil and walnuts.
Serve with more parmesan, as desired.