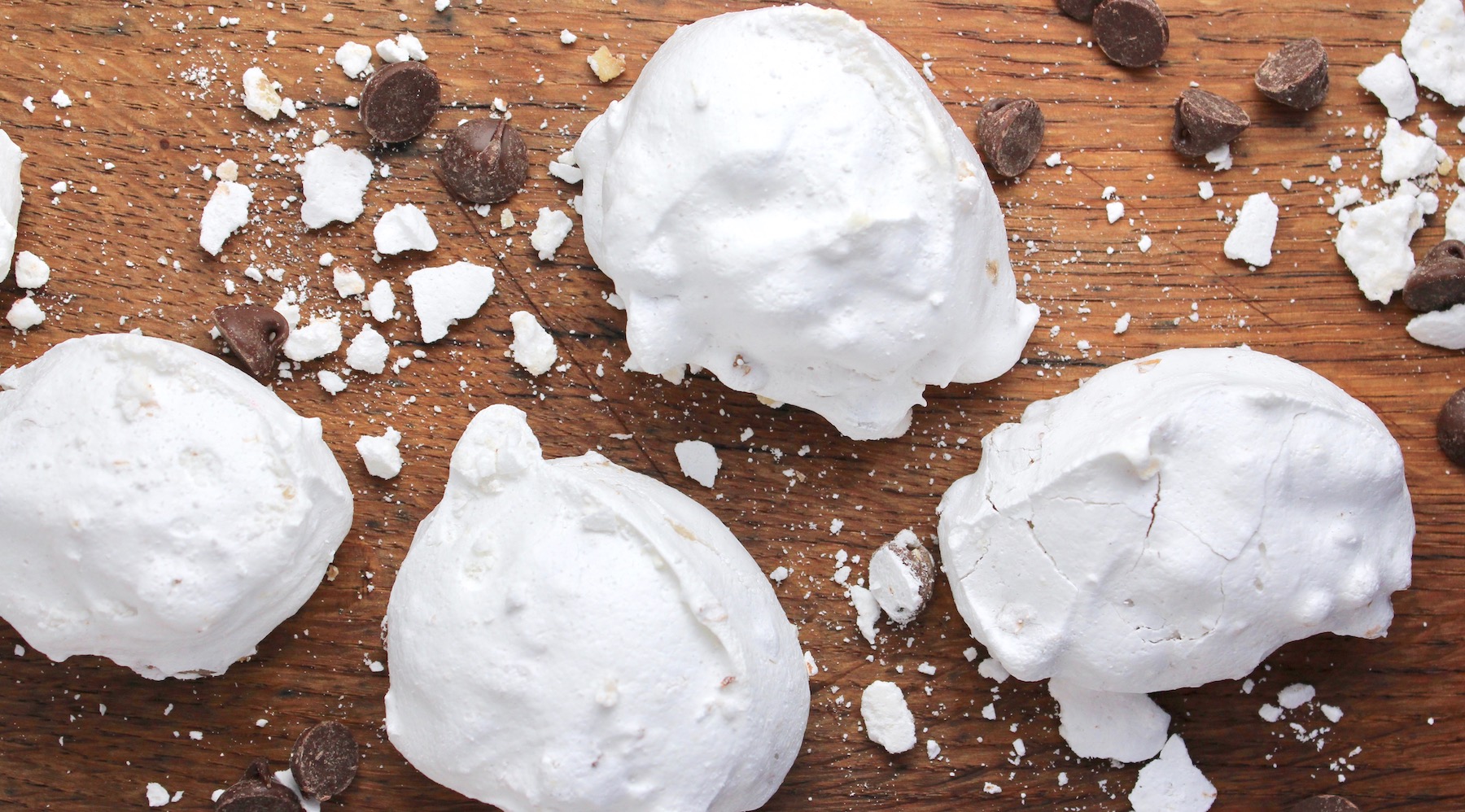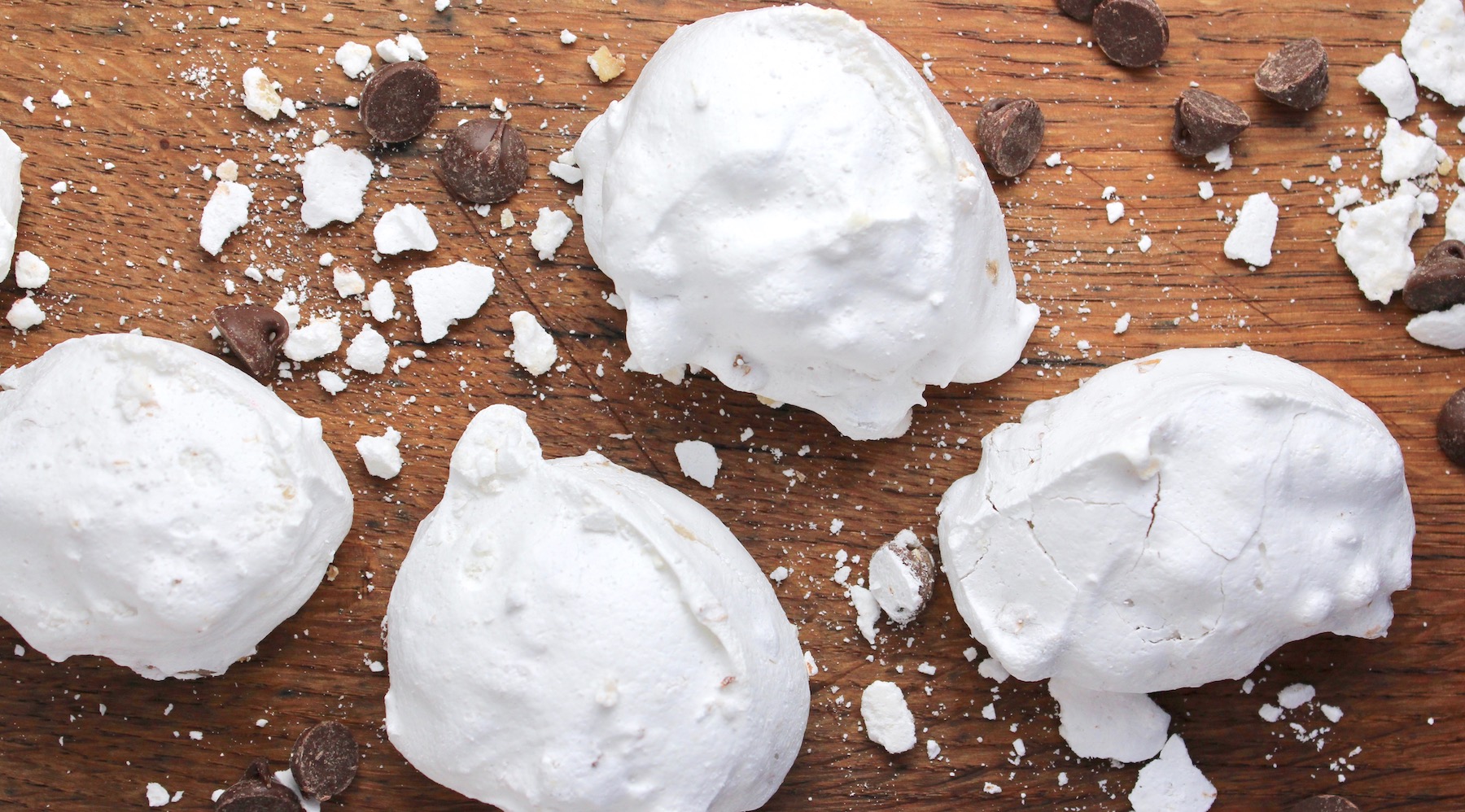 Craving something sweet?  I've got you covered.  This dessert is not only sweet, it's a vintage recipe that's easy to make, has no flour, and is gluten-free.
What IS this magical dessert?  Meringue cookies, of course!
My grandmother made these for as long as I can remember.  She didn't invent them (there are tons of posts online), but she recognized that they fit the bill for dessert when flour, butter or other ingredients were in short supply.  Plus, they're deliciously sweet, with crisp, light and crumbly texture, and chocolate bits and pecans in every bite.
Making meringue is sort of an amazing thing, dating back to the 1600s when chefs learned that whipping egg whites with sugar produced a substance of beauty that led to all sorts of possibilities like Pavlova, Baked Alaska and macaroons.  Meringue is sometimes described as 'deceptively simple' because it's made with basically two ingredients AND it can be elegant or casual, depending on how it's served.
If you've ever wondered how meringue is made, here's a little science behind the magic: when you whip egg whites, proteins start to open and air bubbles form, which creates volume.  By slowly adding sugar, the water evaporates from the whites, helping them stabilize and hold their shape as stiff peaks (that glossy, bright white concoction that sticks to the beaters).   Here's a pic from a batch of meringue I made a while back – not for today's cookie recipe (the volume is much smaller for this recipe), but you get the idea of what I mean by 'stiff peaks':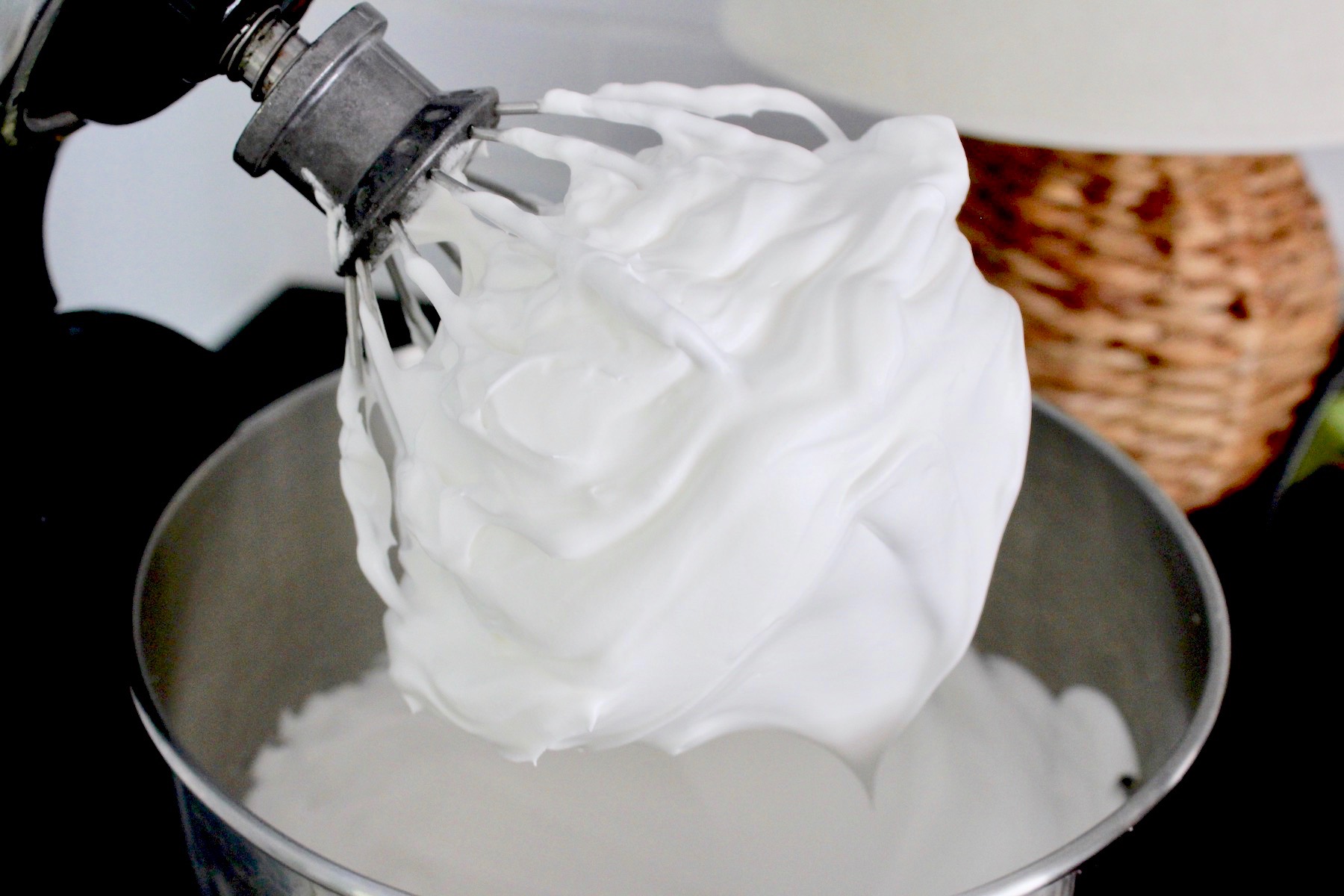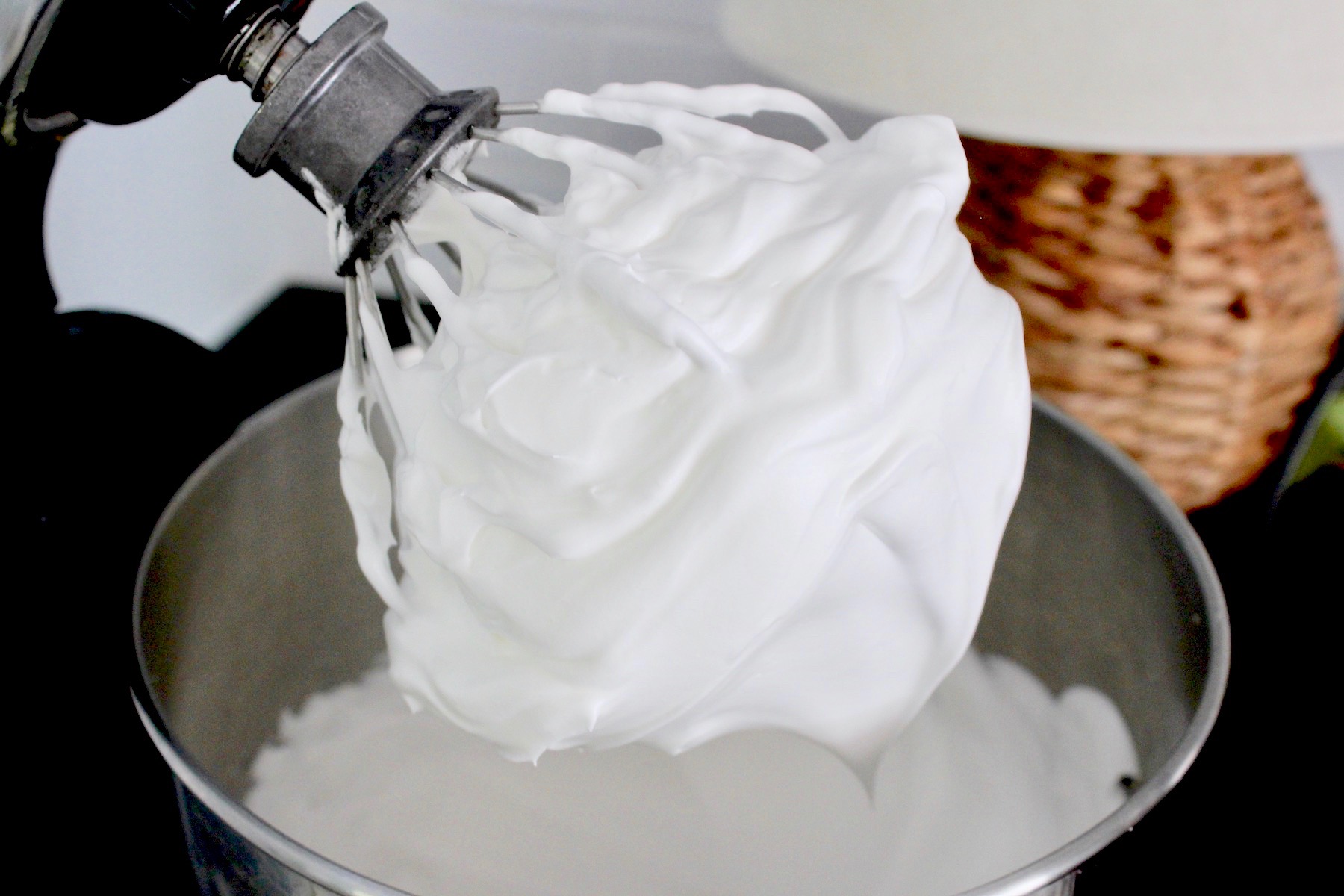 Then, when these cookies go into the oven, the steam from the heat causes little air bubbles to enlarge, making the whites expand and form a crispy exterior.  Interesting, right?!?
You can whip up a batch for this recipe in mere minutes, but the cook time is 4 hours.  Here's the fun part: as soon as you put them into a preheated, 350-degree oven, you immediately turn off the oven and simply leave them there for 4 hours (hence the name "Forgotten Cookies").  You could even pop them into the oven before going to bed, then wake to fresh, delicious treats (this is a good method if you need your oven for other stuff during the day).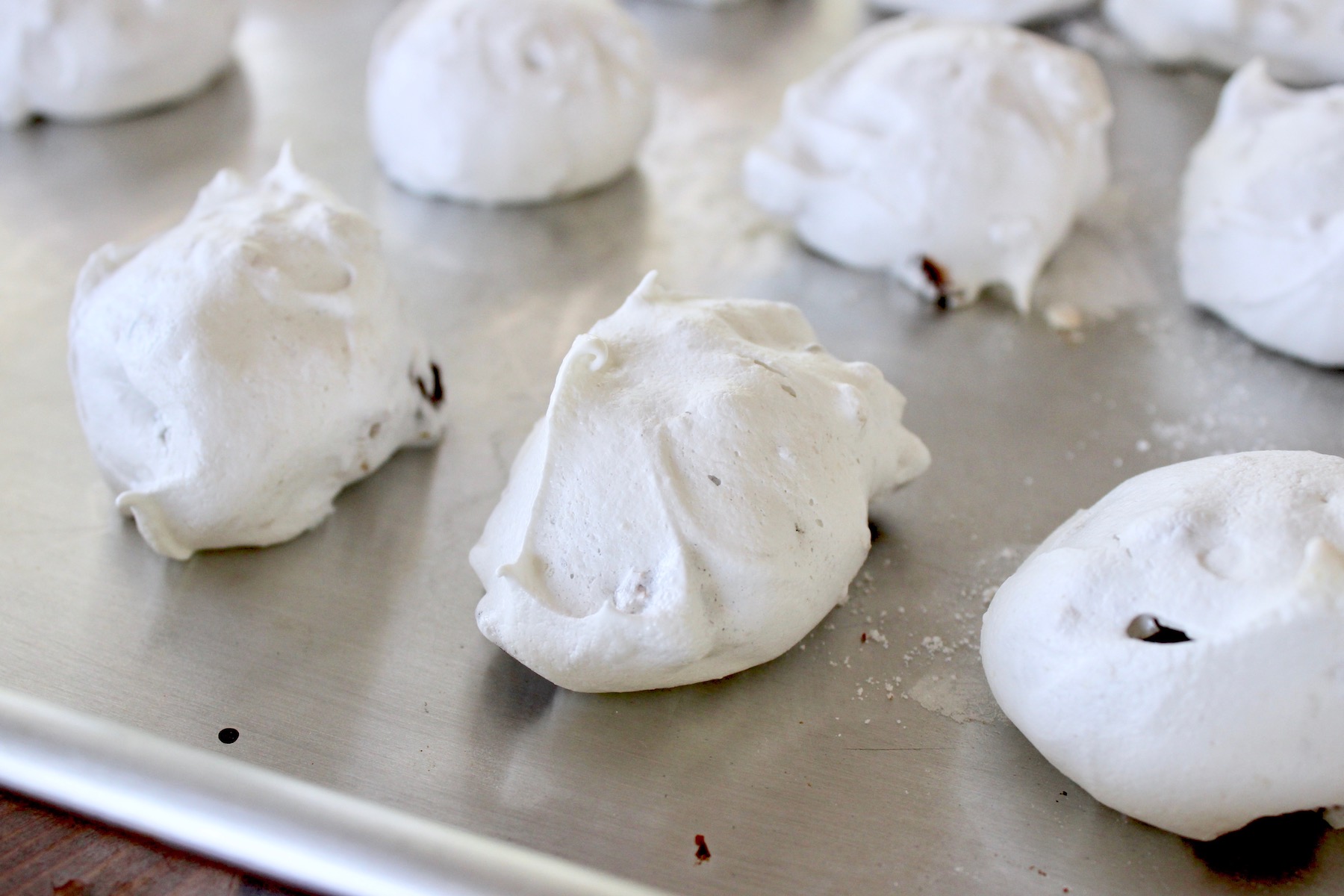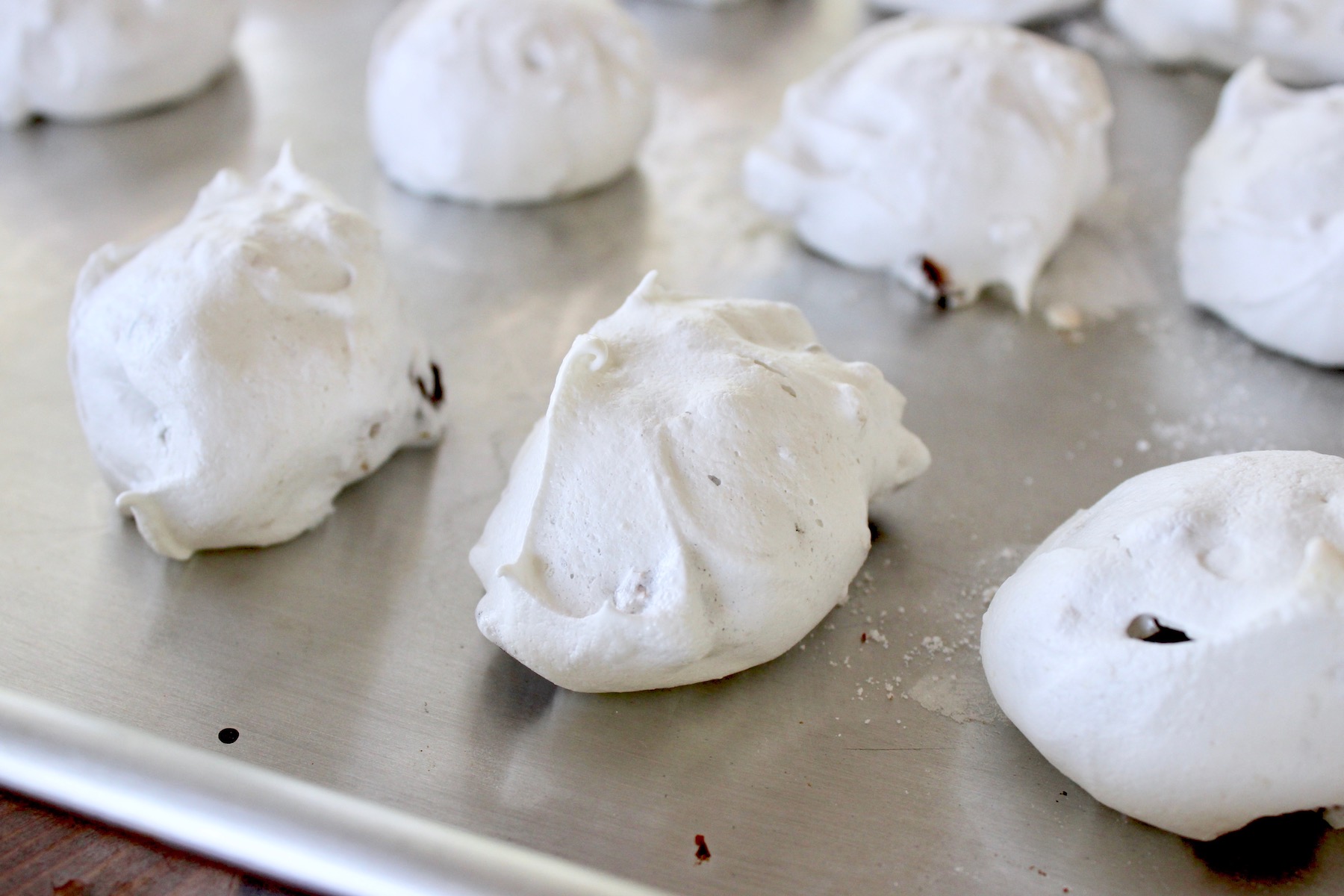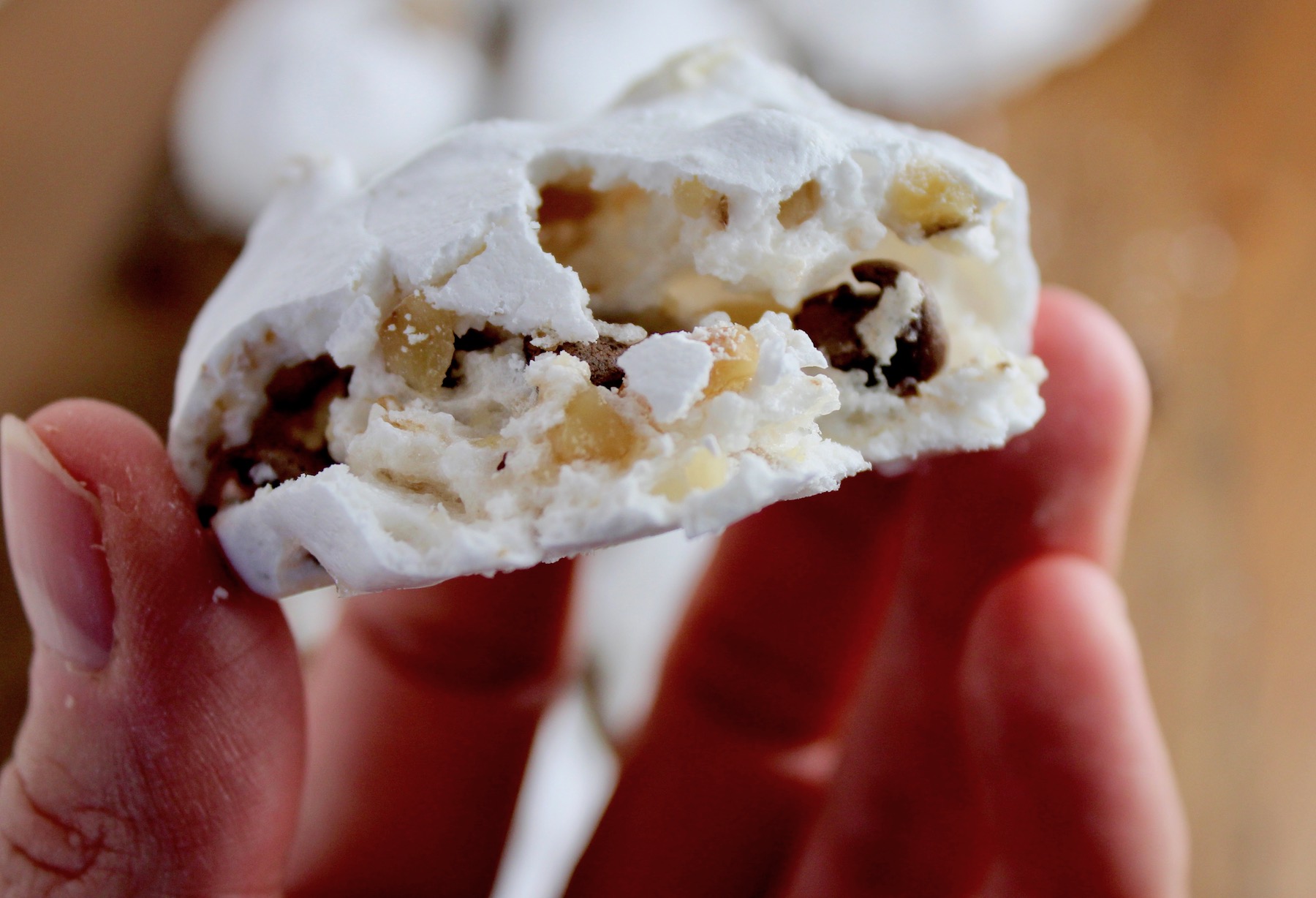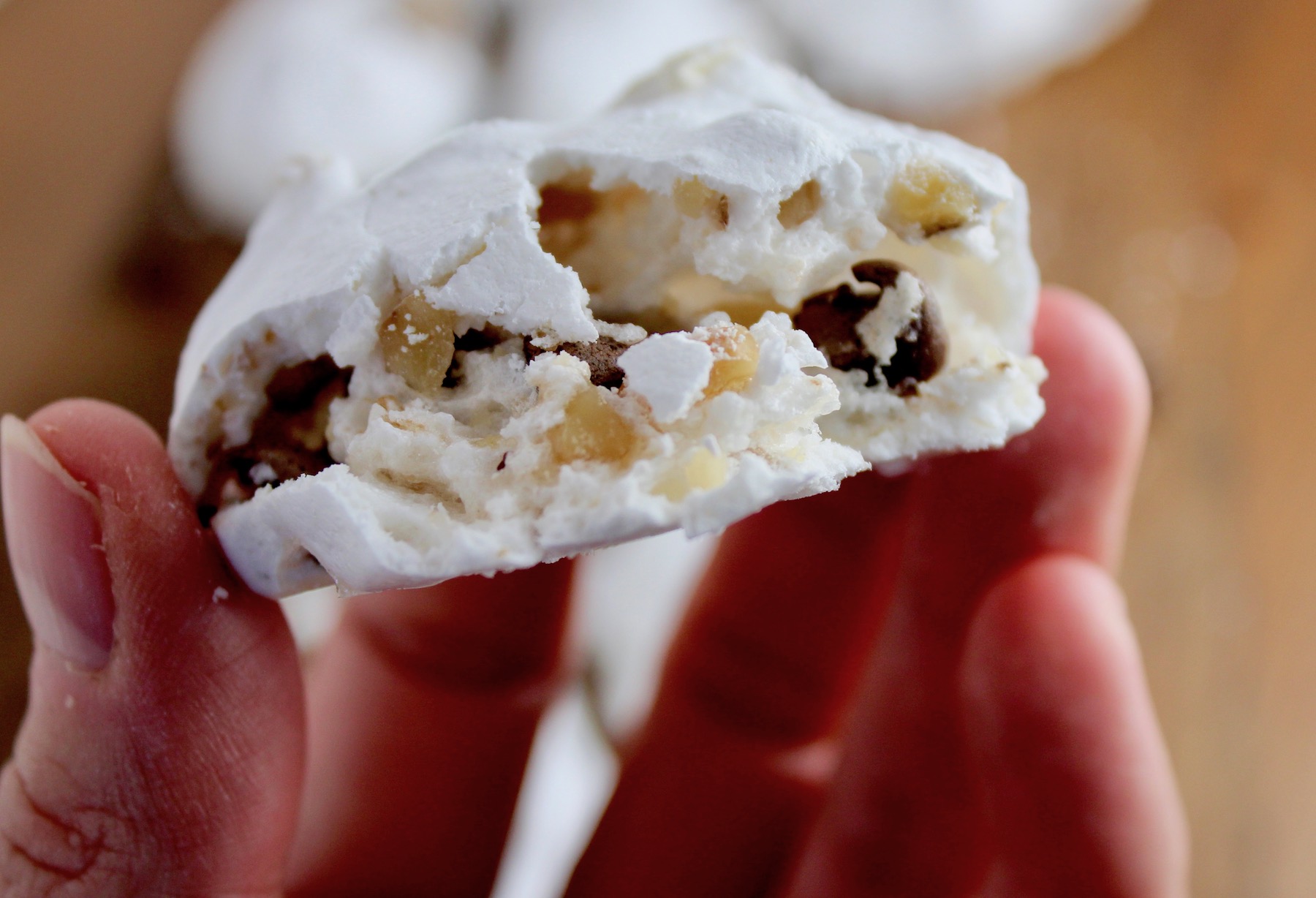 These cookies can also be modified depending on what you have.  No chocolate chips?  Try chopped/dried fruit (cherries or apricots would be tasty), butterscotch chips, or toffee pieces.  No pecans?  Use walnuts or pistachios.  Or maybe make a chocolate meringue by adding cocoa powder to the whites.  You get the idea.  Experiment and have fun with this vintage recipe, all while satisfying your sweet craving 🙂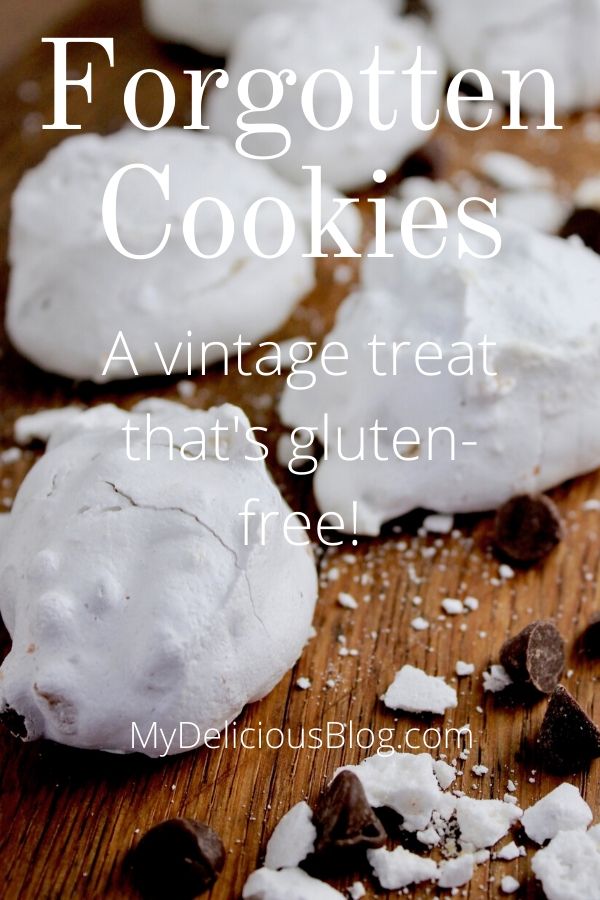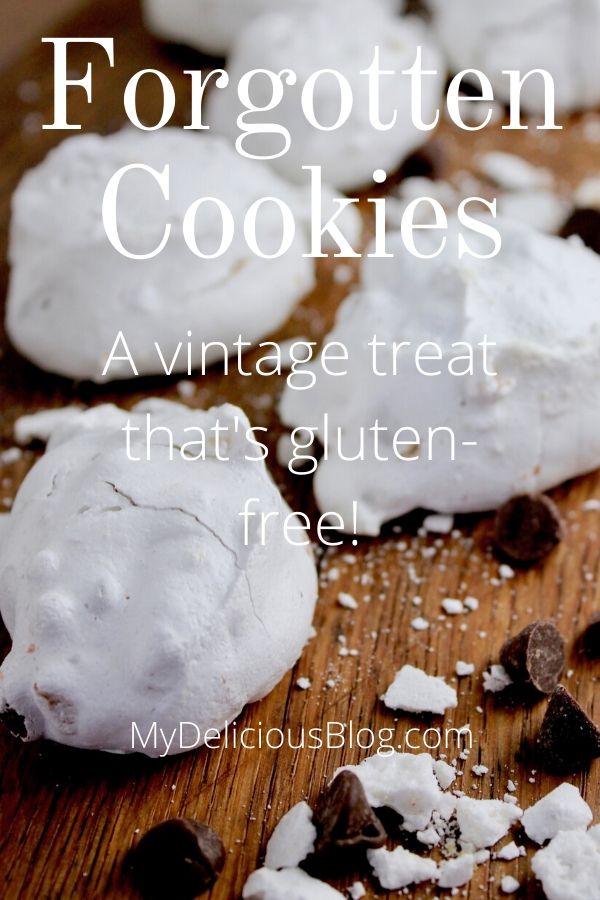 Print Recipe
Forgotten Cookies
A vintage recipe of sweet, crispy meringue filled with chocolate chips and pecans. A perfect gluten-free treat!
Ingredients
2

Egg whites (room temperature)

1/2

tsp.

Cream of tartar

2/3

c.

Granulated sugar

1/3

c.

Pecans, chopped

1

c.

Chocolate chips (semi-sweet or dark)
Instructions
Preheat oven to 350 degrees.

In the bowl of an electric mixer, whip egg whites and Cream of Tartar to soft peaks.

Slowly add sugar, a little at a time, so it gets incorporated into the soft egg whites. Continue beating on high until the whites are glossy, bright white and at the stiff peak stage.

Carefully fold in pecans and chocolate using a rubber spatula.

Spoon teaspoonfuls of the mixture onto an ungreased, 9X13 baking sheet. You should have approx. 18-24 depending on the size, and they should all fit on one sheet.

Place in oven, close door, then turn off the oven and 'forget' about them for 4 hours!

After 4 hours, remove from oven. Using a thin spatula, carefully lift each off the baking sheet and serve. Store in an airtight container, separated by wax paper for up to a few days.
Notes
Note 1: my grandmother's recipe calls for using an uncreased baking sheet - no parchment paper or anything else.  The cookies are fine like this, you just need to use a very thin spatula to remove them carefully from the sheet once cooked.  As an alternate, if you prefer, line a baking sheet with parchment paper or lightly buttered foil.
Note 2: while my grandmother didn't include Cream of Tartar in her recipe, I like to add some to create more stability in the whipping process, which takes a little less time, too :