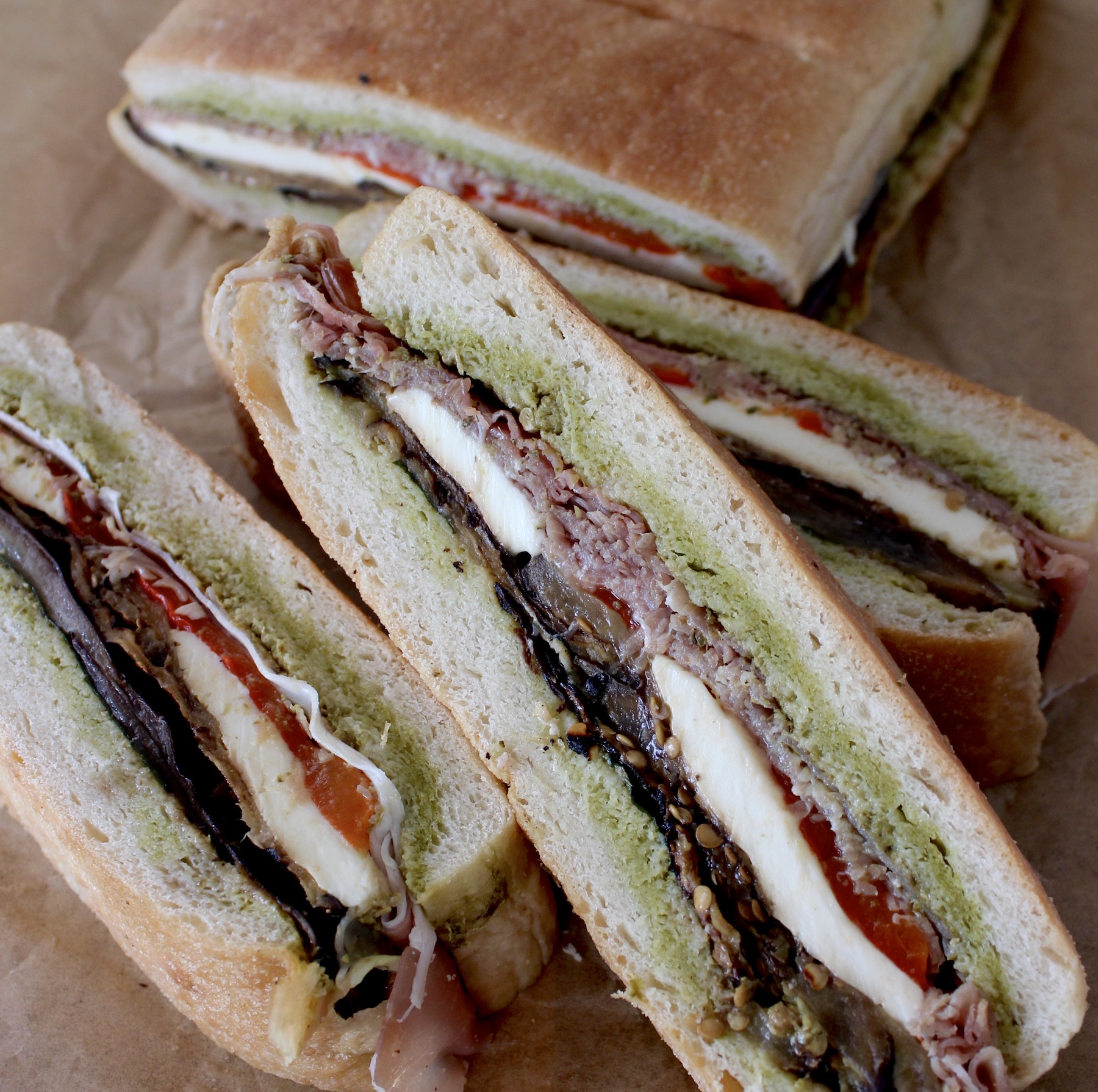 A good sandwich. It's so subjective!
When I think about some of my favorites, they're usually tied to location or person, all holding great memories. One that comes to mind is the olive loaf, white bread and yellow mustard sandwiches my mom always packed for the beach. Sometimes she added Iceberg lettuce, which bore risk of sogginess, but did provide welcome crunch if it survived. I can still taste the briny olives and cool mustard. I can even feel the bread sticking to the back of my front teeth. . .
I've also enjoyed sandwiches in cities that made them famous – Po' Boy and Muffuletta, Cheesesteak, Italian Beef, pastrami on rye – along with home-made delicacies like grilled cheese, Sloppy Joes and Fluffernutters. I could keep going, but I'm getting hungry.
Eater
 posted an article recently that shares conversations with pros about what makes a good sandwich. I love what Mason Hereford, of New Orleans restaurant 
Turkey and the Wolf,
 said: "The bite is preordained. If it's 10 or 20 bites, each one gets to be determined by the creator of the sandwich. . .you get to balance everybody's bite for them."
Isn't it fun to think that every time we make a sandwich, we're setting the stage, in every bite, for the flavors and textures we envision? A sandwich can be a work of art!
Pressed sandwiches are great for getting the most flavor and texture in every bite. I made box lunches for the 
Boca Grande Film Festival
a while back and this combination was a hit – layers of grilled eggplant, mozzarella, prosciutto, roasted red pepper and basil pesto in a ciabatta loaf.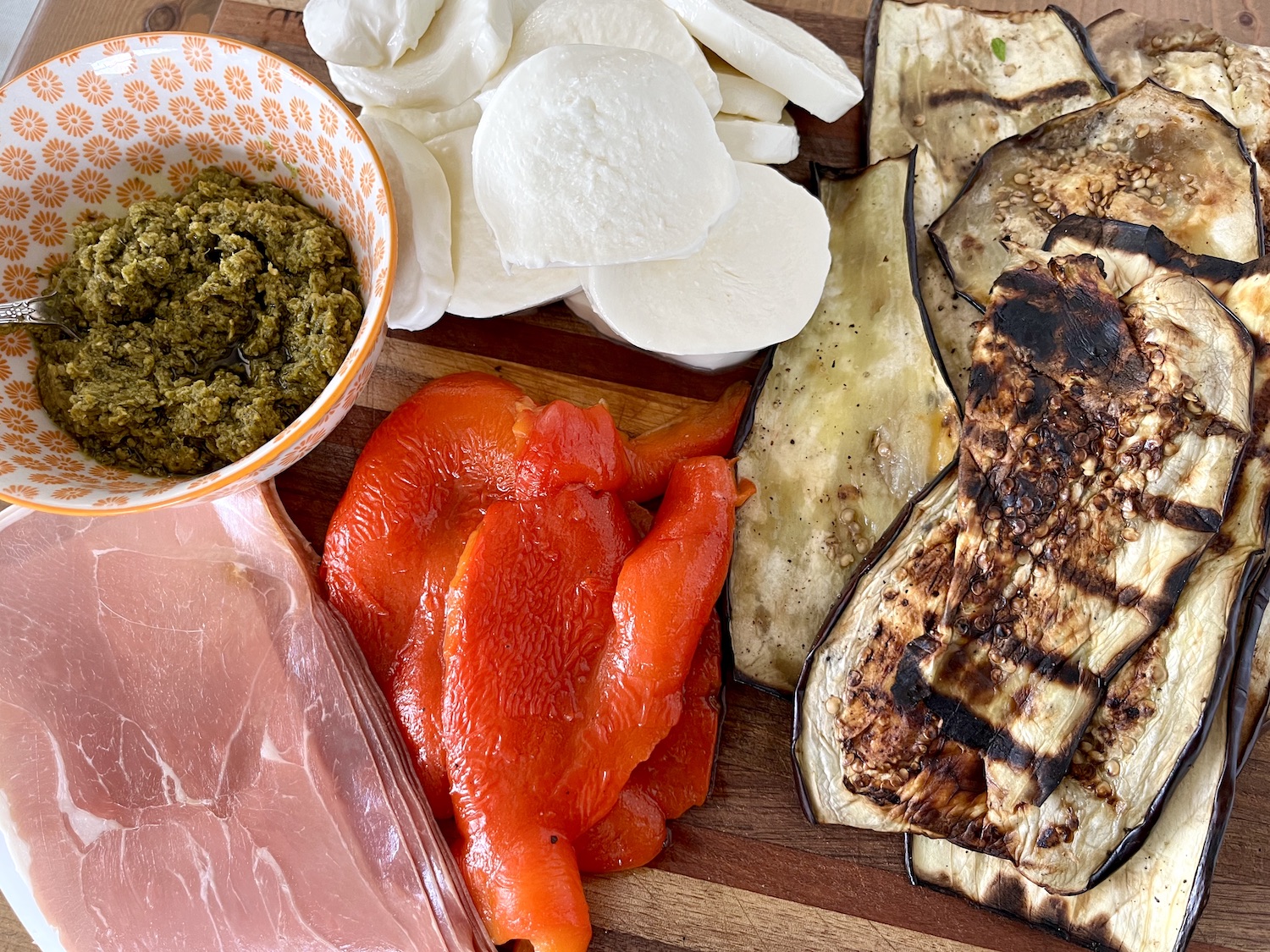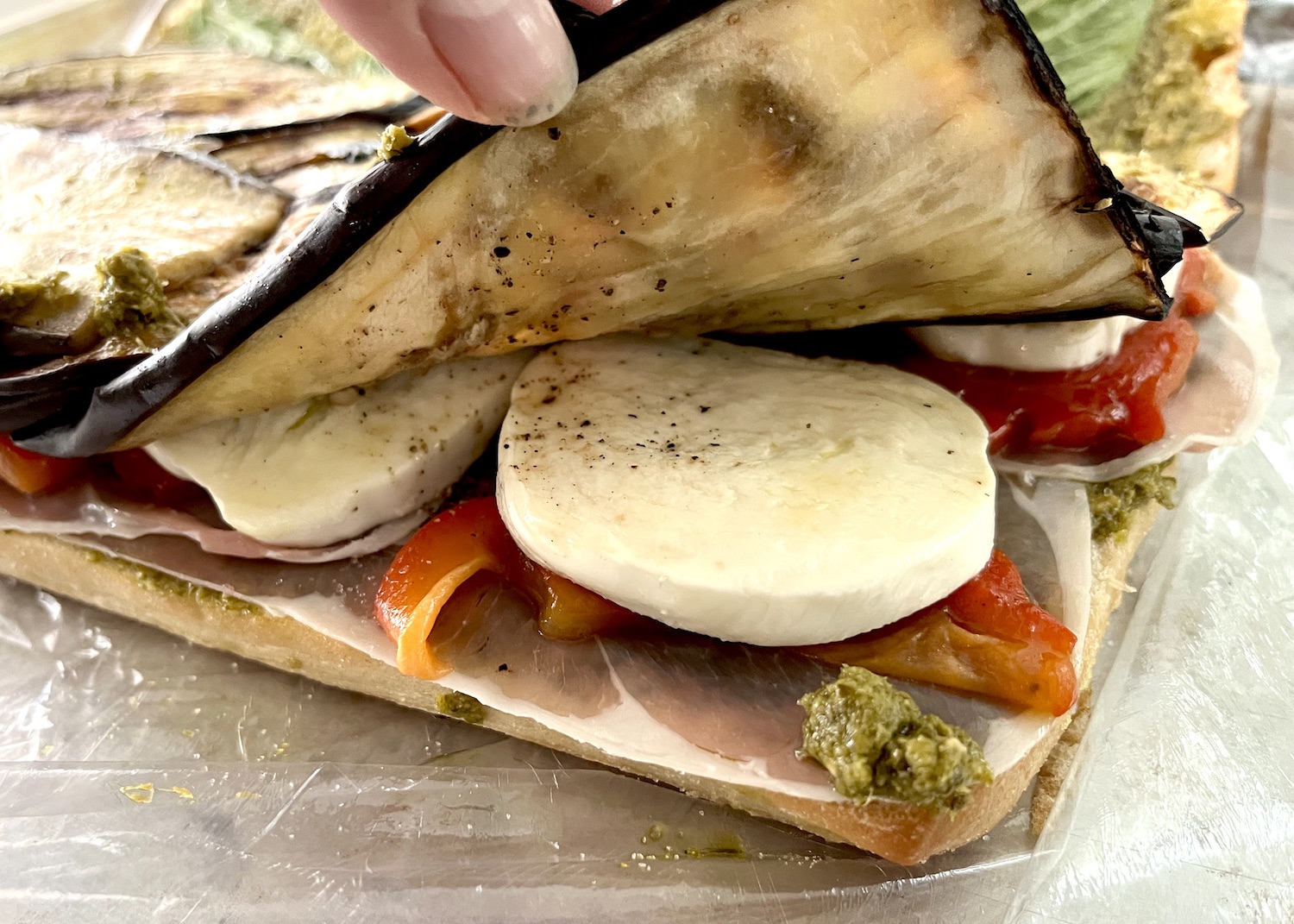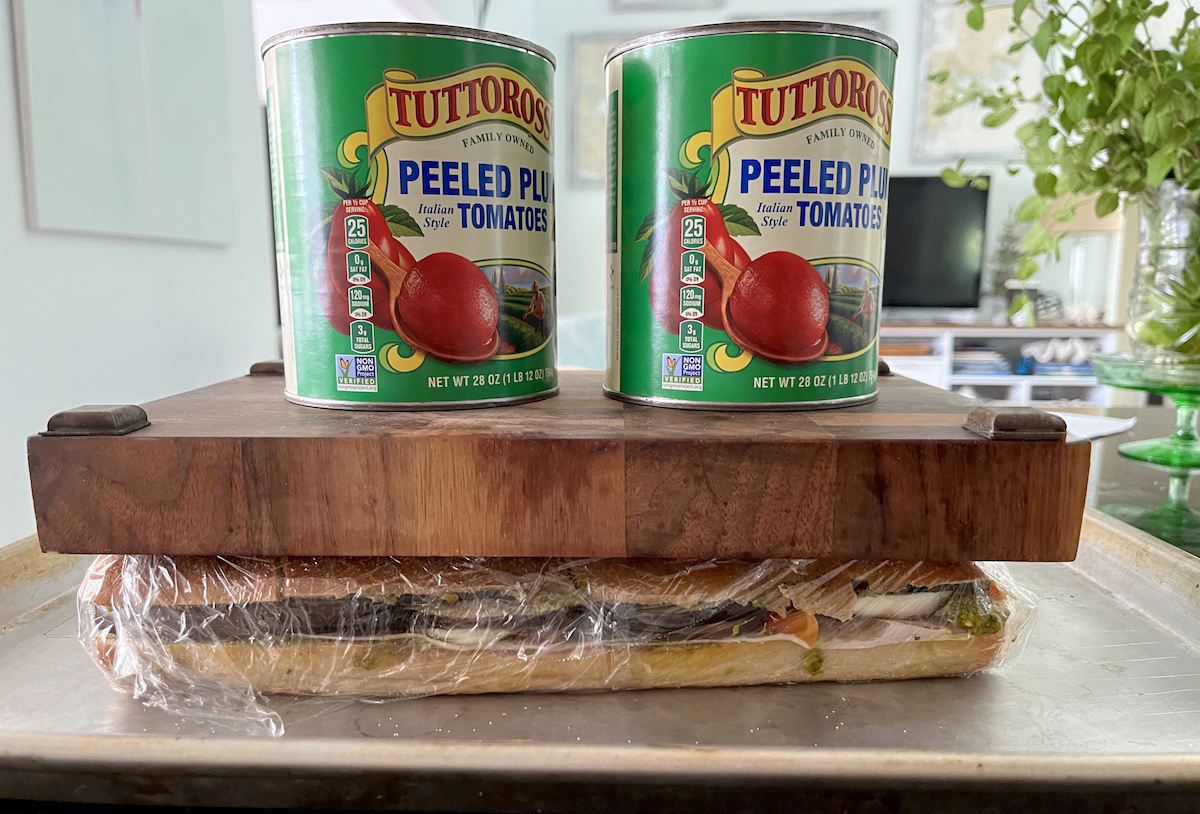 Once all the layers are in place, you weigh it down and refrigerate it overnight.Pressed sandwiches are great for picnics because you bring the whole thing in one piece and slice it when you arrive. But you can also slice it beforehand and wrap each piece in parchment and string, which really makes you look like fancy.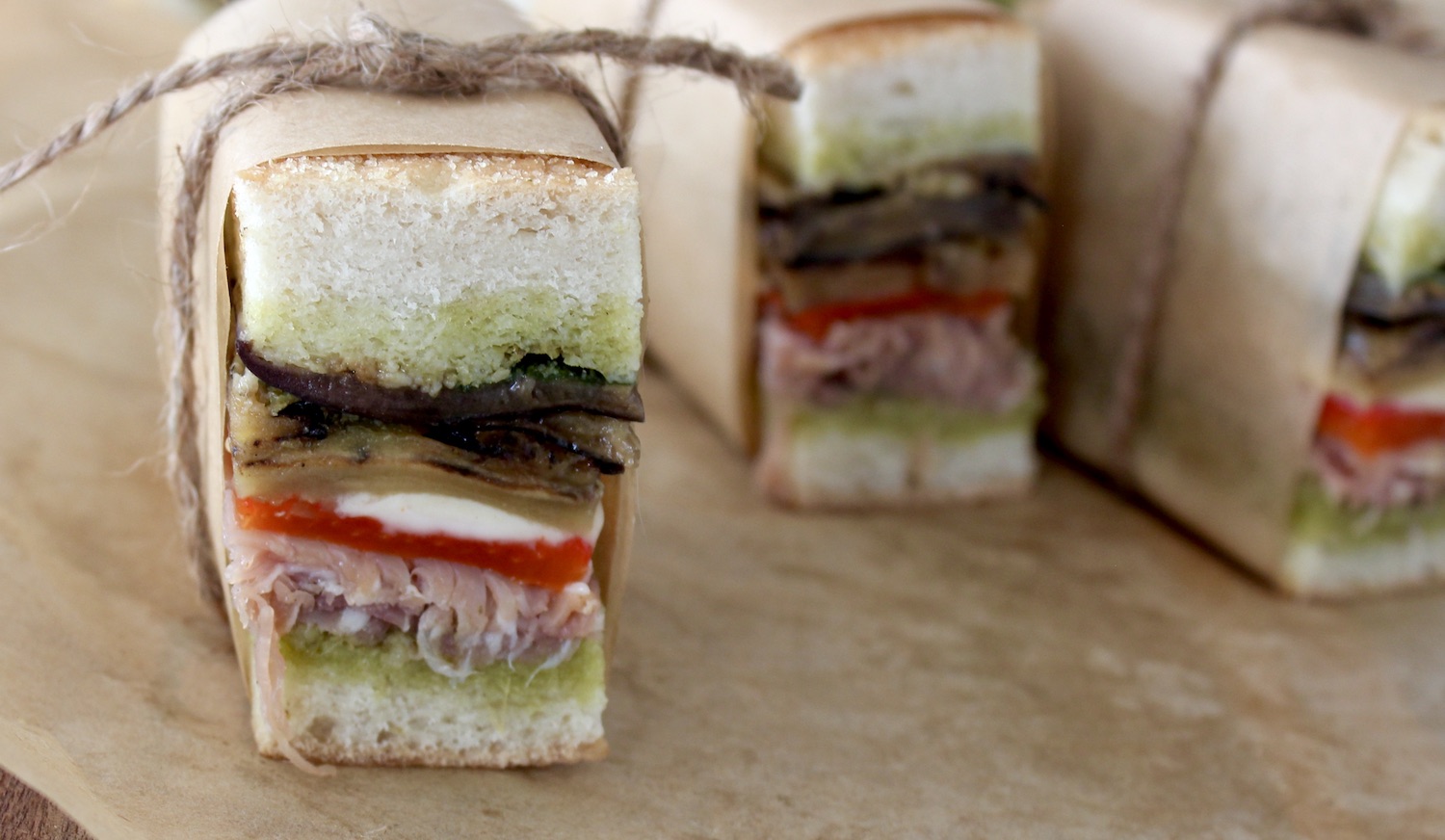 For another picnic-ing option, check out this sandwich I created for Edible Sarasota:
 chicken with mango-mayo
. Enjoy!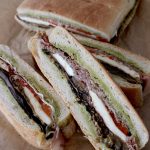 Print Recipe
Eggplant, Prosciutto, Red Pepper Pressed Sandwich
Ciabatta bread, layered with prosciutto, grilled eggplant, roasted red pepper, mozzarella and basil pesto - a yummy dish for a picnic!
Ingredients
1

Ciabatta loaf

(10"-12")

1

large

Eggplant

~1/2

c.

Basil pesto

(prepared or homemade)

~8

oz.

Roasted red pepper

(prepared or homemade)

8-10

slices

Mozzarella

8-10

slices

Prosciutto

Handful

Basil leaves, optional

Olive oil, balsamic vinegar, salt/pepper, to taste
Instructions
Slice the bread lengthwise and spread pesto on both sides - be sure to go to edges. (Depending on size of your bread, you may need more or less pesto than noted above.)

Slice eggplant lengthwise or in rounds. Brush both sides with olive oil and sprinkle with Kosher or sea salt. Grill over medium/low heat until soft and sightly charred. OR, broil until soft (but keep an eye on them, so they don't burn). Remove from heat and set aside until ready to assemble.

Line a baking tray with 2 large pieces plastic wrap (wide enough to fully cover the bread once it's filled).

Cover bottom layer of bread with prosciutto. Then red pepper (sprinkle with salt & pepper and drizzle olive oil and Balsamic vinegar [if desired]. Then mozzarella (sprinkle with black pepper). Then eggplant (sprinkle with salt and healthy drizzle of olive oil). If using, layer fresh basil leaves on top. Cover with top layer of bread.

Cover sandwich tightly in plastic wrap. Top with a heavy cutting board or dish, then heavy cans. Refrigerate overnight. Slice when ready to serve.
Notes
For full size slices/portions, this sandwich can easily feed 6-7 people. But if you cut each slice in half (since you might have lots of side dishes on your picnic), you can double the number of servings.
If you decide to be fancy and wrap the sandwiches in parchment, just trim off the sides, so you have neater portions. Those trimmed pieces make nice snacks 🙂 
For something a little different, heat a pan over medium heat with a little olive oil, then place a slice of this sandwich in the pan (or grill it in a grill pan) and sear both sides. Yum.