(
Field Trip Fridays
 are
 interesting, fun, travel, food-related or fishing adventures I like to share with you!)
This is my 'grandest' Field Trip Friday ever, because I had to fly more than 3,000 miles to do it!
I recently traveled to London with family members and when asked upon my return "What were your favorite things?" I had difficulty answering because there were just too many. Below are highlights, in case you're thinking of taking a trip 'across the pond.'
I started my journey with a plane picnic – cucumber sandwiches (a little beat up after airport shenanigans), shortbread, Paddington bear, and champagne to mark the big event. It was a welcome diversion 2 hours into a 7 hour flight. Sorry for the out-of-focus pic – it was really late and we only had an iPhone!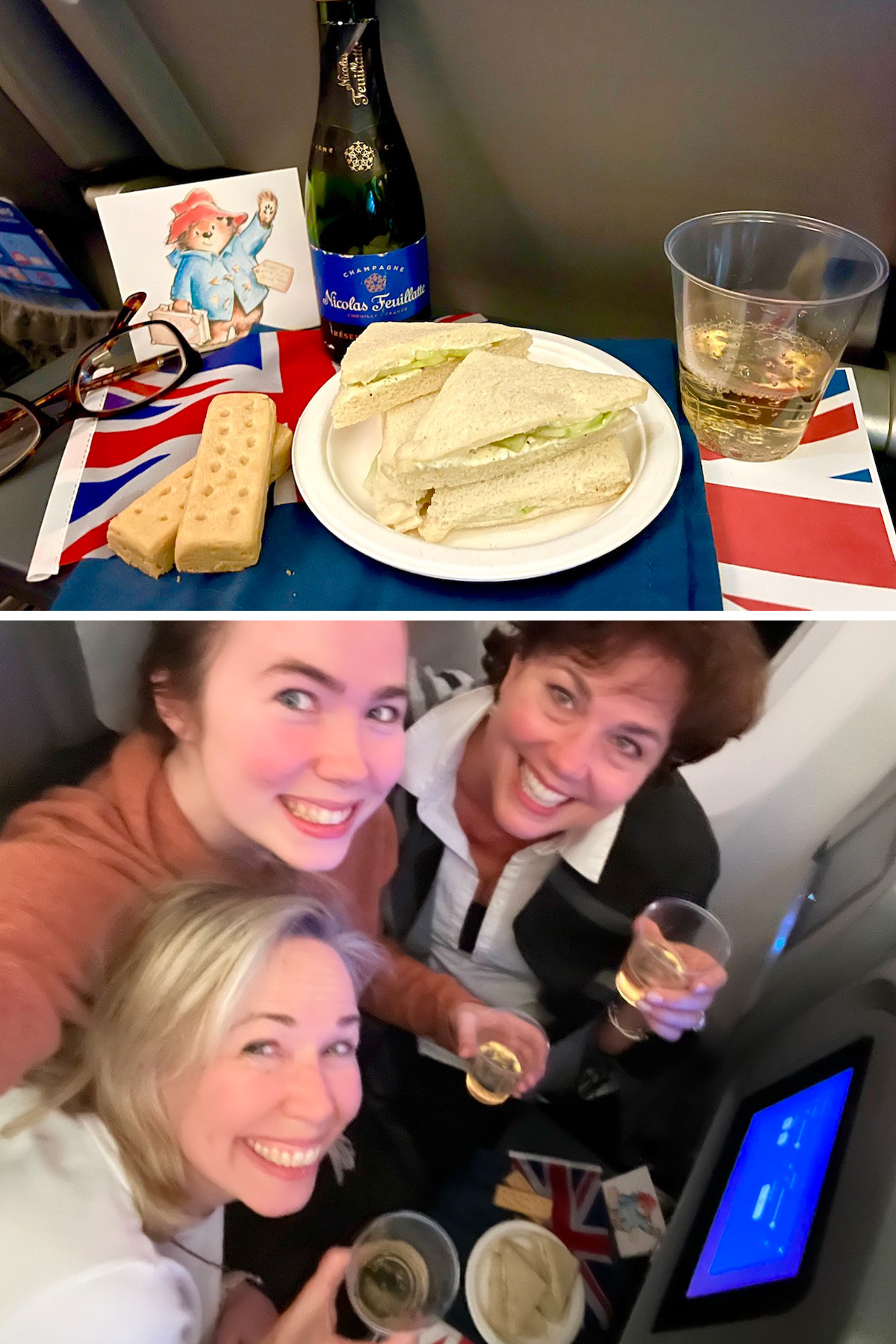 The first order of business upon arrival at 7:00 am local time was breakfast and our White City hotel offered a 'full English breakfast' with eggs, sausage, bacon, baked beans, black pudding, tomatoes, mushrooms and toast. Delicious, but I learned I'm not a fan of that black pudding.
Spring was everywhere – bluebells, violets, hyacinth, primrose and more, but daffodils were especially prominent.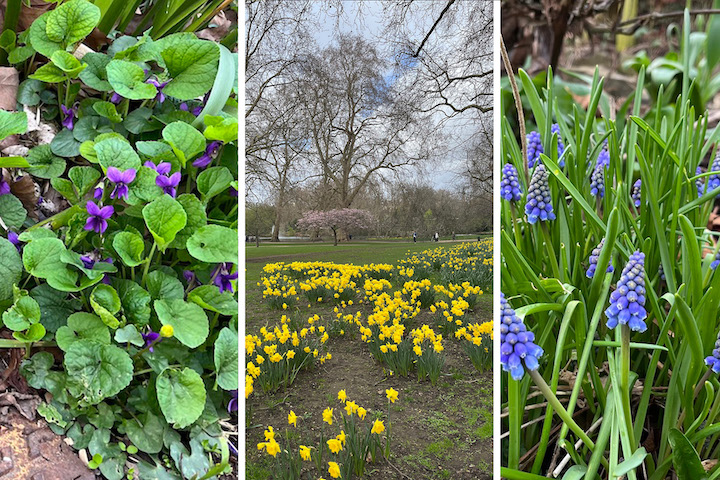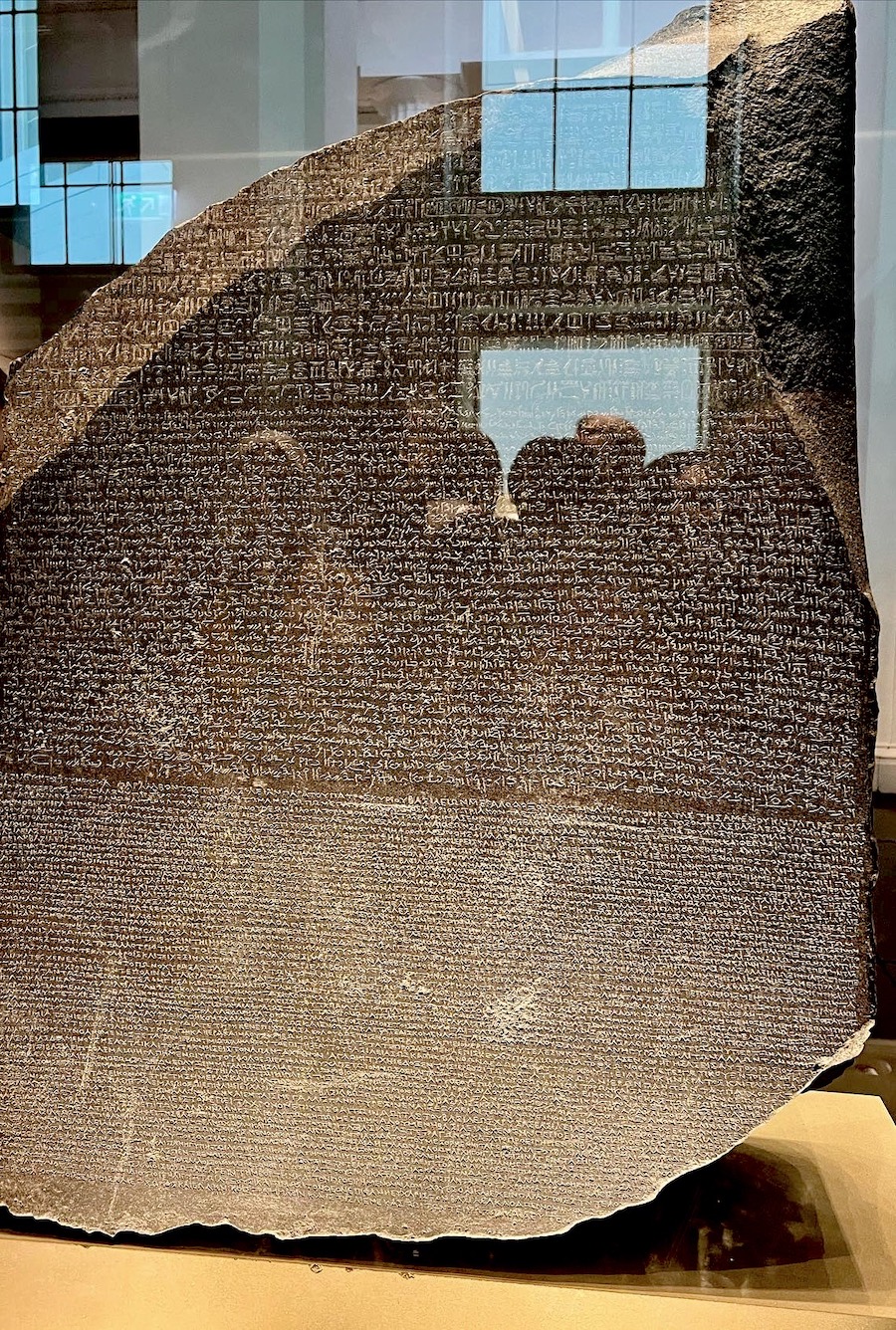 Westminster Abbey
was amazing. The enormity of it, along with its history dating to 1066 is a bit overwhelming. I was especially struck by some everyday things like the guy painting ancient ironwork, a priest just passing by readying for mass, a woman arranging flowers, and vestments hanging in a closet – all alongside thousands of passersby, and the gravestones of folks like Charles Darwin and Charles Dickens.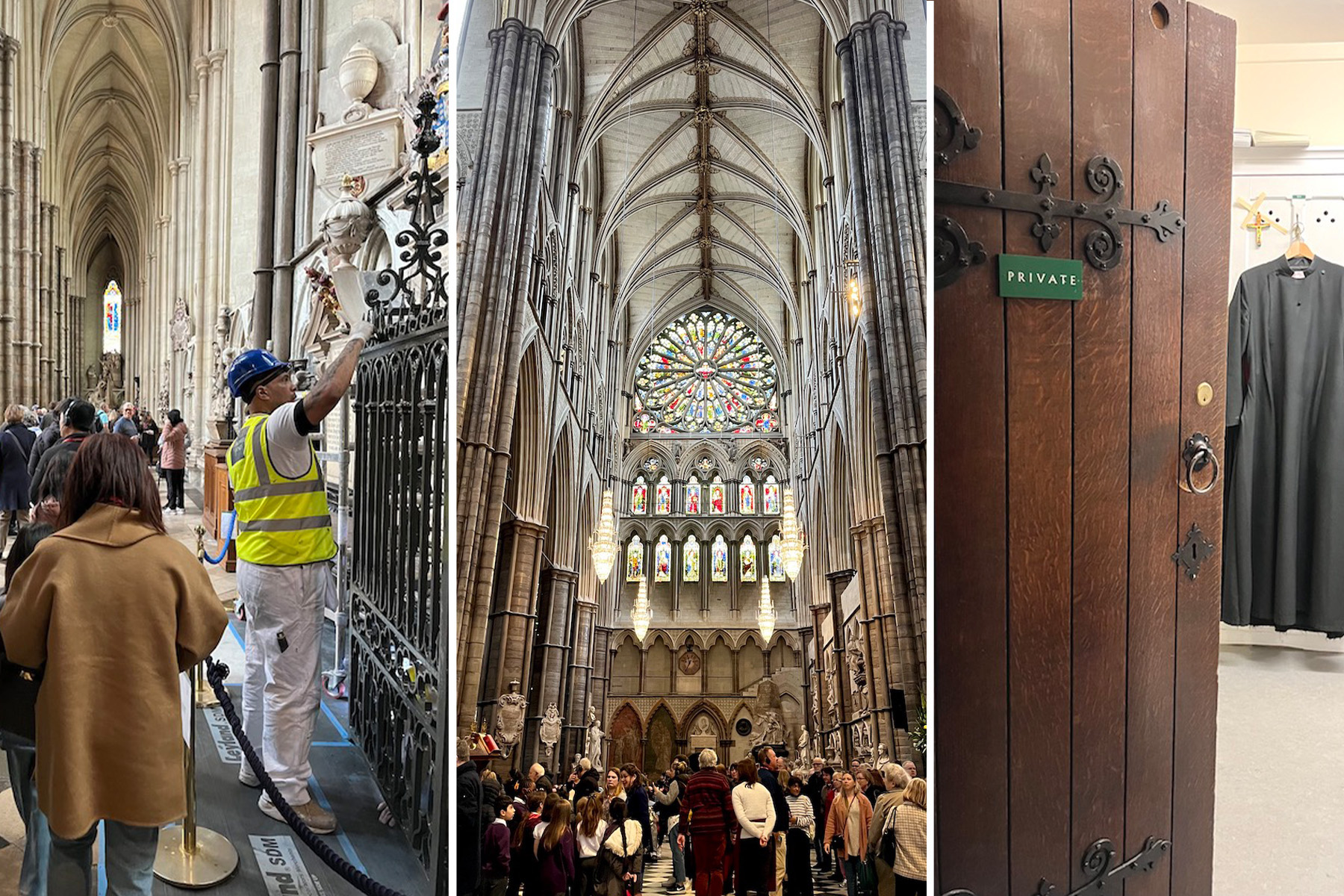 I was traveling with theater-lovers, so we HAD to see some plays, including
The Great British Bake-Off musical
 (a fun, heartwarming performance I highly recommend because "
Good things come to those who bake. . ."); 
Titus Andronicus (the opening song was "Welcome to the bloodbath!" which gives you an idea of its theme) and Winter's Tale, both at
Shakespeare's Globe
, the original site dating back to 1599. Here's a pic of the beautiful theater:
Ben's Fish & Chips in London was delish – but a couple of passersby on the street actually tried to steal some chips!
A most unusual dinner was at
Dans le Noir
("In the Dark"). Described as "a unique sensory and human experience," it surely makes you appreciate your abilities. Visually-impaired servers lead you into a purely dark dining room where they serve several courses, but you have absolutely no idea what they are. Without vision, you rely on remaining senses, giving a totally different dimension to the meal.
Sunday Roast is a local tradition and the
Fox & Pheasant
in Chelsea didn't disappoint. I enjoyed beef with horseradish, potatoes, parsnip puree, carrots, gravy and Yorkshire Pudding. No pint for me, though – I had wine 🙂
For a trendy dining experience, we lunched at art-inspired 
Sketch
. One of my 23-year old nieces had it on her bucket list, so we simply had to go. For me, the egg-pod bathroom was the best part (you just have to see it).
I enjoyed several scones, biscuits, croissants and Welsh Cakes.  If you've never had a Welsh Cake, it's similar to a scone – typically round, flat, sweet, a little dense but very tender, usually dotted with dried fruit. I have a similar recipe on the blog  – in my family we call them "Gold Rush Griddle Cakes" because that's what the SunMaid Raisin folks called them. Give 'em a try or find an exact Welsh Cake recipe – you're sure to enjoy them!
We spent two days in Wales (Paddington Station to Abergavenny, one of the most charming places you'll ever see) visiting an extended family member. Honestly, half my pictures were taken there – it was THAT beautiful. Here's a glimpse of mountains (with little Gypsy in the foreground) and a walk in Brecon Beacons National Park.
If that's not enough beauty for you, check out this rainbow taken from our cottage window one morning:
On the drive back to London, we roamed Oxford University, which has churned out brilliant minds for almost 1000 years. The immense golden stone buildings, ironwork and cobbled streets were simply beautiful. Here we are at Radcliffe Camera, in the heart of the city:
Blenheim Palace in Woodstock is the birthplace of Sir Winston Churchill and the home to the Dukes of Marlborough. Its history, Baroque architecture, and formal gardens make it a must-see.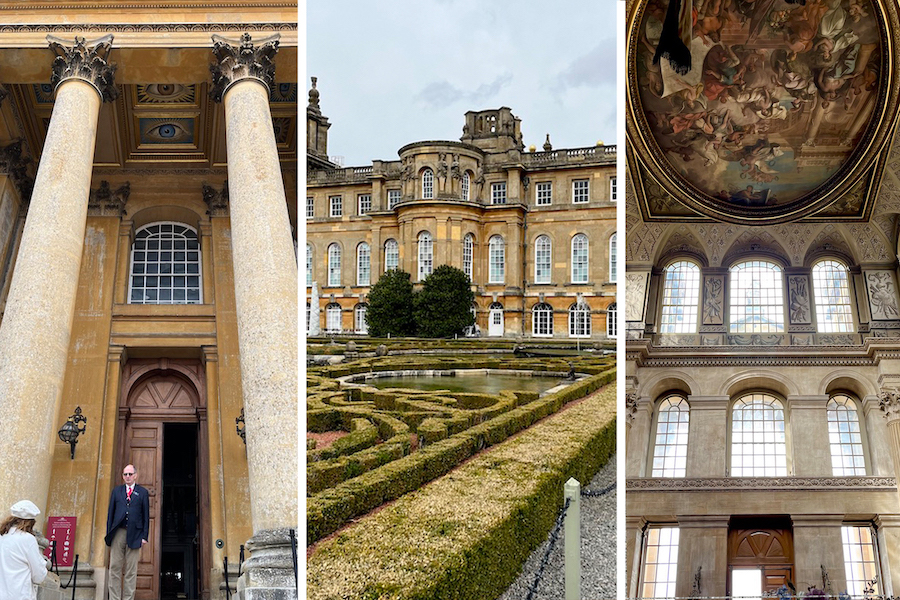 Finally, any post about London wouldn't be complete without a shot of London Bridge, so here it is, all lit up.