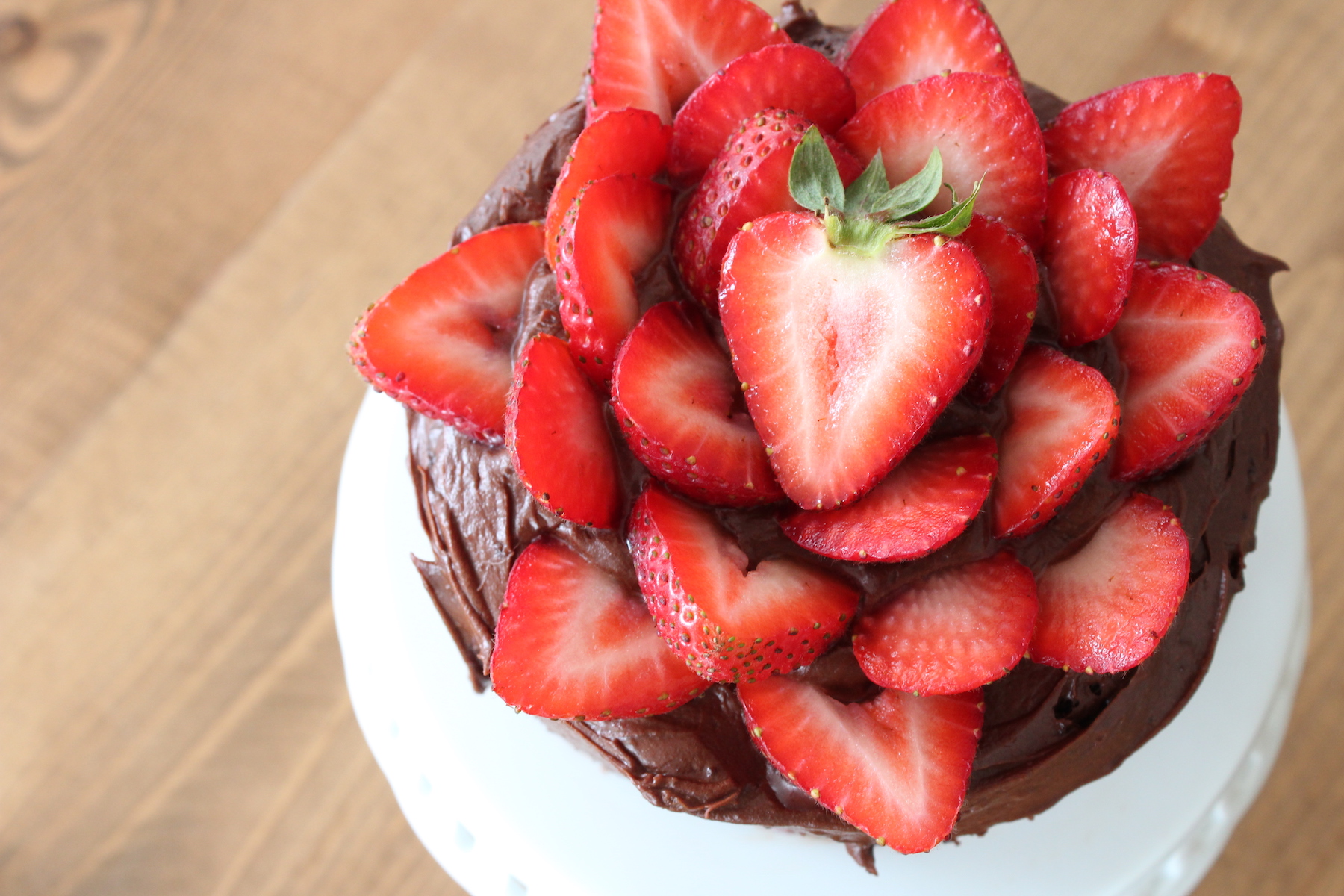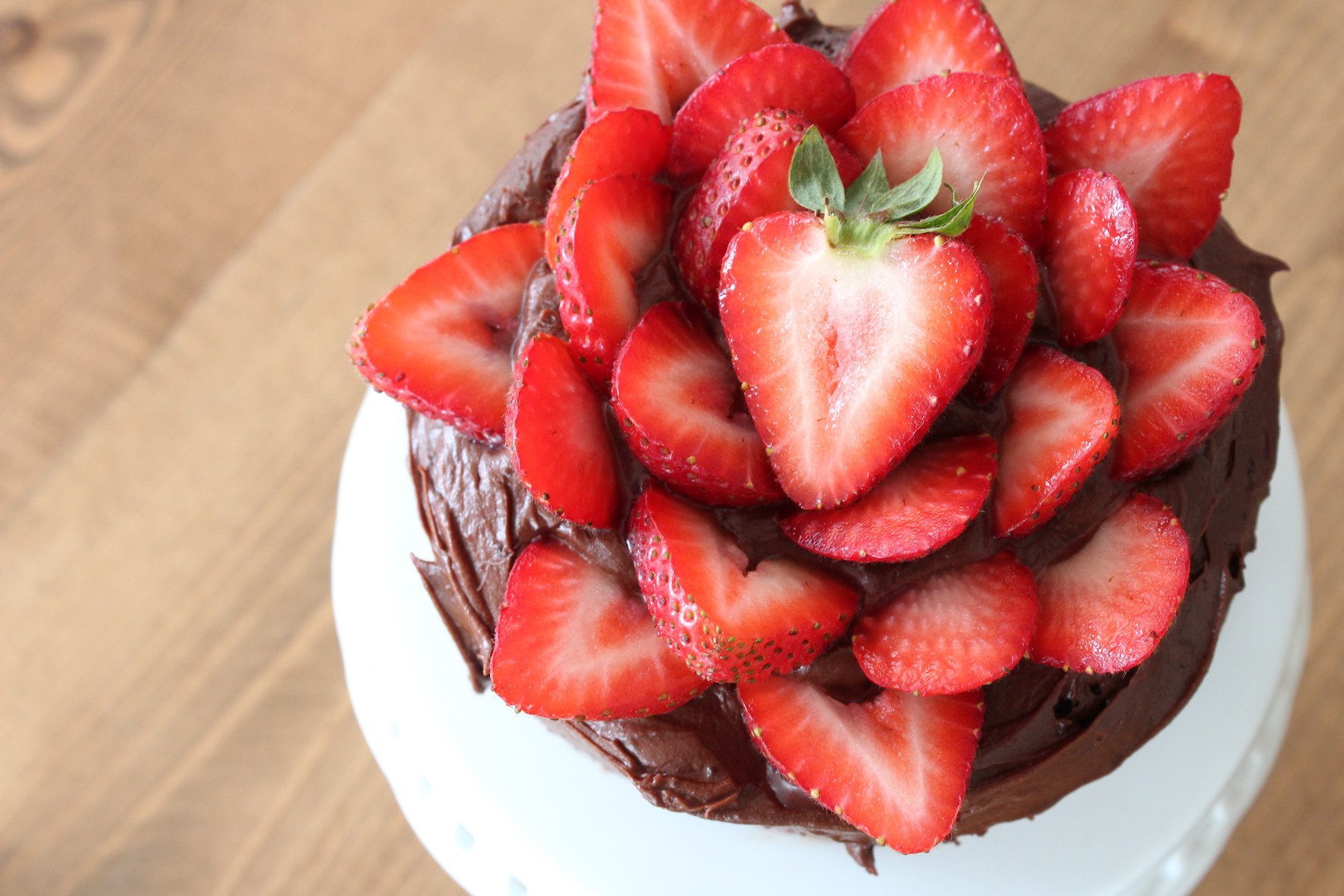 My pantry is never without a box of Hershey's Cocoa.  While it may not be one of those high-end cocoas with a fancy name and a big price tag, it runs deep in the veins of my family.
There was always a box in my mom's pantry, which she regularly used to make their "Perfectly Chocolate" Cake topped with "Perfectly Chocolate" Frosting. Lucky for us, she also made chocolate pudding and pudding cakes topped with whipped cream; hot mugs of cocoa to warm our bellies after peeling off our snowsuits and mittens covered in snow; silky chocolate cream pies that made my dad's eyes light up; and surprise Whoopie Pies for our lunch boxes.
As I dug through the family photo album, I saw birthday cakes throughout the years, but this one's my favorite — my brother on his second birthday with a Hershey's cake.  He looks like he'll be tearing through it as soon as the camera goes away 🙂
And those cake, frosting and cocoa recipes are still printed on the back of the box:
There are other recipes out there that likely give this cake a run for its money but, to me, that little box of cocoa brings back fond memories of childhood and every time I crack one open and dip a spoon into the dark brown powder, I think of those moments, all served with love, by mom.  So, when my hubby recently asked for a chocolate cake for his birthday, I snapped into action and pulled out the box.
The recipe makes two 9" layers or about thirty 2.5" cupcakes (check their
website
for variations). The frosting yields about two cups, perfect or a 2-layer cake or a batch of cupcakes. You can get creative with the middle layer – I've used seedless raspberry jam, coconut pudding with toasted coconut (which almost makes it taste like a 
Mounds 
bar. . .), or fresh berries nestled in frosting. You could also use cream cheese frosting, smooth ganache, or fluffy/boiled frosting.
I refrigerate the cake after frosting it, then remove it about an hour before serving so the frosting softens and the tender crumb texture of the cake shines through (but I will say that if you serve it right from the fridge, it's also delicious).
For this occasion, I made a batch of cupcakes for our dinner guests: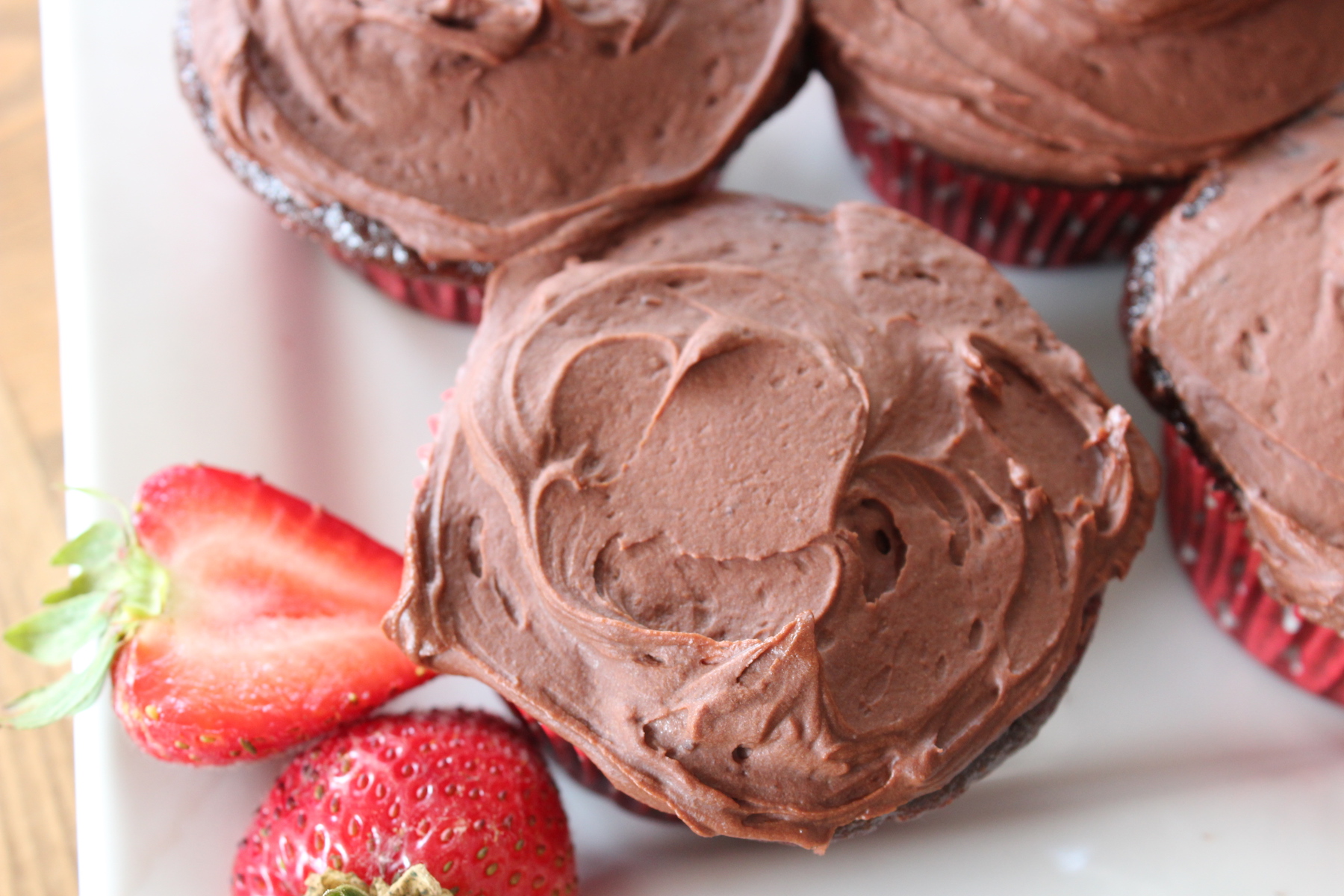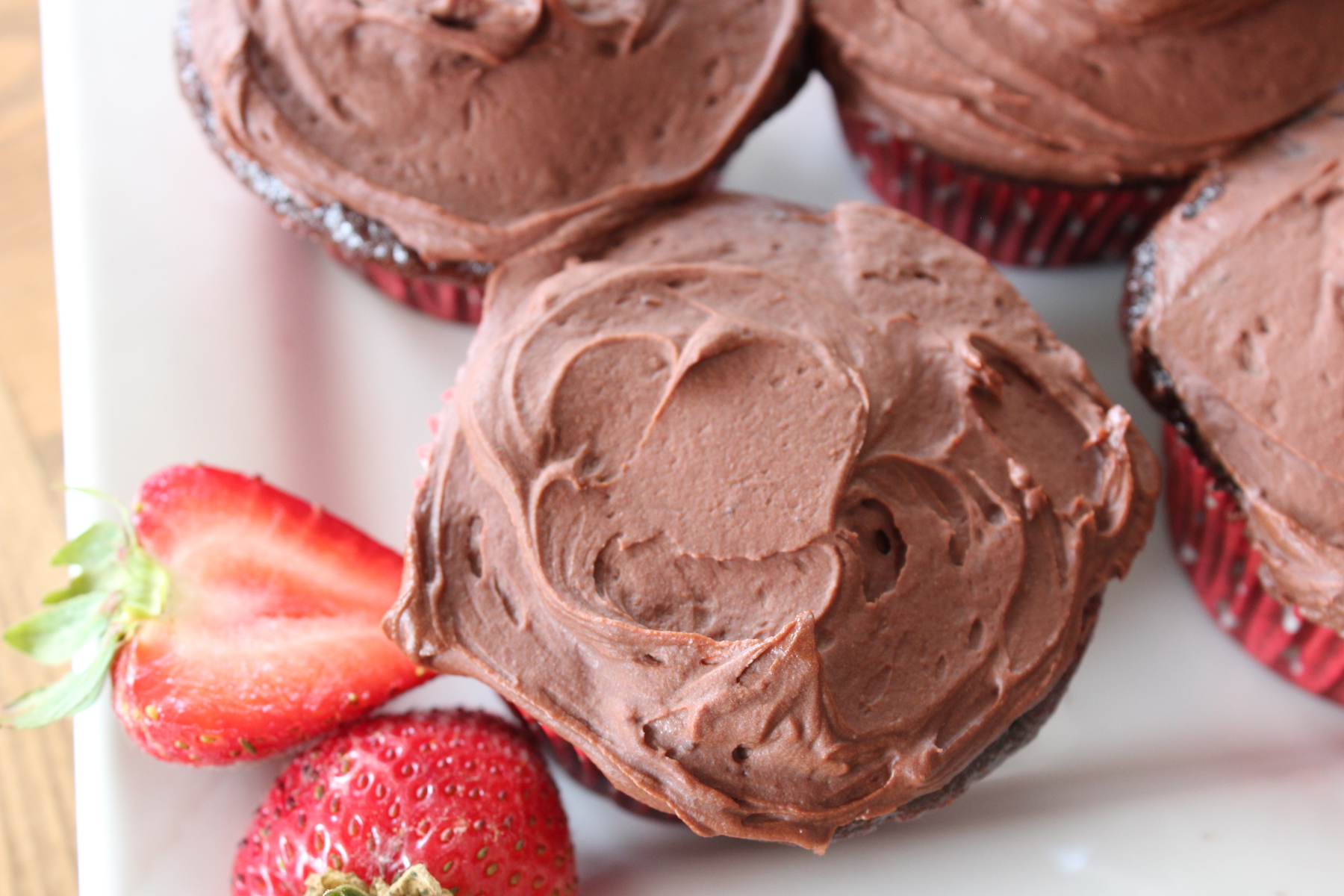 And a tiny layer cake for the birthday boy, topped with fresh strawberries. He enjoyed it, all by himself, with a big fork: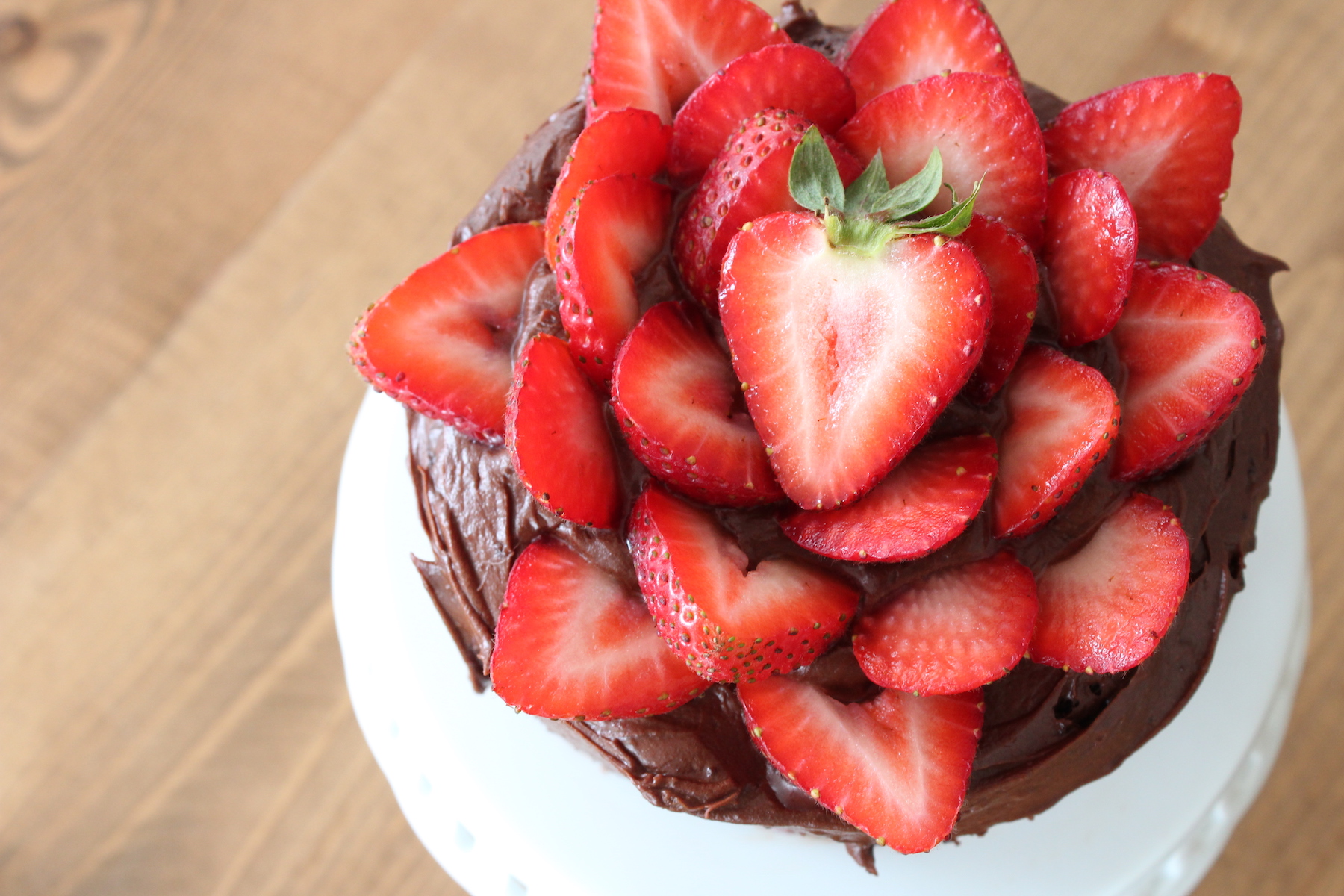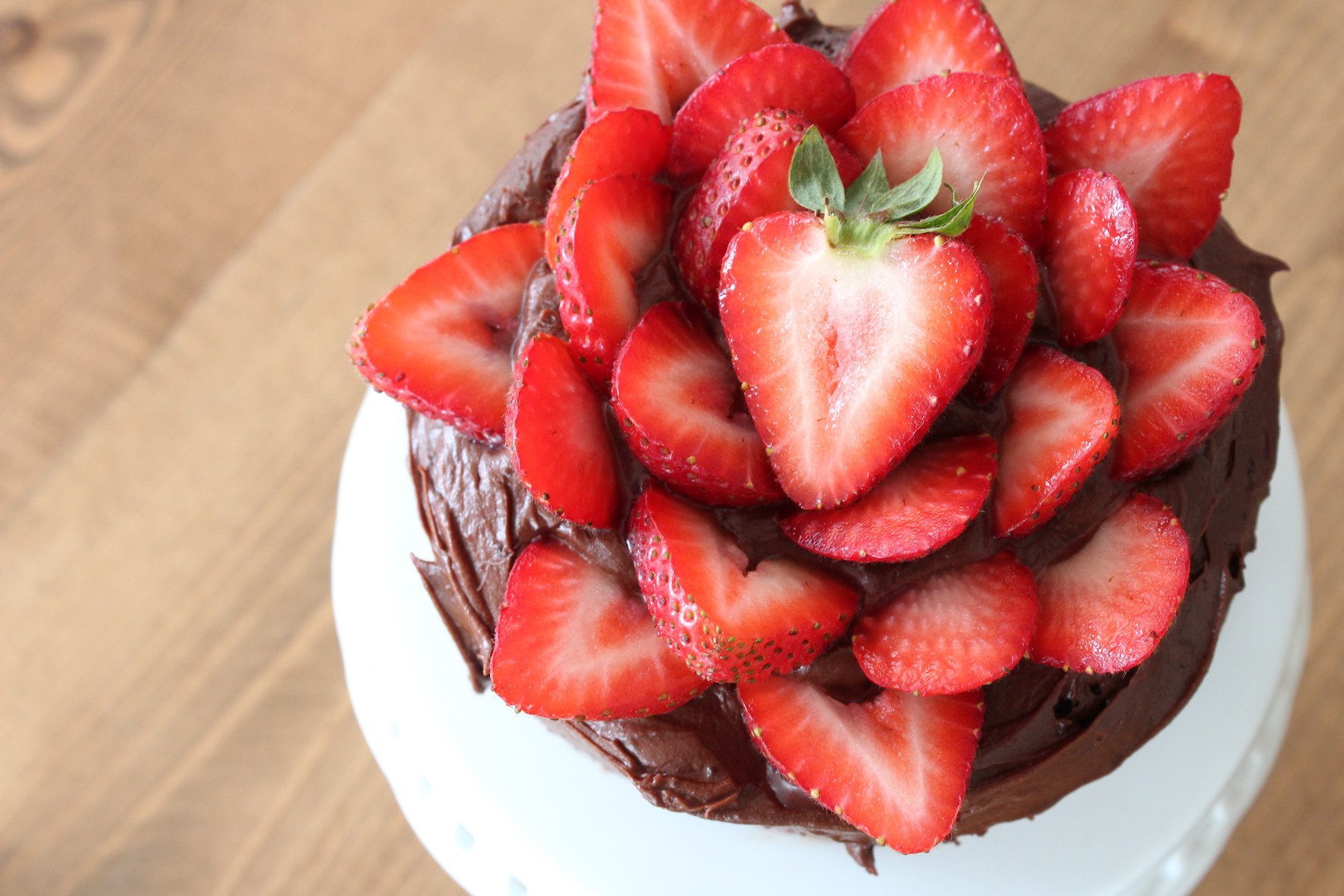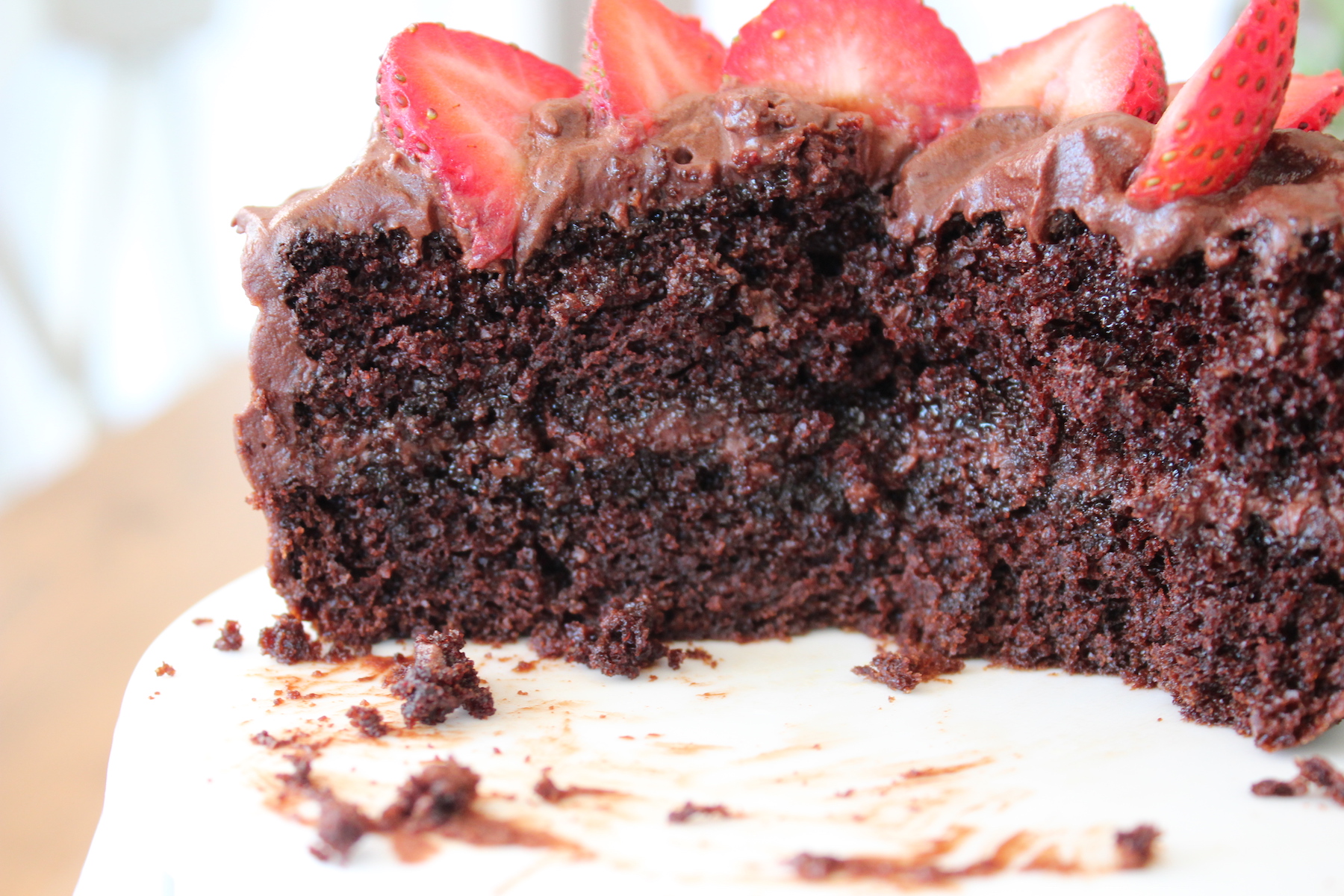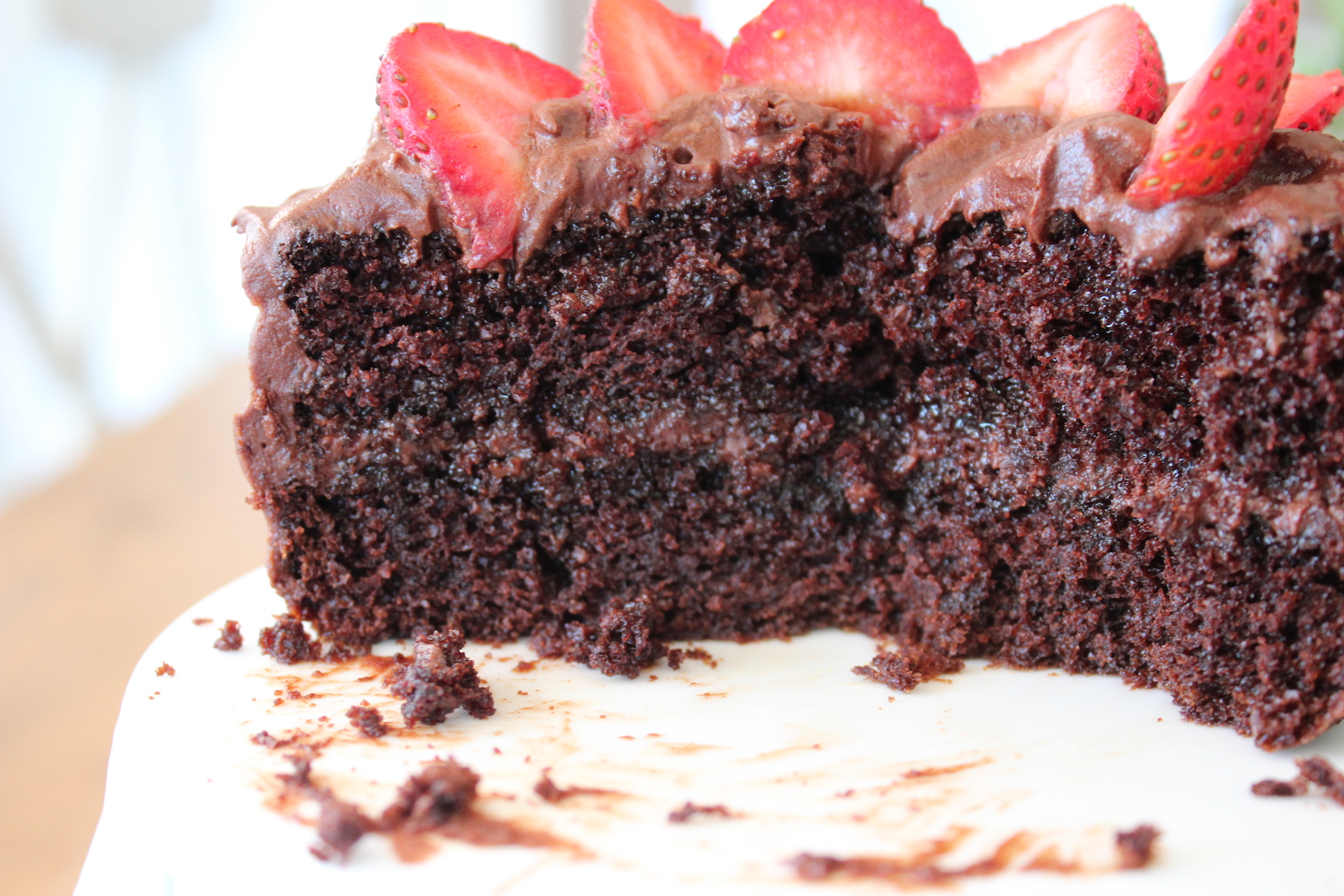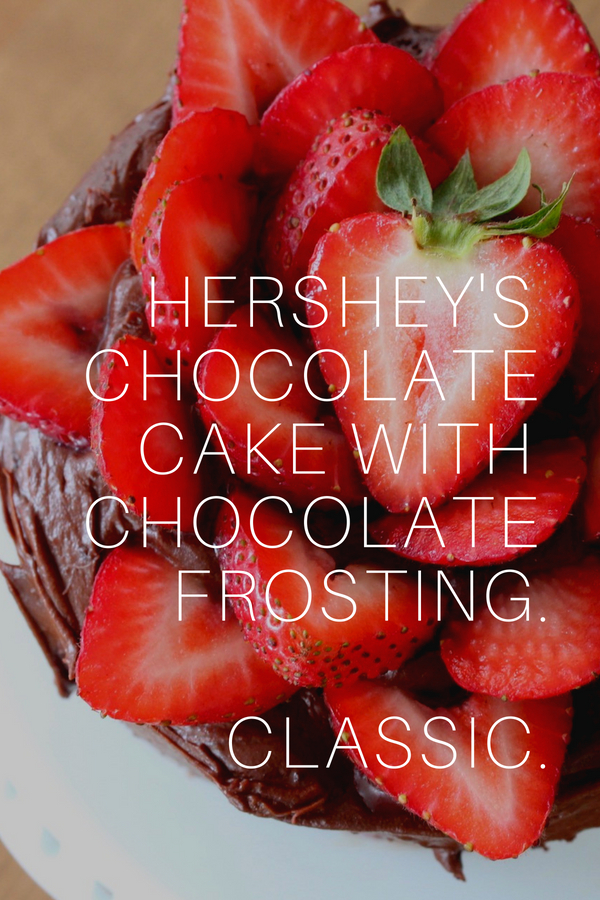 It's wonderful to continue a family tradition, especially when that tradition is something as yummy as this cake 🙂
Hershey's Perfectly Chocolate Chocolate Cake
No adaptations here - this is the recipe from the back of the Hershey's Cocoa box 🙂
Author:
Hershey's Kitchen
Ingredients
2 c. sugar
1¾ c. all-purpose flour
¾ c. Hershey's Cocoa
1½ tsp. baking powder
1½ tsp. baking soda
1 tsp. salt
2 eggs
1 c. milk
½ c. vegetable oil
2 tsp. vanilla extract
1 c. boiling water
"Perfectly Chocolate" Chocolate Frosting
½ c. (1 stick) butter or margarine (unsalted butter is always best!)
⅔ c. Hershey's Cocoa
3 c. powdered sugar
⅓ c. milk
1 tsp. vanilla extract
Instructions
Heat oven to 350 degrees.
Grease and flour two 9-inch round baking pans.
Combine dry ingredients in large bowl; add eggs, milk, oil and vanilla and beat on medium speed 2 minutes.
Stir in boiling water (batter will be thin); pour into pans.
Bake 30-35 min or until wooden pick inserted in center comes out clean.
Cool 10 min.; remove from pans to wire racks. Cool completely.
Frost with "Perfectly Chocolate" Chocolate Frosting.
Frosting:
Melt butter. Stir in cocoa.
Alternately add powdered sugar and milk, beating to spreading consistency.
Add small amount of additional milk, if needed.
Stir in vanilla.
Yields about 2 cups.
Notes
1) I made cupcakes using 2.5" diameter muffin tins filled with paper baking cups. I filled each cup about two thirds and baked 22-25 minutes.