(Field Trip Fridays capture interesting, fun, food-related and/or fishing adventures that I like to share with you!).
It's a treat to get away from the "busy-ness" of our everyday lives, isn't it? That's exactly what I was thinking as I drove with my friend Robin on Fruitville Road, heading east from Sarasota, Florida. As we got deeper into farms and wide open spaces, I started to take more deep breaths and to slow down — a natural reaction — one that's welcome these days, considering all the stressors in our lives. This trip even had an element of adventure in it, because neither of us had any idea what was in store for us when we arrived at our destination in old Miakka, about 12 miles from the city.
We were visiting 4 Bees Herb Farm, a charming farmstead in the middle of 'old Florida'. The property is flanked by huge bearded oaks, the house is reminiscent of an old cracker ranch, the old wooden barn is filled with years' worth of treasures waiting to be used in just the right project, and the shade house is covered with air plants that provide just enough protection for the medicinal and culinary herbs within.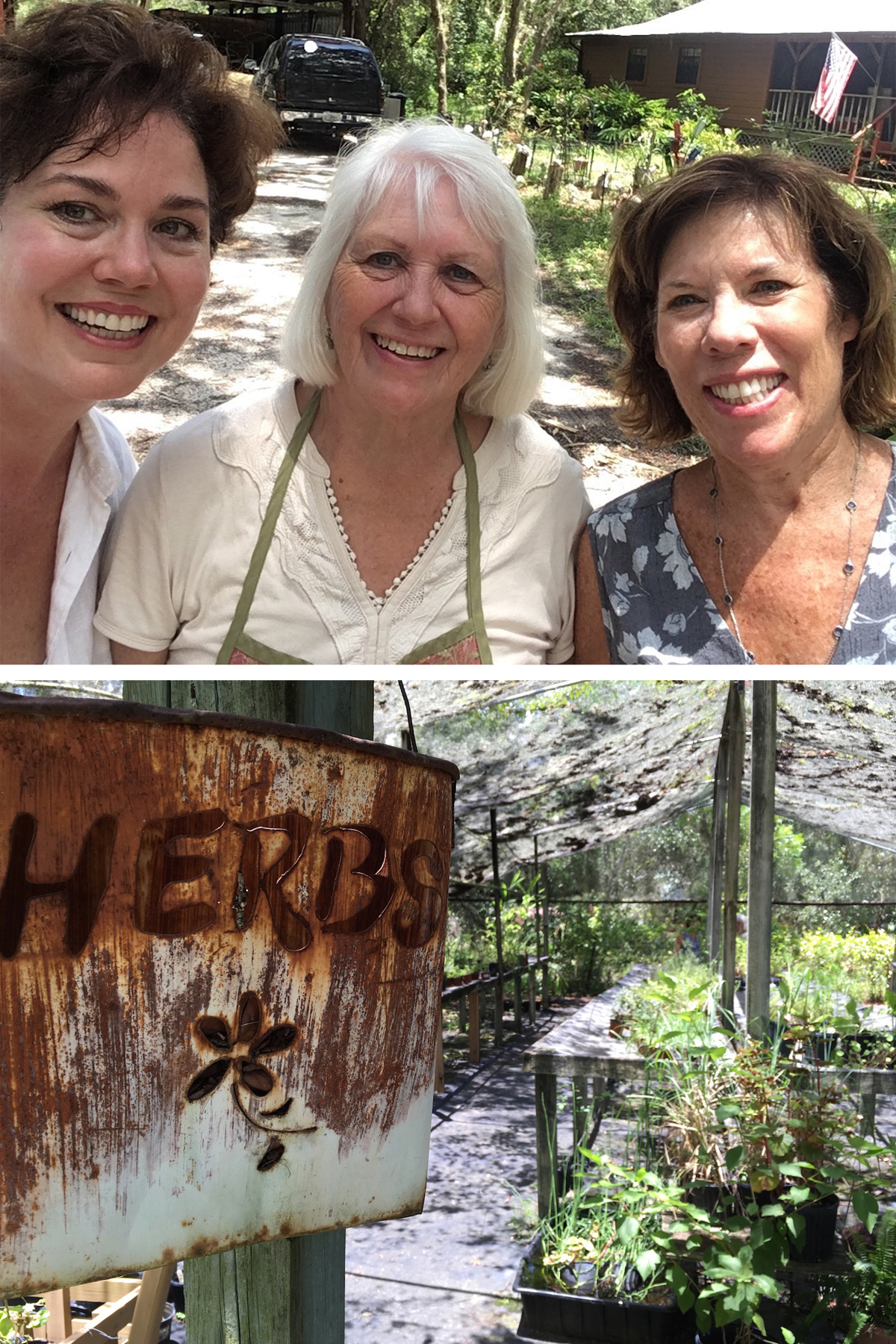 We were greeted by owner Debbie Blount, who wore a big smile and a working apron, her hands covered in dirt. I liked her immediately. She and her husband Sam have lived here for 30 years, but her husband's Florida origins go back to 1830. Their 6-acre property borders Crowley Nursery & Gardens, and old Florida imagery is everywhere. The couple started a fresh-cut herb business in 1993, selling mainly to Morton's Market in Sarasota.  They also sold products, including handmade sculptures, at the Sarasota Farmers Market for many years. Currently they operate their business from their homestead, where folks can stop by to pick up hand made or home grown products, or learn about growing their own herbs, especially those that thrive in a Florida climate.
If you go, be prepared to feel the brush of a cat on your leg every once in a while — there are several roaming nearby (Tigger, Rosie, Kiki and Bob to be exact), and they just want you to know they're around so they can get a little love.
In the Front Porch Herb Shop you'll find handmade products like soaps, salves, candles, herbal teas, organic dried herbs, jellies, and natural bug repellant. You'll also find local honey (some infused with herbs), bee pollen and Royal Jelly — great stuff with health-promoting benefits. And if that wasn't enough, you'll find lovely copper artwork that Debbie and Sam create – trellises, arbors, towers, and stained glass wind chimes – many to special order.
Debbie took us on a tour of her edible forest (i.e., her backyard) which included several food-bearing plants like Moringa, Cherry of the Rio Grande, Surinam Cherry, fig, avocado, chaya, persimmon, pear, lemongrass, guava and citrus, but also, wild grapes (she sells jelly using them), bananas, cranberry hibiscus, and more. In her vegetable garden she's growing Mollucan spinach, peanuts, yard long beans, pole beans, sweet potatoes, okra, black eyed peas, Seminole pumpkin, perennial cucumber and bunching onions. The farm has about two dozen chickens that produce beautiful Aurancana, Americauna and brown eggs, which are available for sale.
Sadly, the day we visited turned out to be the old rooster's last one with his flock. . .but we were glad we got the chance to meet him before he met his Maker!  Rest assured, 'the girls' are now cared for by a young fella, full of vim and vigor 🙂
Sustainability is important to the Blounts, which means they utilize as much of their natural resources as possible. The chicken's waste is used as fertilizer in the garden, kitchen and yard waste is composted for garden beds, and solar panels capture the sun's rays. Walking around the property is inspiring to anyone interested in conserving and maximizing our natural resources, and Debbie is happy to share insight about what they've learned along the way.
The farm is currently undergoing a 'refresh' which includes building new storage/display areas for the herbs, and lots of replanting. Because of our intense summer heat and heavy rains, many herbs are currently in transition, but this time of year you can typically buy culinary herbs like African Blue basil, French sorrel, French lavender, sweet lavender, rosemary, oregano, Cuban oregano, onion & garlic chives, and fennel. You can also find plants in the ginger family, including turmeric, galangal, and medicinal varieties including comfrey, echinacea and aloe.
When it comes to honey, the farm currently sources its wildflower and orange blossom varieties from local beekeepers. They had a thriving bee colony until last Fall when, sadly, their colony unexplainably collapsed. Debbie is working to re-populate her hives, and you'll soon be able to find 4 Bees Honey again. You might even see Saturday classes in soap making, candle making and herbal remedies — so stay tuned via their Facebook page for updates on all that stuff.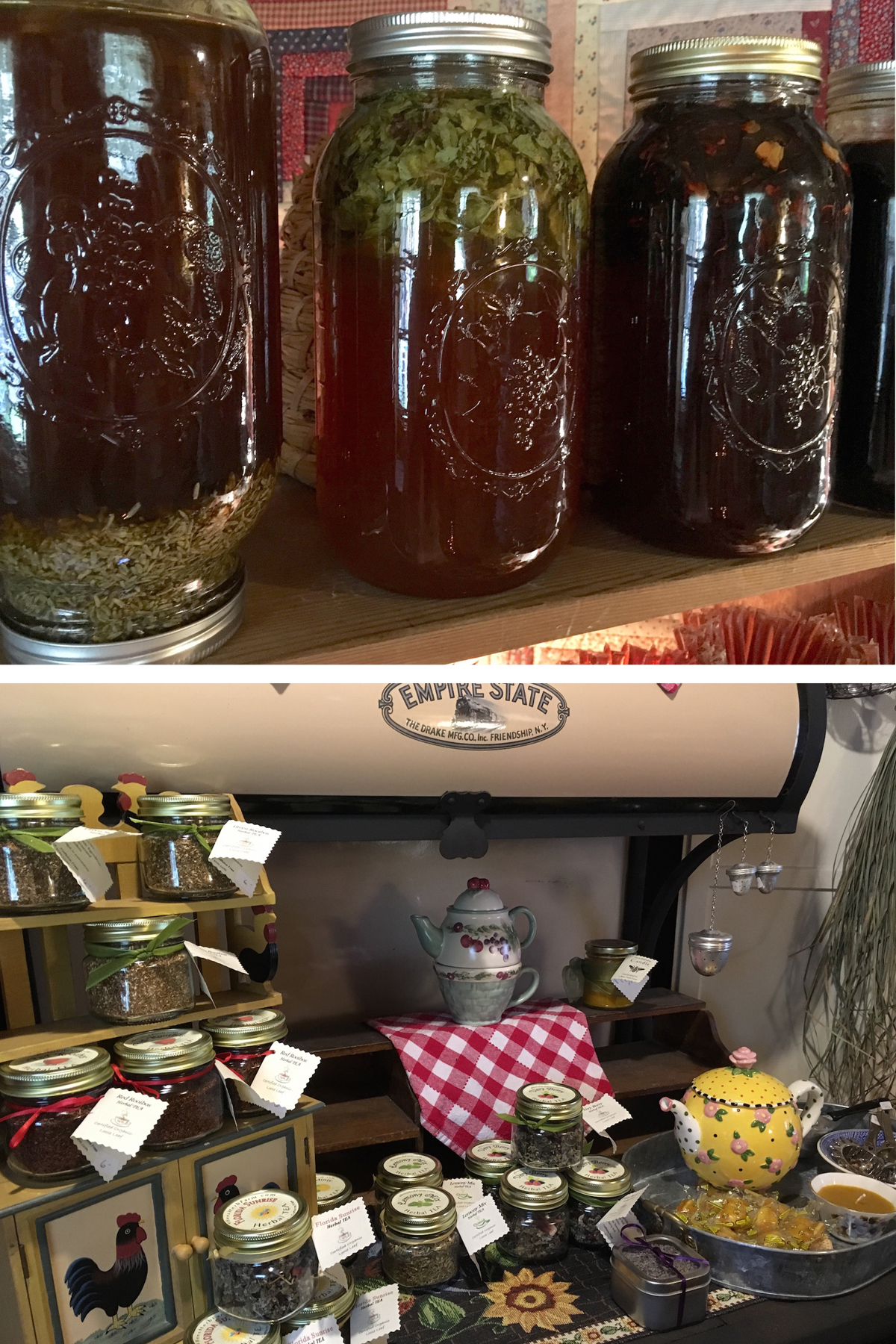 The farm is located at 16371 Jomar Road, Sarasota; open Wednesday – Saturday, 10-4.
NOTE: If you're looking for a specific herb or plant, I suggest calling in advance (941-322-2446) to learn status since their inventory isn't at peak levels right now.  During this time of year, 4 Bees Farm welcomes anyone who wants to escape to a little piece of old-Florida, but if you'd like to wait for cooler temps, you're welcome then, too! Either way, you're in for a sweet experience.