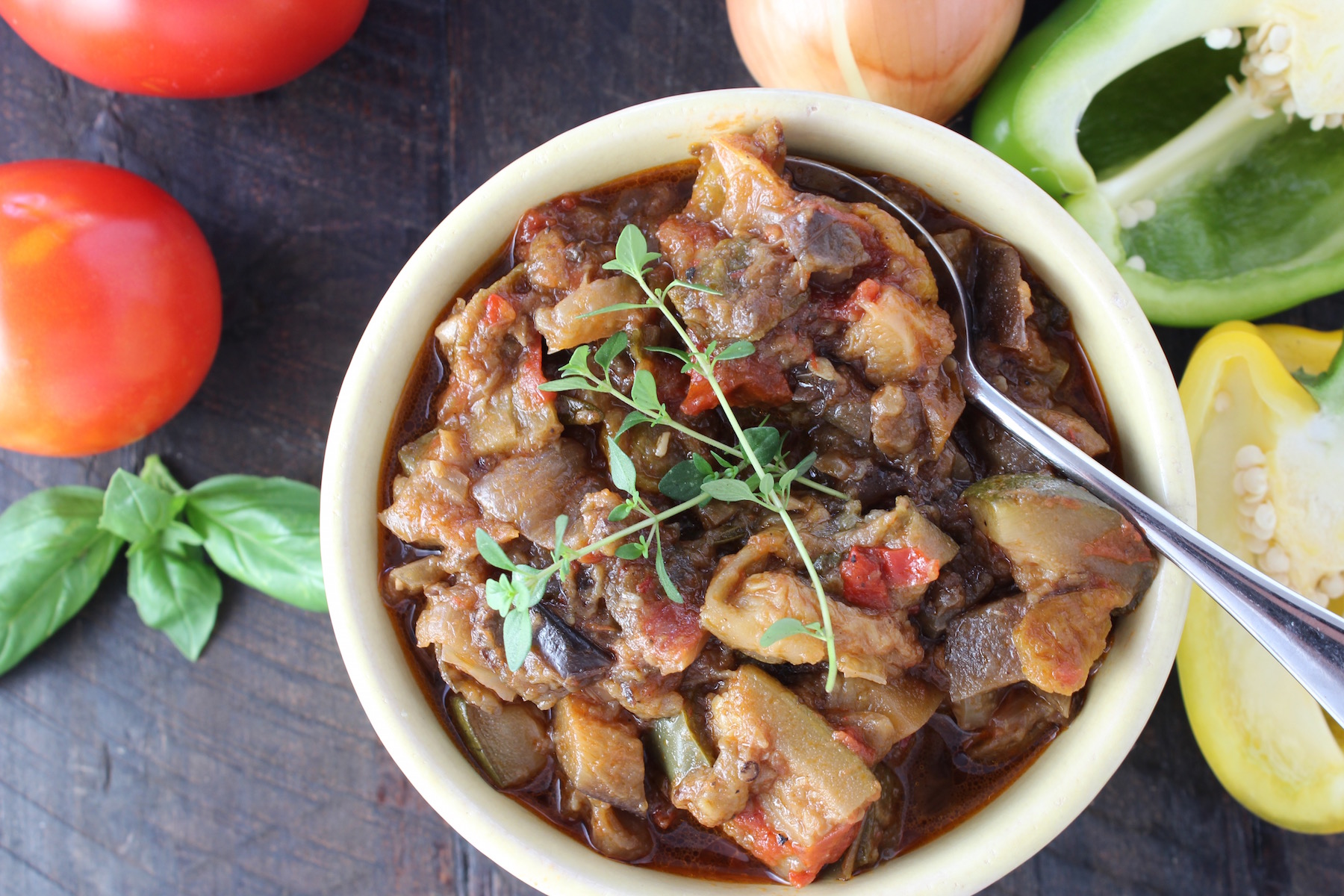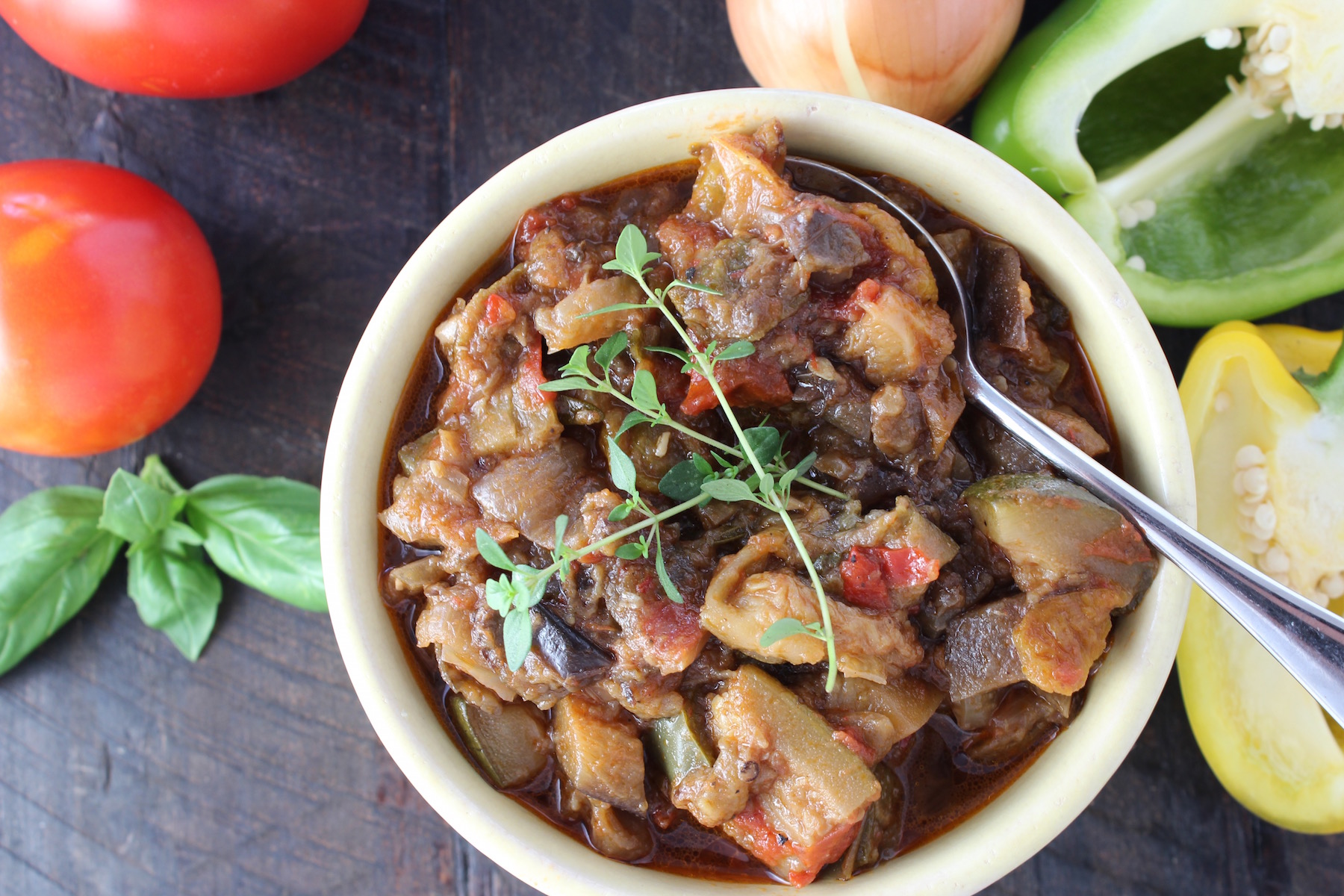 According to Merriam-Webster, ratatouille is "a seasoned stew made of eggplant, tomatoes, green peppers, squash, and sometimes meat." It's French, believed to have originated in Provence, where peasants made it regularly. The word itself is actually a combination of ratouiller (to disturb, shake) and tatouiller (to stir) and my former French teacher at Cardinal Spellman High School, Miss Felice, would be proud to know that I'm still able to pronounce these words correctly 🙂
I recently had too many eggplants, tomatoes, peppers and zucchini in my refrigerator, and realized I was one day away from getting another share of vegetables from my CSA farm.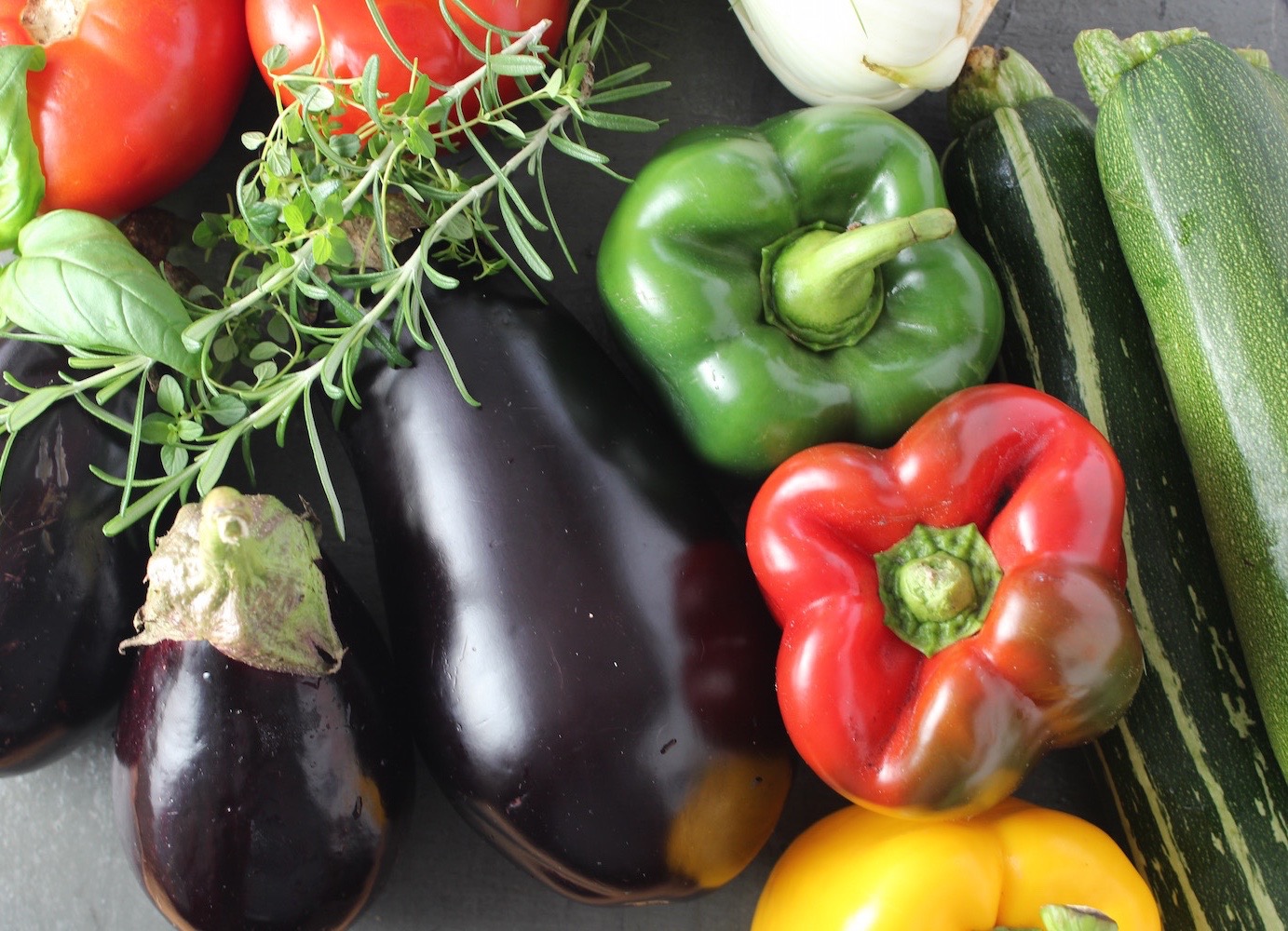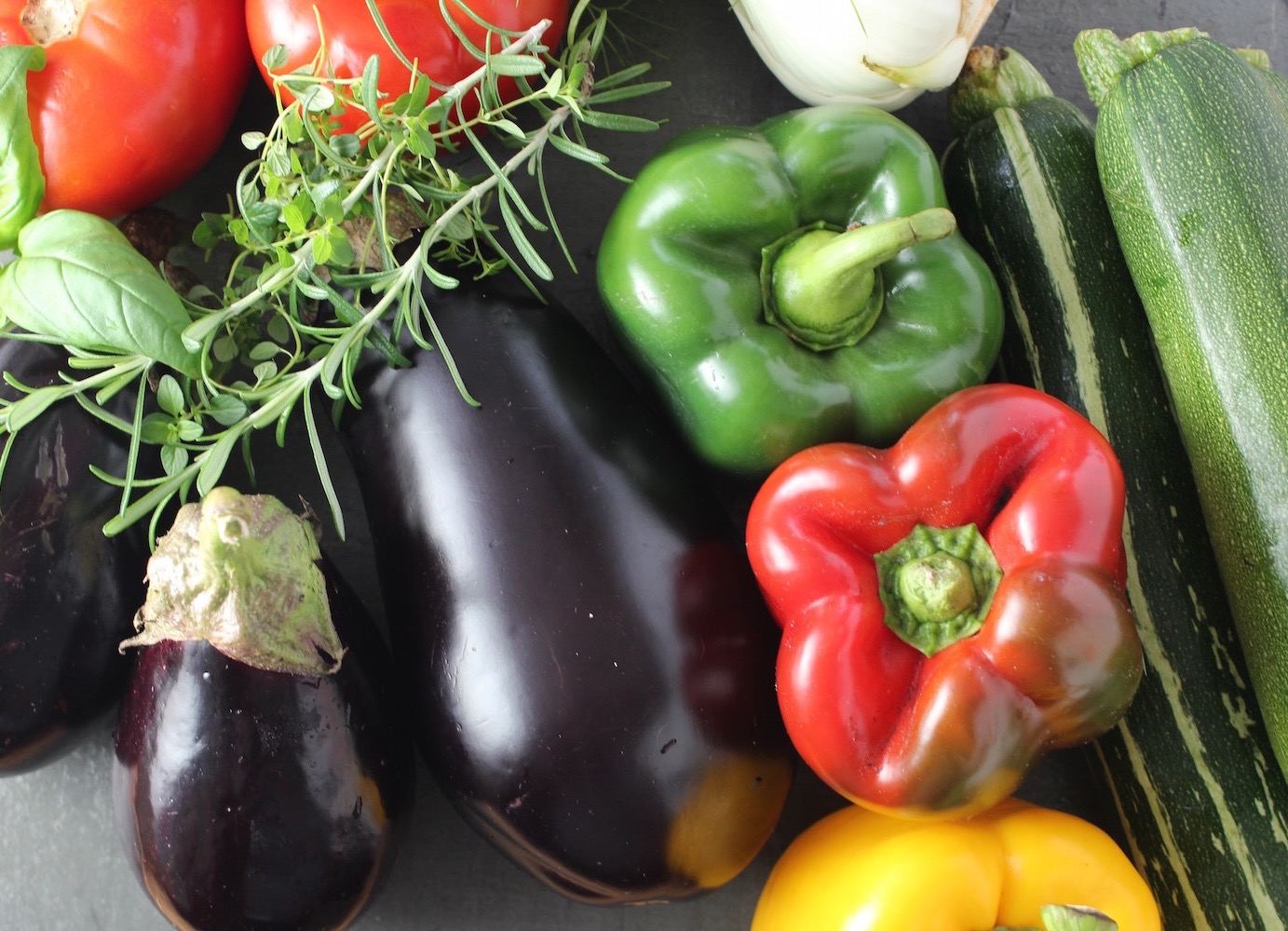 So, I decided ratatouille would be a perfect dish for our meatless meal day (yup, we have at least one of those each week, to the dismay of my meat-loving hubby).
The great thing about ratatouille is that it doesn't require a recipe or specific proportions. It's nice to have those as a guide, but I've always thought cooking should be about trying what tastes good to you, having fun and not being tied to specifics [except when it comes to baking, of course]. I recently spotted something that speaks to this — an excerpt from James Beard award-winning chef Michael Anthony's book V is for Vegetables: "A recipe is a sketch, not a blueprint." I simply love this concept.
I've made lots of ratatouille, but this time I researched to find out how others make it. I happened upon two of my favorite cooking inspirations – Chef Daniel Boulud and Martha Stewart in her kitchen late last year. Boulud is a renowned French chef known as one of America's leading culinary authorities, so he knows a thing or two about French cuisine (and Martha's no shrinking violet in the kitchen, herself). They made the ratatouille Daniel serves in his restaurants, and even topped it with baked eggs for a brunch offering — it looked delicious.
His recipe required more steps than I typically take when making ratatouille, but it did produce beautiful results. Rather than mixing all the ingredients in one pan and stirring as they simmer (which can result in a pile of mush, albeit tasty), he separately sautees the zucchini, eggplant, and the pepper/onion/garlic/fennel components. He also keeps the pieces a uniform size so they cook evenly (always a good technique, but a little more time consuming). All in all, it takes a bit longer than tossing everything into one pan and it does require baking the dish for about an hour, but it yields a lovely, flavorful and silky ratatouille that still incorporates the shapes and individual flavors of each ingredient.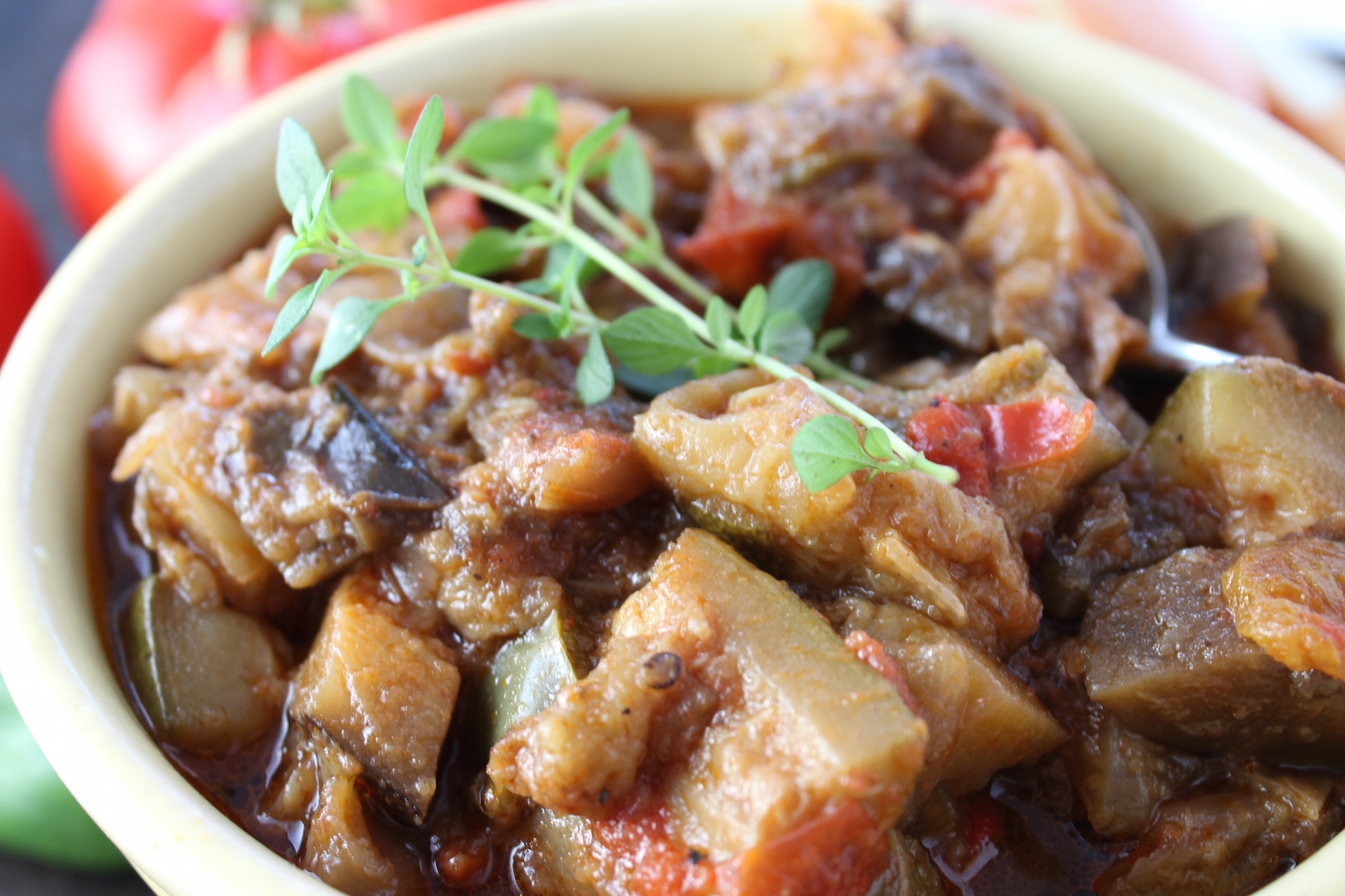 So, please use this recipe as a "sketch" and make it your own based on what you have available or what tastes good to you. It's a great way to use up a lot of healthy veggies in your fridge!

Garden Fresh Ratatouille
Adapted from Daniel Boulud's Ratatouille recipe.
Author:
My Delicious Blog
Ingredients
Onion/Pepper Mixture
4 Tb. olive oil
1 yellow onion, 1" chunks
5-6 garlic cloves, peeled and minced
1 red bell pepper, 1" chunks
1 green bell pepper, 1" chunks
1 yellow bell pepper, 1" chunks
1 fennel bulb, peeled, 1" pieces
2 Tb. tomato paste
Pinch red pepper flakes
Kosher salt and freshly ground black pepper
3-4 large tomatoes, peeled & seeded, 1" pieces
1 bouquet garni of fresh herbs (3 thyme sprigs, 3 basil sprigs, 3 bay leaves) - simply bundle up the herbs and tie with kitchen twine
Eggplant
4-6 Tb. olive oil
2 medium eggplants (Globe or Asian) 1½" chunks (if large eggplant, discard seedy center pulp)
Kosher salt and freshly ground black pepper
Zucchini
2-3 Tb. olive oil
3 medium zucchini, 1½" chunks
Pinch red pepper flakes
Kosher salt and freshly ground black pepper
Instructions
Heat oven to 300 degrees. Position oven rack to center spot.
In a large Dutch oven, cook the Onion/Pepper Mixture over low heat: combine olive oil, onion, garlic and cook for about 5 minutes. Add peppers and fennel and continue to cook over low heat, stirring regularly, about 5-7 minutes. Sprinkle with salt and pepper. Add tomato paste to bottom of pan and let it warm for a minute so it starts to melt, then mix with all ingredients and simmer another 5 minutes.
In a separate saute pan, prep Eggplant: over low heat add olive oil and eggplant. Continue to stir until nicely browned and soft - about 10 minutes. Reduce heat if it cooks too quickly, and add more olive oil if it seems to dry. Sprinkle with salt and pepper and add to Dutch oven.
In the same pan, prep Zucchini: over low heat, add olive oil and zucchini pieces. Cook over low heat until soft but not too brown. After about 5 minutes, sprinkle with red pepper flakes and salt/pepper then cook another minute or two. Add to the Dutch oven.
Add tomatoes and bouquet garni to Dutch oven. Sprinkle a little more salt and pepper and stir well.
Increase heat to medium on stove top which allows Dutch oven to heat significantly before placing into oven.
Cover Dutch oven using its lid OR, cut a piece of parchment paper to fit its opening (be sure to cut a hole in the center for steam to escape), brush the under side of the parchment with olive oil and place it, oil side down, onto the mixture (if you do this you won't need the cover, which can sometimes steam the vegetables since air cannot escape).
Bake about 1 hour. Stir once or twice during the hour, to ensure all flavors and combined.
Remove from oven and take out the bouquet garni. Allow to rest for 10-15 minutes before serving.