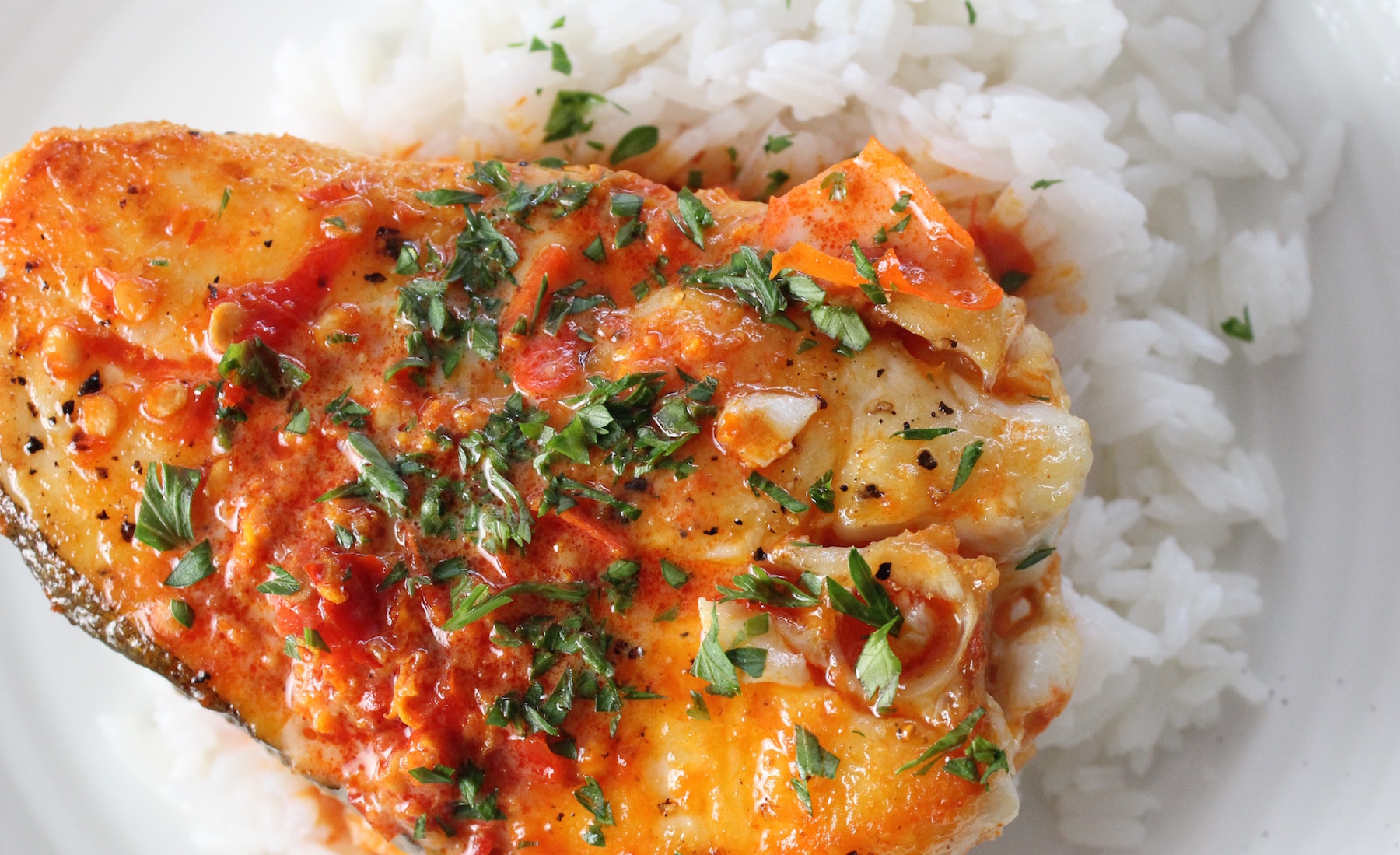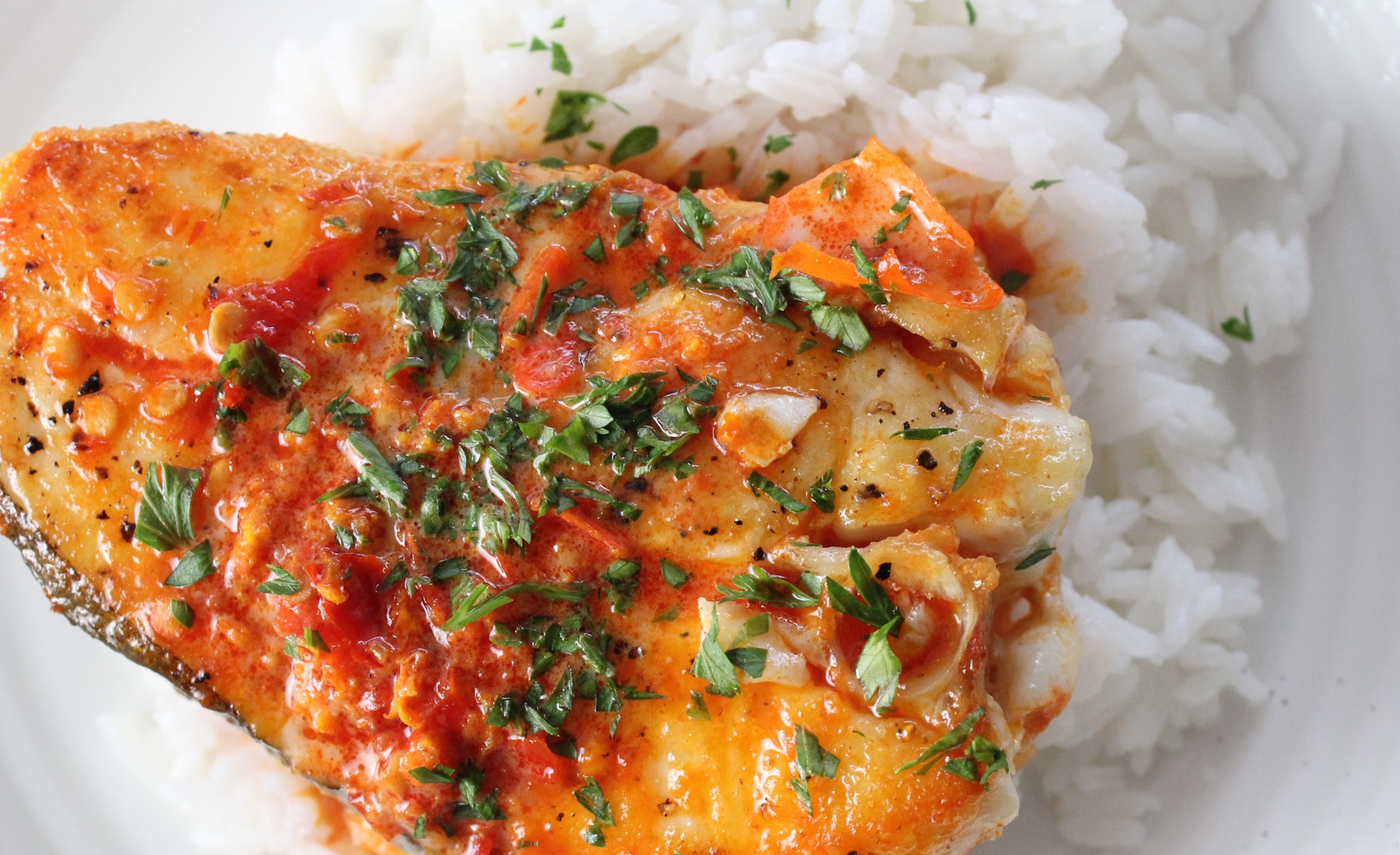 I've had Harissa (pronounced "hu reece uh") on my radar for a while. I first learned of it way back in 2012 on NPR's show titled "Harissa: The Story Behind North Africa's Favorite Hot Sauce;" spotted it in a 2014 article in Food & Wine Magazine, where it was described as "the new Sriracha;" and saw it on several culinary lists as one of the "hot new foods," including a ranking from the National Restaurant Association as "one of the hottest global flavors of 2017." Obviously, I'm not one to immediately follow trends, but I did finally pick up a jar of this magic elixir while roaming through Trader Joe's last week. . .
Harissa is a spicy and fragrant red chile paste that has a 'slow burn' kick to it (i.e., it's not like someone is punching you in the face).  It's complex, oh-so-tasty, and different from traditional hot sauces to which we're accustomed. The sauce originates from North African and Middle Eastern cuisine and, while variations occur between countries and neighborhoods, it's basically a mixture of hot peppers, oil, garlic and salt, along with spices like cumin, coriander, caraway and mint.
Now that I've tried it, I think it needs to be in everyone's pantry. It brings depth to any dish, and you can use it on just about anything your creative juices can muster. It's great mixed into scrambled eggs, stirred into soups/broths, as a marinade for meat or fish, to top hummus, mixed into pasta, combined with mayo for a quick veggie dip, as a sauce for poaching fish, or blended with olive oil for a bread dipping sauce. Here's a tip, though – it's potent, so a little bit goes a long way. I suggest starting with a small amount and increasing it until you reach your maximum comfort zone 🙂
Some folks make it at home, and while I find that commendable, it's not always practical, so a store-bought version is fine with me. You can find it at specialty food stores and ethnic markets, and it's even available at many supermarkets (in the ethnic food section).  As I mentioned, I got mine at Trader Joe's 🙂
Today's dish is the pairing of Halibut and Harissa — the warm flavors of the chile paste pair beautifully with this mild, flaky cold water fish, making it a delicious and hearty meal.  Check out the beautiful steaks I picked up at Detwiler's in Venice, FL: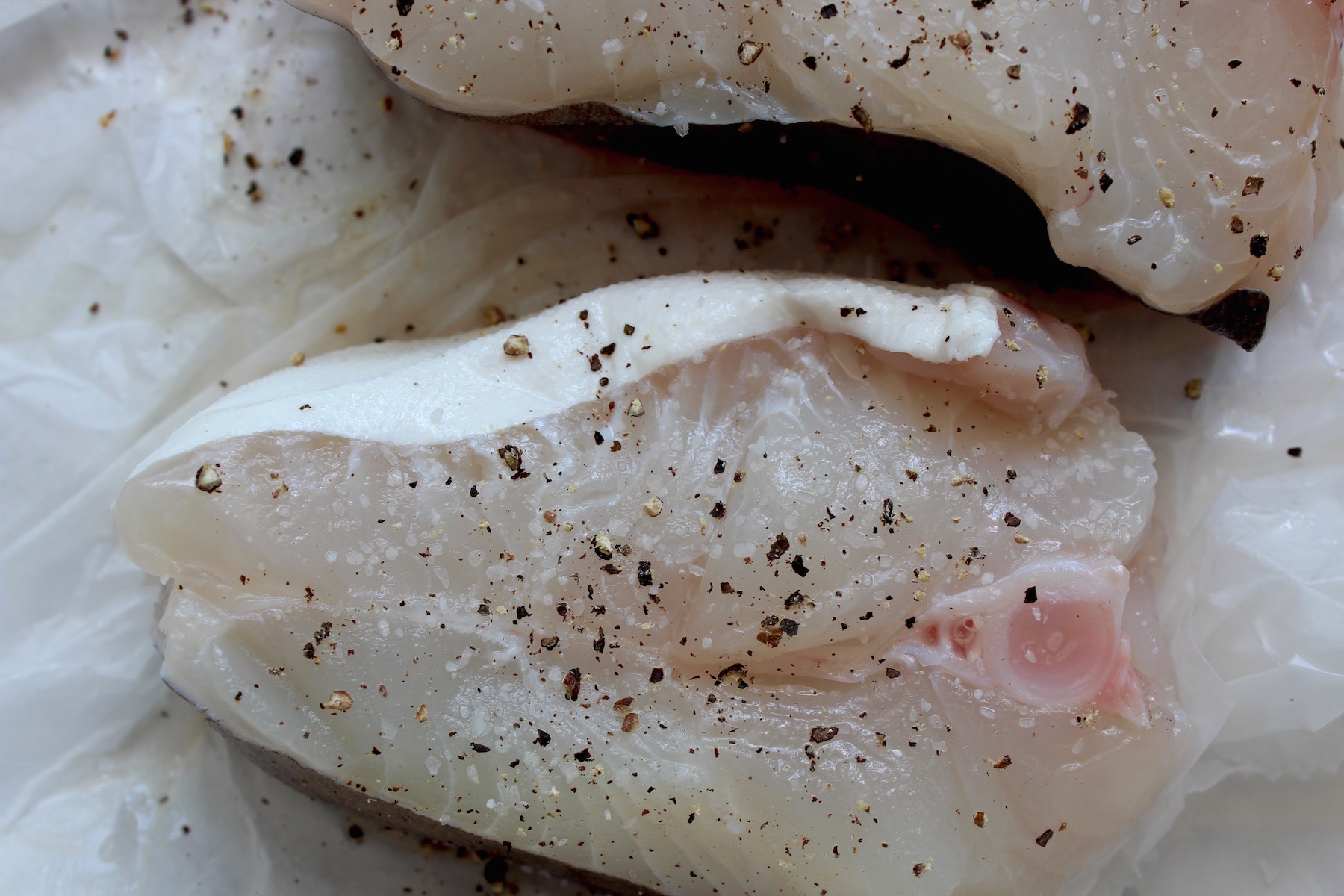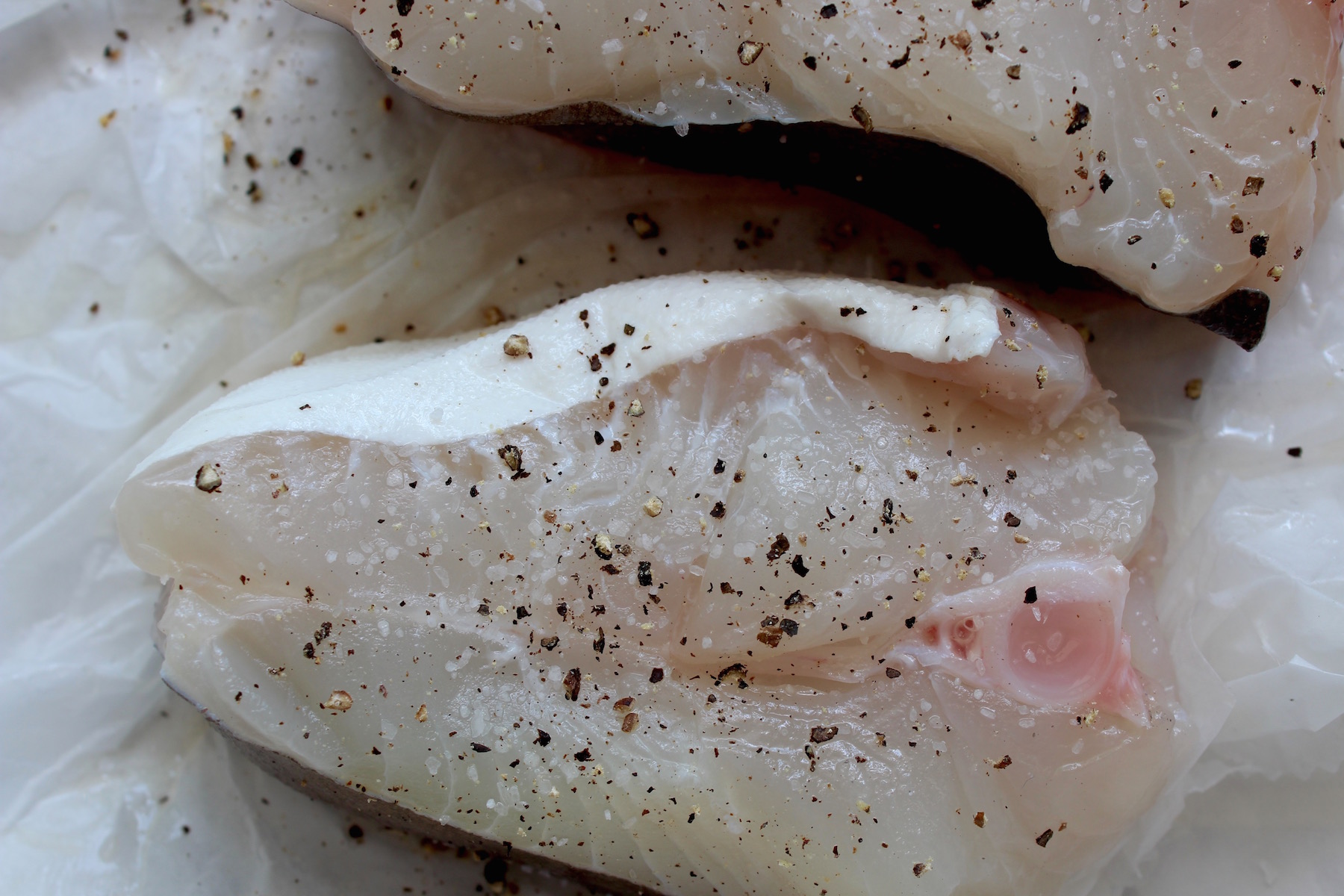 And here they are with the beautiful, red Harissa sauce, in my favorite cast iron skillet: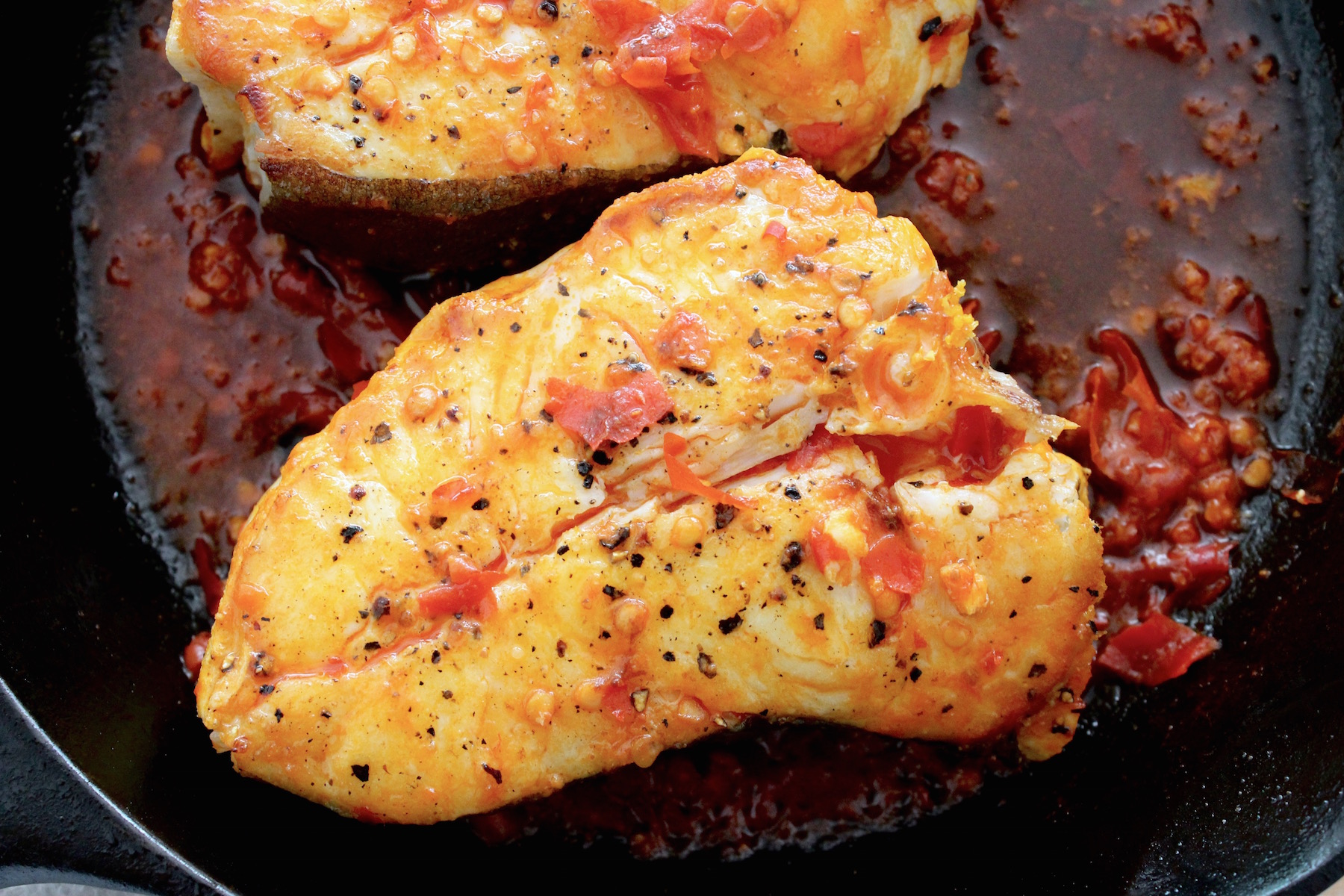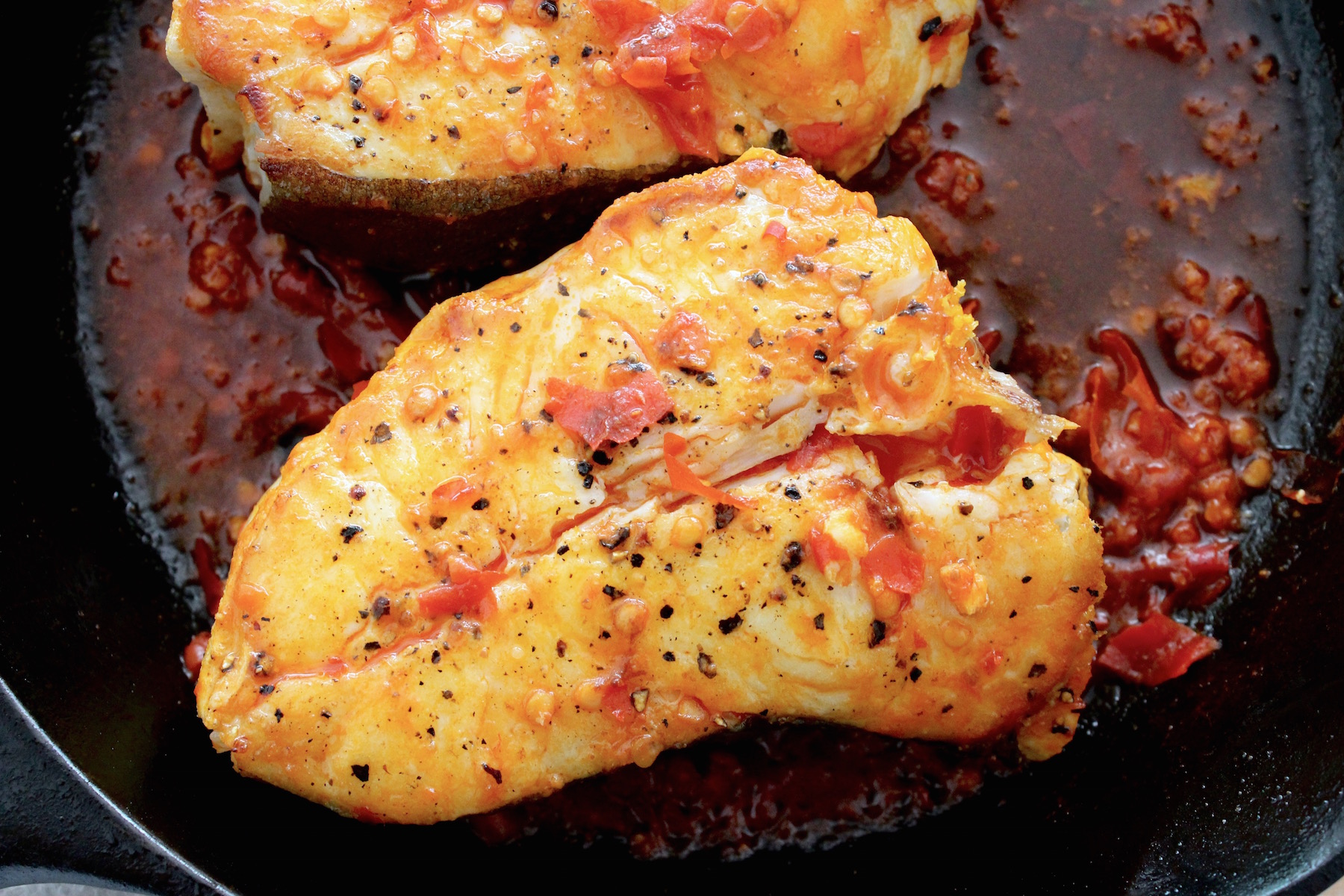 You'll notice in the recipe that orange zest is optional in the sauce — I put it in for a little sweetness.  It's subtle and delicious, if you do decide to give it a try – if not, it's perfectly yummy without it!  I served the fish with jasmine rice and a fresh, green salad with a simple vinaigrette.
Beautiful colors, wonderful textures and a very flavorful sauce made this the perfect dinner on a rainy night 🙂

Halibut & Harissa
Seared Halibut with a flavorful harissa sauce is a great, easy dinner.
Author:
My Delicious Blog
Ingredients
2 skin-on halibut steaks (about 1 lb, total)
Pinch kosher salt
Pinch freshly ground black pepper
1-2 Tb. grapeseed oil (or any oil that tolerates high heat)
2 Tb. unsalted butter
2+ tsp. harissa (I put 3 tsp. for even more heat!)
¼ c. chicken or vegetable stock
½ tsp. orange zest (optional)
2 Tb. heavy cream or half & half
Handful fresh parsley (or basil - both are good), minced
Instructions
Salt and pepper both sides of fish; set aside.
Add oil to a cast iron or non-stick skillet. Heat on high until just before it starts to smoke.
Add fish to the hot pan and allow first side to cook about 4 minutes (the high heat will produce a nice sear and eliminate the fish sticking to pan). After about 2 minutes of cooking, reduce heat to medium/high.
Flip fish.
Add butter to pan and spoon the melted butter over each piece of fish.
Add Harissa and stock (and orange zest, if using) to pan; stir to combine.
Allow the fish to cook another 3-4 minutes, until slightly firm in center (you'll see the bone separating from the flesh - that's when it's ready).
Turn off heat. Just before serving, add cream to the pan and blend with a spoon.
Spoon sauce over fish. Top with minced parsley or basil and serve.
Notes
You can remove the bones and skin just before serving, or leave that task to your guests - they're easy to remove, once fully cooked.