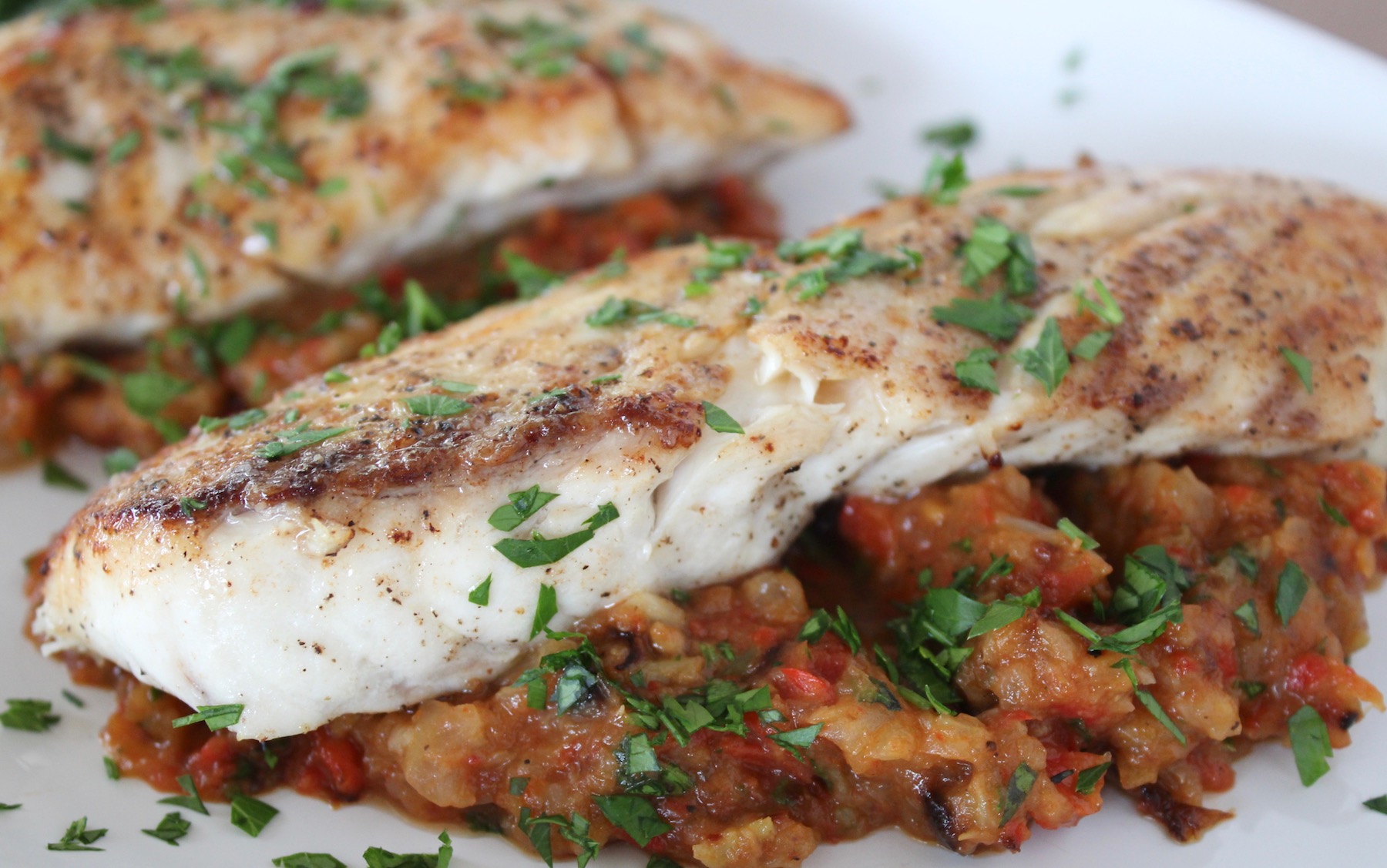 Gulf Red Snapper season is open June 11 to July 20 – not a long time, especially for those who love this crimson-colored beauty.  The fish offers a mild, flaky, slightly sweet, bright white fillet — perfect for many kitchen preparations — and because it's SO delicious, it's an in-demand fish, one that both commercial and recreational anglers seek. When I first learned of the season dates, my first thought was "Arghhhhh!," but then I remembered WHY those harvesting dates are periodically limited. . . Folks have been harvesting Red Snapper from the Gulf since the 1800s, but volume exponentially rose after WWII when recreational anglers were able to get further offshore in fiberglass boats outfitted with better motors and navigational tools.  As an expected consequence, over many years of recreational and commercial efforts, the Red Snapper population, among other species, has declined. To watch overall health of our fishery, folks at National Oceanic and Atmospheric Administration (NOAA) and Florida Fish and Wildlife Conservation Commission (FWC) gather data about volume of fish harvested, then make assessments about how safely a species can be removed without causing significant decline or non-viability, long term (i.e., sustainability). In 1988, NOAA determined that Red Snapper was being overfished, leading to new rules that limited season dates, number of fish to harvest, number of commercial licenses issued, and more.  This is a delicate process, one intended to balance demands of consumers with the overall health of the fishery.  Needless to say, the process doesn't always please everyone. Because of careful management, the Red Snapper population has gotten stronger and, in late 2017, it was removed from 'overfished' status to 'rebuilding' status, further confirmed in May, 2018.  While healthy, it's still at risk because more anglers are seeking them out, using more efficient tools, and they continue to catch a lot of fish.   But I'm certainly glad there are organizations watching viability of our precious resources, even though it may mean I can't easily access some of my favorite fish 🙂  If you'd like to learn more about the history of Red Snapper management, check out this comprehensive
article
on the NOAA site.
Here are some of my pals (my cute hubby in the middle) after a long, hot day of fishing, but they were happy anglers: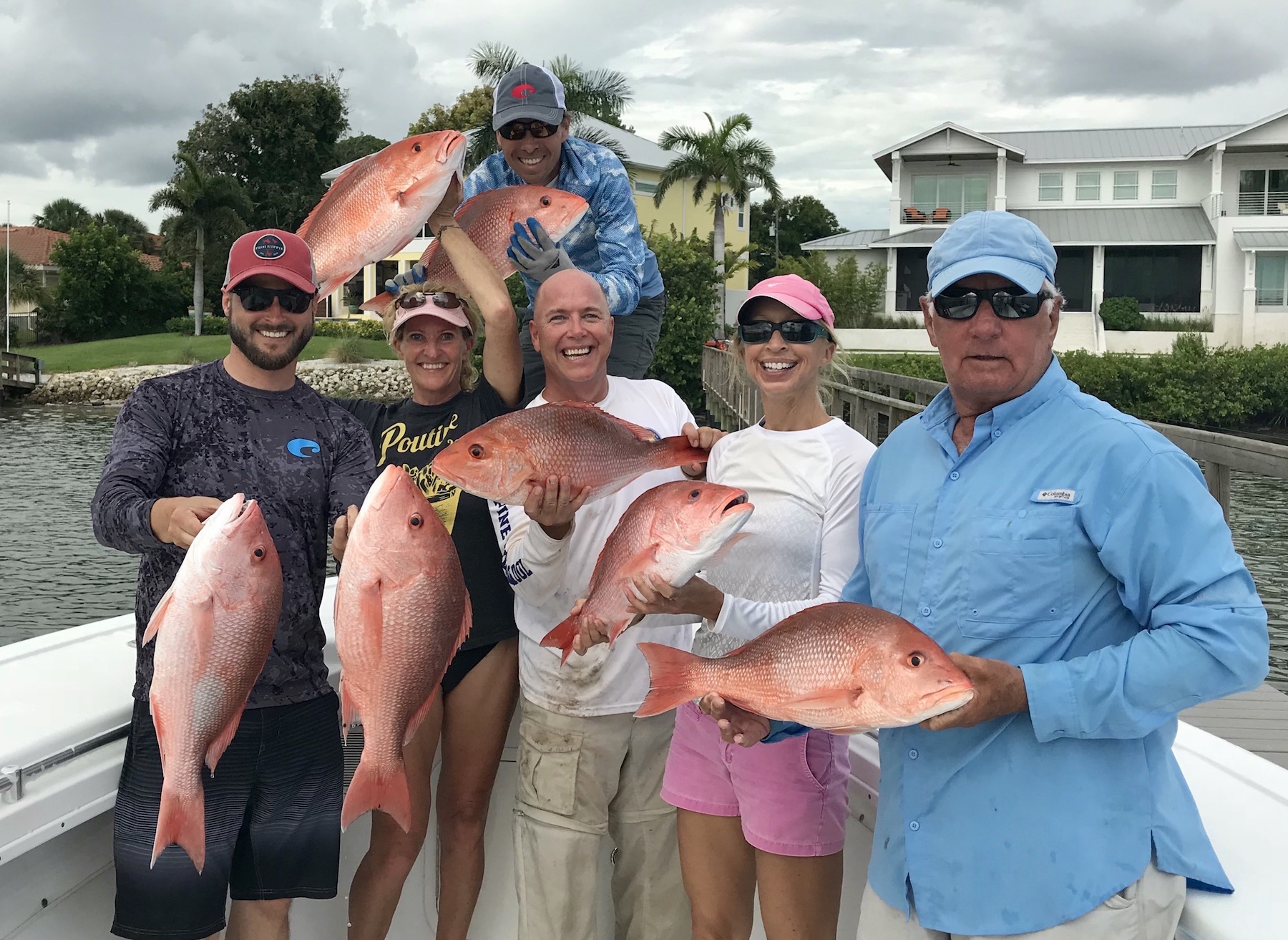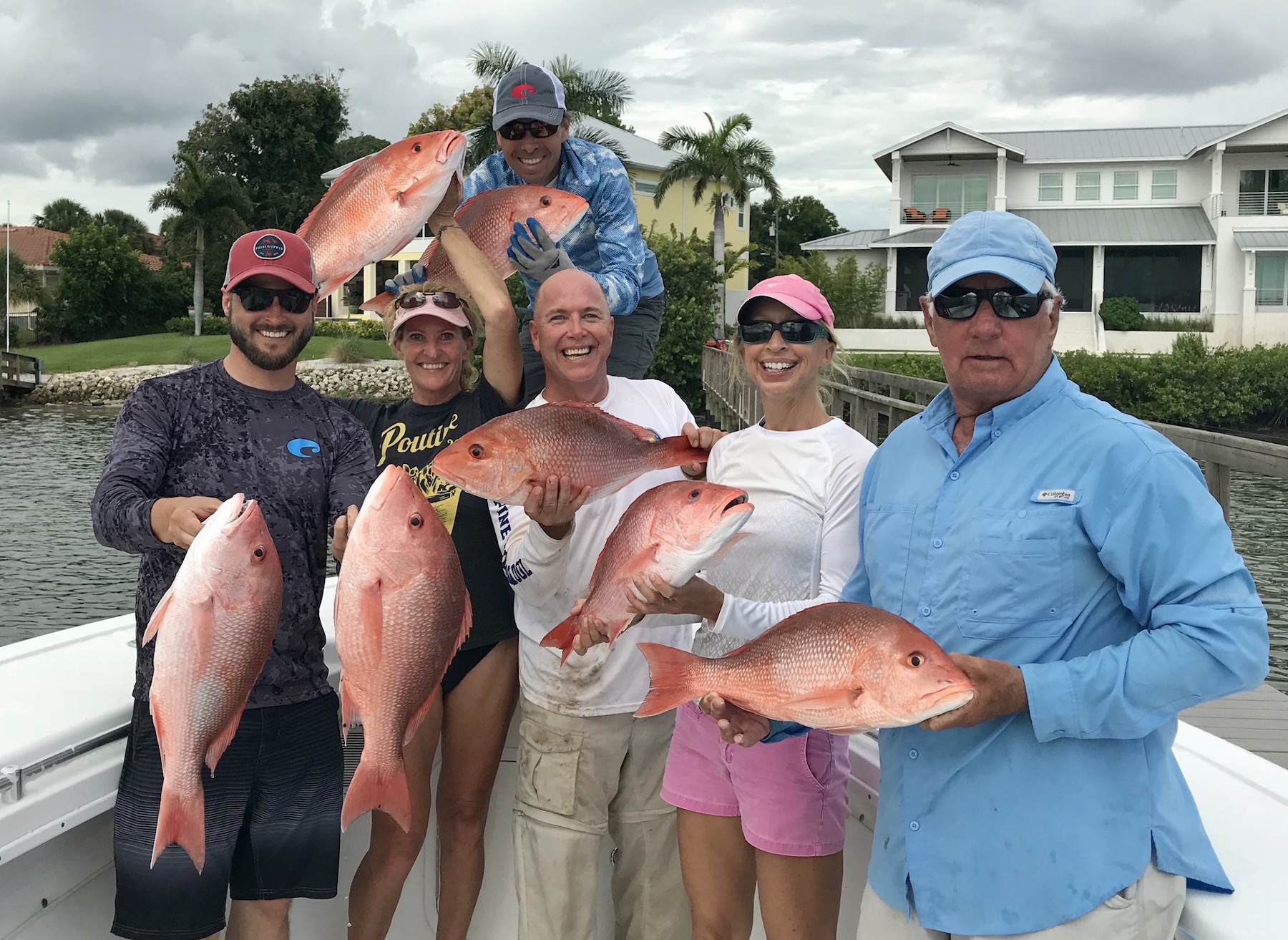 This recipe is pretty simple, but results are quite delicious.  I pan-seared the fish, then nestled it in a tasty puree made of roasted veggies and fresh herbs.  Tossing those veggies in a healthy dose of olive oil, salt and pepper, then roasting them at a high temperature brings out their best flavor, and you might even get some caramelization, which is oh-so-delicious.  I used tomato, sweet onion, fennel, red pepper, jalapeño and garlic, and here they are before hitting the hot oven: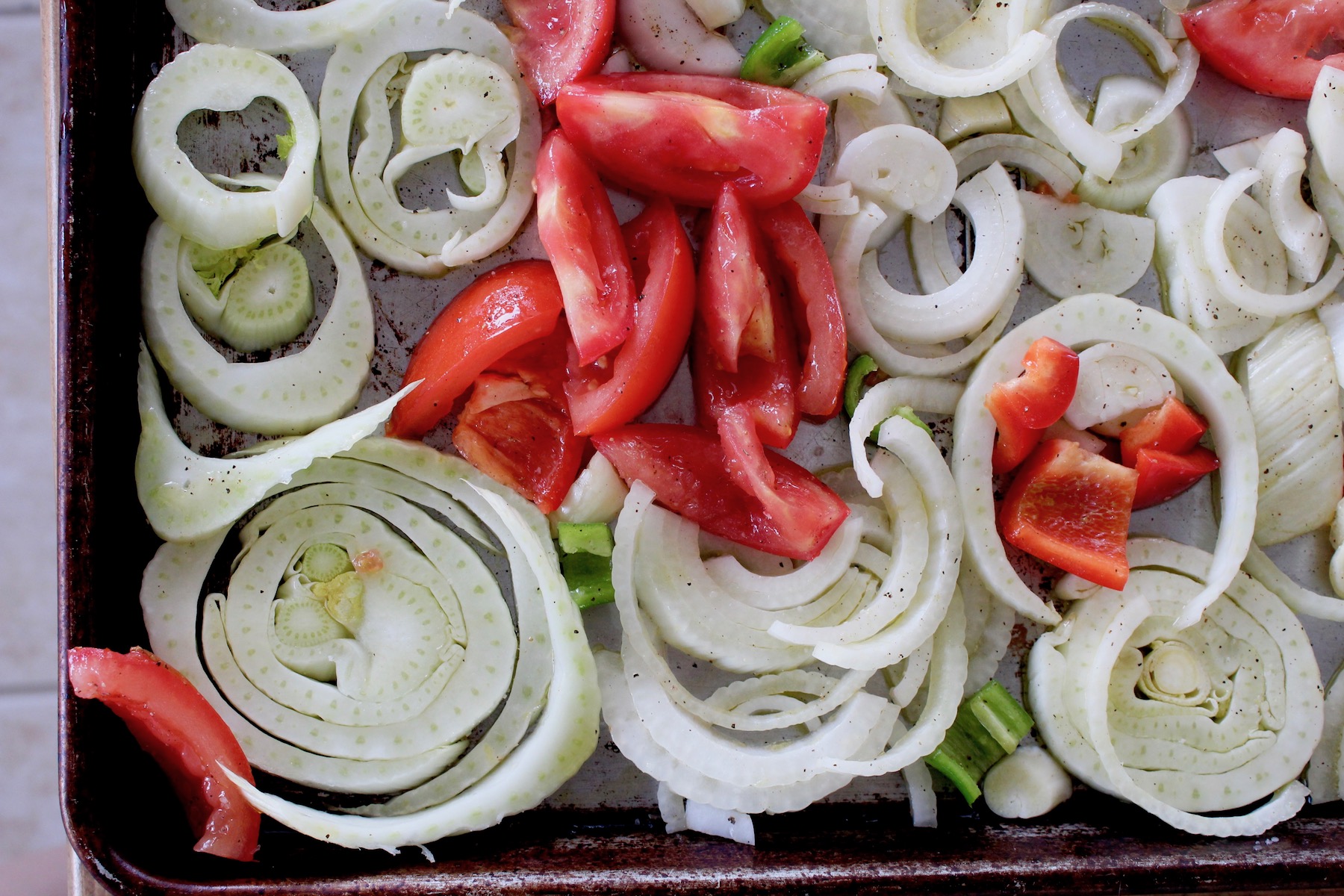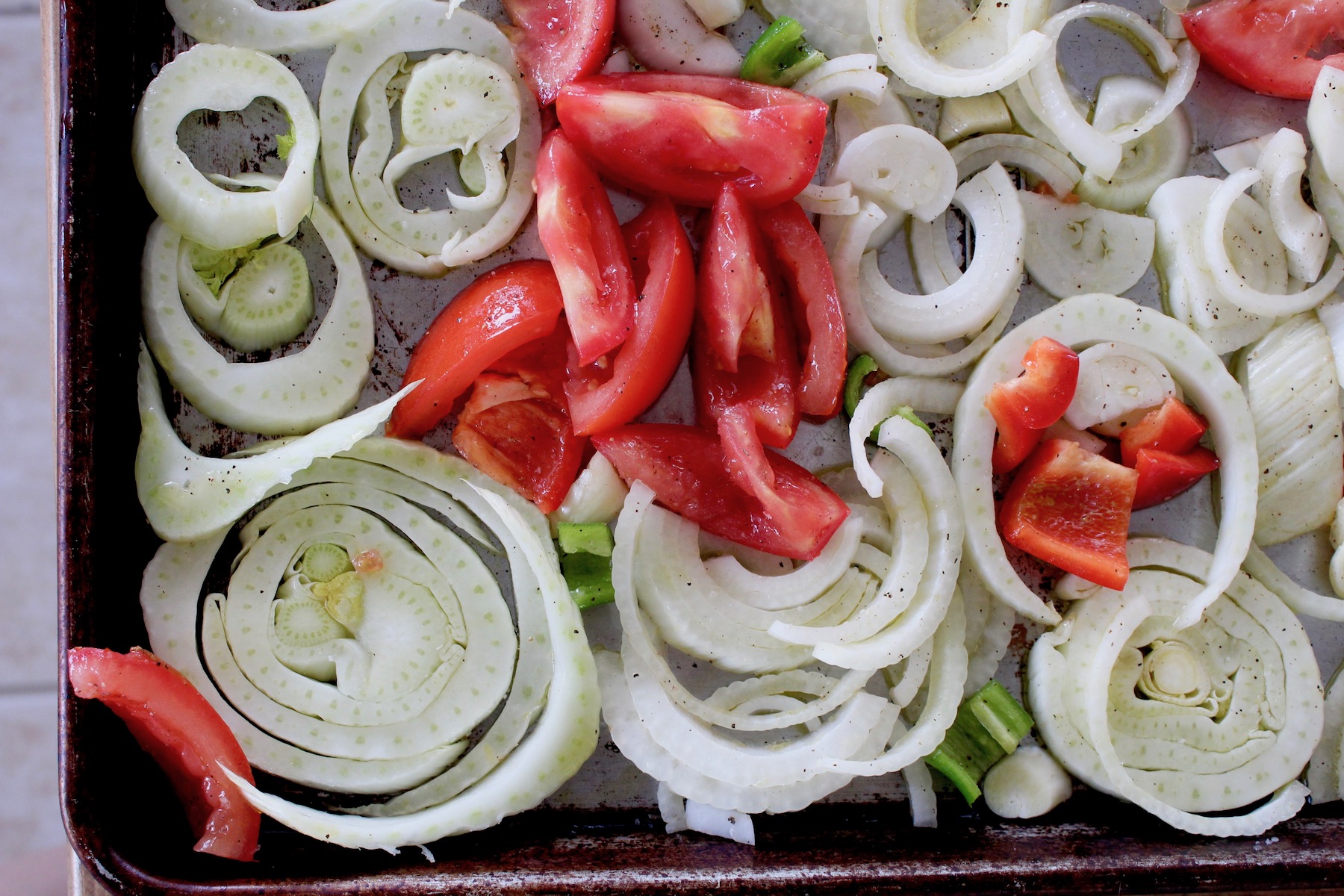 And here's the finished dish: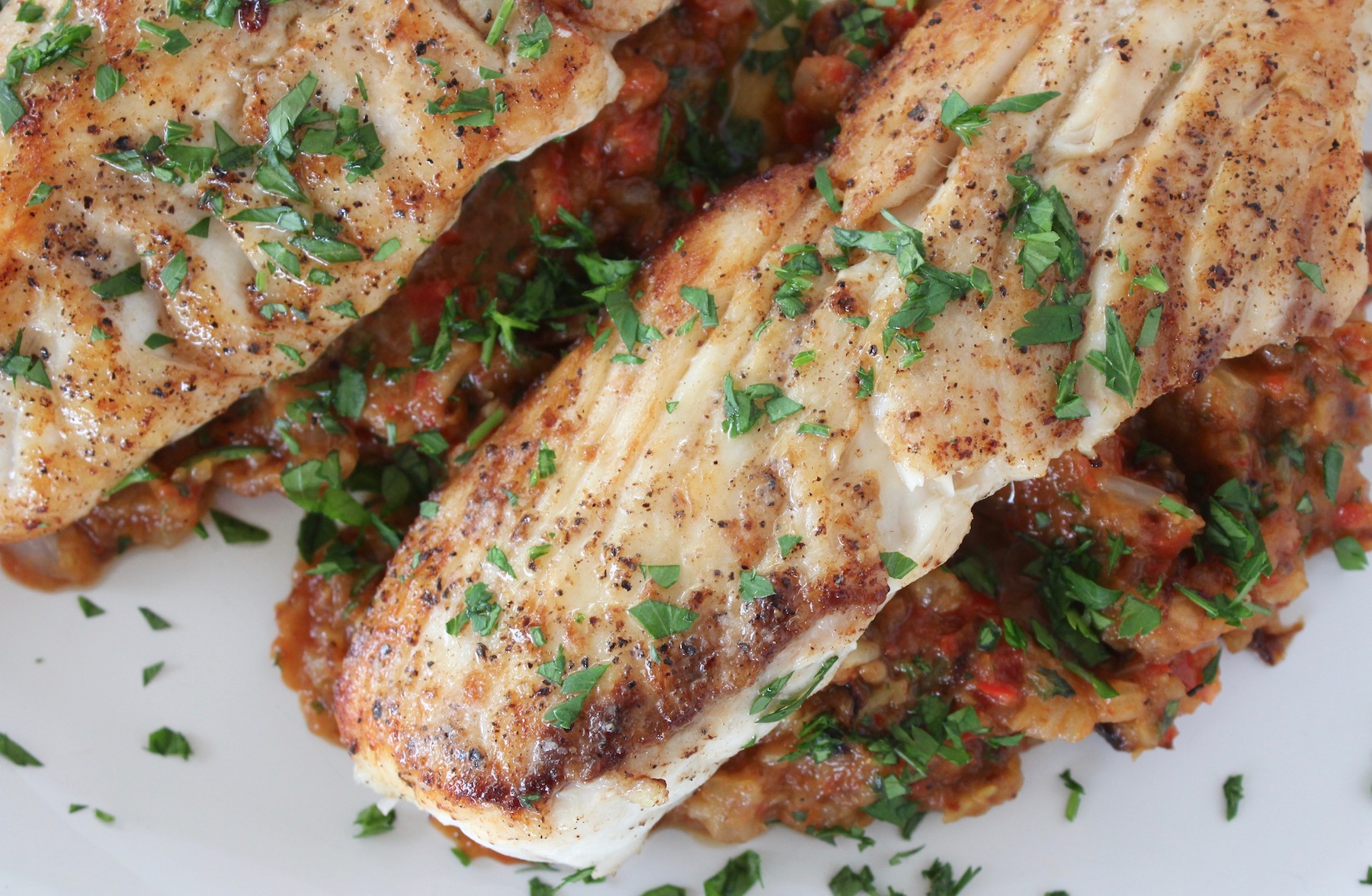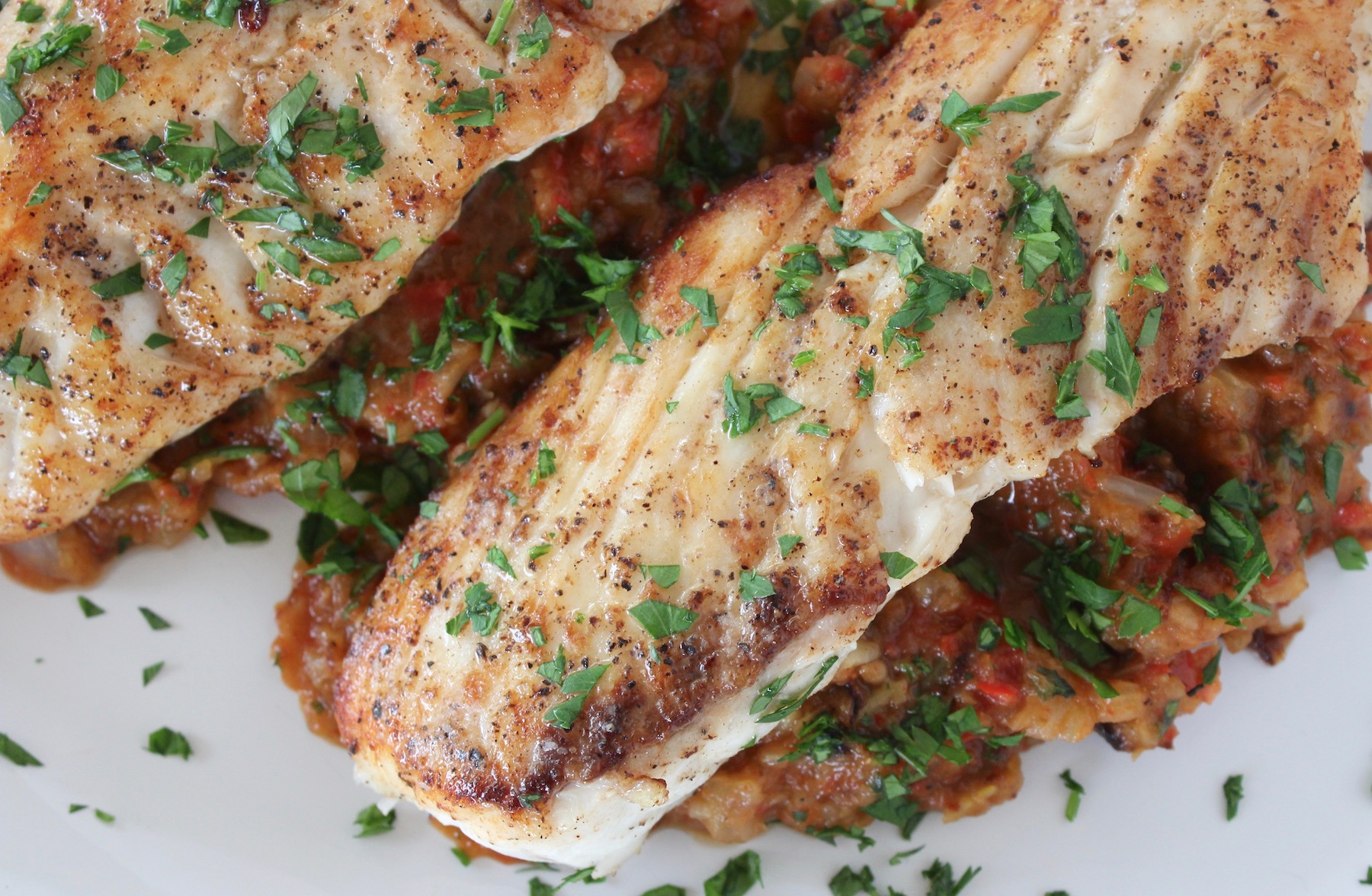 Look at that white, flaky fish!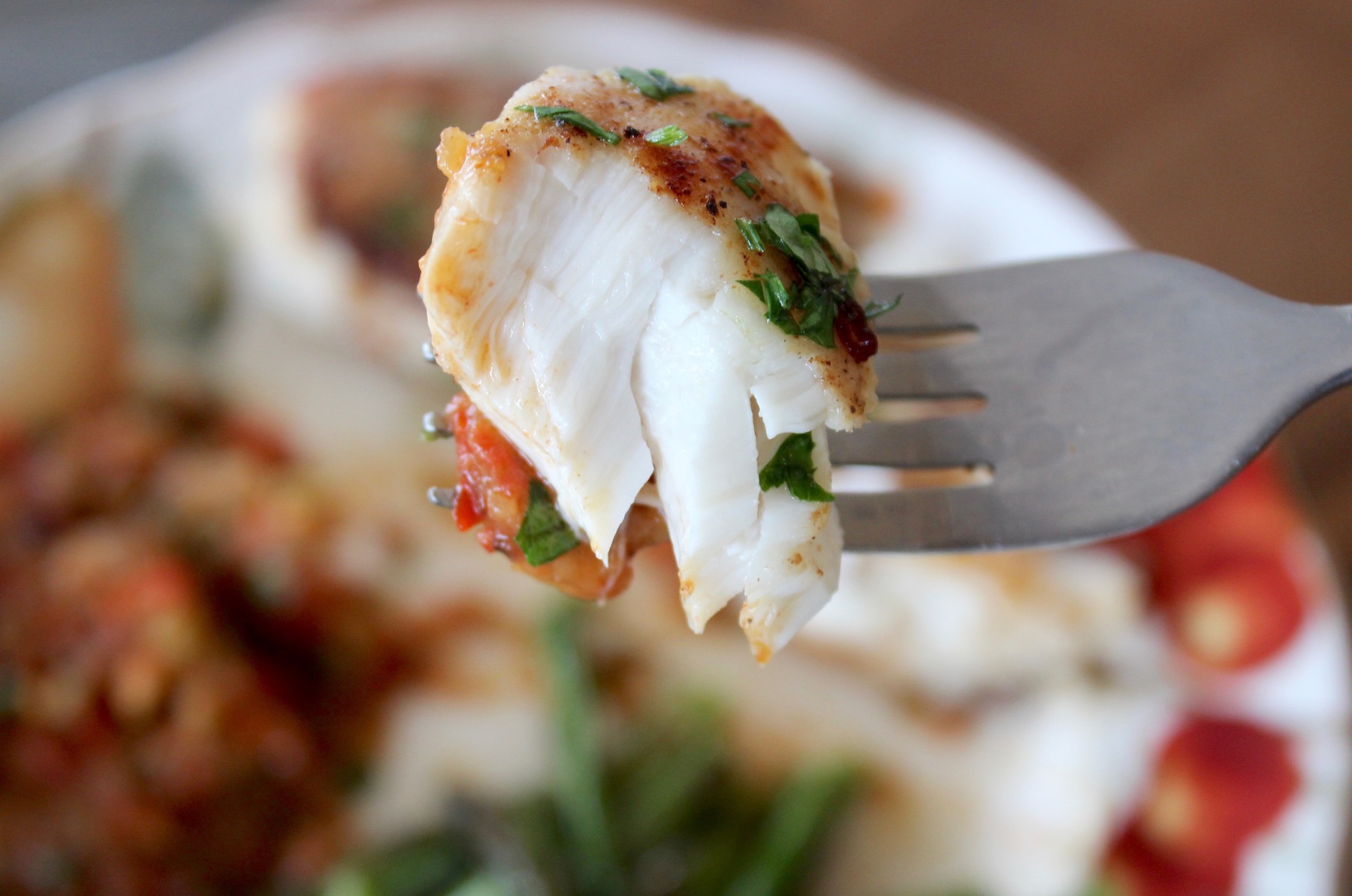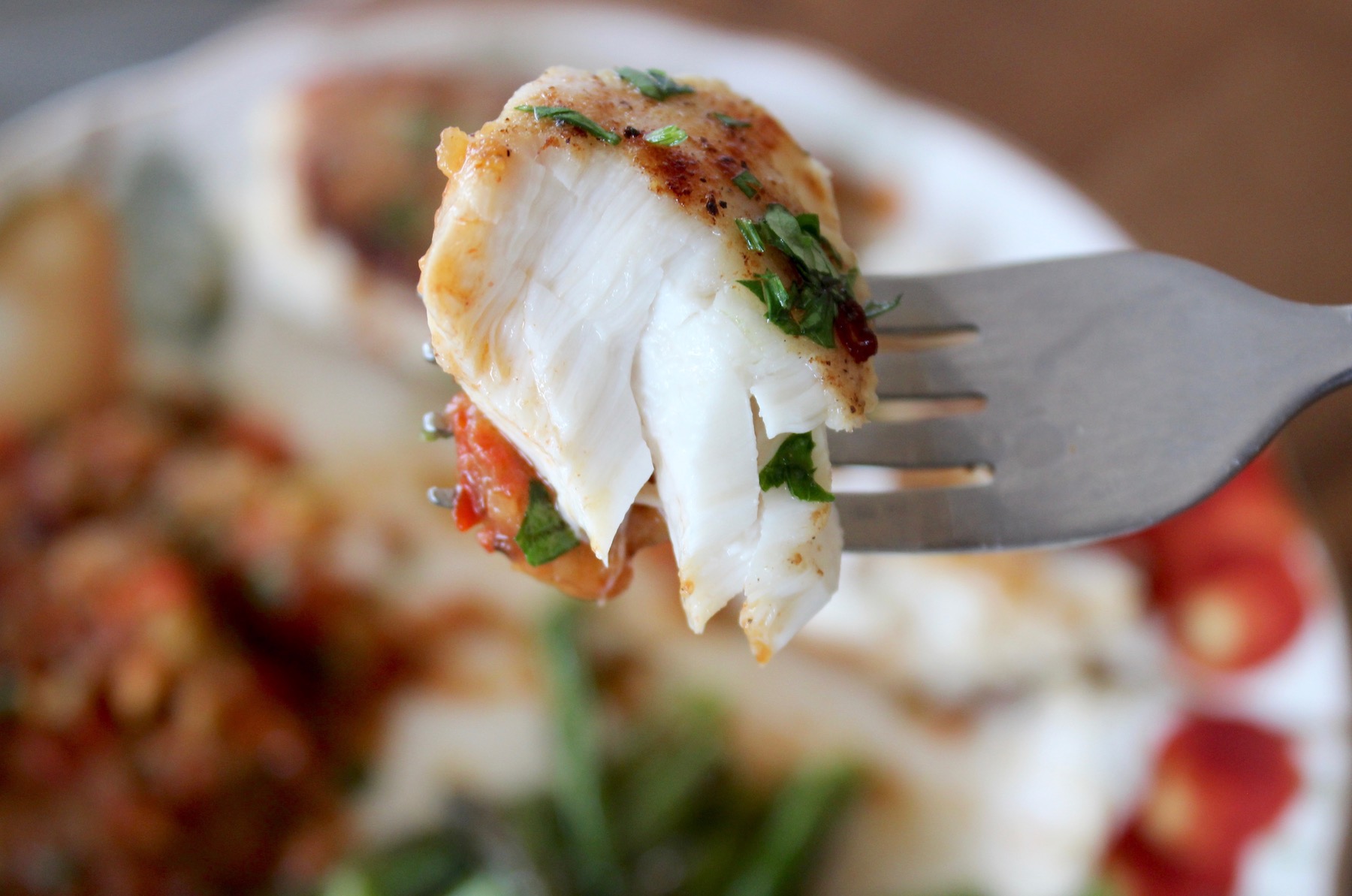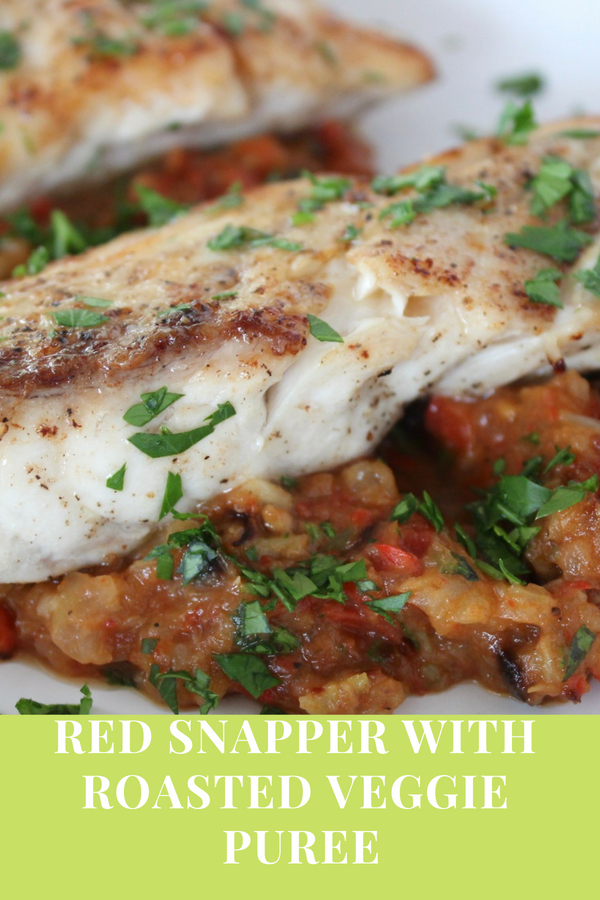 So now you know a tiny bit about how our fisheries are managed, and you've even got a yummy recipe, to boot 🙂
Seared Red Snapper with Roasted Veggies
Red Snapper or any flaky white fish works beautifully with this tasty roasted veggie puree.
Author:
My Delicious Blog
Ingredients
Roasted Vegetable Puree
4 medium tomatoes, seeded
1 medium sweet onion, peeled
1 jalapeno, seeded
2-3 large garlic cloves, peeled
1 medium red bell pepper, seeded
1 large fennel bulb
¼ c. olive oil
1 tsp. kosher salt
½ tsp. freshly ground black pepper
Small handful fresh parsley leaves
Small handful fresh basil leaves (or chives, or even sage or tarragon)
Pan-Seared Fish
4 6-oz. Red Snapper fillets (or other light, flaky fish)
1-2 Tb. olive oil
2 Tb. unsalted butter
Kosher salt
Freshly ground black pepper
Instructions
Heat oven to 425 degrees.
Chop veggies into 2-3" pieces and add to a large rimmed baking sheet. Sprinkle olive oil, salt and pepper over all veggies, then mix with your hands to incorporate. Ensure the veggies are in one layer so they roast vs. steam.
Place veggies in oven and roast 15-25 minutes. Check at the half-way point and stir with a spatula to ensure everything is cooking evenly.
When veggies are fork tender, hopefully caramelized, then remove from oven.
Allow to cool for a few minutes.
While veggies cool, heat a non-stick skillet to medium/high. Add 1-2 Tb. olive oil and 2 Tb. butter.
Season both sides of fish with salt and pepper then add to the hot pan. Cook about 2 minutes on the first side (check to see that the bottom is lightly browned), then flip and cook 2-3 minutes, depending on thickness of your fillets.
Transfer veggies to a food processor, along with fresh herbs, then pulse a few times.
Spoon veggie puree onto serving plates and top with cooked fish.
Notes
1) Depending on the size/volume of your veggies, hopefully the ¼ c. olive oil will be sufficient before roasting. You don't want them swimming in it, but you need enough so each piece is well-coated. The oil adds wonderful flavor to the veggies and makes the puree mixture smoother.
2) If you don't want to get your food processor dirty, you can simply enjoy the roasted veggies alongside the cooked fish - the chunky texture will still be delicious, just not as 'creamy' as the puree 🙂